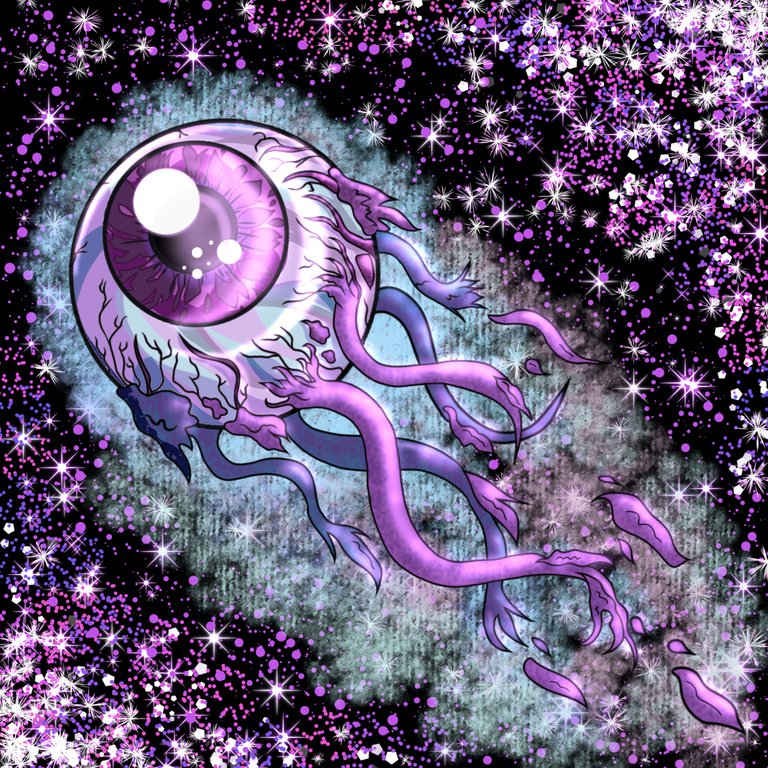 Hola hola! Mis saludos a todos ustedes, complacida de compartirles nuevamente en otro concurso de Social Media. En esta ocasión es una representación de la carta Cornealus de Splinterlands, dibujando este espécimen de ojo viviente, siendo como desprendido o lanzado desde el ser al que pertenece, tomando así su propia independencia, el cual a su vez recree sobre un ambiente algo galáctico y luminoso, ya que la naturaleza de este globo ocular es notoriamente parte de un ser que no pertenece a nuestro mundo terrestre. Disfrute mucho al realizarlo, porque tuve mayor manejo y rapidez al utilizar las herramientas del IbisPaintX, obteniendo más destreza en la ubicación de los diferentes pinceles y las reglas como en esta ocasión; que le pude dar mayor circunferencia al ojo en si. Por otra parte, realmente por un momento tenía la duda de que no pudiera darle esa vida y brillantes cristalina que puede tener la superficie de un ojo al resplandor de las luces. Quise darle un estilo algo más caricaturesco al original de la carta y ambientarlo en un fondo bastante estrellado con muchos brillos, dándole así un efecto de desprendimiento en pleno espacio exterior.
Hello hello! My greetings to all of you, pleased to share with you again in another Social Media contest. This time it is a representation of the Splinterlands Cornealus chart, drawing this specimen of living eye, being as detached or launched from the being to which it belongs, thus taking its own independence, which in turn I recreate on a somewhat galactic and luminous environment, since the nature of this eyeball is notoriously part of a being that does not belong to our terrestrial world. I really enjoyed doing it, because I had better handling and speed when using the IbisPaintX tools, getting more skill in the location of the different brushes and rulers as on this occasion; I could give more circumference to the eye itself. On the other hand, I really doubted for a moment that I couldn't give that life and crystalline brilliance that the surface of an eye can have to the glare of the lights. I wanted to give a more cartoonish style to the original of the card and set it in a starry background with lots of glitter, giving it a detached effect in outer space.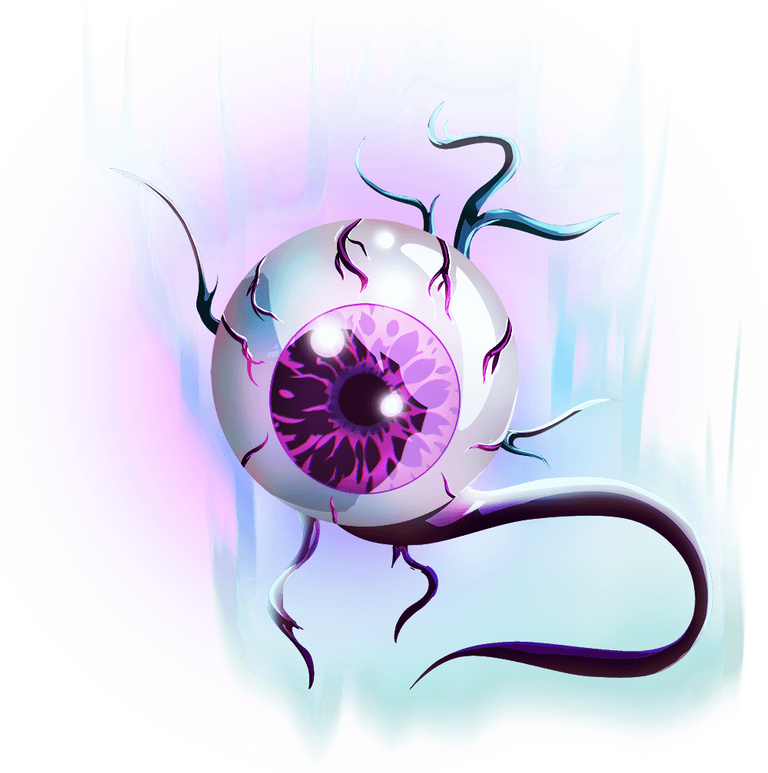 Etapas del dibujo/Drawing stages
Primeramente para tener una guía de la forma como quería el ojo realice un boceto utilizando una brocha tipo Pincel Grafito permitiéndome un trazo más suave sin tanta profundidad, agregando algunos detalles, los cuales fui sustituyendo ya en el delineado en limpio, guiándome por los detalles que tiene la carta original. Para el delineado en limpio utilice una brocha tipo Rotulador fuerte cambiando en las diferentes secciones del ojo el grosor de los trazos del mismo, definiendo a su vez con un Rotulador suave de delineado color mora los detalles de la pupila del globo ocular, para de esta manera pasar a la aplicación de las capas de colores.
First of all, to have a guide of how I wanted the eye, I made a sketch using a graphite brush, allowing me a softer stroke without so much depth, adding some details, which I replaced in the clean eyeliner, guided by the details of the original card. For the clean eyeliner I used a strong marker brush, changing the thickness of the strokes in the different sections of the eye, defining the details of the pupil of the eyeball with a soft purple eyeliner marker, in order to apply the layers of colors.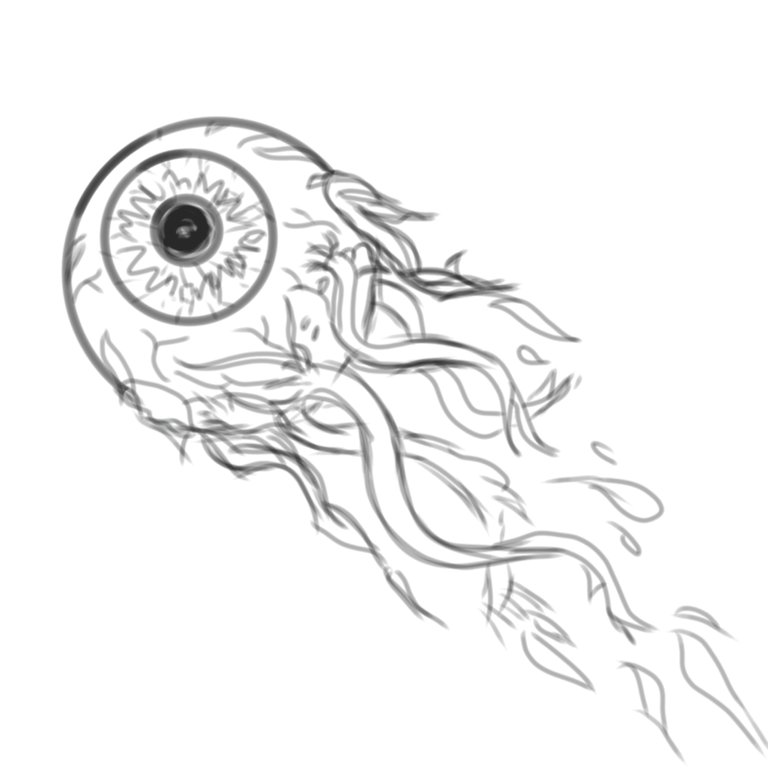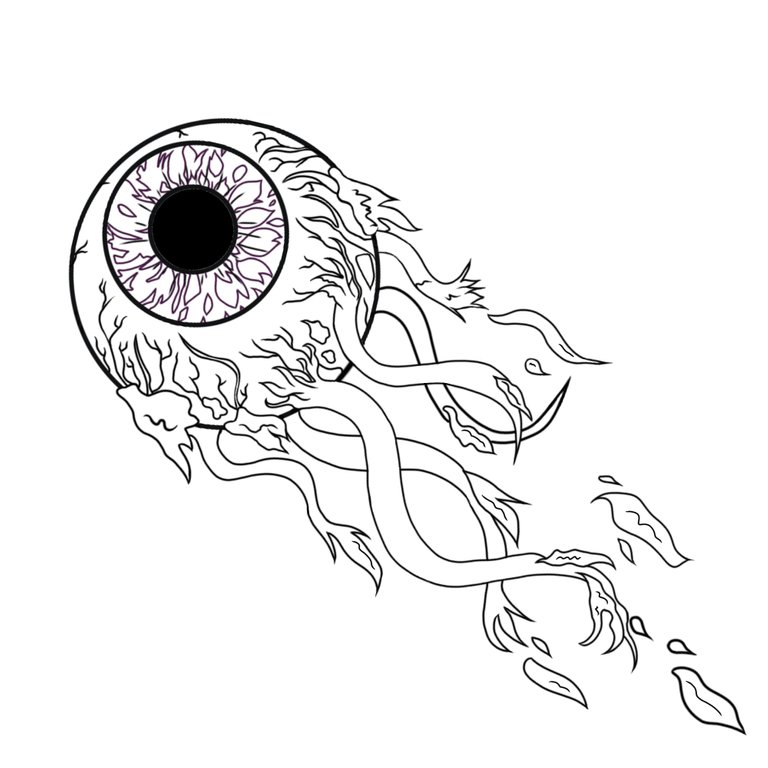 Para los colores que utilice para el ojo, aplique una capa de colores base sólidos a las diferentes secciones y partes del ojo, para así definir en su totalidad su color. Utilizando tonos rosas, lila, morados, fucsias y azules claro y oscuro. Luego aplique otra capa en Multiplicar para darle el sombreado y profundidad a cada parte usando una brocha tipo nube con toques aleatorios a los tejidos del ojo y para algunos vasos. Luego pase a aplicar también alrededor del ojo con toques aleatorios varios colores como; verde agua y azules claros con algo de rosa pálido en otra capa Normal.
For the colors you use for the eye, apply a layer of solid base colors to the different sections and parts of the eye to fully define your color. Using pinks, lilacs, purples, fuchsias and light and dark blues. Then apply another layer in Multiply to give the shading and depth to each part using a cloud brush with random touches to the tissues of the eye and for some glasses. Then move on to also apply around the eye with random touches of various colors such as; aqua green and light blues with some pale pink in another Normal layer.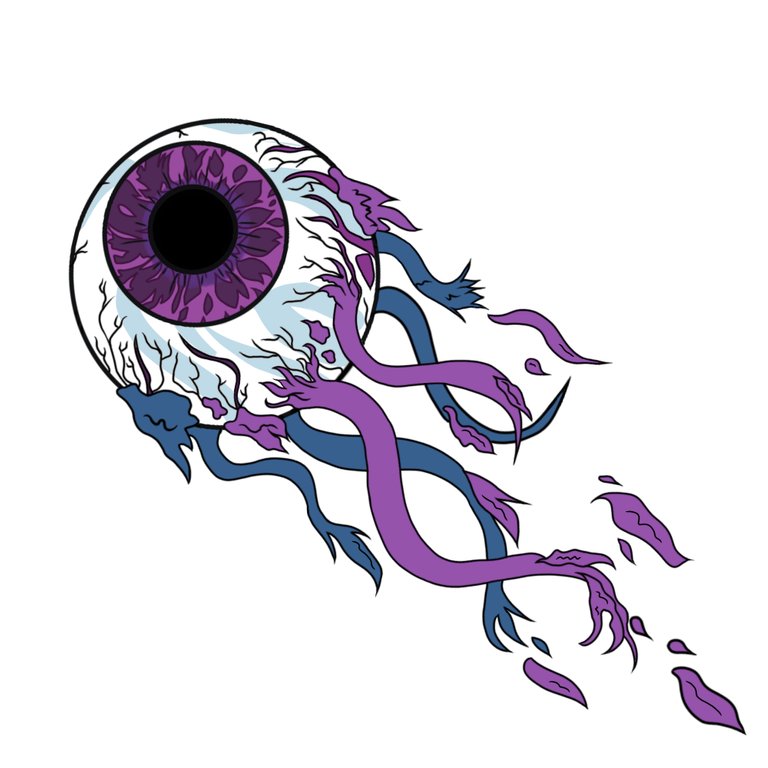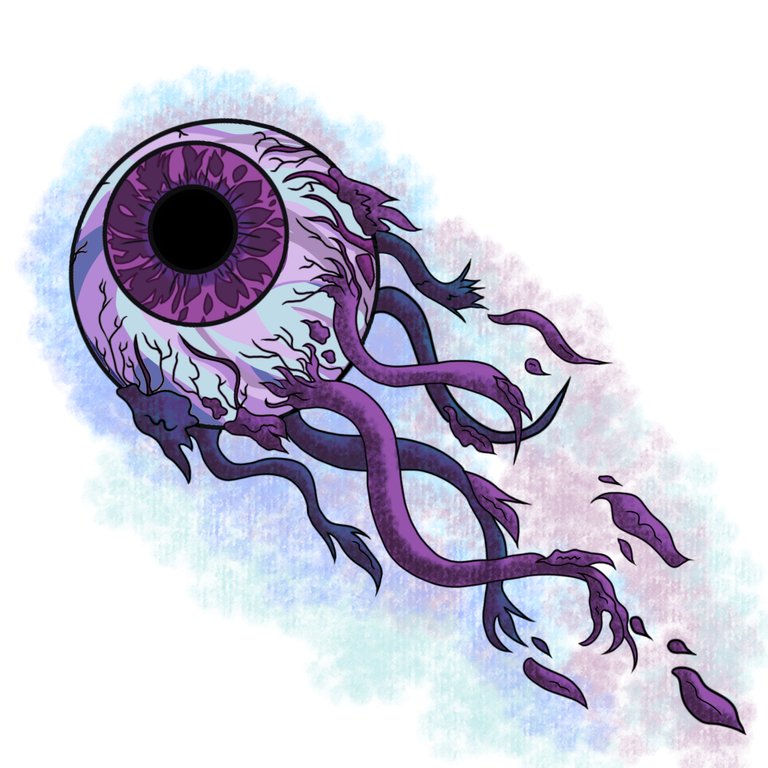 Para finalizar y ambientar el ojo, aplique un fondo negro y en una nueva capa de Añadir utilice varias brochas para agregar brillos y estrellas y con un pincel pulverizador en tono rosa y morado seguí dándole más color al fondo. Después en una nueva capa aplique los brillos con un pincel Rotulador fuerte para una luminosidad más intensa y luego con un aerógrafo añadí más resplandor en la parte de los tendones y en otras parte del ojo. De esta manera me gustó el resultado que tuve con este estilo aplicado para esta carta que escogí. Espero lo disfruten!
To finish and set the eye, I applied a black background and in a new layer of Add I used several brushes to add glitters and stars and with a spray brush in pink and purple tone I continued giving more color to the background. Then in a new layer I applied the glitters with a strong marker brush for a more intense luminosity and then with an airbrush I added more shimmer in the part of the tendons and in other parts of the eye. This way I liked the result I had with this style applied for this card I chose. I hope you enjoy it!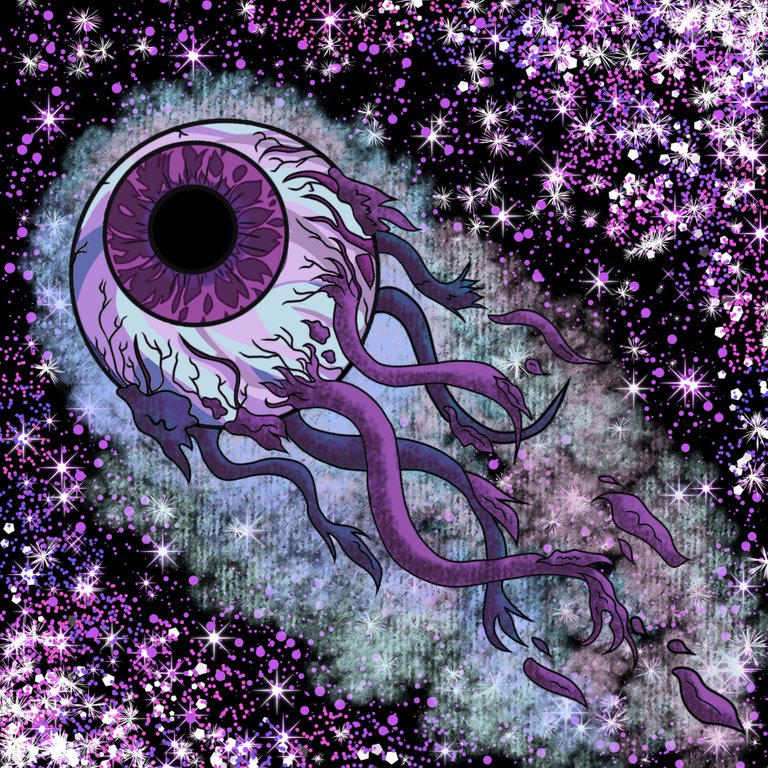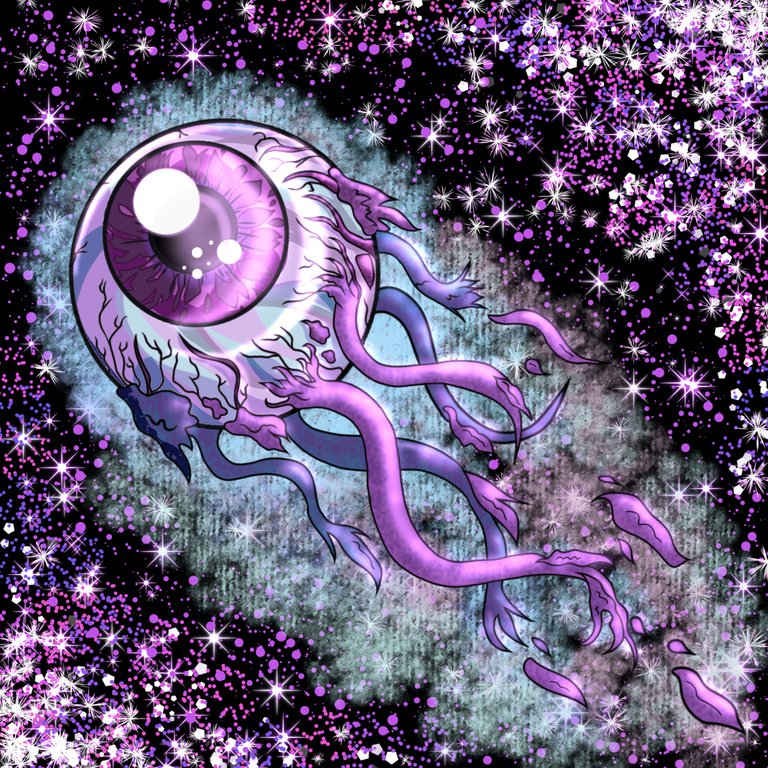 Herramientas usadas/Used tools
Tablet Android
Ibis Paint X
Traductor Deepl
Servidor de imagenes Imgbb
Dactilopintura digital

HASTA EL PRÓXIMO POST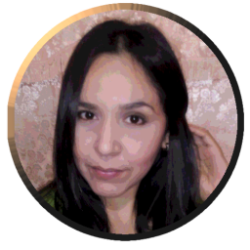 Detenerse es retroceder
To stop is to go backwards