Hello bloggers how are you?, I hope you are well, today I come to show you my participation this week for the weekly contest of @splinterlands. Already with a little more free time
Hola blogueros ¿como están?, espero que bien, hoy vengo a mostrarles mi participación de esta semana para el concurso semanal de @splinterlands. Ya con un poco mas de tiempo libre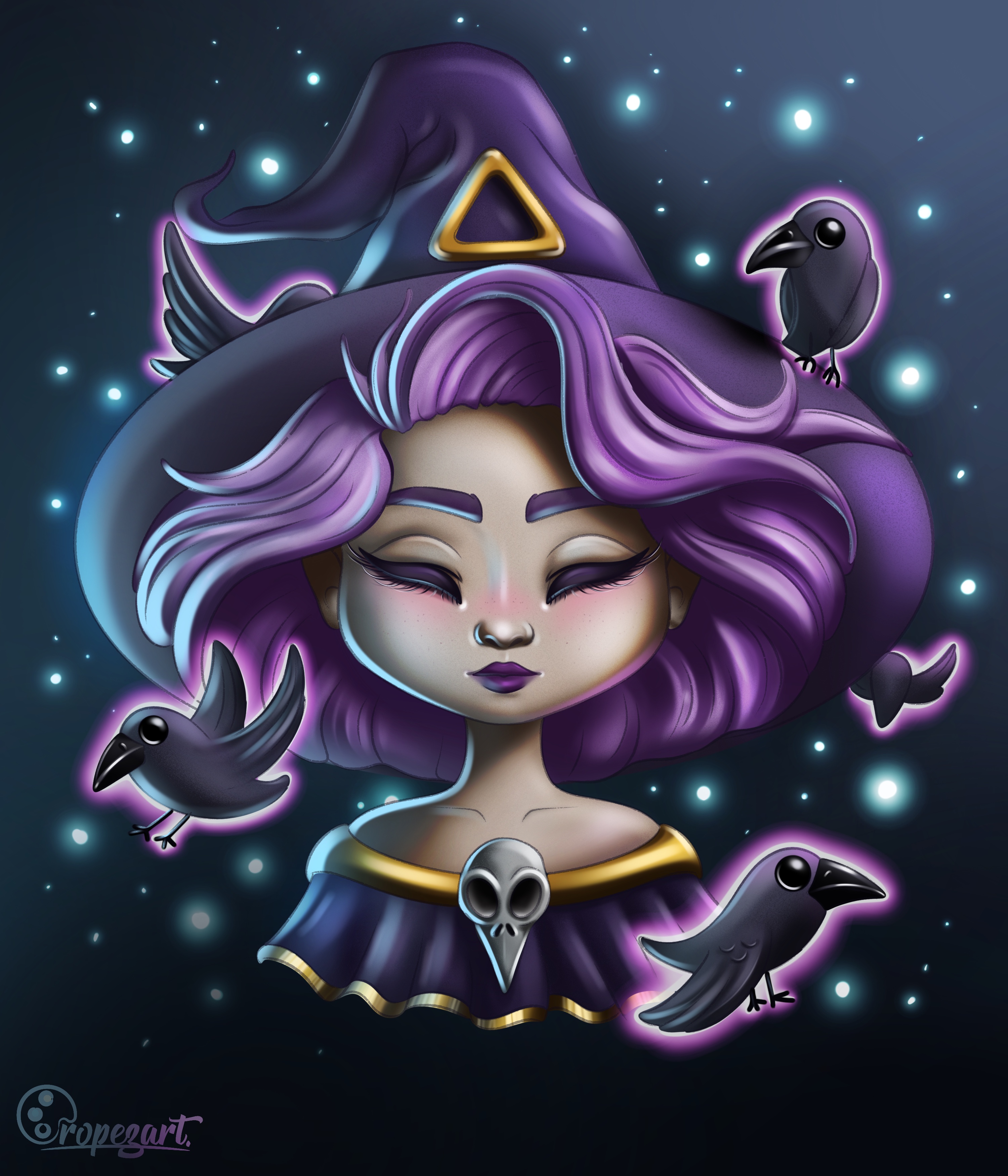 QUEEN OF CROWS
Hello bloggers how are you?, I hope you are well, today I come to show you my participation this week for the weekly contest of @splinterlands. Already with a little more free time I took advantage of these days to choose the character and go hacking the sketch little by little and to make corrections, this time I made a witch again XD QUEEN OF CROWS was the character I chose this week, I tell you how it was to make it and the step by step as each fanart. come on.
Hola blogueros ¿como están?, espero que bien, hoy vengo a mostrarles mi participación de esta semana para el concurso semanal de @splinterlands. Ya con un poco mas de tiempo libre aproveche estos días para elegir el personaje e ir hacinado el boceto poco a poco y poder hacer correcciones, esta vez he hecho una bruja otra vez XD QUEEN OF CROWS fue el personaje que elegí esta semana, te cuento como fue hacerla y el paso a paso como cada fanart. vamos.

For the sketching phase I spent a little more than 1 hour but every time I made some changes, these last two weeks I have given myself the task of testing some other points of my drawings such as the face, improve facial expressions and lips as well, this time I wanted to make a portrait in my style, and although it is not very common to find portraits in this style, I thought it was good practice that my attention was focused on this specific part.
Para la fase de boceto le dedique poco mas de 1 hora pero cada vez que pasaba el dibujo le hacia algunos cambios, estas dos ultimas semanas me he dado la tarea de probar algunos otros puntos de mis dibujos como el rostro, mejorar las expresiones faciales y labios también, esta vez quise hacer un retrato en mi estilo, y aunque no es muy normal encontrar retratos de este estilo, me pareció buena practica que mi atención estuviese centrada en esta parte en especifico.

To create the shape of the face, shadow and body, I traced some ovals as a guide, to get a better idea of the proportions I wanted, I quite liked this exercise of making my drawings with geometric shapes, it gives another sense of movement and a certain symmetry that I quite like.
Para crear la forma del rostro, sombreo y cuerpo, trace algunos óvalos como guía, para tener una ida mejor incluso de las proporciones que quería, me ha gustado bastante este ejercicio de hacer mis dibujos con formas geométricas, le da otra sensación de movimiento y cierta simetría que me gusta bastante.

To paint her skin I decided this time to use browner tones, I wanted her skin to be a little more latin Xd usually I always do women with whiter or blond skins, so I thought it was interesting to combine her slanted eyes with a more tanned skin tone, for the colors of her hat and dress I wanted to be guided by the original colors because I was already making some changes to the shape of the dress and I didn't want the character to lose her image.
Para pintar su piel decidí esta vez utilizar unos tonos mas morenos, quería que su piel fuese un poco mas latina Xd por lo general siempre hago mujeres con pieles mas blancas o rubias, así que me pareció interesante combinar sus ojos achinados con un tono de piel mas bronceado, para los colores de su sombrero y vestido quería dejarme guiar bastante por los colores originales porque ya le estaba haciendo algunos cambios a la forma del vestido y no quería que el personaje perdiera su imagen.

When I saw this drawing a few weeks ago and when it was released as a new card I said; "those crows are going to be a headache" because drawing birds is not so easy in my style, but one moment I started to make strange shapes and I made a drop shape, that's when I imagined that with that shape I could make the body of the crows and the rest was a little easier to do, after finishing I added backlighting and the brightness that can not miss in my work, as they are always integrated in one way or another. What did you think? let me know your opinion.
Cuando vi este dibujo hace unas semanas ya cuando se estrenó como nueva carta dije; " esos cuervos van a ser un dolor de cabeza" porque dibujar aves no me es tan fácil en mi estilo, pero un momento empecé a hacer formas extrañas e hice una en forma de gota, fue allí cuando imagine que con esa forma podría hacer el cuerpo de los cuervos y ya lo demás fue un poco mas fácil de hacer, luego de terminar agregue contraluces y los brillos que no pueden faltar en mi trabajos, ya que siempre están integrados de una manera u otra. ¿ que te ha perecido? déjame saber tu opinión.

❉ Here is the final result of the Illustration/Aquí el resultado Final de la ilustración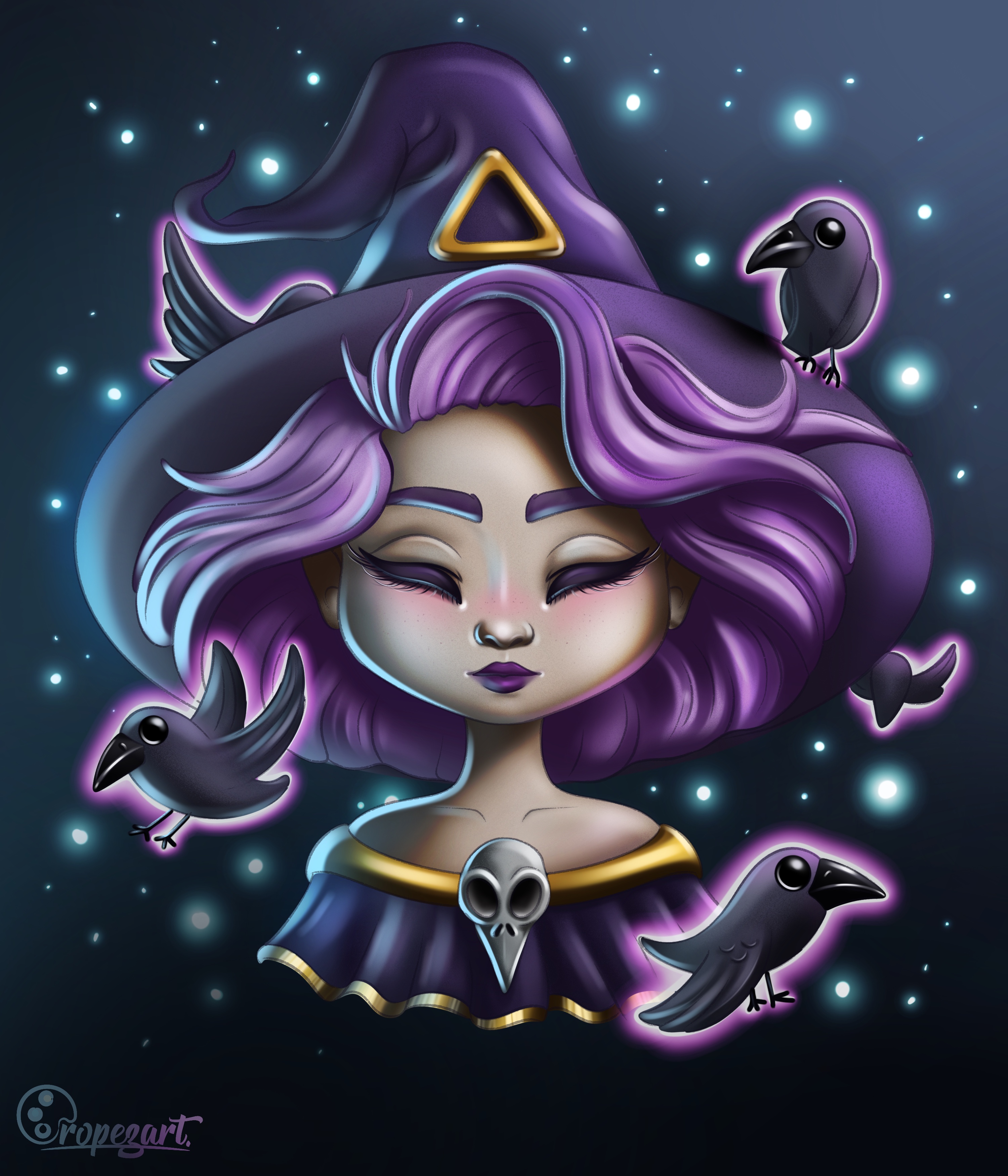 Original Illustration by:@chopiliart (Oropezart)
🖌Ilustración Original por @chopiliart (Oropezart)
Program:Procreate Duration: 5 hours
Programa: Procreate Duración:5 horas

Reference/Referencia: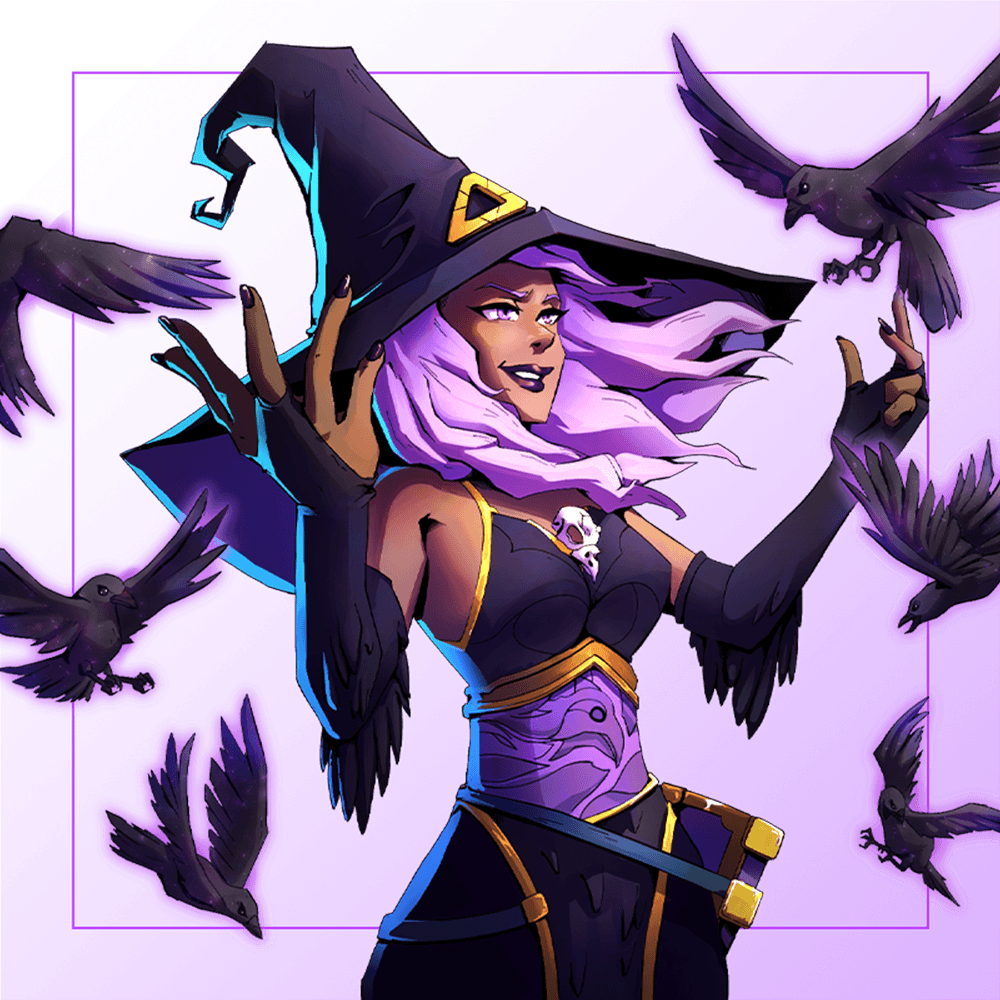 ✤QUEEN OF CROWS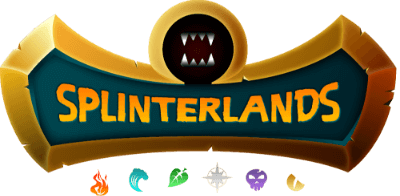 ➽The separator banner was created by me especially for my posts and is my property.
➽El banner separador fue creado por mi especialmente para mis posts y es de mi propiedad.
Do you like it?
¿te ha gustado?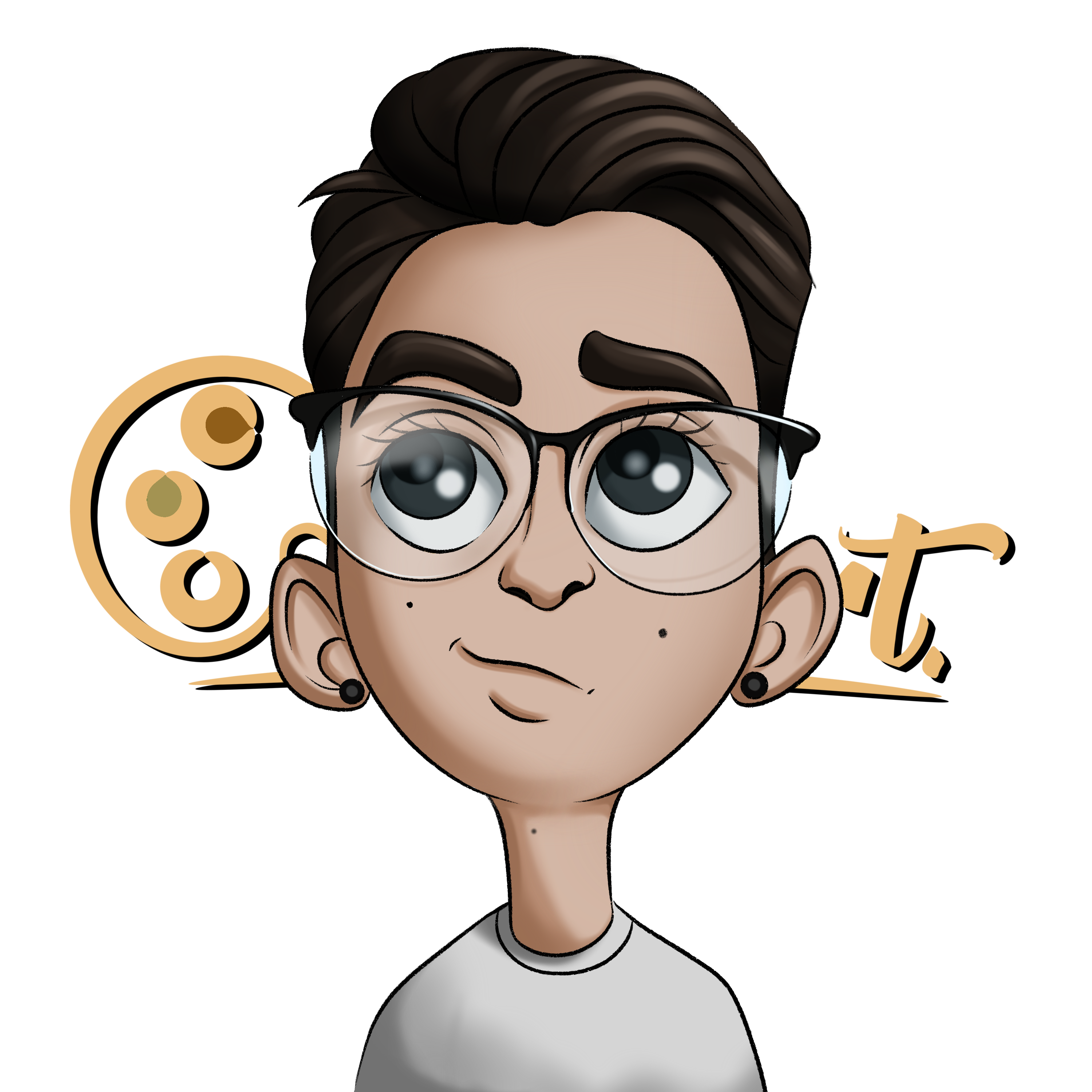 Original illustration by:@chopiliart (Oropezart)
ilustración original por: @chopiliart(Oropezart)
I hope my article has been to your liking, leave me your opinion about
illustration and if you have any questions about
illustration you can ask it and I will gladly answer in the comments. Until another post.
Espero mi artículo haya sido de tu agrado, déjame tu opinión acerca de la ilustración y si tienes alguna duda sobre ilustración puedes hacerla que con gusto responderé en los comentarios. Hasta otro post.
Follow me on/ Sígueme en instagram: @oropezart.digitalart
NFT available at /NFT disponibles en : Opensea
Translation by/Traducción gracias a: Deepl