i wouldn't say i started with a particular vision today. i'd created a few more space-related NFTs that are going into space (i'm going to share those either later tonight but probably tomorrow), but i wanted to just make something with no exact purpose again. it's been a while it feels like!
but before i get to what i made today, here's one of my first NFTs that i made. the full version of this sold to a fan who was probably being nice ahah. the STOP sign is not actually part of the image, but i wanted to play it safe even though this is an alien in the image, just happens to look like me.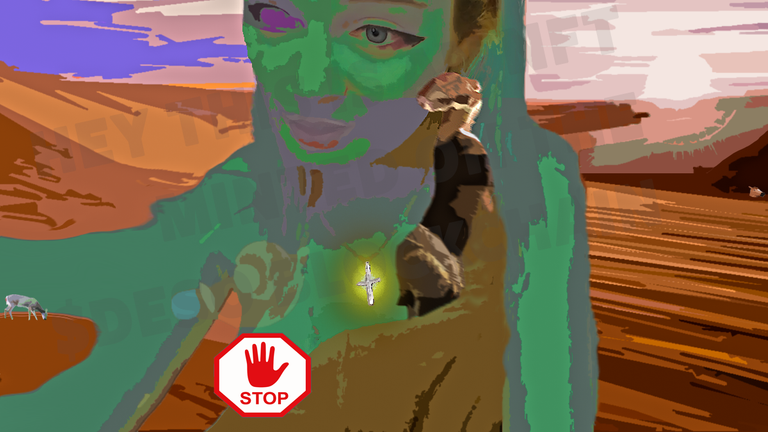 this image, i went into it wanting to just make myself into an alien in a different world. i mean, i guess mission accomplished, and i was happy with it at the time, but maybe now that i've made a lot more images, it's just not as appealing. it's like there's not enough going on and yet also too much. that thing on me was a snake, and initially this was animated. just the snake though, and fairly subtly. i like the idea of images that only slightly change on what feels like a random time interval, if the image is already meant to be slightly strange. to give it another quality like that.
but i had severe problems making it look acceptable. i pretty much chopped off the entirety of the snake to make this tiny unknown creature. i had to bail on the animation but i wasn't going to let my hard work of destroying the snake go to waste!
i do kind of like the unusual thing i did with the right arm, turning it into a river or lake or something there. even added a small animal there. this alien doesn't look like she brings life, and most of the landscape doesn't look lively, yet she's got an animal buddy and she seems to be providing water. maybe she's a very kind alien actually, and the green skin, the snake head, and the solid purple eye are traits that we should all take a deep look at ourselves and examine why we may have thought this alien could be a scary one based on those things. if you never thought that in the first place, good for you, but i did create the image so i'll just let you know that she was originally evil and so you're actually wrong LOL.
Okay, I'll type differently starting here, I think it's a nice stylistic choice and adds some beauty to this big chunk of text.
So today, all I knew was I wanted to become an alien again. Let's see, how do I want to start off showing what happened..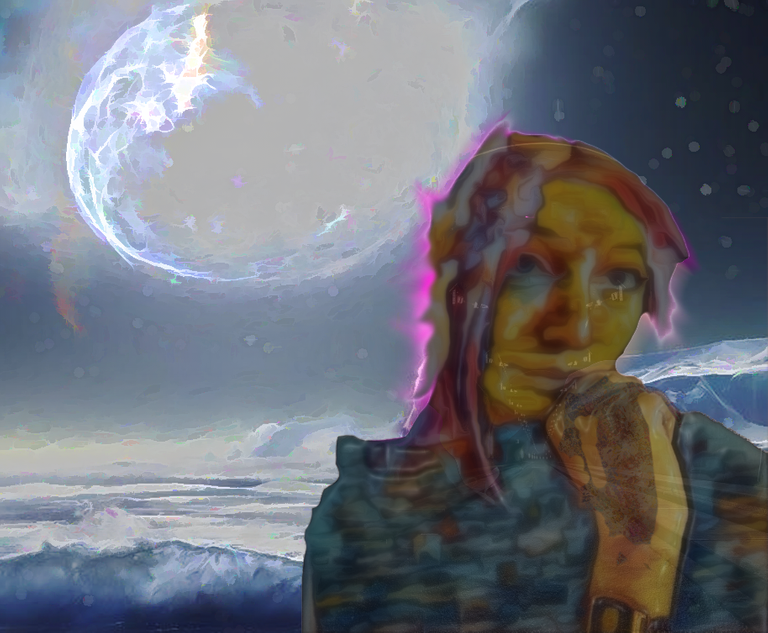 Okay, I'll take the safe route. I had gotten to this point in creating an image, and was starting to get a story in my head. I like to let the tools I'm using help me make the story when I don't have a goal in mind. Playing with textures, and ended up adding a texture to the alien of a kind of path leading into and through her. That was starting to give me some ideas, maybe this creepy flat-headed alien traveled to worlds in danger and revealed a path of salvation for.. other aliens. I didn't get very far with that. I was showing the image to @hugetiny in Discord and he asked about the head shape.
I didn't say the real reason at first, I was in the middle of making a story after all. I made up some nonsense about not having started off creating the alien with a head, and that "they" don't make faces that fit her head, so she was having to just make the best of the situation. Then I had a bit of a Face/Off situation going on in my mind, and asked if he would prefer to see her without her face. I don't remember his answer but I didn't need it, the choice had been made, the traveler would come.
Now this nice story about a kind alien traveling to help people turns into some kind of monster dress-up game. I don't really make "monsters" though, because I'm usually using my own image and I'm certainly no monster! Too late though, I had to try something. This was it after all, my big chance, it's not like I could turn around. I reached for the mouse, and had to grip it hard to capture it, though it wanted to slip.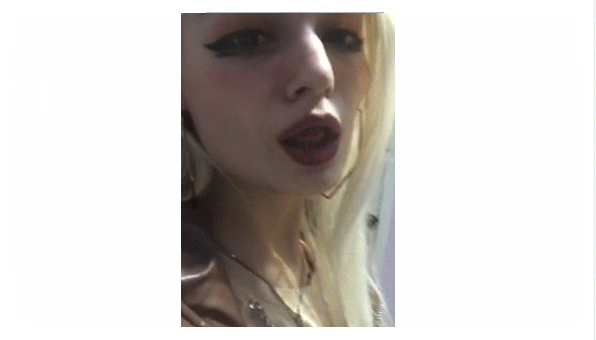 i really couldn't help it. i tried pumping myself up in the usual way (see image above, this is my "look into the mirror, come on you can do this girl" go-to move). i had already found my answer, but i had to play it out.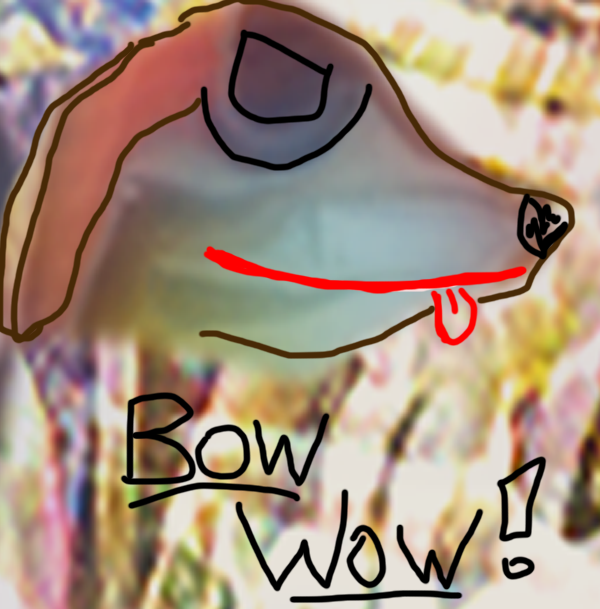 it's something, i guess. i mean, it's hard to do much with the mouse when your palms are sweaty.
i kinda had to step away, my knees were weak, totally off-balance. and okay, yeah, my arms got heavy, next thing i knew, vomit on my sweater. oh wait it was there already.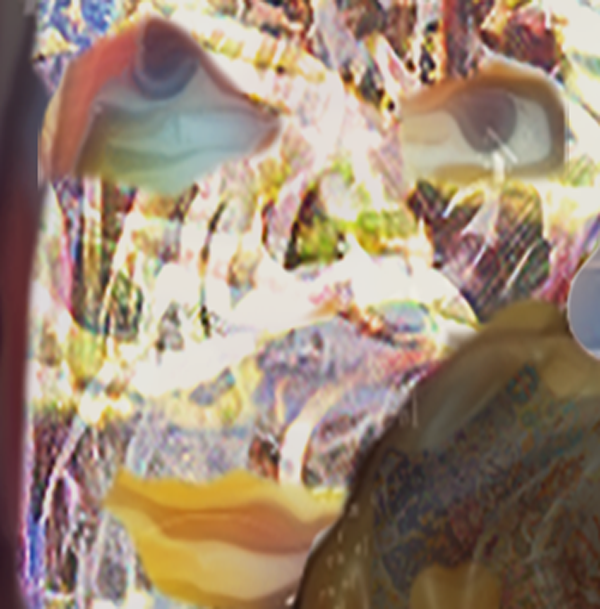 but yeah, it's mom's spaghetti.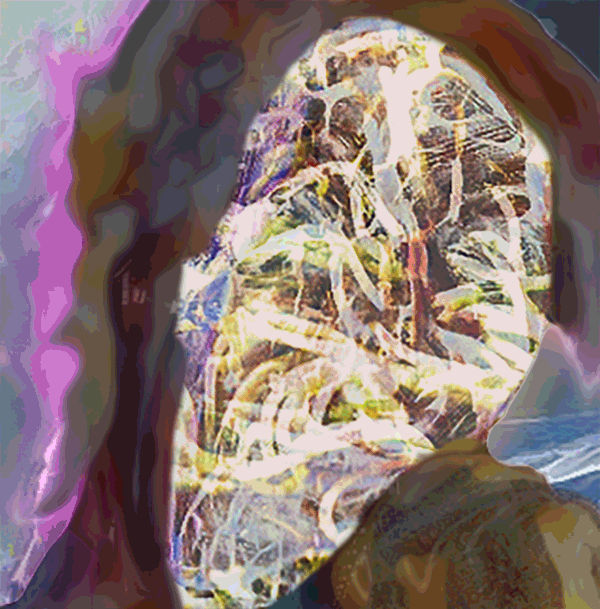 i fixed the head shape, kind of, with clever placement of eyes and mouth. suddenly, i knew i had owned this moment. i mean, amazing, right?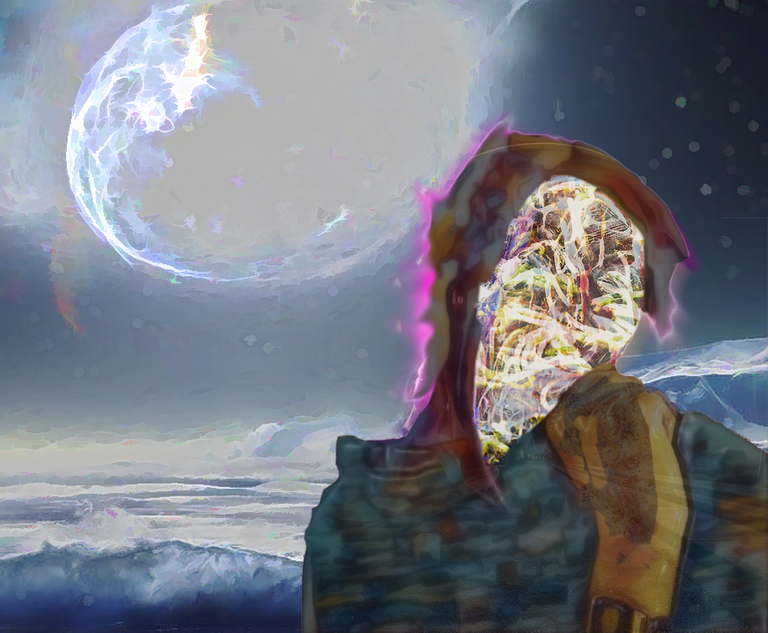 so, you know, in that first image i had a plan, my alien turned from evil to very nice, but i ended up not being totally satisfied with it looking back on it later. this one, no plan, alien went from good to monster. but i've still got the path here going inwards, i could definitely work more with it if i wanted.
but i decided this would make a great gift for my mother on mother's day. i made one final image, just to animate back and forth, here, why don't i just show you?
and here's a fun intermediary image i made with that beautiful spaghetti-like texture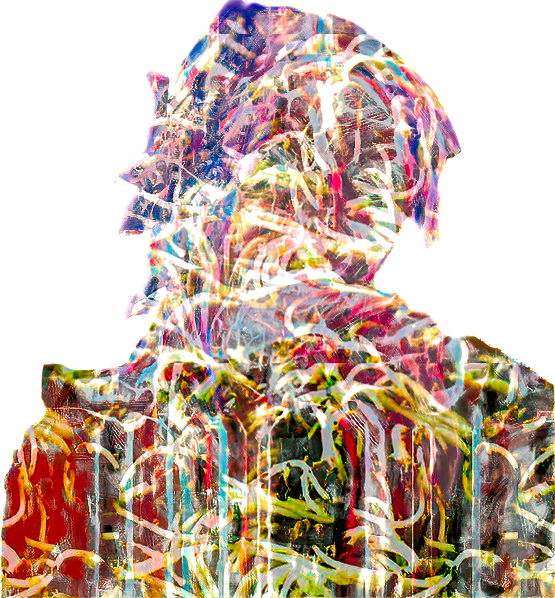 Thank you for coming along for this weird ride through my thoughts. Before you go, I must make sure that you do not think I decided to use the Eminem lyrics for the post. Those lyrics are actually what came into my thoughts when I had to think of what her real face would look like for the reveal. I did really want to try to hide the fact that I was using the lyrics in the post, it's really tough with those lyrics, but it would probably come across as a weird choice if I had thought to try to weave those lyrics into my post after the fact. I mean, I guess the spaghetti connection would give it some merit, but then surely something else would have led me to using a spaghetti-like texture.
It would pain me if anyone thinks I was using the Eminem lyrics as like just a "joke" for the post LOL. I tried to disguise them without being just ridiculous about it, but I mean, I actually thought it would be super weird to just start writing the real lyrics ahaha. And I guess subconsciously I actually started from the "mom's spaghetti" line, but it felt like I.. lost myself in the music. I have to let it go.
You can do anything you set your mind to, man.
THE END
i'll be back tomorrow with some more stuff that's going into space. i think i just fried my brain a little ahaha.
so here, this is one of my cats, i don't know if i posted this one before, but it's a good strong photo of her.