---
Hello to all Splinterlands fans! I'm lorentm, a digital artist who loves creating art inspired by video games and characters. I'm very excited to participate in the Splinterlands weekly art contest again, and today I want to present my second Simpsons-style adaptation of the character "Pyromaniac", using the famous Bart Simpson character as a reference. For those who are not familiar with Pyromaniac, he is a very well known character in the Splinterlands world. He is a creature that worships fire and uses his pyromantic abilities to wreak havoc on the battlefield. Pyromaniac is known for his intimidating appearance and his ability to cause massive damage to his opponents. In my adaptation, I decided to give Pyromaniac a more friendly and mischievous touch. Inspired by the iconic Bart Simpson character, I decided to make a version of Pyromaniac that feels more like a cartoon character and less like a threat on the battlefield. Instead of an intimidating character, I transformed him into a fun creature, with a style reminiscent of Simpsons art. I hope you enjoy my second Simpsons-style adaptation of Pyromaniac. I would love to get your comments and feedback on my work. And if you like my creation, don't forget to vote for me in the Splinterlands weekly art contest.
¡Hola a todos los fans de Splinterlands! Soy lorentm, una artista digital que ama la creación de arte inspirado en videojuegos y personajes. Estoy muy emocionada de participar en el concurso semanal de arte de Splinterlands nuevamente, y hoy quiero presentar mi segunda adaptación del personaje "Pyromaniac" al estilo de los Simpsons, usando como referencia al famoso personaje de Bart Simpson. Para aquellos que no están familiarizados con Pyromaniac, es un personaje muy conocido en el mundo de Splinterlands. Es una criatura que adora el fuego y usa sus habilidades pirománticas para causar estragos en el campo de batalla. Pyromaniac es conocido por su apariencia intimidante y su capacidad para causar daño masivo a sus oponentes. En mi adaptación, decidí darle a Pyromaniac un toque más simpático y travieso. Inspirada por el icónico personaje de Bart Simpson, decidí hacer una versión de Pyromaniac que se siente más como un personaje de dibujos animados y menos como una amenaza en el campo de batalla. En lugar de un personaje intimidante, lo transformé en una criatura divertida, con un estilo que recuerda al arte de los Simpsons. Espero que disfruten de mi segunda adaptación de Pyromaniac al estilo de los Simpsons. Me encantaría recibir sus comentarios y opiniones sobre mi trabajo. Y si les gusta mi creación, no olviden votar por mí en el concurso semanal de arte de Splinterlands.
To start, I began by collecting references to Pyromaniac and the Bart Simpson character. I wanted to make sure my adaptation was true to both characters and had a cohesive feel. Then, I began sketching on my tablet various ideas for the character's composition, pose, and details. Once I had a clear idea of what I wanted to do, I made a sketch of the character, then started adding details, such as his backpack full of dynamite. For the backpack, I started by drawing the basic shape and adding details like the buckles and straps. Then, I drew the dynamite inside the backpack, making sure it looked realistic and consistent with the character's aesthetic. After adding the backpack, I worked on the lighting and shadow, to give depth and dimension to the image. I used a bright, vibrant color palette to make sure the image felt lively and in line with the Simpsons aesthetic. Finally, I added additional details, such as the fire coming out of the dynamite and the reflections in Pyromaniac's eyes, to make the image even more vivid and realistic. And that's how I created my Simpsons-style drawing of Pyromaniac. I hope you enjoyed my creation process and found it useful, thanks for reading!
Para comenzar, empecé por recopilar referencias de Pyromaniac y del personaje de Bart Simpson. Quería asegurarme de que mi adaptación fuera fiel a ambos personajes y tuviera una sensación cohesiva. Luego, comencé a bocetar en mi tablet varias ideas para la composición, la postura y los detalles del personaje. Una vez que tuve una idea clara de lo que quería hacer, realice un delineado del personaje, luego comencé a agregar detalles, como su mochila llena de dinamita. Para la mochila, comencé por dibujar la forma básica y agregar detalles como las hebillas y las correas. Luego, dibujé la dinamita dentro de la mochila, asegurándome de que se viera realista y coherente con la estética del personaje. Después de agregar la mochila, trabajé en la iluminación y la sombra, para darle profundidad y dimensión a la imagen. Utilicé una paleta de colores brillantes y vibrantes para asegurarme de que la imagen se sintiera animada y en línea con la estética de los Simpsons. Finalmente, añadí detalles adicionales, como el fuego que sale de la dinamita y los reflejos en los ojos de Pyromaniac, para hacer la imagen aún más vívida y realista. Y así fue como creé mi dibujo de Pyromaniac al estilo de los Simpsons. Espero que hayan disfrutado de mi proceso de creación y que les haya resultado útil. ¡Gracias por leer!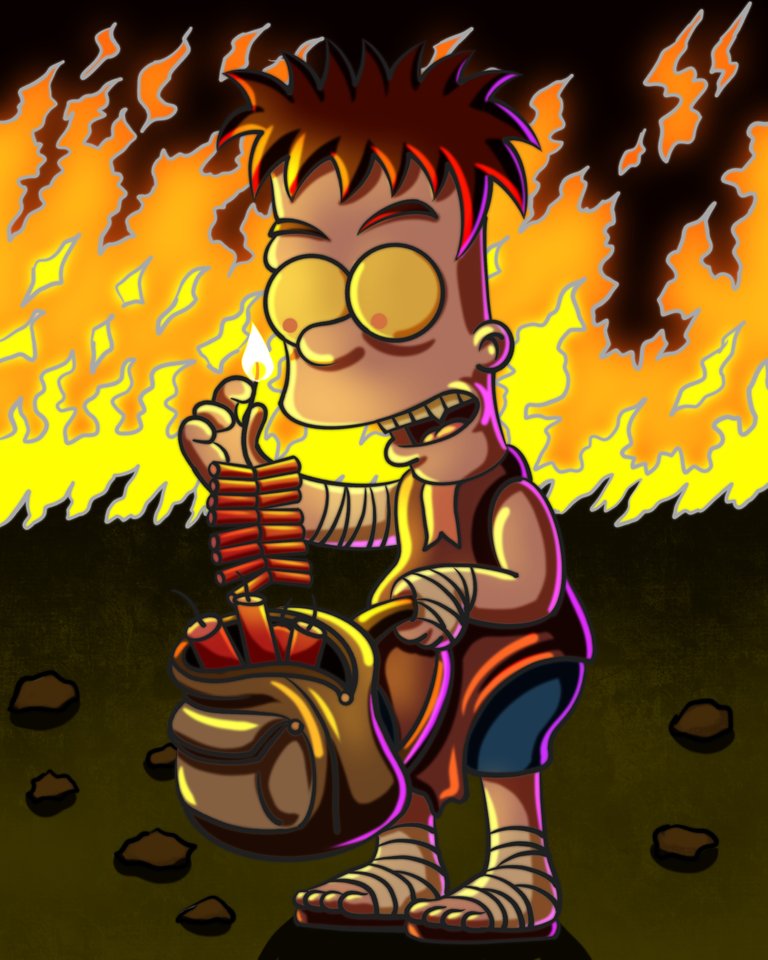 The Pyromaniacs are a growing tribe of creatures (mostly Human) living outside the city of Azad in the Burning Lands. They have all migrated to the Fire Splinter as religious zealots, but they are also extremely dangerous. They must be constantly driven back from the city walls by the Torch Guard. The Pyromaniacs' love of fire drives them to set many things ablaze, just because they can.
Los Pirómanos son una tribu creciente de criaturas (en su mayoría Humanos) que viven en las afueras de la ciudad de Azad, en las Tierras Ardientes. Todos han emigrado a la Esquirla de Fuego como fanáticos religiosos, pero también son extremadamente peligrosos. La Guardia de la Antorcha debe alejarlos constantemente de las murallas de la ciudad. El amor de los Pirómanos por el fuego les lleva a prender fuego a muchas cosas, sólo porque pueden.
---
Process / Proceso





---
Layer Technique Breakdown
---
Materials / Materiales
The tools I used for the drawing were the following:
Android tablet.
Capacitive pen (Stylus).
Ibis Paint X program.
Brushes: Pencil, Airbrush, Fuzzy, Marker.
Las herramientas que use para el dibujo fueron las siguientes:

Tableta Android.
Lápiz Capacitivo (Stylus).
Programa Ibis Paint X.
Pinceles: Lapiz, Aerografo, Difumino, Rotulador.
Reference / Referencia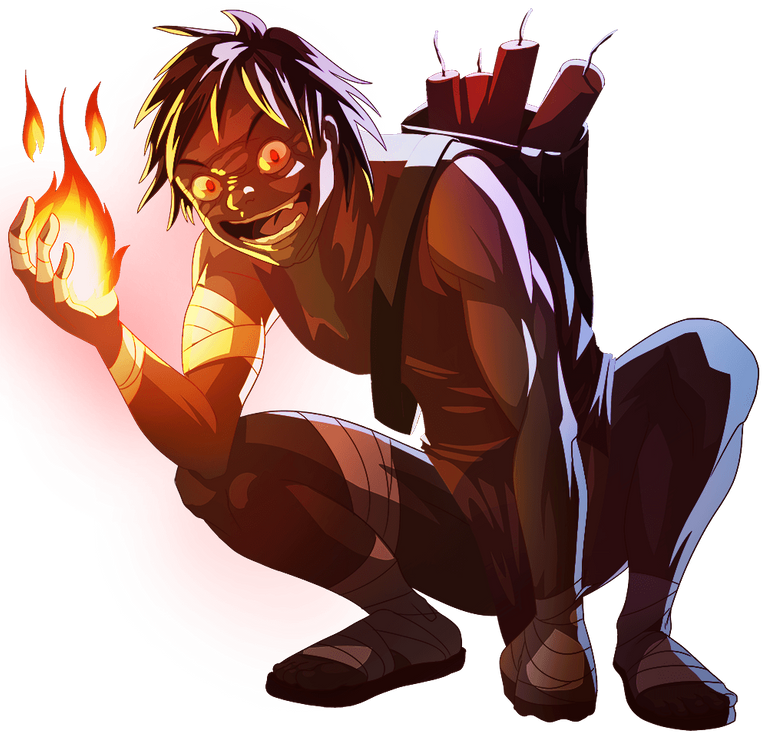 Reference link / Link de referencia
---
Thanks for reading and getting here, see you in the next post.
Gracias por leer y llegar hasta aqui, nos vemos en el siguiente post.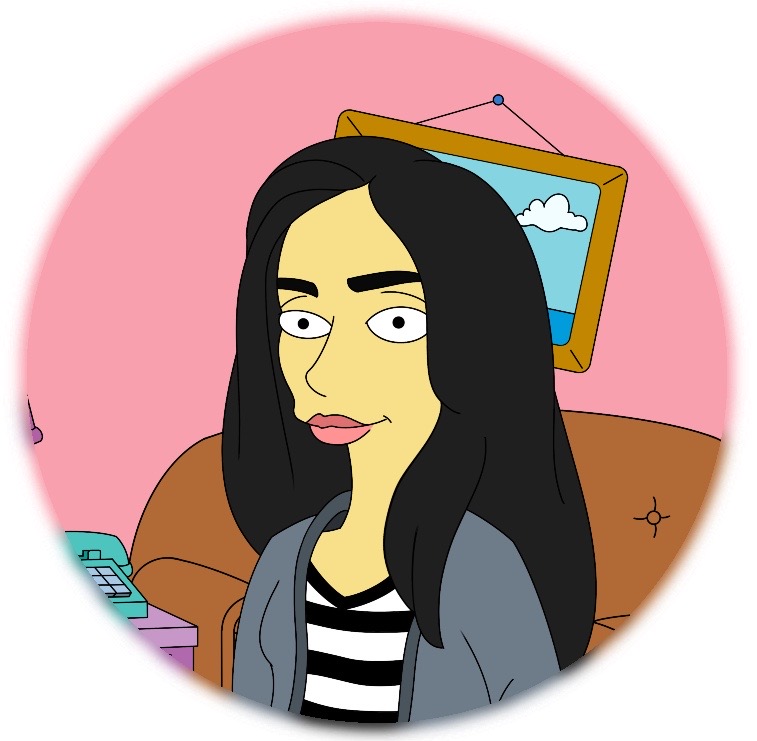 Discipline is the power of all professionalism.
La disciplina es el poder de todo profesionalismo.