---
Hi! Today I want to share with you my experience participating in Splinterlands weekly social media initiative. For those who don't know, Splinterlands is a collectible card game based on blockchain. Every week, Splinterlands performs this initiative so that players around the world can participate by creating content related to this topic.
For my participation, I decided to do something different and fun. I wanted to make an adaptation of the character "Fire Demon" in the style of the Simpsons, inspired by Fat Tony from the series. I thought it was an interesting challenge, since I wanted to keep the essence of the original Splinterlands character, but at the same time give him a different and fun Simpsons-style touch.
To achieve this, I started by doing some research on Fat Tony's appearance and personality in the series. Then, I adapted the character's features to my interpretation of the "Fire Demon", using the colors and characteristics that best fit the idea I had in mind.
The end result was a fun and striking image. I loved the creative process and the challenge of adapting a character from one universe to another.
In conclusion, participating in Splinterlands' weekly initiatives is a great way to showcase our creativity and artistic skills. It is also an opportunity to connect with other players and share our passion for the game. If you haven't already done so, get excited to participate in the next initiative!
¡Hola! Hoy quiero compartir con ustedes mi experiencia participando en la iniciativa de social media que realiza Splinterlands semanalmente. Para aquellos que no lo sepan, Splinterlands es un juego de cartas coleccionables basado en blockchain. Cada semana, Splinterlands realiza está iniciativa para que los jugadores del todo el mundo puedan participar creando contenido relacionado con este tema.
Para mi participación, decidí hacer algo diferente y divertido. Quería hacer una adaptación del personaje "Fire Demon" al estilo de los Simpsons, inspirándome en Fat Tony de la serie. Me pareció un reto interesante, ya que quería mantener la esencia del personaje original de Splinterlands, pero al mismo tiempo darle un toque diferente y divertido al estilo de los Simpsons.
Para lograrlo, comencé por hacer una investigación sobre el aspecto y personalidad de Fat Tony en la serie. Luego, adapté los rasgos del personaje a mi interpretación del "Fire Demon", utilizando los colores y características que mejor se adaptaban a la idea que tenía en mente.
El resultado final fue una imagen divertida y sorprendente. Me encantó el proceso creativo y el reto de adaptar un personaje de un universo a otro.
En conclusión, participar en las iniciativas semanales de Splinterlands es una excelente manera de demostrar nuestra creatividad y habilidades artísticas. Además, es una oportunidad para conectar con otros jugadores y compartir nuestra pasión por el juego. Si aún no lo has hecho, ¡anímate a participar en la próxima iniciativa!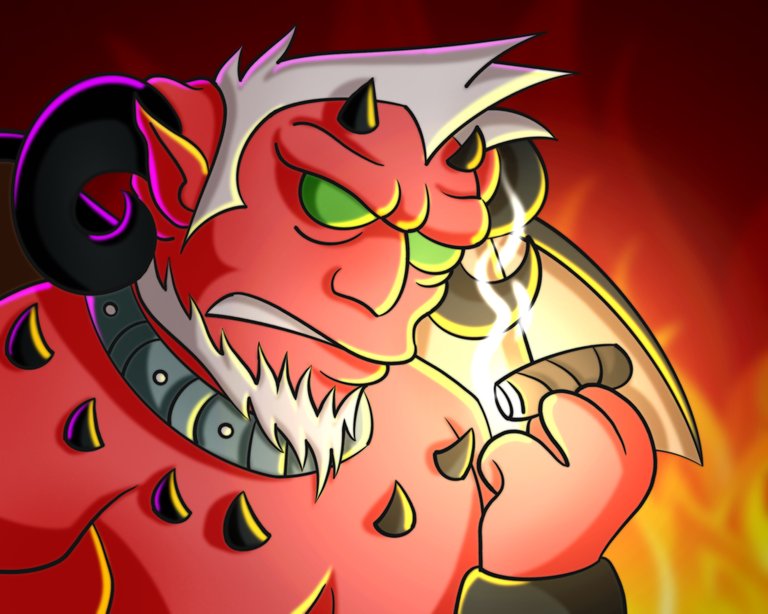 Although they can be summoned to battle, the Fire Demons have no desire to be part of a United Splinterlands. They are proponents of ancient ways of flame, cold and dark. They would rather see the world burn in Mittreya's cleansing fire than watch the Splinters become one.
Aunque pueden ser invocados a la batalla, los Demonios de Fuego no desean formar parte de una Escisión Unida. Son partidarios de las antiguas formas de la llama, frías y oscuras. Preferirían ver el mundo arder en el fuego purificador de Mittreya que ver a las Esquirlas unidas..
---
Process / Proceso
The first thing I did was to look for references to both the Fire Demon from Splinterlands and the Fat Tony character in The Simpsons. This allowed me to get a clear idea of what I wanted the final image to look like.
Then, I started drawing the initial sketch of the character. I started with basic shapes and simple lines to make sure the structure of the character was well defined. Then, I added details such as the nose, horns, wings and tobacco. I took my time to make sure every detail was accurate and made sense in the final design.
Once I finished the sketch, I started adding layers of color. I chose a color palette that was in line with the Fire Demon character, using reds and dark browns for the skin and horns.
Once I was satisfied with the color palette, I started adding shadows and highlights to give depth to the drawing. I used a soft brush technique to create a soft, natural shading effect.
Finally, I added some additional details, such as tobacco smoke. I also adjusted some details of the demon's face to make it more similar to Fat Tony's character.
In summary, the process of creating this digital drawing involved careful planning, drawing the sketch, applying color layers, shading, highlights and additional details. I hope you liked the creation process and that you enjoy the final image as much as I enjoyed creating it.
Thanks for reading and see you soon with more artistic creations!
Lo primero que hice fue buscar referencias tanto del Fire Demon de Splinterlands como del personaje de Fat Tony en The Simpsons. Esto me permitió tener una idea clara de cómo quería que se viera la imagen final.
Luego, comencé a dibujar el boceto inicial del personaje. Empecé con formas básicas y líneas sencillas para asegurarme de que la estructura del personaje estuviera bien definida. Después, fui agregando detalles como la nariz, los cuernos, las alas y el tabaco. Me tomé mi tiempo para asegurarme de que cada detalle fuera preciso y tuviera sentido en el diseño final.
Una vez que terminé el boceto, empecé a añadir capas de color. Elegí una paleta de colores que estuviera en línea con el personaje de Fire Demon, utilizando colores rojos y marrones oscuros para la piel y los cuernos.
Una vez que estuve satisfecha con la paleta de colores, comencé a agregar sombras y luces para dar profundidad al dibujo. Utilicé una técnica de pincel suave para crear un efecto de sombreado suave y natural.
Finalmente, añadí algunos detalles adicionales, como el humo del tabaco. También ajusté algunos detalles del rostro del demonio para hacerlo más similar al personaje de Fat Tony.
En resumen, el proceso de creación de este dibujo digital implicó una cuidadosa planificación, dibujo del boceto, aplicación de capas de color, sombreado, luces y detalles adicionales. Espero que les haya gustado el proceso de creación y que disfruten de la imagen final tanto como yo disfruté creándola.
¡Gracias por leer y nos vemos pronto con más creaciones artísticas!





---
Layer Technique Breakdown
---
Materials / Materiales
The tools I used for the drawing were the following:
Android tablet.
Capacitive pen (Stylus).
Ibis Paint X program.
Brushes: Pencil, Airbrush, Fuzzy, Marker.
Las herramientas que use para el dibujo fueron las siguientes:

Tableta Android.
Lápiz Capacitivo (Stylus).
Programa Ibis Paint X.
Pinceles: Lapiz, Aerografo, Difumino, Rotulador.
Reference / Referencia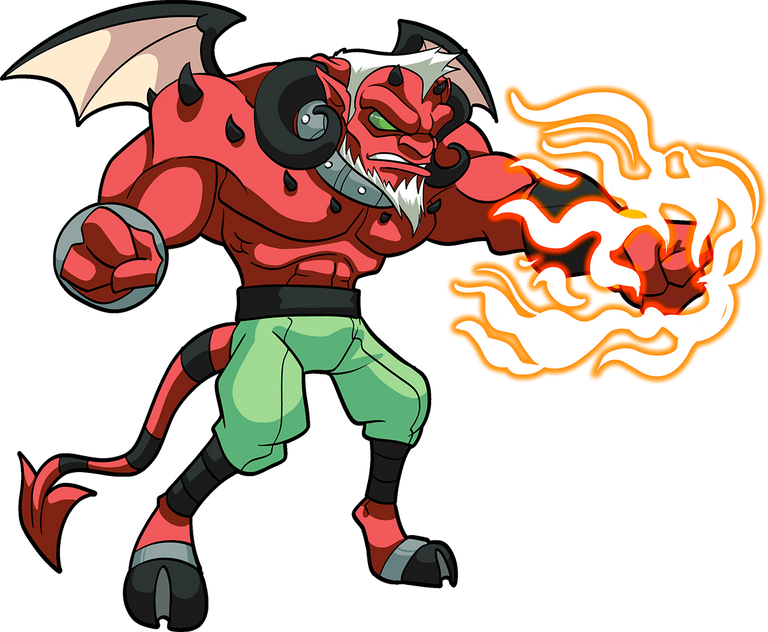 Reference link / Link de referencia
---
Thanks for reading and getting here, see you in the next post.
Gracias por leer y llegar hasta aqui, nos vemos en el siguiente post.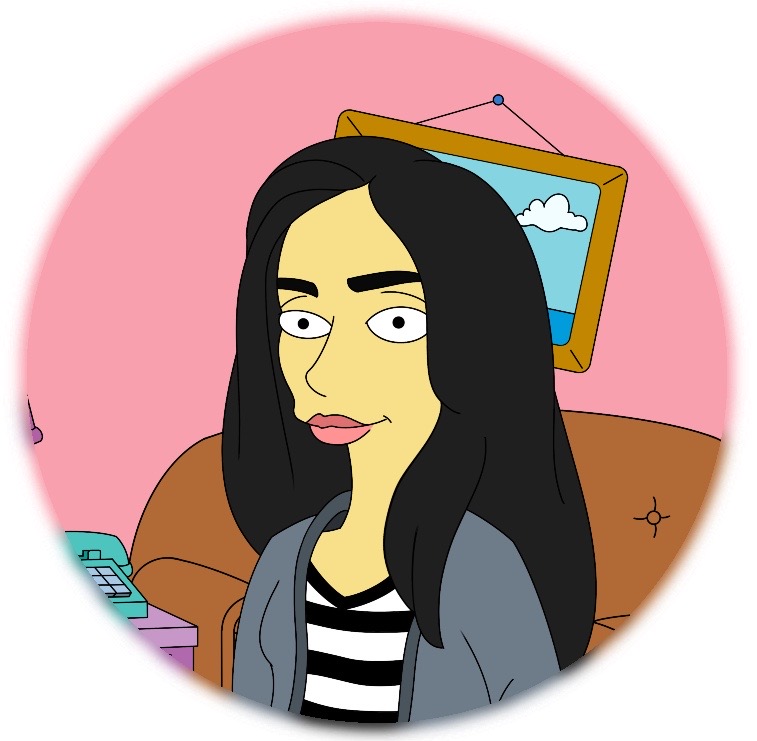 Discipline is the power of all professionalism.
La disciplina es el poder de todo profesionalismo.