---
Hello everyone! I'm lorentm. Today I want to share with you my latest art project for the online collectible card game, Splinterlands. As many of you know, I'm a digital artist and have been working in this field for several years. I love creating art inspired by video game and movie characters and worlds, and Splinterlands is one of my favorite games to do so. Recently, I participated in the Splinterlands social media section, where players can share their art, videos, screenshots and other content related to the game. This section is a great opportunity for artists like me to showcase our work and connect with other players who are passionate about Splinterlands. For my entry, I decided to make a fanart of the character Pelacor Arbalest in Simpsons style, using the character "Disco Stu" from the famous TV series as inspiration. I love how Simpsons characters are iconic and recognizable, and I thought it would be fun to see Pelacor in this style. Creating the art was a challenge, as I had to make sure to capture the essence of both characters and blend them together in a harmonious way. The end result was a fun and unique fanart that I hope Splinterlands fans will love. I think Pelacor looks great in the Simpsons style, and I'm excited to share my work with the Splinterlands community. All in all, it was a great experience to participate in the Splinterlands social media section and create this fanart. I love having the opportunity to share my passion for art and video games with other passionate gamers, and I hope this fanart inspires other artists to create their own Splinterlands-inspired work.
¡Hola a todos! Soy lorentm. Hoy quiero compartir con ustedes mi último proyecto de arte para el juego de cartas coleccionables en línea, Splinterlands. Como muchos de ustedes saben, soy una artista digital y he estado trabajando en este campo durante varios años. Me encanta crear arte inspirado en personajes y mundos de videojuegos y películas, y Splinterlands es uno de mis juegos favoritos para hacerlo. Recientemente, participé en la sección de redes sociales de Splinterlands, donde los jugadores pueden compartir su arte, videos, capturas de pantalla y otros contenidos relacionados con el juego. Esta sección es una gran oportunidad para los artistas como yo de mostrar nuestro trabajo y conectarnos con otros jugadores apasionados por Splinterlands. Para mi entrada, decidí hacer un fanart del personaje Pelacor Arbalest al estilo de los Simpsons, utilizando como inspiración al personaje "Disco Stu" de la famosa serie de televisión. Me encanta cómo los personajes de Los Simpson son icónicos y reconocibles, y pensé que sería divertido ver a Pelacor en este estilo. La creación del arte fue un desafío, ya que tuve que asegurarme de capturar la esencia de ambos personajes y fusionarlos de una manera armoniosa. El resultado final fue un fanart divertido y único que espero que a los fanáticos de Splinterlands les encante. Creo que Pelacor se ve genial en el estilo de los Simpsons, y estoy emocionada de compartir mi trabajo con la comunidad de Splinterlands. En resumen, fue una gran experiencia participar en la sección de redes sociales de Splinterlands y crear este fanart. Me encanta tener la oportunidad de compartir mi pasión por el arte y los videojuegos con otros jugadores apasionados, y espero que este fanart inspire a otros artistas a crear su propio trabajo inspirado en Splinterlands.
The process of creating the Simpsons-style digital drawing of Pelacor Arbalest was quite interesting and required several stages. First, I sketched Pelacor on my drawing tablet. I made sure that Pelacor's pose and appearance were correct, and I also added some details that I thought would be interesting to incorporate into the final drawing. Next, I created a new layer and began tracing Pelacor's outlines using a digital pencil tool. Once I had the Pelacor outline ready, I created a new layer and started adding base colors using the fill tool. At this point, I used a color palette inspired by the warm and earth tones of Pelacor in Splinterlands. After this, I started adding shadows and highlights through additional layers. I made sure to pay attention to the light source in the drawing and added shadows where the light didn't reach and highlights where needed. Finally, I created a background with a desert theme, in the style of the old west, I thought the warm tones of the scenery would be perfect for the character. Once I finished the drawing, I reviewed it to make sure there were no mistakes or problems, and adjusted the final details. Finally, I exported the digital drawing in a high-resolution format to share on my art blog at hive.blog and in the Splinterlands social media section. In summary, the process of creating this digital drawing was exciting and challenging, but also fun and satisfying. I enjoyed the opportunity to experiment with different techniques and drawing styles, and I'm excited to share the final result with the Splinterlands community and other digital art fans.
El proceso de creación del dibujo digital de Pelacor Arbalest al estilo de los Simpsons fue bastante interesante y requirió de varias etapas. Primero, hice un boceto de Pelacor en mi tableta de dibujo. Me aseguré de que la pose y la apariencia de Pelacor fueran correctas, y también añadí algunos detalles que pensé que serían interesantes para incorporar en el dibujo final. Luego, creé una nueva capa y comencé a trazar los contornos de Pelacor utilizando una herramienta de lápiz digital. Una vez que tuve el contorno de Pelacor listo, creé una nueva capa y comencé a agregar colores base utilizando la herramienta de relleno. En este punto, usé una paleta de colores inspirada en los tonos cálidos y tierra de Pelacor en Splinterlands. Después de esto, comencé a agregar sombras y luces a través de capas adicionales. Me aseguré de prestar atención a la fuente de luz en el dibujo y añadí sombras donde la luz no llegaba y luces donde era necesario. Finalmente, cree un fondo con una temática desértica, al estilo del viejo oeste, pensé que los tonos cálidos del escenario irían perfecto al personaje. Una vez que terminé el dibujo, lo revisé para asegurarme de que no hubiera errores o problemas, y ajusté los detalles finales. Finalmente, exporté el dibujo digital en un formato de alta resolución para compartirlo en mi blog de arte en hive.blog y en la sección de redes sociales de Splinterlands. En resumen, el proceso de creación de este dibujo digital fue emocionante y desafiante, pero también divertido y satisfactorio. Disfruté de la oportunidad de experimentar con diferentes técnicas y estilos de dibujo, y estoy emocionada de compartir el resultado final con la comunidad de Splinterlands y otros fanáticos del arte digital.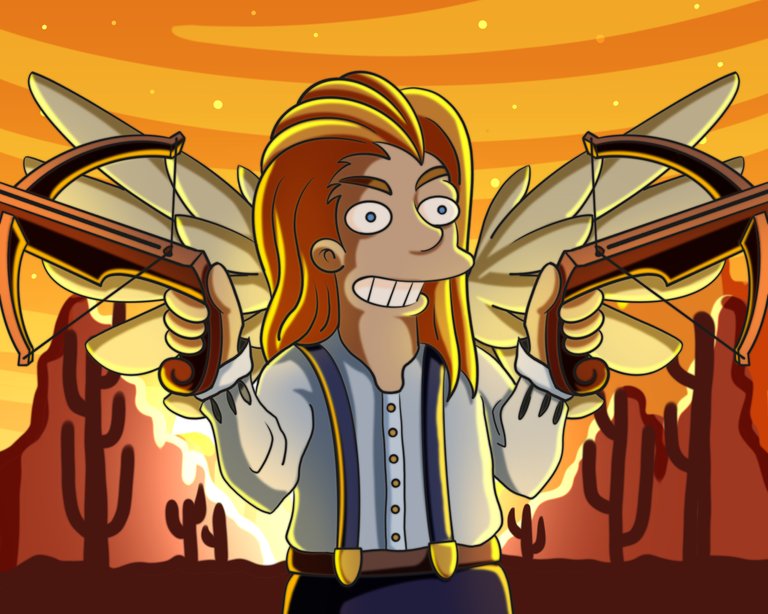 Pelacor Arbalests are armed with powerful crossbows enchanted to fire bolts at extremely long distances. They are trained to wield a crossbow in each hand and can fire both simultaneously with deadly accuracy. Compounded with the Pelacor's excellent eyesight and nimble dexterity, these sharpshooters are extremely useful as snipers on the battlefield.
Los Pelacor Arbalests van armados con poderosas ballestas encantadas para disparar virotes a distancias extremadamente largas. Están entrenados para blandir una ballesta en cada mano y pueden disparar ambas simultáneamente con una precisión mortal. Junto con la excelente vista y la ágil destreza del Pelacor, estos francotiradores son extremadamente útiles como francotiradores en el campo de batalla.
---
Process / Proceso





---
Layer Technique Breakdown
---
Materials / Materiales
The tools I used for the drawing were the following:
Android tablet.
Capacitive pen (Stylus).
Ibis Paint X program.
Brushes: Pencil, Airbrush, Fuzzy, Marker.
Las herramientas que use para el dibujo fueron las siguientes:

Tableta Android.
Lápiz Capacitivo (Stylus).
Programa Ibis Paint X.
Pinceles: Lapiz, Aerografo, Difumino, Rotulador.
Reference / Referencia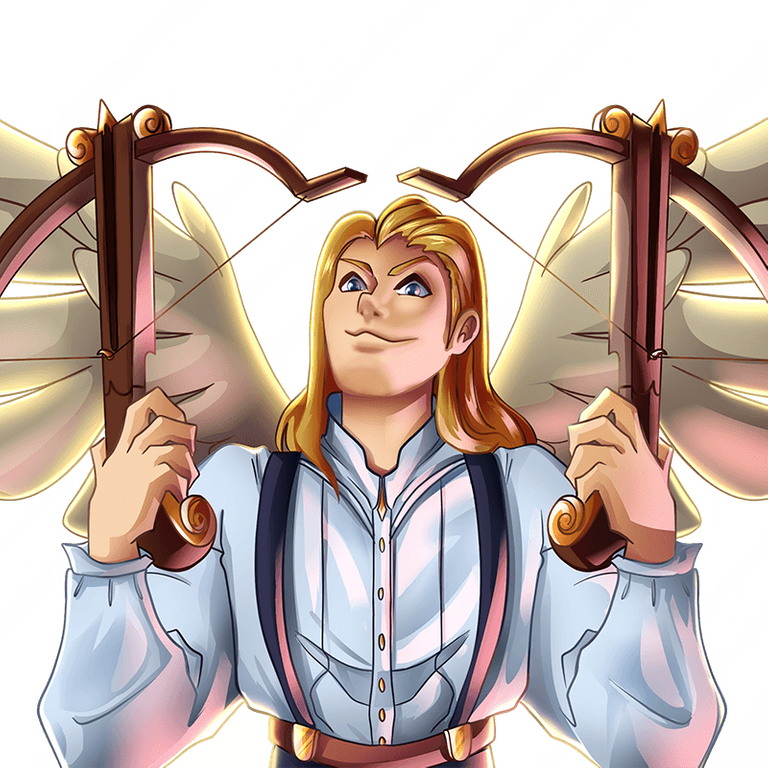 Reference link / Link de referencia
---
Thanks for reading and getting here, see you in the next post.
Gracias por leer y llegar hasta aqui, nos vemos en el siguiente post.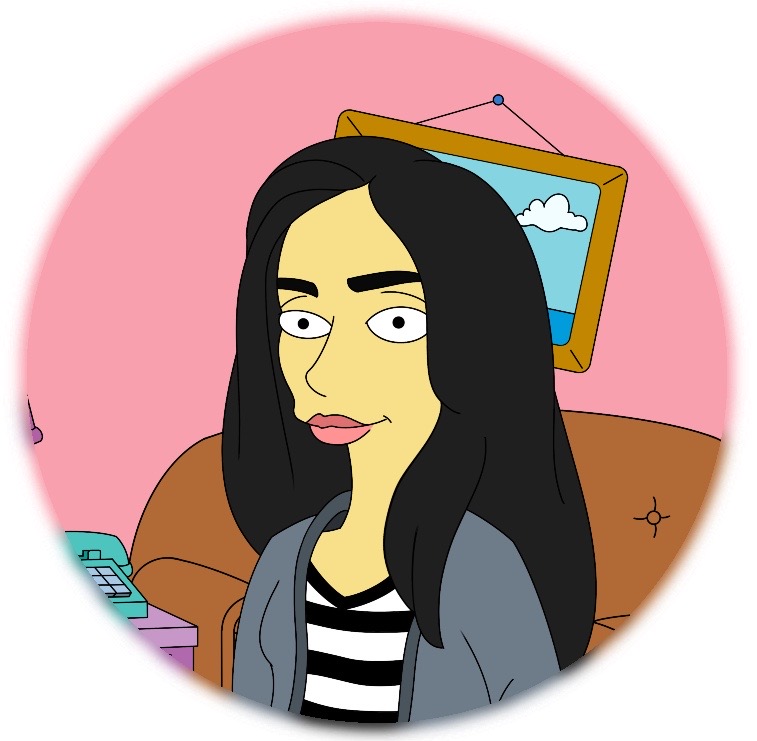 Discipline is the power of all professionalism.
La disciplina es el poder de todo profesionalismo.