Hola a todos comunidad esta es mi entrega semanal donde de un personaje lo re-dibujo a mi estilo, y mi estilo es un estilo anime humanizado, y así lo hice, mi personaje de inspiración fue FLAMESMITH en donde es un personaje que si lo describiría de maneja sencilla es una llama/lava humana y yo quise tomar este personaje y hacer uno propio pero con las características que más representaba a este personaje que es; el fuego, las llamas, el martillo y la espada donde el se funde.
Hello everyone, community, this is my weekly installment where I re-draw a character in my style, and my style is a humanized anime style, and I did so, my inspirational character was FLAMESMITH where it is a character that I would describe. easy to handle, it is a human flame/lava and I wanted to take this character and make one of my own but with the characteristics that most represented this character that he is; the fire, the flames, the hammer and the sword where he melts.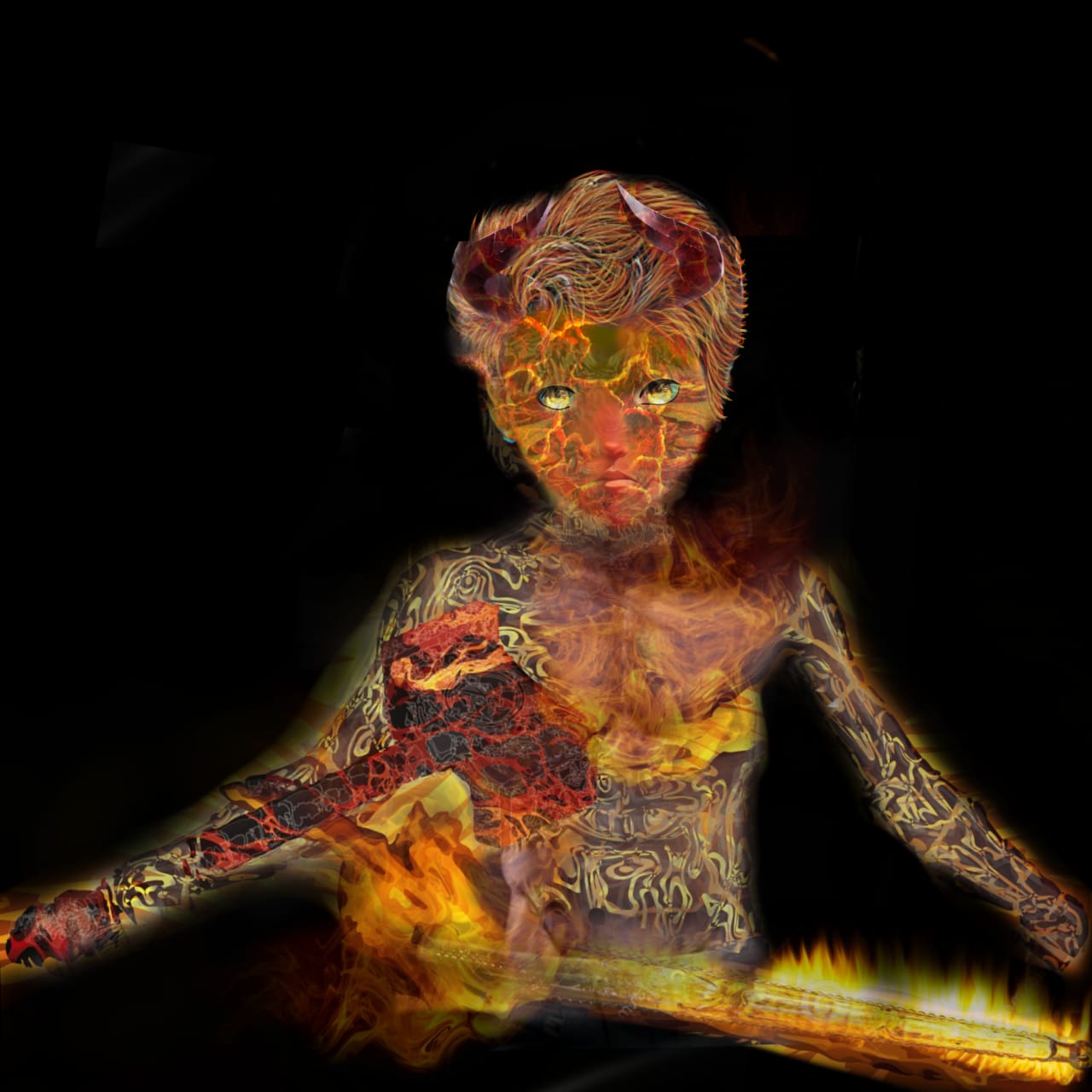 Imagen de inspiración y referencia.
Image for inspiration and reference.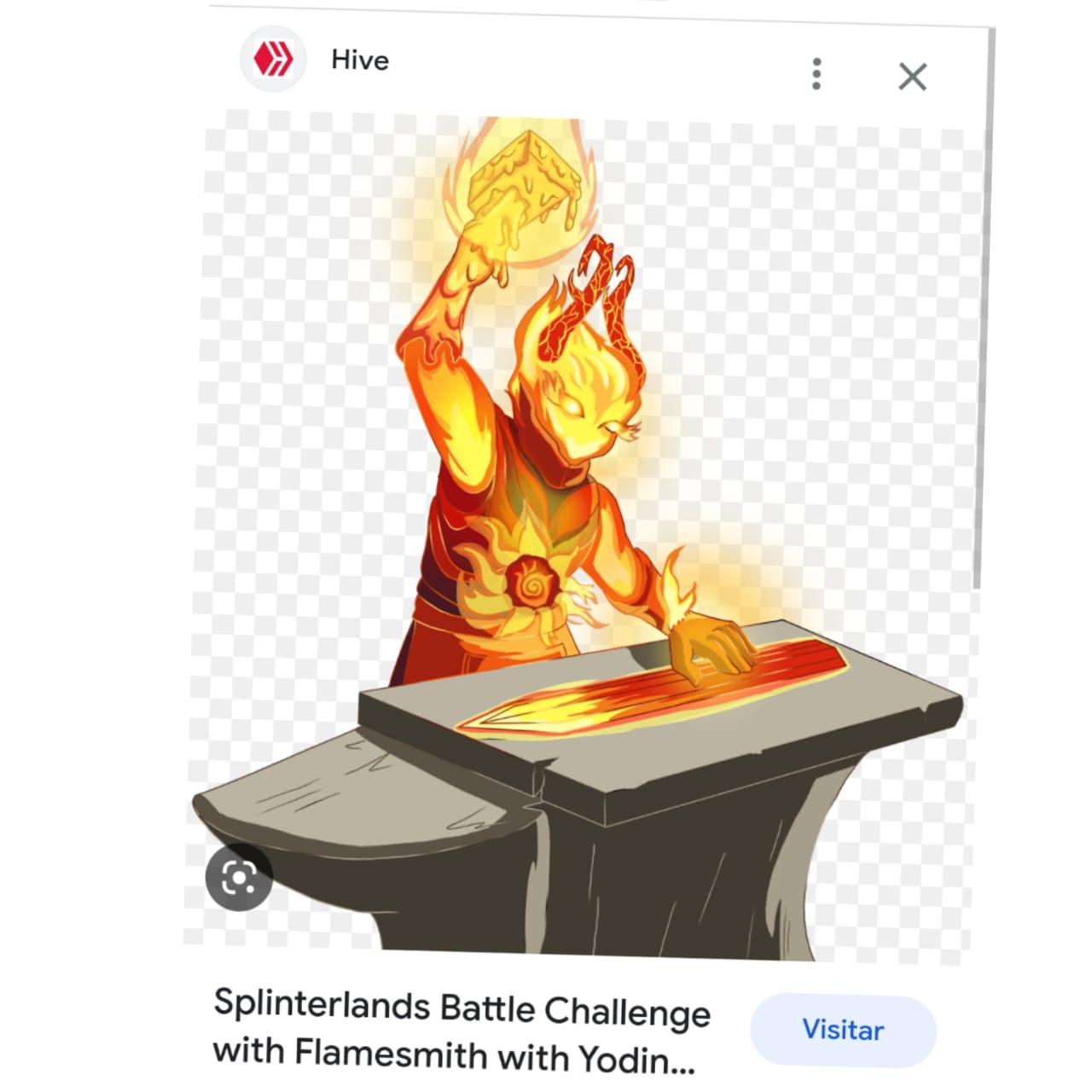 Lineas base.
Line art.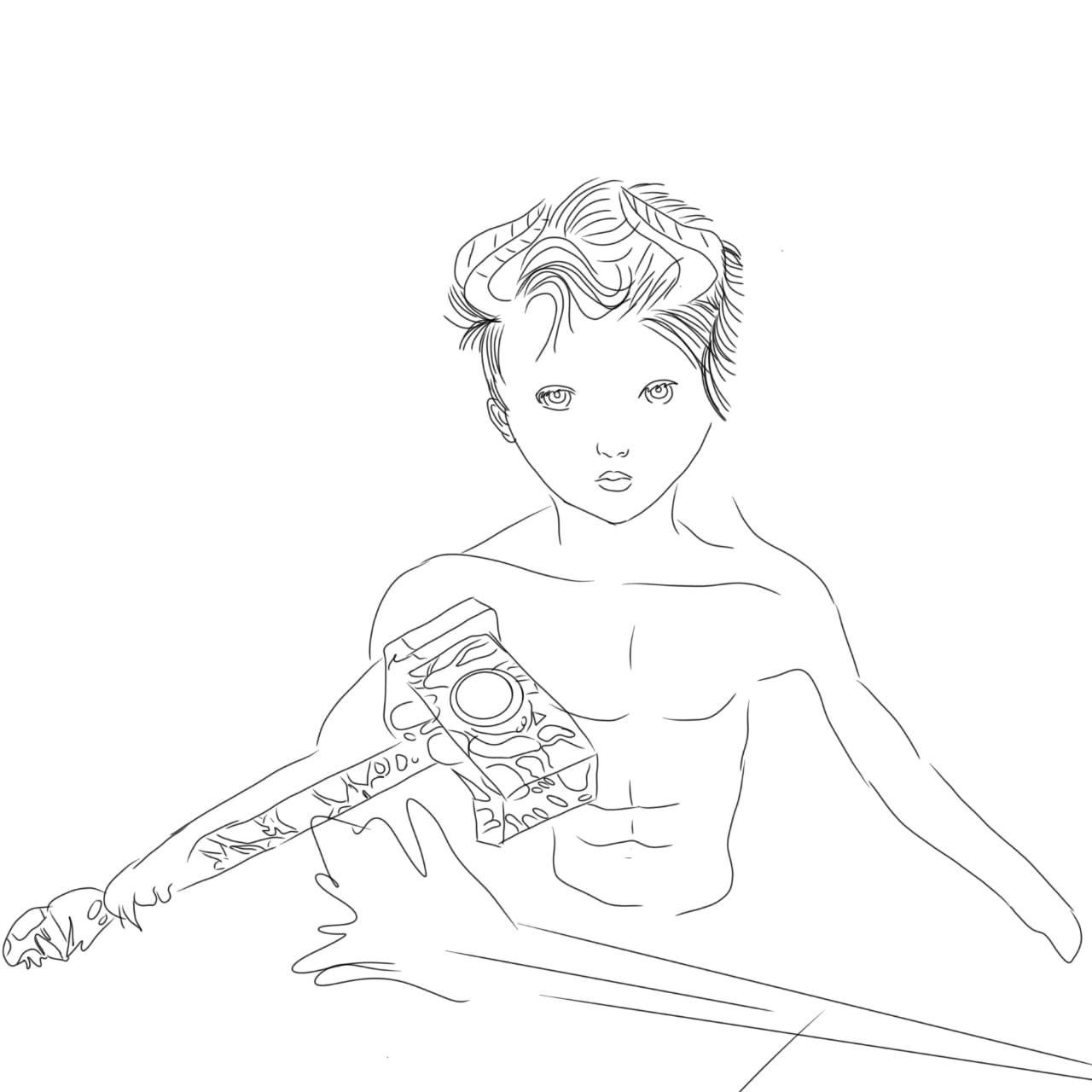 Los rasgos faciales con la cabeza en forma de manzana y ojos amarillos. El cabello hecho con fibras rojas, naranjas y amarillo y luego sombras con pincel negro.
The facial features with the apple-shaped head and yellow eyes. The hair made with red, orange and yellow fibers and then shadows with a black brush.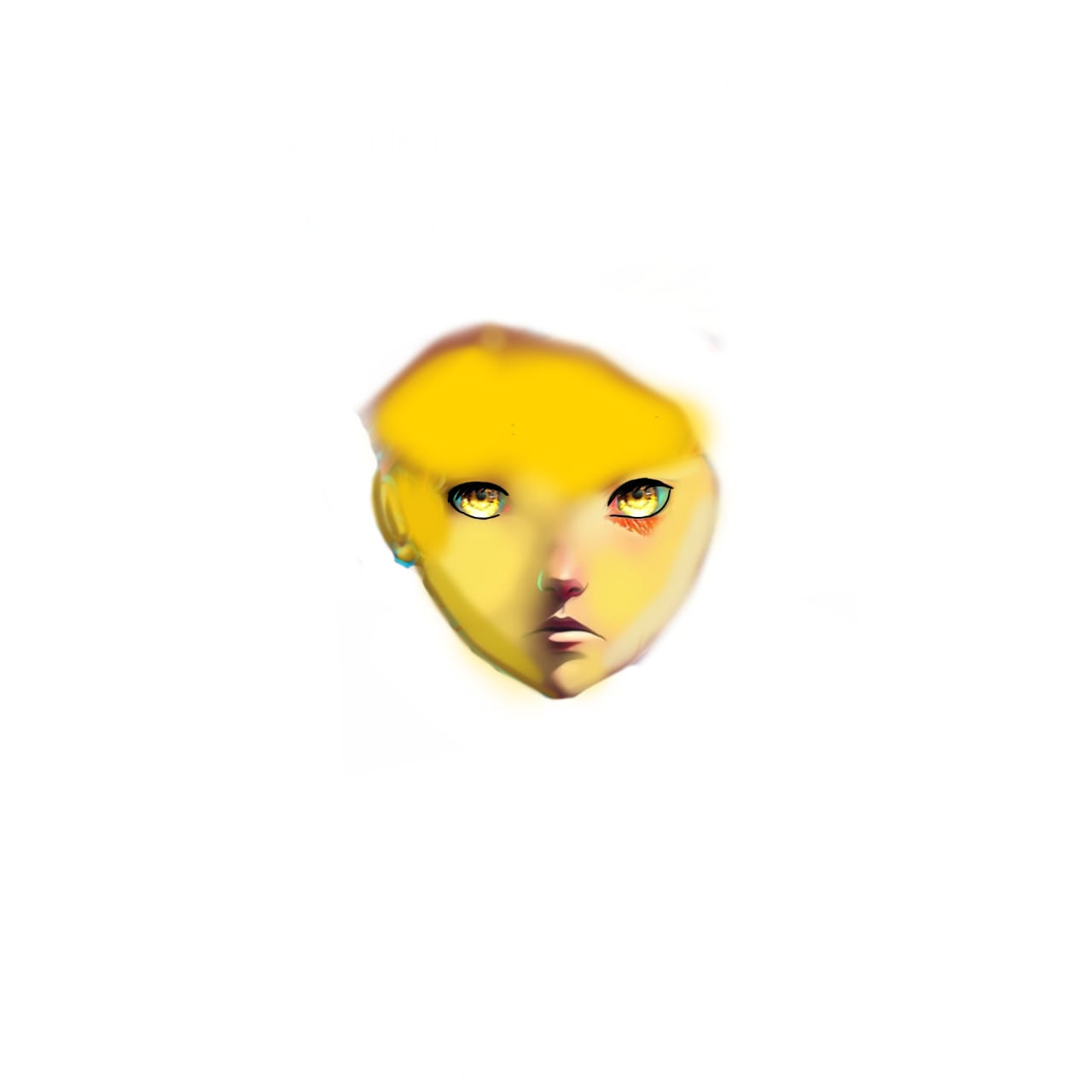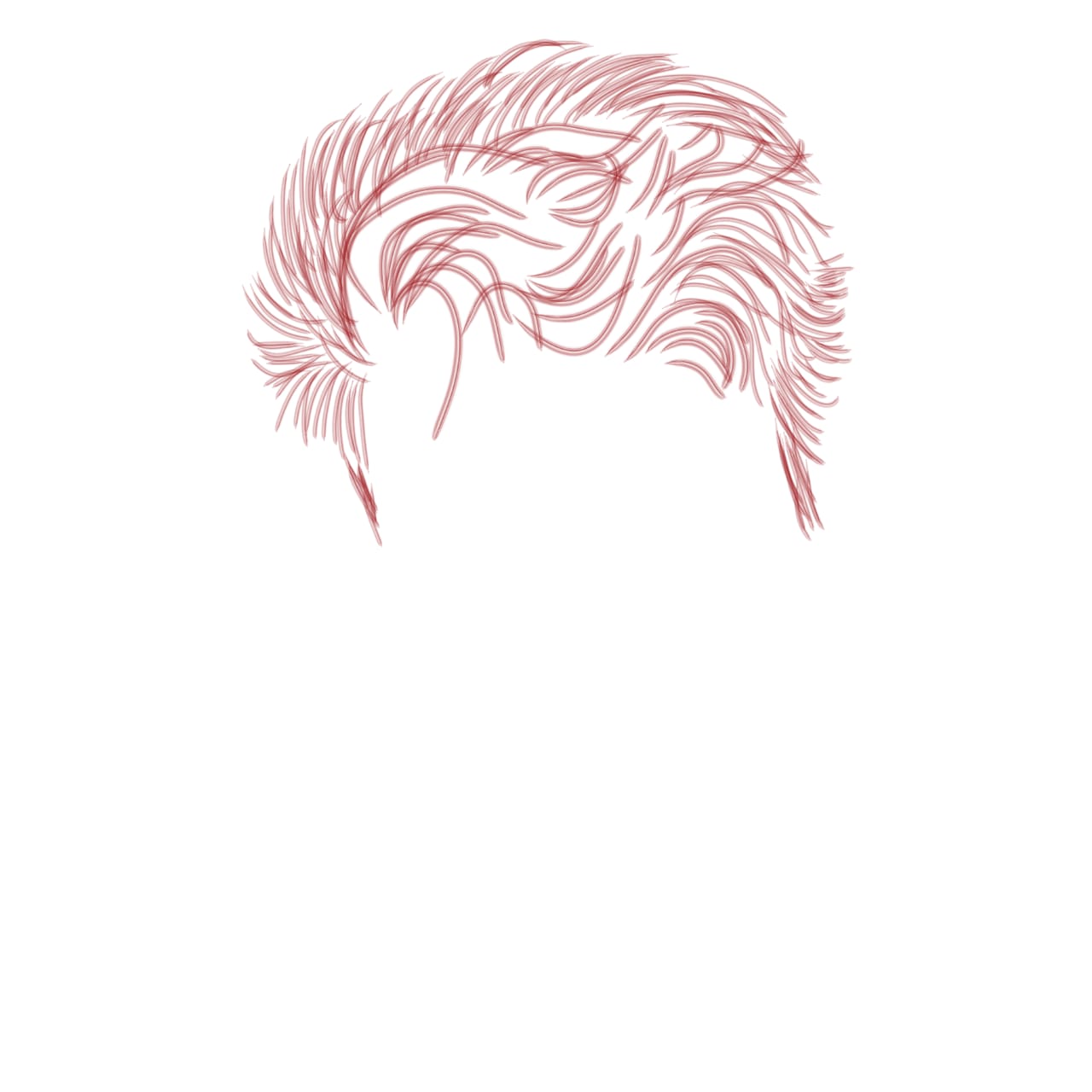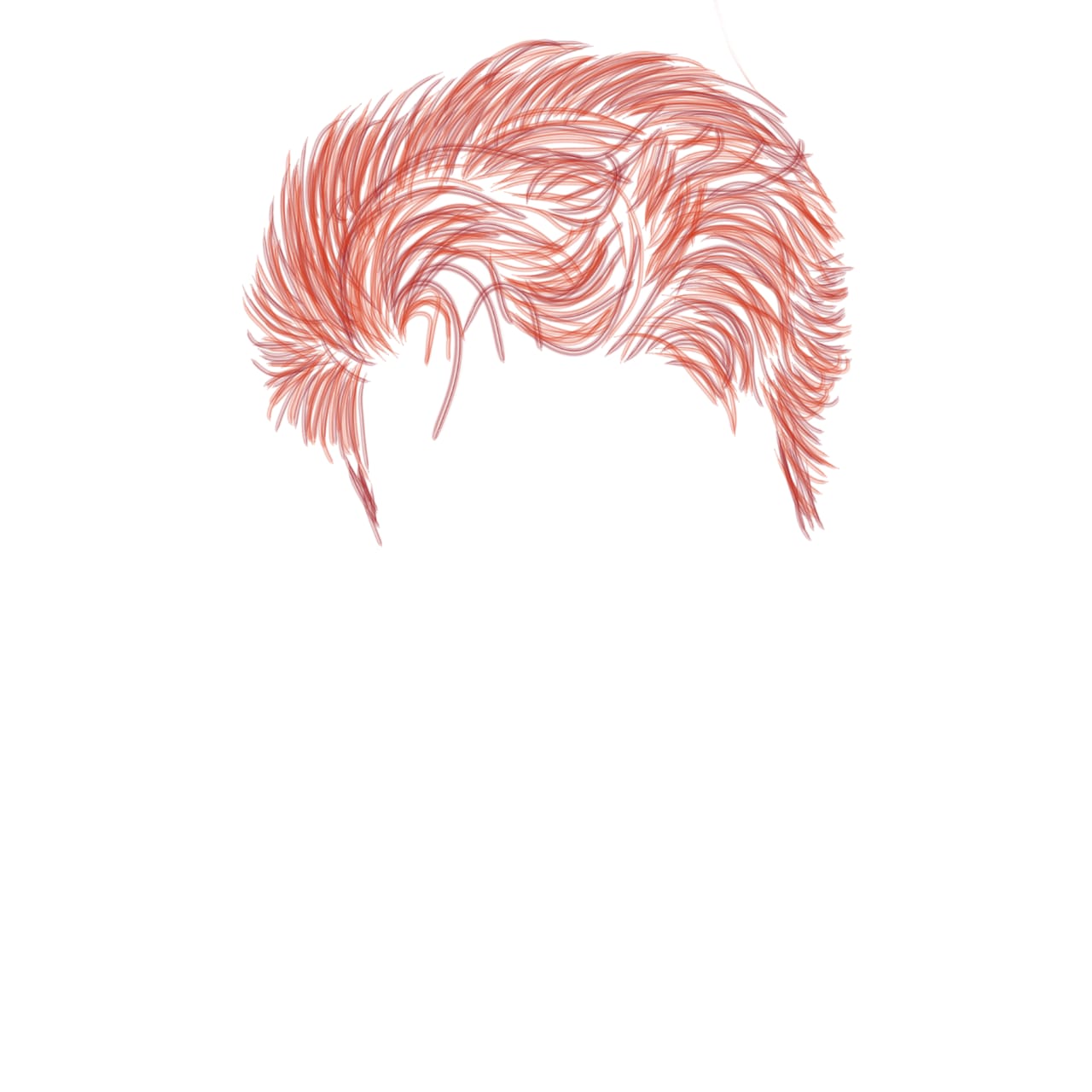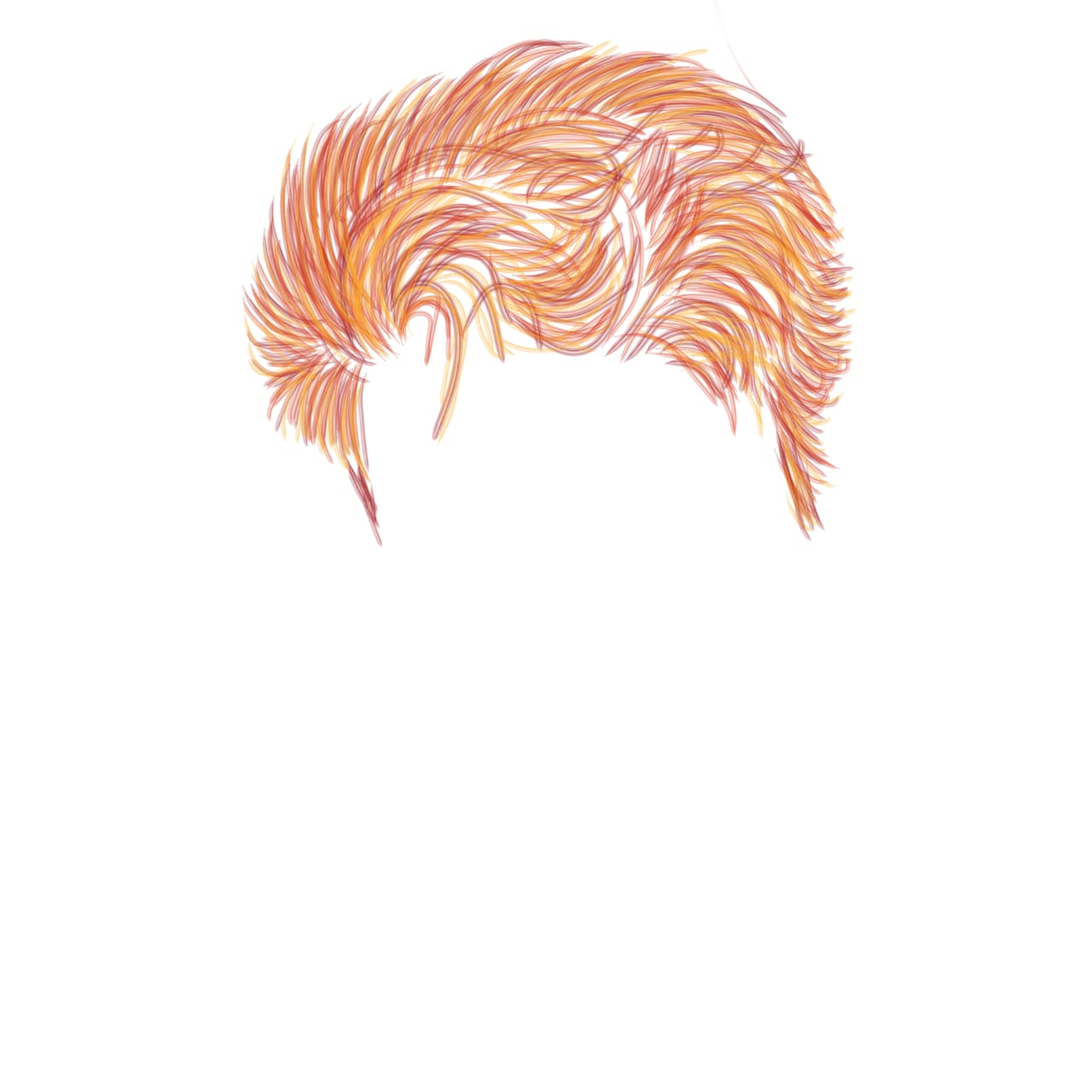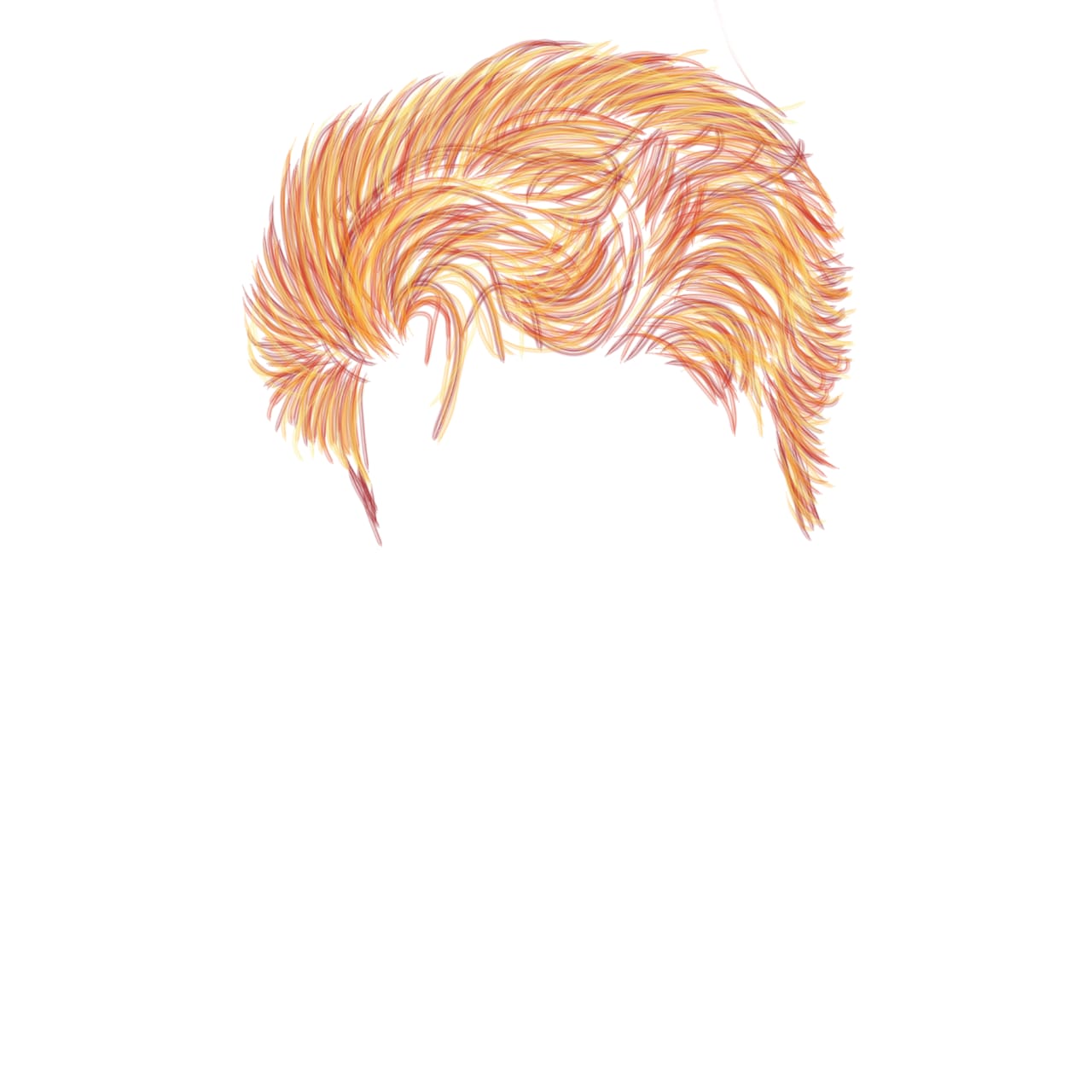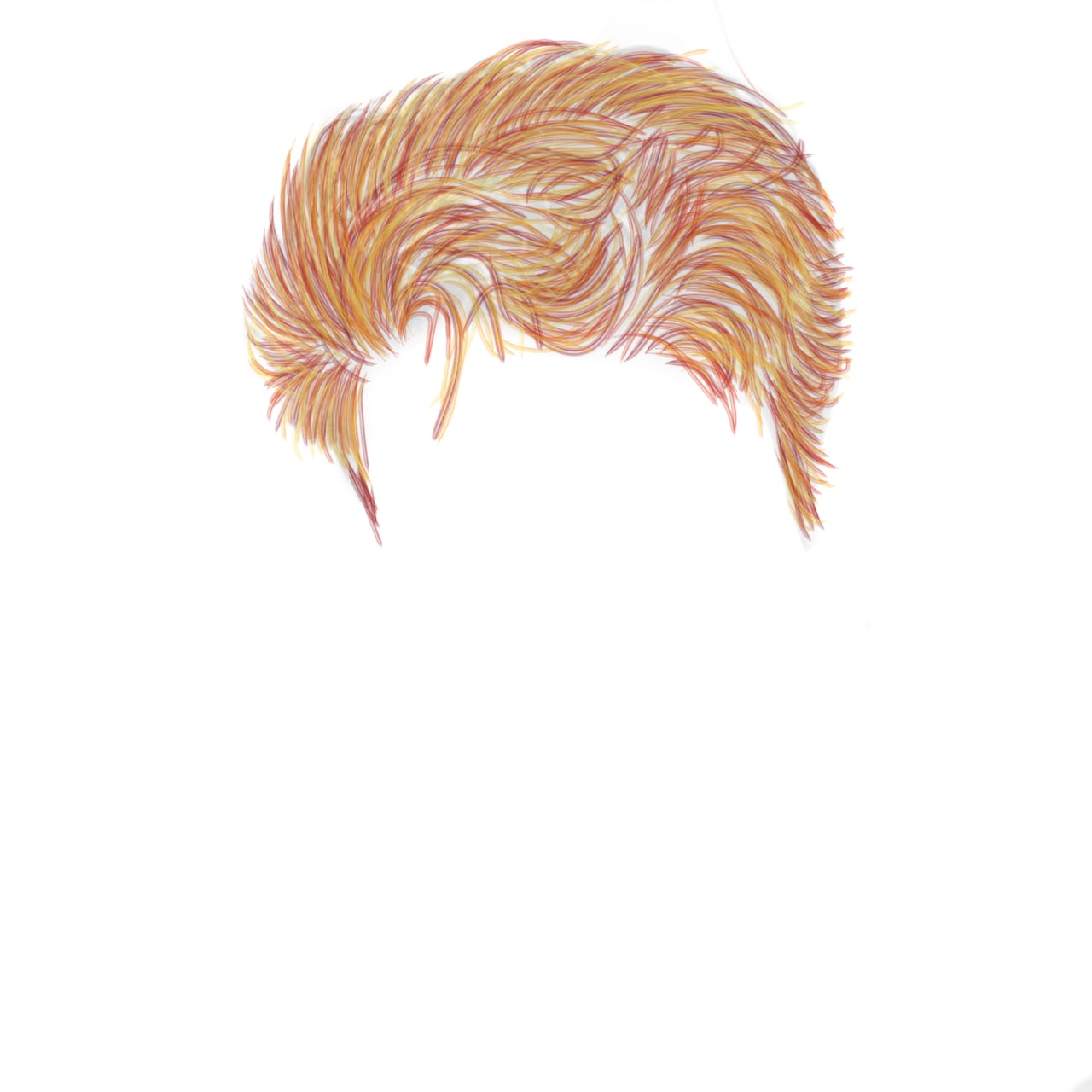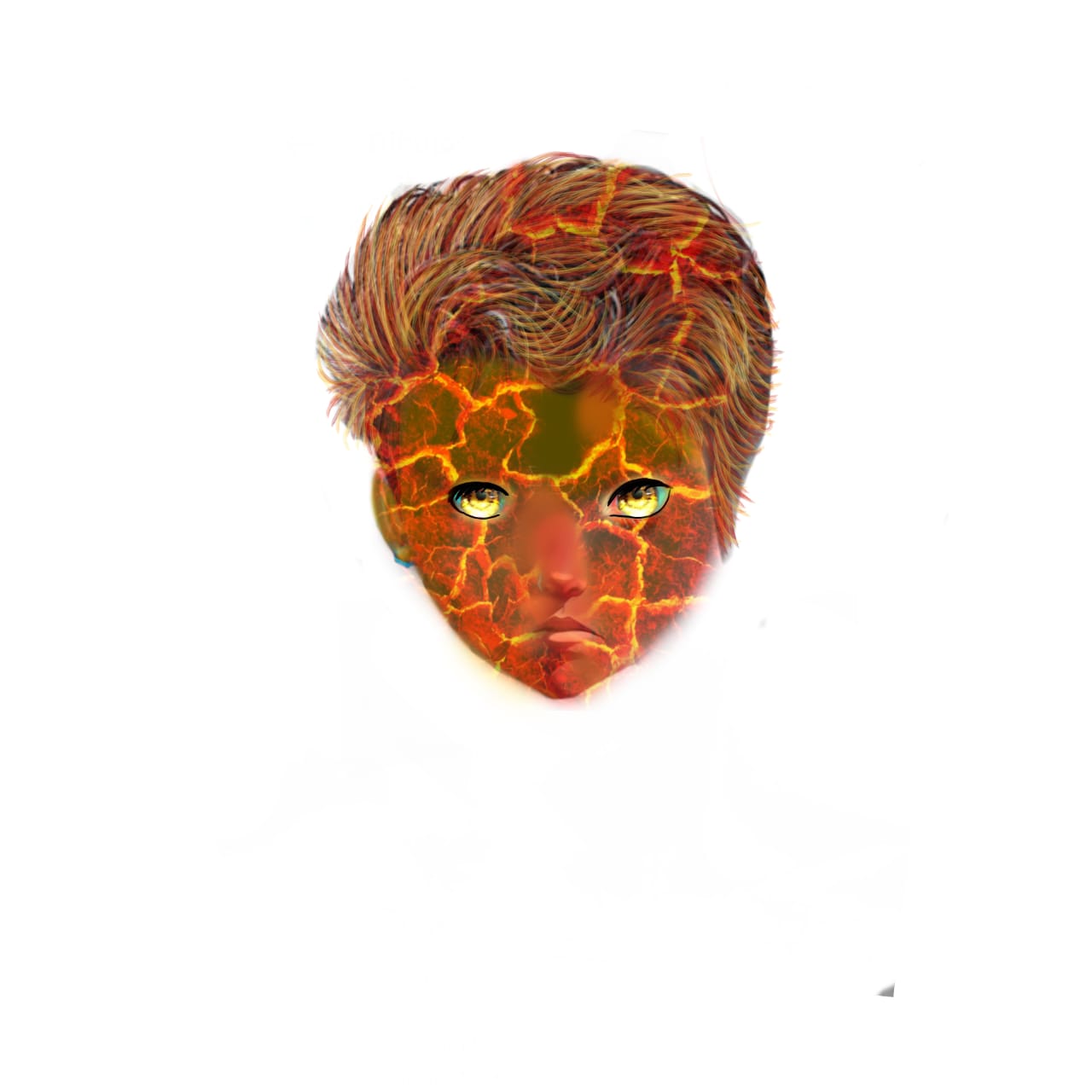 Luego realizamos un fuego como en la salida de un volcán en su rostro y creamos sus cuernos que también le ponemos fuego.
Then we make a fire as in the outlet of a volcano on his
face and we create his horns that we also put on fire.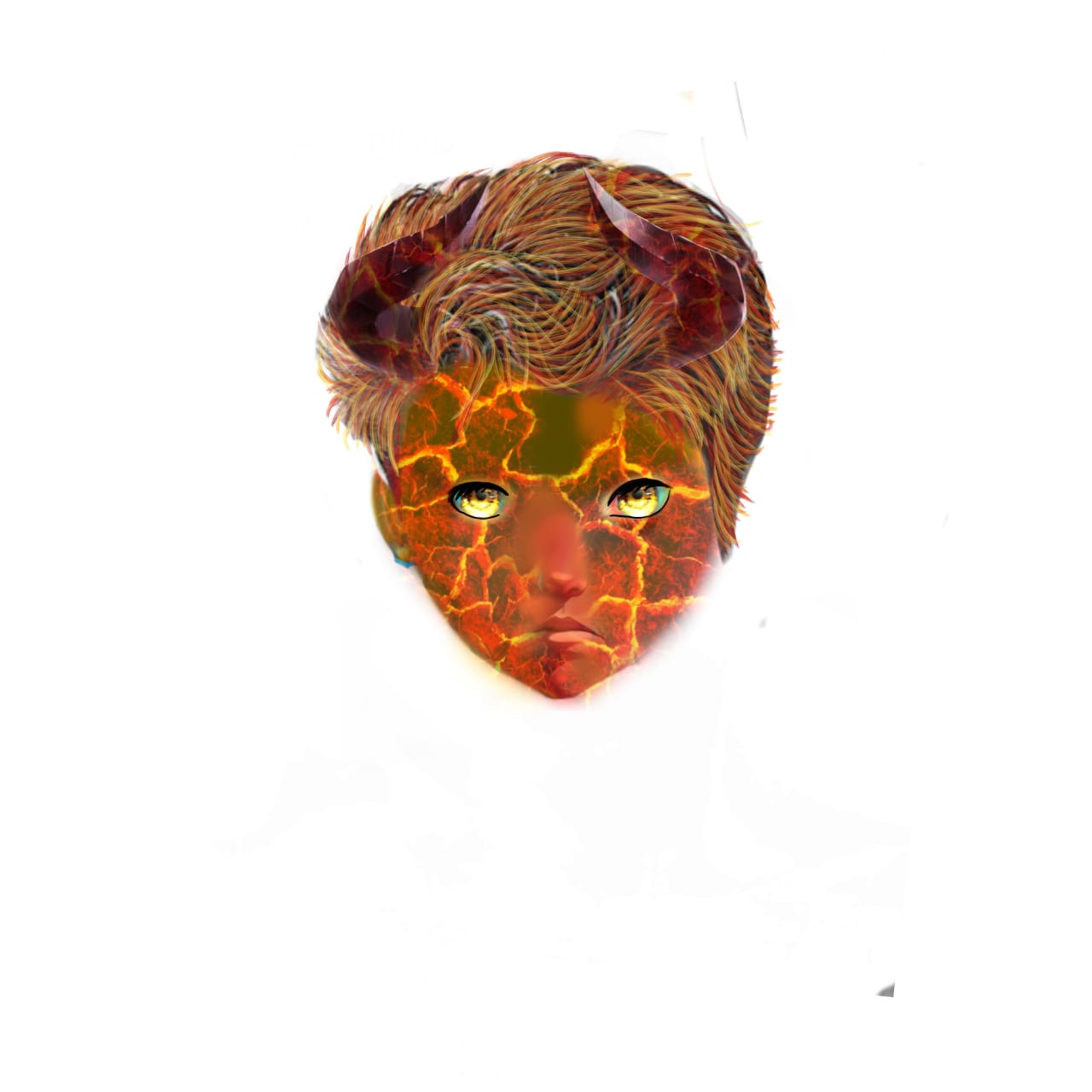 Hacemos la silueta del cuerpo.
Lo hacemos fuego también
Y hacemos el martillo y la espada del personaje.
We make the silhouette of the body.
we make it fire too
And we make the character's hammer and sword.***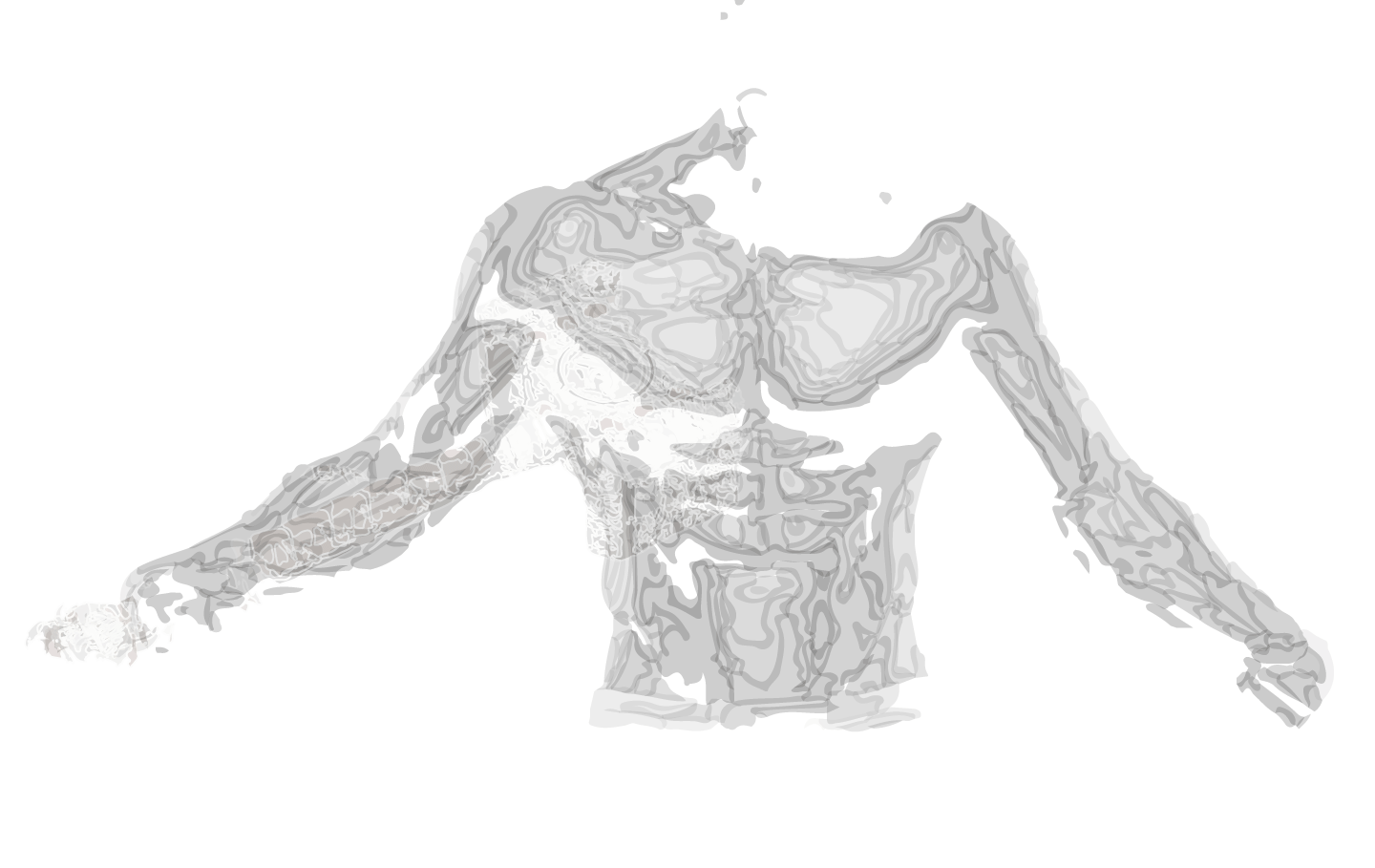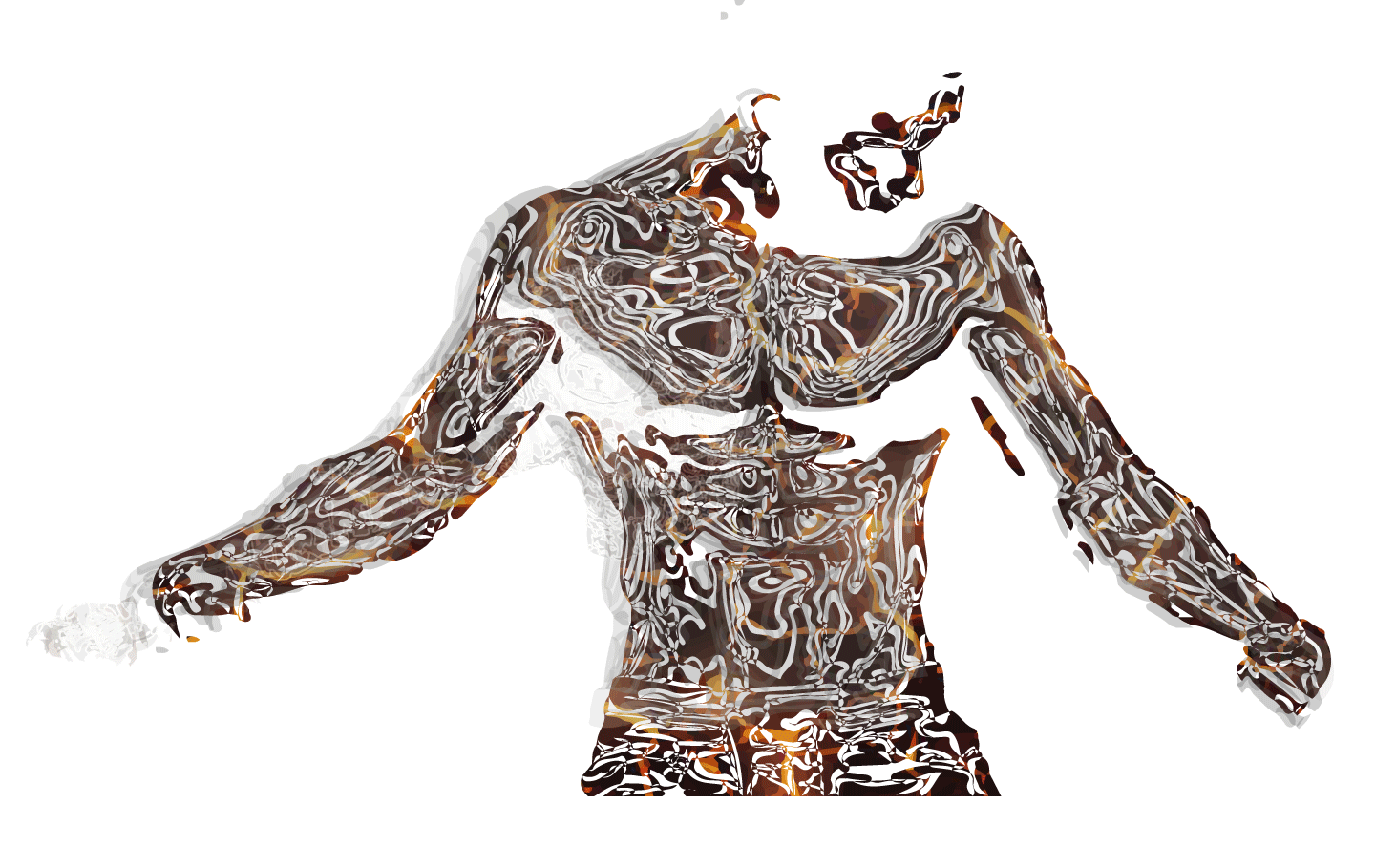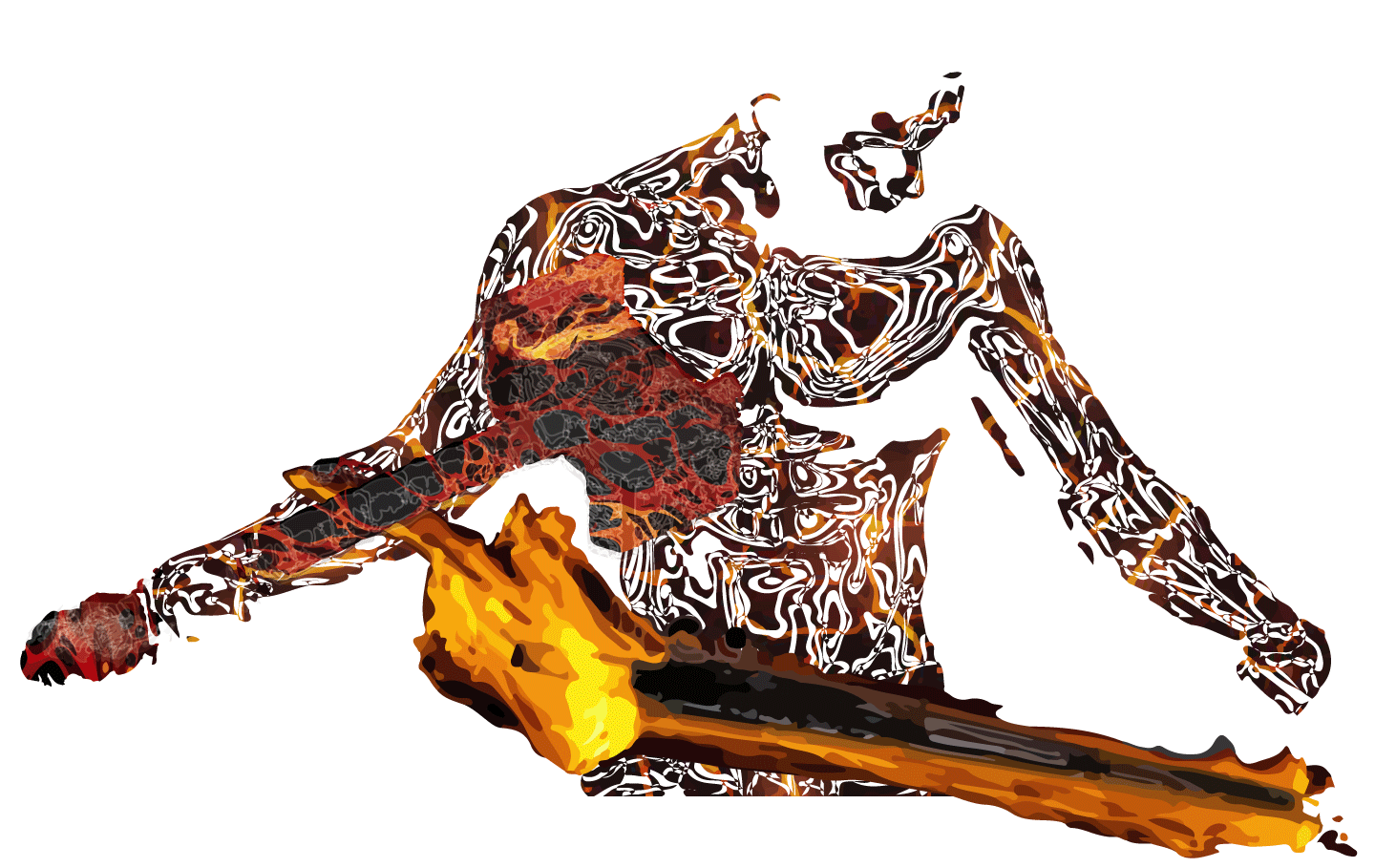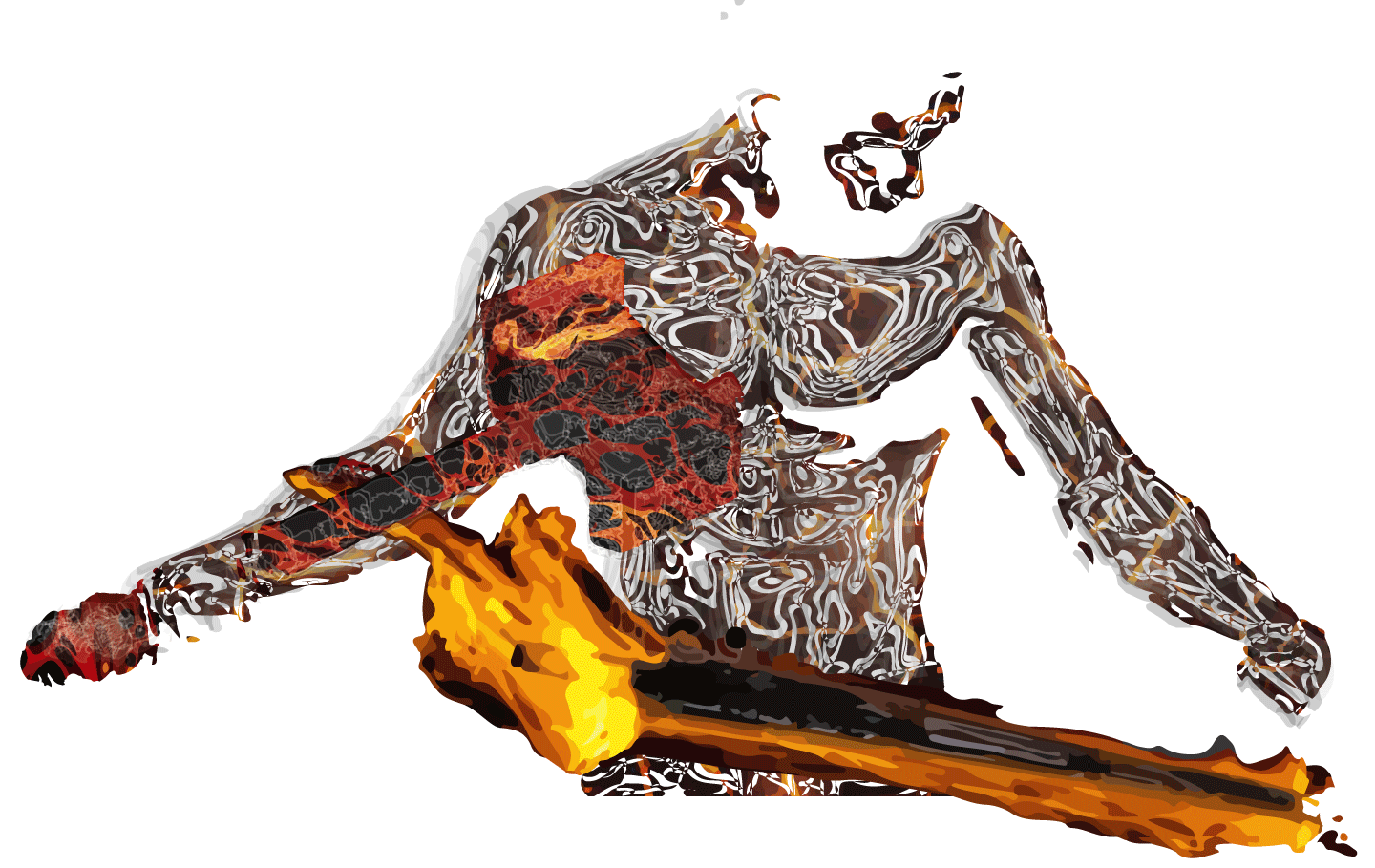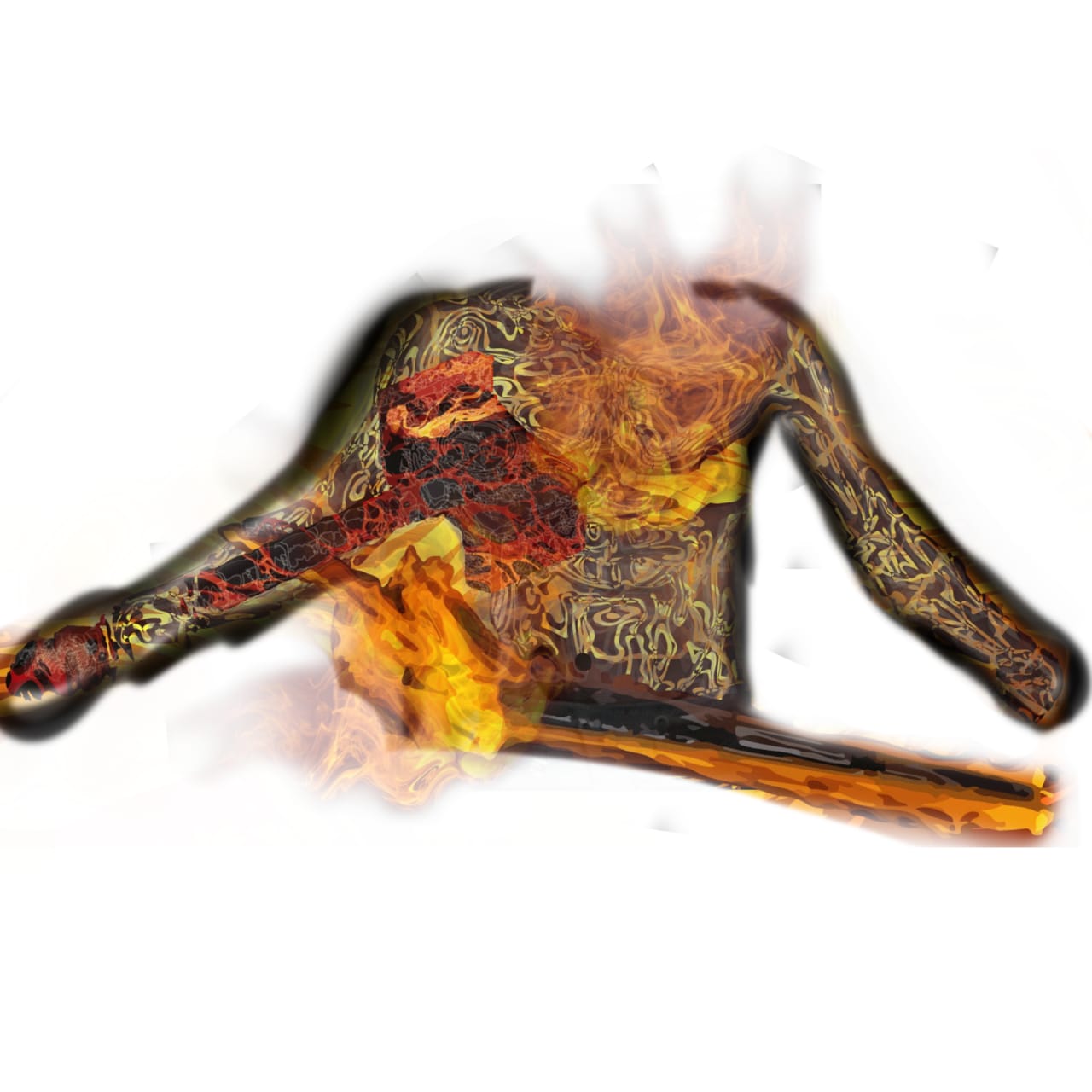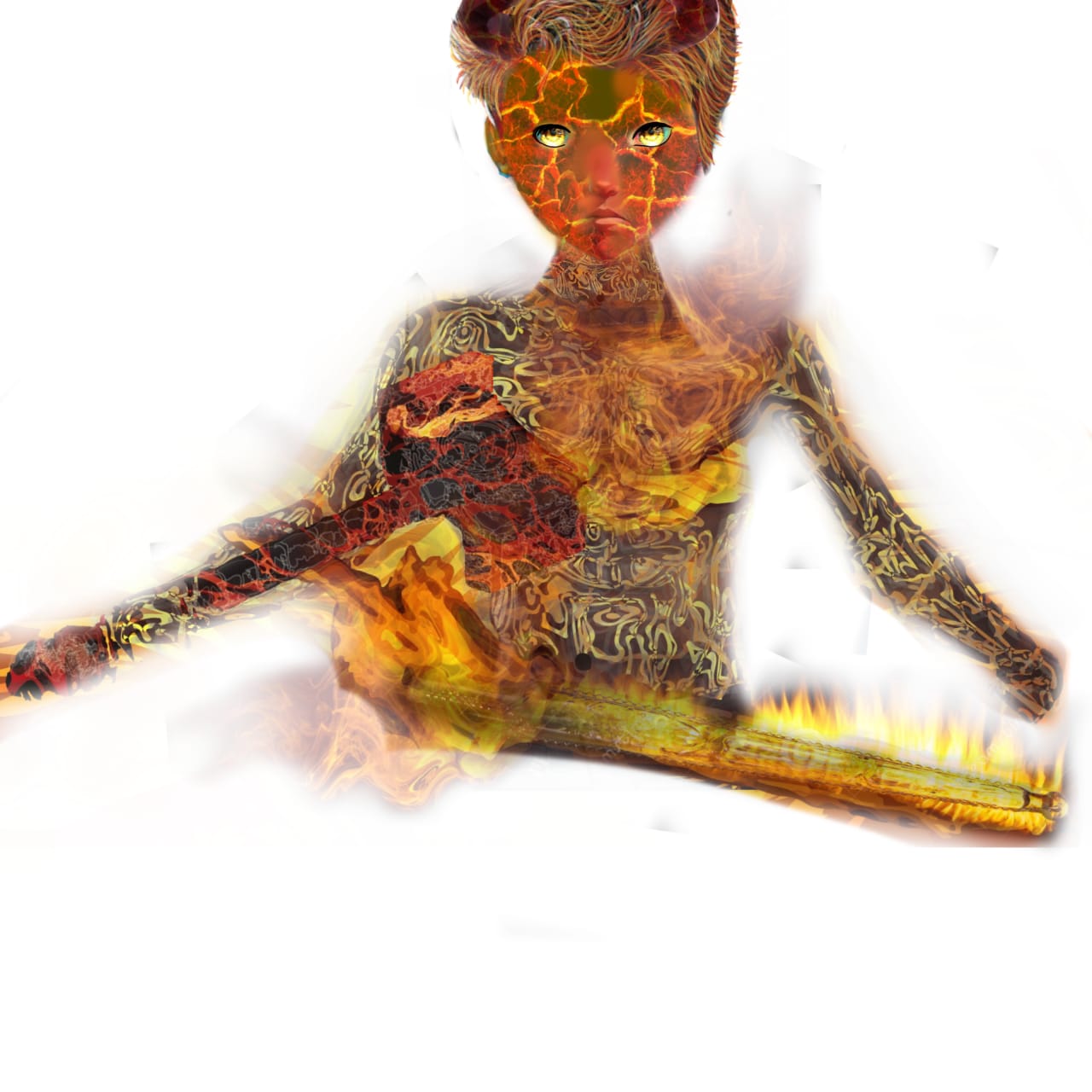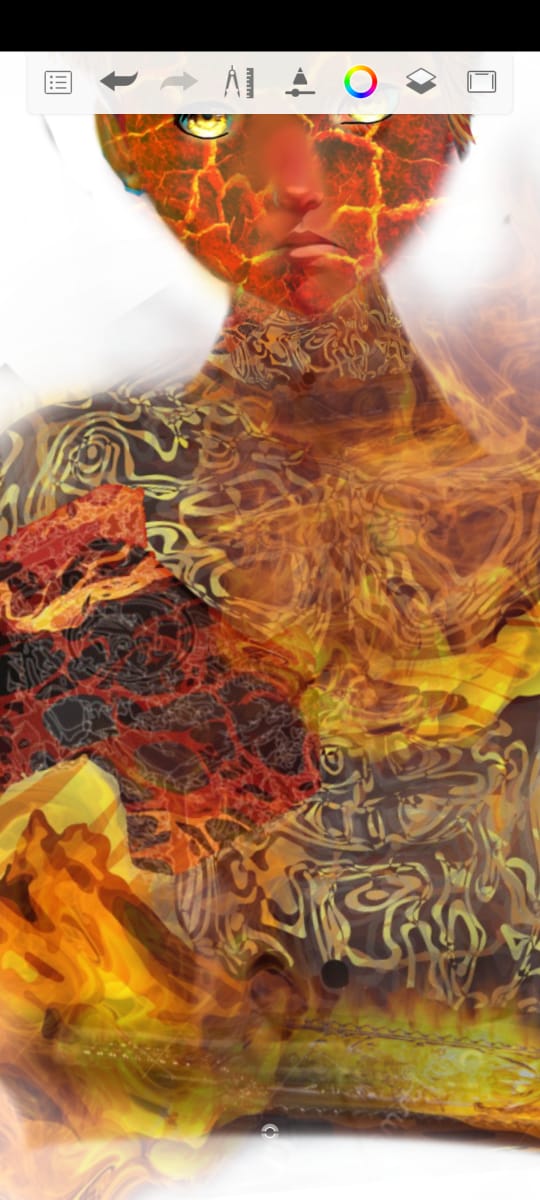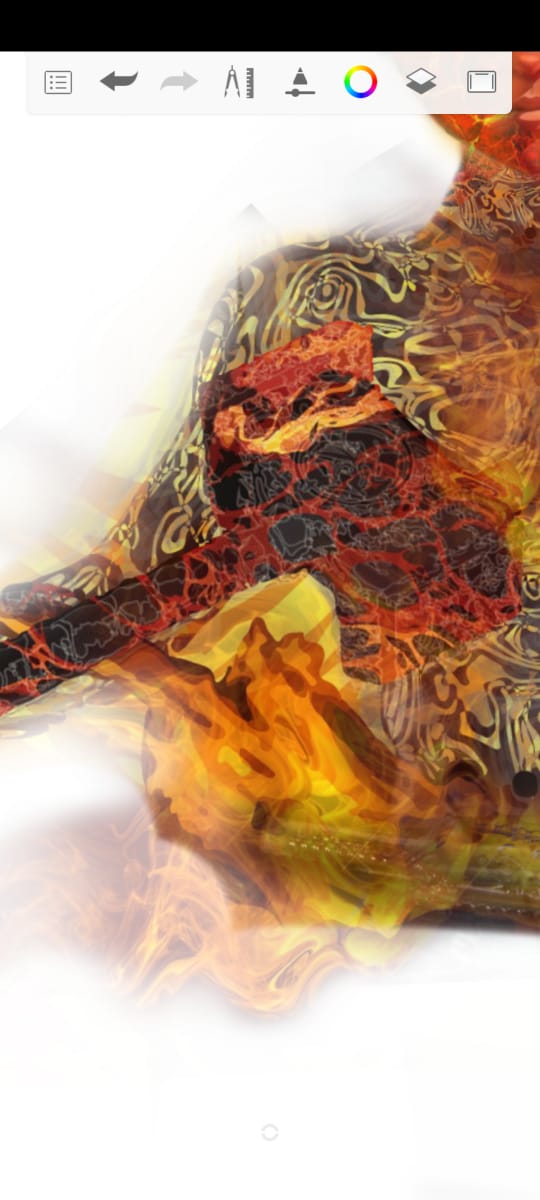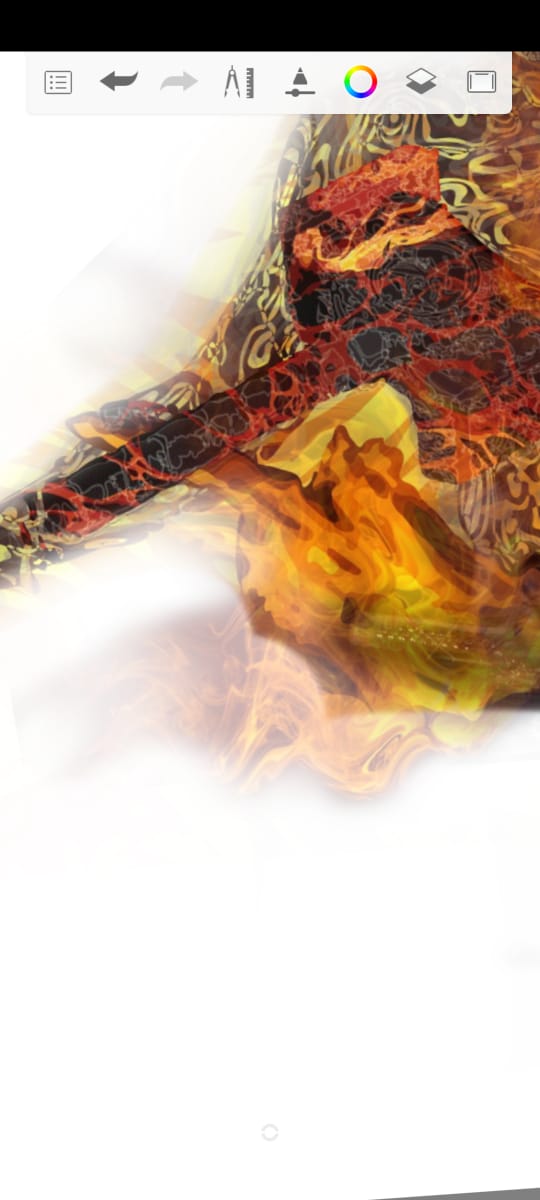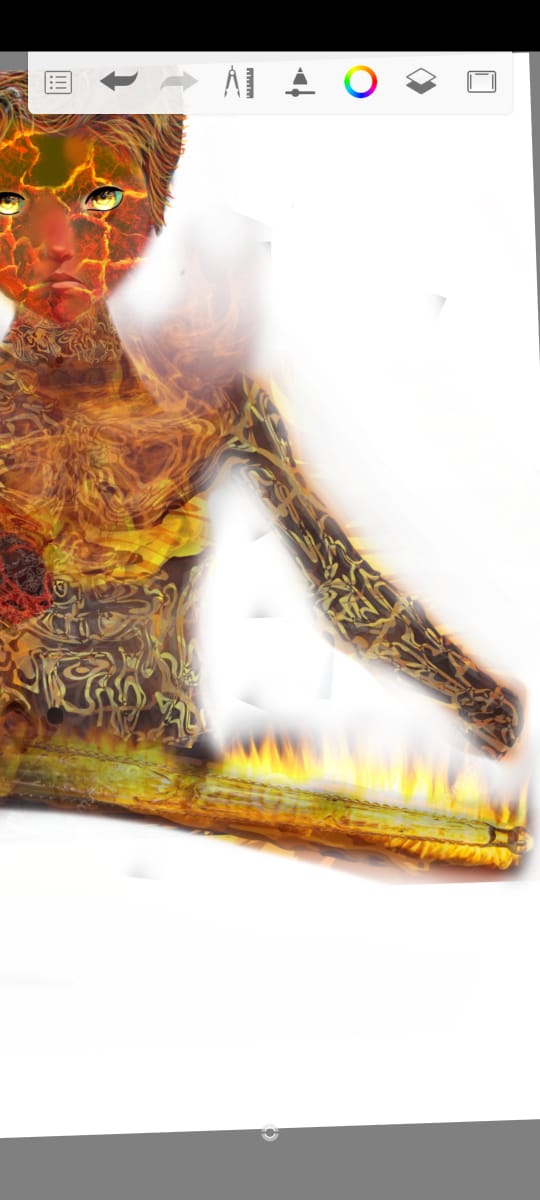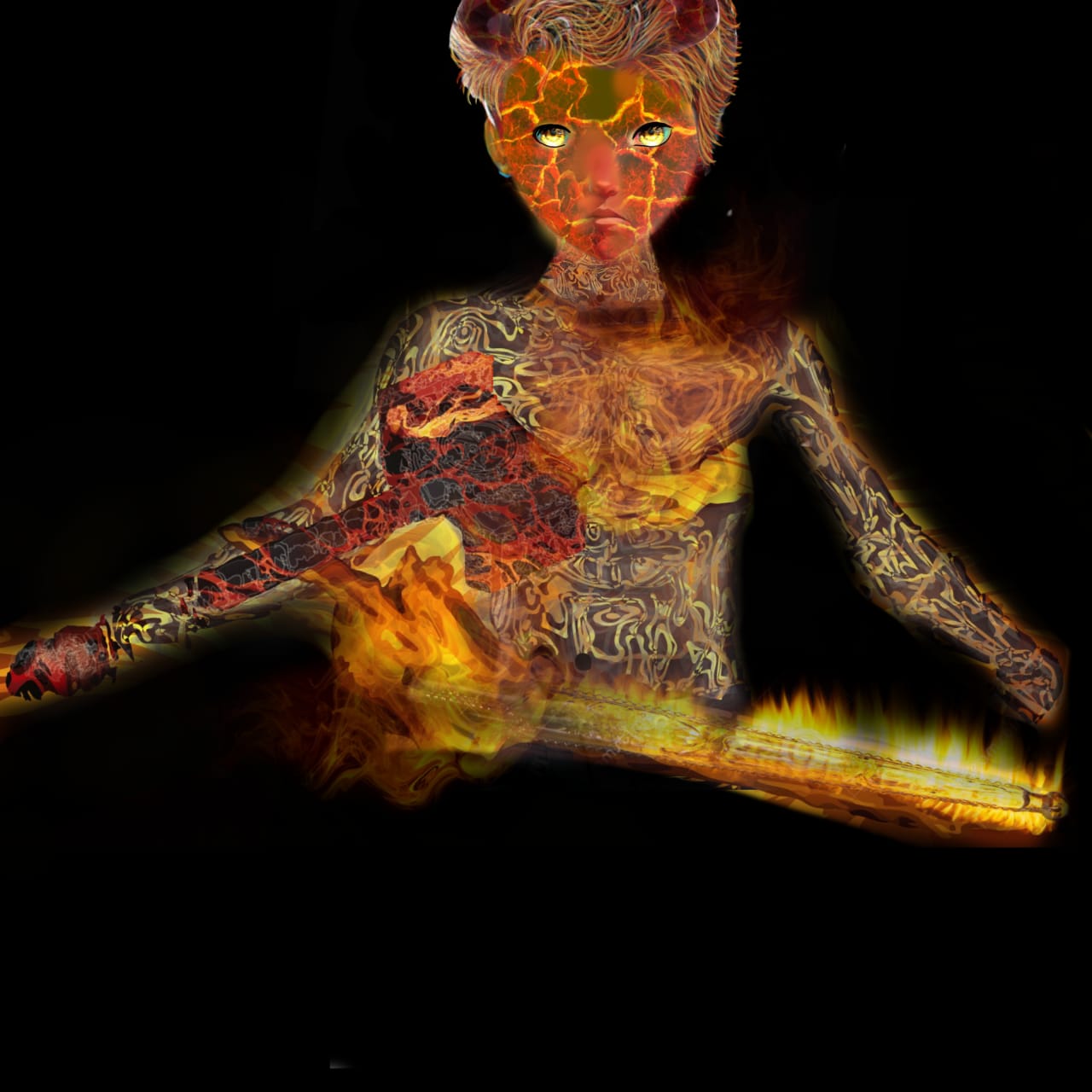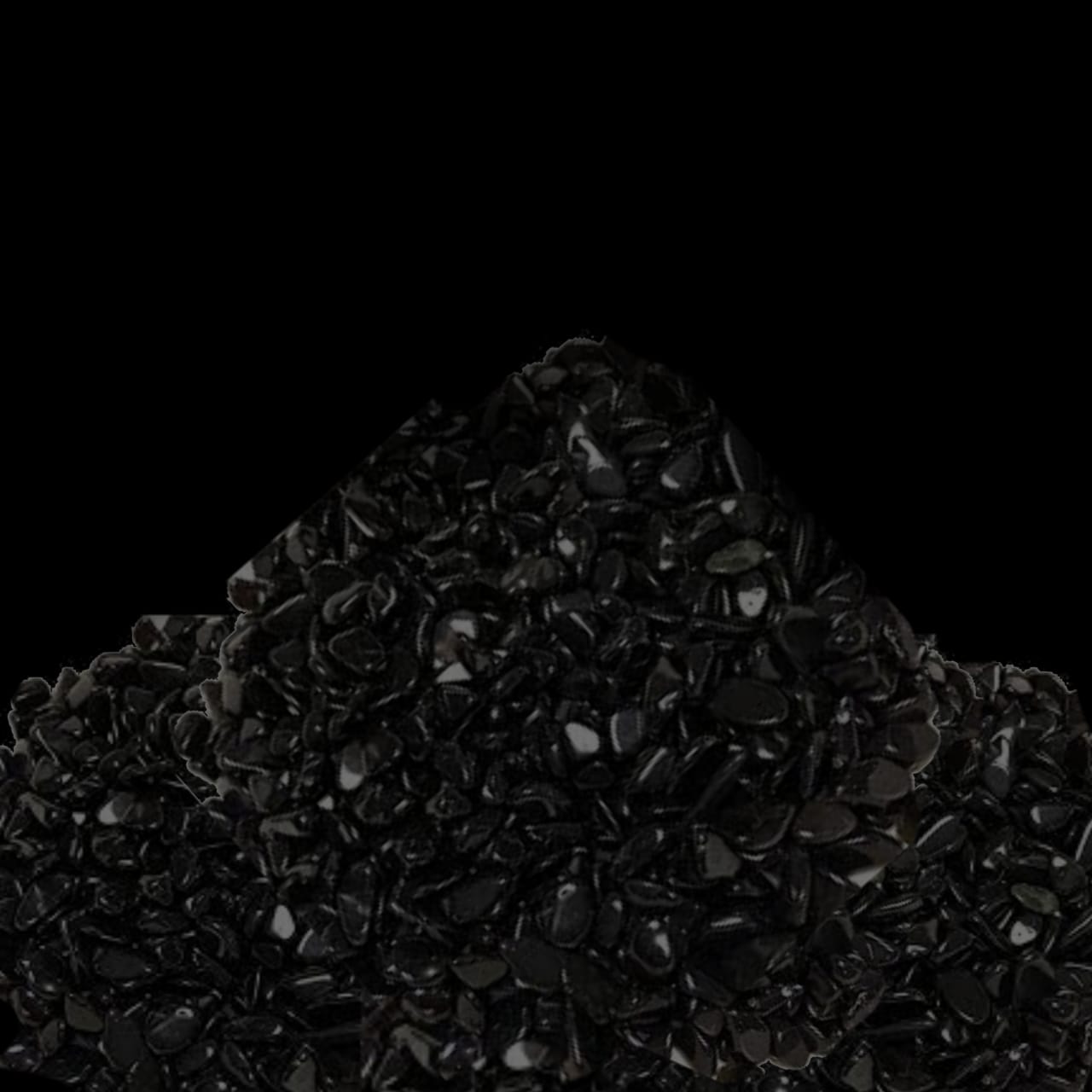 Para la imagen del personaje solo quise resaltar el personaje por eso se encuentra sin fondo pero en sí si tiene fondo el personaje, que es una cueva donde trabaja en la creación de las armas. Inicio con unas piedras negras y luego piedras moradas, una mesa de diamante blanco, y varios reflejos de luz y oscuridad.
For the image of the character, I only wanted to highlight the character, which is why it is without a background, but the character itself does have a background, which is a cave where he works on the creation of weapons. I start with some black stones and then purple stones, a white diamond table, and various light and dark reflections.