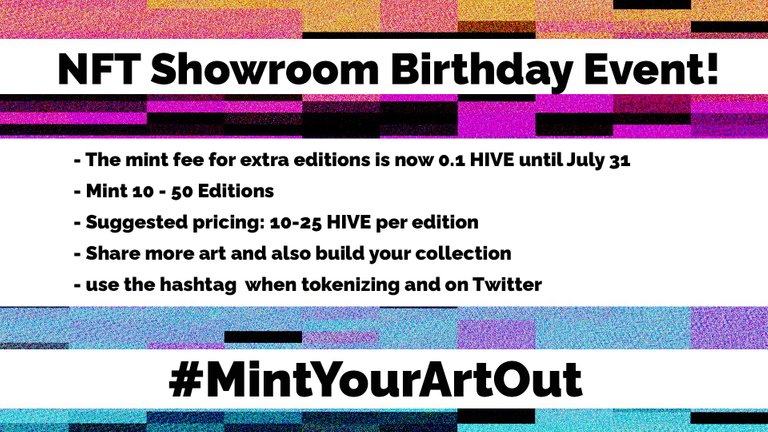 It's been ONE YEAR since we launched NFT Showroom! It's been an amazing experience so far and we wanted to create a fun event to encourage artists to share more affordable art so everyone can experience NFT Showroom and appreciate the fun and value of collecting art.
Minting a single edition on NFTSR costs 5 HIVE, each subsequent edition is 1 HIVE, for the month of July we have lowered the edition fee to 0.1 HIVE meaning after the first one you can mint ten times as many editions for the same price.
The challenge:
Create some art
mint 10 - 50 editions
Keep the price affordable, suggested price between 10-25 HIVE
Use the hashtag #MintYourArtOut when tokenizing so it will be easy to find in search
Add this hashtag to your tweets when sharing your art
These guidelines are loose so adapt them as you please. This is a great opportunity to share more art, buy and trade from other artists or even buy your first NFT and dip your toes in the water of collecting.
We are also creating a discord channel just for this event where you can promote your contributions and find art to collect! We will be featuring and retweeting these on our twitter and blog all month!
We sincerely thank all the amazing artists and collectors who have joined us over the last year and we have another HUGE ANNOUNCEMENT coming on July 15 so stay tuned!
---
Visit the site and browse art: https://nftshowroom.com/
You can follow us on
Twitter: https://twitter.com/NftShowroom
Instagram: https://www.instagram.com/nftshowroom/
Youtube: https://www.youtube.com/channel/UC3iRvtv3A7EAGRcZMYGJmHw
For any questions or support please visit us in discord NFT Showroom discord