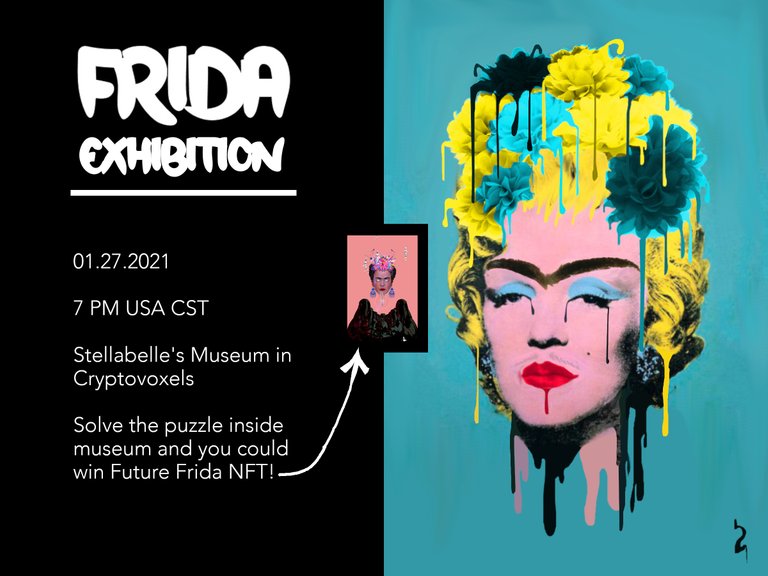 DATE: January 27, 2021
TIME: 7 PM USA CST
WHERE: https://www.cryptovoxels.com/parcels/4026
I'm super excited to welcome you to the FRIDA Exhibition which displays the works from over 25 different artists including some very well-known cryptoartists: Miss Al Simpson, Gala Mirissa, Stelcart, Violetta P Jones, Robness, Julia K Ponsford and many many other talented artists too.
Here are a couple sneak peeks of the FRIDA Exhibition: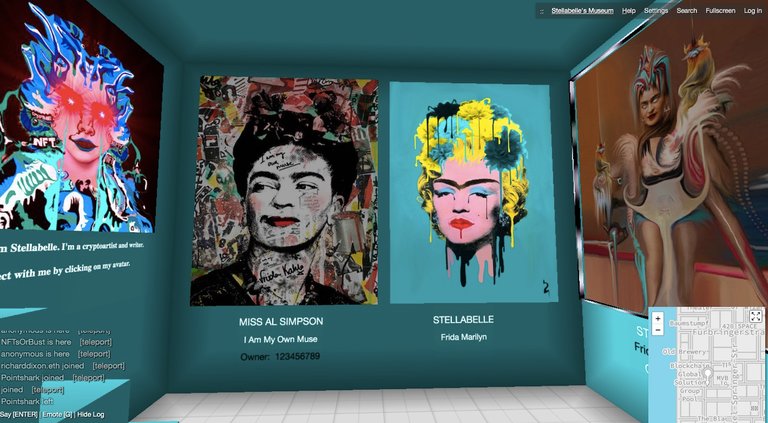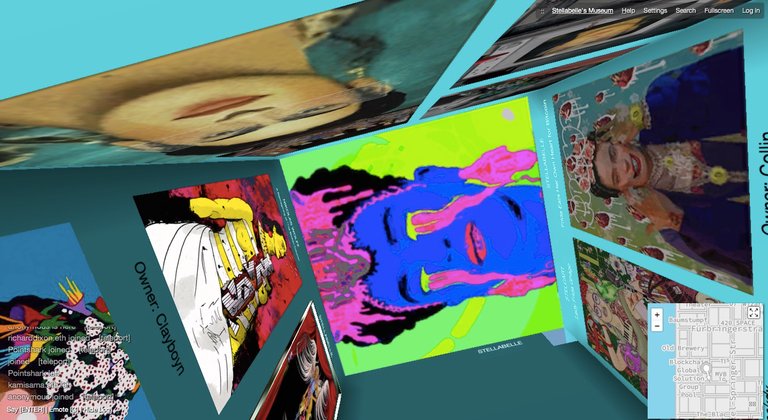 If you're brand-new to Cryptovoxels like I was last month, you have nothing to worry about because you don't need any VR equipment or anything. All you need is a computer to view and experience the FRIDA art show. For all of you who are new though, you need to learn how to fly to see the art on the roof, and I made a video especially for Cryptovoxels noobs:

Now comes the fun part.
I will be giving away this NFT, Future Frida plus 1 FRIDA token to the first person who solves the cipher which can be found in the Donut Machine in the front of the museum.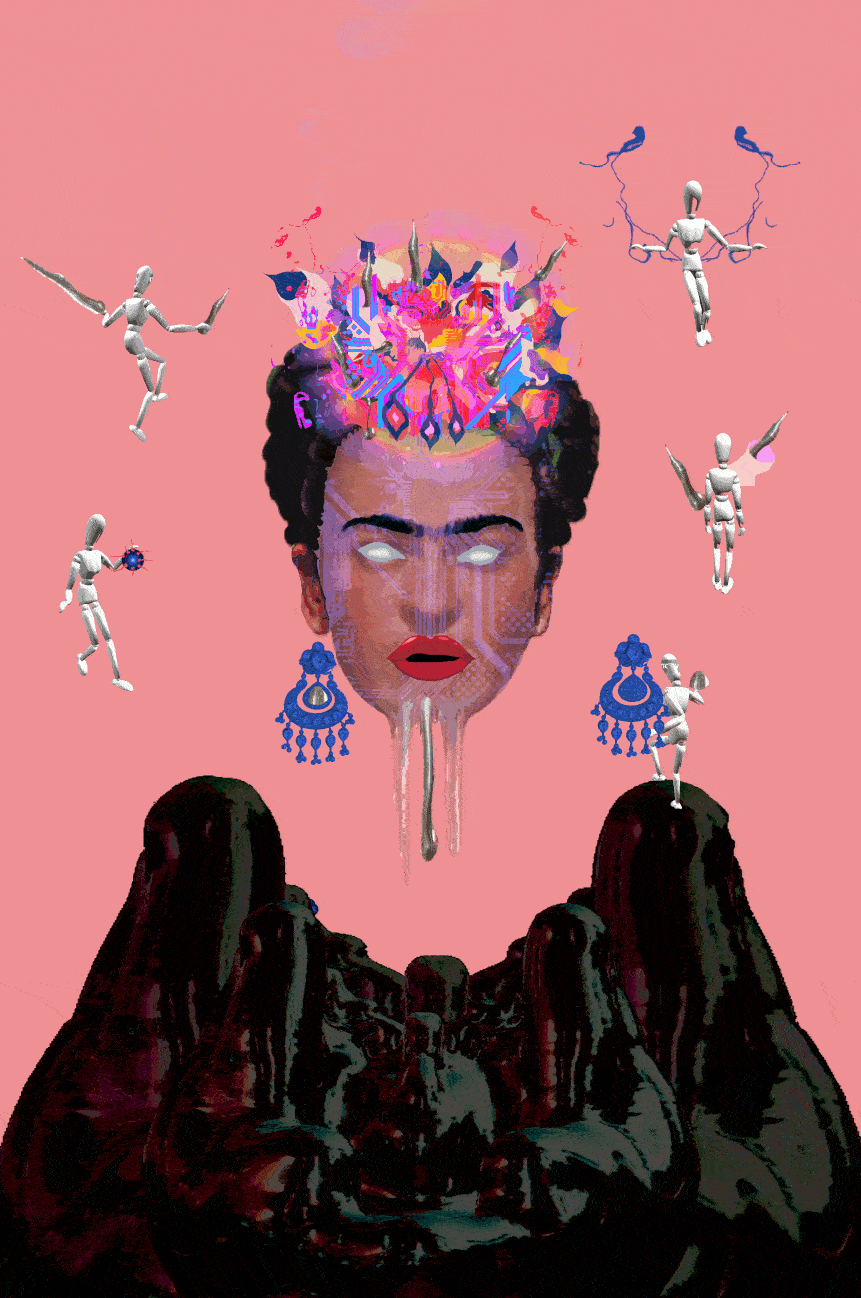 Future Frida
1/1
Opensea
Here's the Donut Machine.
Hint: the cipher will be flashing inside the Donut Machine. The cipher is in the English language, so technically it's a made-up English alphabet. But don't look on the internet, because it's not on the internet. I created a brand-new alphabet, which I call a cipher.
You can't see it yet because I won't be releasing it into the wild until Jan. 27, 2021 at 7 PM CST. But for those who want to get a head start, you can start looking for the blue donut which contains a clue to solve the cipher. Once you think you have the correct answer, go back to the Donut Machine and click on it. That will take you to a Survey Monkey link which you will fill out with your answer. All your words must be correct, and in the correct order to win. And the first person to submit the correct answer will win.
Deal of the night: 1 Frida NFT Plus 3 Physical Postcards Mailed To You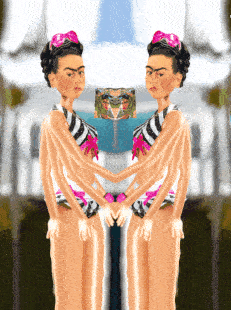 Frida Plus 3 Postcards Mailed To You
5/5
Price: 50 Hive ($7)
https://nftshowroom.com/stellabelle/art/stellabelle_frida_frida-plus-3-real-postcards-mailed-to-you
Includes 3 physical postcards which will be mailed to you
Here are the postcards of me dressed as the Patron Saint of Postcards, 3 of which come with the NFT described above: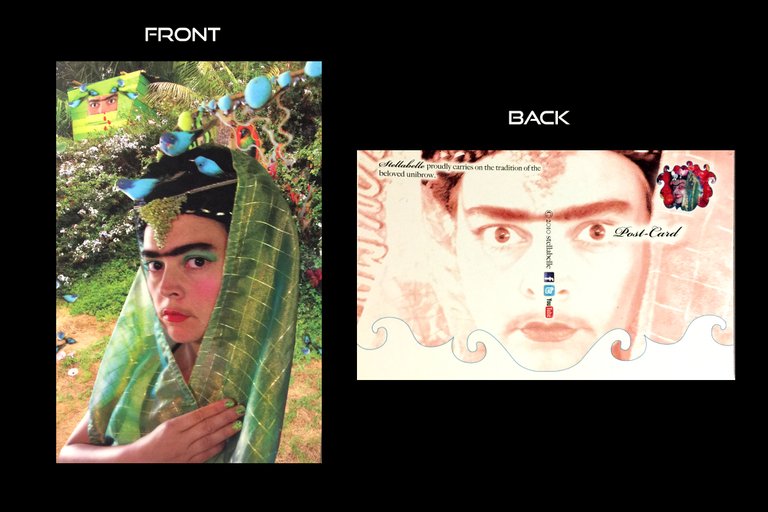 Due to high gas prices, I have decided to do the special deal of the night on NFT Showroom. I will be selling this NFT for 50 Hive (about $7) which comes with 3 real physical postcards that I will send to you in the mail. Once you buy it, you click on the "unlocked file" which will take you to download with instructions on how to get your postcards mailed to you.
So, make sure and create a Hive account before the show so you can get this deal as there will only be 5 of them available.
These postcards celebrate one of my most fascinating artistic experiences as I lived out a creative fantasy as the Patron Saint of Postcards in San Diego, California a decade ago! To learn more about this crazy experiment, watch this video: