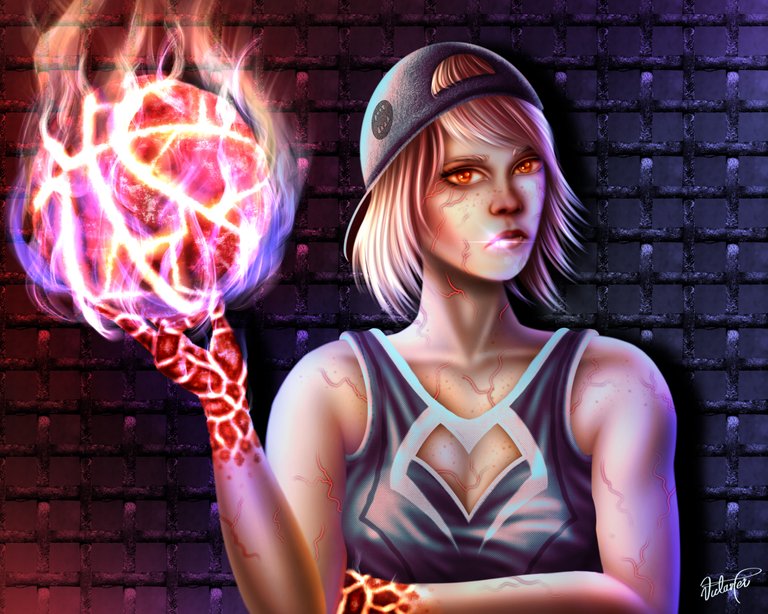 ---
Hello everyone dear community, welcome to my art post, today we are more cheerful and with better vibes, as I told you in my previous post, this week was crazy, among the many problems that occurred in my house, the one that most affected me was the issue of internet, because here in Venezuela the services are a bit deficient, I was very worried about reestablishing the service, until yesterday, to my surprise, a technician came to solve the situation, so we already have internet, that lifted my spirits and I could draw more calmly, that was reflected in this work, which I chose as inspiration to the letter of COUNTESS SINASH.
Next I show you the step by step of the development of the illustration.
Hola a todos querida comunidad, sean todos bienvenidos a mi post de arte, hoy estamos más animados y con mejores vibras, como les comenté en mi anterior post, esa semana fue de locos, entre los tantos problemas que hubieron en mi casa, el que más me afectaba era el tema del internet, debido que acá en Venezuela los servicios son un poco deficientes, estaba muy preocupado en poder restablecer el servicio, hasta que por sorpresa mía, el día de ayer vino un técnico a resolver la situación, así que ya tenemos internet, eso me levanto bastante el ánimo y pude dibujar con más calma, eso se reflejó bastante en esta obra, la cual elegí como inspiración a la carta de COUNTESS SINASH.
A continuación les muestro el paso a paso del desarrollo de la ilustración.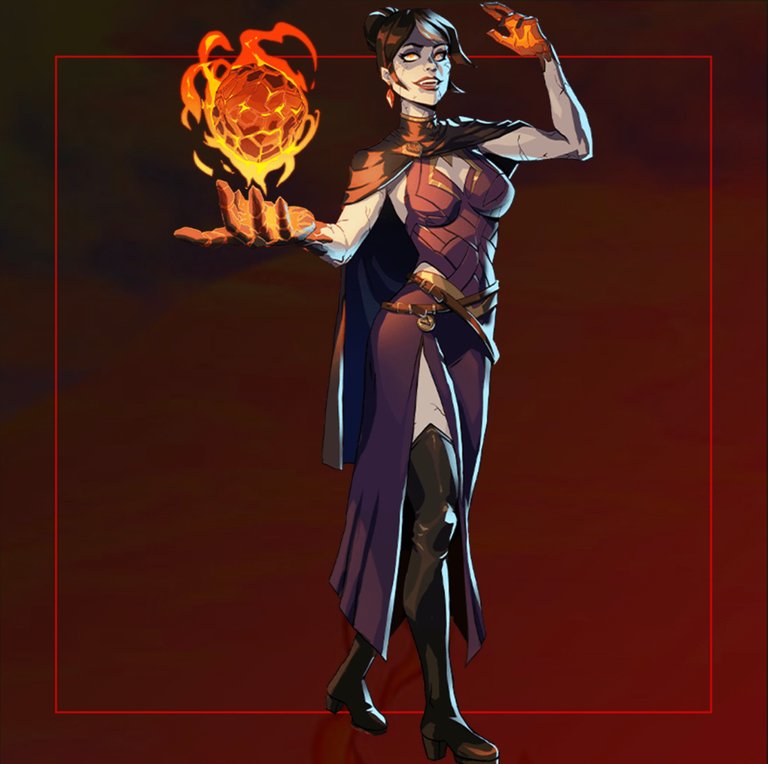 Drawing development / Desarrollo ✏️
---
Taking as reference the photos that were presented, I made a semi-realistic adaptation of the "COUNTESS SINASH", analyzing the character I came up with a somewhat crazy idea, I imagined the ball of fire that she has in her hands as a basketball, based on this idea I developed the character as a player, taking some characteristic elements of her to include them to the idea of a player, obtaining a very sporty and gloomy character as I wanted.
Tomando como referencia las fotos que se presentó, realice una adaptación semirealista de la " COUNTESS SINASH", analizando el personaje se me ocurrió una idea un tanto loca, me imaginé la bola de fuego que tiene en sus manos como una pelota de basketball, partiendo de esta idea desarrolle al personaje como una jugadora, tomando algunos elementos característicos de ella para incluirlos a la idea de una jugadora, obteniendo un personaje bastante deportivo y lúgubre como quería.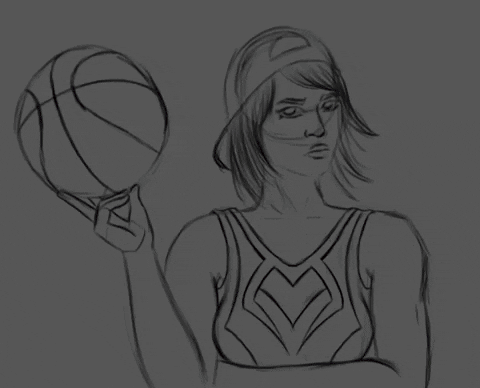 As always I start with the sketch, let's say it's the most important part of the design, because it represents the basis of all our work, if the base is poorly structured our final design will look bad to the eye. Here I made a beautiful girl holding a basketball.
Como siempre empiezo con el boceto, digamos que es la parte más importante del diseño, ya que representa la base de todo nuestro trabajo, si la base está mal estructurada nuestro diseño final se verá mal al ojo. Acá realicé a una hermosa chica sosteniendo un balón de basket.
In each of my works I divided them in some sections to make the painting a little easier. Here I was detailing each part of the drawing. As you can see I start with the face, blocking that section of the drawing to avoid painting in another area.
En cada una de mis obras las dividió en algunas sección para facilitar un poco el pintado. Acá fui detallando cada parte del dibujo. Como pueden observar empiezo con el rostro, bloqueando esa sección del dibujo para evitar pintar en otra zona.
Little by little we add shadows and glows in each section of the drawing, increasing each time the contrast of the drawing, obtaining a natural result, the process is somewhat slow, but worth it, then I begin to apply the textures to achieve a more realistic finish.
Poco a poco vamos agregando sombras y brillos en cada sección del dibujo, aumentando cada vez el contraste del mismo, obteniendo un resultado natural, el proceso es algo lento, pero vale la pena, luego empiezo a aplicar las texturas para lograr un acabado más real.
Now we start with the painting of our drawing we use different mixing methods, among which we can name, color overlay, multiply and add. As I apply color, I play with different shades and layers until I get the desired result. For this work I used a new tool that I had never used before, called gradient map, what it does is to modify the color palette of a specific section, as the drawing had many orange tones, I wanted to achieve more contrast by applying cooler shades, and this tool helped me to achieve that goal.
Ahora empezamos con el pintado de nuestro dibujo usamos distintos métodos de mezcla, entre los cuales podemos nombrar, superposición de color, multiplicar y añadir. A medida que aplico color, voy jugando con diferentes tonalidades y capas hasta obtener el resultado deseado. Para esta obra use una herramienta nueva que nunca había utilizado, llamada mapa de gradiente, esta lo que hace es modificar la paleta de colores de una sección en específico, como el dibujo tenía muchas tonalidades naranjas, quería lograr más contraste aplicando tonalidades más frías, y con dicha herramienta me ayudó a lograr ese cometido.
Used tools / Herramientas usadas📌
---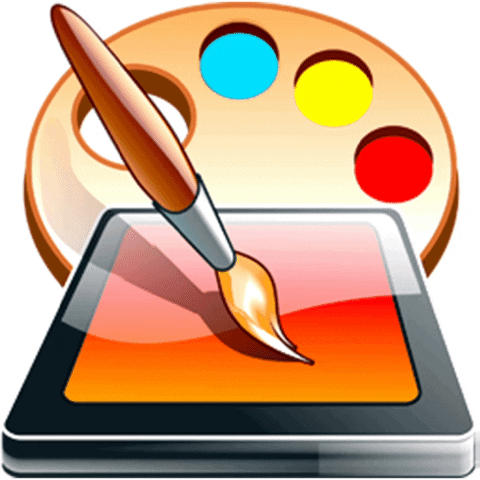 Programs: Imovie
Procreate
SketchBook
Tablet: Ipad Pro
Apple Pencil

Brushes: Airbrush
Pencil
Felt-tip pen
Skin brush

Time: 18 hours

Past drawings / Dibujos pasados 🔙
---
Thank you for your attention. We'll see you again in the next post, don't miss it.
Gracias por la atención prestada. Nos veremos de nuevo en el proximo post, no se lo pierdan.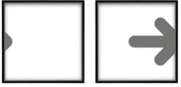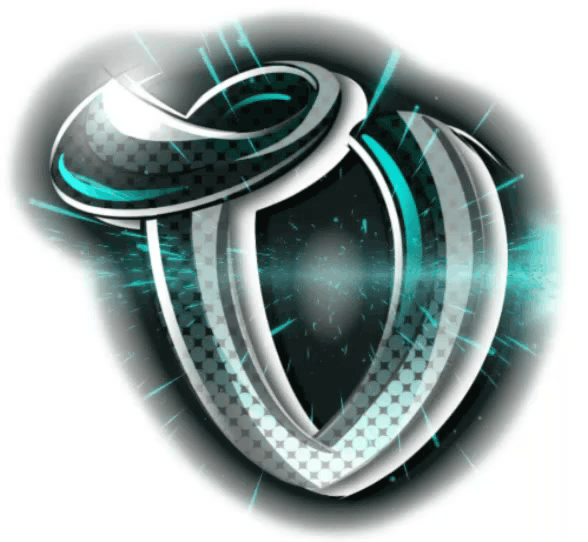 Copyright © @victartex - All Rights Reserved. Design and editing by own authorship.
El punto de partida de todo logro es el deseo.
Napoleon Hill