Greetings Hive!!! Triz here!!
5 years in the community? Wow, time really flies by, this year I don't feel like making a cake because I can't, but it's great to be one more year older. I've met a lot of really great people, with some of them I've been able to share very nice moments and I've learned from them too, so it's been great!
ohhh It means that I have around 4 years and a little drawing . Although to see something decent from those years you have to see the present for up to two years and it's maximum because before ufff that was rarer.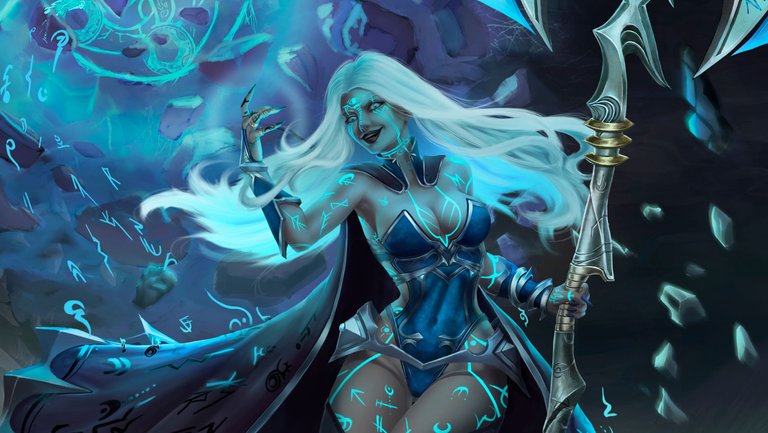 This day I want to share with you the most recent thing I've done and it's for the #Splinterlands contest, in fact I've been trying to participate for a few weeks but this drawing took longer than stipulated and not because I spent hours drawing but because it didn't provoke me to draw and I didn't like what I saw - I don't feel very good, but I can't see this anymore and I decided to finish it. Well, things happen now and it has not been possible for me to participate anymore, I am not going to make of it a sea of tears and all that , I already have enough with what happens to me, to fill this with things that have nothing to do with what I draw but I will try to write in the most positive way I can😌.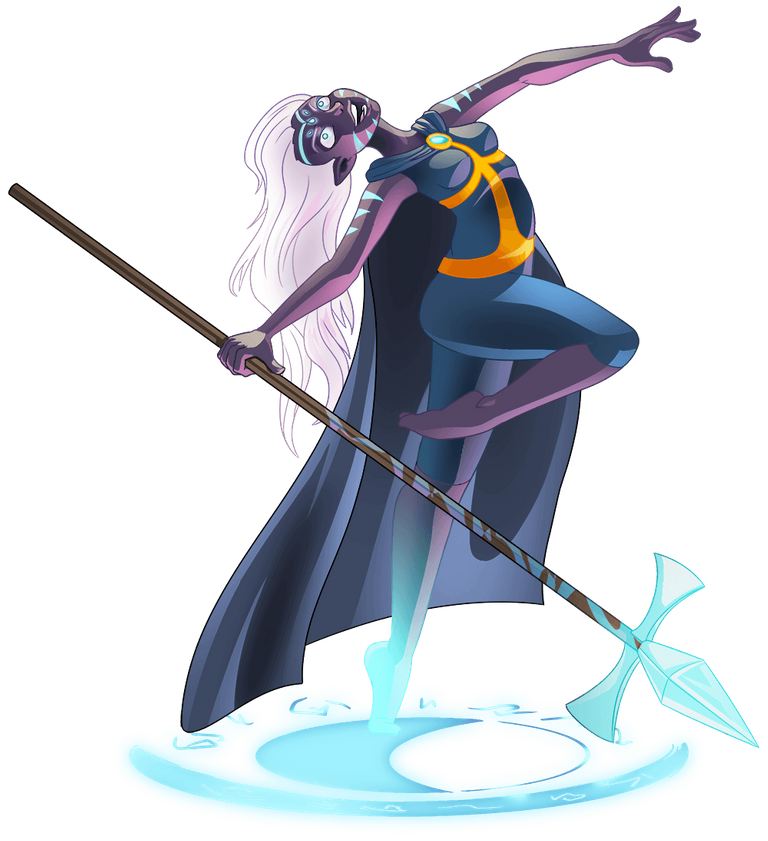 OOOOhh At a certain moment when I was drawing I had to change hands and draw with the opposite hand because suddenly my left arm started to hurt a lot so the only option at that moment was to draw with my right hand, I advanced several things in the background, I had no problem drawing but I had to stop, my arm hurt and I couldn't move it.
Well, going back to the important case, I chose this character for a while, the truth is that it's kind of funny and it makes me laugh because the week that I was going to publish it, my friend @hadley4 made a version of this character too, by the way, I liked that and he knows it ahahah--- - before that someone else also made The time mage the same week as the one I chose, recently it also happened with a nice version of @ocojoco from Ice Pixie even though I didn't participate on that occasion Well, I have to laugh at something.

Some images of the process
---
Step 1️⃣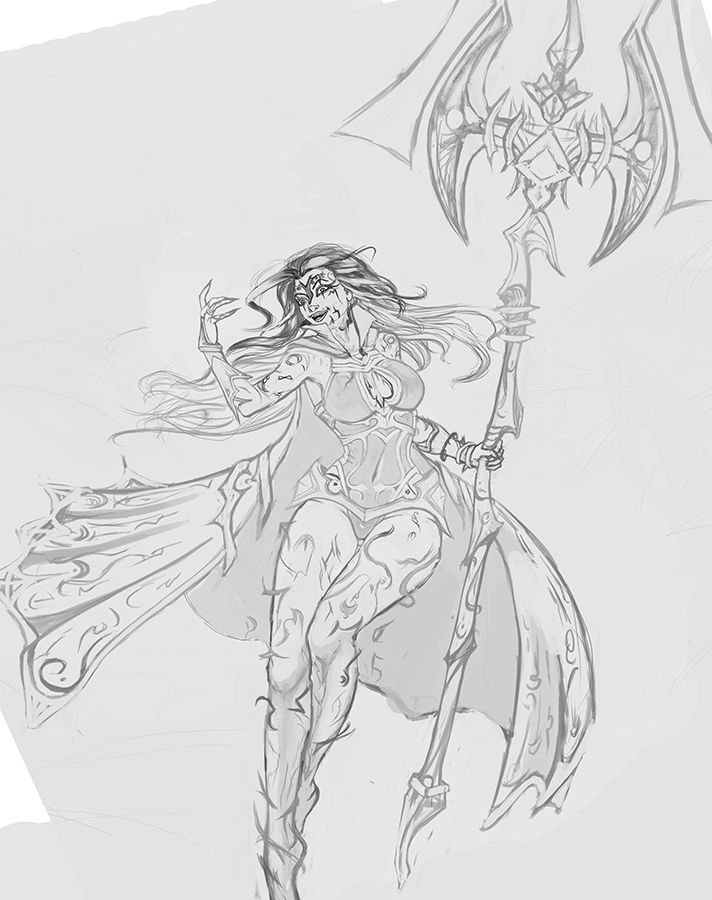 Well, the first part of this drawing was the sketch I guess, well, not really it was the idea, after I had that a bit clear came the sketch. This sketch looked decent and I didn't want to do Lineart because that would take me a lot of time, in the end I had to clean up the sketch and do the Lineart although I didn't put that step here.
-.-
Step 2️⃣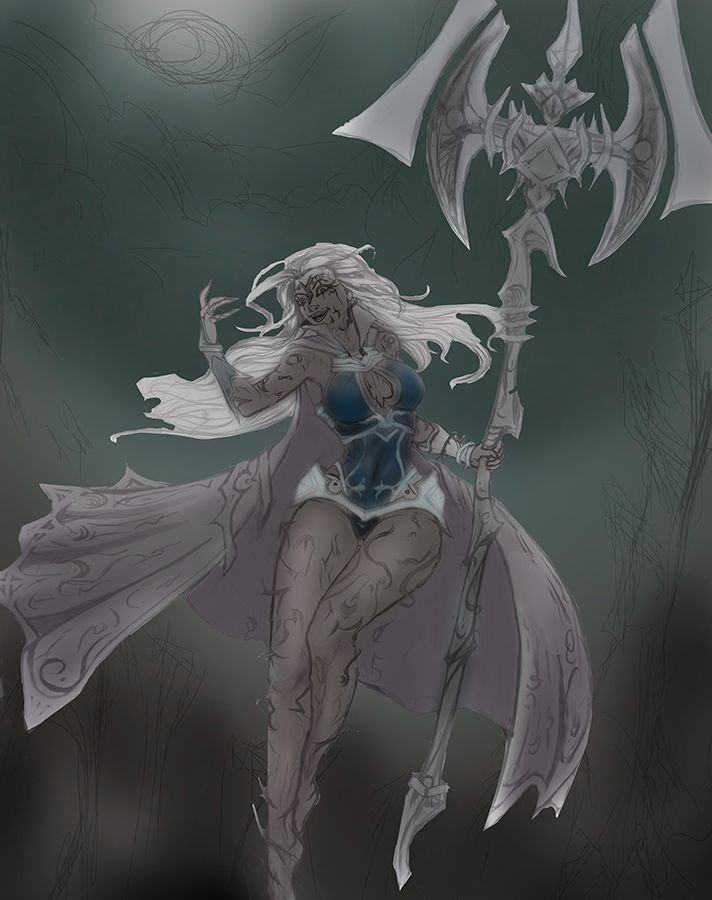 After I finished the lines I placed some base colors taking some reference from the original design, as you may have noticed from the beginning I changed things a little bit, it is not my intention to make the girl so different so I just made some small changes trying to keep the essence.
-.-
---
Step 3️⃣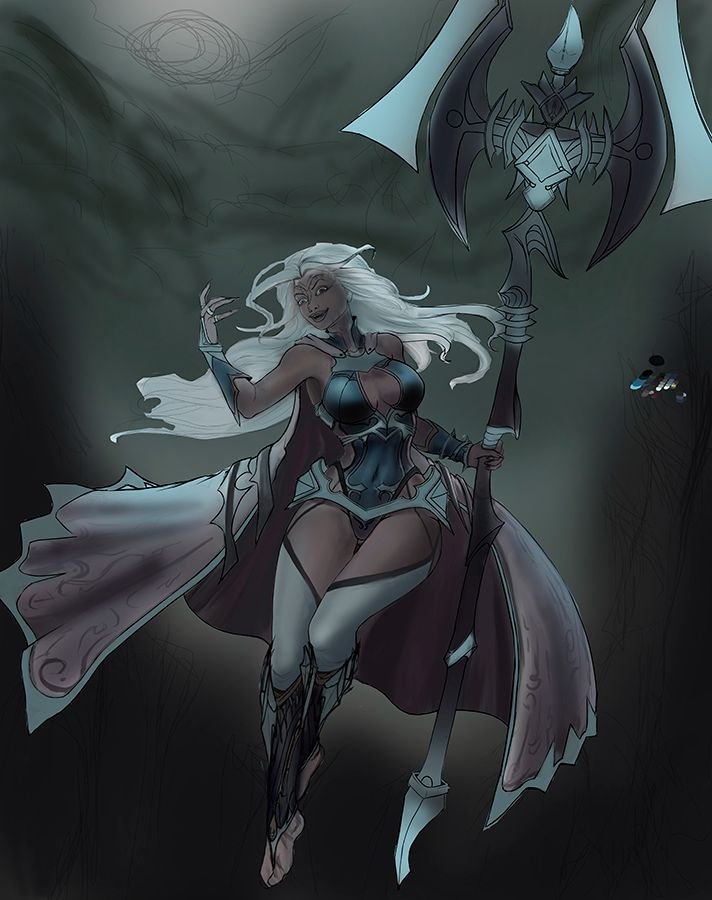 Here there is not much difference with the previous step, I just added some new things and made some adjustments in the size of the girl, in the sketch I made her of a height much larger than what it said in the character description, although my intention was not to make her as a girl but a little older, also with full awareness of the power she has.
At this moment the boots I placed seemed fine, but that will change later.
-.-
Step 4️⃣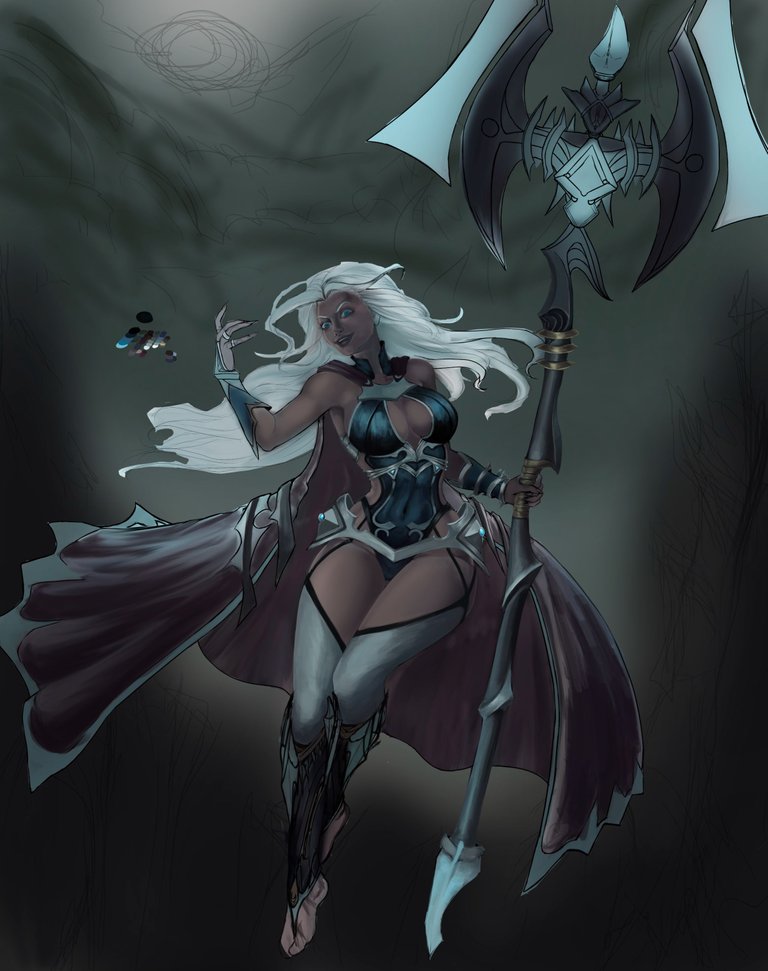 When I started to do this I was quite animated and I liked the idea of what I was doing but after a while I don't know something crossed my mind and well, actually I had to finish it a few weeks ago but I filed it, these days I don't feel good emotionally and I wasn't liking the way things looked, so I better stop drawing for a few days, I couldn't do anything then I drew other things to distract myself.
-.-
---
Step 5️⃣
After several days passed and I felt that in this third attempt it was going to work, I made several changes in relation to what I had before that I was not liking, it looked very opaque and the colors were driving me crazy, in this step the drawing looked like it had salvation oOhHH and I also added the background which yes, that changed a lot, my intention was that she was the one that caused this "disaster" maybe she made a portal and wanted to destroy everything, I don't know, maybe she wants to take revenge and get her daughter back, well, the idea was destruction, I don't know
-.-
Step 6️⃣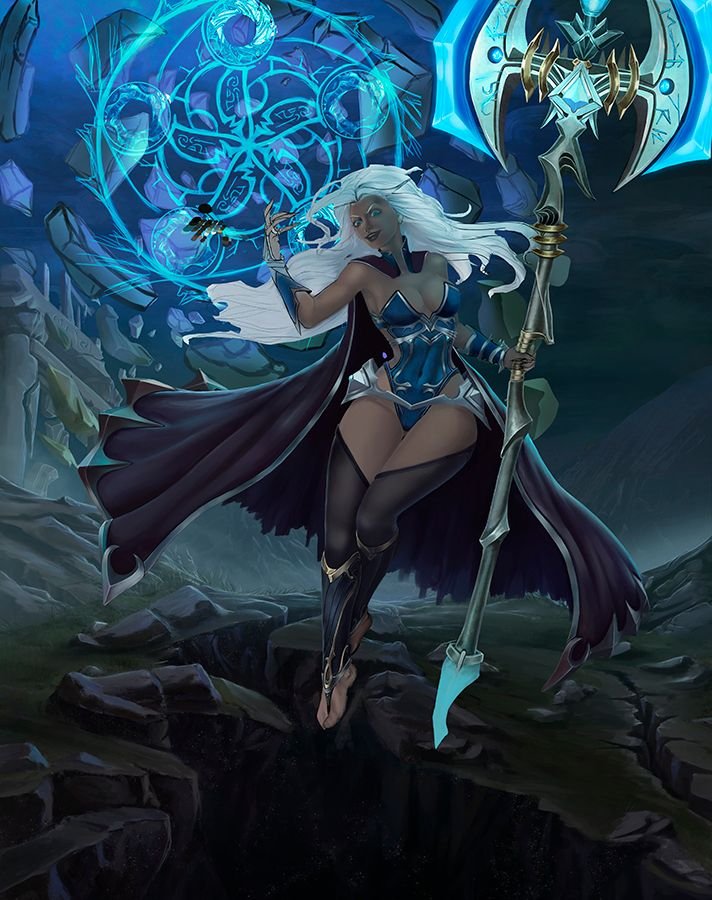 I added something else to the background, of course I could not miss the portal that she was opening with the help of her runes or magic seals, a couple of stones here and there that are being dragged by all that. In this step I did some more details in the cloak, I wanted the few details in her costume to be silver, but I also added some gold and also to the crosier as well.
-.-

---
Final result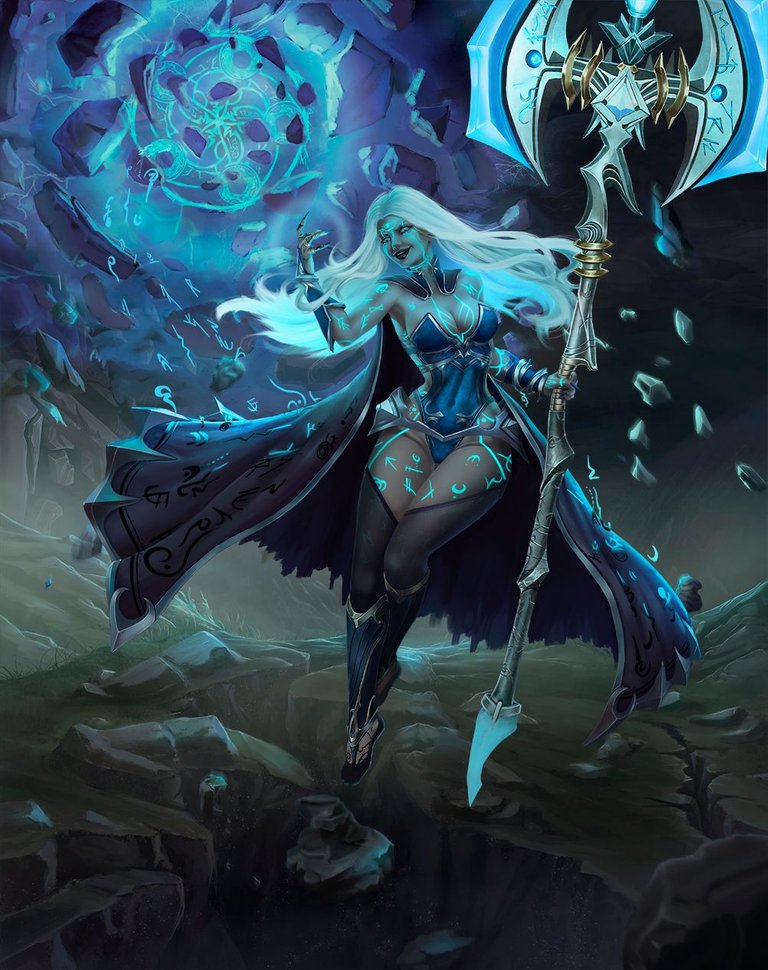 After several weeks I finally finished, I wasn't drawing all that time hahahaha but I put it off for a long time and that ended up being several weeks. For the end I finished what was pending, the runes on the skin and on the cape should not be missing, I wanted to make an effect like they come off when they are activated and make the portal, in fact I know some Nordic runes and I researched other magical symbols although others I invented, but well, I just wanted to add a few more details and stop seeing this.
-.-.-.-.-.-.-.-.-.-.-.-.-.-.-.-.-.-.-.-.-.-.-.-.-.-.-.-.-.-.-.-.-.-.-.-.
.-.-.-.-.-.-.-.-.-.-.-.-.-.-.-.-.-.-.-.-.-.
.-.-.-.-.-.-.-.-.-.-.-.-.-.-.-.-.-.-.-.-.-.-.-.
.-.-.-.-.-.-.-.-.-.-.-.-.-.-.-.-.-.-.-.-.-.-.-.-.-.-.-.-.-.-.-.-.-.-.-.-.-.-.-.-.-.-.-.
These are the last drawings 👉🏼😘👈🏼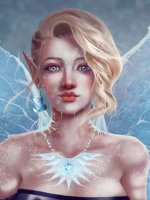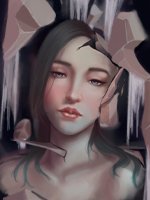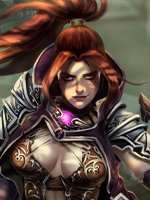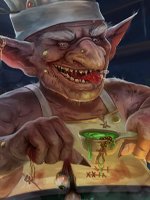 ---
.-.-.-.-.-.-.-.-.-.-.-.-.-.-.-.-.-.-.-.-.-.-.-.-.-.-.-.-.-.-.-.-.-.-.-.-.-.-.
.-.-.-.-.-.-.-.-.-.-.-.-.-.-.-.-.-.-.-.-.-.
.-.-.-.-.-.-.-.-.-.-.-.-.-.-.-.-.-.-.-.-.-.-.-.
.-.-.-.-.-.-.-.-.-.-.-.-.-.-.-.-.-.-.-.-.-.-.-.-.-.-.-.-.-.-.-.-.-.-.-.
Tell me, what did you think of all this? I would love to know your opinion.

Ohhh And if you have reached this point, I thank you very much for taking the time to read me 🤗🥰😉.

See you soon Hive 😏!