Their last family visit came during Halloween. I remember because at my grandmother's house none of our relatives celebrated that holiday, but Rita insisted that we should behave like any normal citizen and that included the activities that are customary during that night of supposed terror. She herself was in charge of searching the old closets that were in that room that had been closed for several years, buying masks and assigning each of us the costumes that we had to wear in the streets of the neighborhood. I, in particular, was disguised by Rita as Scarecrow. The embarrassing photos of that day still exist, kept in an anachronistic album for the children to laugh out loud every time they look at them. She, of course, dressed on that occasion in a spectacular Egyptian princess costume that attracted the attention of the whole town and left her forever the nickname of "The Queen of the Nile"; at first, she pretended not to like such a bombastic nickname, but it was obvious to anyone who knew her that this was not true, her ego felt more than pleased when most of her acquaintances chose to call her so. And now Rita cannot tell me that I am lying, because in all the social networks she is listed as "The Queen of the Nile".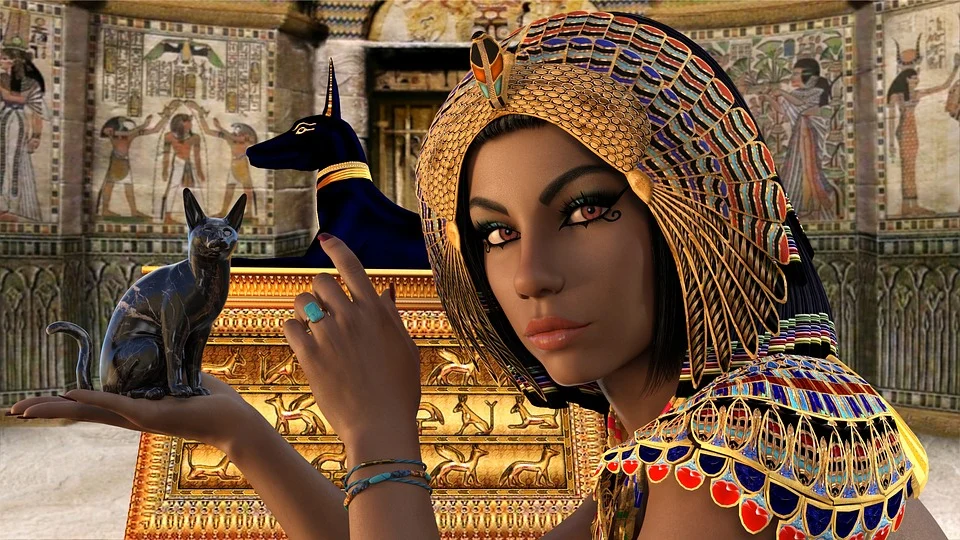 Fuente
The Queen of the Nile was the name Rita wanted to give to the novel she would one day write. There was a time when I told her that I was almost sure that a book with that title already existed, but she replied with one of her decisive sentences: but I assure you that it is not as good as mine will be. It was at that time that she became an assiduous visitor to the Public Library, for she was entirely devoted to the collection of everything relating to ancient Egypt. Her conversations about pharaohs, pyramids, mummies and magic potions were frequent. Her clothing, her clothes, her make-up, everything she did was related to the novel she would soon publish. However, when I met her two years later in Chile, the book was still a draft with only two pages finished and full of erasures. Look at what I have written, she said, you can't deny that it is an interesting beginning. I took the two pages scribbled in fuchsia-colored ink, but what I read puzzled me so much that I could not continue: Mr. Bridge folded his arms and didn't silence the other boys' laughter when I cradled my hand and cried over the grass on my knees. And does this have anything to do with ancient Egypt, I asked. Sure, she replied very calmly. You just don't know anything about literature. It's about some boys who go with their father, who is a renowned archaeologist, to Cairo and they are the ones who live the best adventures.
A little over a year ago I met the Queen of the Nile again. She was accompanied by two children and a man named Bridge. They are my two sons, she explained, and he is my husband; if you need anything from the Public Library, you can contact me, Bridge has been working there for years and is allowed to check out any document. I didn't know you were married, I told her just to keep quiet. You never sent me the novel you wrote, I said next in a reproachful tone. She smiled and launched one of her arguments that need no reply: After I had these two children, there was no time for anything, they absorbed my whole life. There is no longer a moment of peace; right now we are looking for the dog that escaped from Bridge Jr.'s hands, burst the leash and ran under those vehicles. Suddenly we heard Osiris, the youngest of her children, looking towards the residential buildings across the street and calling out, Mom, the dog is in the window. They ran off to retrieve their pet and I continued on my way.

Fuente