Written several days ago on the last day of the year as I sat at my desk to finish my work for the year.
my desk
hopelessly messy
this new year's eve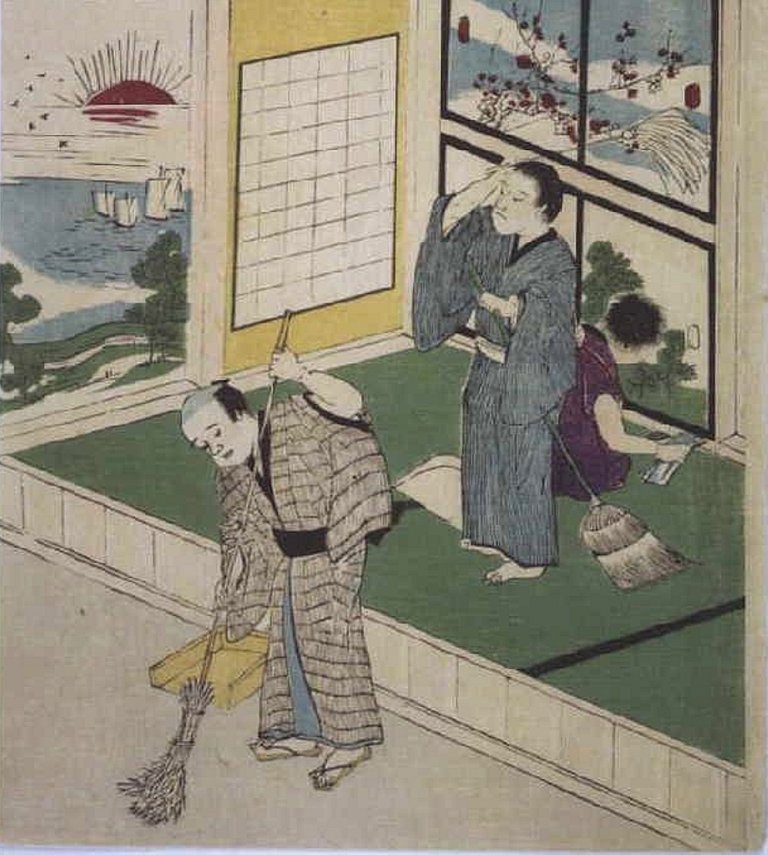 "Morning Cleaning" by Unknown

I suspect most of you can relate to this.
I try to be organized and clean and I can usually manage these things pretty well, but things seem to quickly fall apart after a few days. So they a few days after that I'll take a few hours to clean and organized and it will be nice and neat for a few days... before falling into disarray again. It seems to be a repeating cycle I'm stuck in here.
Such is life, eh? I need to embrace my inner Marie Kondo (KonMari) and find a way to keep it organized permanently. Ah well, but that day is not today.
So anyway, the New Year came and has been with us a couple weeks now and my desk is still hopelessly messy. The New Year didn't fix that one! (not yet anyway)
There is a tradition in Japan to clean the house before the New Year. It's kind of a purity thing, or at least it originally was. Most people still follow this one and always try to get every room pretty clean before the year turns over. We cleaned my house so it was fairly clean, but my desk didn't make the cut. Whoops. I hope good luck didn't pass me by as a result!
As far as I know there is no traditional kigo (season word) for New Year's Eve. There are several similar ones. I don't have my saijiki (kigo encyclopedia) handy at the moment, but offhand we have last day of the year, day before New Year's, and variants of those. But I see no reason why New Year's Eve can't be a modern kigo.
Bashō always said that haiku should be written in the moment and only about things that are either currently happening to you or that you can currently observe. In other words, they are about something that is going on right now, not an imagined thing. Now don't get me wrong, I think it's fine for most poets to ignore that guideline these days, but I personally always try to follow it. It makes makes the haiku a little more real to me, if that makes sense.
Anyway, I'm not off to go stare and my messy desk...
❦


| | |
| --- | --- |
| | David LaSpina is an American photographer and translator lost in Japan, trying to capture the beauty of this country one photo at a time and searching for the perfect haiku. |
If this blog post has entertained or helped you, please follow/upvote/reblog. If you want to further support my writing, donations are welcome.
BTC: bc1q6q86uq5qhffuk08gdenlg9wtq75cpvur359shj
ETH: 0x2Ce5c2b5F3f1a888b50A7bA9002E4F742784dF9c
Doge: D7McZi8SLd1QqRsNsFws21rYuRhjFRyN2q