UPDATE: This FAQ post has the up to date info on creating badges
https://peakd.com/hive-198327/@peak.answers/how-to-create-a-badge-on-peakd-com
---
You have 1 week to update old badges and to submit ideas for new badges.
NEW BADGES
We will take the 10 best badge ideas and list them for free.
Share your badge idea below.
You can even create the Public List and share the badge account name but no guarantees. Eventually we will have a badge submission system open to everyone anyway.
HOW TO CREATE BADGES
We wrote a post here: https://peakd.com/@steempeak/badge-creation-steps
That post has been updated with PeakD links
It's worth noting that badges is still in beta and that there is not a simple method to create badges on our site so you'll need to follow that how-to... this is part of why we're adding all these for free. Expect a lot more features for badges in the future.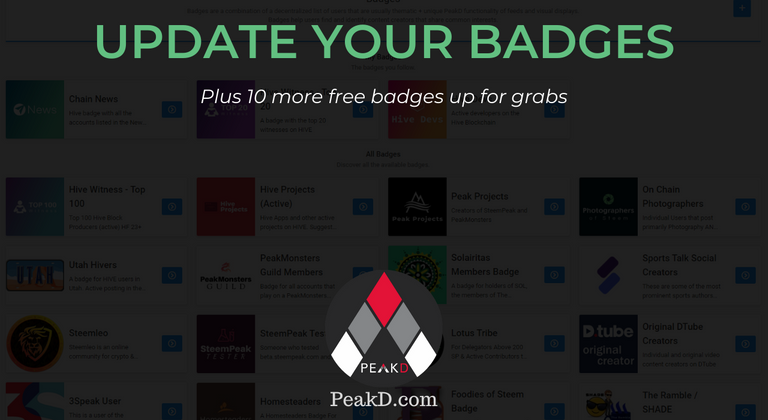 UPDATE OLD BADGES
All the old SteemPeak.com badges got listed on PeakD.com even though some of them don't make sense anymore and many of them need to update their badge recipient list as well as settings and name. We understand it's been a busy time recently and we are giving some time for users to update their badges.
Badges need to stay up to date to stay listed... specially the free ones.
So this is not a one time thing. You're the curator of your badge you're in charge of keeping it up to date. TIP: you may give your posting key to someone else to help you.
WHAT TO DO
Remove references to STEEM
That's pretty much it... if you want your badge listed just keep it up to date... these badges are for the hive blockchain and are on PeakD. We would recommend changing references and links from SteemPeak.com to PeakD.com
The exception is that you want it to be a Steem related badge on the Hive blockchain and you plan to keep updating it. You must let us know this will be the case.
Share the badge account with us
For example @badge-424242
APRIL 2ND DEADLINE
You have one week to make changes
Starting April 2nd we will review badges and see which ones are up to date
Even if we remove you can always contact us to re-apply with the badge-000000 name