THANK YOU FOR THE HELP
Our users know us for being quick to fix bug reports.
We know are users for being helpful and understanding.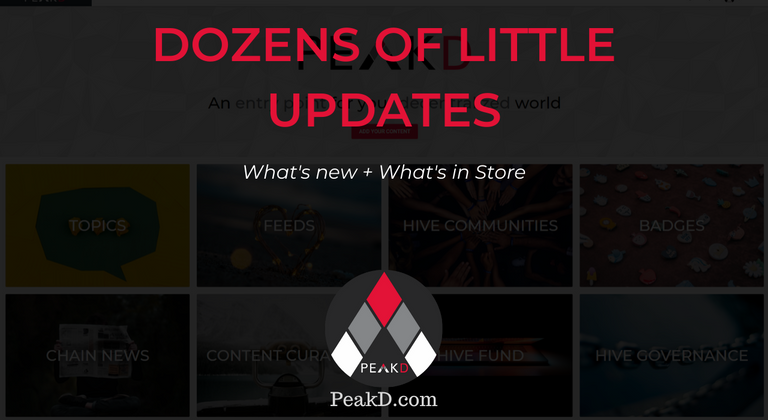 We knew that on the 20th when we launched https://peakd.com/ that there would still be references to STEEM and that some of the features weren't connected and working.
We knew our users would report all the functions they were wanting us to get running... and they did.
It was certainly a very busy couple of days but one by one we made all the fixes and in large part because of all the comments and suggestions.
RECENT UPDATES
Delegations
Change keys function
Badges are updating now
Update signup to link to hive.io signup
Start a community
Claim new account token
Get community edit running
Get HBD conversion running
Use new account token
Enable post scheduling
Update app list in services
Get edit of Witness description running
Update Hive market stats in wallet via coingecko
Dozens of STEEM references (a couple small ones remaining)
---
REFERENCING STEEM-PAST
We've added a message to all posts that were done prior to this chain's hardfork 23 It will help with the confusion of how all those posts reference steem or steempeak or steemit. There are some people who would like this.

UPCOMING: We want to remove the message for all accounts that have logged in with PeakD because they likely already understand.
Also... Never did these posts earn a token called HIVE or HBD ... those tokens were free airdrops given to users just a few days ago.



So it's false to say they earned hive or hive rewards... so we are showing STU for those pre-hardfork-23 posts.
---
MORE FEEDBACK IF YOU FIND THINGS
Allowing us to run like this with community input helps us to iterate really really fast and now we get to move on to new features.
---
WHAT'S TO COME
Not saying what the exact order is but here are some things to get excited about.
A more official bug reporting tool
We're gonna try a different system for FAQ
We're gonna make a system to allow people who don't like HIVE (or any reason i suppose) to self-blacklist.
We're gonna work on a system for account recovery now that we recently created the "change recovery account" system
Guest comments
More onboarding tools focused on sponsoring users
Updates to search UI
Bring back promoted posts in a new and improved way
Then we start getting into the real fun stuff as we start looking at integrating NEW projects from both HIVE developers or looking at great features from other chains.
---