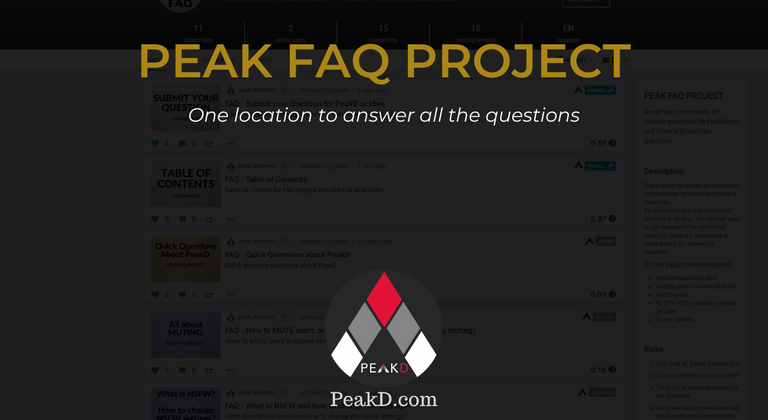 https://peakd.com/c/198327/
WHY A FAQ PROJECT?
This should not be seen as fill in for our need to work hard toward INTUITIVE DESIGN on the site making it so new users don't have to read any of this. That is still our primary goal... we want new users to intuitively understand how the site works... at least the basics.
However sometimes having a document to answer questions is very helpful... specially if it's well organized and maybe even searchable. And now that we're organizing a support team to answer more technical questions we thought having some more technical documentation would be helpful so that they can often direct users to where to find the answer. And keep updating the answer in one place if there is a need. Also users giving support to other users often need to read up on what the answers are or we're just creating more work for ourselves as the support team may be bombarding everyone with constant questions just to answer the questions of other people.
---
IT PRESENTLY LOOKS LIKE THIS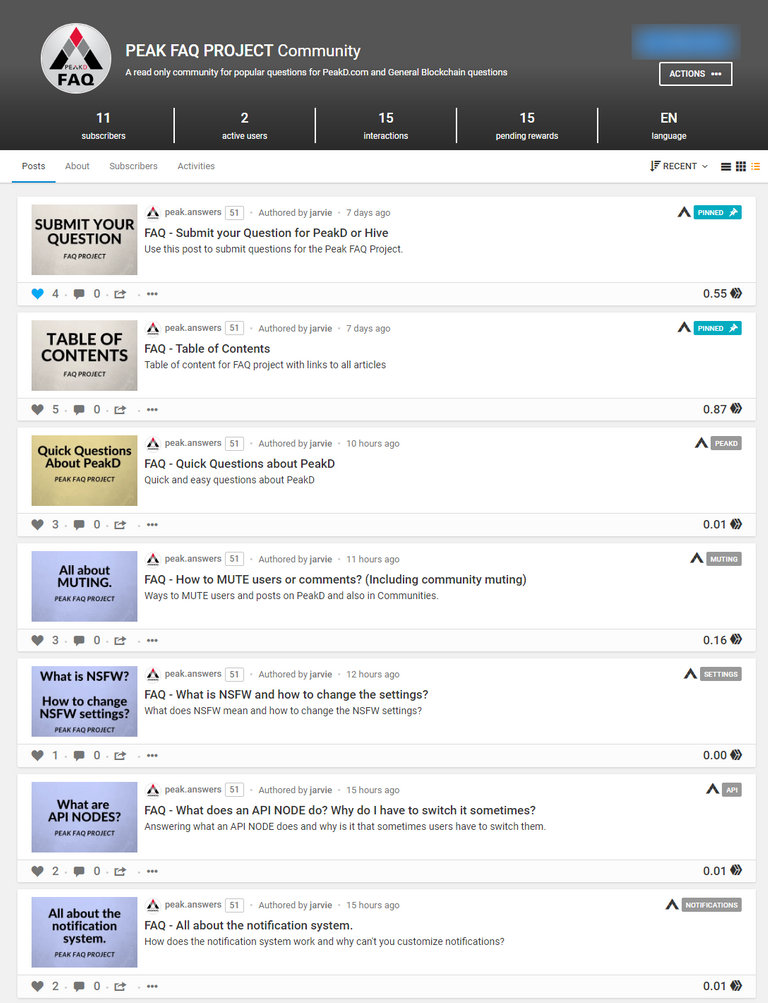 https://peakd.com/c/198327/
Go vote on some of your favorite articles.
---
THINGS TO KNOW
14 articles as of right now
64 more articles tentatiely planned
Looking at developing ways to sort posts (so we can show basics before advanced faqs etc)
Looking at developing ways to show sub-categories of posts so users can search by faq topics.
Looking at developing ways to search posts within the community.
Looking at developing new view style to show more posts on a page.
Considering the ability to vote beyond the 7 days on these posts.
On that note some of these were written over 7 days ago but won't be getting any votes in present system
These articles are likely very useful for users of other interfaces
---
WHY USE A COMMUNITY
Because posts can be easily edited/updated
Because posts can easily include visual and audio material.
Because users can follow up with questions or clarifications in the comments.
Because communities allow for moderation to keep the comments and posts on subject.
Because developing new features for this community may help other communities.
Because it could allow us to involve other document writers easily.
Because each post having a link allows us to integrate answers in different areas of our website.
---
USEFUL LINKS
The community: https://peakd.com/c/198327/
Table of contents: https://peakd.com/hive-198327/@peak.answers/faq-table-of-contents
Submit a new question: https://peakd.com/hive-198327/@peak.answers/submit-questions
---
---
---
---