A new release of peakd.com is now available. Keep reading to discover the new features and check the full list of improvements ;)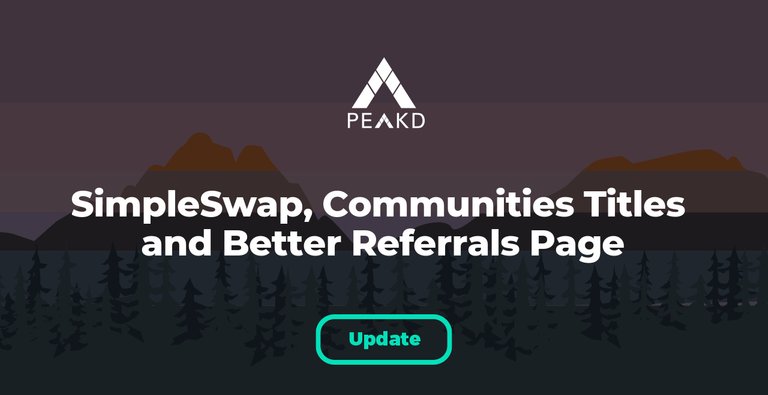 1. Easily exchange other cryptos to HIVE/HBD with SimpleSwap
It's now possible to 'deposit' into your Hive account directly from your Wallet thanks to a small widget provided by simpleswap.io.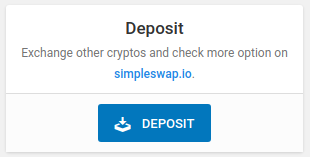 An overview of the Deposit section is shown below, just be sure to read the tips and understand how the service works before using it.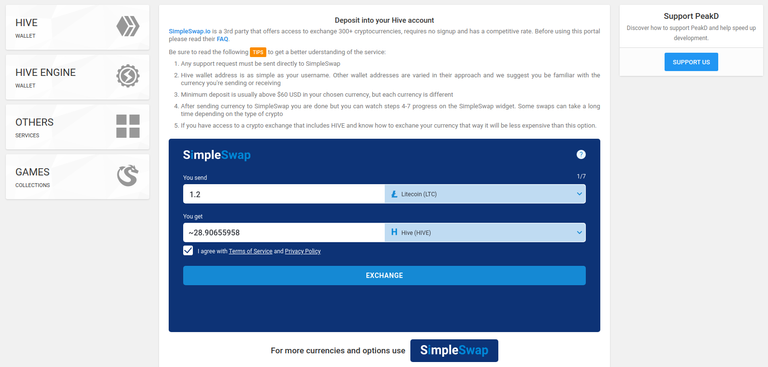 Note: if you have issues and you are using Brave try disabling the Shield (thanks to @nelyp for this hint)
2. It's now possible to set titles for community members
In the previous release we started using the community titles so this is the obvious next step. You can now set the Titles for members of a community in the Roles page.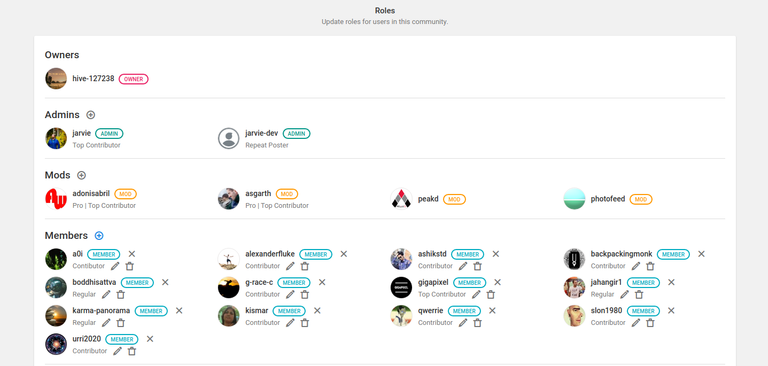 Also the layout of the authors labels have been improved in this update.
3. Improvements to Referrals page and referrals wallet transactions
A new section on the Referrals page give an easy overview of the main stats. Also from this section you can access a customized feed including the posts from accounts you have referred that have been active recently.

And to make it even easier to handle new referred accounts signup the transactions sent by @hiveonboard now have a better layout in the wallet:

4. Some minor improvements and bug fixes
As always some minor improvements, updates and fixes across the website. You can check the full release notes here: https://peakd.com/about/changelog.
# Improvements and Fixes
------------------------------

[update]  Better layout and overflow for community post author titles
[update]  Improve Publish page preview rendering when using embedded content (videos, tweets, ...)
[update]  Increased security of embedded content using sandboxed iframes when possible
[update]  Post authors title is only shown in communities related pages (not in blog, topics and following feed)
[update]  Improve actions availalbe in Followers page menu
[fix]  Fix embedded Tweets size

---
Support the @peakd project
Now is probably a nice time to remind you of the ways you can support the development of @peakd.

We have a proposal on the Decentralized Hive Fund. You can review the proposal here.
If you agree to the proposal and you think the points mentioned add value to the Hive Blockchain consider supporting it using the above links or directly with this link.
---
We also run a witness server to help produce the blocks for the Hive Blockchain. You can vote for our witness so we are in a position to process more of them.
Vote on the witness page: https://peakd.com/witnesses
Using Keychain: You just have to click and approve the transaction
Using HiveSigner: You'll need access to confirm the transaction with your Active Key at least
---
The PeakD Team
About us: https://peakd.com/about
Join us on Discord: https://discord.gg/Fy3bca5