The other day I posted about the flower parade we had here in our little mountain town in Panama. I posted photos of all of the floats, but there were other entries in the parade as well - bands and people!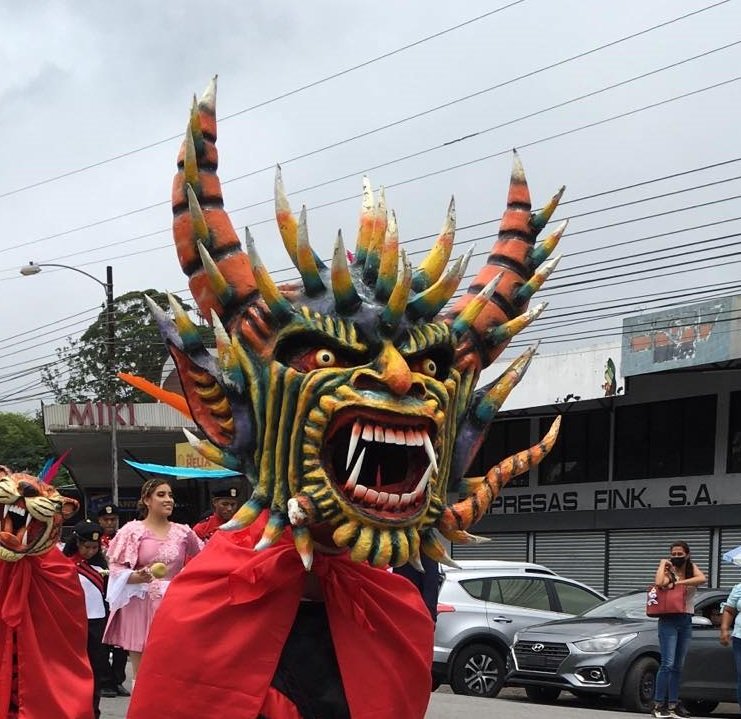 It was so fun to be a spectator in the parade again. Thankfully things are starting to get back to normal after two years of no parades! We have missed them!
One of the first groups was some guys playing instruments and singing with their speaker being carted behind them. We were all surprised when we realized the guy was really singing. He was good!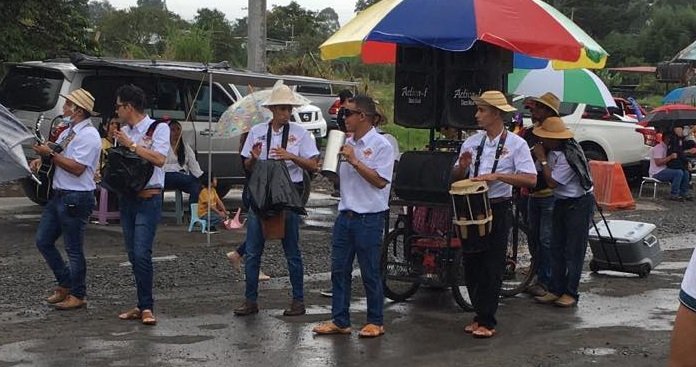 The floats were amazing, but the bands also did a great job. They came from far and wide just to participate in the parade. What is interesting about every band is they each have a different way of marching.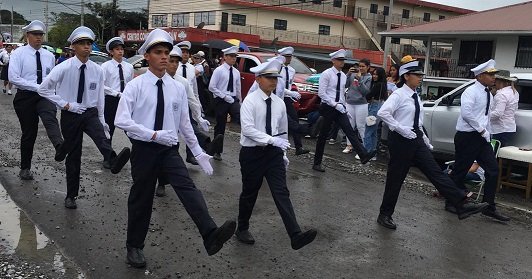 Each band had a group leading them...sometimes with flags. They had all the instruments playing a song, and they usually had some girls and guys dressed in traditional garb dancing. Sometimes they would have girls twirling batons or fans. It was always interesting to see what they included.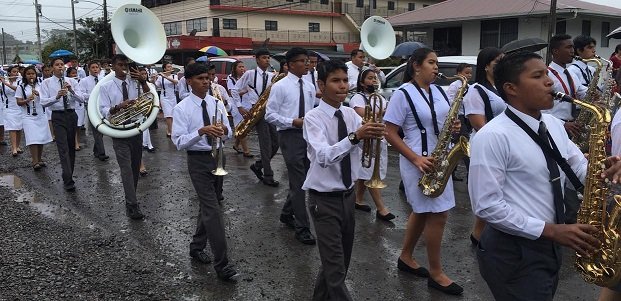 .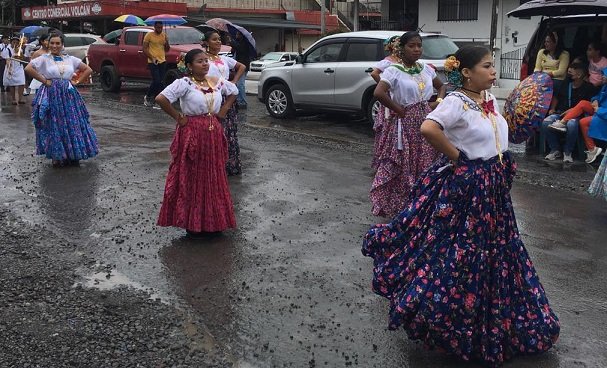 I just love the traditional dresses of the girls. If they have all the beads in their hair, that is pretty amazing too! Imagine doing this in the rain! All those pleats have to be ironed in!!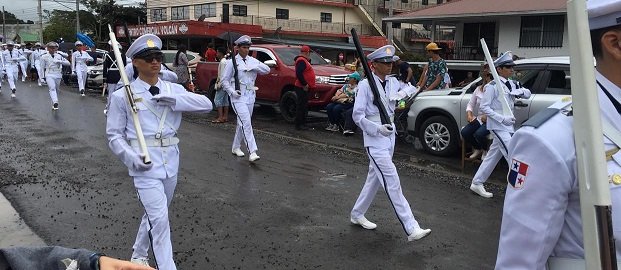 These were some of my favorite girls to watch. They were just so cute, even with their make up running down their faces in the rain. The color of their outfits looked so nice with their skin tones! They entertained us with a fan dance.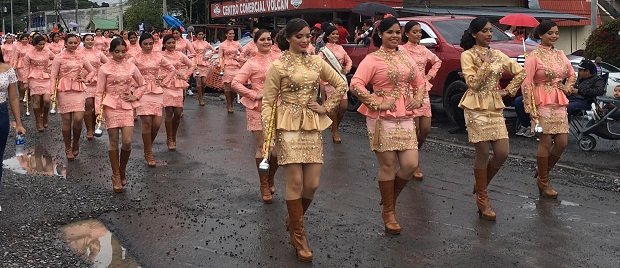 .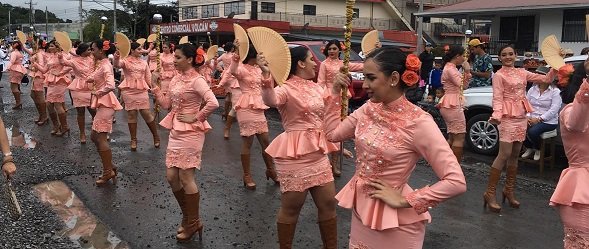 Another interesting way to march, but this time they carried fake rifles. The kids were convinced that some of them were real. Ha!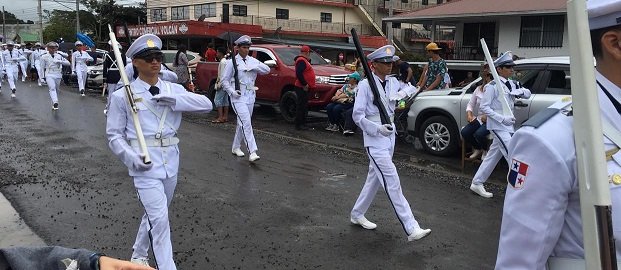 One of the issues with the parade was how long there was a pause in between each float or band. We stood in one location for a while and then decided to move toward the end so we could catch a few more groups before it started to rain hard.
Can you imagine having to do this high kick the entire parade route while carrying a flag?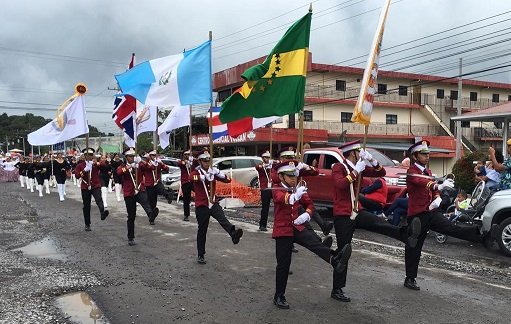 .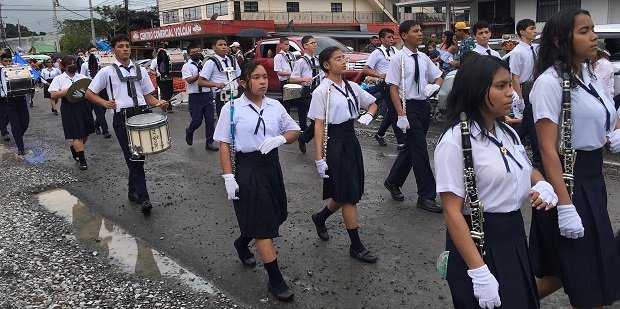 We also got to see some other interesting characters, like these guys dressed up as Disney characters. The costumes are a little messed up looking, but the kids didn't care. Princess Sofia had some major muscles too. Ha!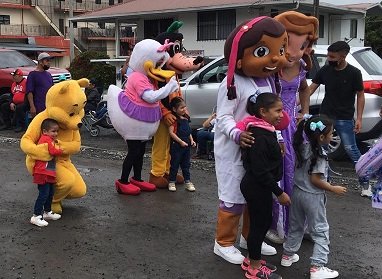 I actually wanted my kids to be in the parade this year but it didn't work out. Maybe next year! I bought a tricycle a few years ago just for this reason. It has a basket on it too! Surely my boys will want to ride it next year! Ha!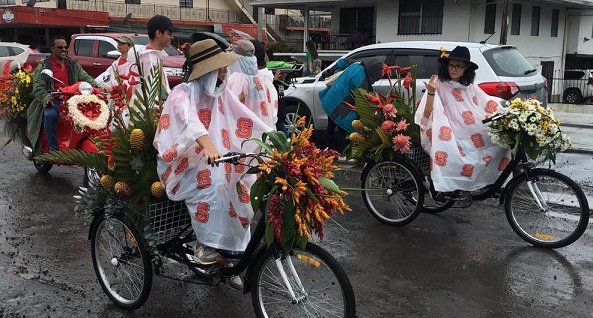 Some girls had made dresses and put flowers on them from a local school. They looked really cool, but my photo was terrible because I was trying to talk to one of them as they walked by. The boy in the sombrero is German and spoke English with me when I asked where they were from.

There was also this interesting witch costume that was with one of the bands. I don't really know what it was about, but this guy was sure happy to have his picture made with her!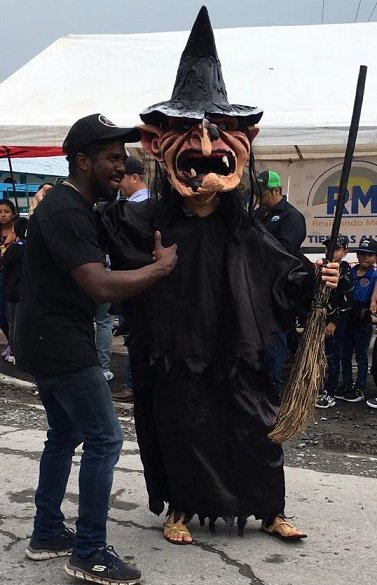 My Panamanian friend said this truck full of guys playing instruments has a name, but I forget what it is. It's LOUD! It was close to the end, but I can imagine that most of those guys went home deaf that night!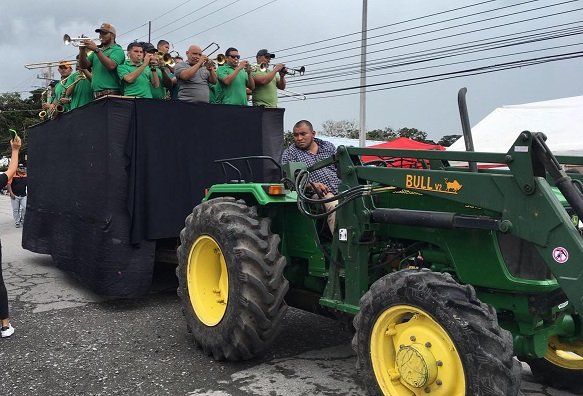 The last band we saw was pretty good. They had some interesting costumes with their group as well. These demon creatures always are kind of creepy to me. I need to ask the story behind them! The dancing couples were really good.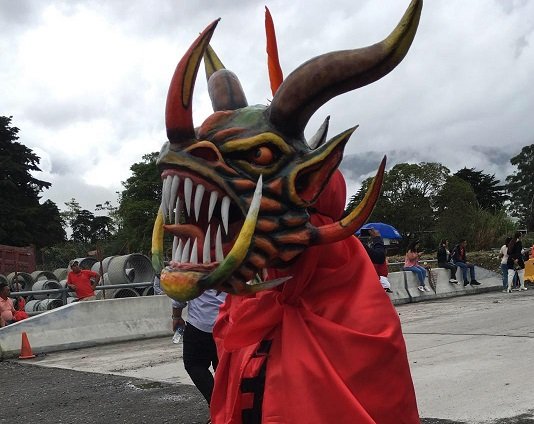 .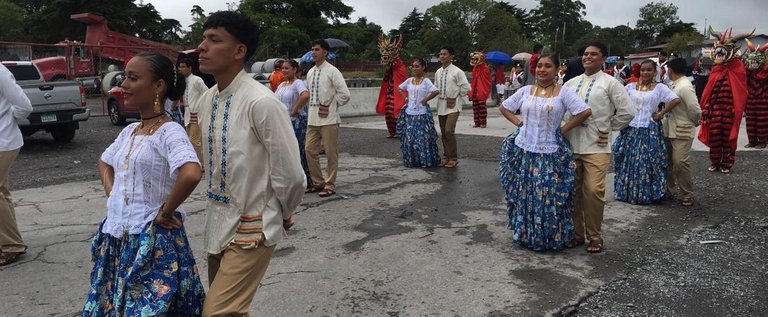 .


After that, we decided it was time to head home! Only one kid almost got hit by a baton as he stepped too close to one of the girls performing. It was a good time and we were happy to see so many interesting groups!