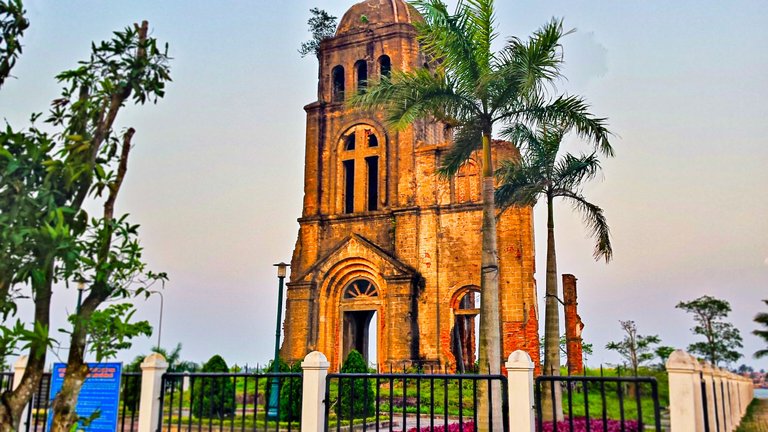 Dong Hoi is a fun city on the coast. It has a decent tourist infrastructure and is a good jumping off point for Phong Nha Cave National Park. I had a good time in this town mostly due to friendly locals.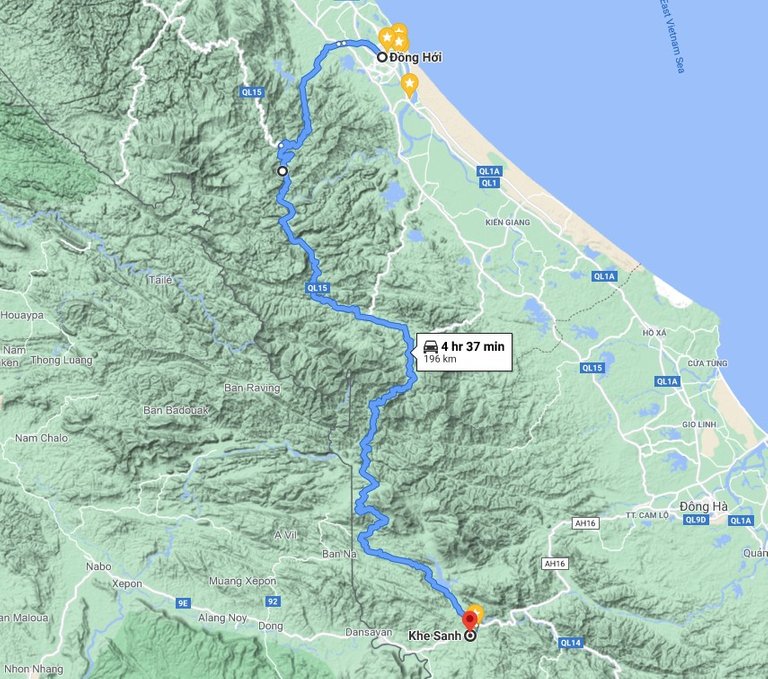 I started my drive from Khe Sanh before 7:00am. The drive was longer than I usually planned, I also wanted to get some miles behind me before the sun came out and got super hot.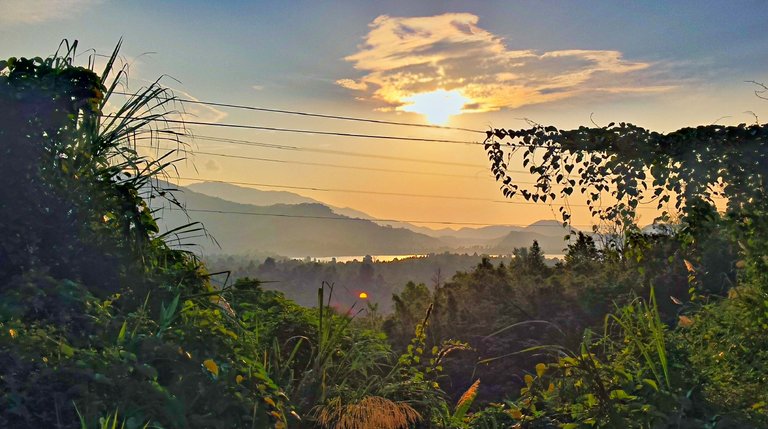 It was cool to be out on the road for sunrise. Usually I started a couple of hours after the sun had come out.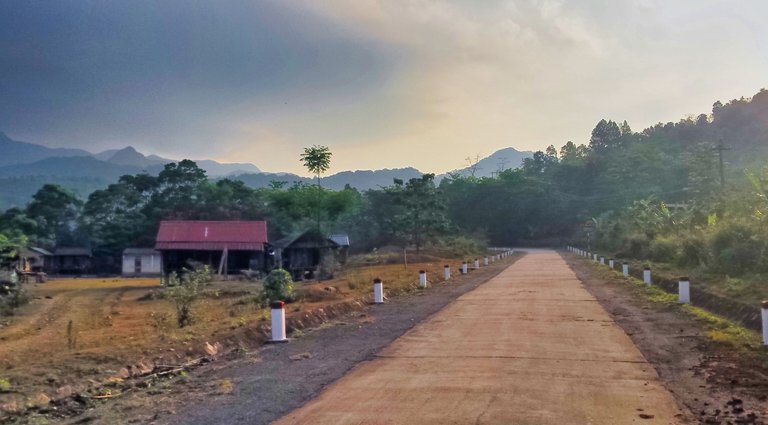 The Ho Chi Minh Trail was excellent for riding. It was a tiny little road that zigzagged through the jungle. It felt more like a ride through a giant park than anything else.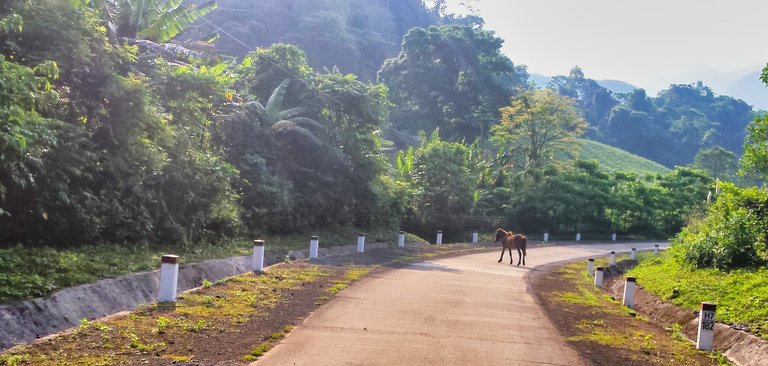 I turned a corner and a horse was standing in the road. I know there are horses in Vietnam, but they're not very common. I think this is the only horse that I saw while riding.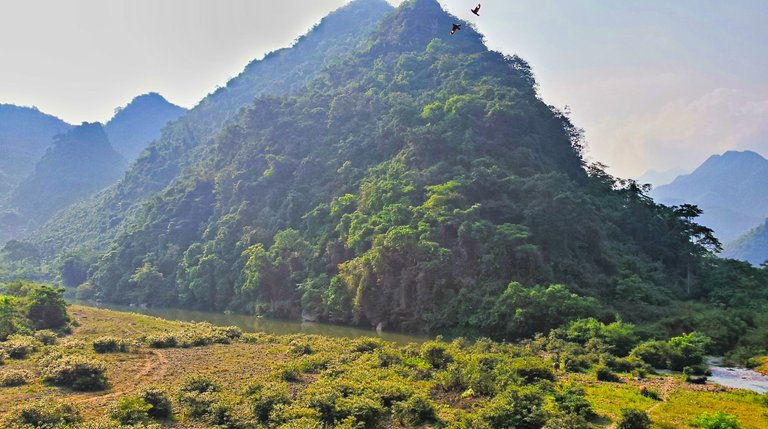 The land was beautiful! I started to get into more and more jagged little mountains that were incredible to ride through.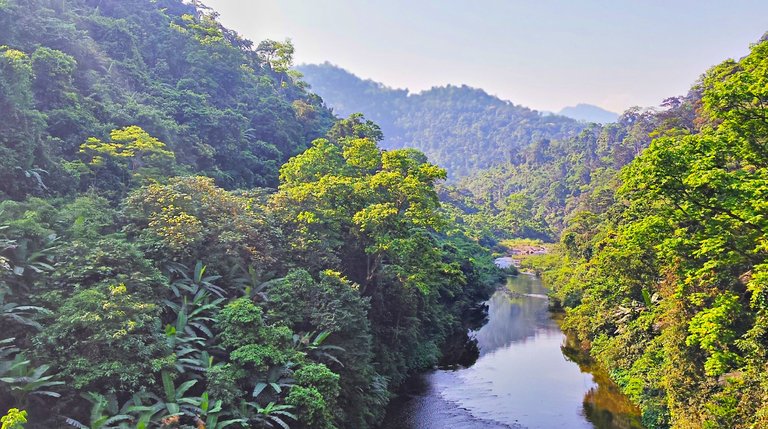 I hadn't gotten tired of driving through the jungle yet. It's a good thing because I had a lot jungle to drive through. I was still intrigued by it.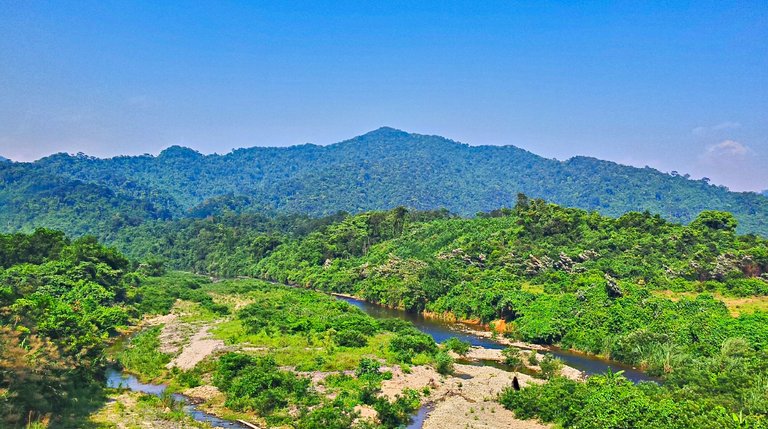 The jungle just seemed to go on for ever.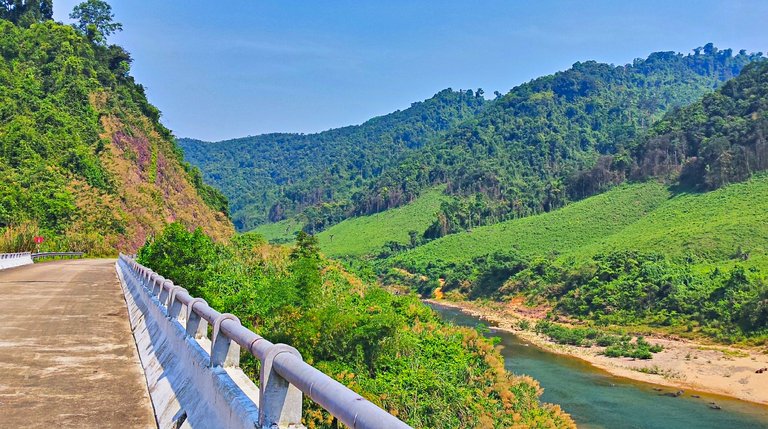 The roads were in good condition and for most of the day I felt like I had them all to myself.
There's a feeling that I would get that was like a big chunk of excitement mixed with a tiny hint of terror. Being out there by myself, there was always a little voice in the back of my mind saying "If something goes wrong, you're screwed!". But the louder voice was always saying "This is so freakin' badass! How lucky am I to be able to do this?!"
I would drive for miles and miles and not see a single person. The thought of a breakdown or an accident was a little bit terrifying. But for the most part, you just keep your hand on the throttle and keep going. The excitement of seeing what's around the next corner outweighs any hesitation or fear.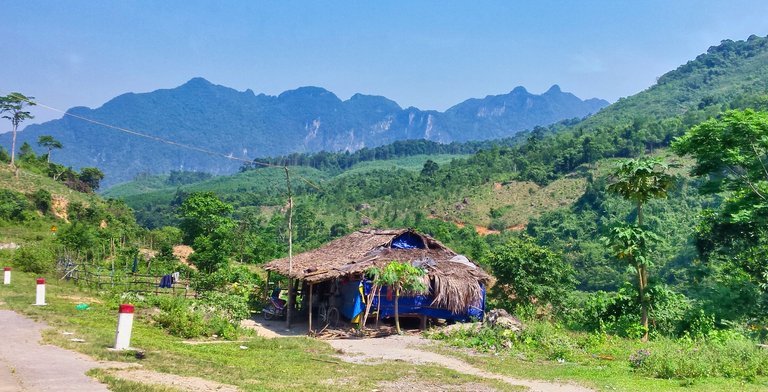 Every now and then there would be a small house like this. I always wondered if the people here owned the land or if they just built a house here because the land was empty.
There were also some amazing looking farms nestled at the base of some very dramatic looking mountains.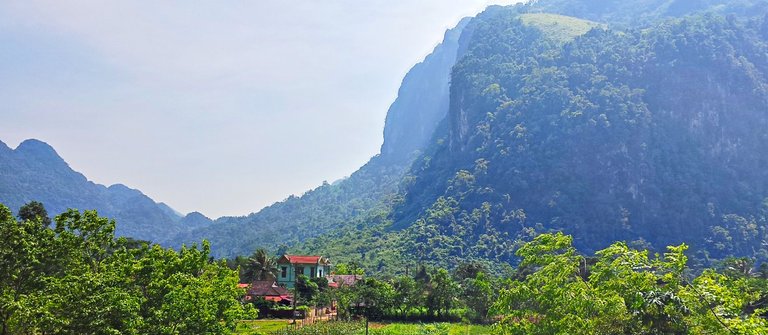 These homes out here in the wilderness, next to incredible mountains, always made me want to get a closer look.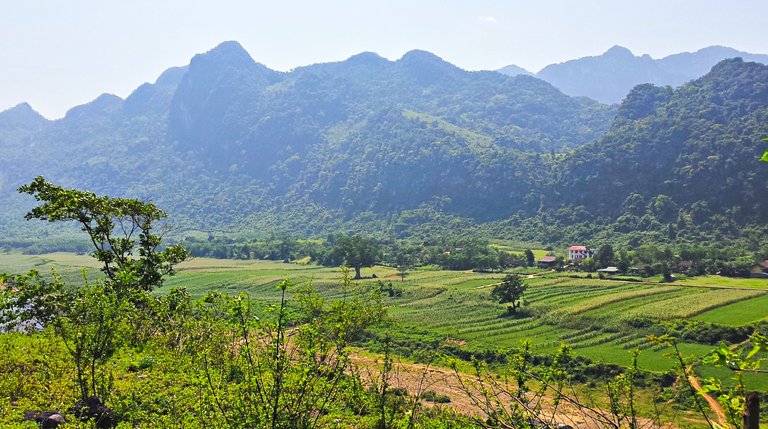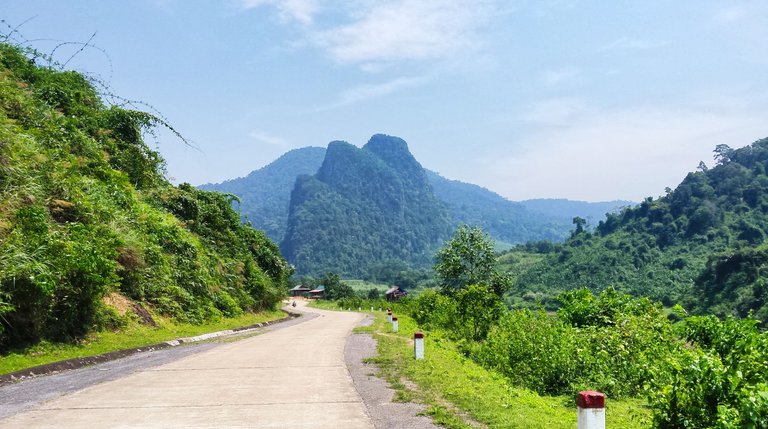 It was such a fun road to ride on. At every turn, it seemed like the scenery got better and better.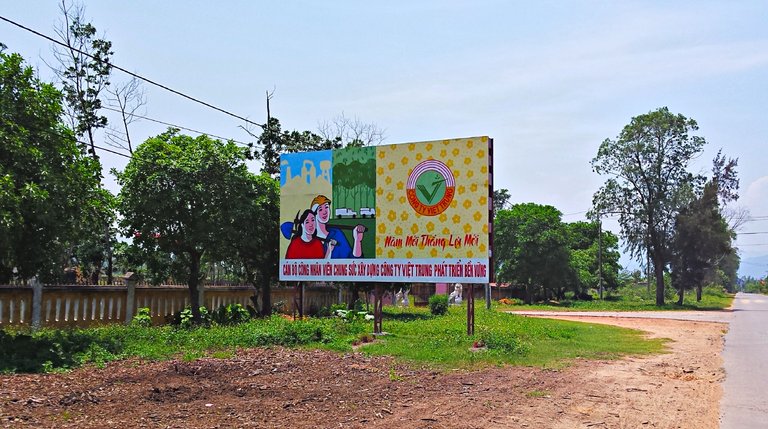 As I got closer to Dong Hoi, I saw some billboards with a really cool style.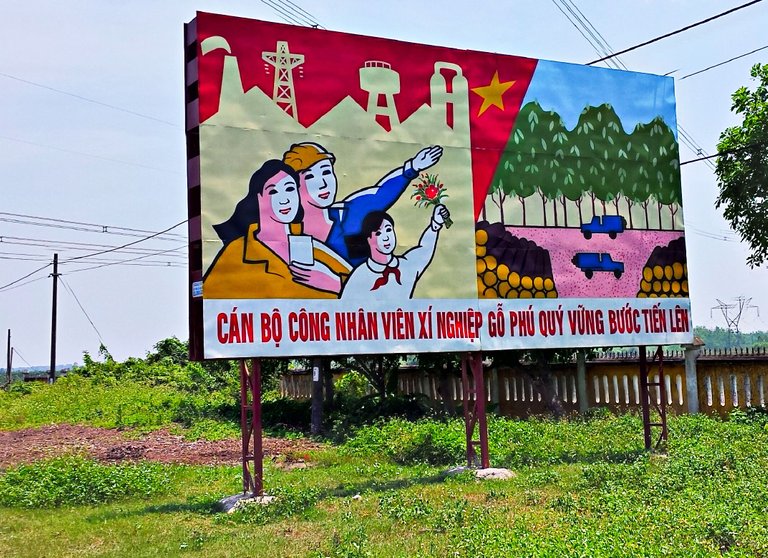 There was some construction and traffic getting into Dong Hoi, but eventually I found a hotel. The room was nice and the girls who worked reception were super sweet.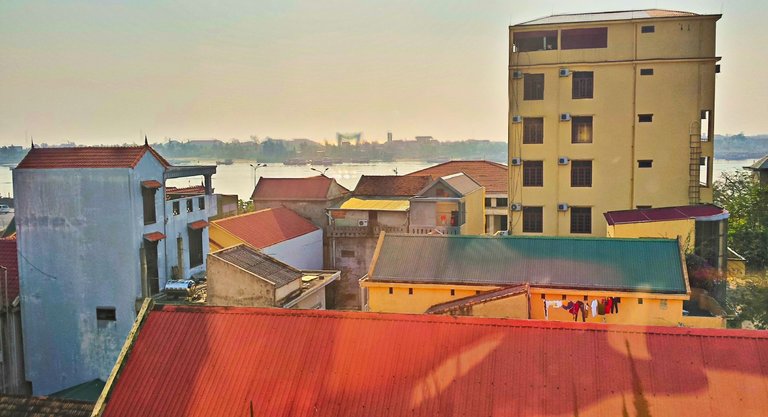 This is a picture from the hotel.
In town I went to a Honda dealership for an oil change. One of the ladies that worked there was a crack up. Everyone in the place was cracking jokes and the lady was busting everyone's balls. They kept saying that I looked pregnant because I'm a little fat. The lady invited me to dinner at her family's place, but declined. I should have said yes, but I was tired from the ride.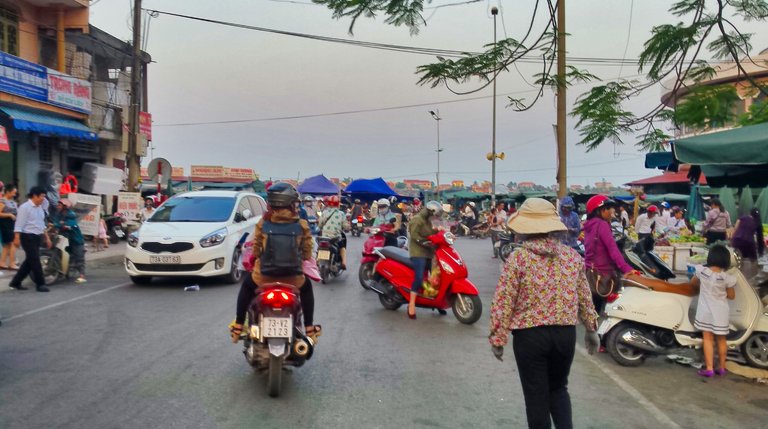 The city was pretty cool. I rode through an area where a market was. There were tons of people getting their goods.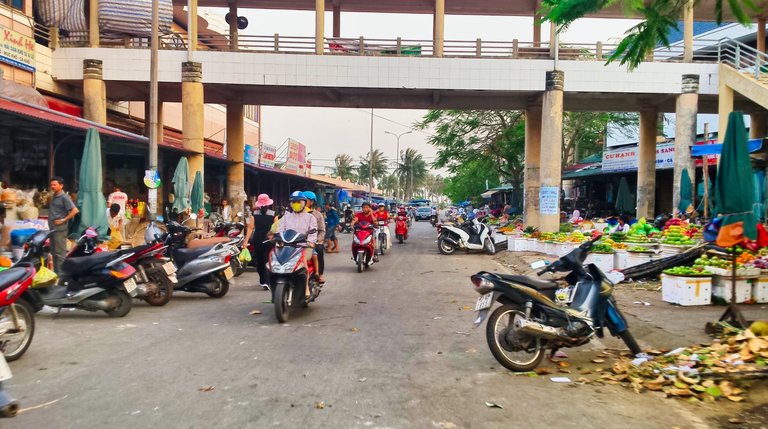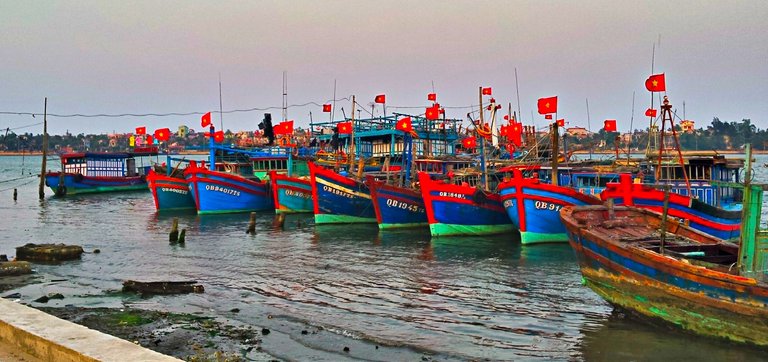 There were a lot of bright boats parked in the water.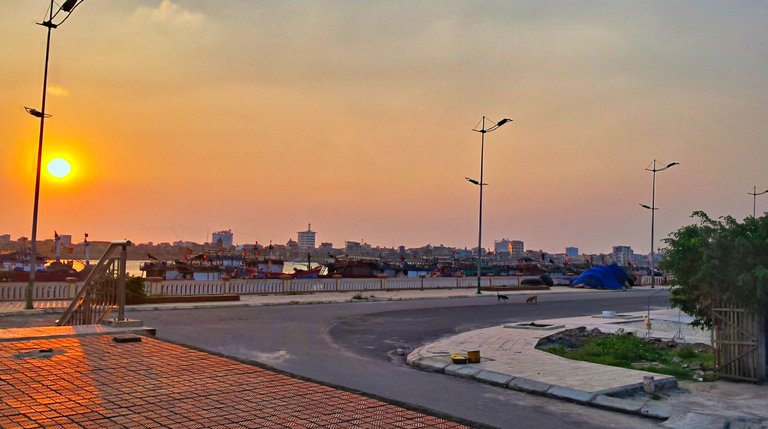 Across the river is another part of town that I didn't explore.
I parked my bike at the hotel and went out on foot to find dinner and beer.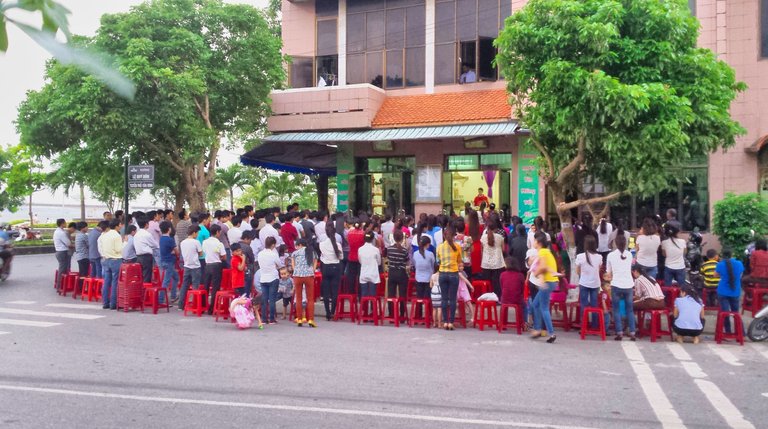 This church looked like it was doing pretty well. They had so many people that they had to set up seats out in the street.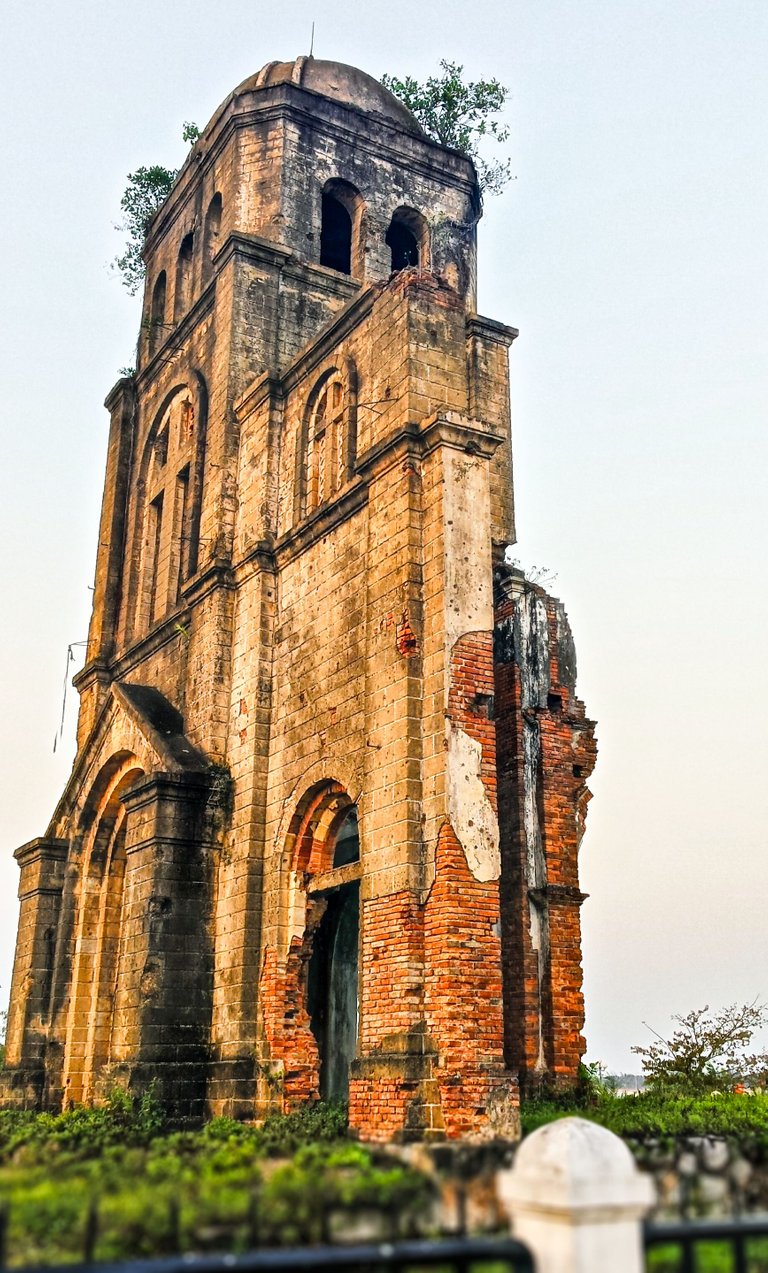 This church wasn't doing quite as well. It's leftover French stuff. Pretty cool looking ruins.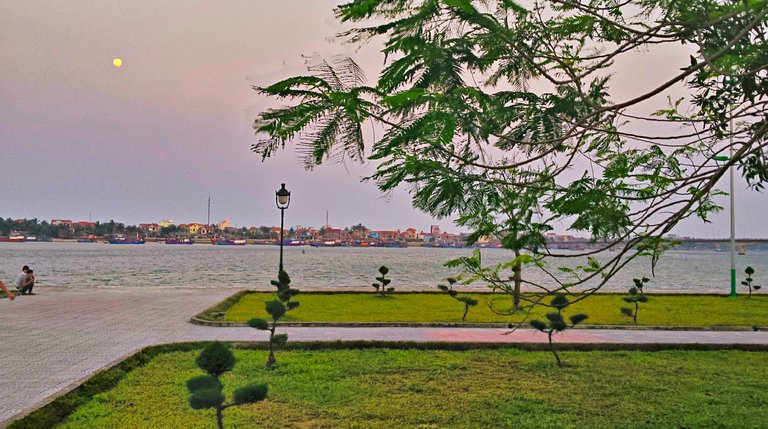 After I got some dinner, I walked around a little bit. It's a nice little city on a pretty river.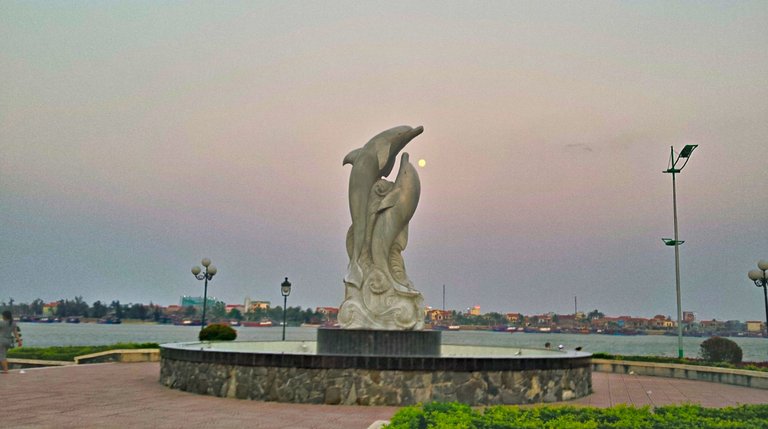 When I got back to the hotel, one of the reception girls yelled out "Hello! I missed you!" I'm not sure if that's what they say to all of the guests, but I thought it was sweet and funny. I spent the rest of the evening reading and having some beer. The next day I got back on the road and kept riding north.
That's it for this day's ride. I hope you'll join me for the next post!