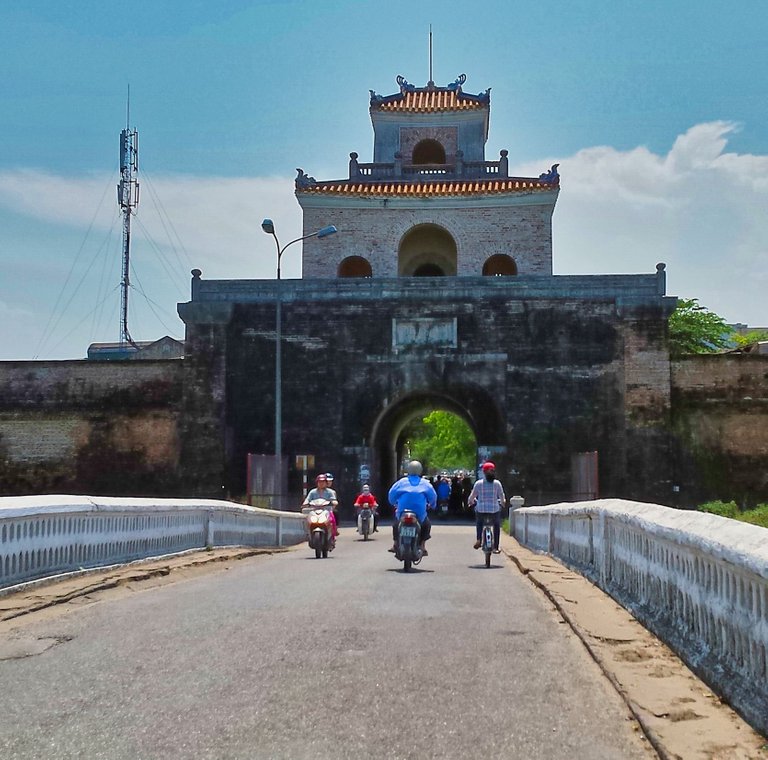 Hue is the former ancient capital of Vietnam. In 1802 Emperor Gia Long succeeded in uniting all of modern Vietnam. He made Hue the capital of the nation. It's a pretty place with many tourist attractions. I stayed in Hue for a night on my way north. Later I was be stuck here for a few days.
It's a good place to visit, but I found it a little too touristy for my taste. I think most tourists would have a great time here. But for people looking for something a little more off-the-beaten-path, Hue is not really that.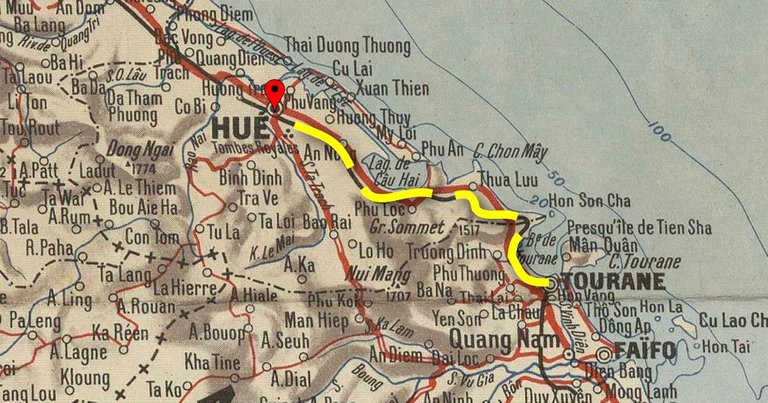 The trip from Danang to Hue is probably the best scooter ride on planet Earth. The Hai Van Pass is known globally as one of the best rides ever. After a British TV show made a big deal about it, pretty much every backpacker that visits Vietnam wants to ride the Hai Van pass.
If you want to see the episode of Top Gear that increased the Hai Van Pass's popularity, it's here:

The Hai Van Pass part is roughly between minutes 3-7.
I'm including the BBC's great footage because my photos didn't turn out that great. I think I was focusing more on getting video than photos because I didn't take many pictures of the trip.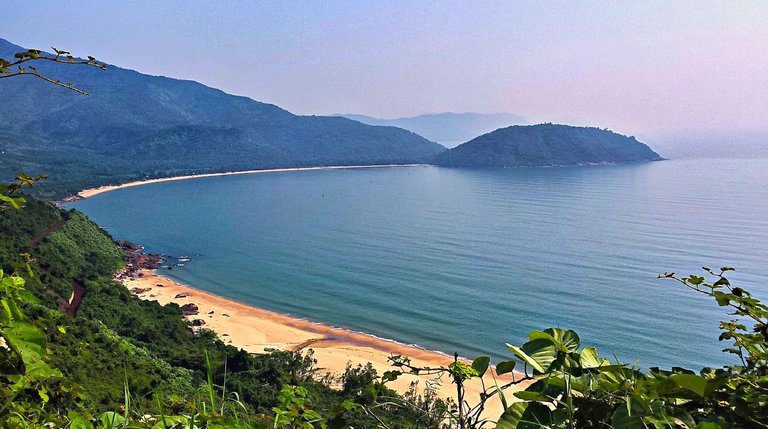 Or maybe I was just enjoying the ride too much to want to stop for photos.
One thing that makes the Hai Van Pass so great is that there's a tunnel that goes through the mountain so almost all cars use the tunnel and the road is generally empty. The only non-scooter vehicles on the road are big trucks and tourist vans.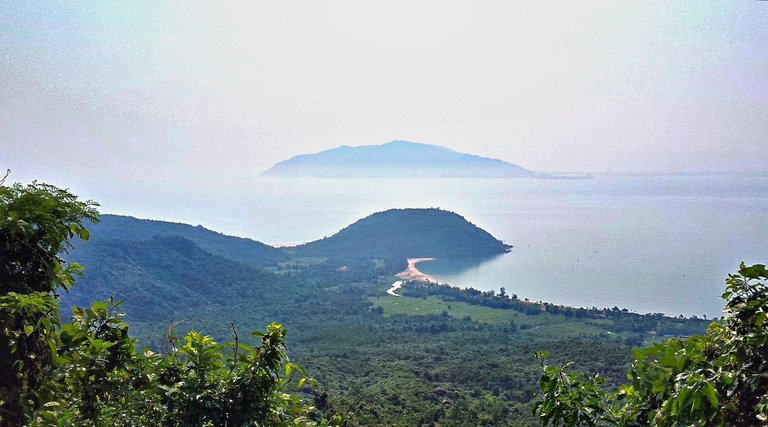 Another nice thing about this ride is that the ride to Hue isn't very long. It's only about 100KM from Danang to Hue so you can take your time on the pass and not worry about arriving in Hue after dark.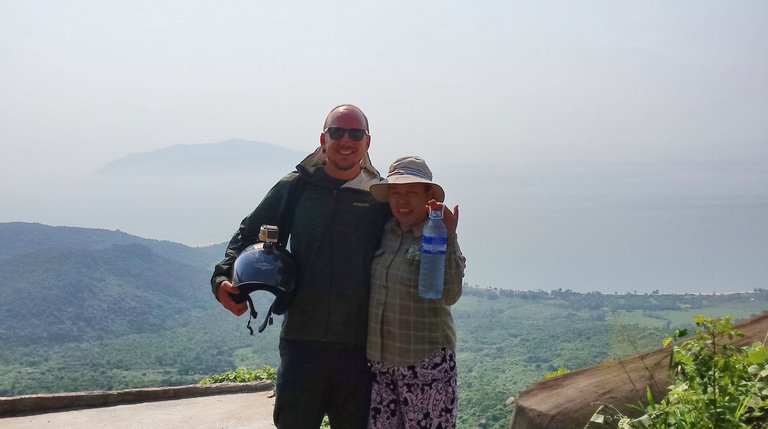 There are places set up along the way for buying refreshments and enjoying a coffee while drinking in the view.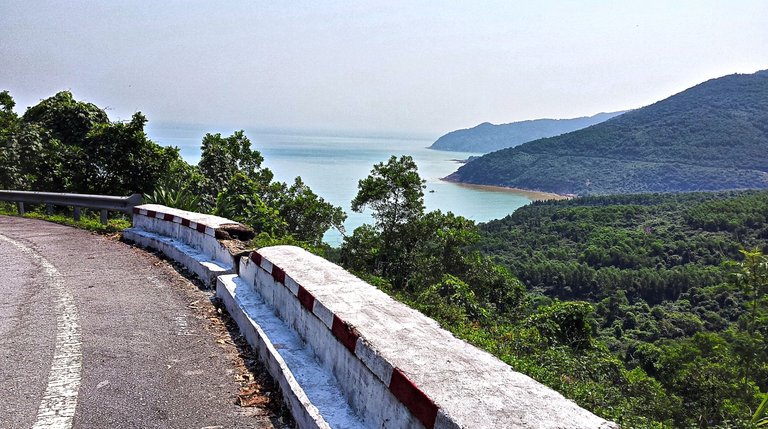 I don't recall how long it takes to get to the top of the pass. I stopped a few times and it probably took about an hour, and it seemed too short. Part of me was tempted to turn around and ride it again.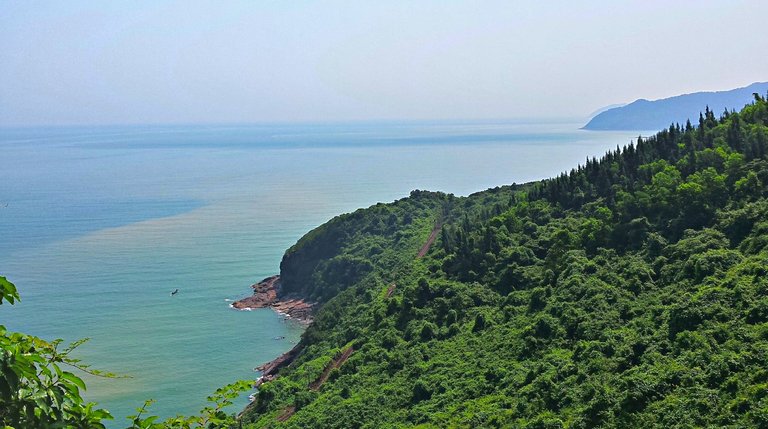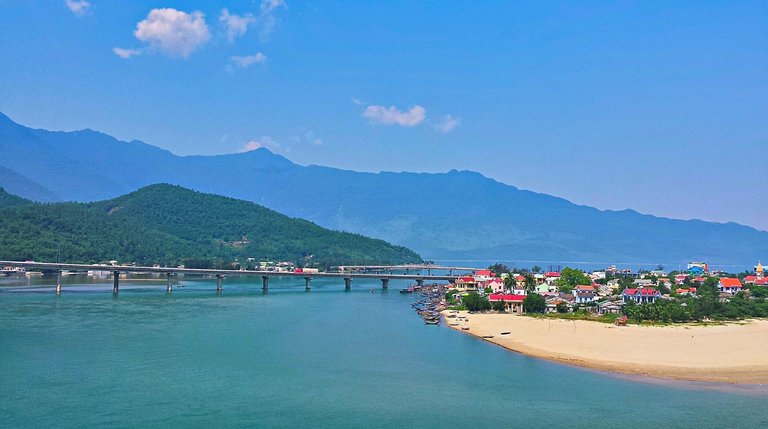 On the other side of the mountain is this bridge and town. The town is particularly picturesque.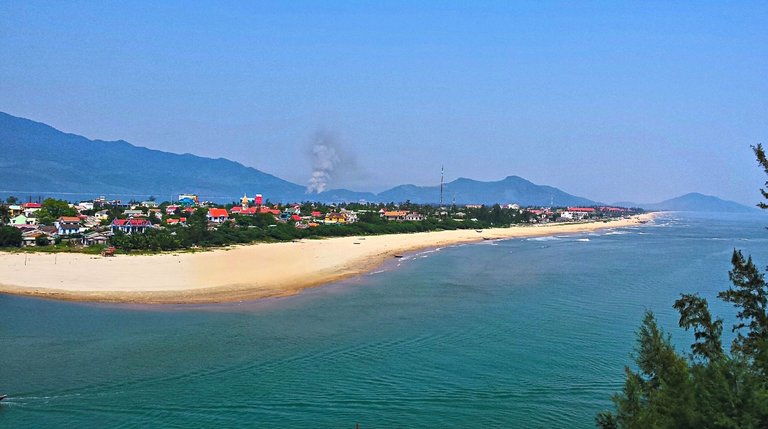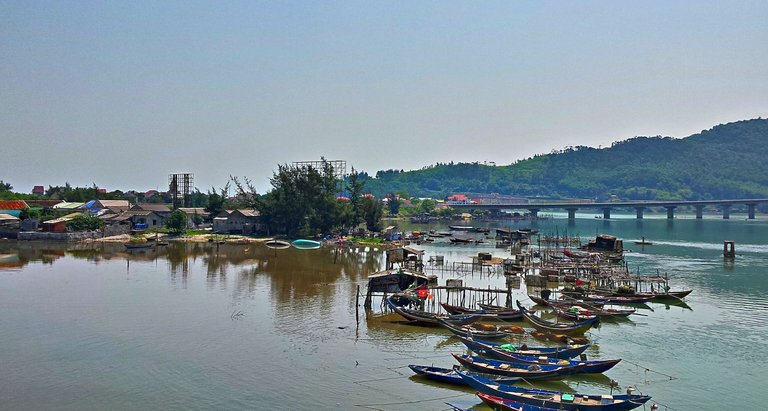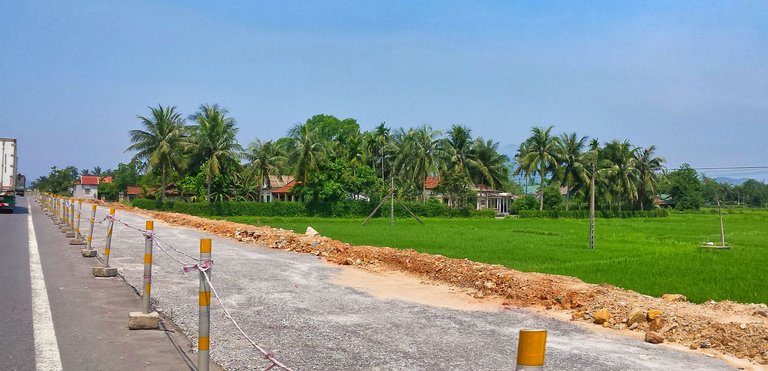 After a few more kilometers, I joined back up with all of the traffic. When I rode it, it sucked because of the construction. It's probably great now, but when I rode here the shoulder was closed and I had to contend with trucks and cars passing very close to me. I do not like riding next to traffic, it stresses me out.
I'm pretty sure it was on this stretch of road that I looked at the vehicle next to me and saw a tourist on a bus. He looked absolutely miserable. I'd just ridden on one of the most amazing roads on the planet and this guy was stuck on a bus. I was so thankful that I had my trusty little scooter and that I was free to go and stop as much as I wanted.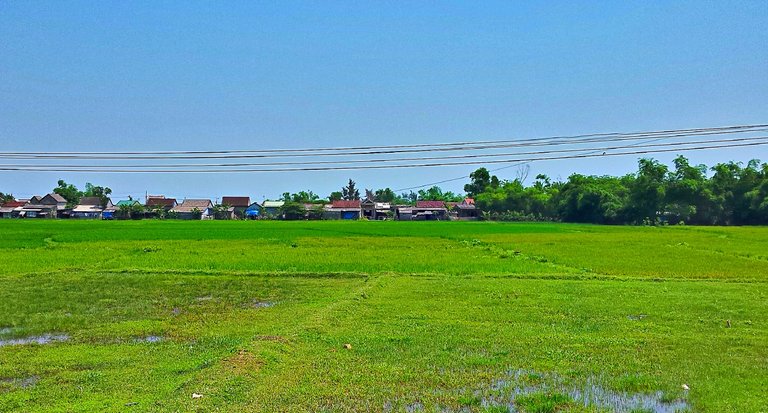 This is just some random farmland on the way to Hue.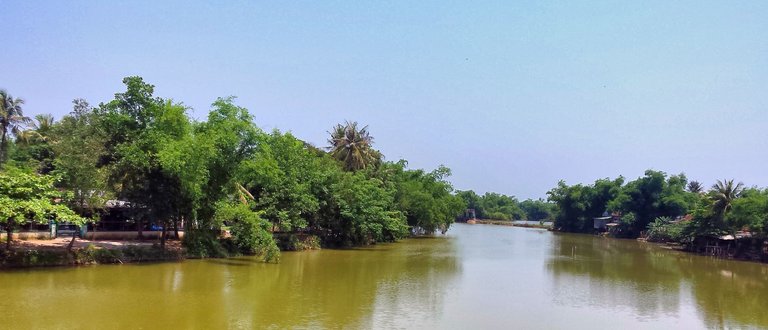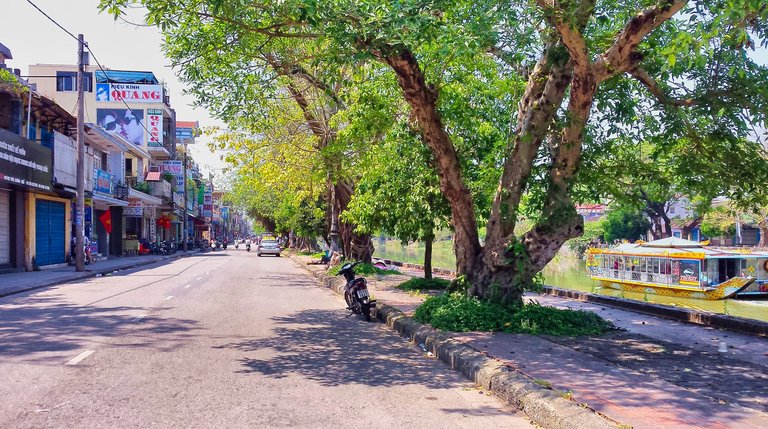 I made it to Hue a little after noon and went searching for a hotel room. After getting checked in, I explored a little bit but I didn't have anything planned.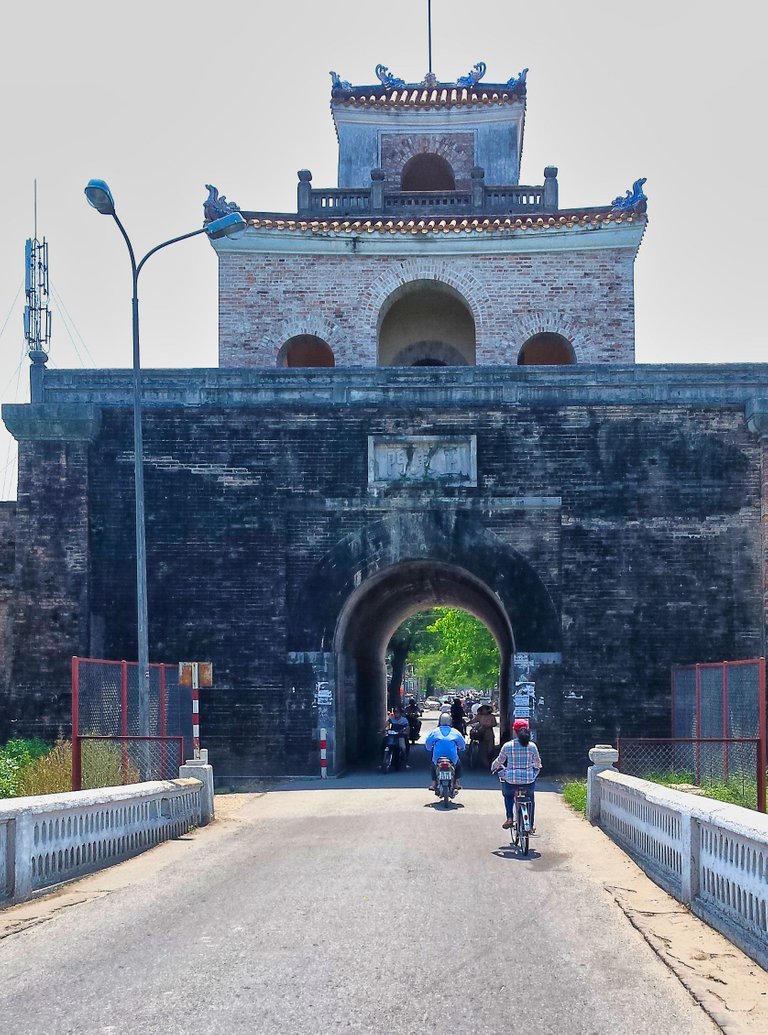 Wandering around aimlessly isn't a very good way to explore a city. I did see a few cool things, but I missed almost everything. Having a plan and a list of places that you want to see is the better way to do things.
I just rode around for a little while, then returned to my hotel to park my bike and walk around the neighborhood that my hotel was in.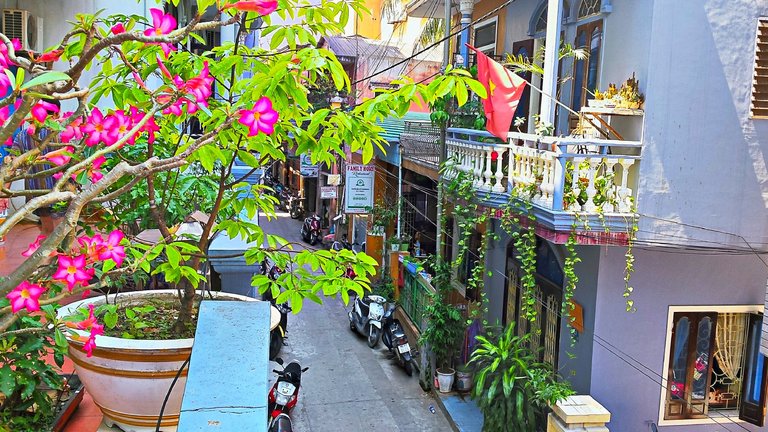 The hotel was nice and had a cool view of the little street that it was located on.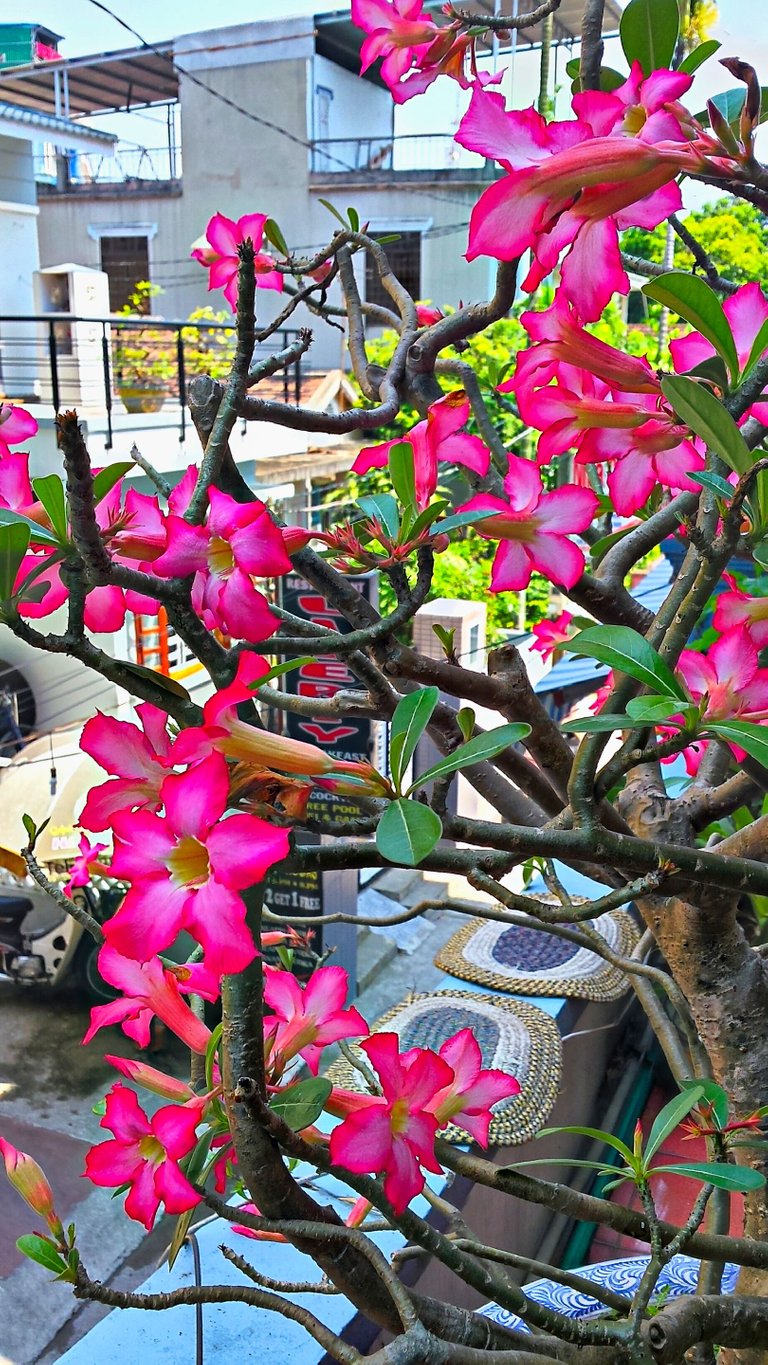 I didn't do much during my first visit to Hue. I went and found some food and walked around a little bit, that's about it.
I was excited about finally getting into north Vietnam and I was ready to get onto the "Ho Chi Minh Trail". I put that in quotes because it's actually a network of trails that were used during the American War as it's referred to locally. In America the Ho Chi Minh Trail is mostly thought of as a single trail that had military significance. For me it would be cool to be able to say that I'd ridden on the Ho Chi Minh Trail.
What I really wanted was to get back out into the countryside, away from the tourist areas. It just seemed like the people were more friendly and warm in those areas. It also felt more adventurous.
Speaking of adventures, when I returned to Hue a month later it was a major adventure just to find a hotel room. I came back to Vietnam during a big holiday and there weren't any rooms anywhere. I was convinced that I'd end up sleeping in the street somewhere. But I'll get to that when I get to that. Until then, I hope you'll join me as I continue the journey north in my next post!