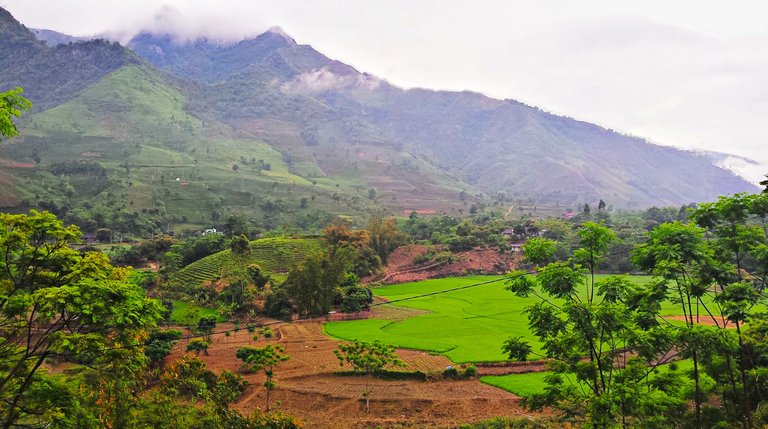 Nghia Lo is apparently a town or city in Vietnam. I have no memories of it at all. I know that on my trip I had one night in a place where I only ate potato chips for dinner because I couldn't find a restaurant that looked OK. In that town someone also tried to charge me 5 times the normal price for an oil change and I refused to pay it. Nghia Lo might be that town.
My last photo of the day is of the rice paddies, taken from the road. The first photo from the next day is also on the road. My google timeline shows that I spent the night in this town, but I've got nothing to show for it.
As unmemorable as Nghia Lo was for me, the ride to it was one of my favorite days of riding. Maybe my memories of Nghia Lo have been crowded out by the other cherished memories of that day's ride.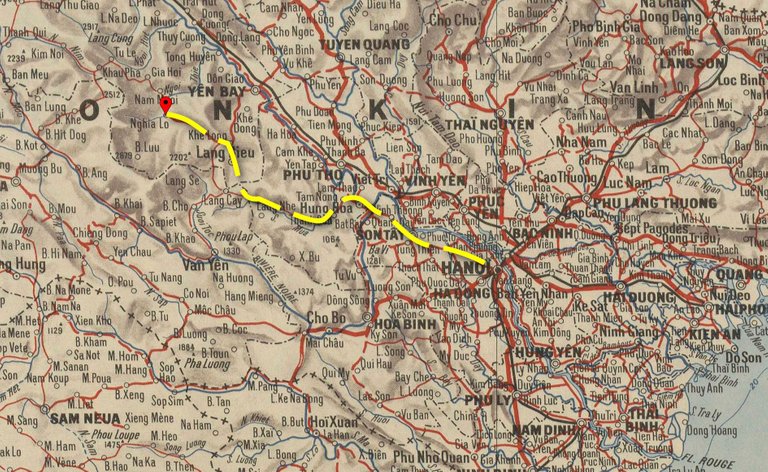 My ride from Hanoi started out with a little bit of a scare. I had to start every morning with getting everything loaded up on my bike and preparing to leave. I got everything strapped down on my bike and started to pull out onto the street. Then I realized that I'd forgotten my passport at the hotel!
In Vietnam they make you leave your passport with reception when you check into hotels. At first I hated this and tried to fight it, but it's just how things are in Vietnam so every time I checked out I made sure I got my passport back. This time I almost left without it and I felt like an idiot for even leaving the building without it.
The weather was wet and my bike wouldn't start. I took it to a mechanic and got the issue fixed. I'd been living with an unreliable bike for a couple of weeks. Whenever it got wet, the engine would stop running properly and struggle to start. The mechanic found that the sparkplug was getting wet and he sealed it up with electrical tape.
I got on the road and actually enjoyed the traffic a little bit. I wanted video to post of Facebook about how crazy the city traffic is on scooters. I got my video and eventually made it out of the downtown area.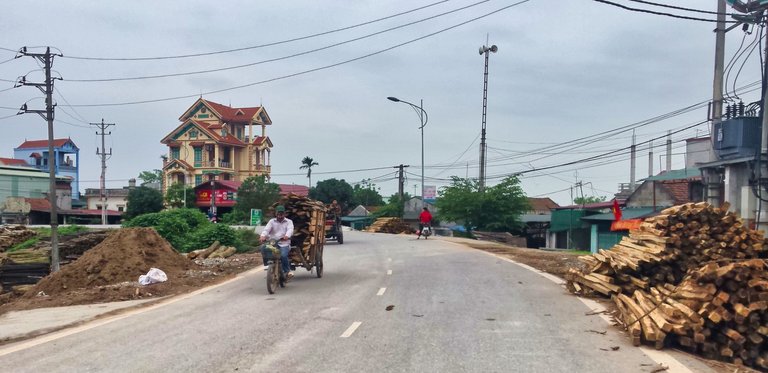 It was still kind of busy and densely populated, but I was on a little road without too much traffic. I spotted a few homes with a super cool style.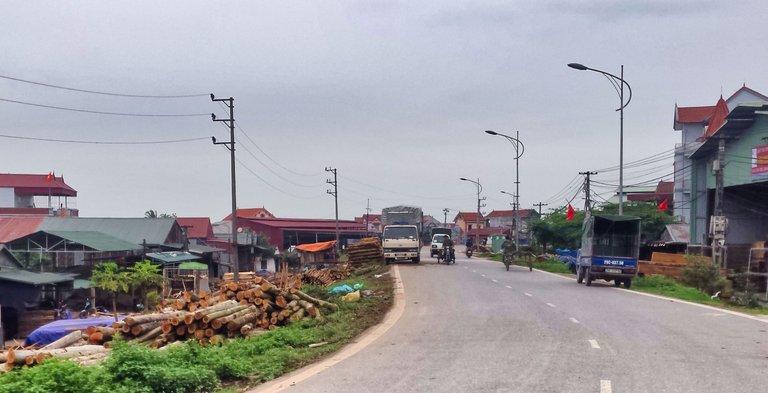 I don't remember if this was a construction area, or a logging/lumber area where people pick up supplies for their construction projects.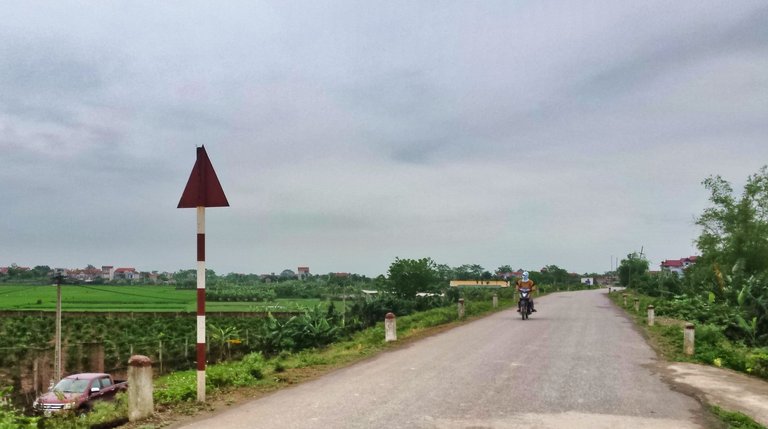 I finally made it out of Hanoi and the land opened up and traffic was super light.
While I was driving, this guy saw the GoPro on my helmet and tried to have a conversation with me. He had a little English, but it was super hard to understand him. He was friendly and drove next to me for a mile or two so I took a picture of him. Eventually he turned off and I continued on my way.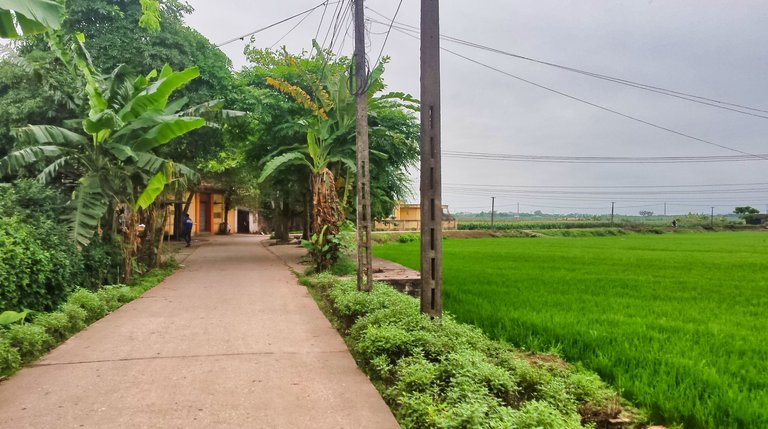 I spent some time on this incredible little road. It ran through a bunch of rice fields and a few small towns. I'm such a fan of little roads like this. They're like something out of an amusement park or a golf course.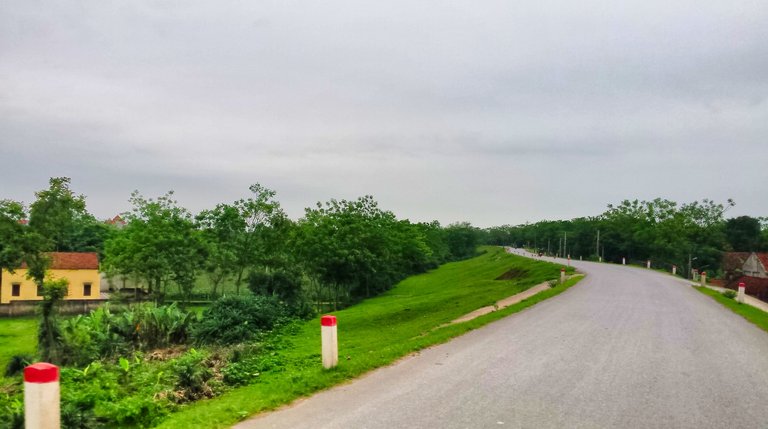 The riding was great, but it was super cold outside. Even though it wasn't raining, I put on as much of my rain gear as possible. My legs kept feeling like they were freezing up.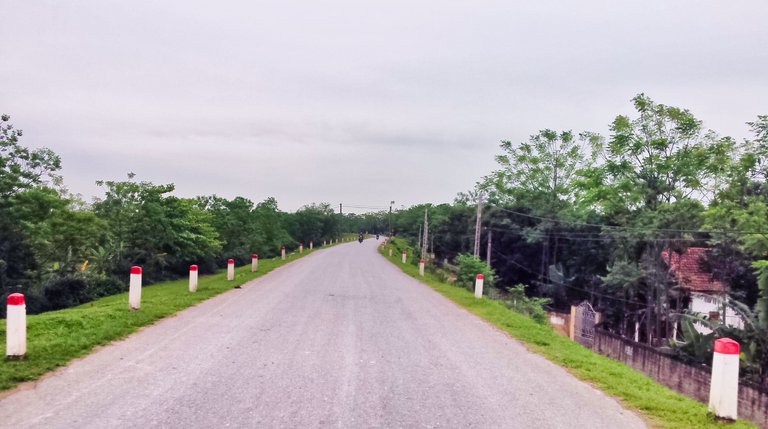 I didn't have any cold weather gear and part of my travel plans were to avoid all cold places. So I didn't have a thick jacket or any pants warmer than a pair of Dickies.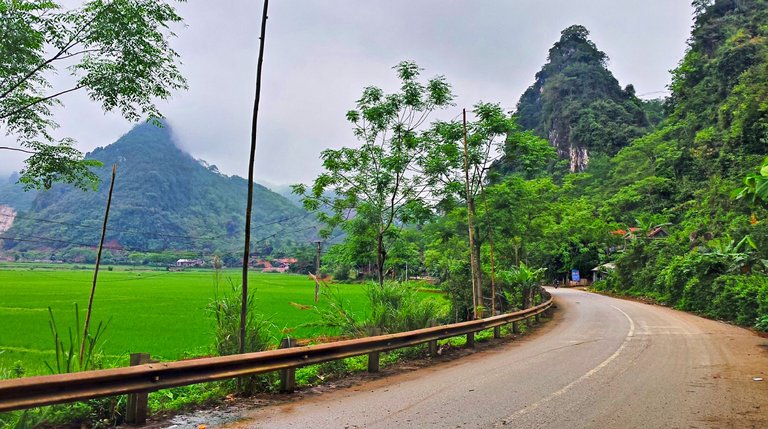 I saw this jaw-dropping, beautiful scene and decided that this would be a great place to stop and warm up a little bit. The wind from riding the bike was cutting through my clothes and I was freezing. My feet were ice cold.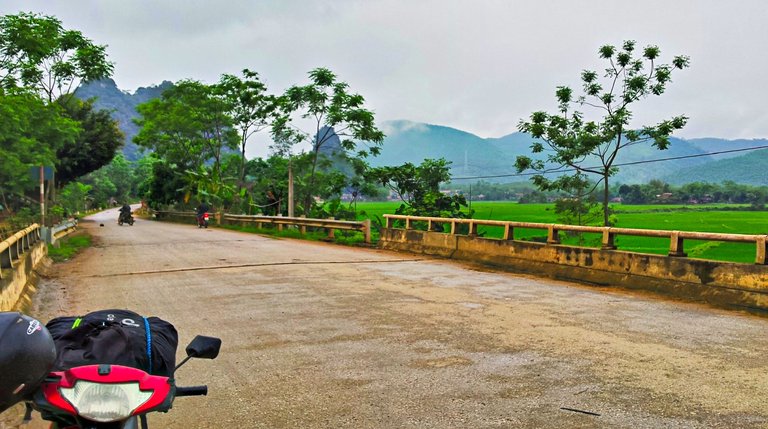 I parked the bike and spent 5 or 10 minutes walking around on a little bridge trying to get some warmth into my feet and hands.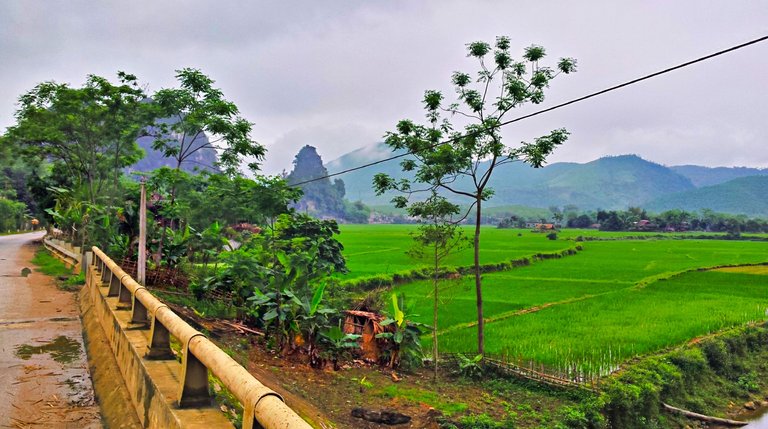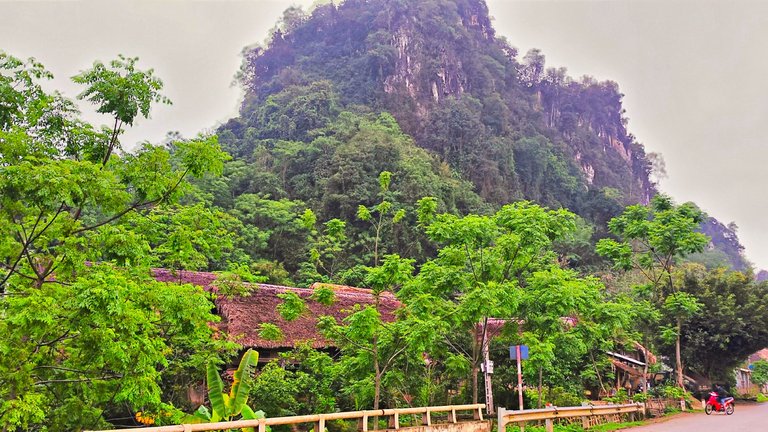 The area was gorgeous and the rock formations were super cool.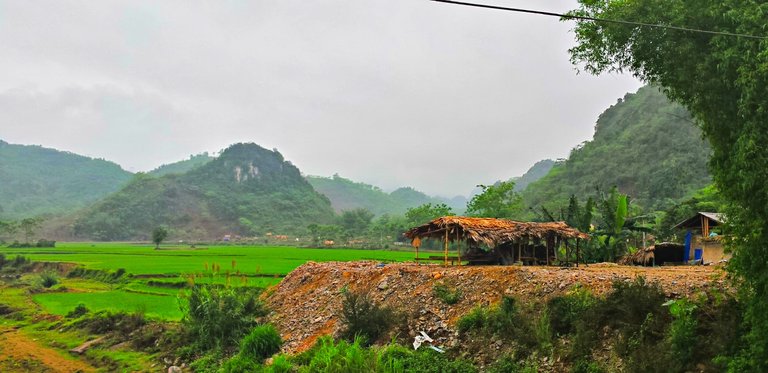 While I was there warming up, a guy pulled up on his scooter and said hello. He looked to be about high school aged and had a school uniform jacket on. He held up a dirty looking water bottle. I was familiar with this. Locals usually keep liquor in water bottles. He was offering me a shot.
I thought it would be nice to have a shot to warm up a little. I said yes to his offer and expected him to hand me the bottle. Instead, he gestured for me to follow him on my scooter.
I didn't really want to go somewhere with him, I just wanted a shot. But I thought it might be fun, so I jumped on my bike and followed him a short way down the road. We parked our bikes under a house on stilts and walked up a narrow muddy path to another house.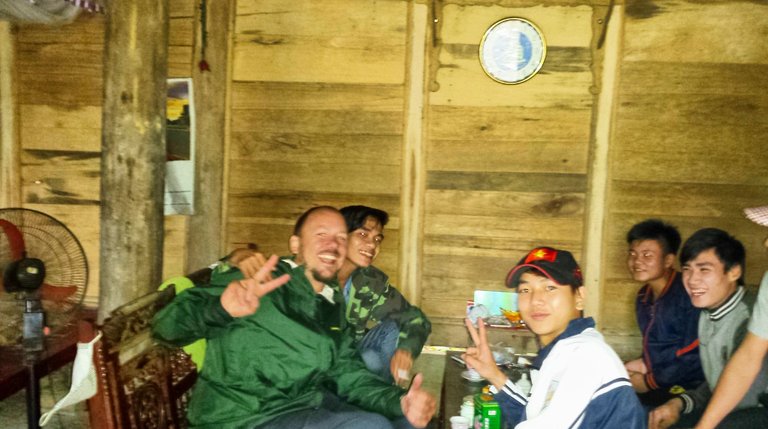 In the house were a bunch of the guy's friends and relatives. They gave me some hot tea which I appreciated a whole lot more than any liquor. Getting inside a building with a warm drink was exactly what I needed!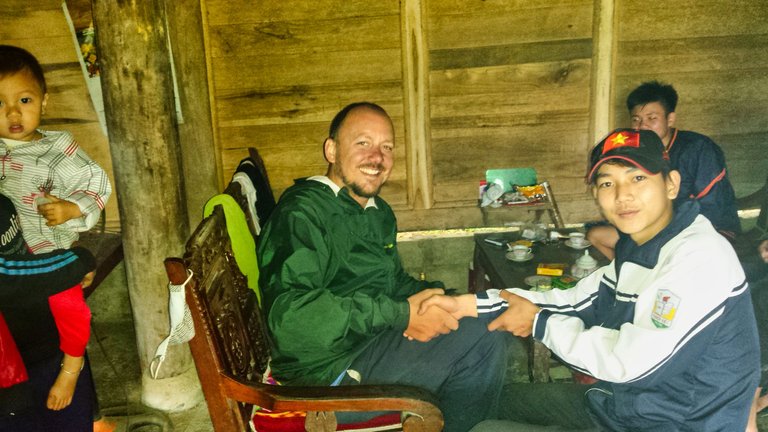 We hung out for a little while having tea. A few of the guys had some pretty good English and we were able to talk to each other pretty well.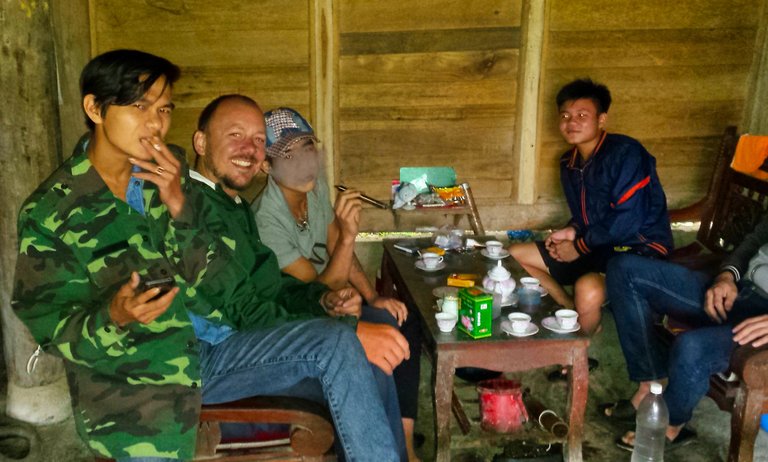 They were all blown away by my vape. All of them wanted to try it. Every one of them coughed when they tried it and everyone else laughed.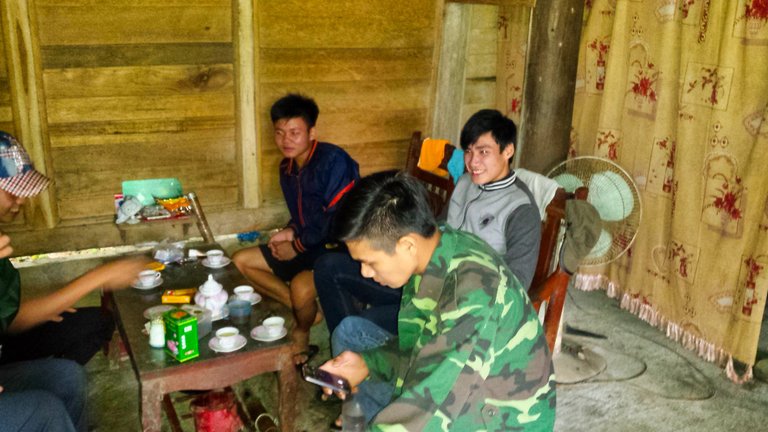 They tried to get me to smoke tobacco out of a bong, but after I quit cigarettes I can't handle tobacco.
After some tea and chatting, they asked if I was ready for some shots of liquor. I didn't really want any because I still had a lot of kilometers to drive, but I said yes anyways.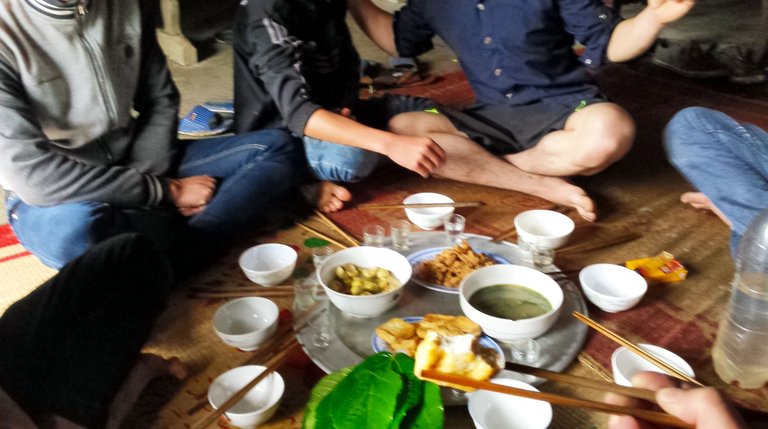 In America, when we have shots, we just have shots. We pour it into little cups and drink it and that's that. In Vietnam, every time I was invited to drink, the drinking included having food too. The only food that we traditionally have with our liquor is lime with tequila. In Vietnam they usually have almost a full meal with their liquor. It's an awesome cultural norm that I really appreciated. It also makes sense if you think about it. With people who don't weigh as much as Americans, the food is important to prevent the alcohol from debilitating drinkers after 2 or 3 shots.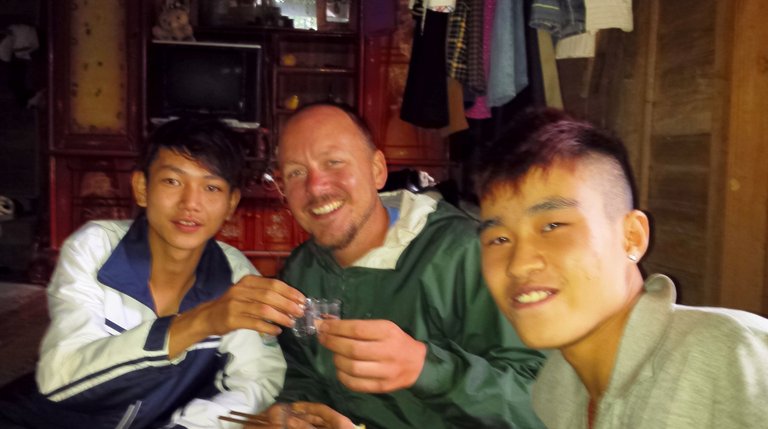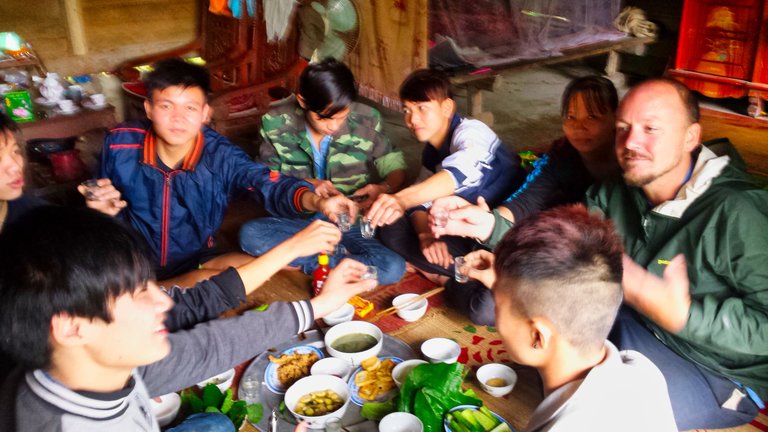 The food was pretty awesome. At this point in my life I wasn't very interested in food that I didn't know already. I'm a little more adventurous with my eating now, but on this trip I really didn't like a lot of the local foods that were new to me.
The food that we had here was awesome! There was some really good tofu and some pickled vegetables and fried chicken. It was great!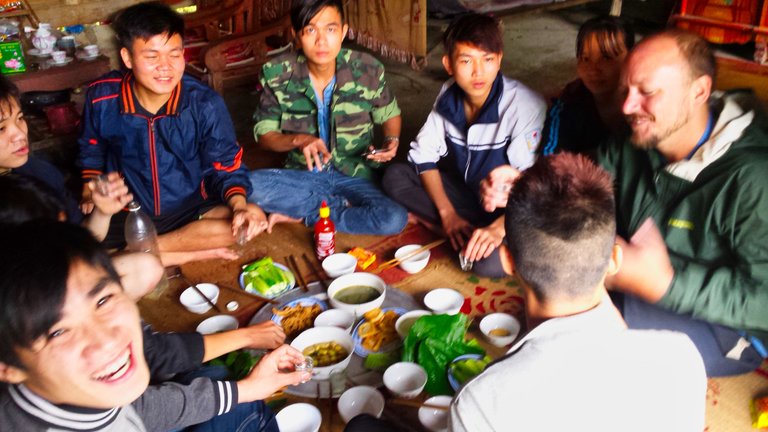 We chilled out for about an hour or two. I had 4 or 5 shots then had to stop because of how far I still had to go. They offered to have me spend the night there and it would have been awesome, but I didn't want to inconvenience them. They'd already been so generous and kind, I didn't want them to use a week's worth of food feeding a big American.
Luckily I do have a few extra pounds on me and the liquor hadn't gotten me too drunk. I was definitely feeling it, but I was pretty much OK to drive. I really hate driving drunk, but sometimes people offer shots and it's hard to say no.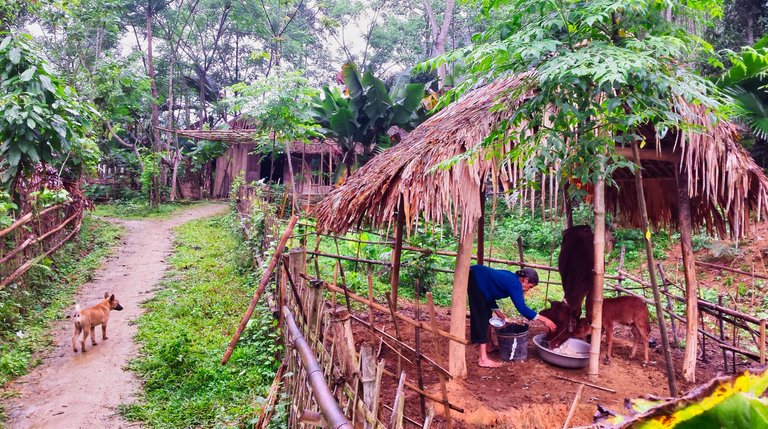 I headed back down the little path back to my bike.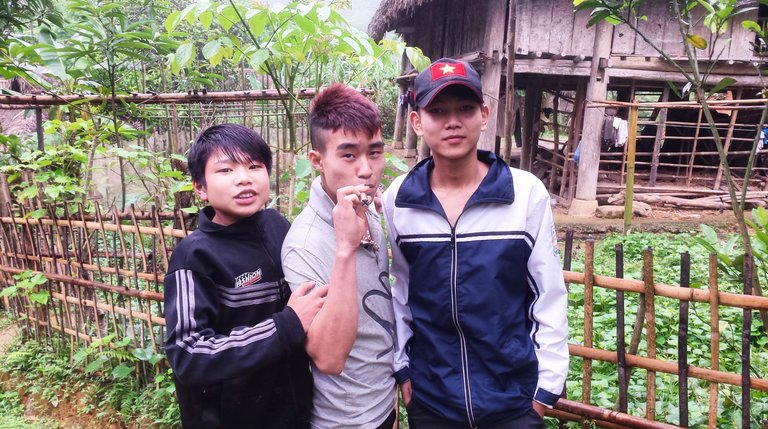 The guys really like my vape. I wished that I had extra gear so I could give them a vape. But I didn't bring that much extra and getting them set up with something that would last for a few months wasn't possible.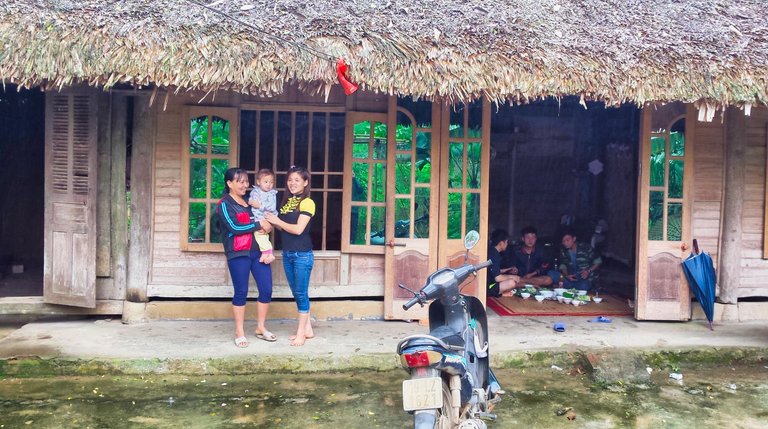 I said my goodbye's and got back on the road. It was such a cool time for me. Everyone was awesome! It was so cool for me to finally see inside one of the buildings that I'd been driving by for the past few weeks. It was also great to get to learn a little bit about what it's like to live in this area. These people will always have a special place in my heart.
---

On the road, I felt pretty great about the whole encounter. I made sure to keep my speed extra slow because my reaction time wasn't as good as it should have been.
Lots of rice, coffee, and tea were being grown in the lush hills that I drove through.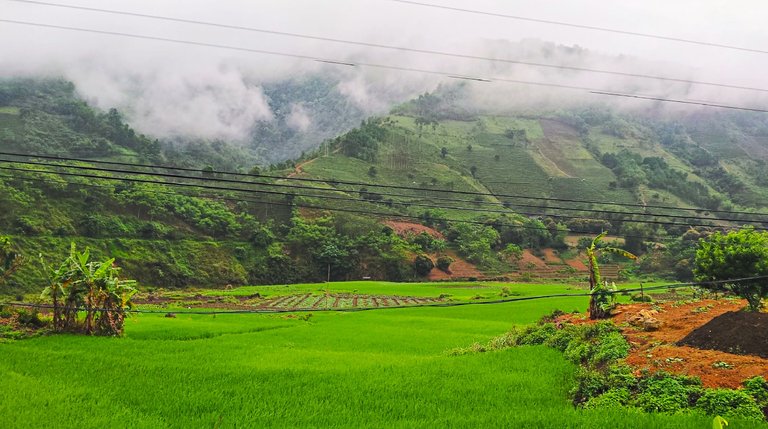 And this is my last photo of the day. Maybe the liquor is why I don't remember Nghia Lo.
The next day I continued on my way towards Sapa. Everyone had said that the land in the north was incredible and it was. The people were also pretty incredible too. I hope you'll join me in the next post as I continue the trip!