Several years ago, my geologist friend, an anthropologist by trade, who had already passed away, Jean Marc Sellier de Civrieux (1919-2003), told me something that surprised me; that Araya was one of the points on the planet where the sunlight was most perpendicular. I don't know about these things, I confess, but this affirmation of Marc's I understand it sensorially, and more, spiritually, if it can be said that way.
Hace varios años el amigo geólogo, antropólogo de oficio, ya fallecido, Jean Marc Sellier de Civrieux (1919-2003), me dijo algo que me sorprendió; que Araya era uno de los puntos del planeta donde la luz del sol era más perpendicular. No sé de estas cosas, lo confieso, pero esta afirmación de Marc la entiendo sensorialmente, y más, espiritualmente, si se puede decir de ese modo.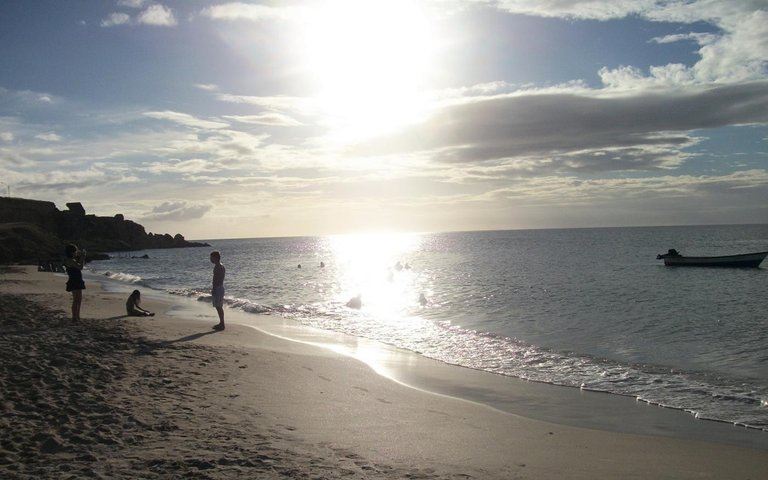 Foto propia / Own photo
The Araya Peninsula, and in it the specific place called Araya, is located on the east coast of Venezuela, in front of the wonderful and legendary Caribbean Sea, in the territorial unit of the state of Sucre, also known in the world for its city of Cumaná, the first one of firm land raised by the Spanish colonizers and of great relevance for its writers and its natural beauty. Let's see two small maps:
La Península de Araya, y en ella el lugar específico llamado Araya, está ubicada en la costa este de Venezuela, frente al maravilloso y legendario Mar Caribe, en la unidad territorial del estado Sucre, también conocido en el mundo por su ciudad de Cumaná, la primera de tierra firme levantada por los colonizadores españoles y de gran relevancia por sus escritores y su belleza natural. Veamos dos pequeños mapas: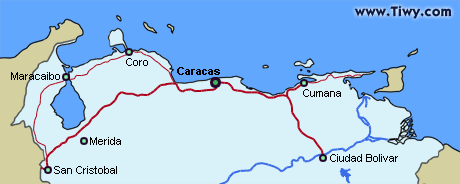 Fuente / Source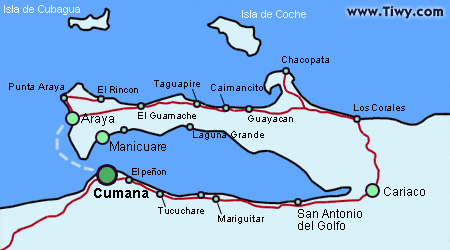 Fuente / Source
Surely, as the wise Civrieux said, both the peninsula and Araya condense and dispense that energy, which can be very intense for our bodies, and more, for the experience of the sea and the light, for the calm of the spirit.
With this post I propose, more than a walk through the history of the place (there is quite a lot written about it), an interiorization in its spaces, stopping in fragments of its presence and physical permanence, that is, visual.
And I do it from the experience of the trip to that area, many times visited by me, starting from Cumaná. Doing it by sea, from Puerto Sucre, in one of the passenger boats, like the traditional "Palita", is an irreplaceable experience. You advance through the waters of the immense Gulf of Cariaco, leaving the wake of the sea, savoring the sun, the breeze and the salt on your skin, and, many times, rewarded by the spectacle of the dolphins.
Seguramente, como lo decía el sabio Civrieux, tanto la península como Araya condensan y dispensan esa energía, que puede ser muy intensa para nuestros cuerpos, y más, para la experiencia del mar y la luz, para la calma del espíritu.

Con este post me propongo, más que un paseo por la historia del lugar (de ello hay bastante escrito), una interiorización en sus espacios, deteniéndome en fragmentos de su presencia y permanencia física, es decir, visual.

Y lo hago a partir de la experiencia del viaje a esa zona, muchas veces visitado por mí, saliendo desde Cumaná. Hacerlo por mar, desde Puerto Sucre, en una de las embarcaciones para pasajeros, como la tradicional "Palita", es una experiencia insustituible. Se avanza por las aguas del inmenso Golfo de Cariaco, dejando a su paso la estela del mar y el vuelo de las aves, saboreando en la piel el sol, la brisa y la sal, y, muchas veces, premiados por el espectáculo de los delfines.
Foto propia / Own photo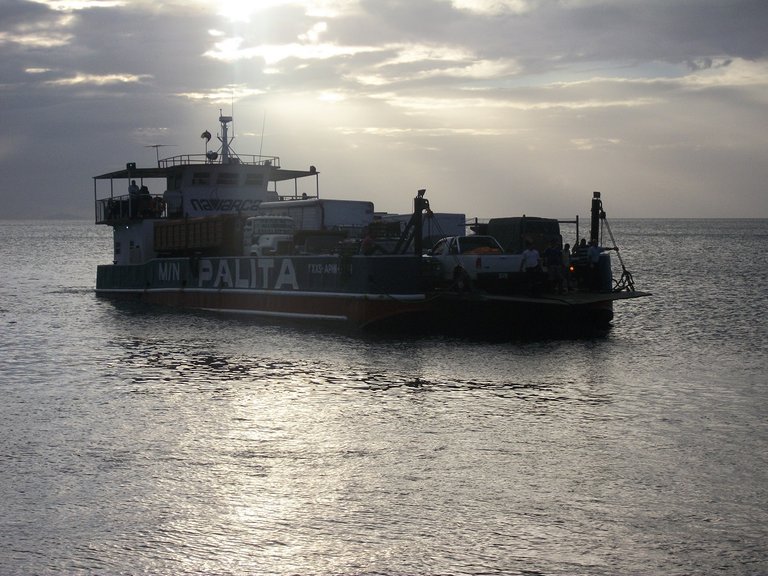 Foto propia / Own photo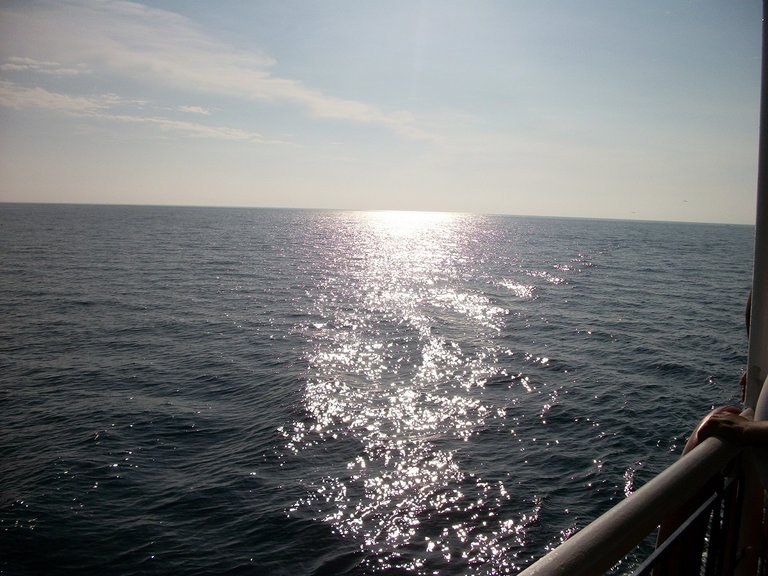 Foto propia /Own photo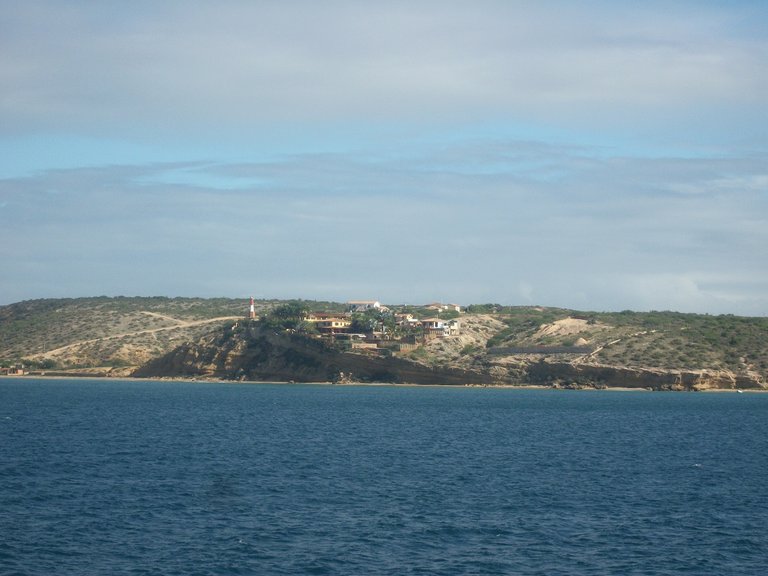 Foto propia /Own photo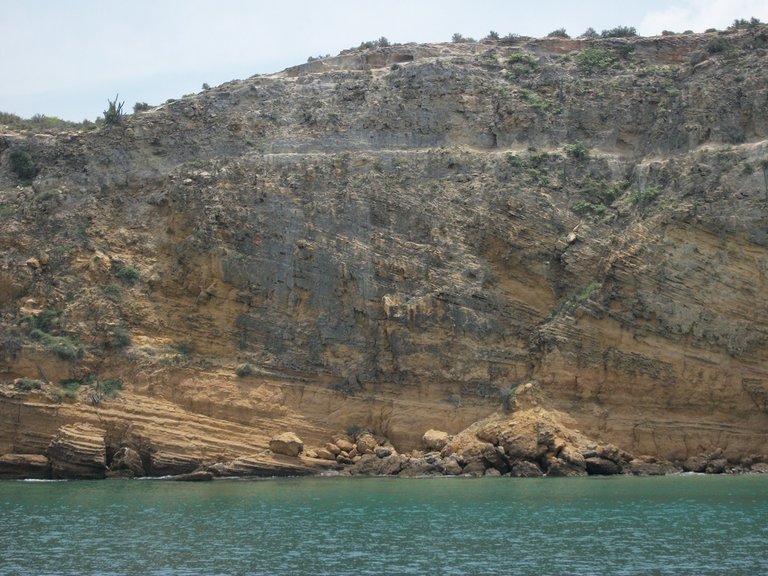 Foto propia / Own photo
The approach to the town of Araya shows us its arid and rich rock formations, its almost virgin and lonely beaches, until we go inside and see the ruins of the Spanish fortress (which we will talk about exclusively in the next post).
La aproximación a la población de Araya nos va mostrando sus áridas y ricas formaciones rocosas, sus playas casi vírgenes y solitarias, hasta que nos adentramos y avistamos las ruinas de la fortaleza de los españoles (de la que hablaremos exclusivamente en próximo post).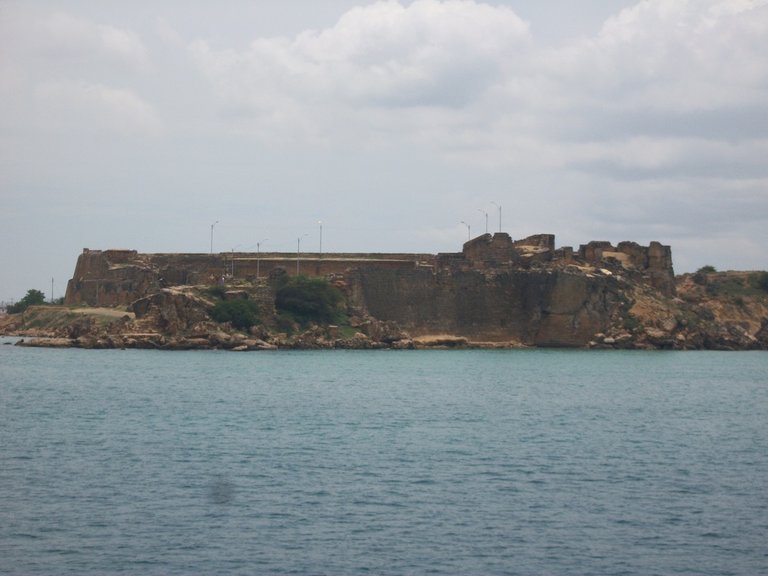 Foto propia / Own photo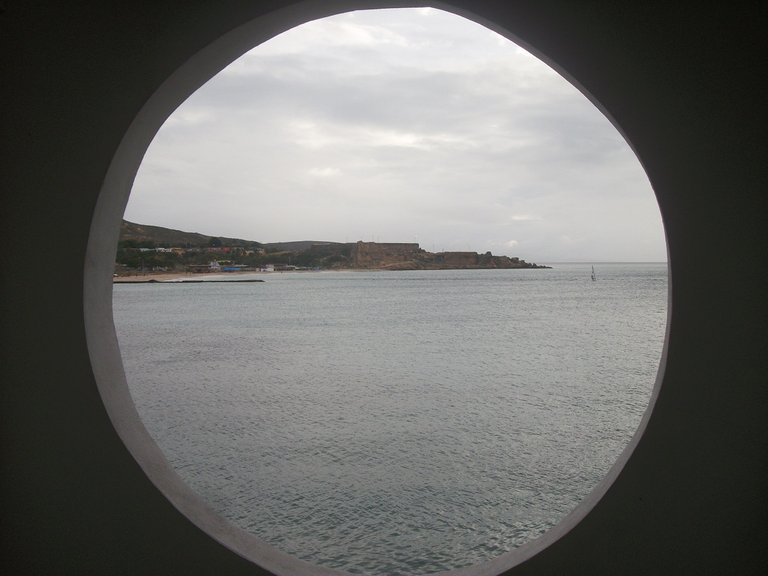 Foto propia / Own photo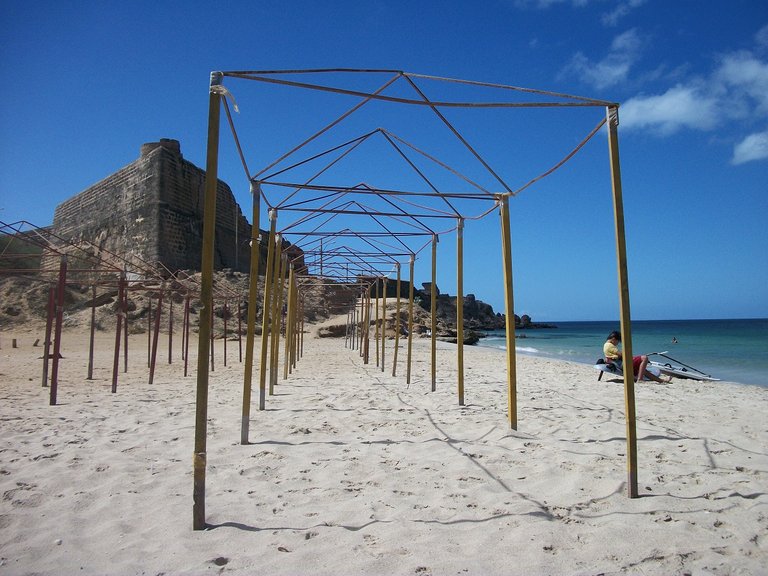 Foto propia / Own photo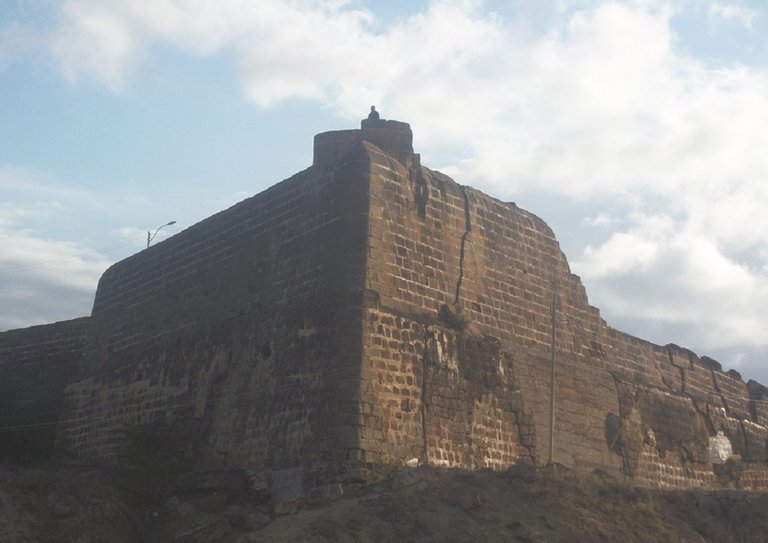 Foto propia / Own photo
From the entrance to Araya by sea we are offered views of a rustic and strange beauty, which we can perceive from different locations and perspectives; be it from the extensive beach of the castle, or on some of its rocky elevations, the town, the sea and the horizon open us to a particular inner stillness.
Con la entrada a Araya por mar se nos brindan vistas de una rústica y extraña belleza, que podemos percibir desde distintas ubicaciones y perspectivas; sea en la extensa playa del castillo, o sobre algunas de sus elevaciones rocosas, el pueblo, el mar y el horizonte nos abre a una quietud interior particular.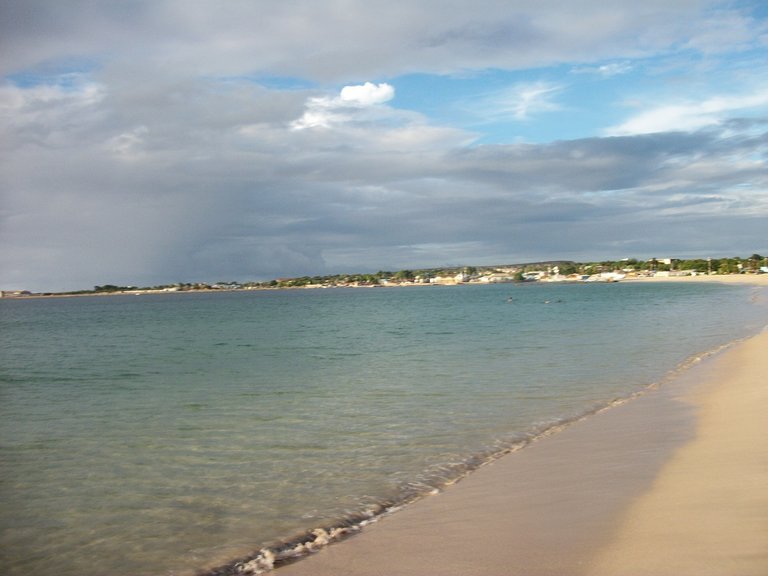 Foto propia / Own photo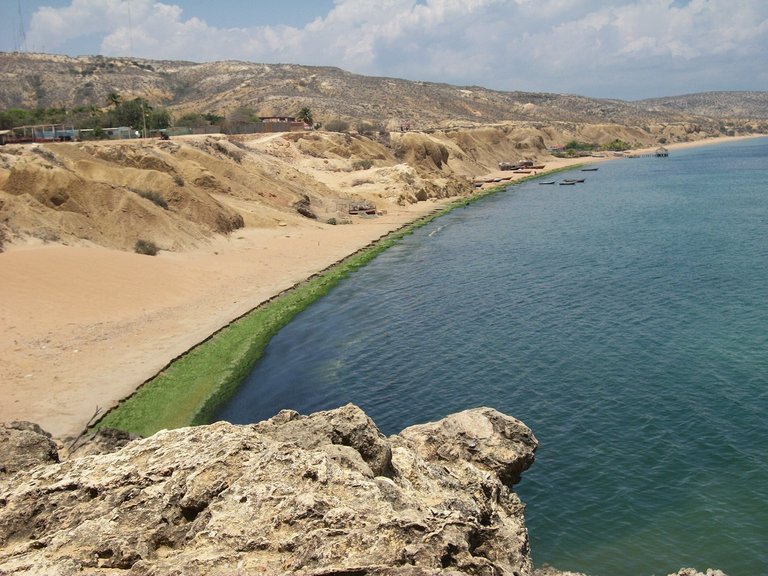 Foto propia / Own photo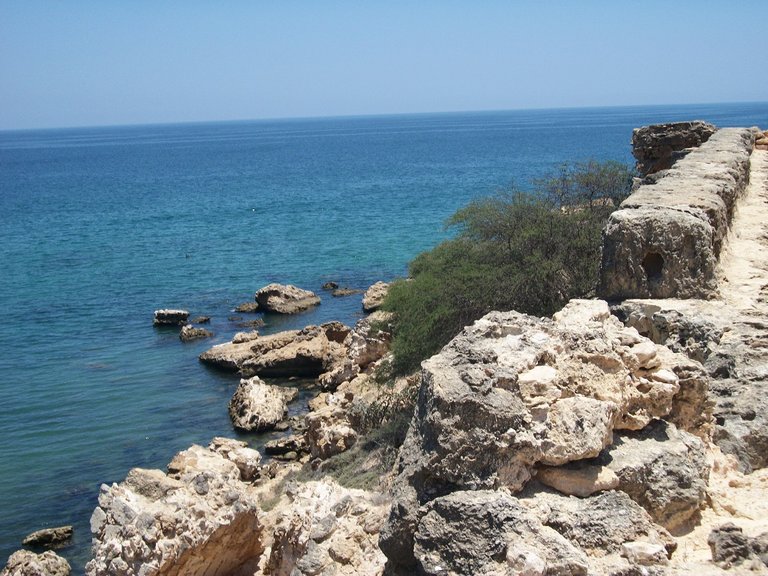 Foto propia / Own photo
As we let you know, when we make the trip to Araya by another entrance. For example, through the town of Manicuare, the birthplace of the poet Cruz Salmerón Acosta, about whom I published a post that if you are interested you can read here, or through a long journey by land, our entrance to Araya offers us the view of part of the salt lakes, with their characteristic colors. Historically, Araya has been a place par excellence of salt production, but that would be for another post.
Como dejamos entrever, podemos hacer el viaje a Araya por otra entrada. Por ejemplo, por el pueblo de Manicuare, el lugar de nacimiento del poeta Cruz Salmerón Acosta, sobre quien publiqué un post que si están interesados pueden leer aquí, o por un largo recorrido terrestre; entonces, nuestra llegada a Araya nos ofrece la vista de parte de las lagunas salíferas, con su característicos colores. Históricamente, Araya ha sido un lugar por excelencia de la producción de sal, pero eso sería para otro post.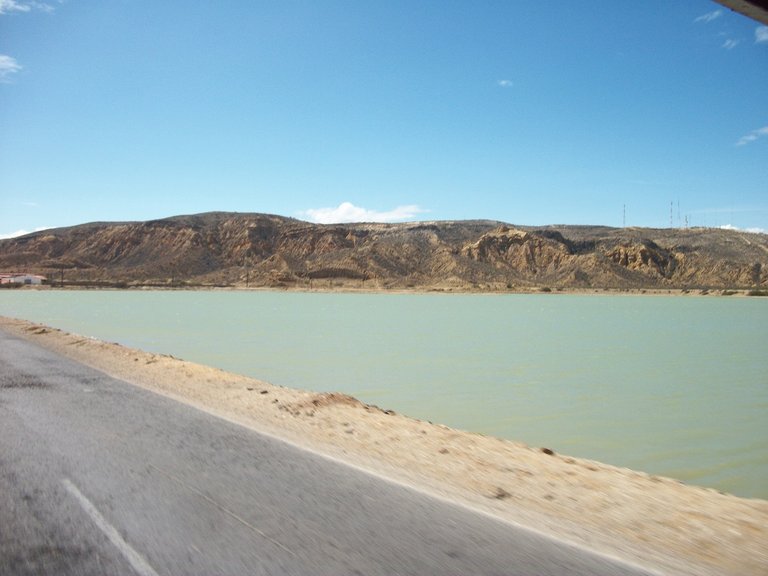 Foto propia / Own photo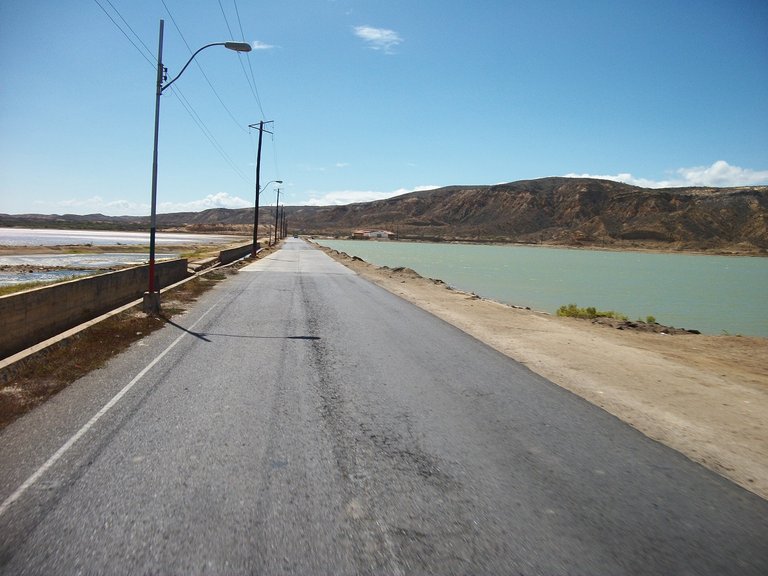 Foto propia / Own photo
Back to the beach, specifically the one next to the aforementioned castle, we experienced the joy of the sea with all its blessings. A generally cold and crystalline water, with a white and fine sand, a lot of breeze that will make our thoughts fly. Local or foreign visitors know how to make the most of that encounter with the wonder that gives joy to our body and spirit. Children are among those who know how to enjoy these gifts.
De vuelta a la playa, específicamente a la próxima al castillo mencionado, experimentamos el gozo del mar con todas sus bendiciones. Un agua generalmente fría y cristalina, con una arena blanca y fina, mucha brisa que hará volar hasta nuestros pensamientos. Los visitantes locales o foráneos saben disfrutar al máximo de ese encuentro con la maravilla que da regocijo a nuestro cuerpo y espíritu. Los niños son de los que más saben gozar de estos dones.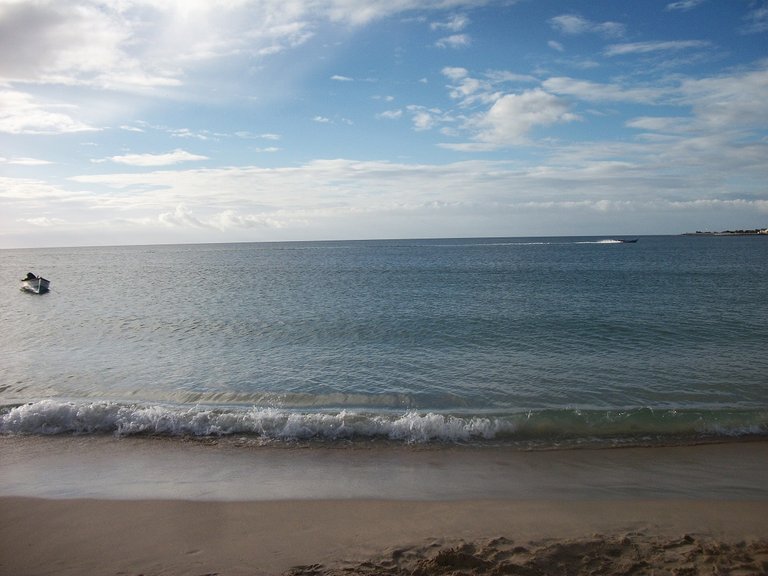 Foto propia / Own photo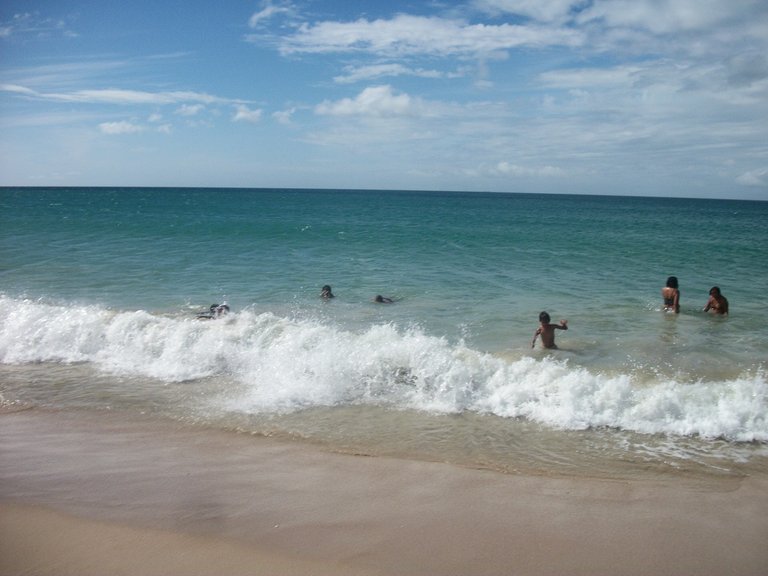 Foto propia / Own photo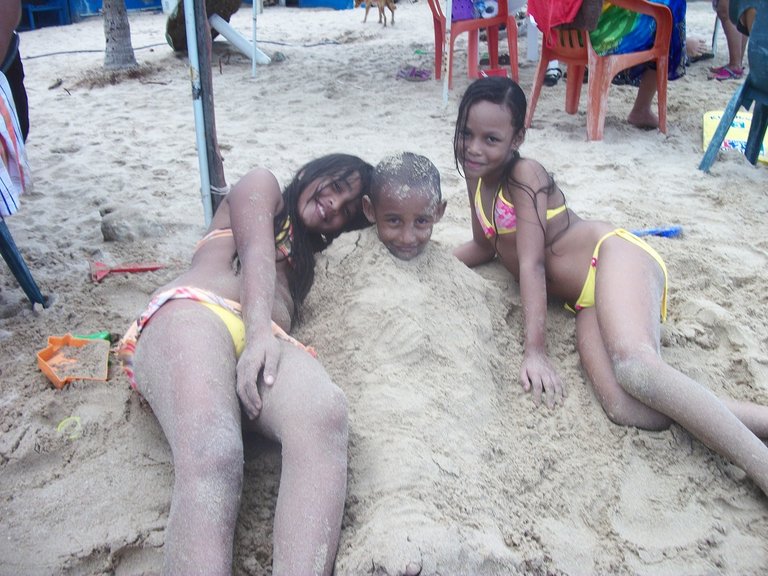 Foto propia / Own photo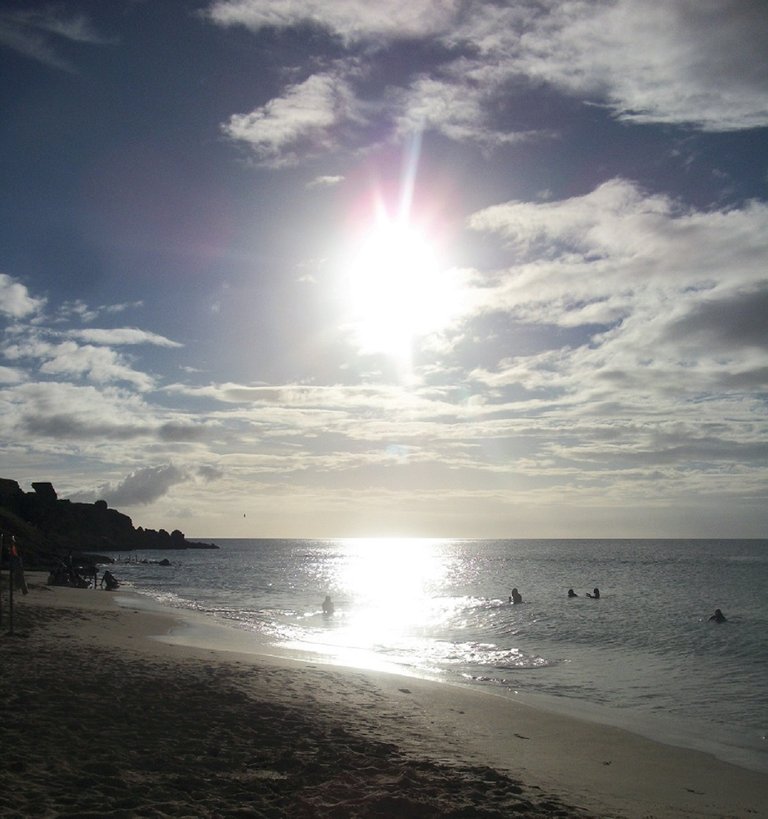 Foto propia / Own photo
Foto propia / Own photo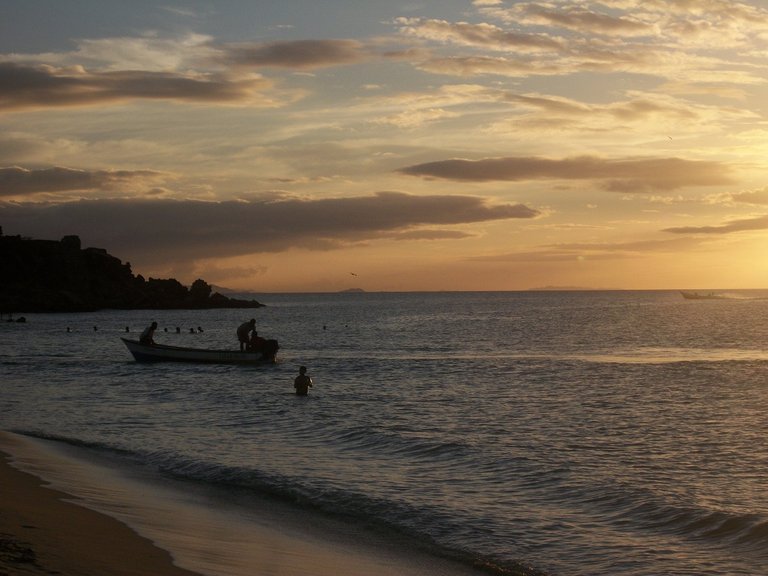 Foto propia / Own photo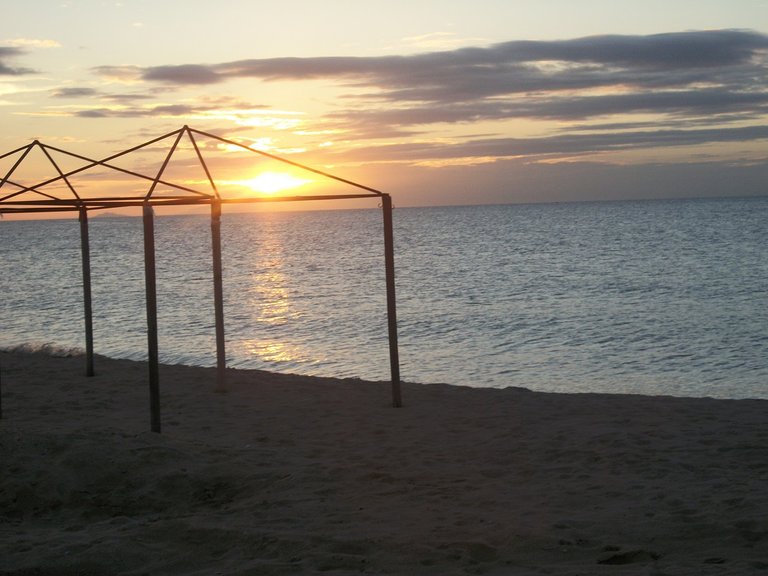 Foto propia / Own photo
To close this post, it should be said that the trip to Araya and its possibilities should be lived with the time and care that the place requires. There are inns where the stay can also be enjoyed and shared among the delicacies made with sea products, in the company of family or friends. As I have done, many times, although I do not appear in the photo, since I am the one who takes it.
Para cerrar este post, conviene decir que el paseo a Araya y sus posibilidades debería ser vivido con el tiempo y el detenimiento que el lugar requiere. Para ello existen posadas donde la estadía puede también ser disfrutada y compartida entre los manjares elaborados con los productos del mar, en compañía de familiares o amigos. Como lo he hecho yo, muchas veces, aunque no aparezco en la foto, pues soy quien la toma.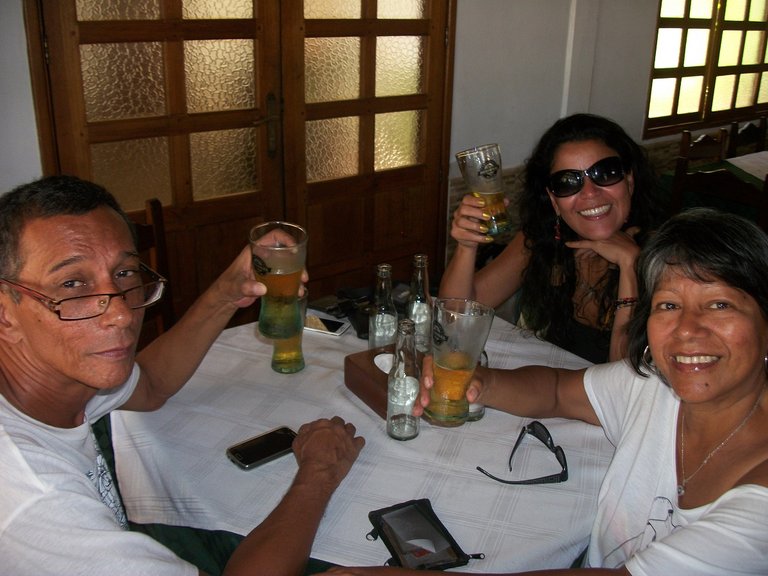 Foto propia / Own photo
The photos are my property and were taken with a Kodak EsayShare CD-82 camera. / Las fotos son de mi propiedad y fueron hechas con una cámara Kodak EsayShare CD-82.
Thank you for your attention. Greetings. / Gracias por su atención. Saludos.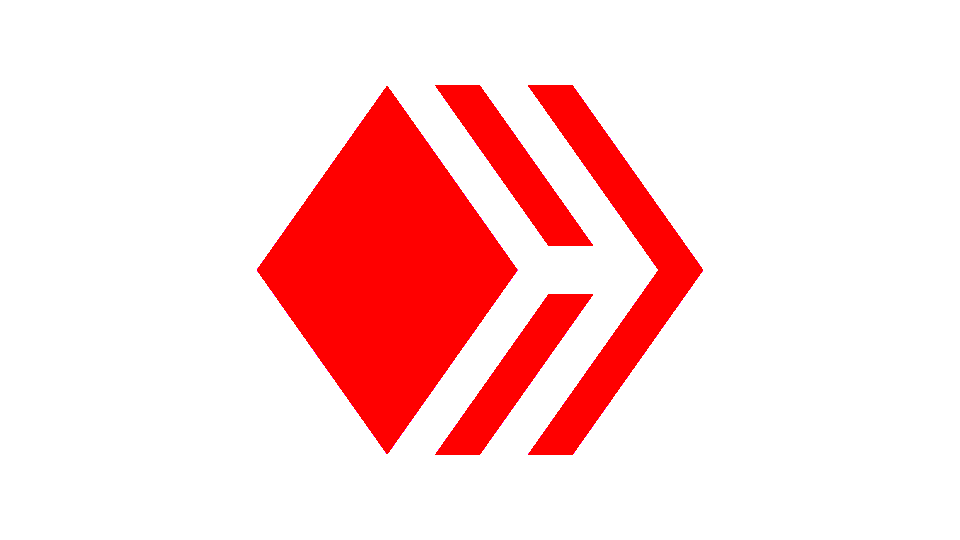 Fuente / Source