Hi Hive friends!
After a long time of not being in touch on Hive, today I want to tell you about my trip to Lofoten.
It all started in Rovaniemi, at our starting point from my apartment. As you might know from my last posts, I lived and studied there for about half a year. Now we wanted to go via Skervoy, where we did an orca tour (of which I will of course also tell you) to the Lofoten with a rented car. The car we had rented for four days as far as I can remember in December last year. It was a passenger car and he has accompanied us faithfully everywhere with, with other rental cars we would probably have already broken down halfway. In advance, we had already written down a few locations that we wanted to visit in any case.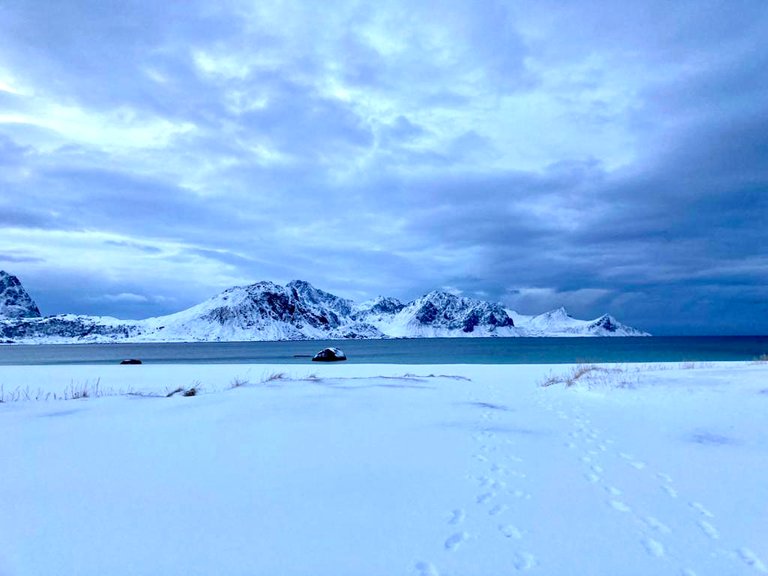 Rough wind and long beaches without a soul
When we left Skervoy, it was already dark again and it had snowed a lot during the night. We drove towards the archipelago and the later it got, the fewer cars came towards us. Sometimes we drove for half an hour on the snowy and winding roads along the coast and we didn't see another car or house. The snow became denser and denser and I dare say that you could see a maximum of one meter with the headlights. Once we discussed whether it would not be too dangerous to continue (we had totally underestimated the weather conditions), but spending the night in the car would have been difficult with the temperatures. So it went on for us. Our destination: a small but nice vacation apartment in Hamnoy, a small fishing village, which I will show you in the next post. I think we arrived at about five in the morning, we were so tired that we fell directly into bed.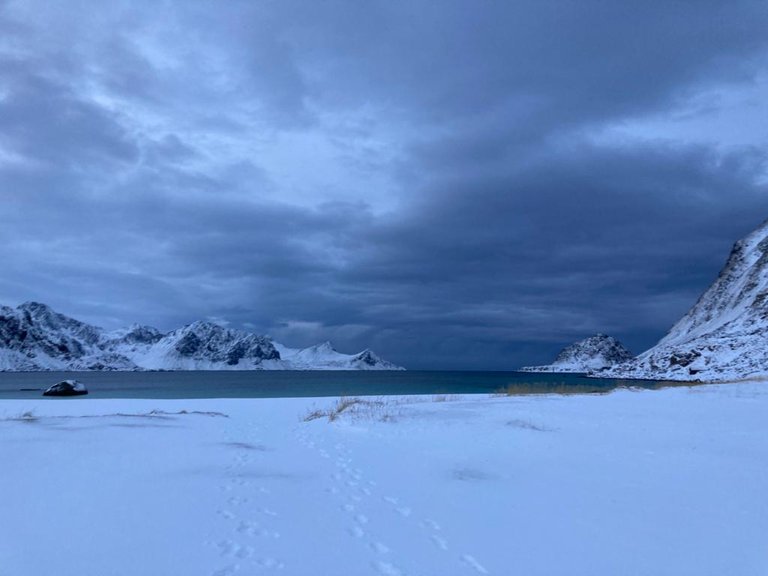 The next morning I woke up at about 11 o'clock and it was slowly getting light, but my girlfriend was still asleep and I didn't want to wake her up but let her sleep, even if we then had only one light day in Lofoten. She slept I think until 3 pm but we still drove out and looked at us a bit of the surroundings at night. Since we also discovered a small harbor with many small sailboats, but I unfortunately no longer know the exact place. Although it was not yet late, we saw no more soul outside. It just seemed so deserted, as I was also not used to in winter in Germany. Nevertheless, it was very very beautiful.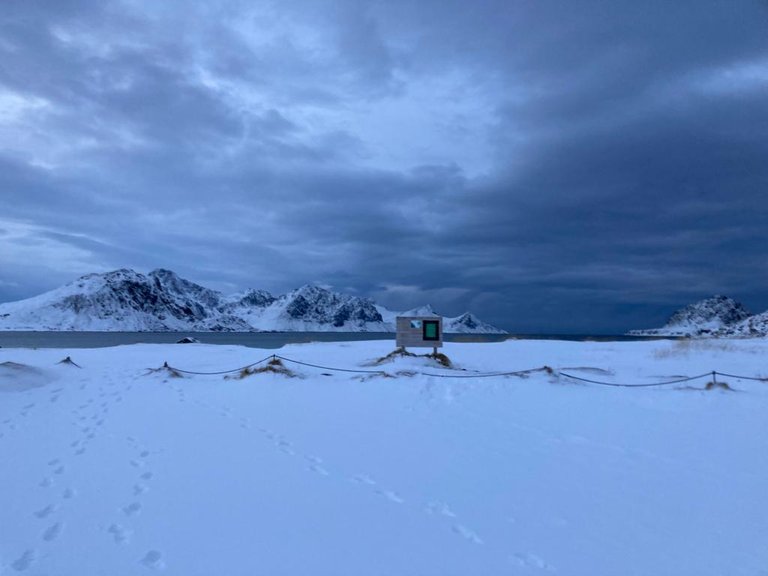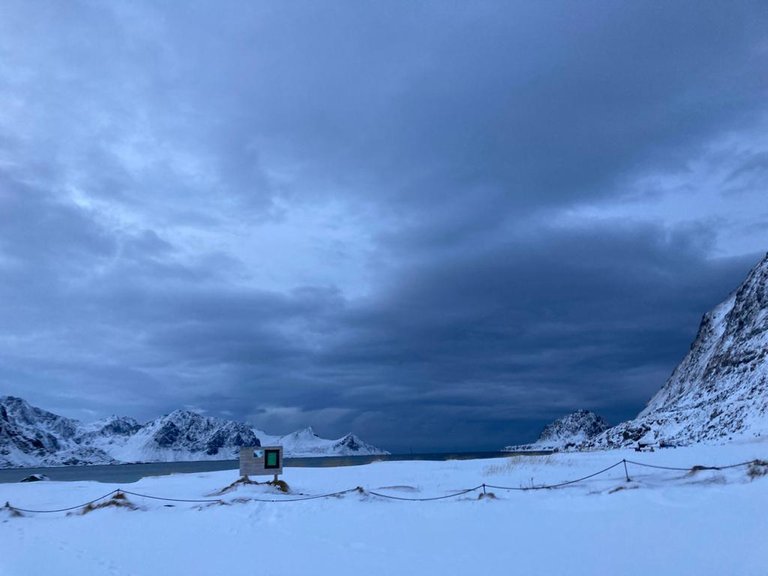 Here you can see pictures of the second beach where we took a beach walk the next day, if I'm not mistaken it would have been Unstad beach. There we even saw a few cars parked at the small parking lot in front of it and a family came to meet us. So few people in a few days I had rarely seen haha. But it was a great change!
And the view was phenomenal, of course! Mountains covered in snow and a beautiful beach where the water even glistened slightly light blue. I had to shoot a few photos first.
Dragon's eye at Uttakleiv beach and the via ferrata there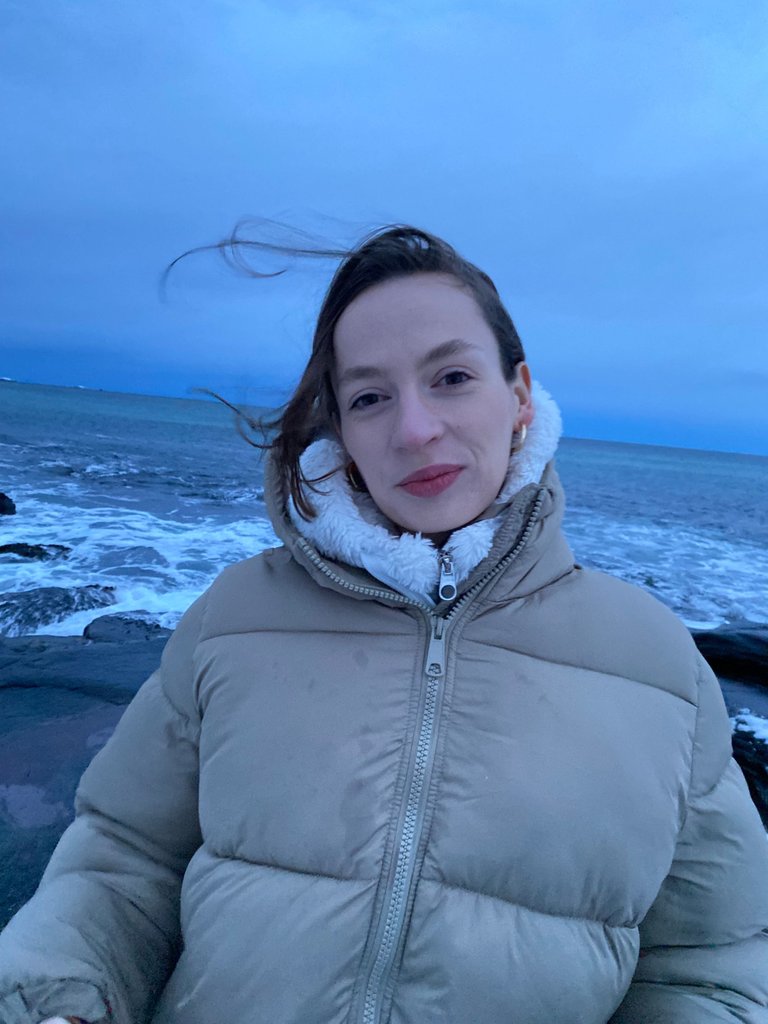 Here you can see me on the first beach at Uttakleiv beach where my girlfriend took some pictures. Here we went first by car and would have landed when parking almost in the ditch, because you had not seen this before loud snow haha. But fortunately nothing happened. We tried to overcome the slippery stones to the Dragon's eye, and believe me, it was an acrobatic performance! I slipped a few times but in the end we made it there anyway. You are probably wondering what the Dragon's eye is?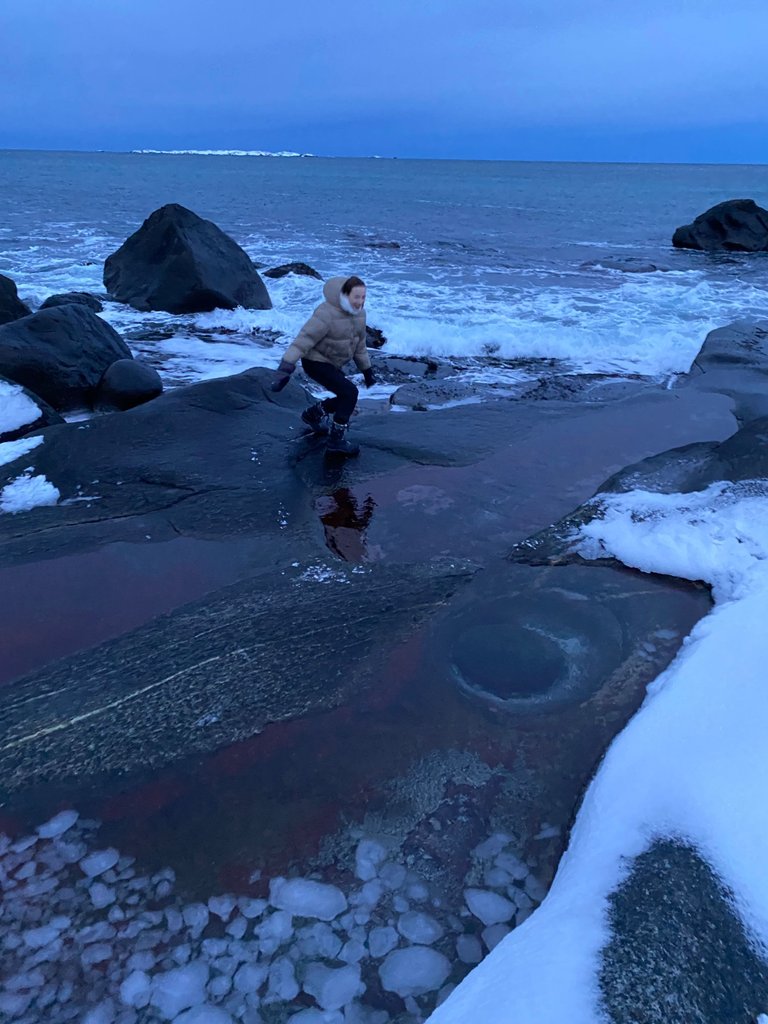 Maybe you can already see it in the picture below - it's some kind of rock formation with water in it that looks like some kind of eye. Unfortunately the sun didn't reach us, but it still looked really cool I think!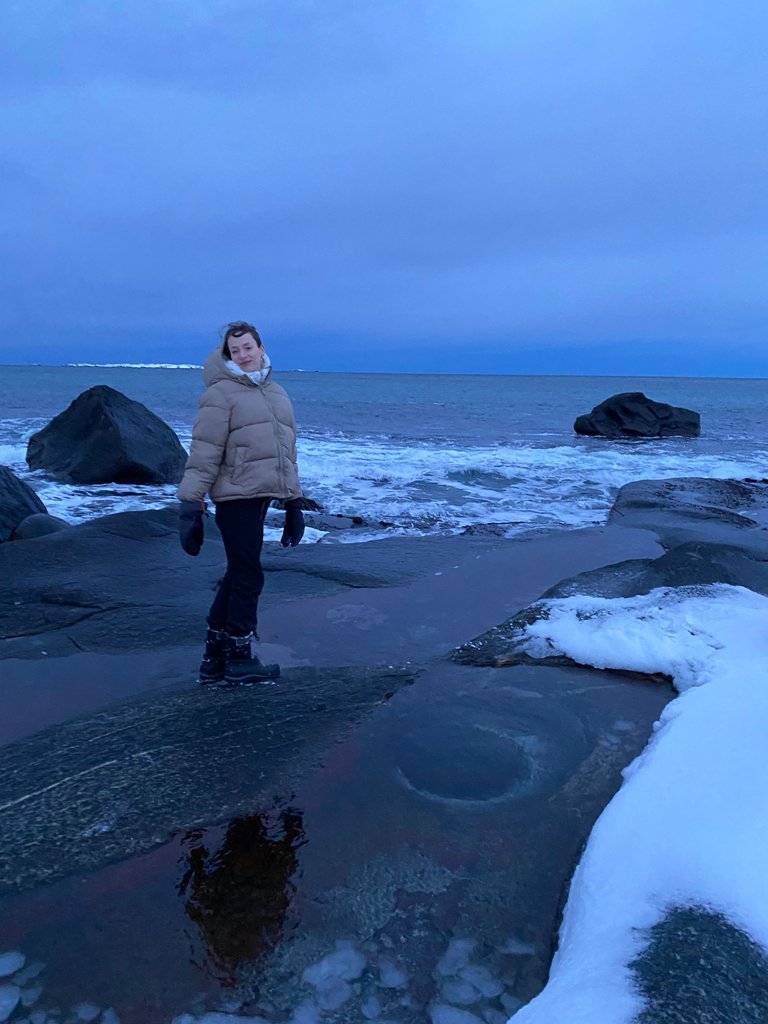 At first we wondered why there were no cars parked on this beach and no people to be seen, as we had read on the internet that it is an attraction where many vacationers go. However, after walking a few meters on the rock formations, it was clear to us why nobody went there - it wasn't like a walk on the beach but more like a slippery via ferrata haha. But the main thing is that we arrived safely!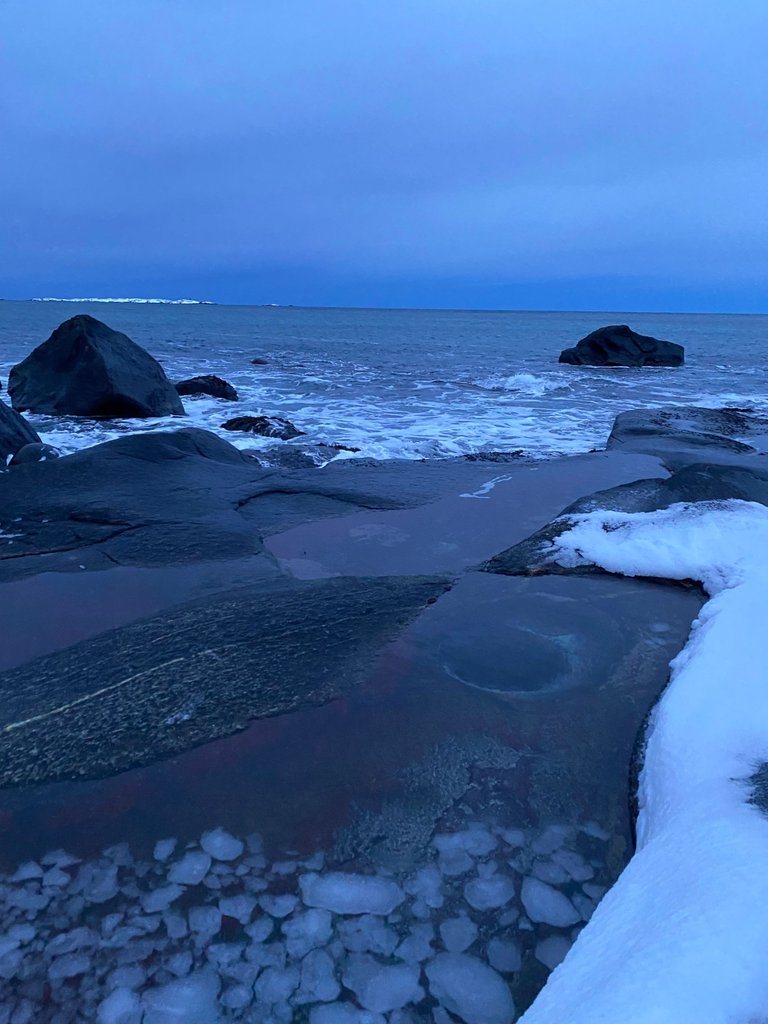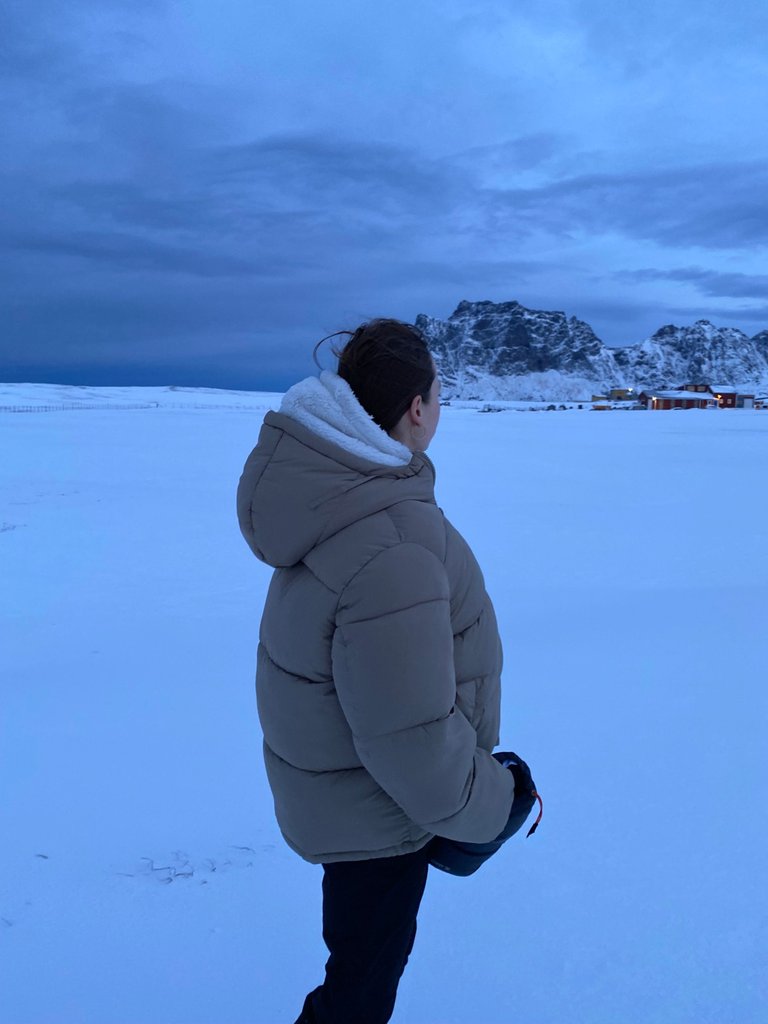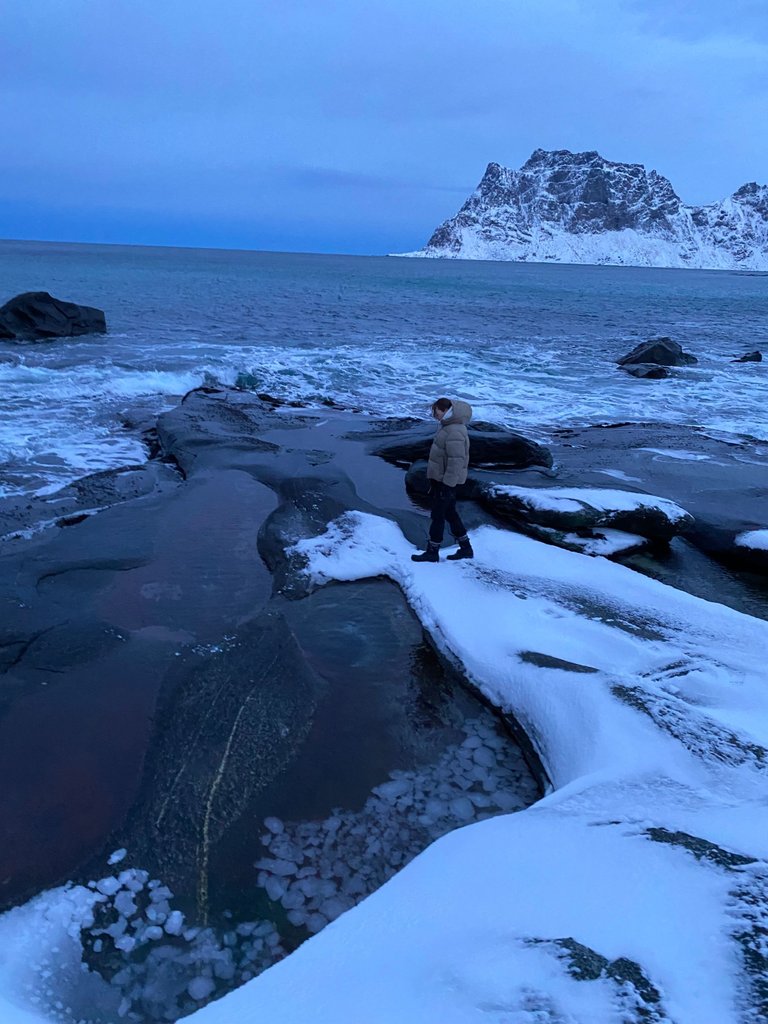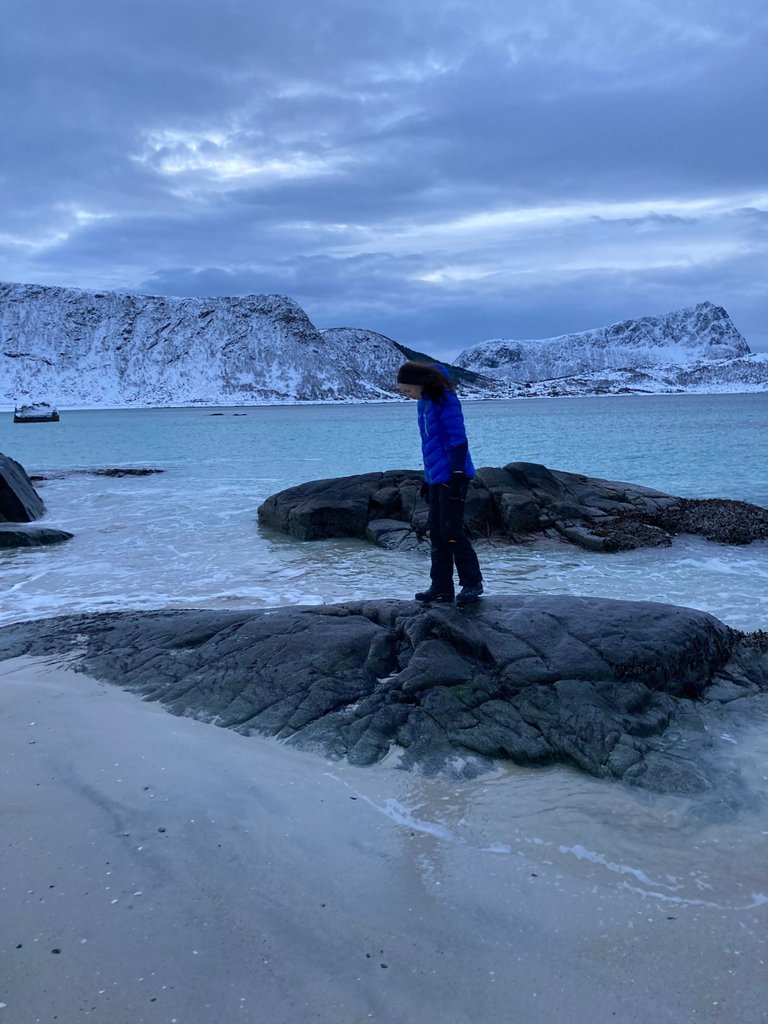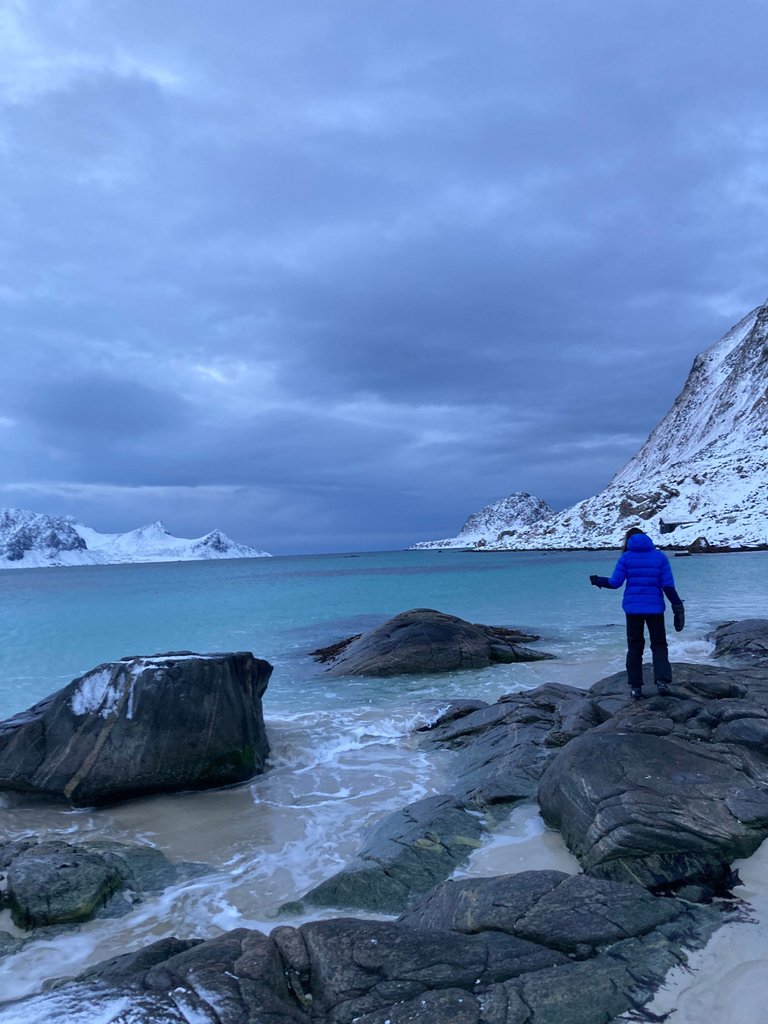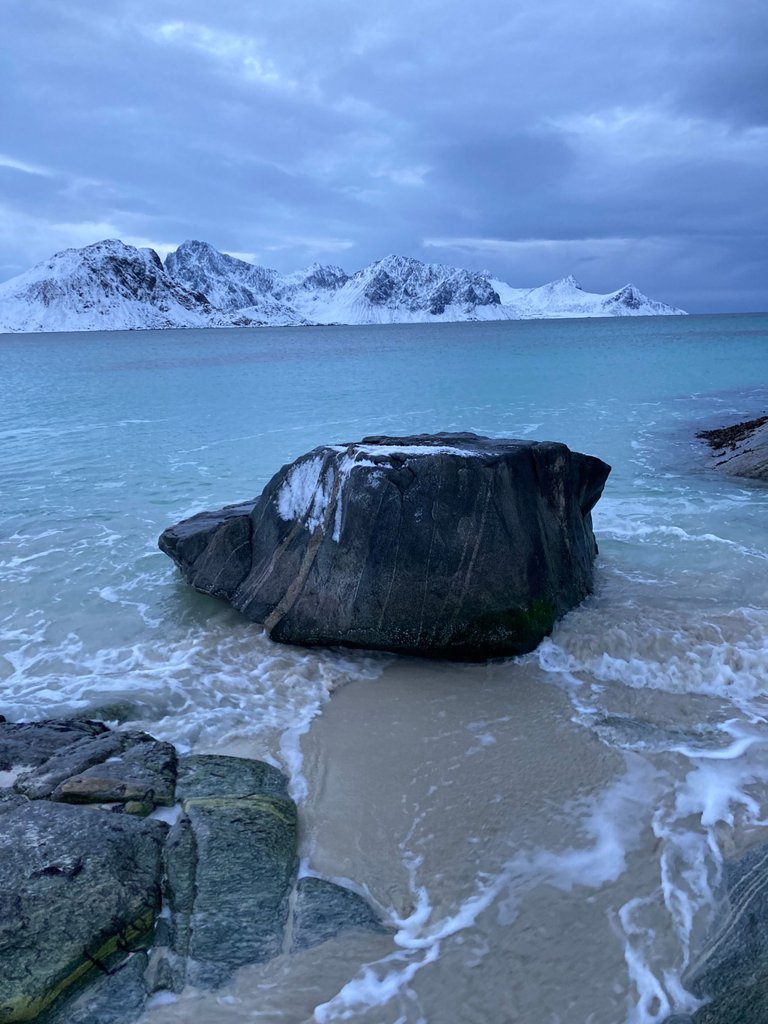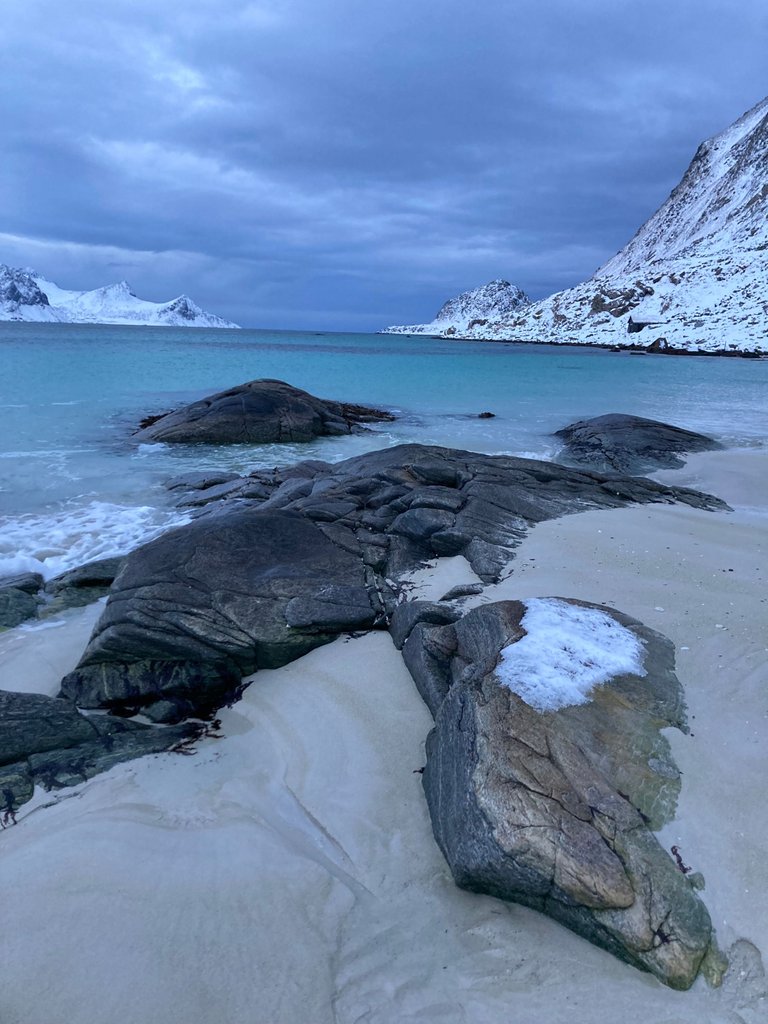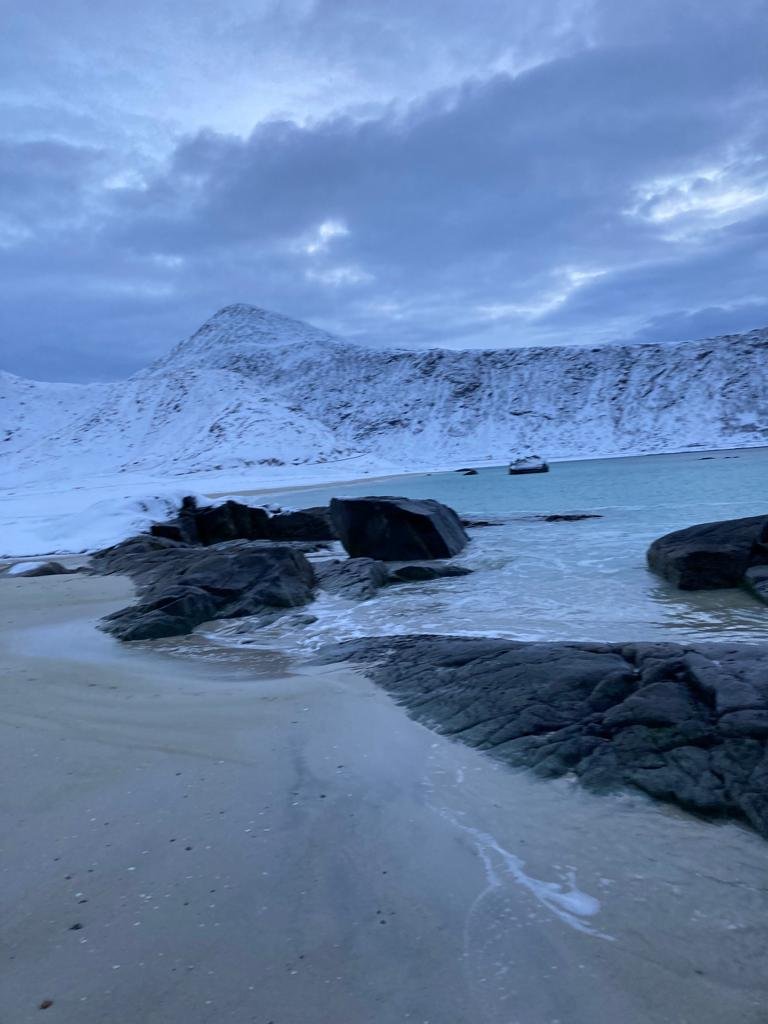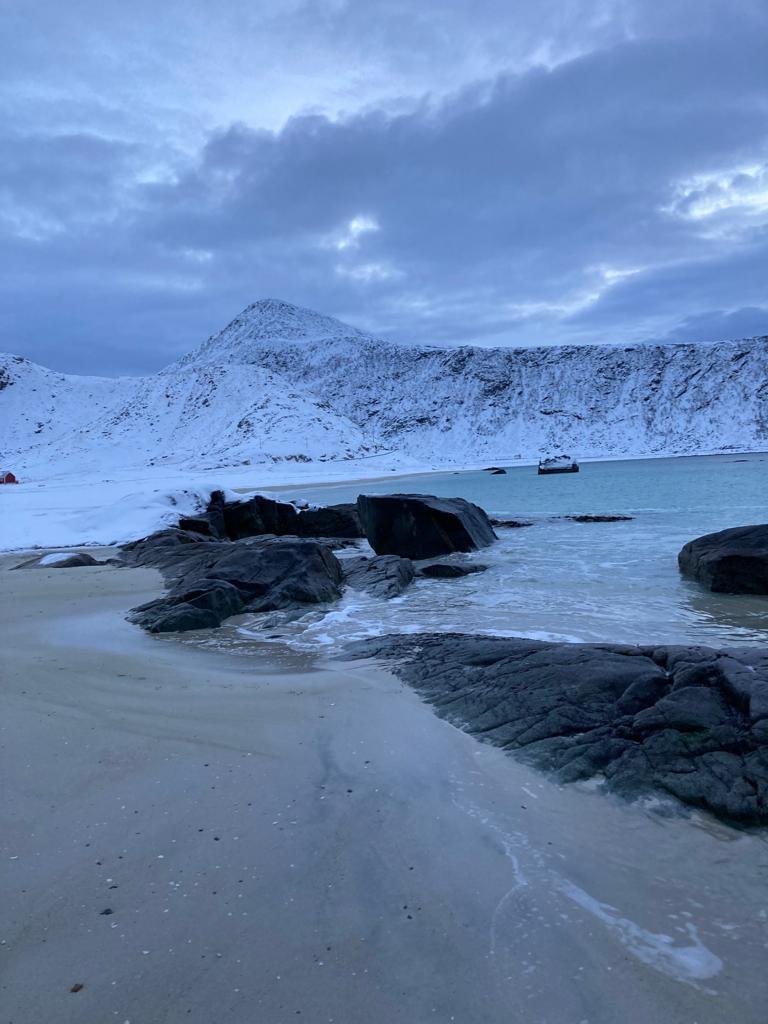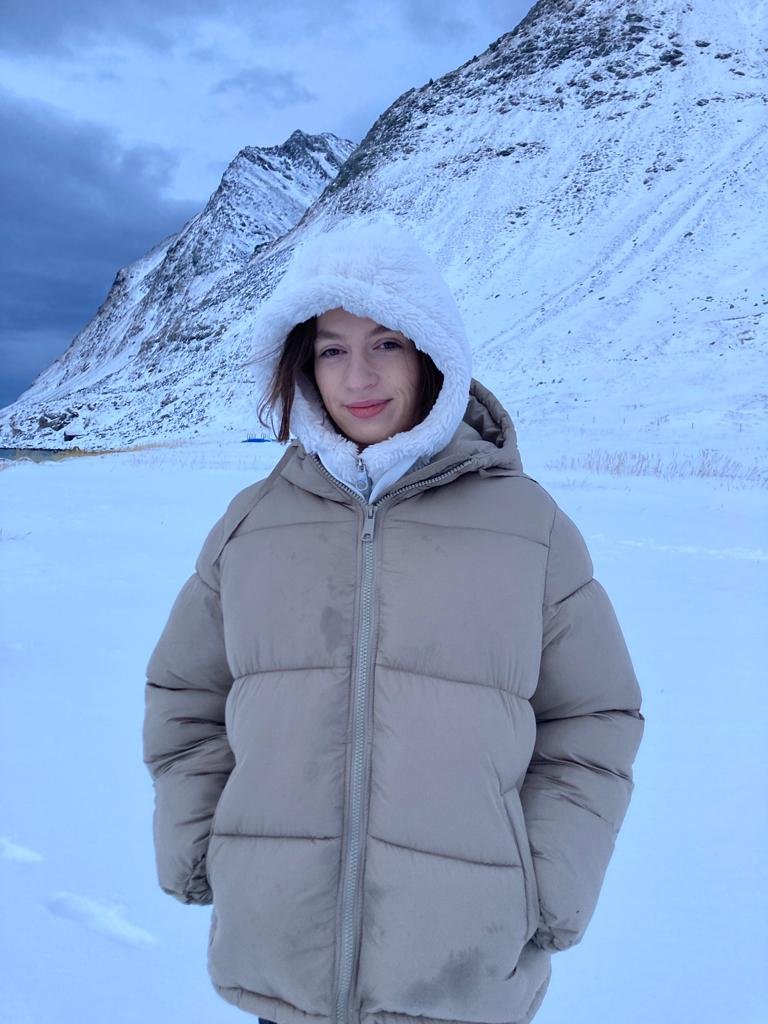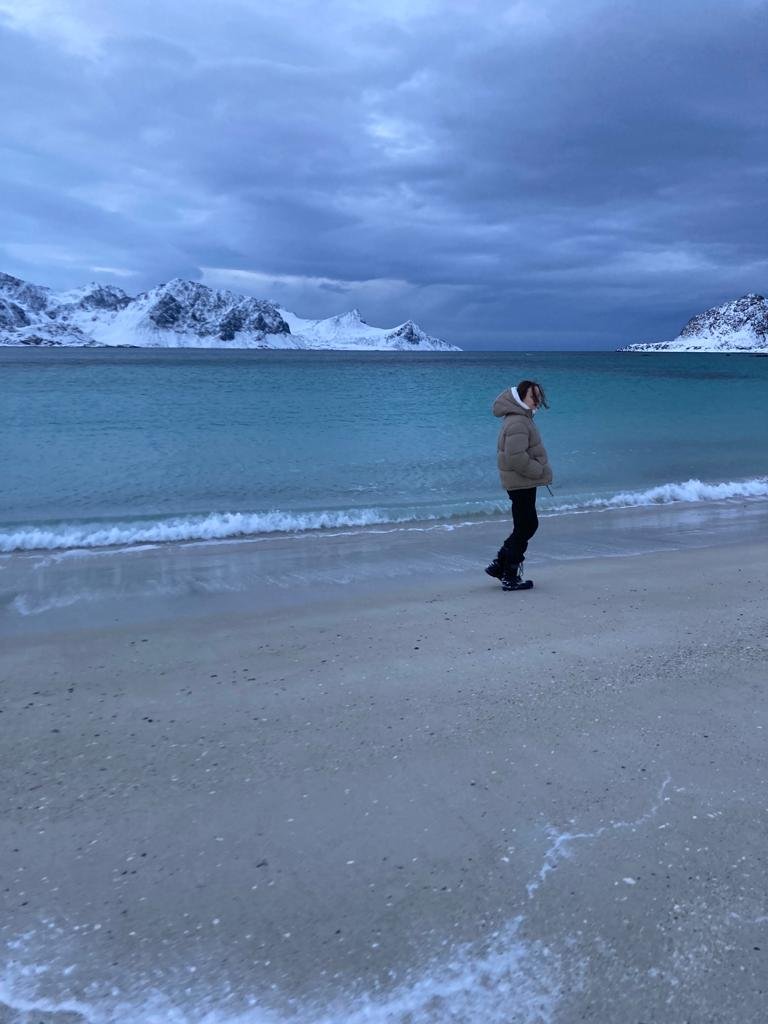 The water was calm, although there was a relatively strong wind, but we had brought hand and foot warmers so we didn't get too cold. Only when you took photos did you really notice the cold. Although compared to Rovaniemi in Finland it was still relatively "mild" with about minus 5 degrees haha.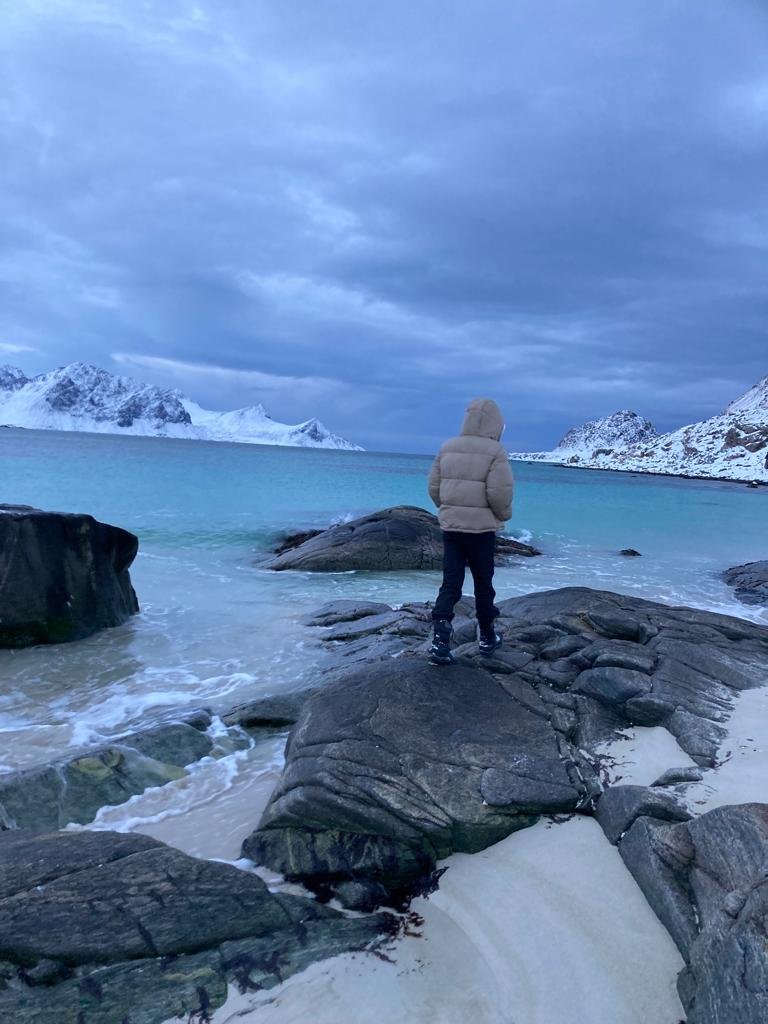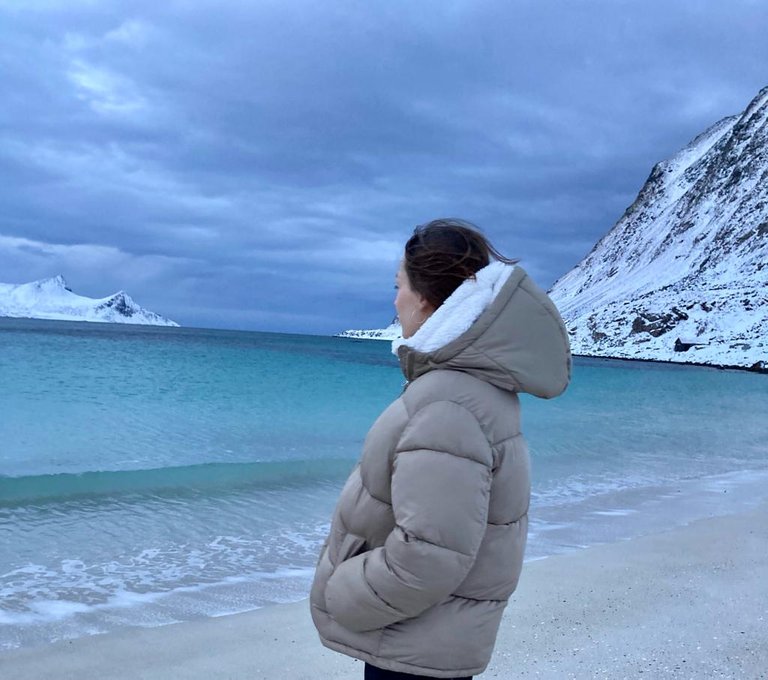 The light blue water can be seen clearly in this picture, which surprised me so much because the sun hadn't even shone. But it was an amazing sight and a walk on the beach that I will definitely remember :)
Still, I think next time I would rather not drive to Lofoten in winter or the area in general because it's just too dangerous in these weather conditions and to be honest we had more luck than sense haha. But you learn from it :)
It was a completely new and different experience than the other vacations I've done so far, especially in the south. But above all, I don't want to miss them!
I would have wished for a little more time there, even if it had only been for one day. I think three full days there would be perfect :)
Next time I'll tell you a bit more about each of the villages we passed and maybe the Orca Tour - that might have been an experience. Until then, I hope you're doing well and enjoying the end of the week!