Hi Hive friends!
An exciting journey to Skervoy
Here comes a long promised post and I am really happy to share one of my most beautiful experiences with you! It's an experience that I wanted to do for so long but didn't have the chance to do it until now. You probably already saw it on the cover picture, it's about an orca tour in Norway, more precisely in Skervoy.
I had planned the tour for a long time with my sister and we had booked or reserved it early, because these tours are not offered in masses and there are some people who would like to do this but. So we booked about 2 months in advance and it cost us quite a bit of money, I mean it was about $250 for each of us, not including the travel costs.
But for us, every penny invested in this tour was worth it!
As you may already know, I did my semester abroad in Rovaniemi, Finland. So we drove from Rovaniemi to Skervoy, and it became a longer car ride than we thought possible. I think we drove about 15 hours and that with partly heavy snowfall, which we were not used to. In the end, we arrived at about 2 a.m. and set our alarm for 7 a.m. so that we would have enough buffer in the morning in case anything went wrong, because the tour was supposed to start at about 9 a.m. We had to get up early.
And how right we were with our skepticism haha...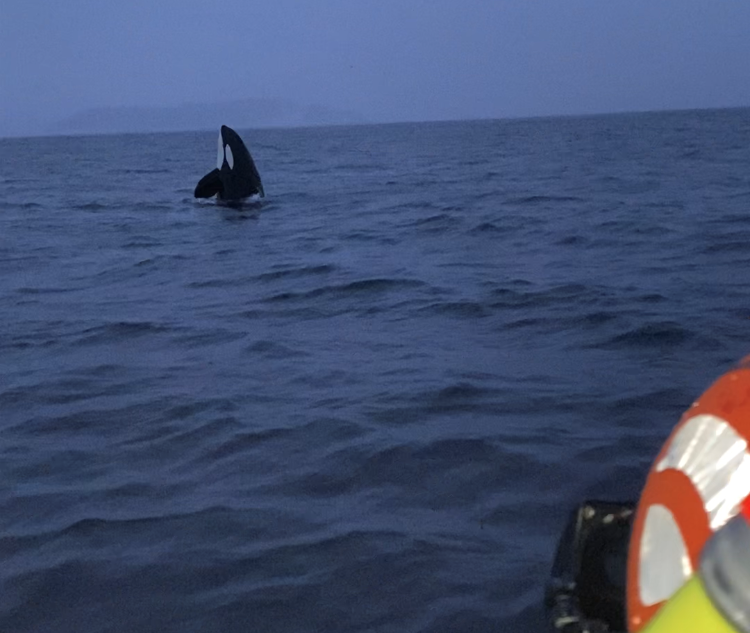 I hope you like this video, I took a very long time with the music (I do not know so well with it) and actually wanted to upload it without youtube, but had many problems and so youtube was the solution in the end:)
Because we had tired as we drive from the long car ride the car parked directly in front of our small Airbnb hut on the slight "slope", it was indeed only a slight slope, but guess who could no longer continue and with whom the tires were constantly spinning... we both became more and more nervous and she got out of the car and wanted to push from behind, while I desperately tried to somehow put the tires right so they could grip. But unfortunately all efforts helped nothing...
I had been looking forward to this day and this experience for weeks and now it should fail because we had parked the car stupidly? Half an hour had passed and half an hour we needed for the drive there...
But then we saw our savior in the emergency - literally! It was a snow vehicle (as they drove around more often in Norway, actually constantly, I think we have seen in the time as many snow vehicles as people) that drove to us and without us asking in front of us and behind us the snow made away. How nice just, we could hardly believe our luck!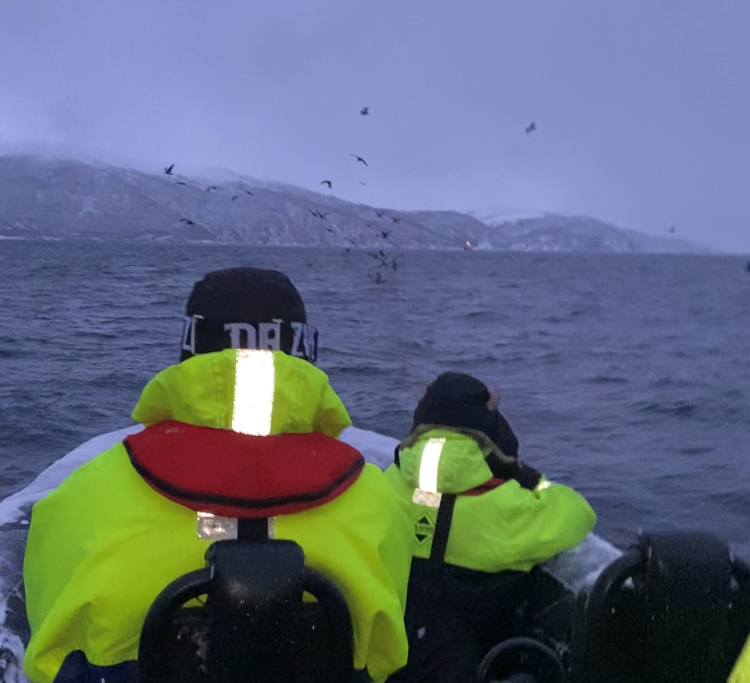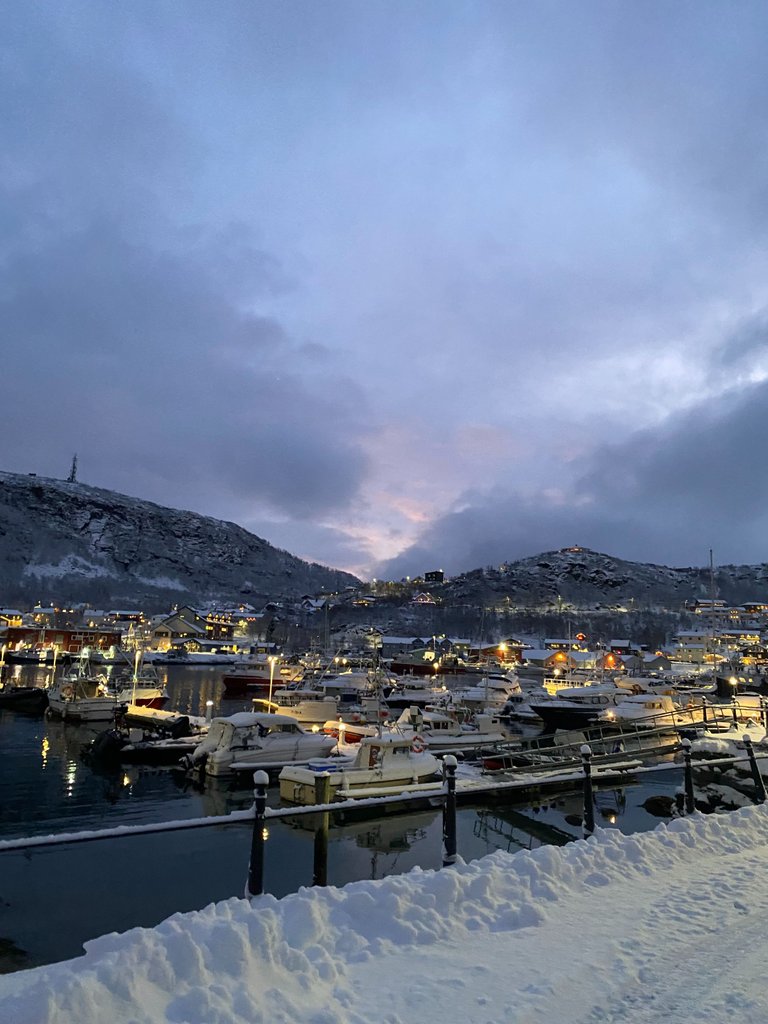 Here you can see the harbor when it was getting dark again after our tour. It looked so peaceful and everything was calm, just beautiful.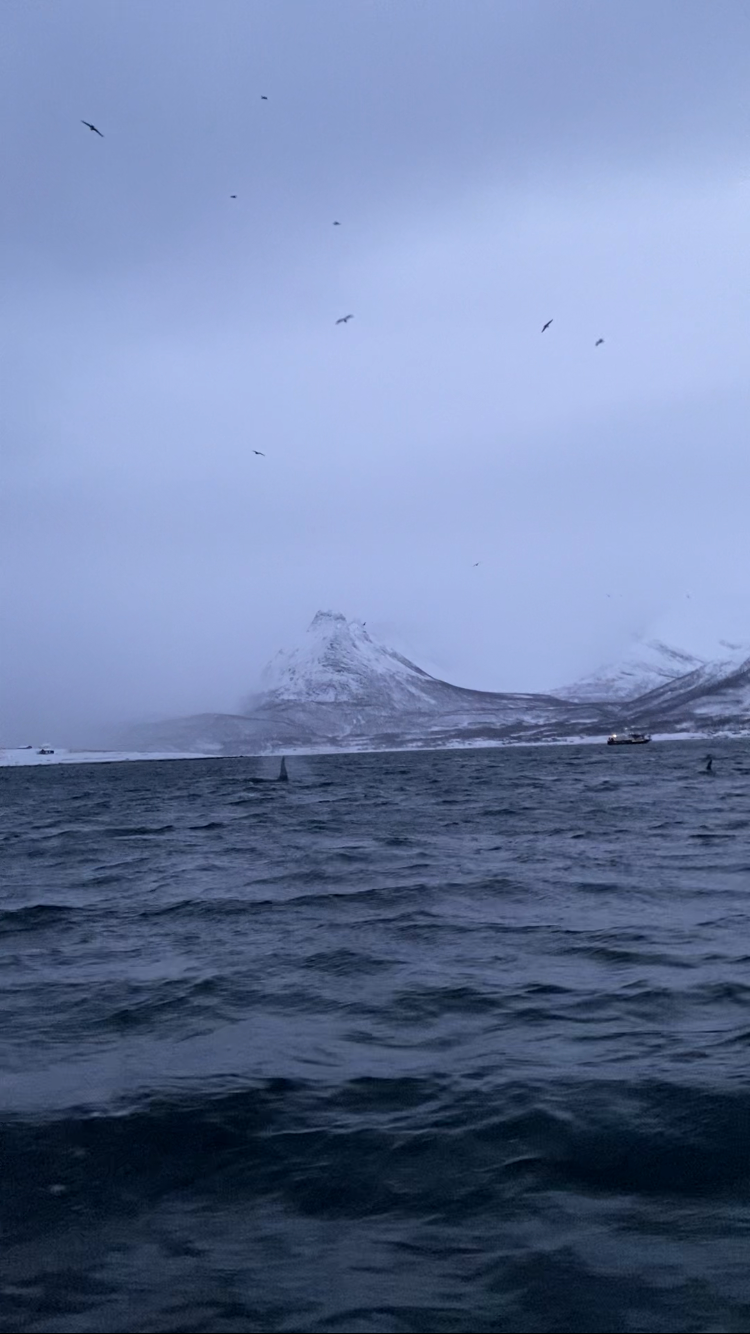 But unfortunately that didn't lead to the desired success either, and my sister went to the driver and asked him if he could help us push. It was a young man and he immediately turned off the engine and jumped down from the vehicle to us. Then he pushed her and I tried the tires again. When that didn't work either, he wanted to take the wheel and we pushed - and lo and behold: the car moved and it drove a few meters! I was so relieved, I had already seen the tour bursting a bit. We thanked him very warmly and drove quickly to the place where we were all supposed to meet in Skervoy, to the "Lofoten Opplevelser" meeting point (that's the name of the organization we booked the tour with, they do it in the summer on the Lofoten and in winter in Skervoy, which is probably due to the behavior of the orcas or their locomotion).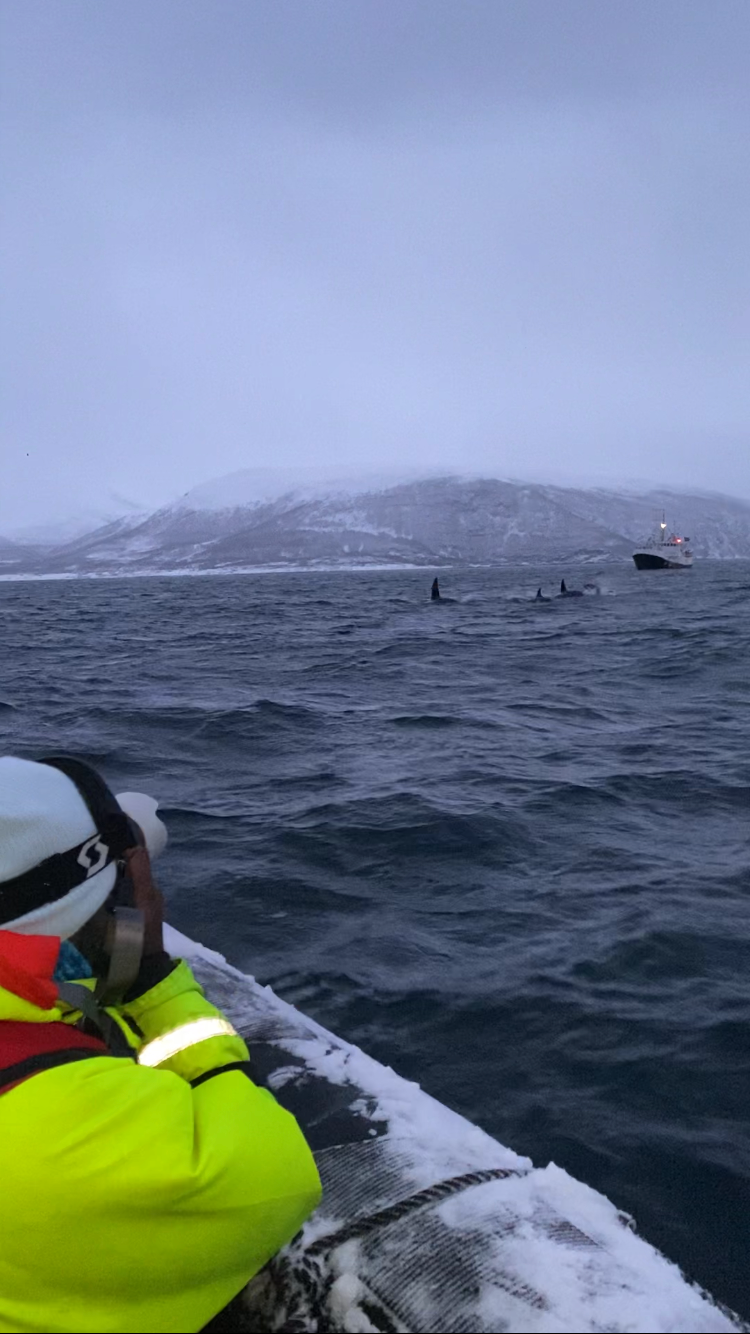 It was still relatively dark when we arrived and despite the incident we were one of the first of the participants. We also thought that we would be a group of many people, but in the end we were only about 8 people and three of them snorkeled (including me).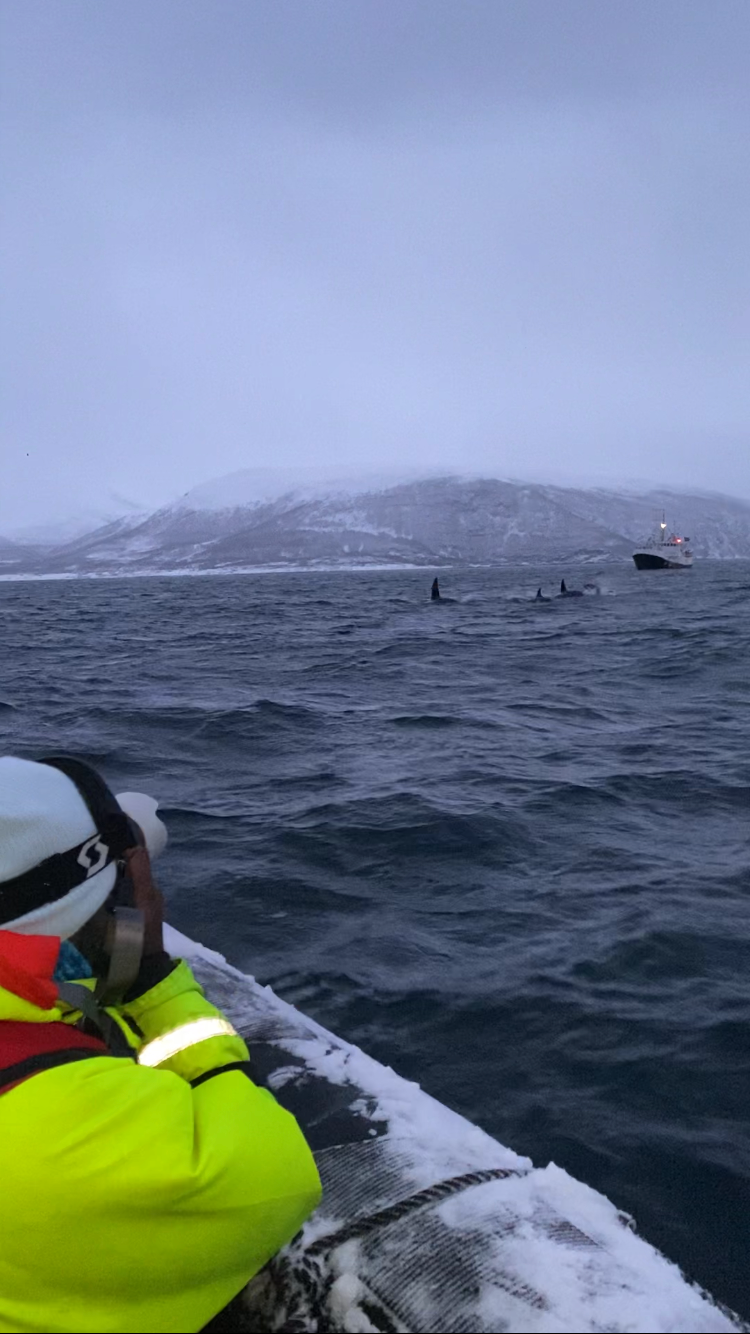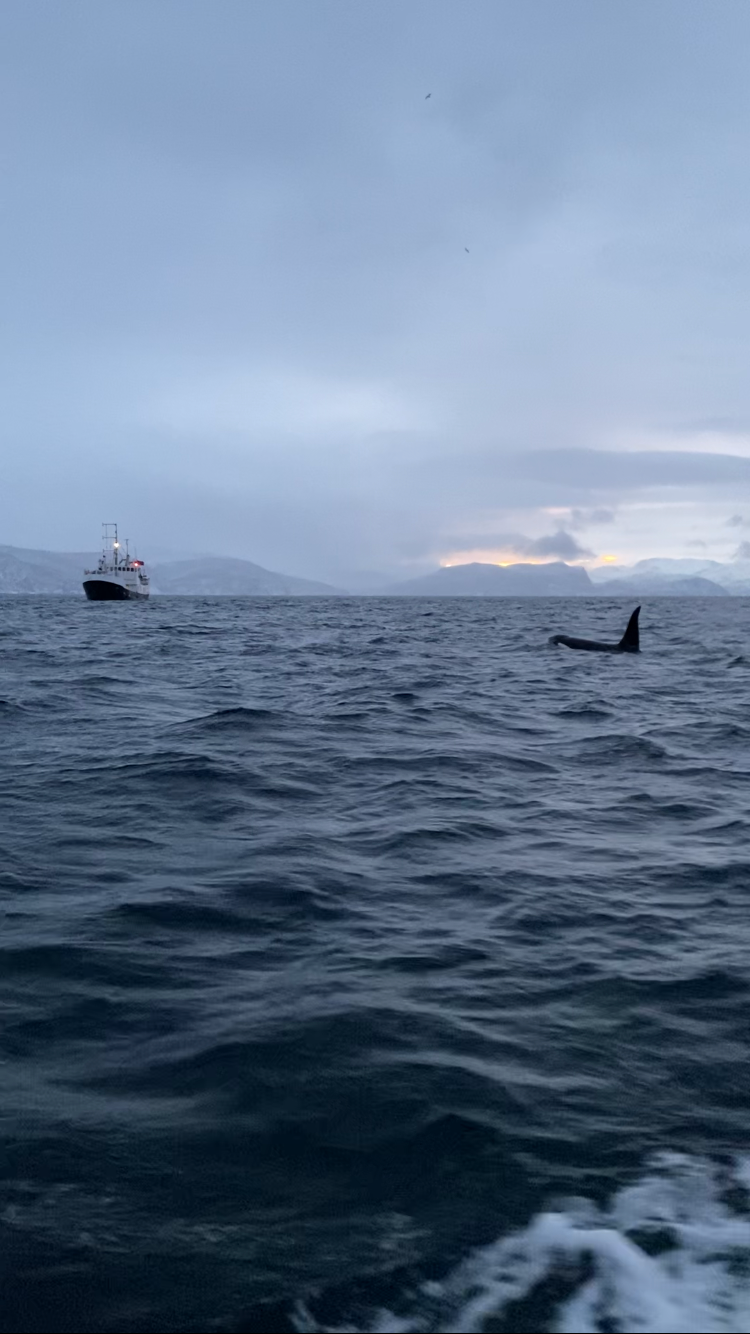 At the beginning we had to wait a bit because the two tour guides said it was still a bit too dark (it was still very dark) to start. They asked us about our onward journey and were very nice. They said there hadn't been a tour in the last few weeks where you didn't see orcas, but it's possible that today you would only see the Finn. We were already full of anticipation, at home I had researched on the internet about orca attacks on humans but only found those that had taken place at Sea World etc (i.e. in cages) and not in the open sea.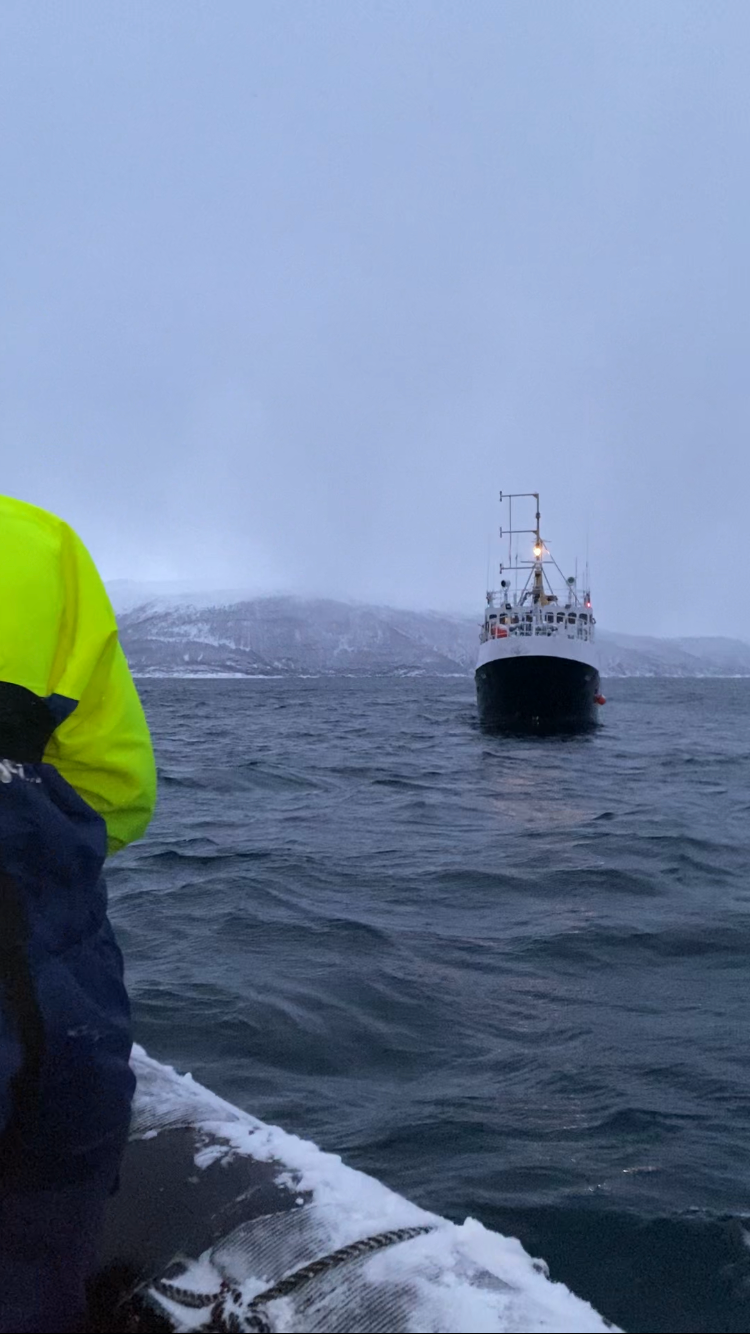 The first time we saw the orcas - a unique moment
That calmed me down a bit. Furthermore, the two assured us that they had never experienced anything like this, but that you should listen to their instructions and only slide into the water if they specifically tell you to, because sometimes the orcas would just want to "play" and this would then be somewhat dangerous for humans.
Here you can see a ship that we saw on the trip. At first we also thought that we would go to the orcas with such a boat and then we were a bit perplexed when we saw the small inflatable boat that we were supposed to use to go to the orcas. When we drove off and the fresh wind blew in your face, I felt some respect but also a lot of anticipation. And after about 20 minutes of driving the time had come: We saw the first fins and fins and it was indescribably beautiful to watch these great animals in their natural home - the sea. They were quite curious and swam around our boat and were very peaceful. Now we were allowed into the water and they literally gave us the "go"!- Before the few weeks I sometimes had a queasy feeling whether I should do it or not, but at that moment I didn't feel any fear - just anticipation - funny, right?!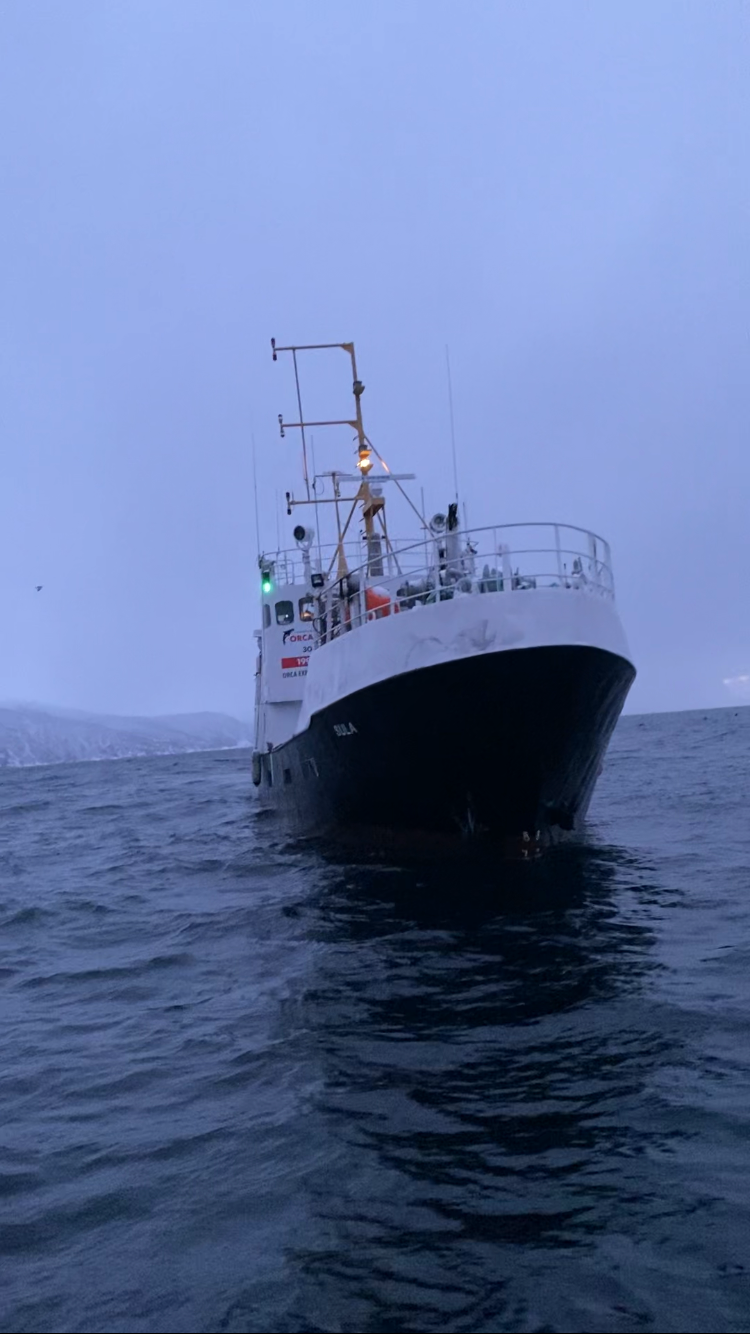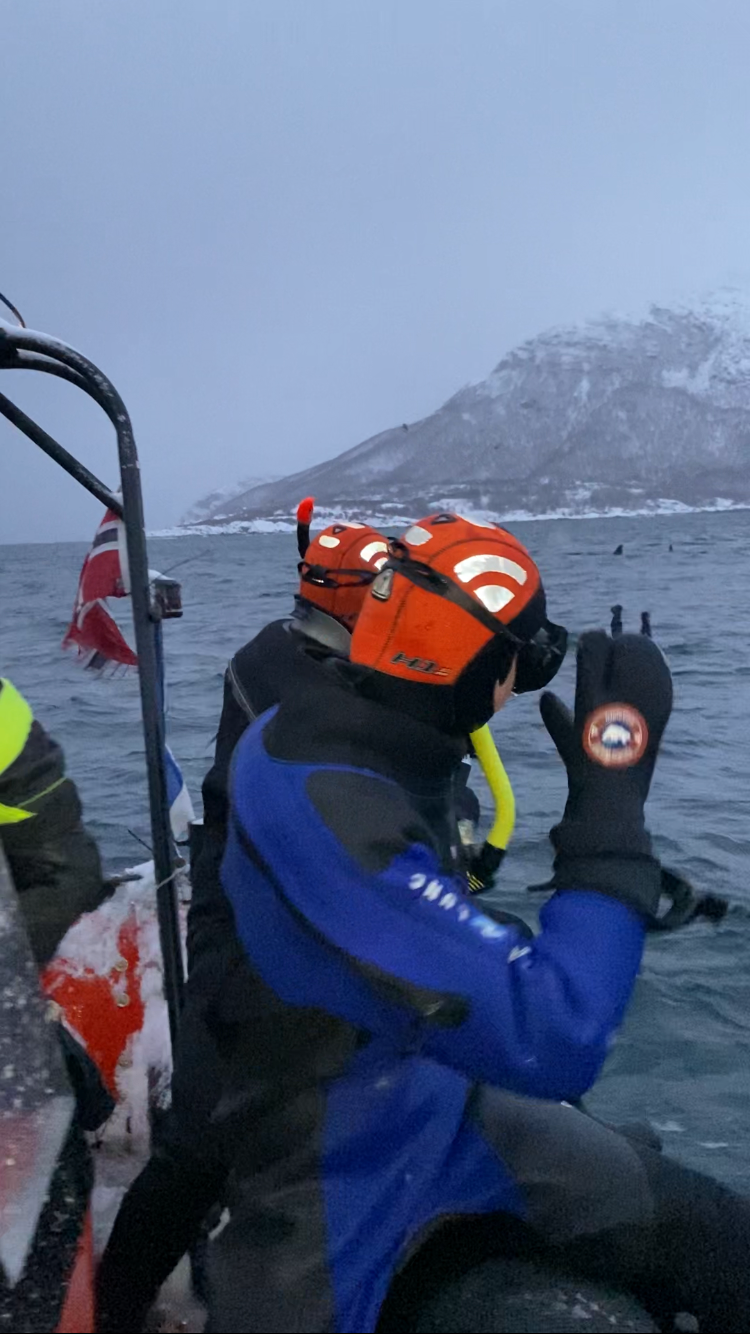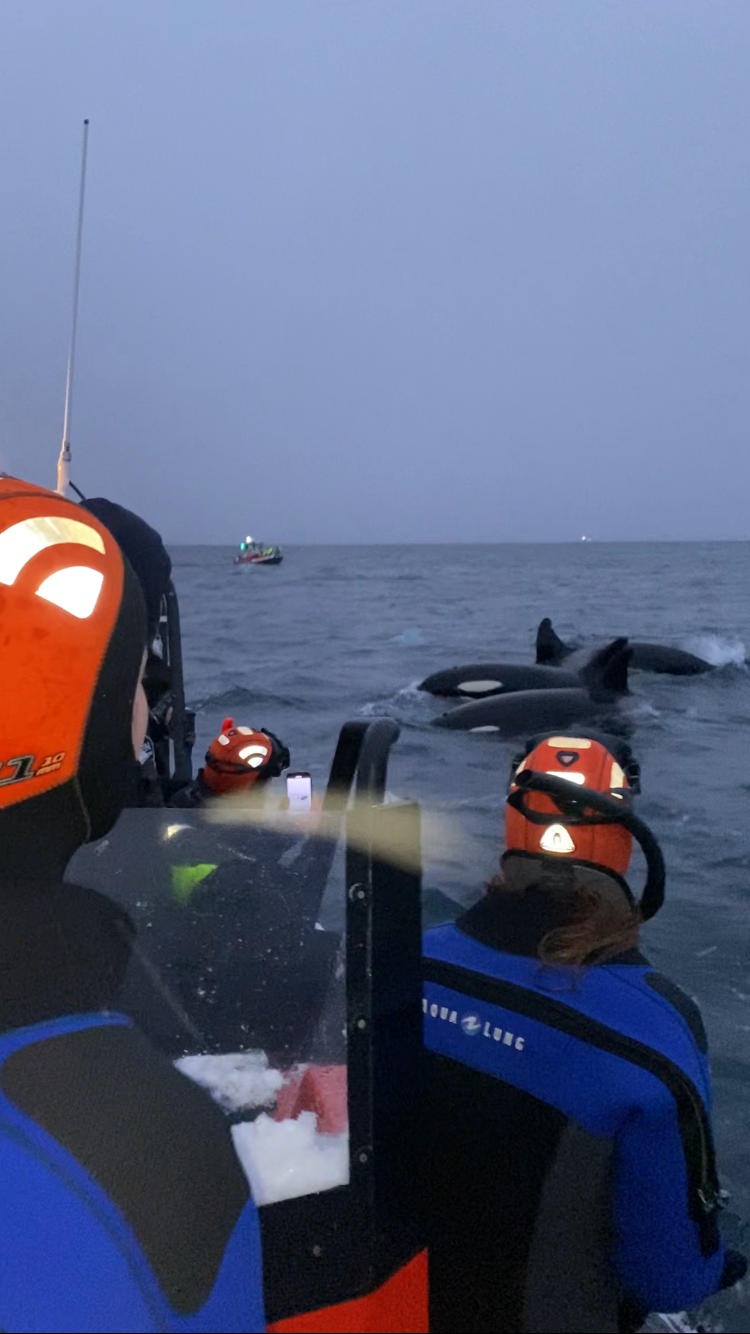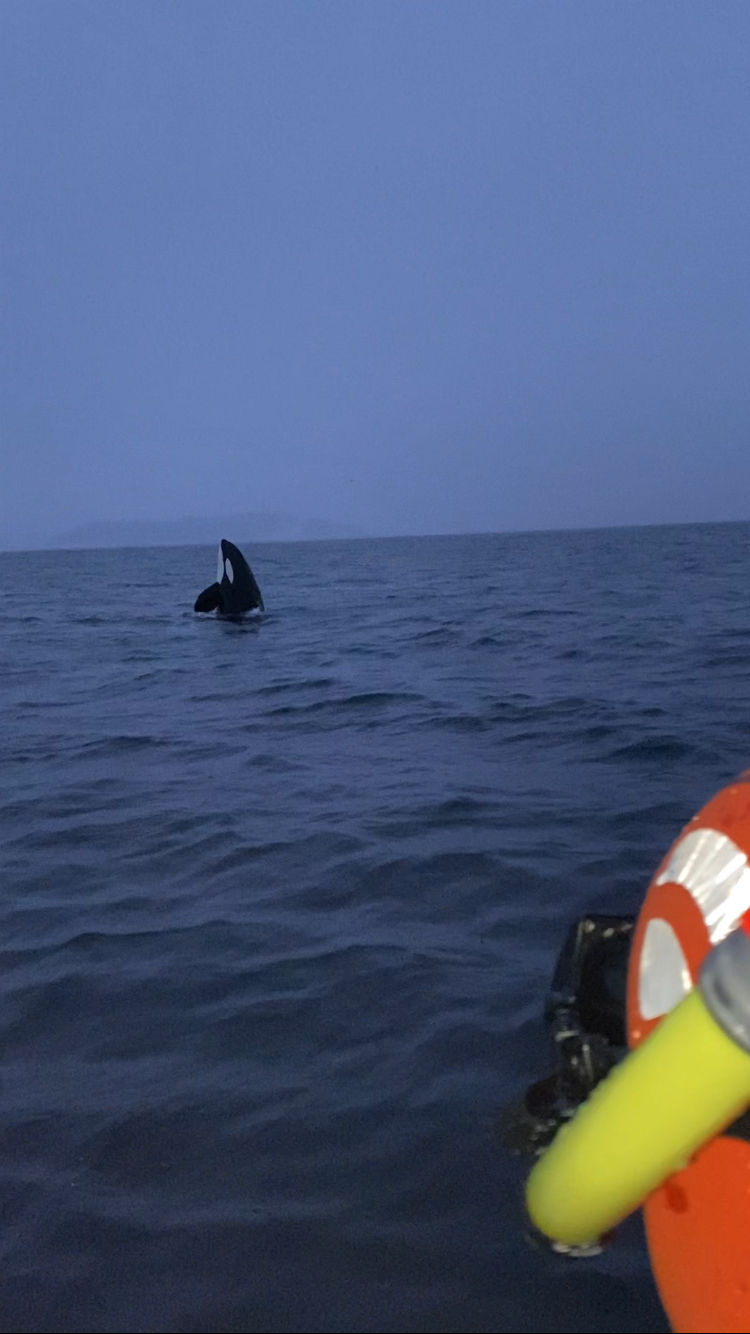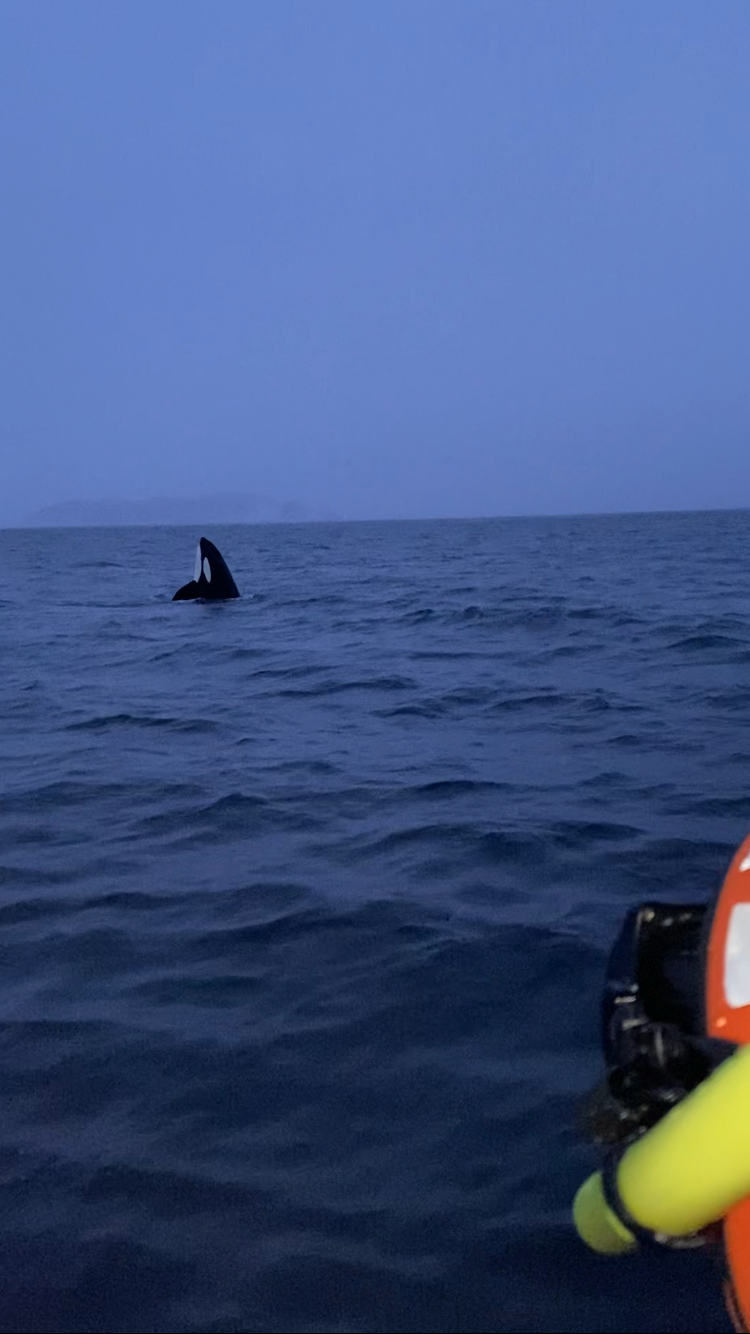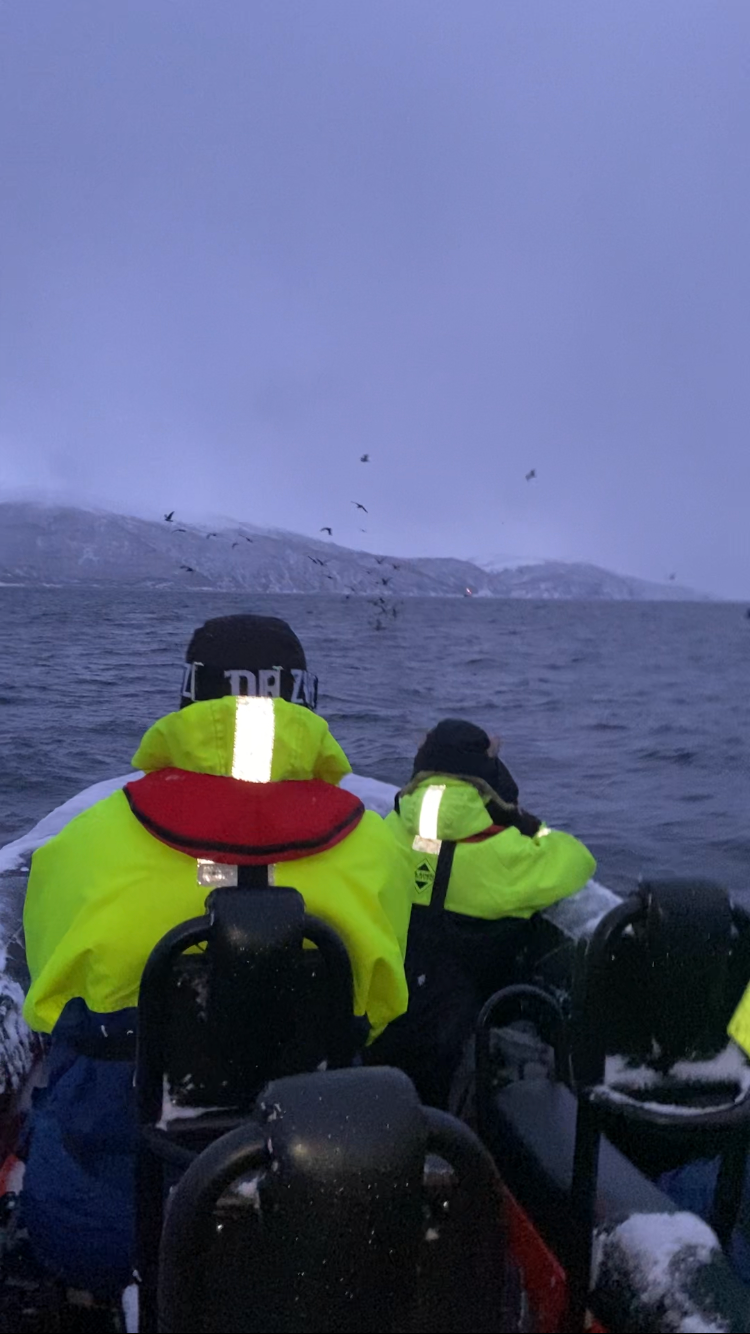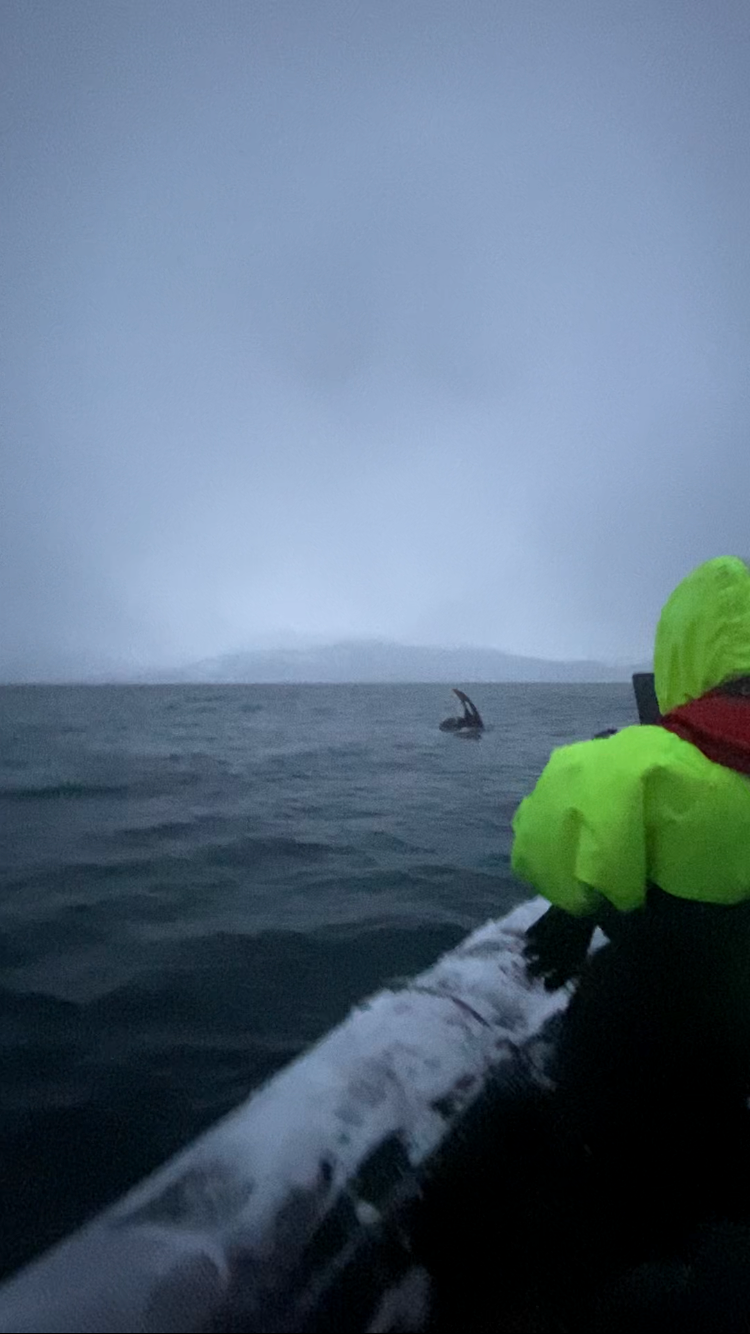 Two/three times I was lucky enough to see one or two orcas under water - an indescribable feeling. Unfortunately, I had at the time no more Gopro with me, because I have not paid attention to the memory space and this was already full, but the memory counts as you know. Therefore, I have for you unfortunately only videos over water, I'm sorry. But if any of you are thinking about doing something like this, I highly recommend it, I think you never forget something like this. And the organization with which we did it was great: a small group, it was addressed to each individually and it was just great!
Later, however, I was quite glad that we drove back because my toes were very very cold and I thought the one no longer really feel. When we arrived I showered in with lukewarm to medium temperature water for 10 minutes and then it went again. The wetsuits have but erstunlich well insulated, for the fact that the water temperature was only 6 degrees!
If you want to know more about the organization, just ask. We can only recommend it and would not want to miss it!
I hope you started the new week well :)