Hey guys,
since I took you on a first trip of mine a few days ago, which was to the neighboring town of Levi, I would now like to show you a beautiful place in the city I was allowed to call home for half a year: Rovaniemi, the city of Santa Claus, as it is also called.
There are many beautiful places in Rovanimie, and one of them is Ounasvaara. It is at the same time an area for hiking, but also suitable for cross-country skiing and downhill skiing. Admittedly, the ski slopes are relatively short but many families and ski beginners enjoy it here - like me and my friend haha. So it was perfect that it was also the closest ski resort.
First we were there first hiking, as you can see in the pictures. My friend had rib pain (she had had a bad cold before) and so we thought it was better to wait a bit with the skiing.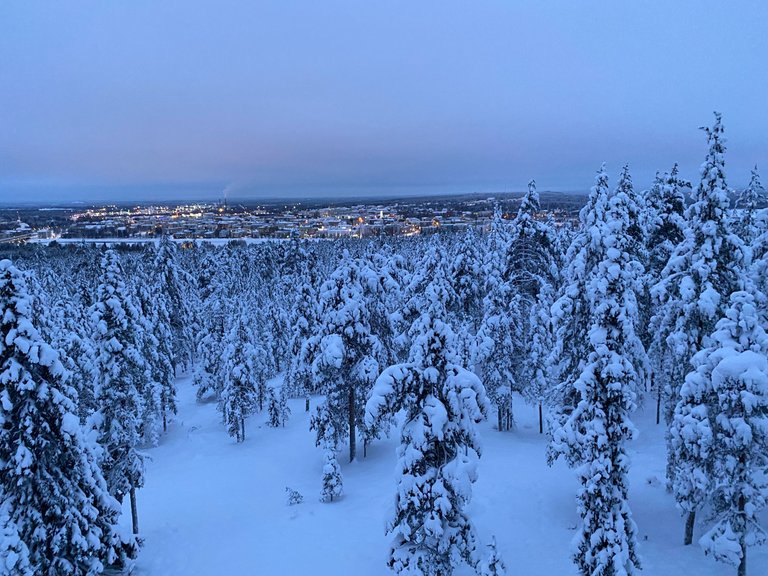 A slightly glowing sky despite the darkness - from the lights of the city
Although it was actually already pitch dark, the sky once again looked like it was glowing a bit. I think that came from the lights of the city, in any case, it also looked like this later during our car tours when we approached a city (there was nothing around it).
That's why we always drove out of the city on the search for the northern lights, because you can see them much better in absolute darkness. But more about the Auroras in another post :)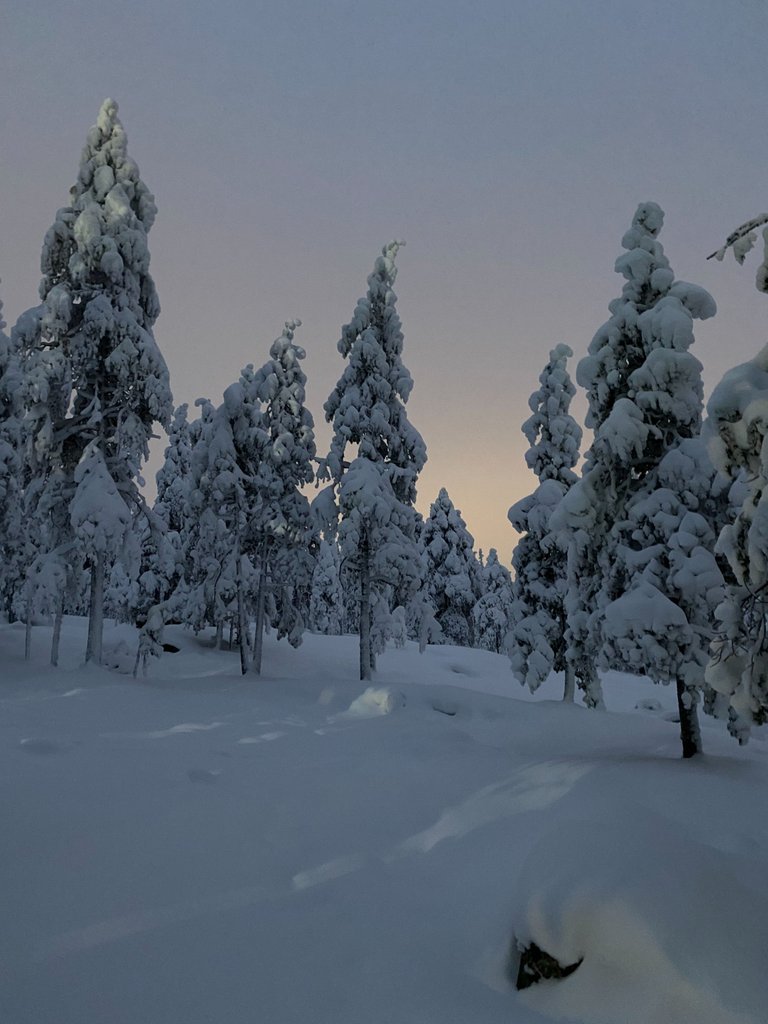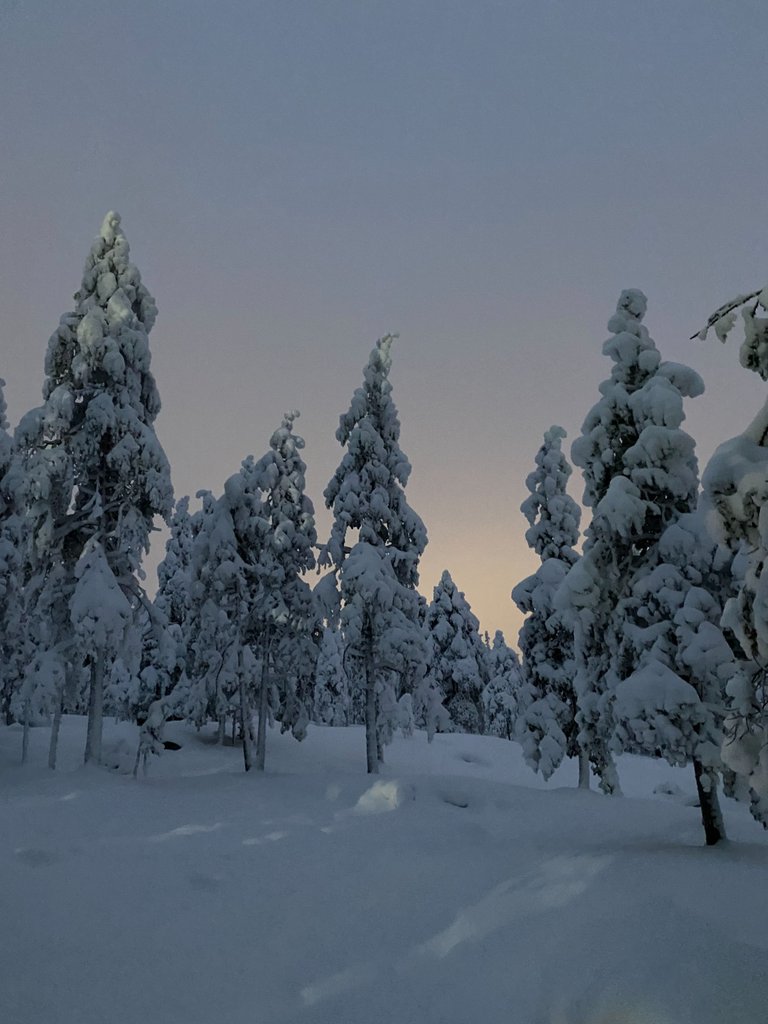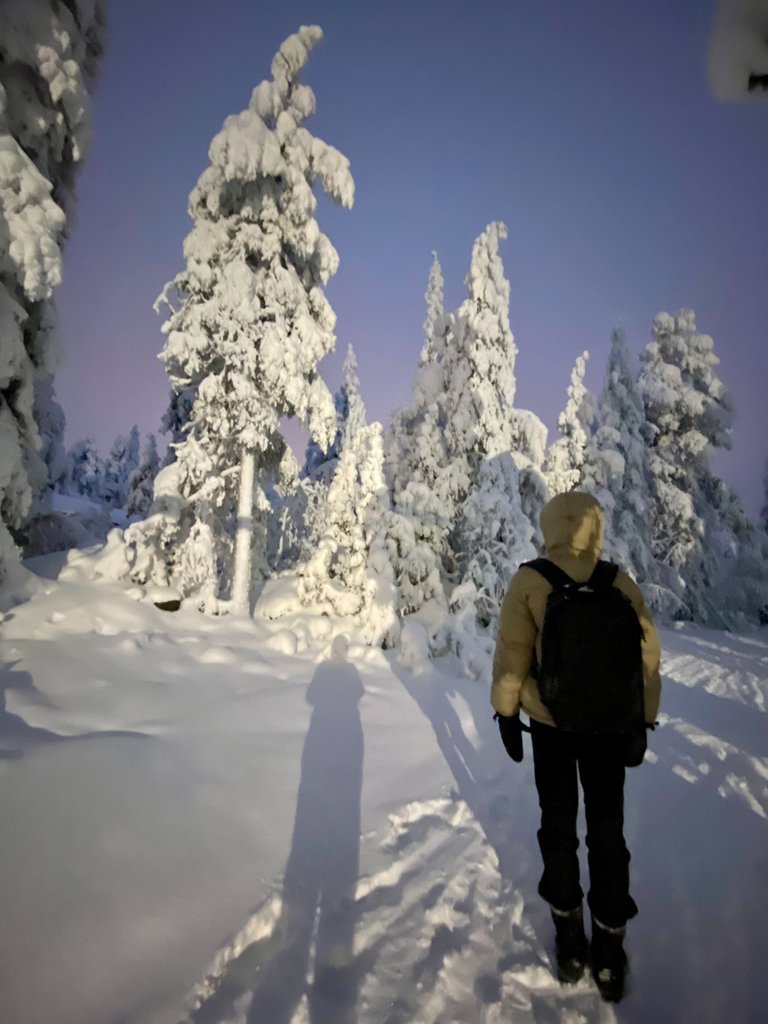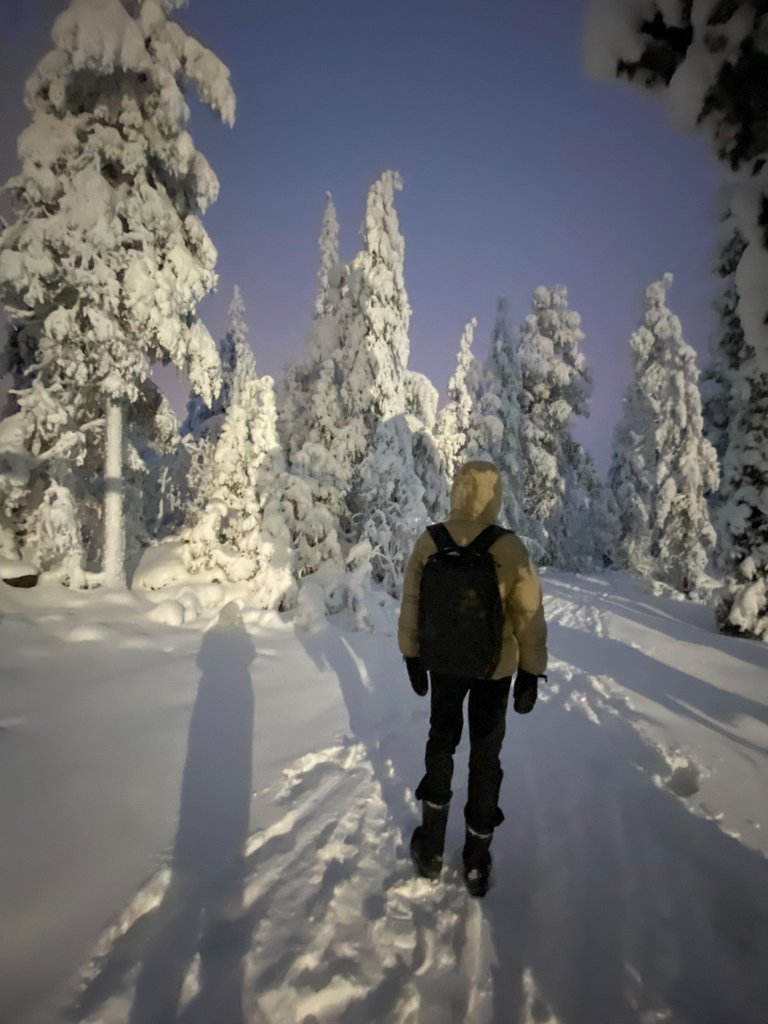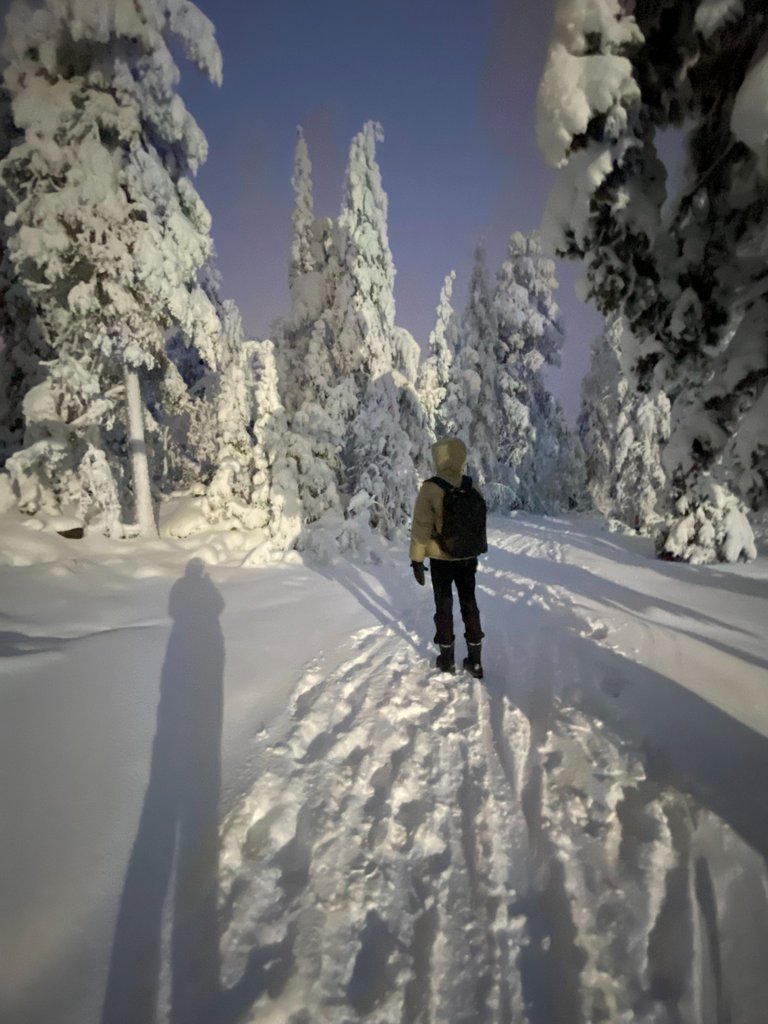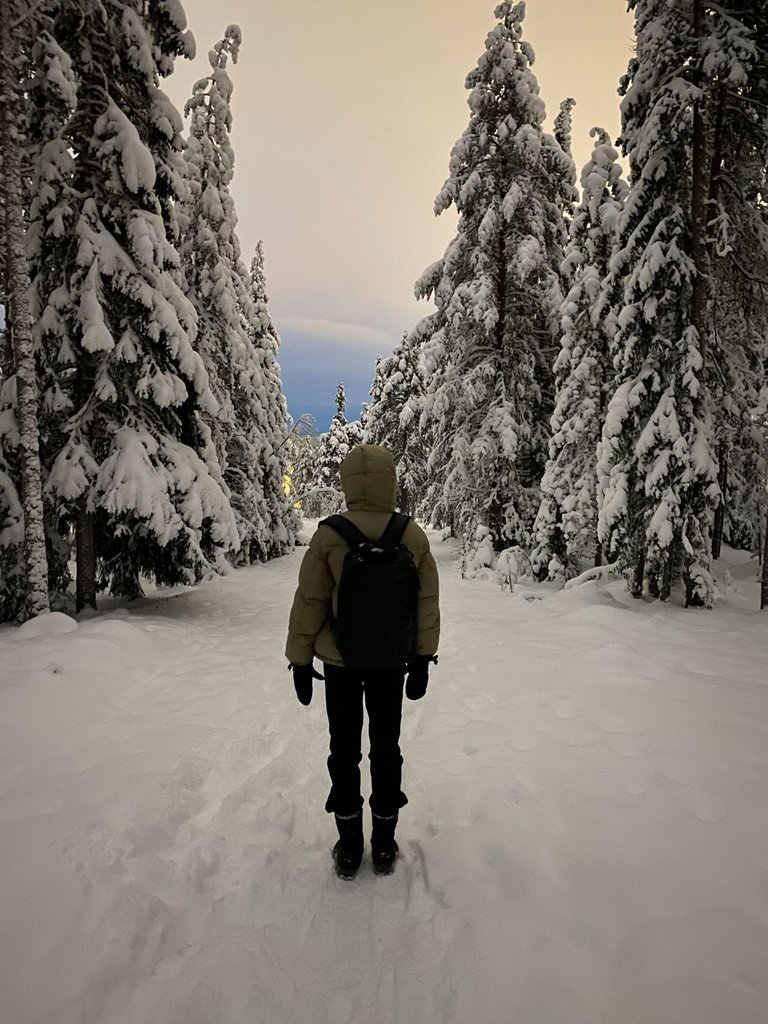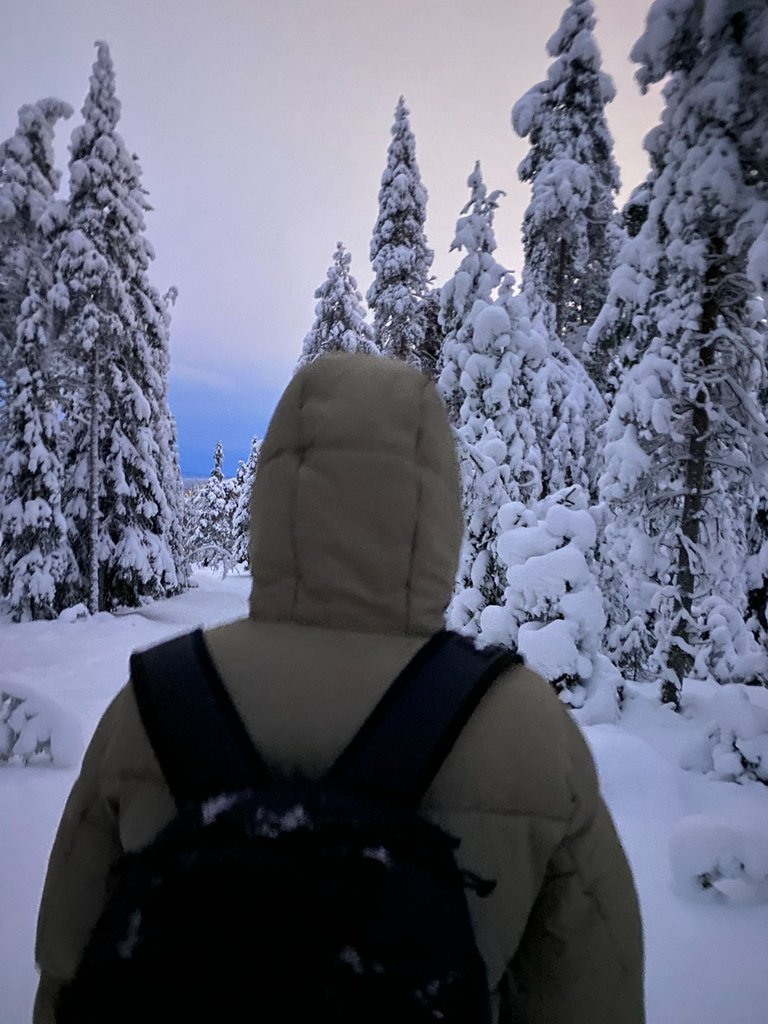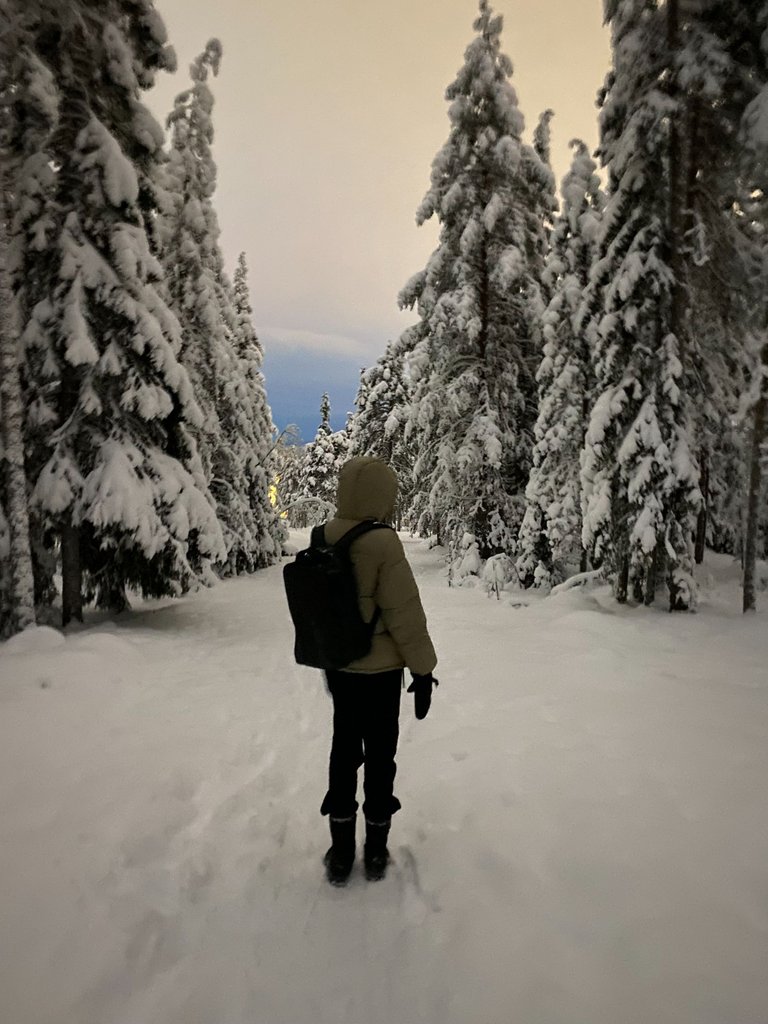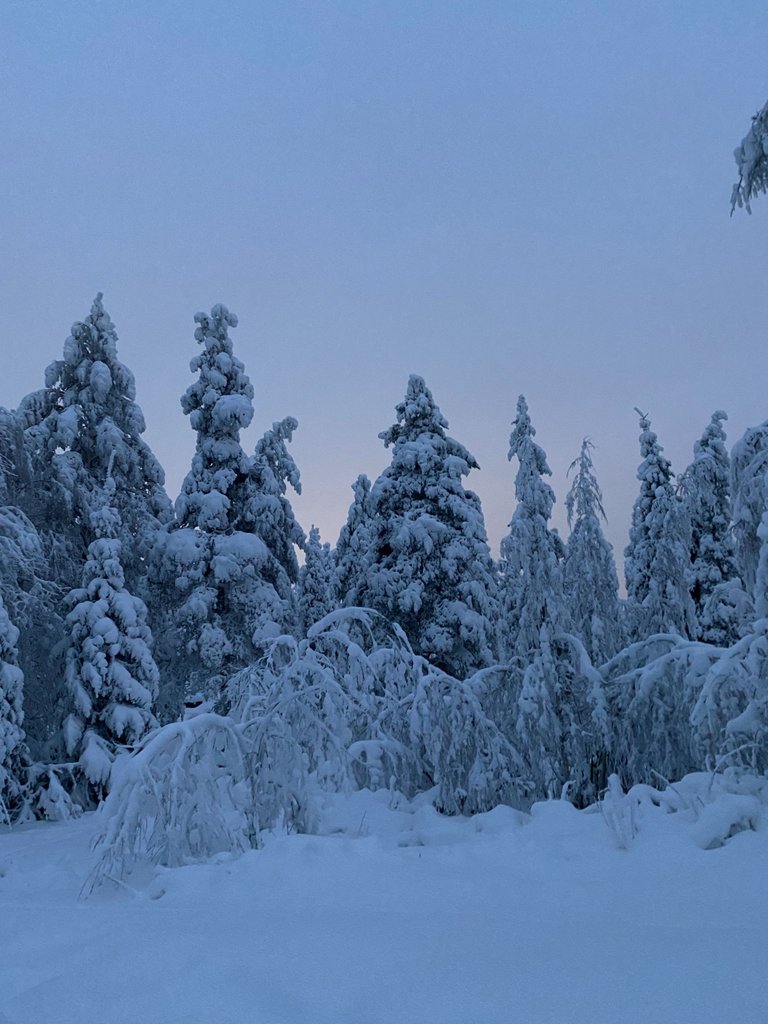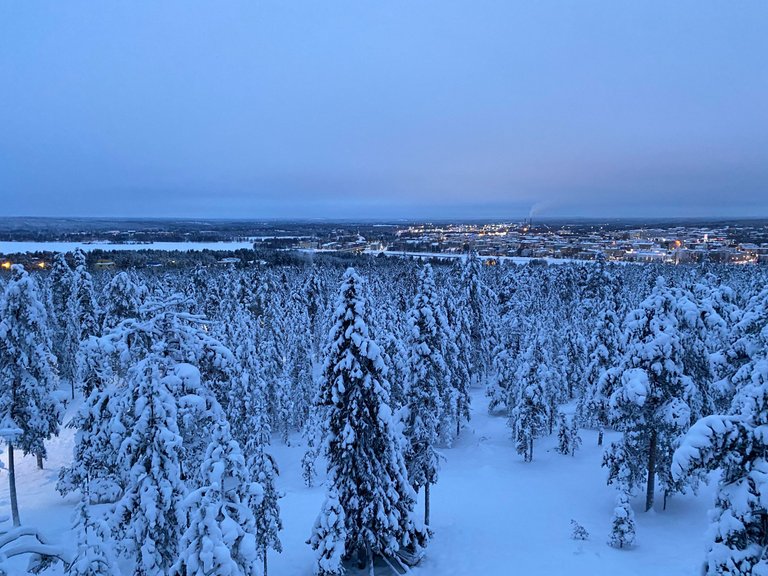 Although it was only 3pm, it was already almost dark - it was always like this in Finland in winter haha. But eventually we students got used to it, although it took a while because it could also easily make depressed, but with a little vitamin D capsules you could help yourself well. It's just great to hike through such a high snowy landscape, even if it's a bit exhausting. There were not many people out there, and so we were hiking alone most of the time. After an hour we had a nice view from a kind of high seat, I do not know exactly how to call these things, but hopefully you know what I mean.
This was a meeting place where the students would come especially whenever there was a view of Aurora. Because here you could have a really nice view of these lights! There are a few spots around Rovaniemi that are very popular for this and this is one of them. Below is an extra place to make a fire. This was also totally different from what I knew from Germany: In the forest there were places to make campfires with huts with extra wood in them and nicely made places. Or I just never had the luck to see something like that in Germany?!:) In any case, we were very happy when we saw this place for the first time and there were also many student evenings here - a nice memory!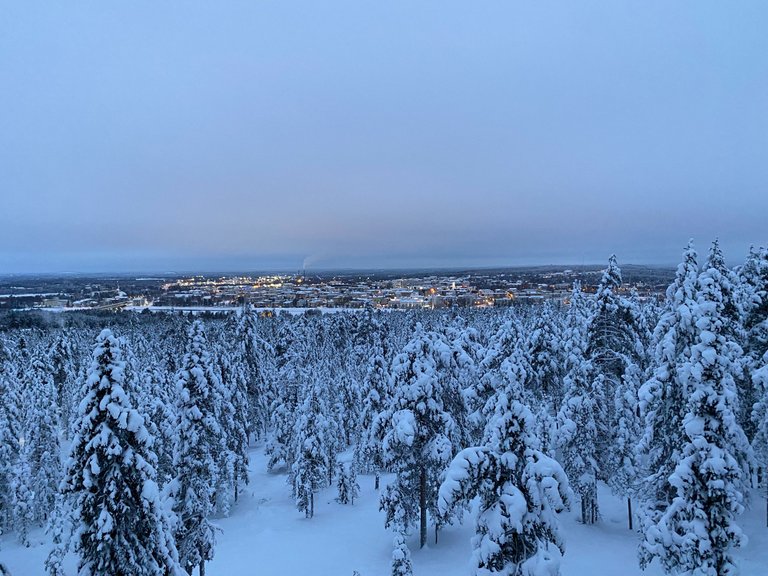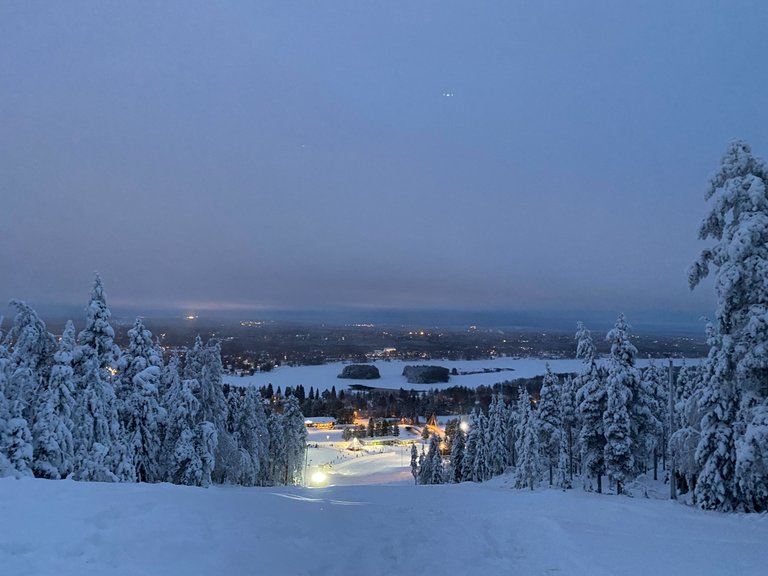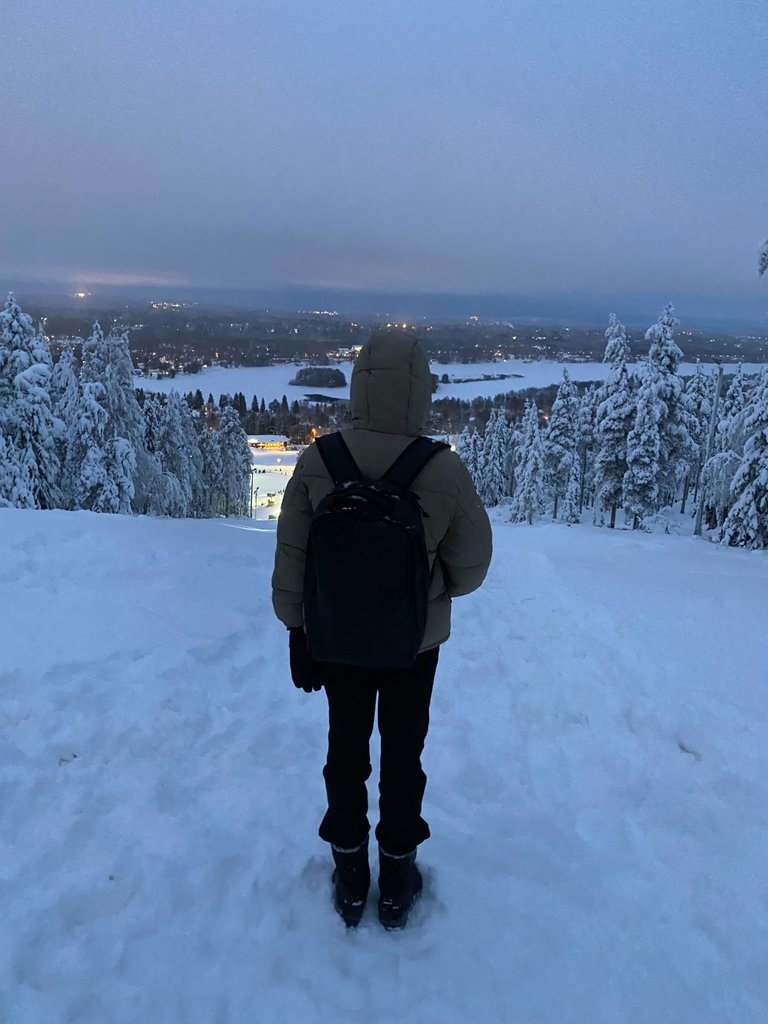 From the high seat we went on, and suddenly we were right next to the ski slope where people were going down. Of course, it was not planned that way!:) But it must be said that the paths and the signs were totally snowy and icy, so that we have mostly footprints behind.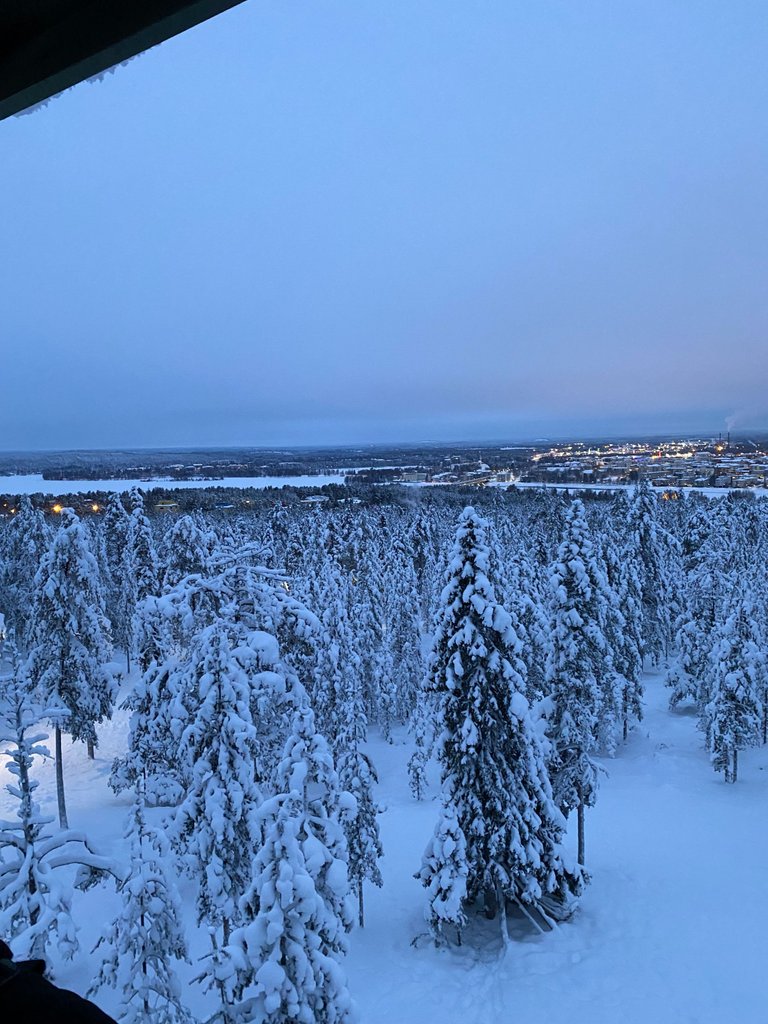 Skiing in minus 17 degrees - a different experience, but it was great!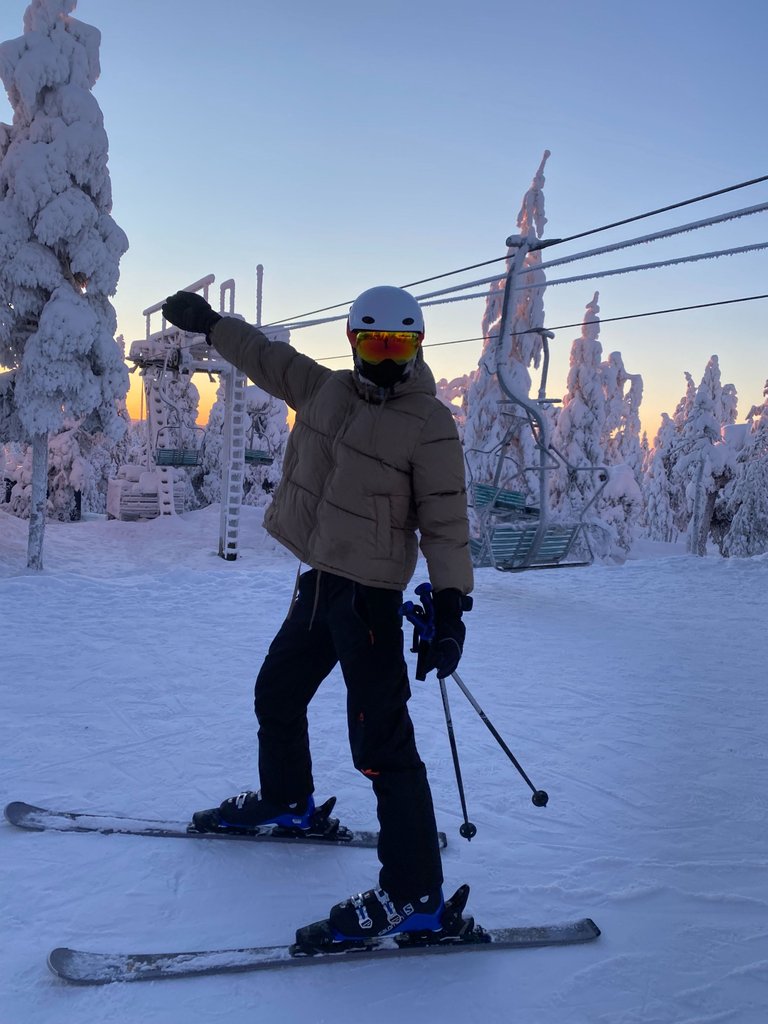 A day later she was feeling better, so we went to the ski resort, this time by car instead of by bus. The buses unfortunately run very unpunctual and sometimes not at all as it is on the plan, so we wanted to make sure that we still get the sunrise while skiing. And there it was! First we got the equipment (helmets and ski goggles we had bought before) and then it went for us first directly on a small beginners hill. There was quite a lot going on, because here were especially many families with their children. After a few times downhill we felt a bit safer, so we dared to go to the big slopes (which still did not go steeply downhill). So you also got from the lift a beautiful view of Rovaniemi behind you.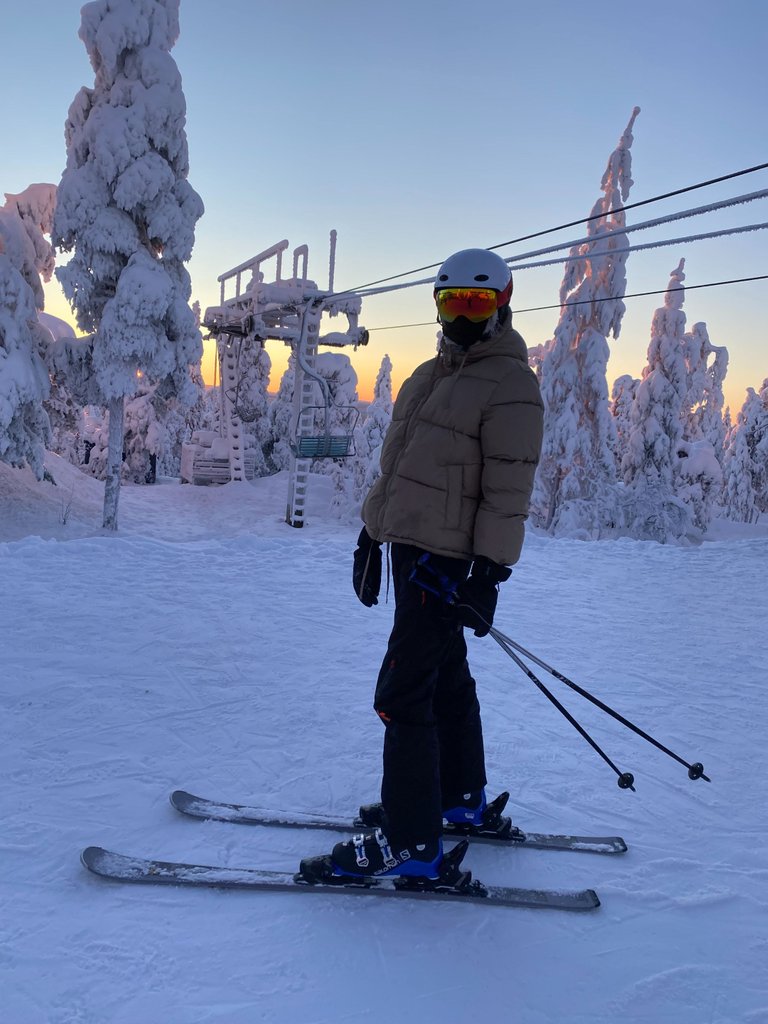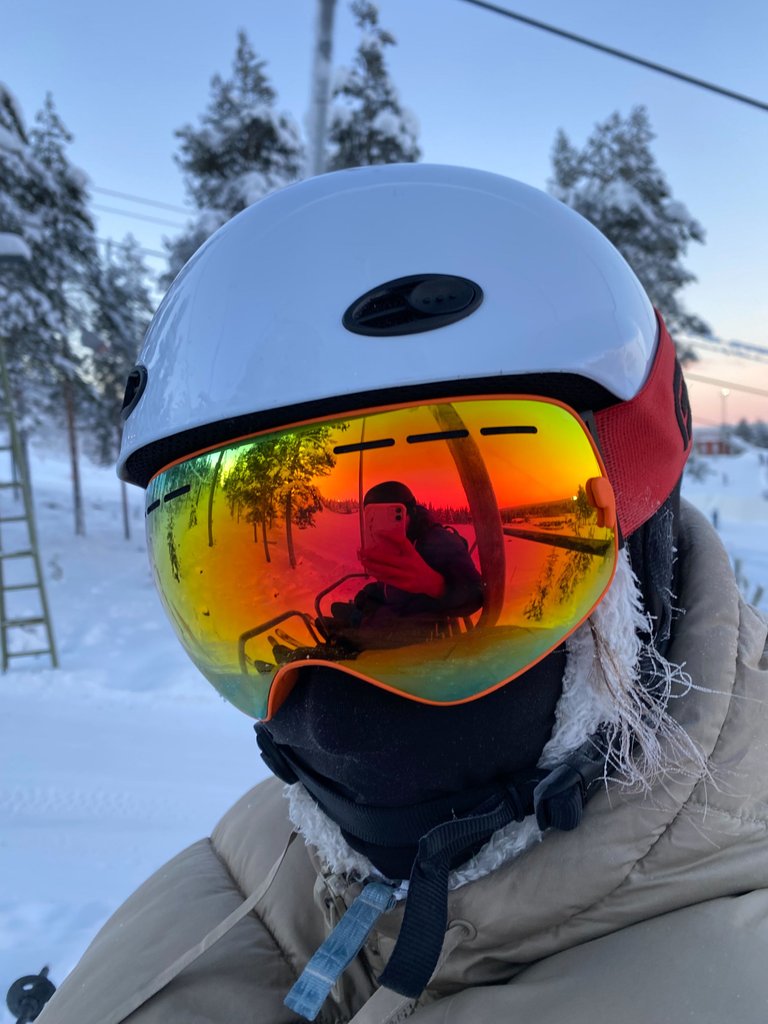 Here you can see my Harare, which were already quite white from the cold haha. But because of the ski goggles, the eyelashes are not frozen together - that was usually the case at these temperatures, not to mention the nose hairs that were thick after 10 seconds haha. I had never experienced anything like that in winters in Germany.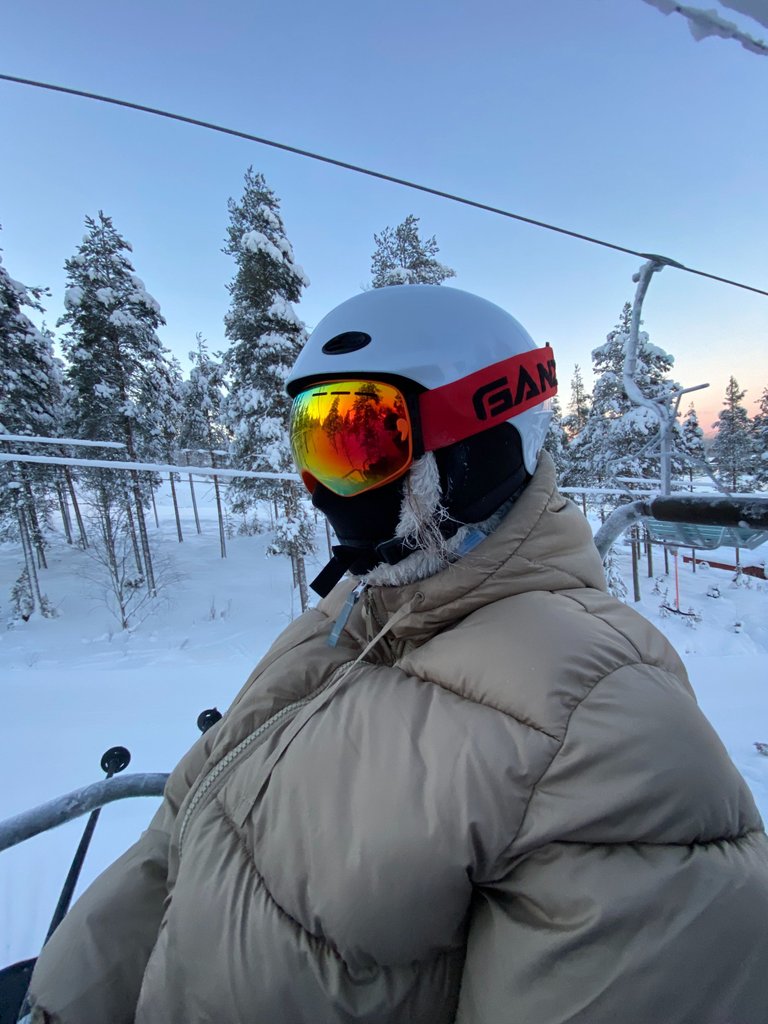 A few times the lift stopped and I was afraid that there was a defect in the system. Because that day it was very cold, it was minus 17 degrees (below was a display in front of the lift, where the number of degrees was always currently measured) and it was very cold, but after half a minute it went on again at the latest. And the skiing was really nice! Of course, I would prefer it a bit warmer, but for that you had a totally beautiful view of this winter landscape.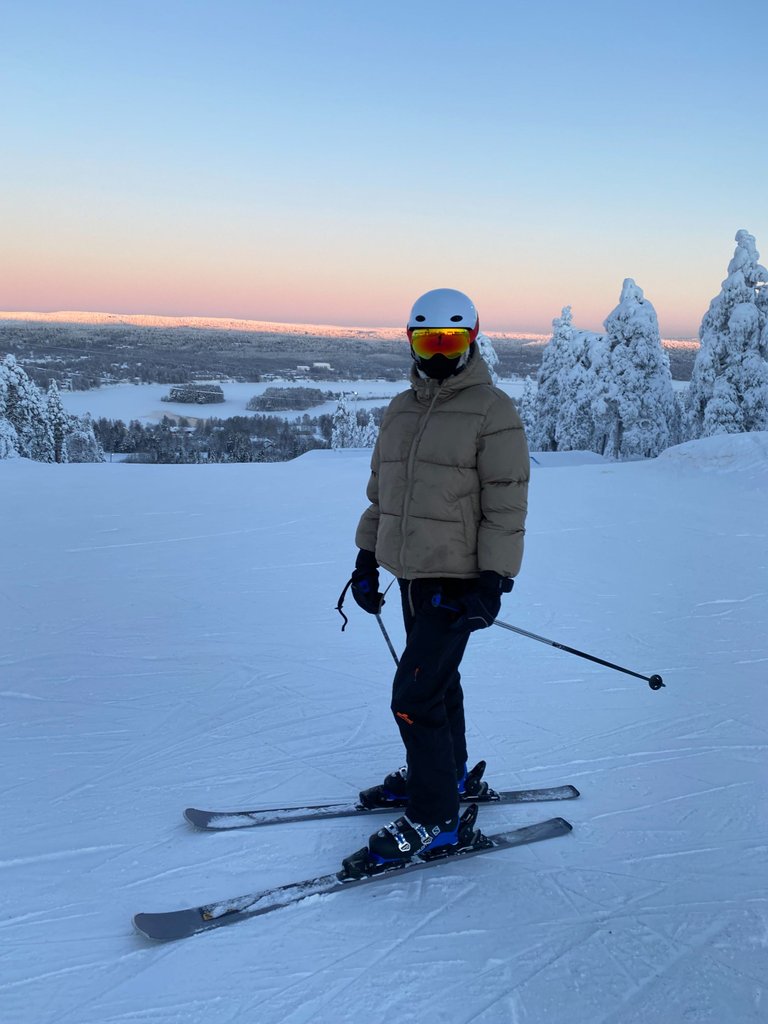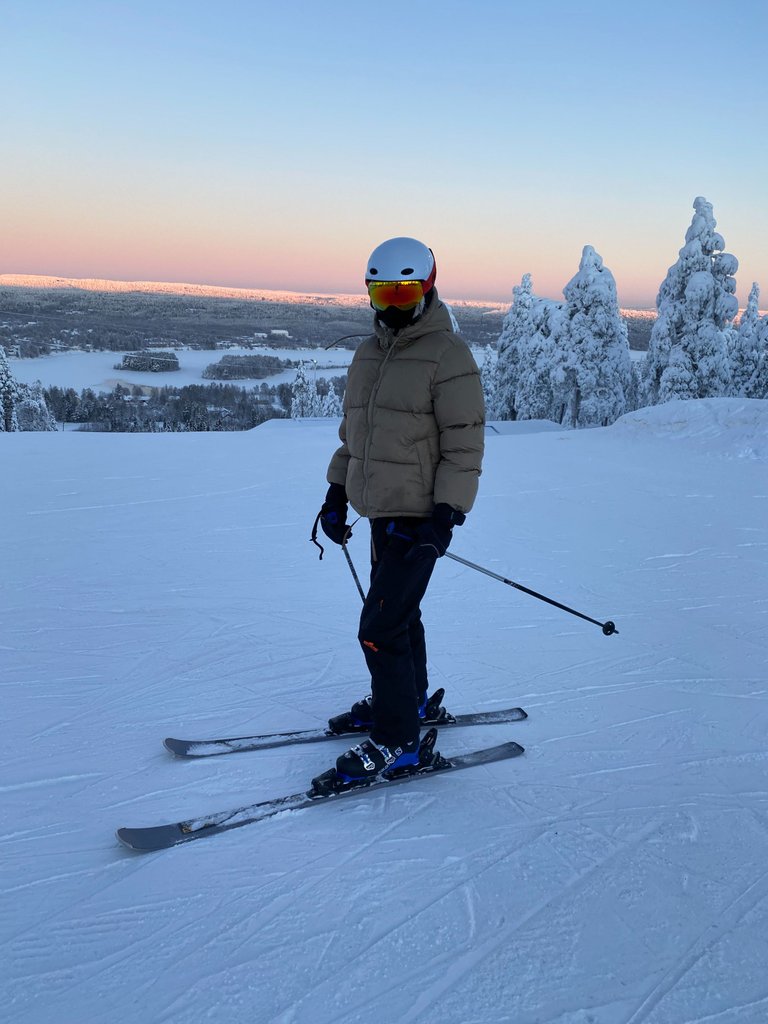 I hope you liked my post, a skiing holiday in Lapland is definitely recommended in winter, and you have 100% snow certainty:D Even if it can of course be very cold (there was one evening when we had minus 25 degrees in Rovaniemi), it's definitely a great experience that I wouldn't want to miss. What I found amazing, however, was that even on this day, when it was so cold, many families were skiing with their small children. I hope they had enough warm clothes on because we also needed to take a break from the cold and sat down to warm up.
One tip that saved us was hand and foot warmers. Without these, our hands and toes would probably have frozen off.
I hope that I can make a new contribution soon and that I don't get too busy learning. Otherwise I wish you a nice week, take care!