Hey guys,
Today I want to tell you a little bit about our husky tour in Lapland, Finland. We had booked this tour well in advance, as these tours are often fully booked well in advance. So we stood at a meeting point, which we had been sent by mail before, and waited for a small shuttle bus to pick us up at the Apukka Resort, because we had booked the tour through the tour operator Apukka. This operator is known in the region, because they offer not only husky tours, but also campfires, snowmobile tours and many other things.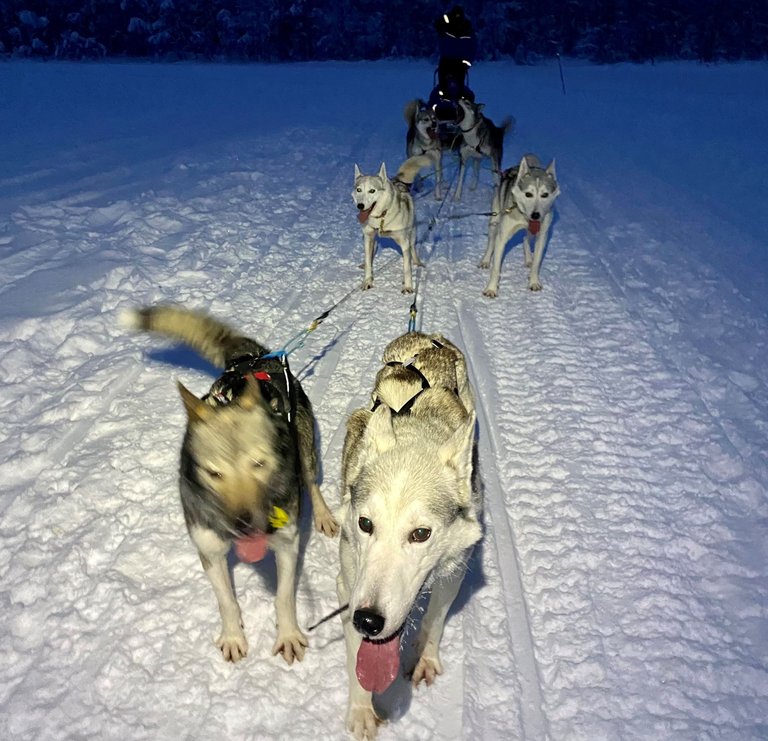 So now we were standing at the meeting place waiting, but no one came. After waiting three quarters of an hour, I asked a nice passerby for his cell phone (mine unfortunately had no reception) and he was so kind and gave me his phone. Unfortunately, I was directly pushed away when I called the resort, so we first went to the cafe. Arrived in the cafe we wrote an email and about five hours later they answered us back. After some back and forth writing we had agreed that we could do a tour on another day and get some discount.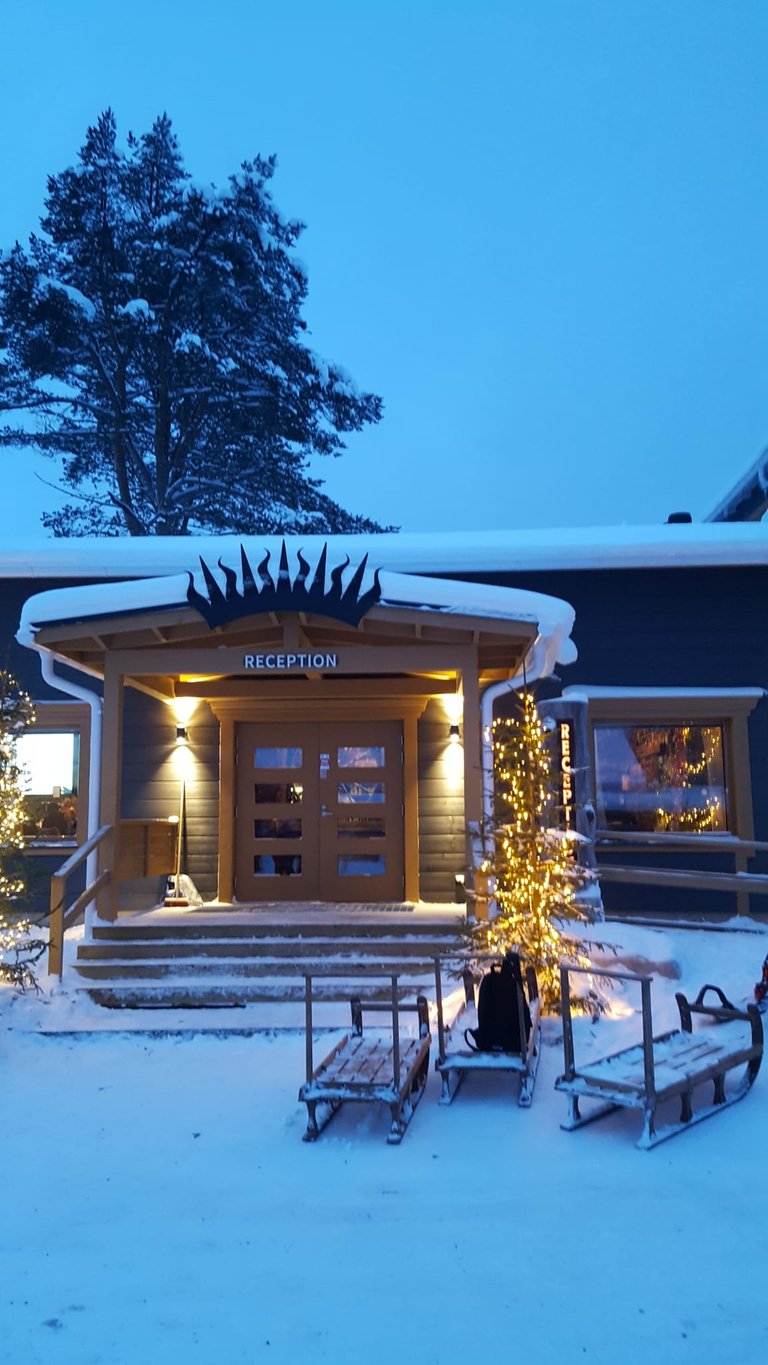 The day after next we were picked up by a big shuttle bus and driven to the resort. Here you can see the entrance of Apukka Resort, it was all very nicely done, I thought. There were about 30 of us on the bus, so it wasn't a "private" ride there and it didn't feel as exclusive as Levifoxfires for example, which was just gorgeous, but you can't always expect something like that.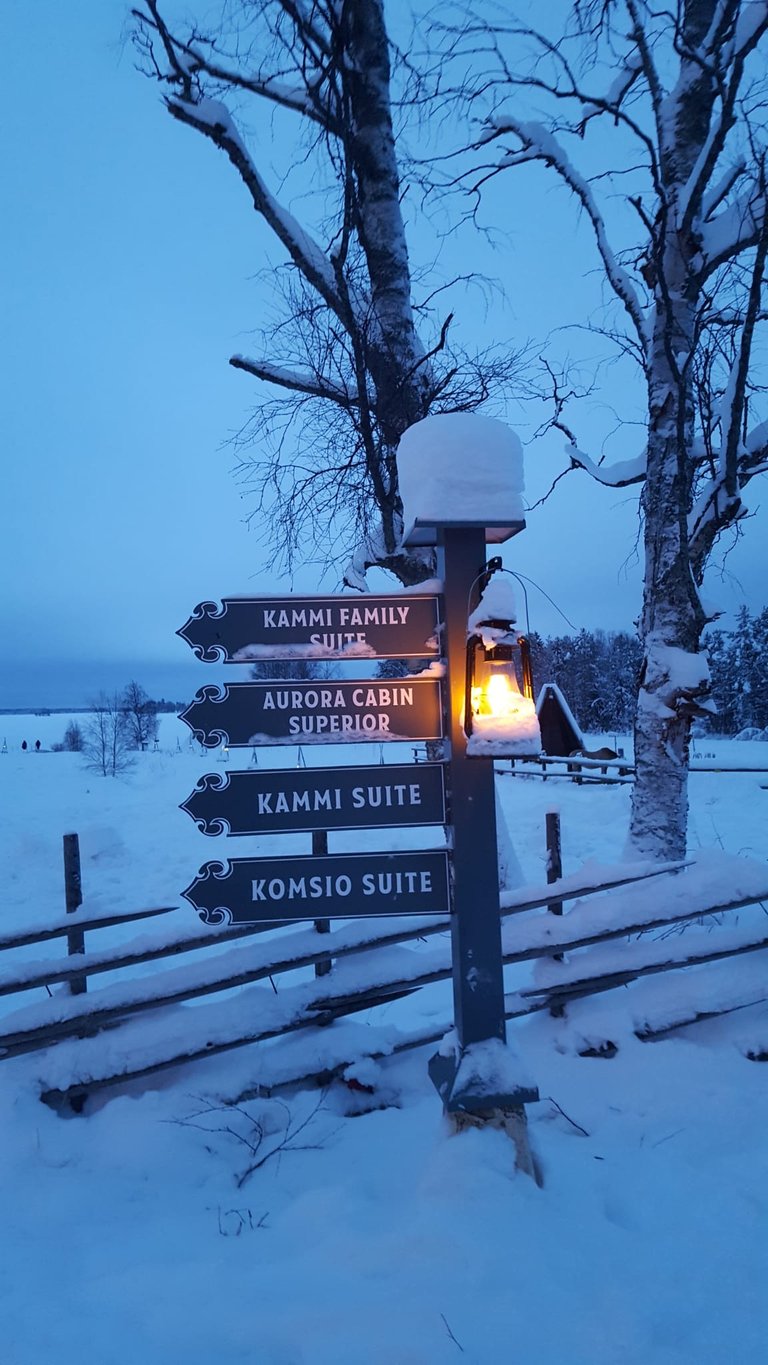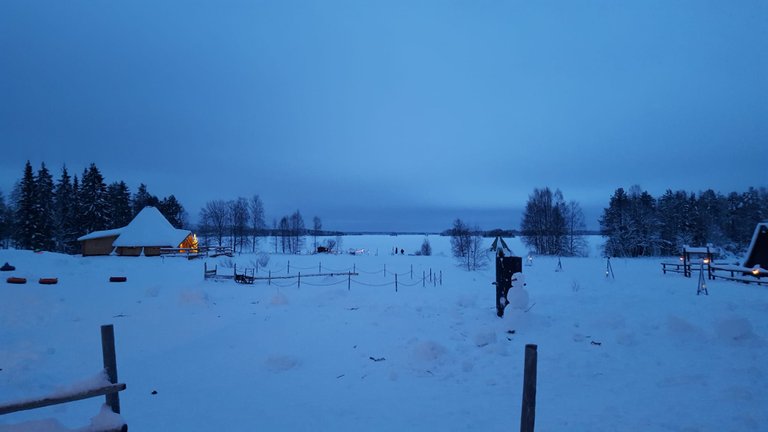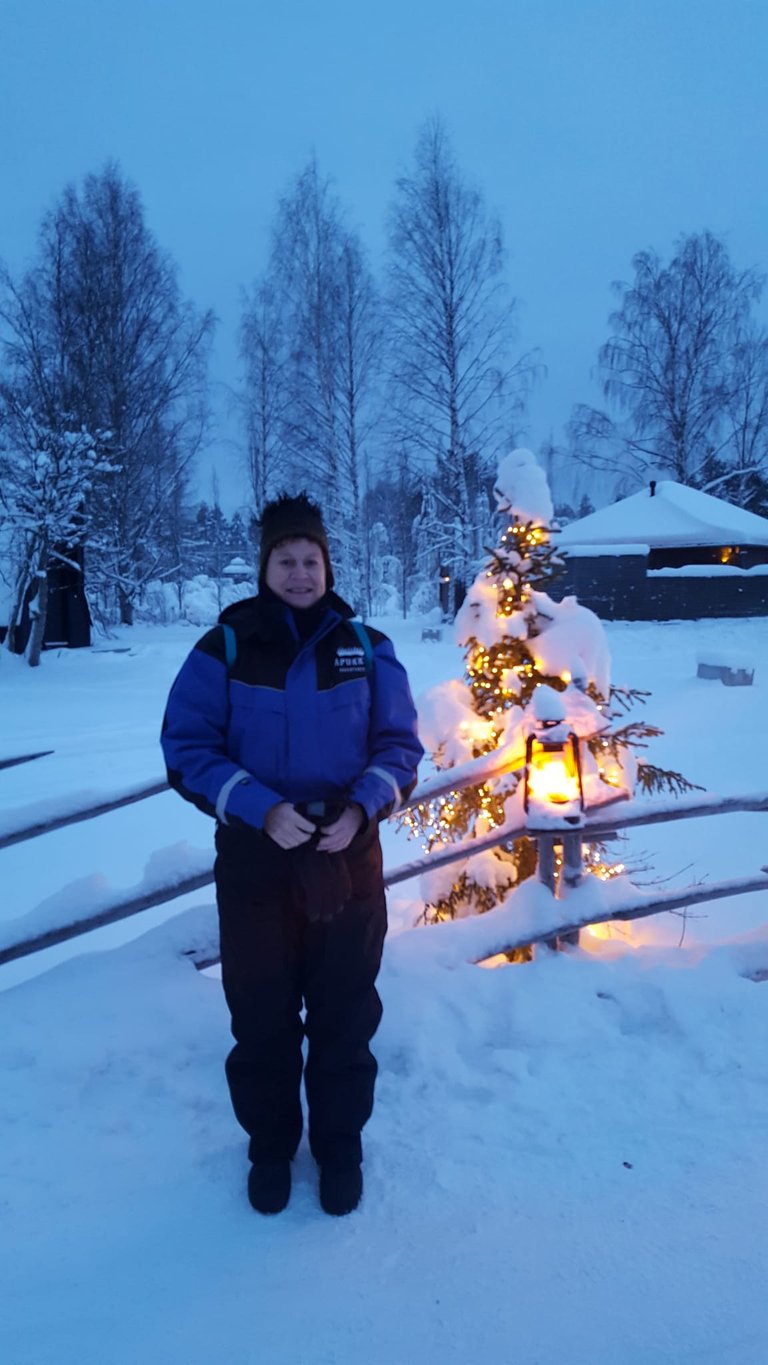 Here you can see my mother, half an hour or so before the sleigh ride.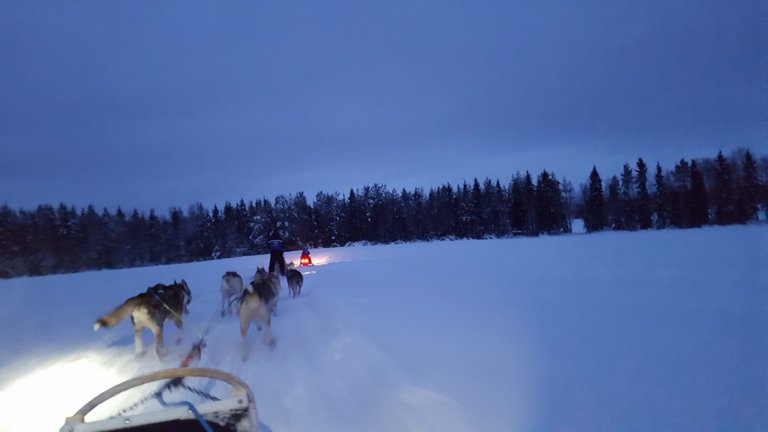 When we had changed our clothes, we went with a small family and the guide to the huskies, which were a little outside. There they explained us how to drive the sled (I was a little surprised that you had to drive the sled yourself) and you could ask other questions.
After that we went to the huskies in the sleds. In the beginning I had some problems with understanding and didn't press the brake, our guide got a bit louder. But later it worked out well, I just needed some practice.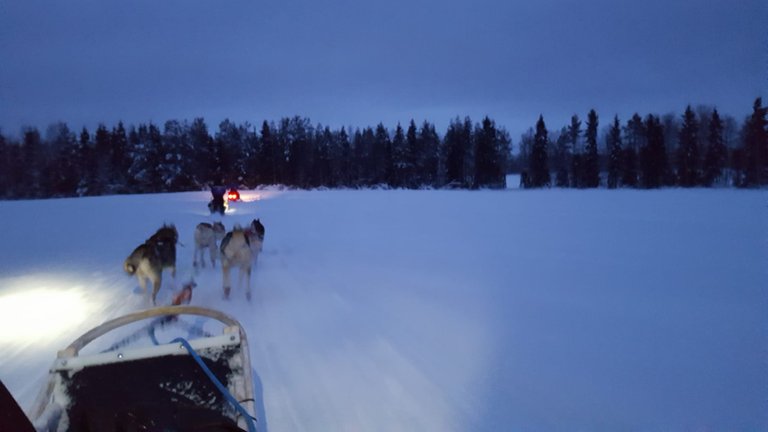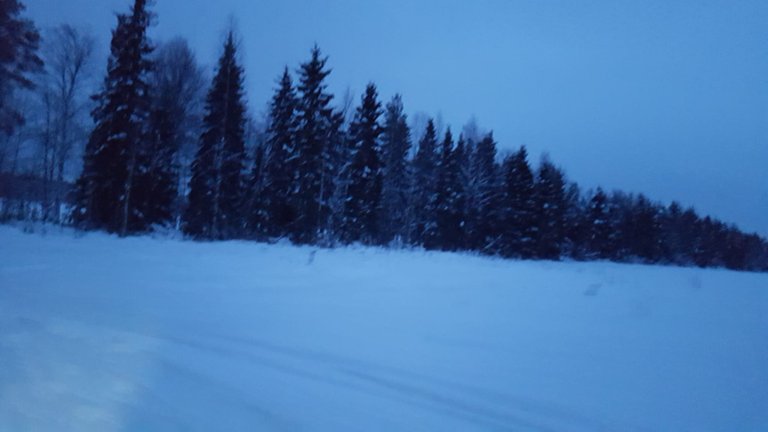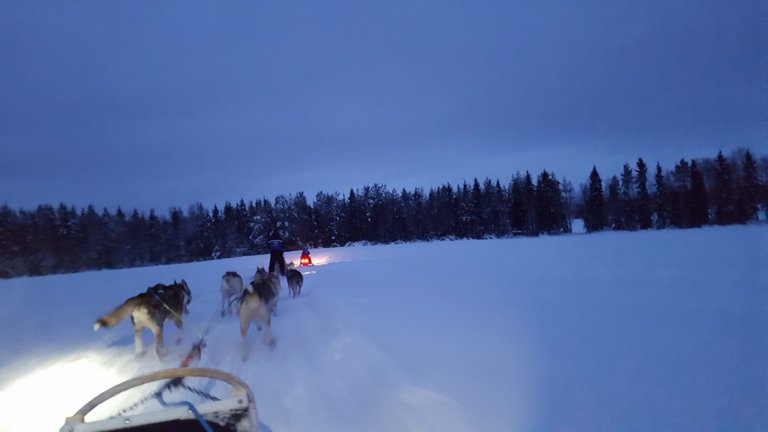 Here you can see some pictures from our husky sledding trip. I really enjoyed the ride, yet I was a little disappointed because I thought maybe we were going through a nice forest trail or something. But we drove through a short piece of forest to a big area and there we were driving around in circles after other sleds the whole time.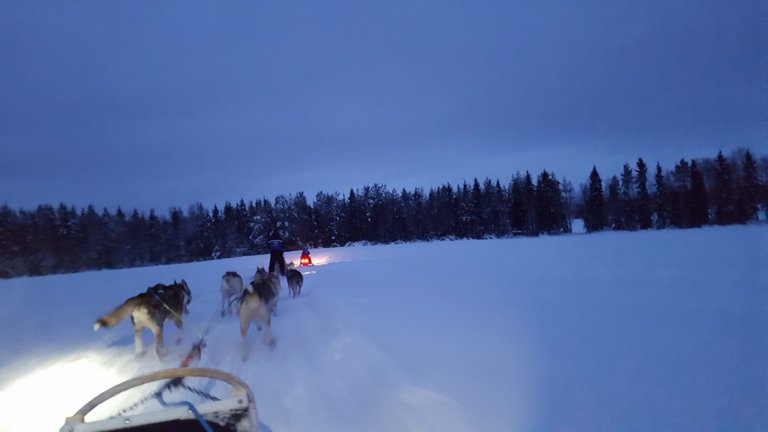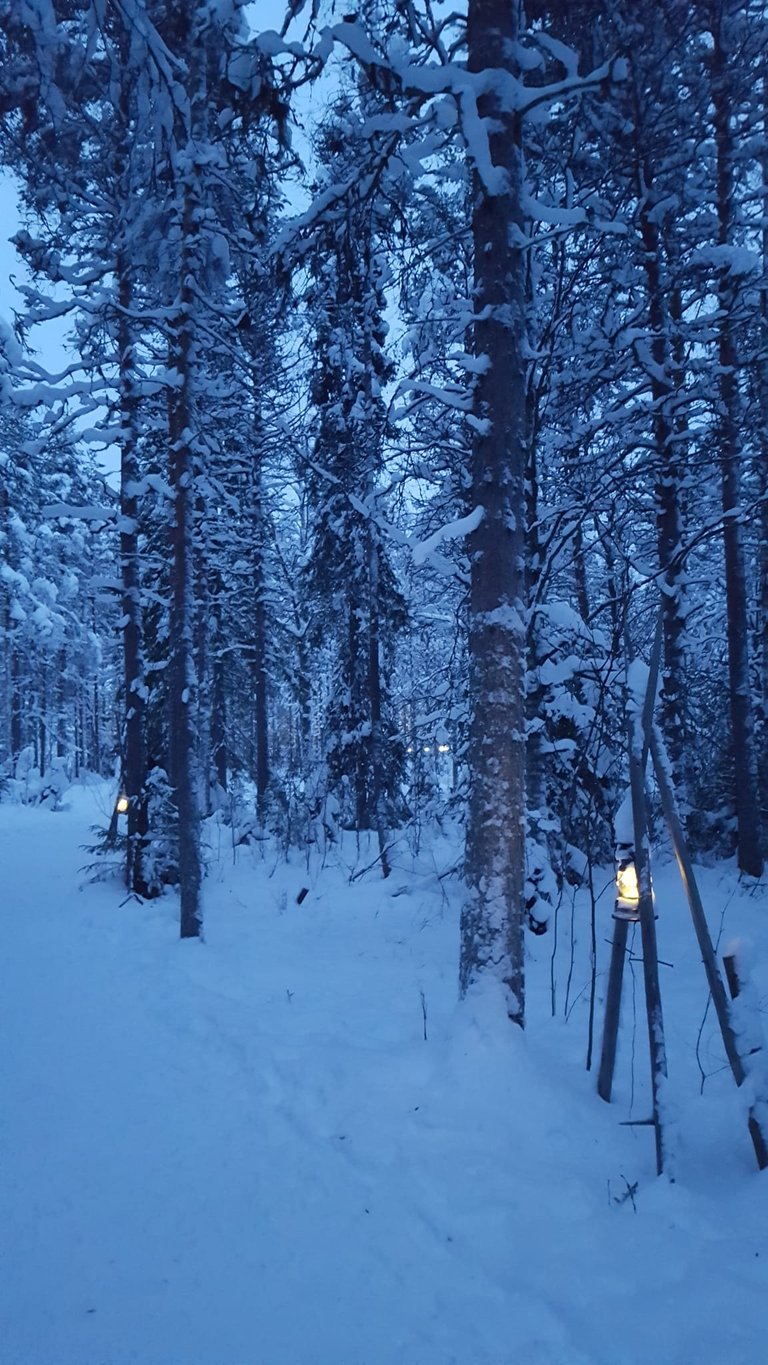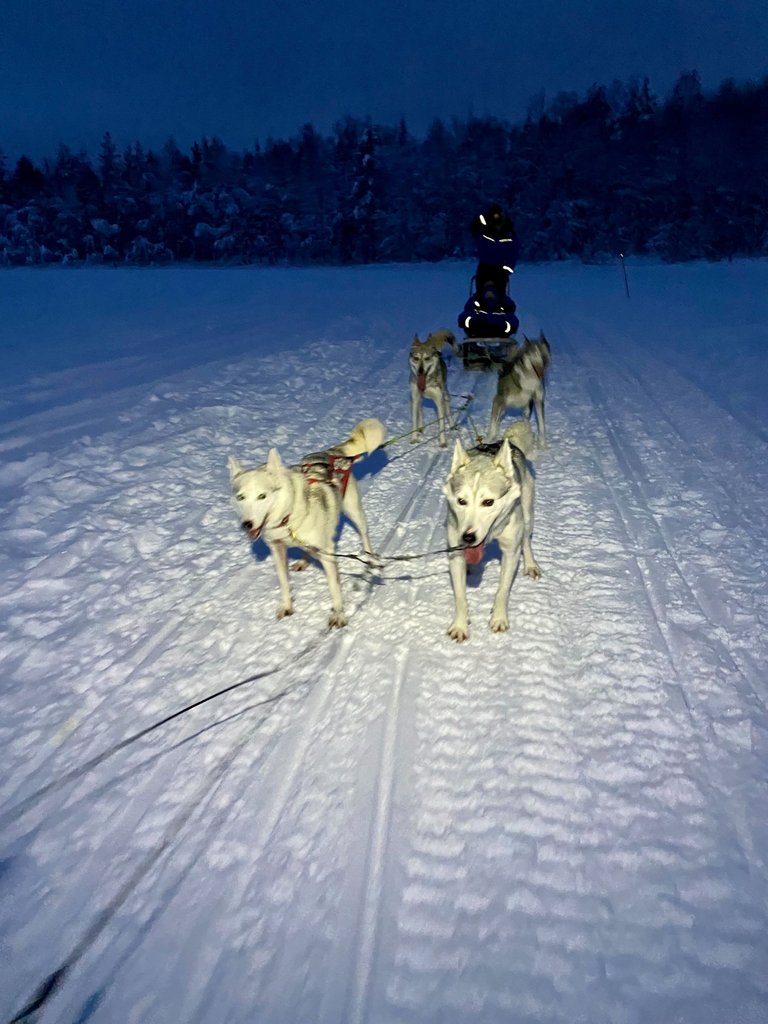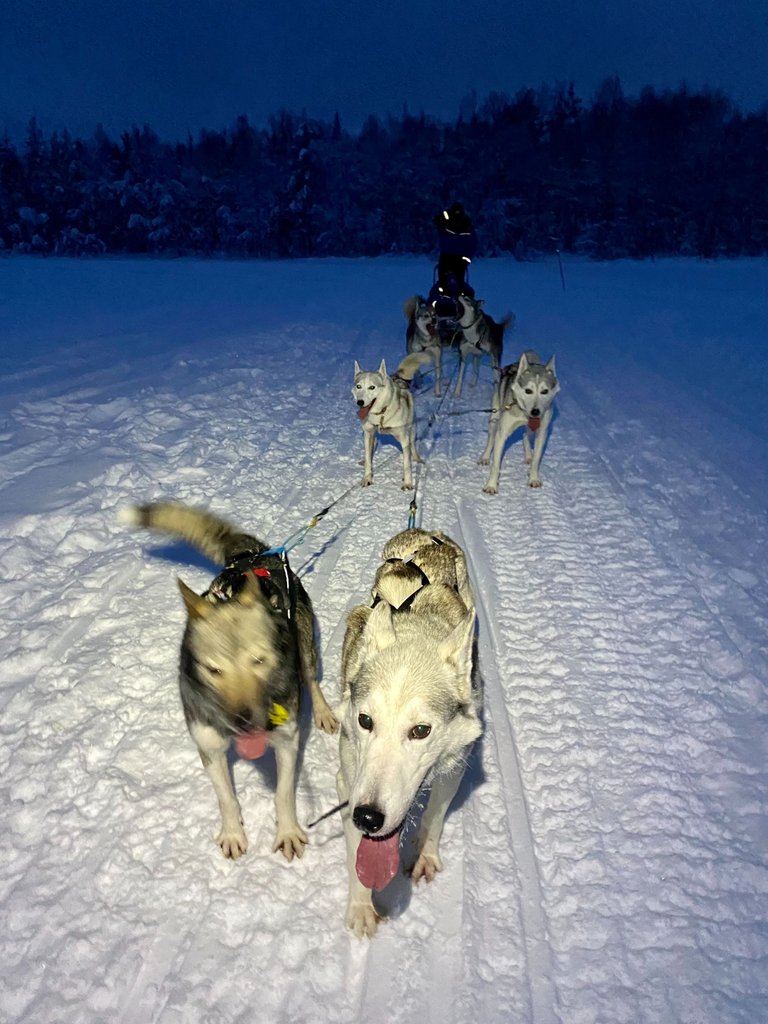 See the two dogs in the back? I think they were fighting all the time haha, maybe that was a duo. Especially at the beginning of the ride, but it became less and less and finally at the end I think they were just not so energetic.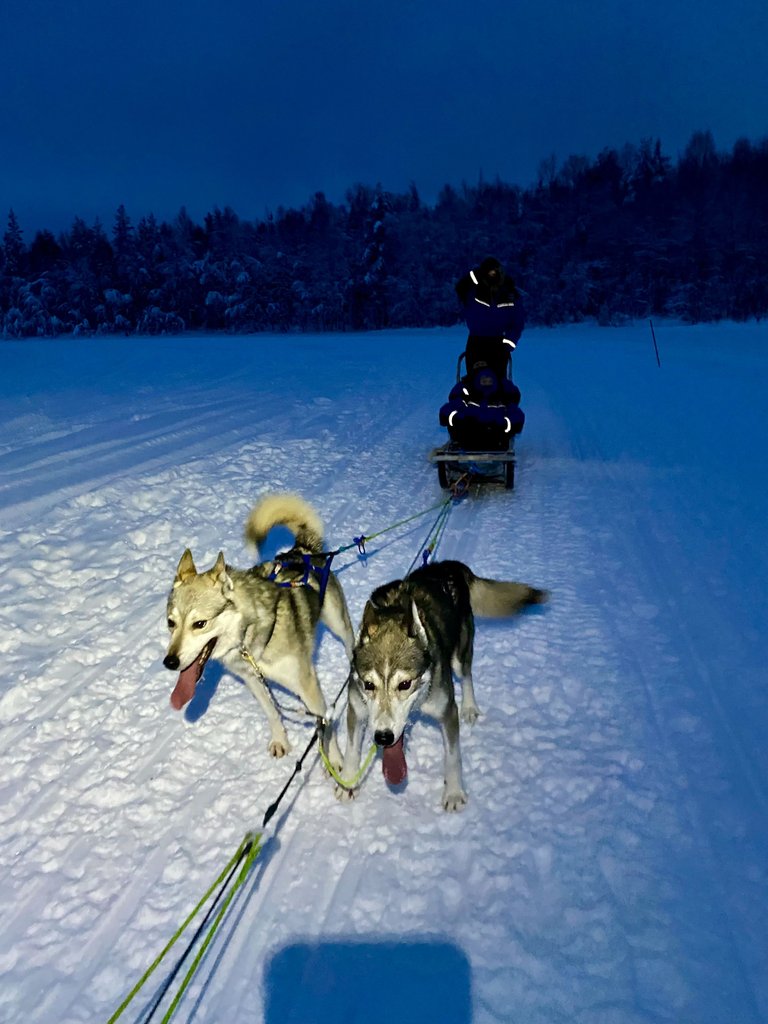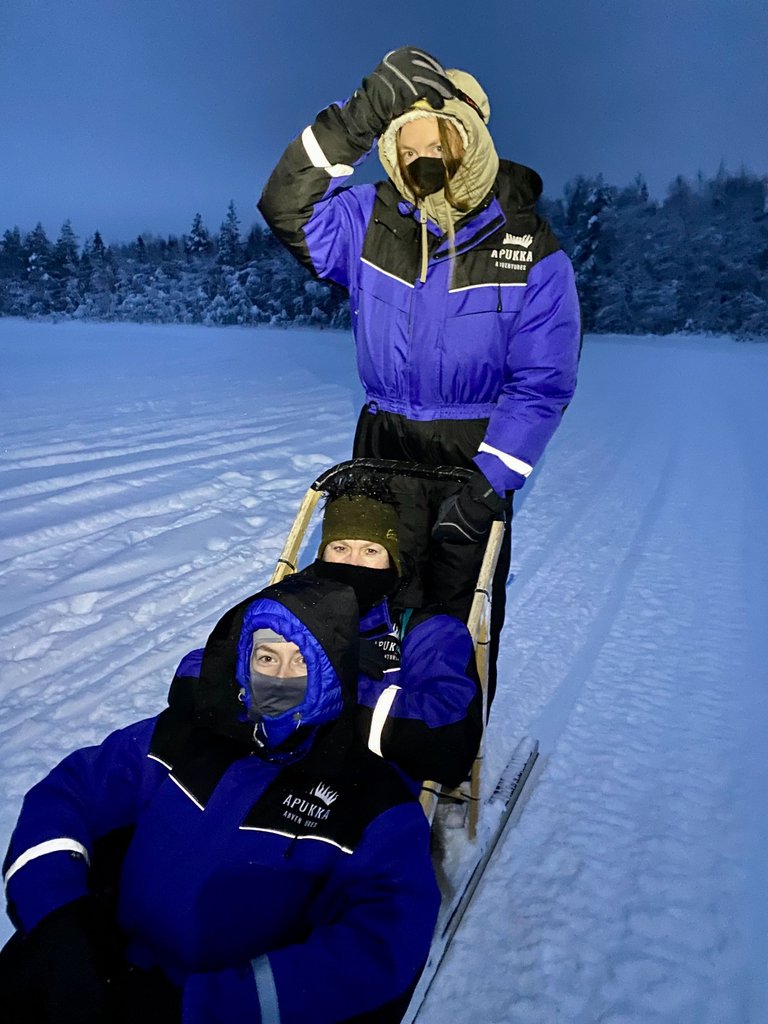 And here's a photo the guide took of us on the sled.
There you can also see the one-piece suits that were provided to us by the resort. At first I thought I didn't need one, but then I put it on and in the end I was quite happy to have taken one, because it was quite cold, especially because you didn't move much in the sled.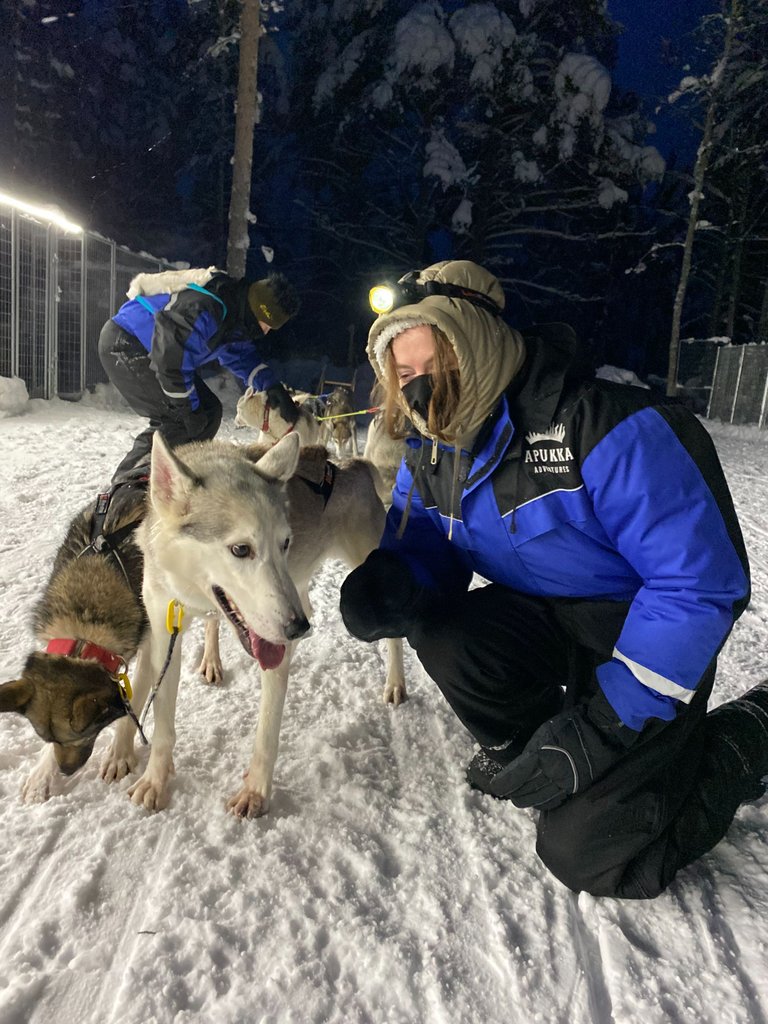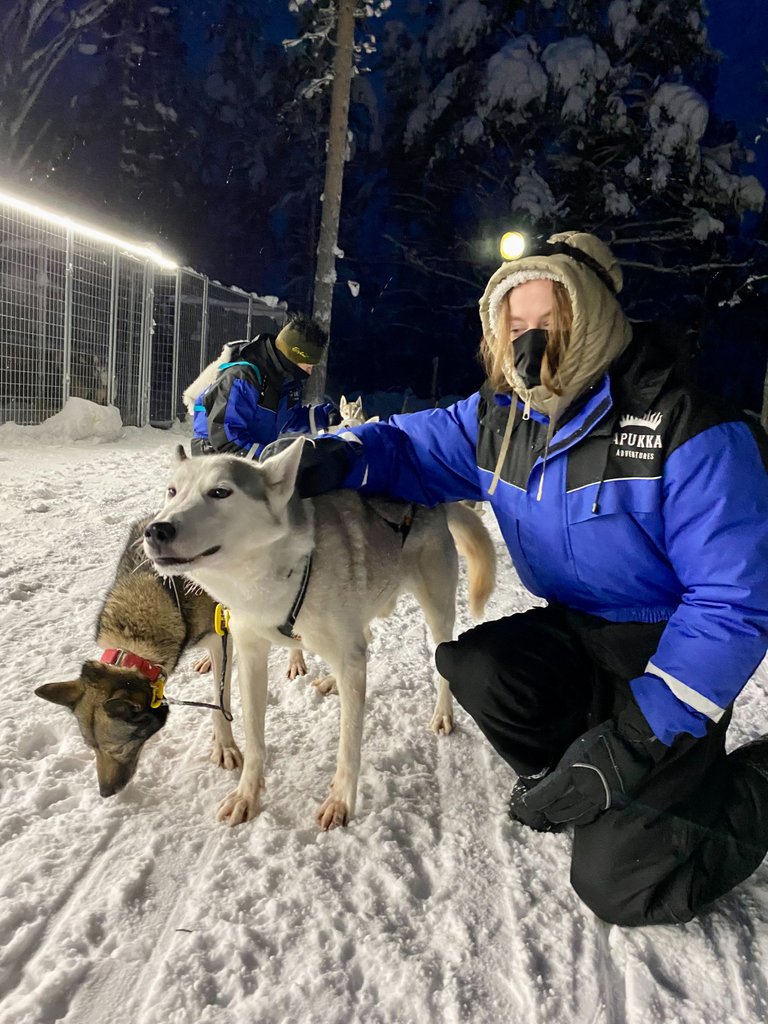 The huskies were quite exhausted after the sleigh ride, at least they weren't half as excited as they were before the sleigh ride. Before, I must admit, I had quite a bit of respect because they barked a lot, the guide said they finally want to go sledding because they have so much energy. Later they were very peaceful and sniffed you curiously - a completely different picture.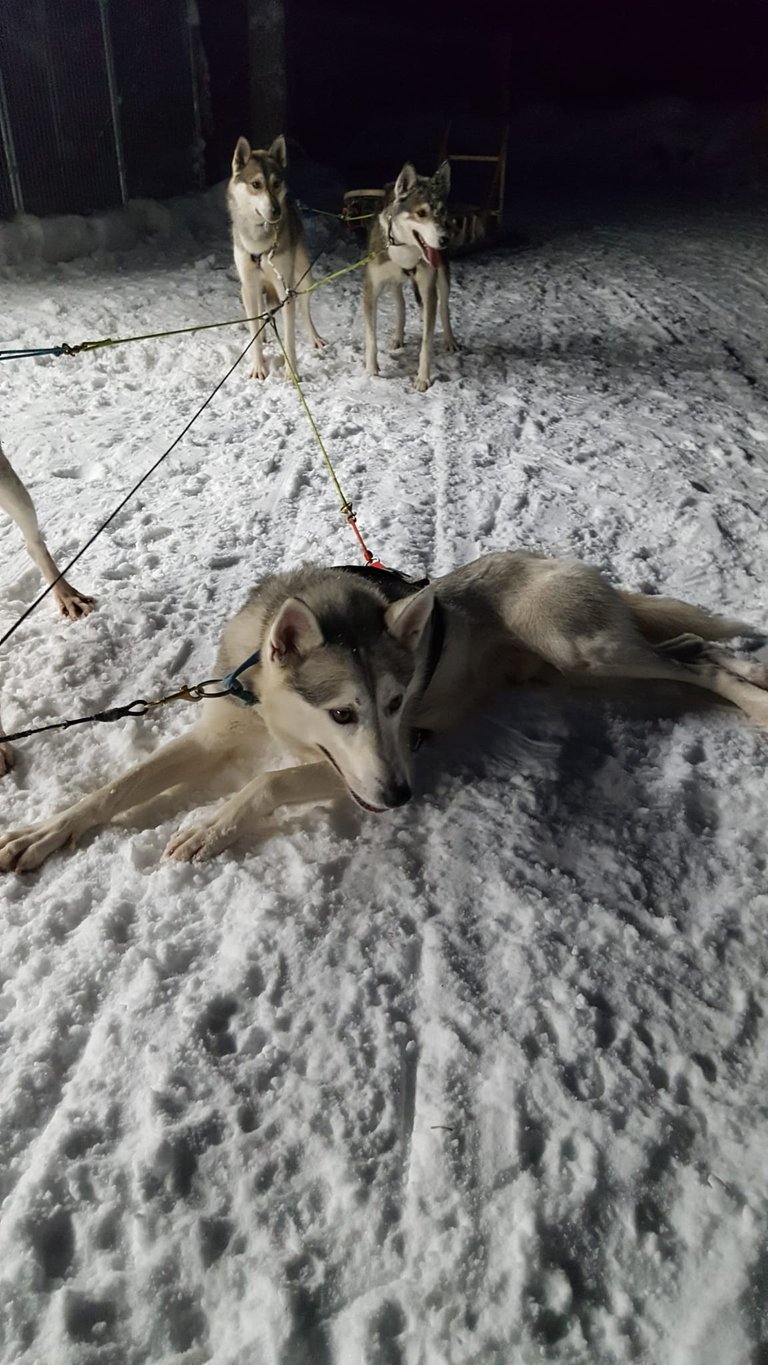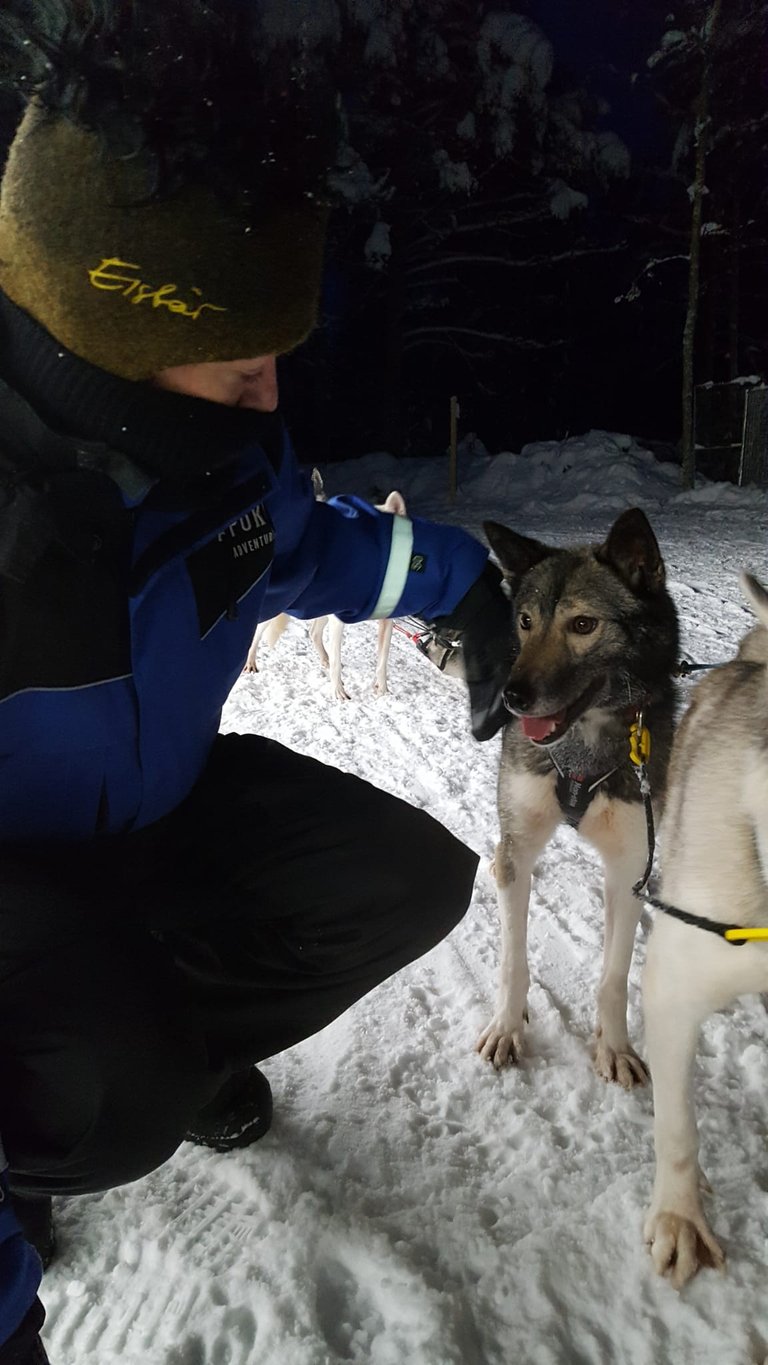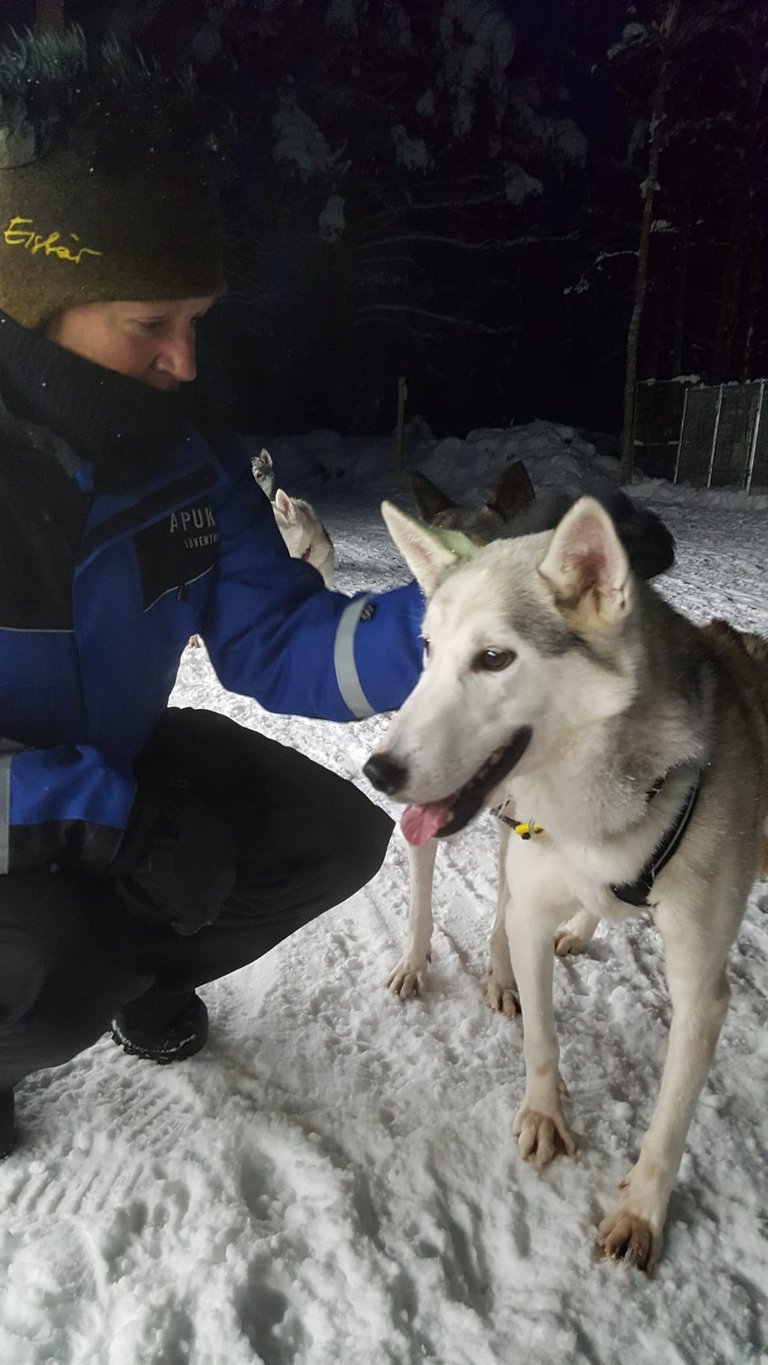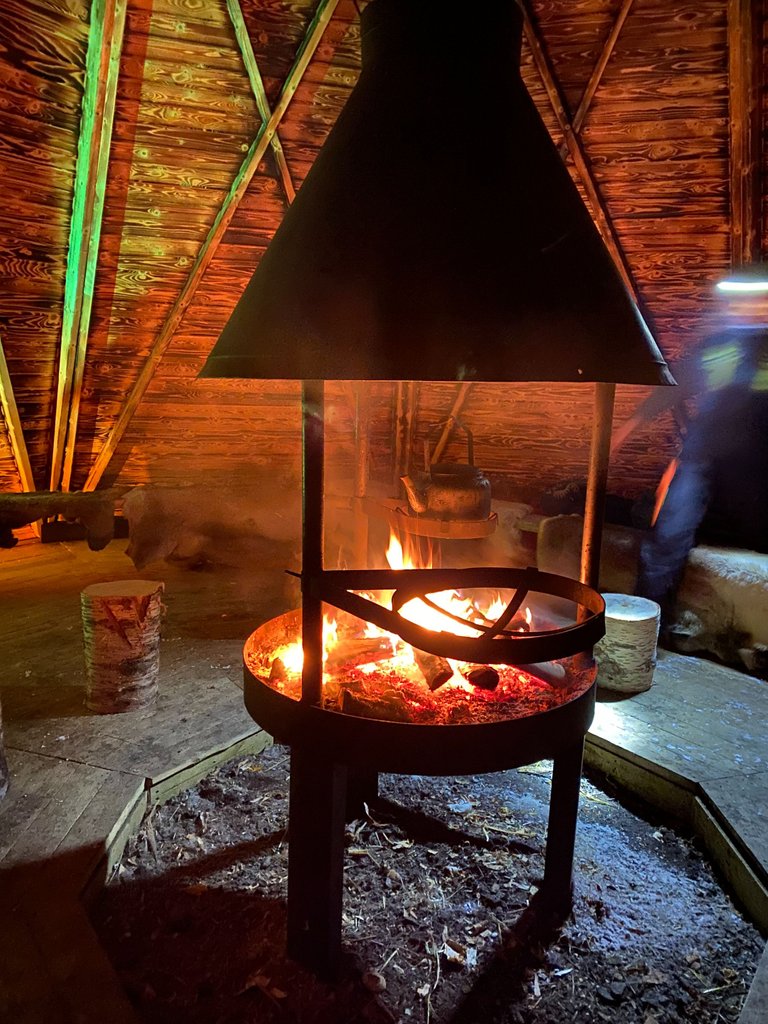 After the sleigh ride, the employee told us something about the huskies and we were also allowed to see the puppies. Later we sat around the campfire in a tent and drank a hot drink (unfortunately I can't remember what it was exactly).
The hut reminded me a little bit of the levifoxfires hut, even if it wasn't quite as cute and small, but it was still very nice and we even had it all to ourselves.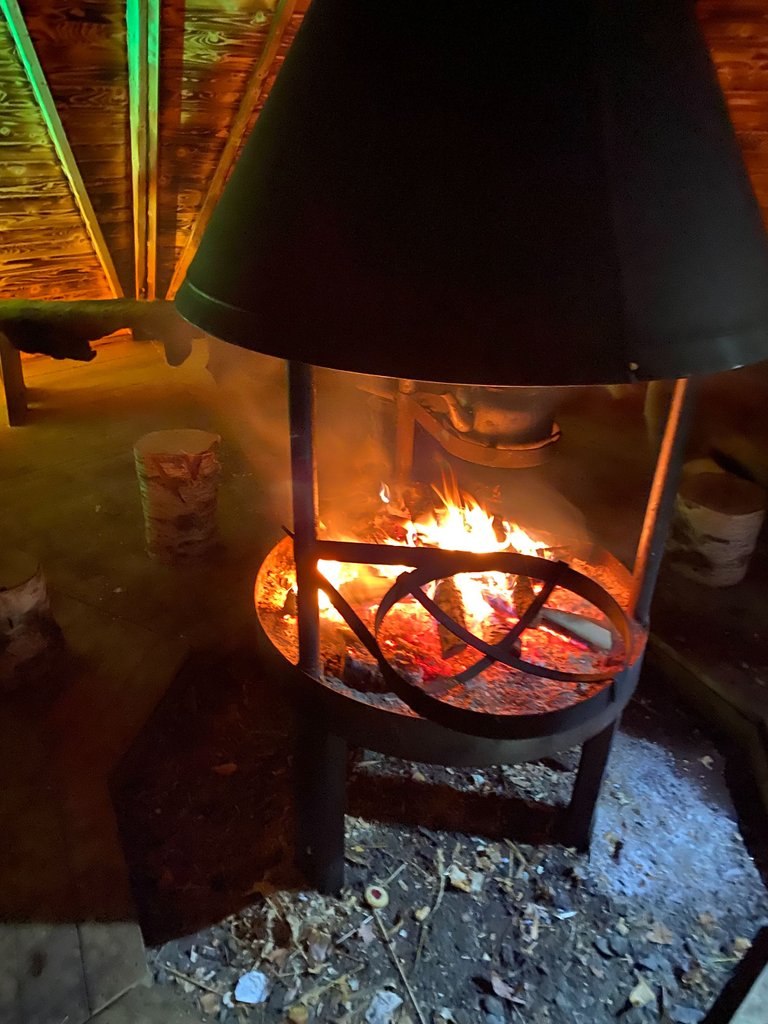 After the adventure I was pretty exhausted, even though I didn't have to do that much. But I would do it again and again! Just probably at another organization because there were a few points I didn't like that much, but overall it was a great experience and I'm glad I got to do it.
It's possible that I'll be a little less active again in the near future, but I'll try to balance it in my exam preparation, because it's just great to see so many travel reports and get new ideas for traveling and to beautiful places to dive in!
I hope you had a nice start into the week!