Hi Hive freinds!
Before I tell you more experiences from my Finland adventure I wanted to take you to a beautiful place on the Baltic Sea, where I spent one of the last weekends with a friend. In the last post I told you about the ghost forest - this time it's about a beautiful stretch of beach but so to speak on the other "side" of Warnemünde. It is about the seaside resort Hohe Düne, it is a district of Rostock and has a marina with many hotels, which I have already shown you my I once. But today it should be about the beach section. I reached the place with the ferry as you can see in the following pictures. It is a car ferry, which my I every half hour always goes back and forth.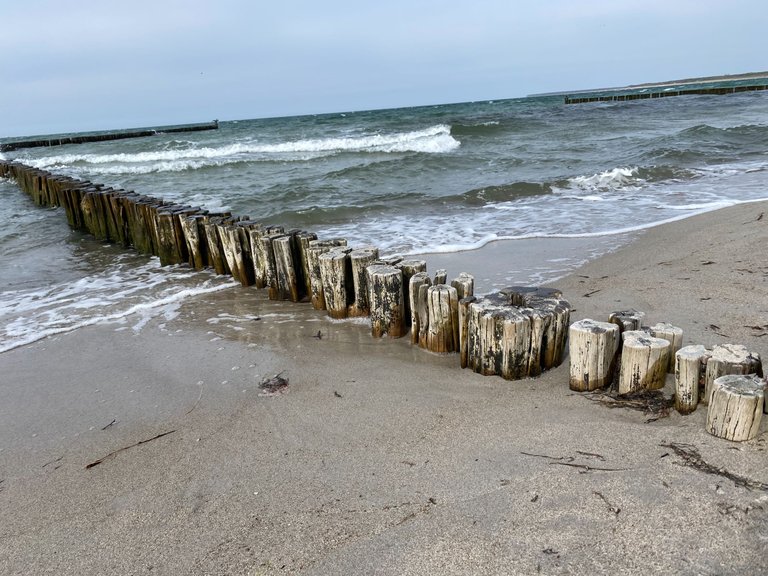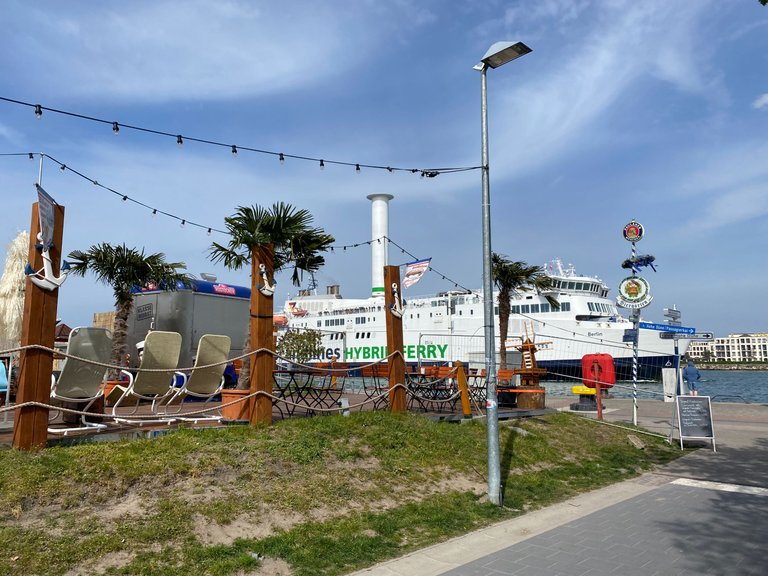 The Hohe Düne can be found in the north of Rostock, where my friend lives. It is located on the east side of the new stream. We first went to Rostock's main train station, then took the S-Bahn to Warnemünde and from there we took the ferry. At first we thought it would be good weather with beautiful sunshine and that it would be warm, but when we were on the beach we felt the rough and somewhat fresh wind. Nevertheless, it was very good.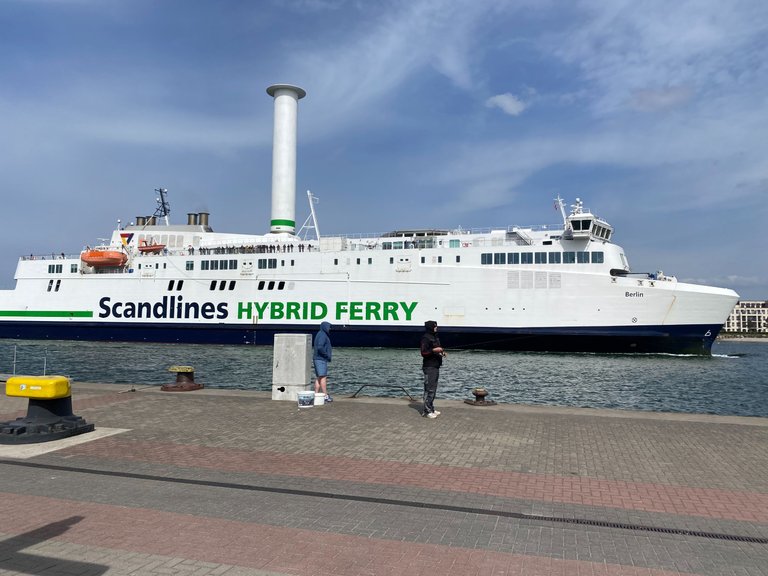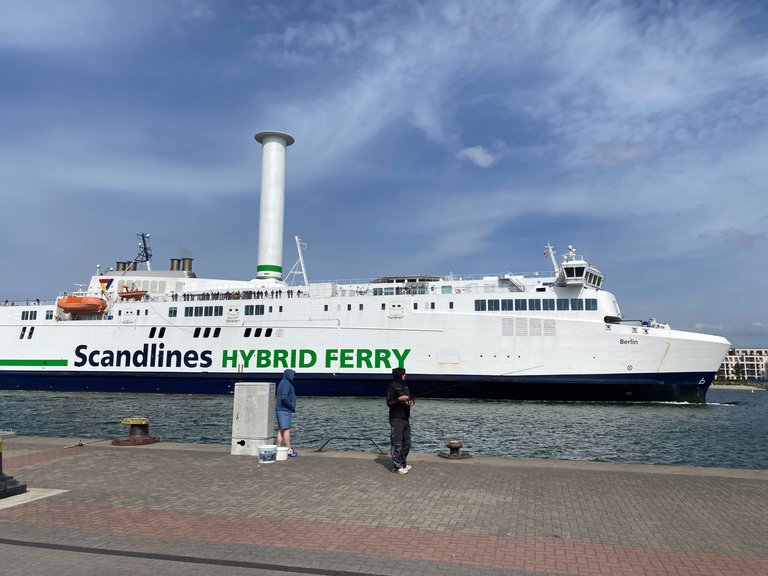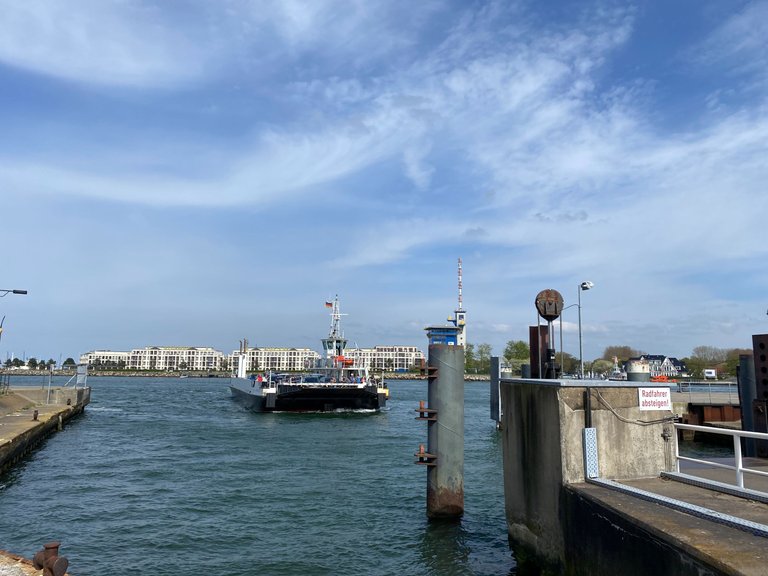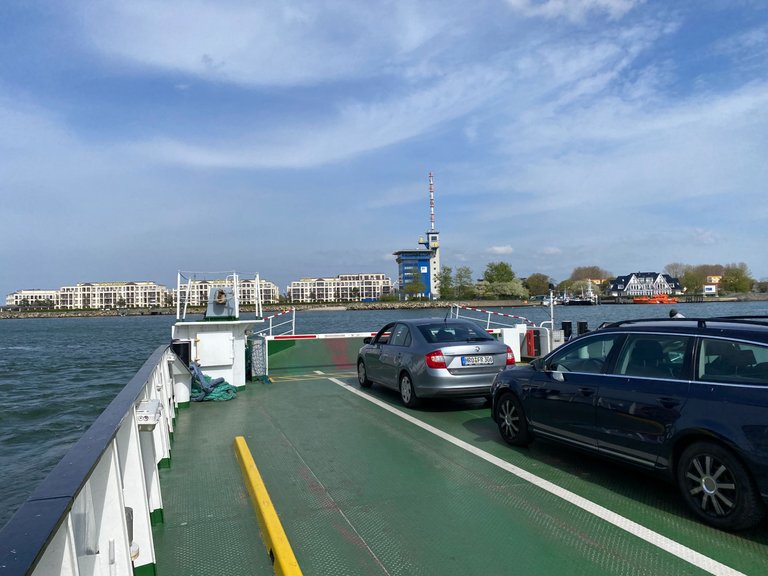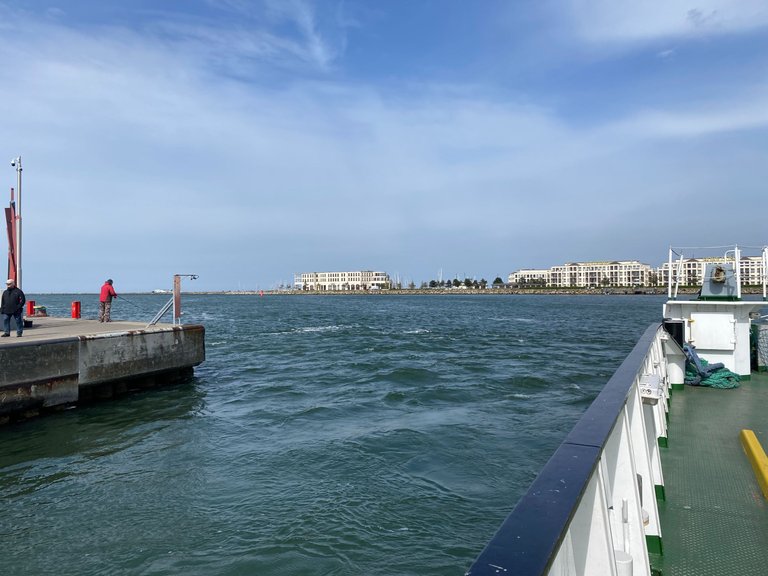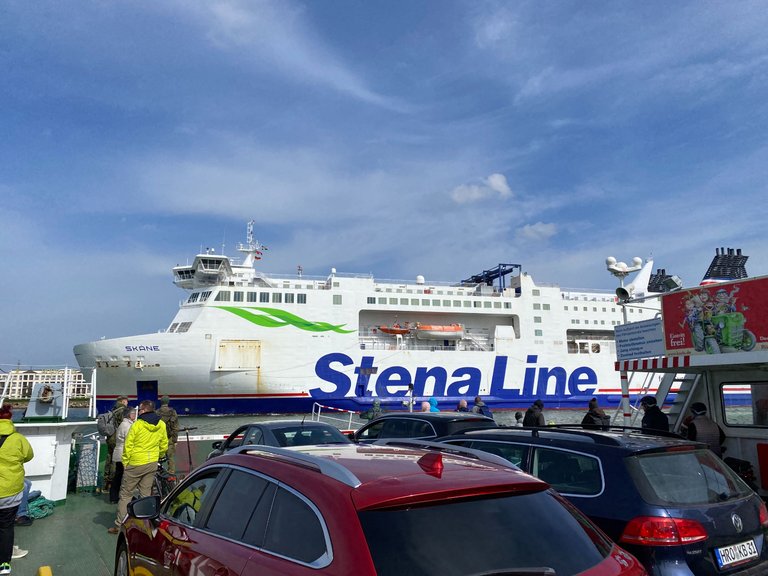 With the car ferry to the other side
Here you can see the view of the hotels from the ferry, a beautiful sight. I believe that many residents of the place also take the ferry every day. After that we saw another big ship from StenaLine. This is a shipping company from Sweden, which is mainly known for its ferry trips and in this area it is one of the largest companies in the world. It is mainly active in England, Ireland, Scandinavia and the Baltic States. What I found out later on the return trip: There is also an interior room on the ferry where you can sit inside. Of course, I gladly used it, because it was very fresh and I already got a touch of a cold. However, most passengers did not use the offer, which was probably because the crossing alone lasted no longer than about 20 minutes (estimated). One saw here also many tourists with bicycles, especially pensioners at this time.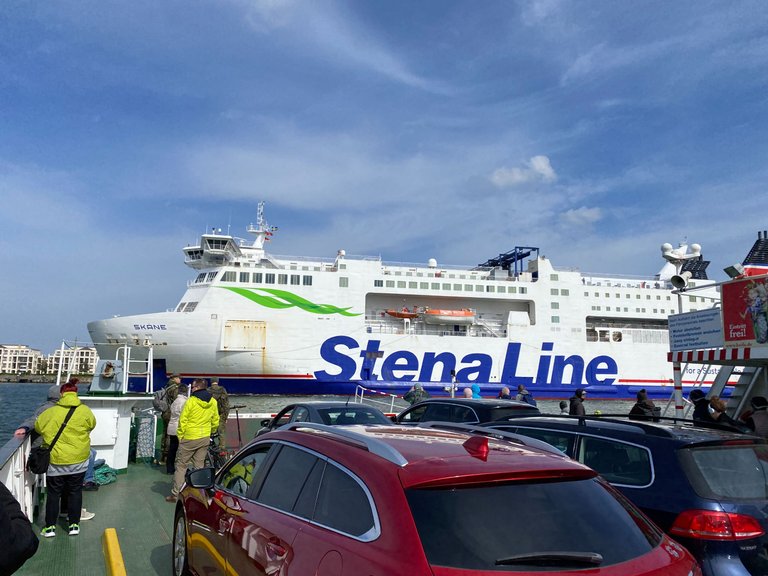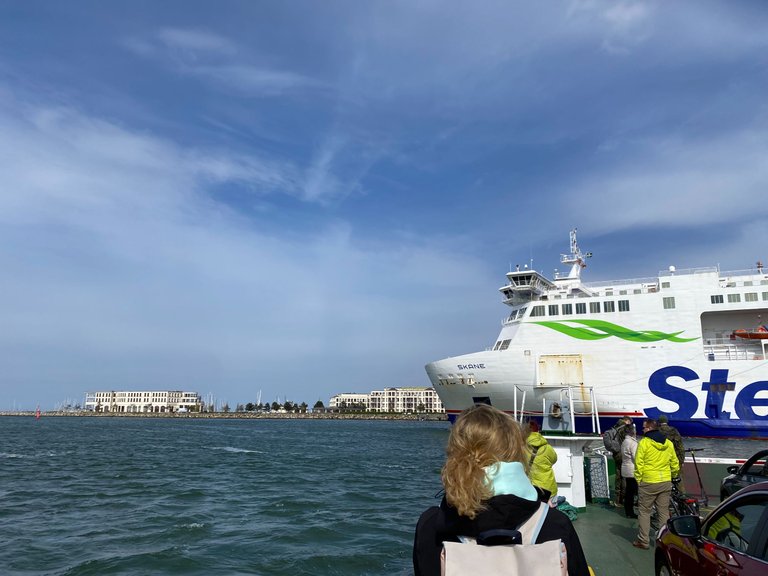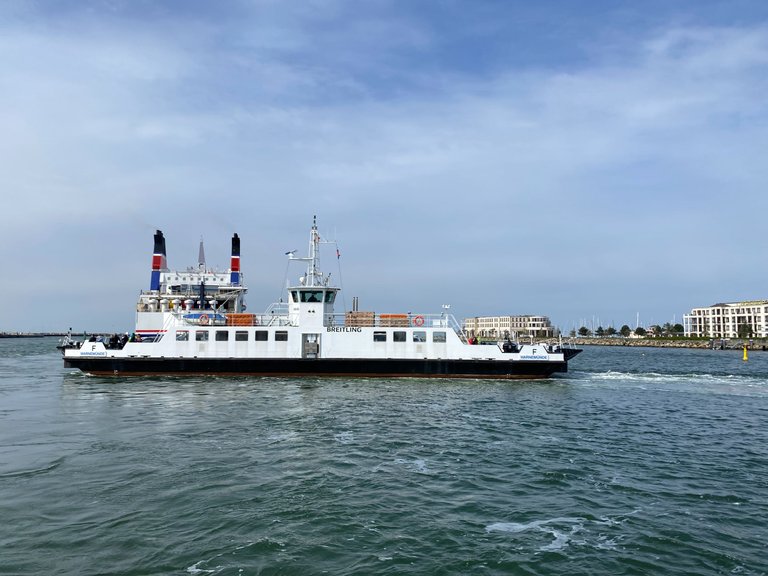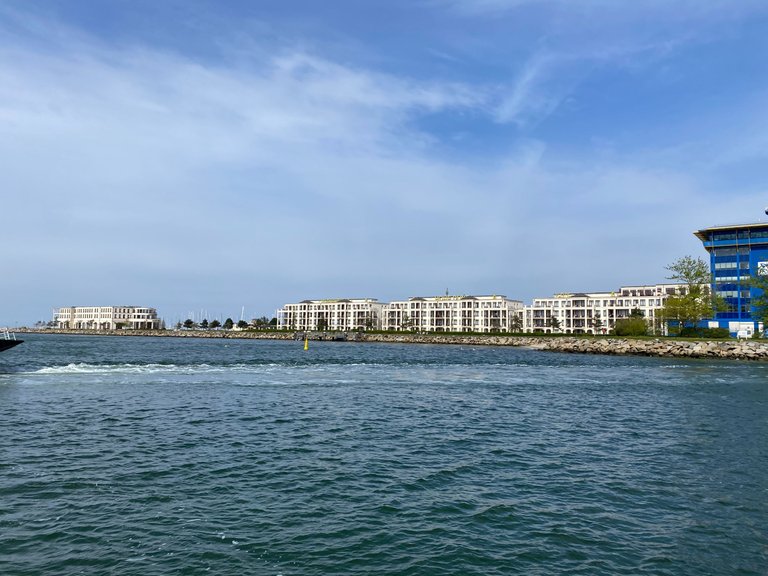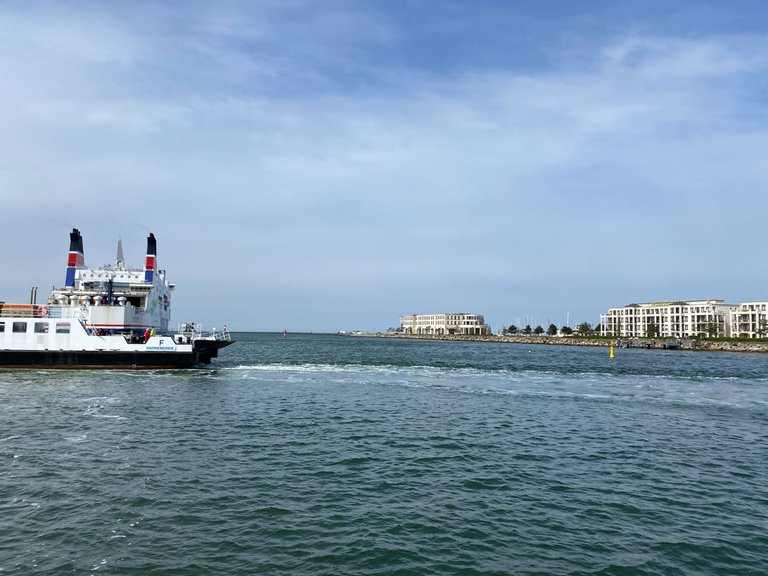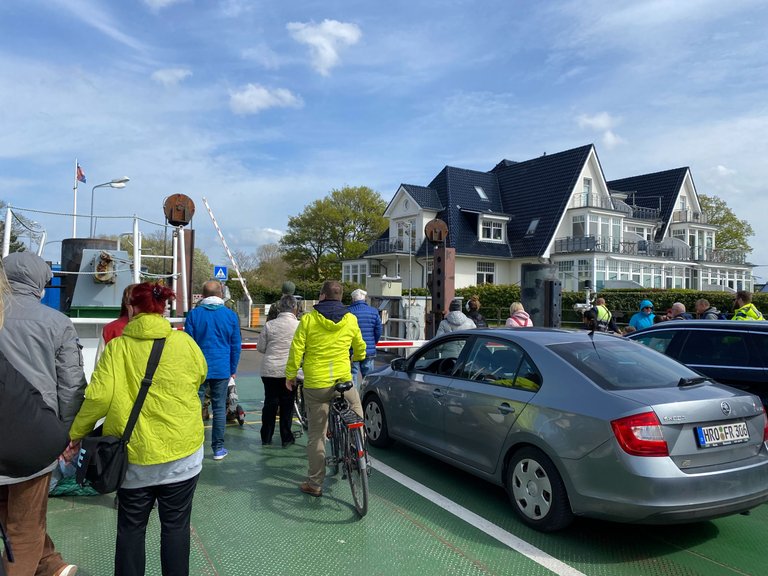 Now we had already arrived on the other side! With the many cyclists I thought to myself, two bikes would have done us good, then we might have seen even more of the village:)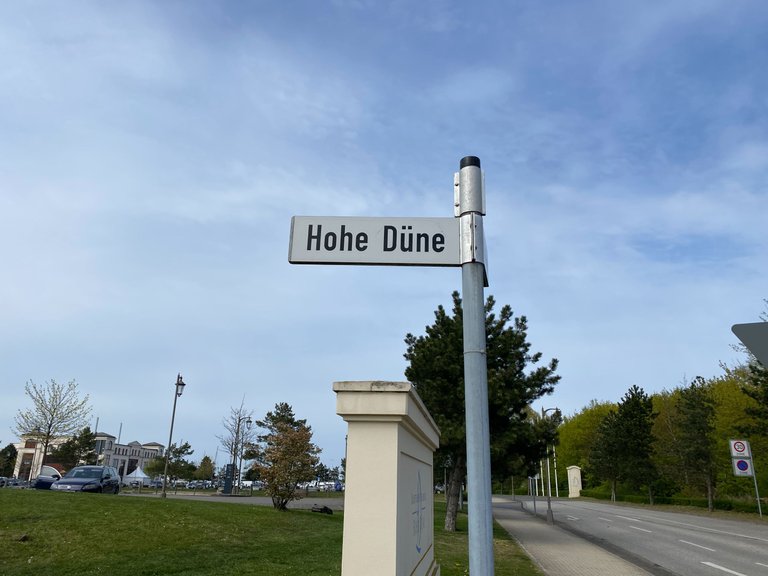 We weren't quite sure how to walk properly to get to the beach section, but when we saw the sign we had no more worries. Actually, you can not miss the beach:)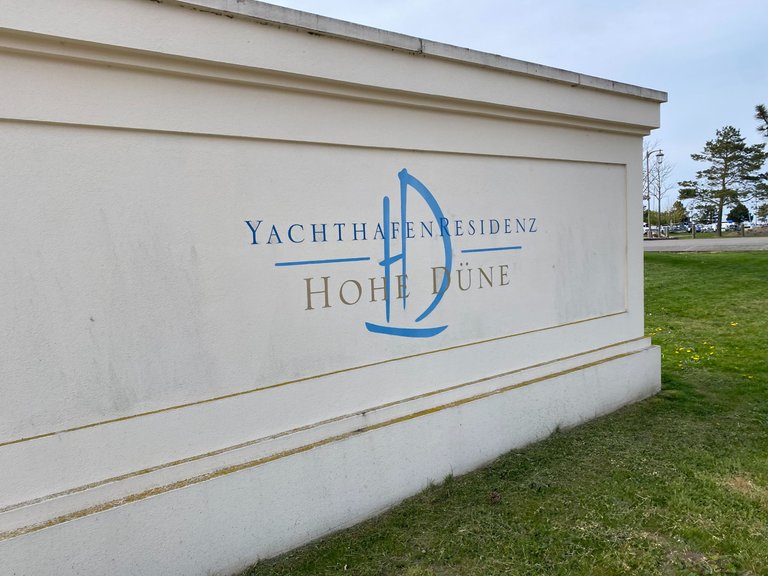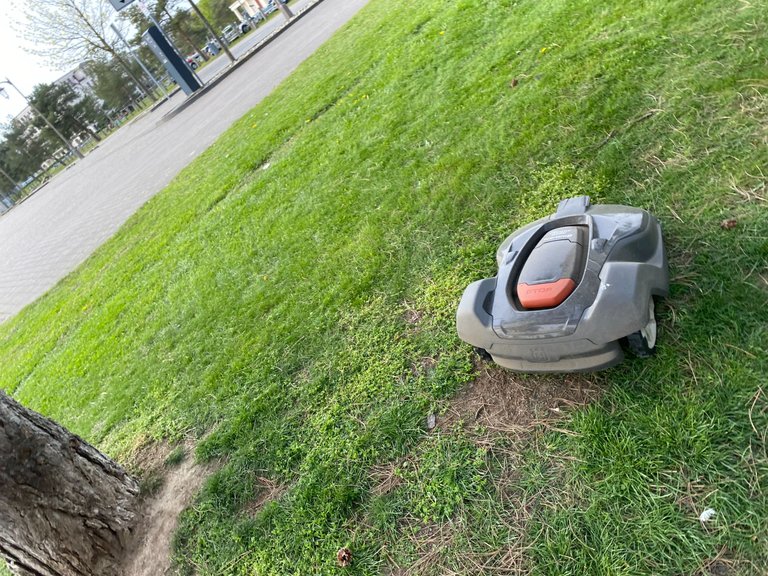 When we got off the ferry, we only had to walk about 5- 10 minutes and we were right on the beach. Then you also pass the marina, but it was also at this time almost not visited, a few hotel employees were busy at the sailboats and a small lawn robot made itself independently to the lawn. I wondered if the has been set before, I do not know these things so well but have also seen the more often with my neighbors earlier, actually very practical haha.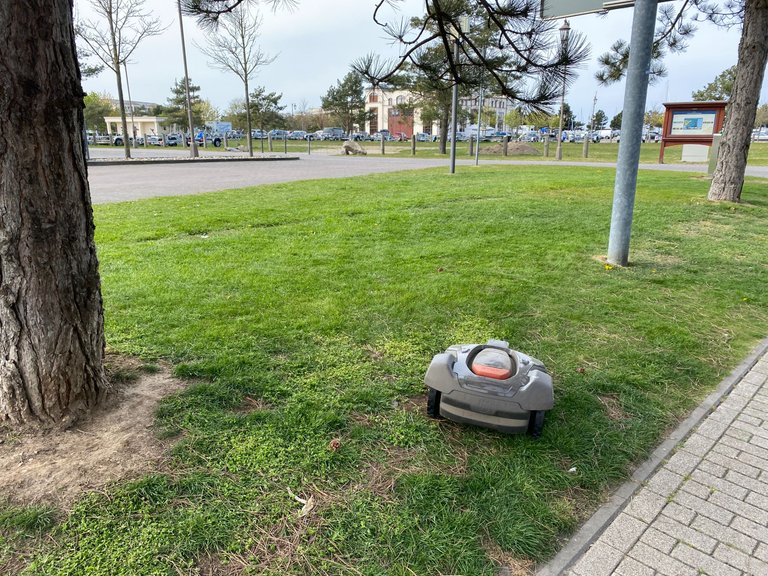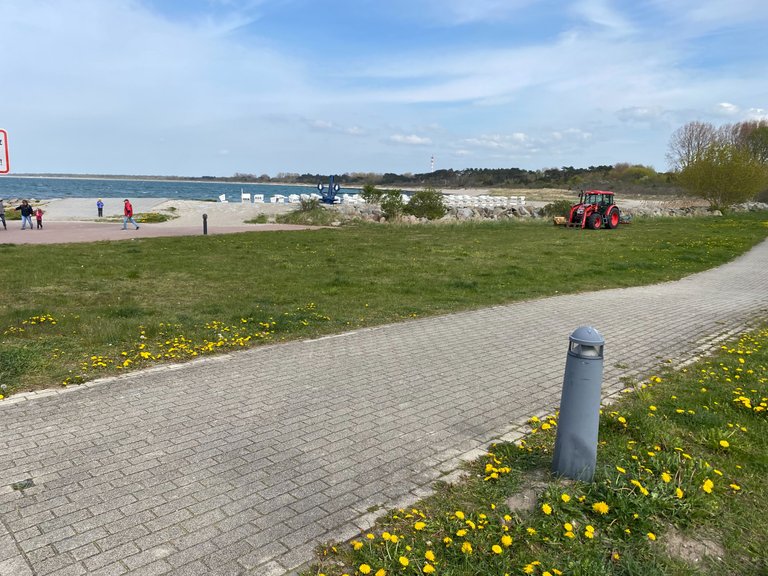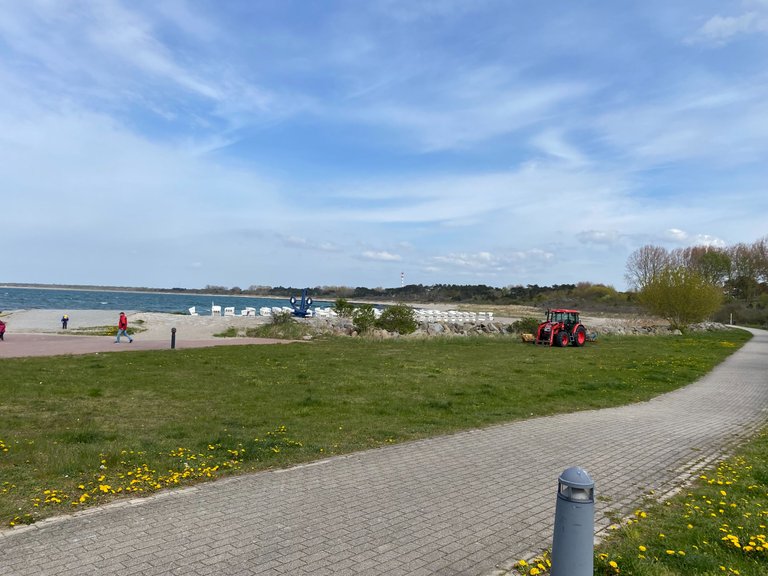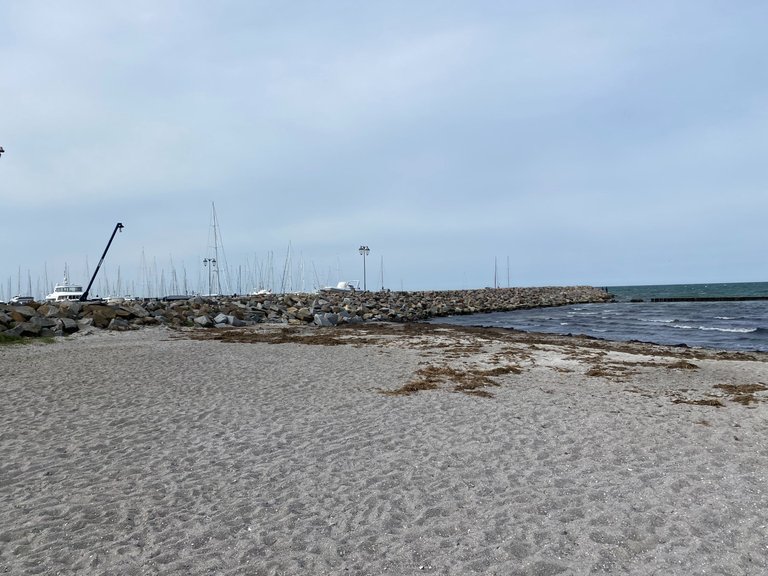 And then we had already arrived! On the left you see all the boats of the marina residence and on the right you go to the long sandy beach. What is very striking compared to the beach in Warnemünde: Here there are a few shells and it is not half as stony as in Warnemünde. Therefore, I also saw a woman who took off her shoes and walked barefoot in the water. For me, however, it was still a little too cold, after all, we did not have an apartment directly on the beach to warm up.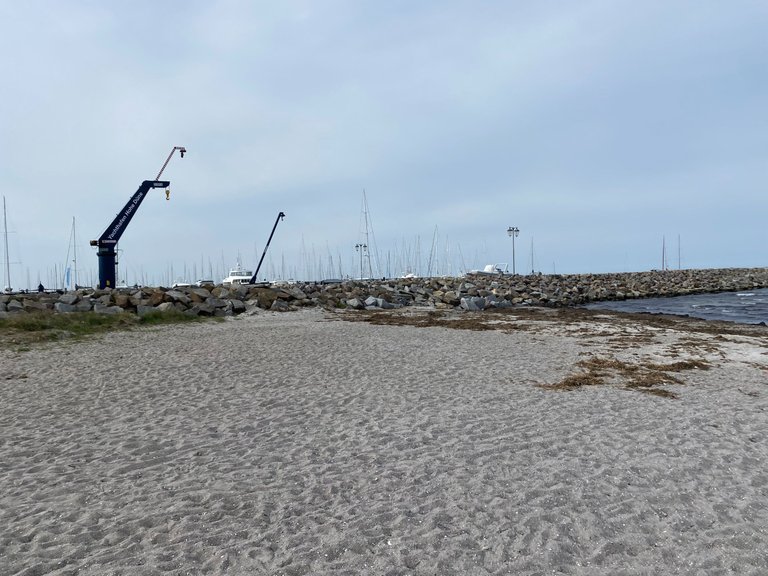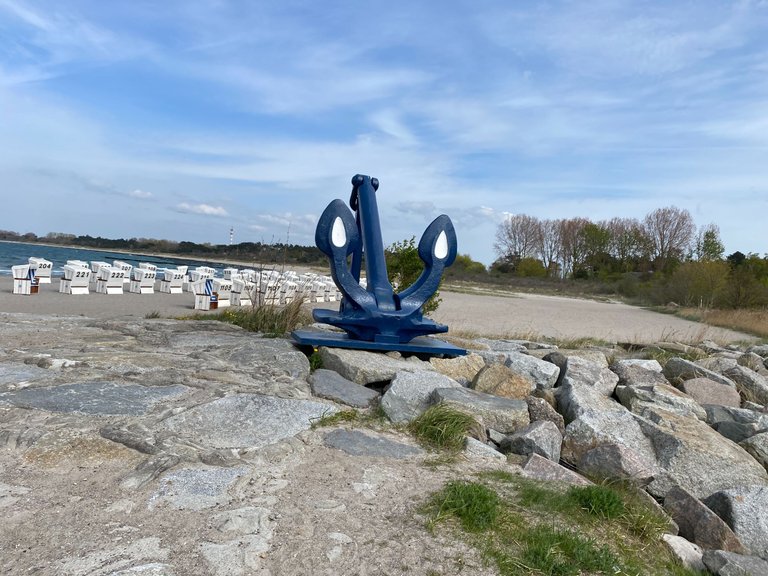 The blue anchor - we have arrived at the seaside resort
Finally we passed this anchor and I thought it would make a nice photo subject, I liked that dark blue color.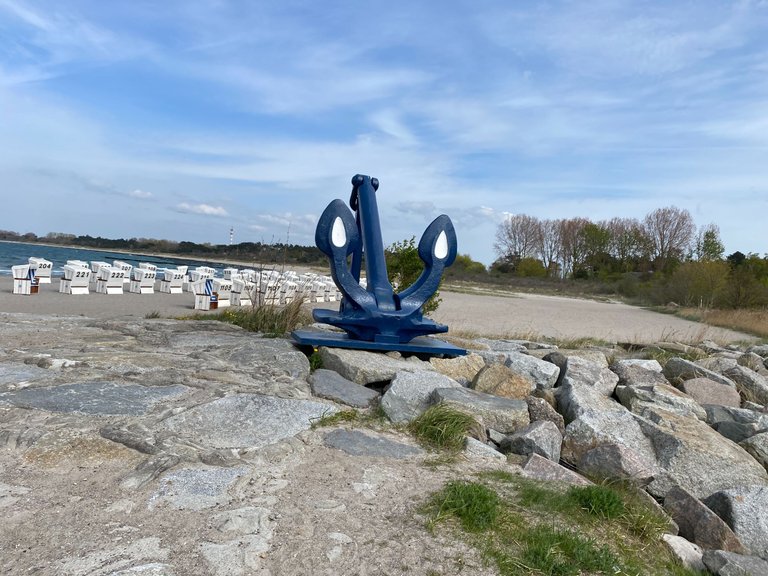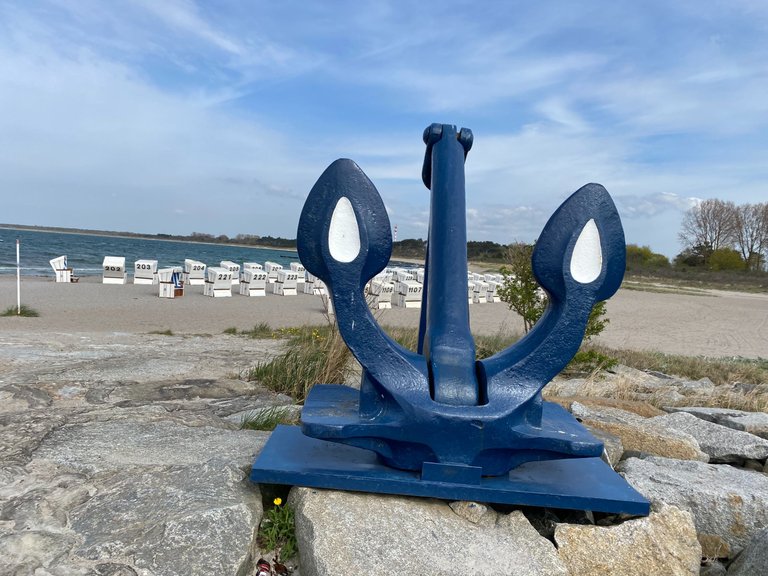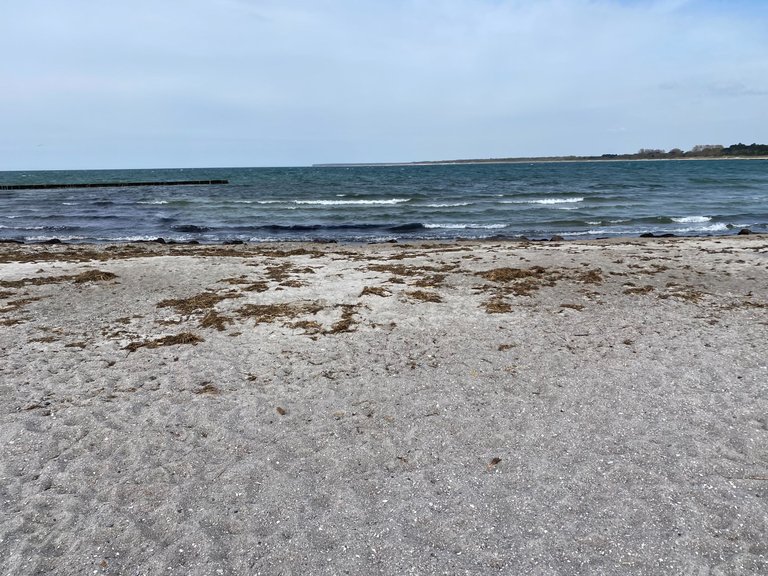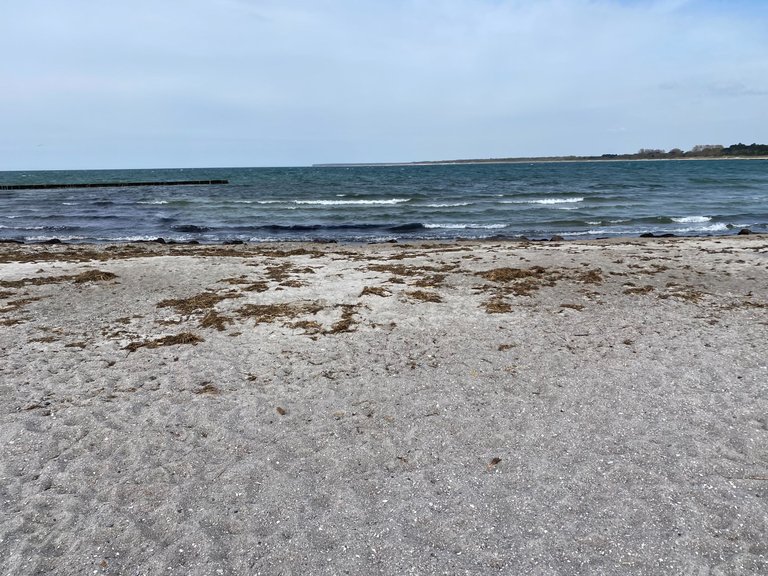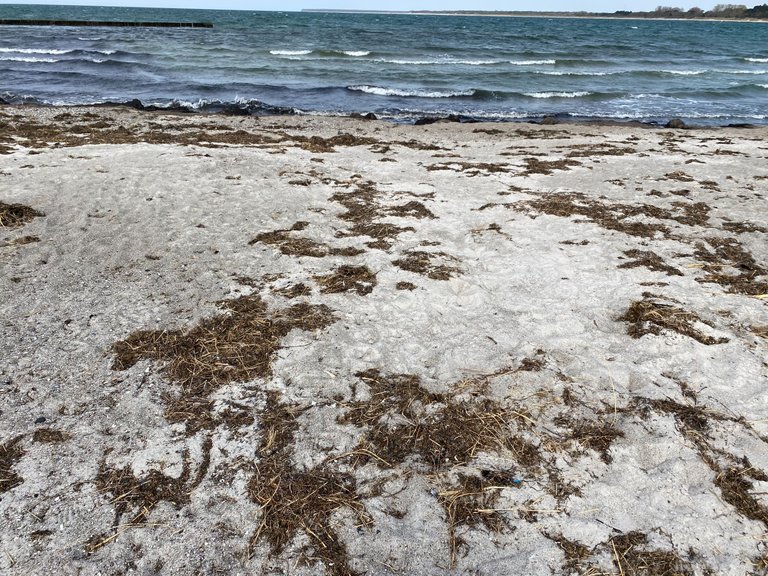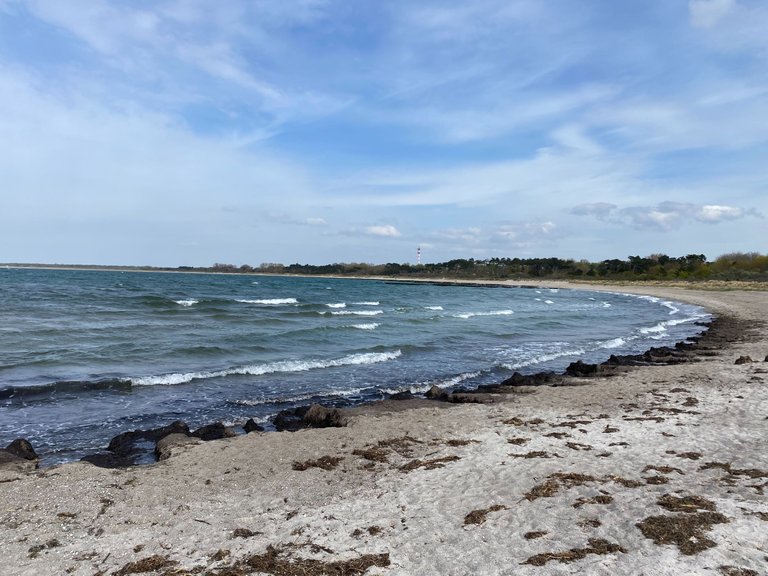 The wind was blowing against us and there was a strong breeze on site. Maybe you can guess it from the foamy waves. Only about five people came towards us on the entire beach, which was really great. There's nothing like a deserted beach with few people! :) We didn't have a destination, just walked along the water until we got a little fresh and we turned back. A couple was even sitting in the beach chairs and had made themselves comfortable there.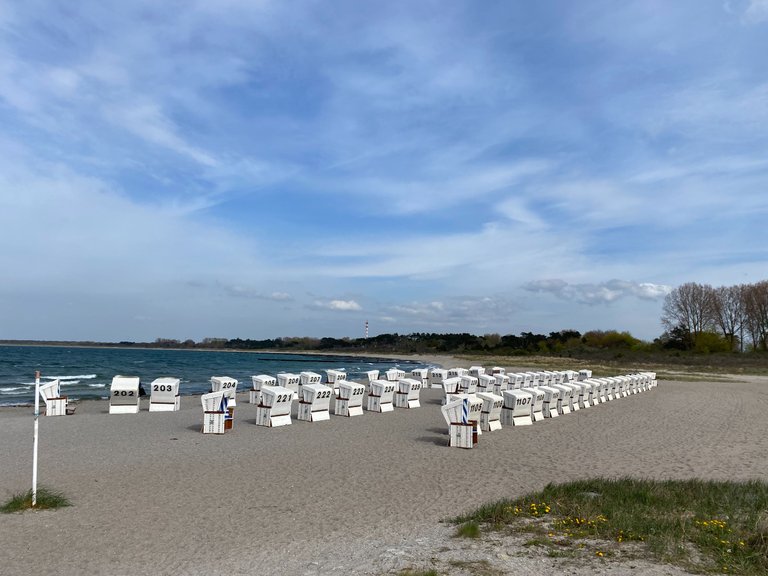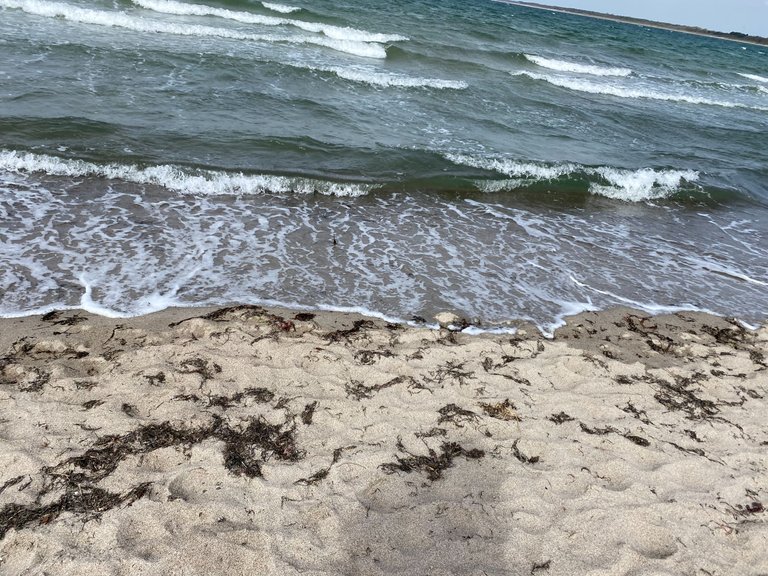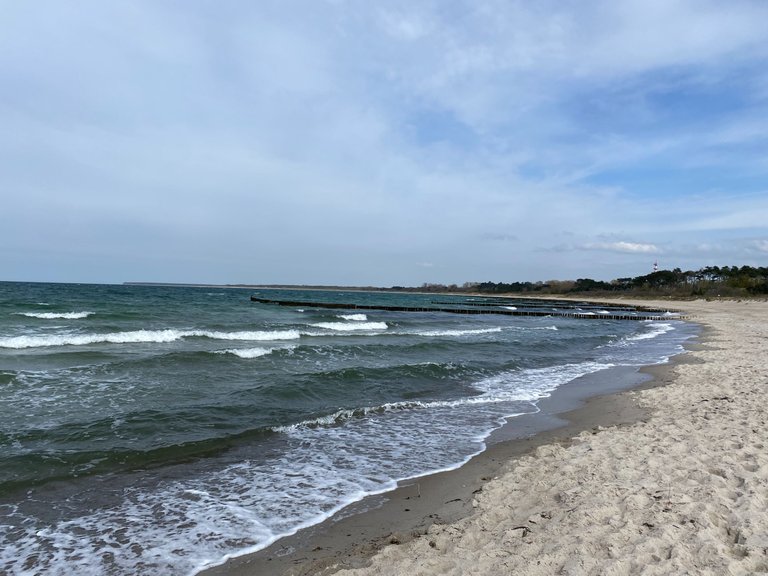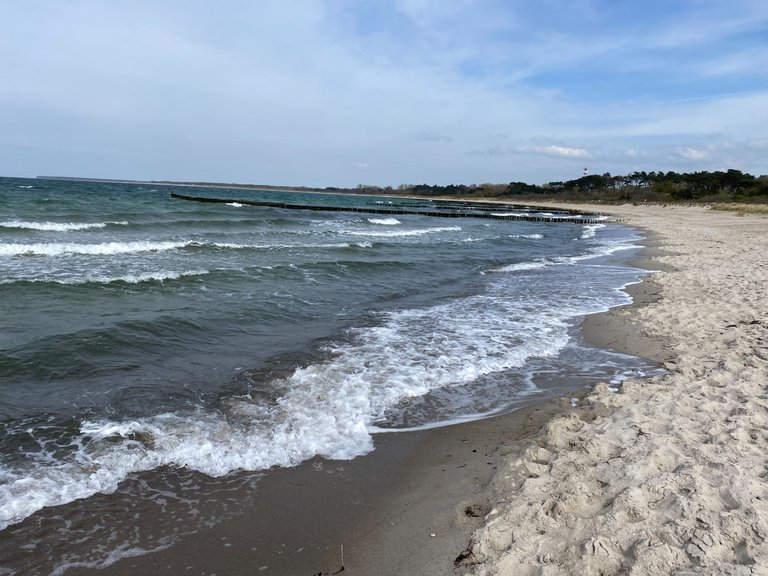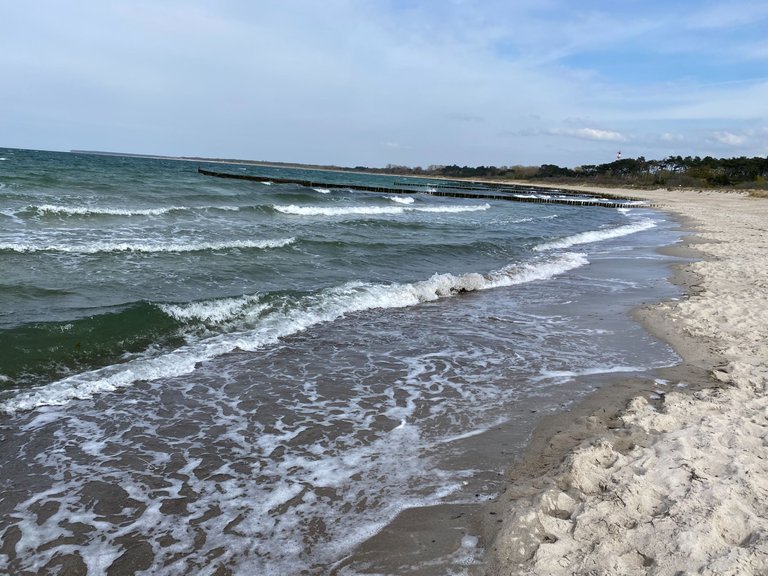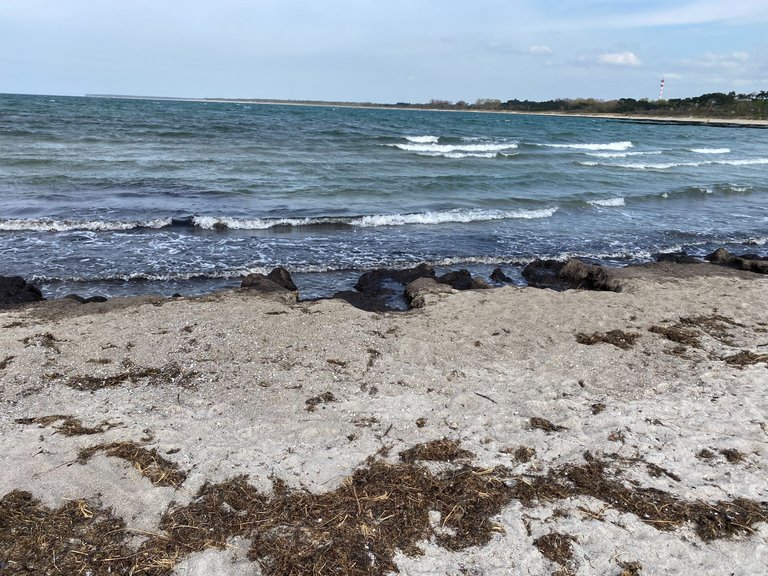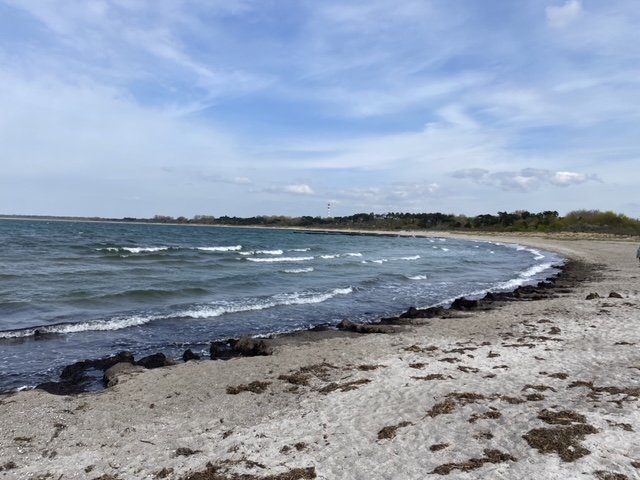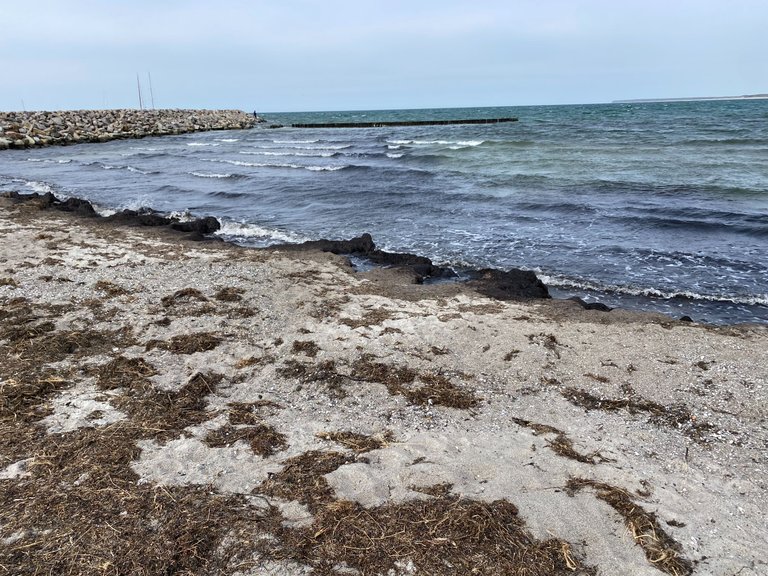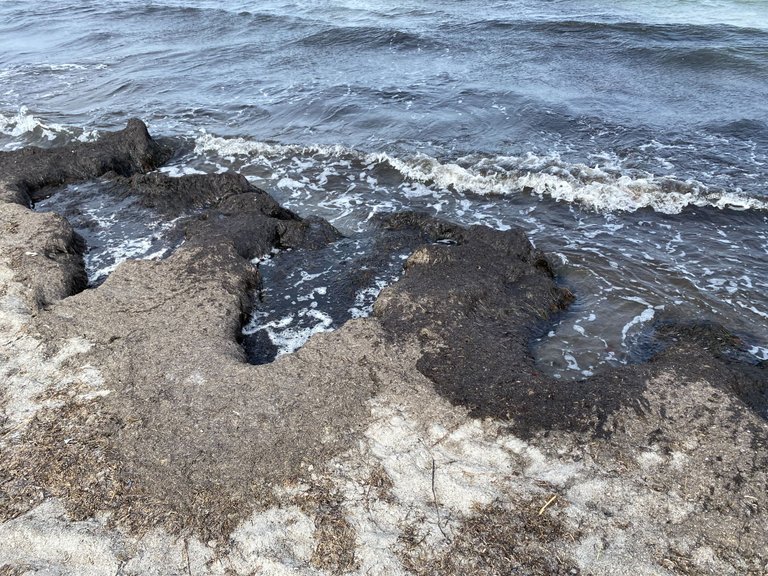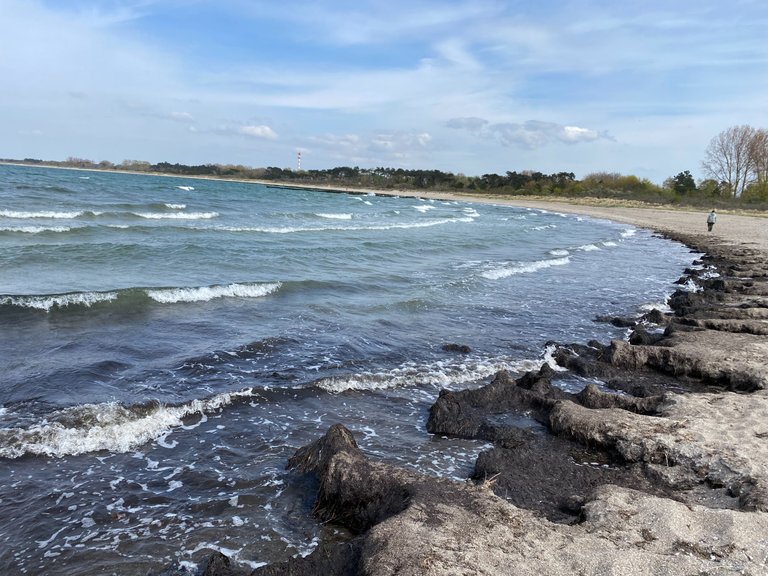 What was striking: The sea had several colors, close to the beach it was a rather darker blue and a little further in the middle before it went further out a lighter blue. I especially liked the contrast. Of course you could also see it better than in Warnemünde, for example, because the beach here runs a bit like a curve and you have a better overview than in Warnemünde, where it is very spacious and it almost only goes straight :)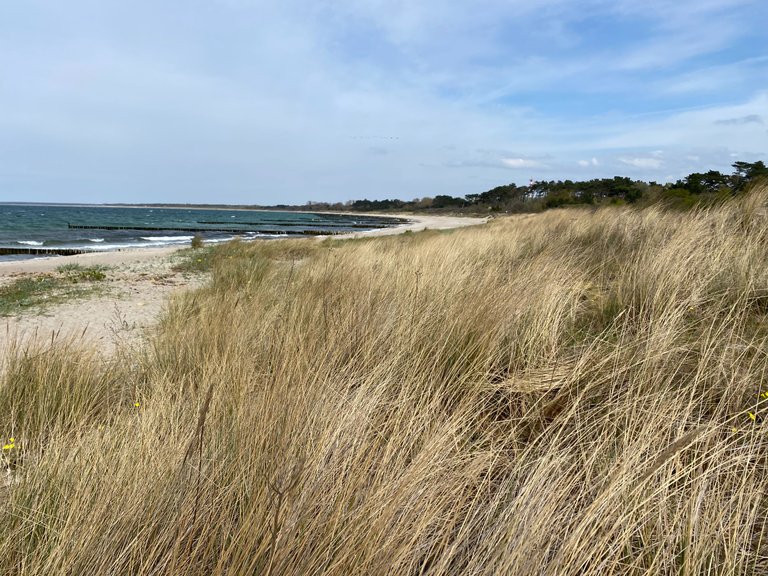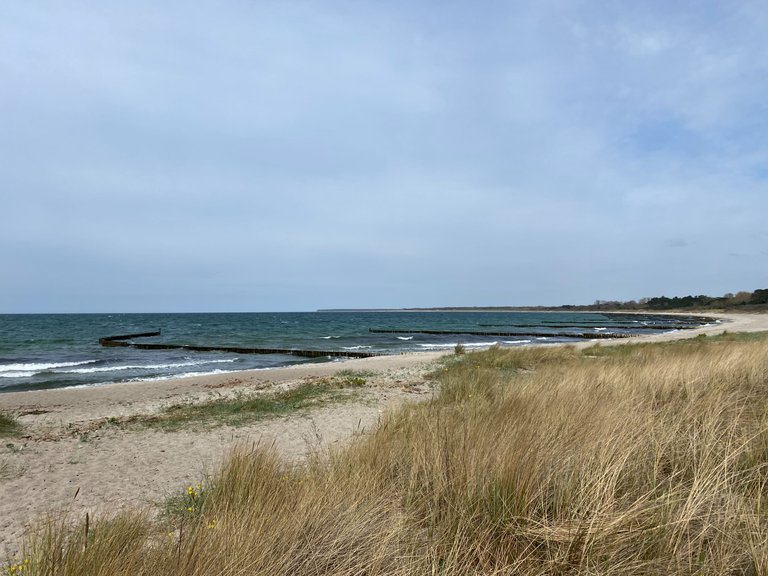 Have you ever been to the Baltic Sea? And if so, where? I used to go there very often as a small child because my parents always took me there on vacation and the memories came up a bit now. I don't just find it very nice here in summer, spring and autumn definitely have their beautiful sides, even if the climate is a little rougher then.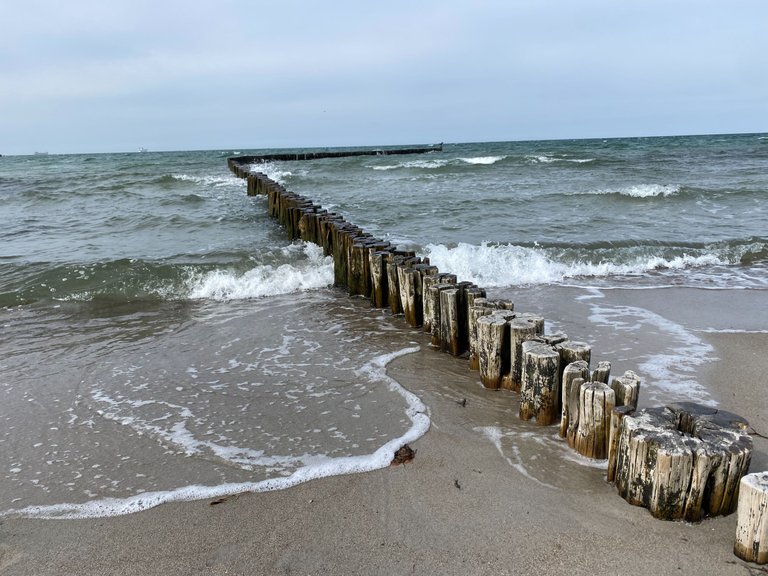 Here we thought about trying out our balancing skills a bit, but we dismissed the idea of ​​falling into the water at these temperatures haha. But in the summer this opportunity will definitely come again!
The next time I visit my friend, we will certainly go to Markgrafenheide again and then I will take you there again. I've only heard good things about this beach so far, it's said to be very nice if you're not there in high season :)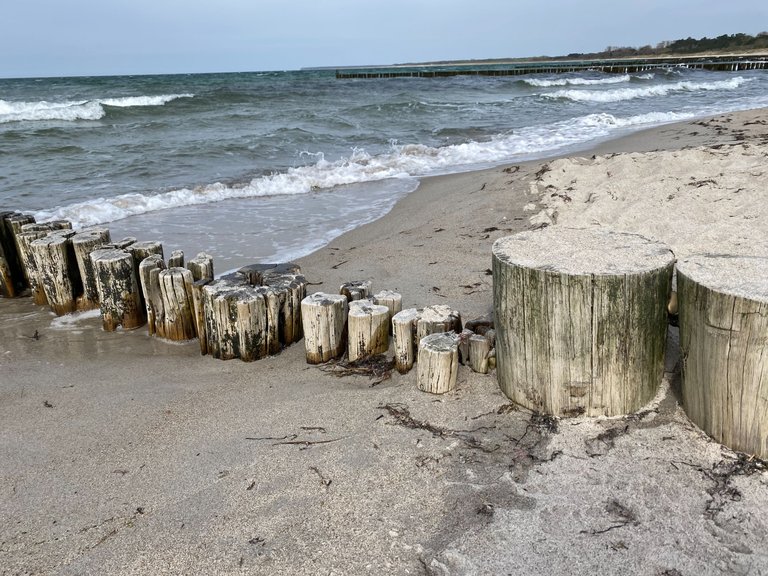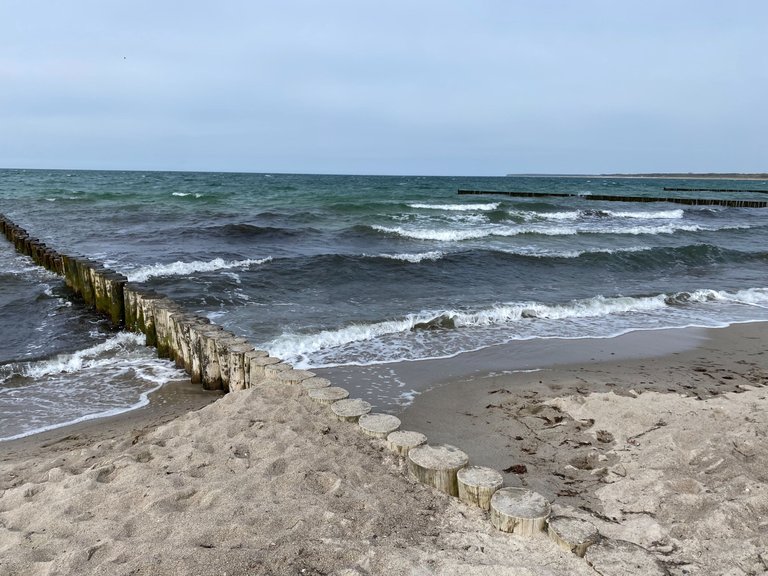 That was our little trip to the Hohe Düne. I hope you enjoyed the stories and pictures and that you had a good start into the weekend! For me, unfortunately, it's back to learning, but it's also a bit of fun. Stay healthy:)