Hi Hivers!
Today I want to show you the second part of my Lofoten trip, and the focus is on the small fishing village of Reine with its striking red houses. As you know, it was September when we drove from Finland to Norway by car ( not an idea I would recommend again haha) and as they told us there, it had snowed only the night before in Lofoten. On the one hand, it was therefore much more difficult to drive along the many winding roads with the car and you had to pay attention now so of course more to the speed, on the other hand, it was of course of the landscape again a lot more great with the snow on the mountains and everywhere he lay. It looked as if it had snowed through for days before. We could hardly believe it haha.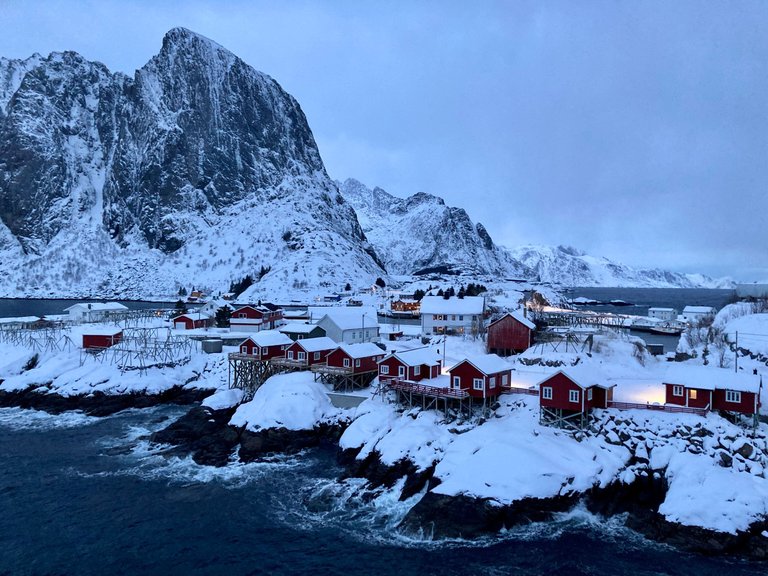 The beauty of the fishing village in Hamnoy
From our Orca tour in Svolvaer we drove about 13 hours estimated (much longer than we would have expected) but google maps also calculates no breaks or tank fillings, which one might have considered before haha. It went on via Hennigsvaer and Ramberg to Reine.
Finally, we arrived very early in the morning in Reine and the key was in a mailbox and we fell directly into bed, as I'm sure you have already reported in the last post.
Reine is the center of Moskenes municipality and has about 2000 inhabitants. I think we have seen in the two days where we were there only once two people walking with a dog. The photo, which you see at the top, we have made on our car tour to these beautiful scenery, on the bridge of Hamnoy. So don't get confused: we had an Airbnb apartment in Reine but we took the photo in Hamnoy. It was a very long bridge and we even met a few tourists with professional camera equipment. It is so to say the postcard motif of Lofoten. It depicts the wooden huts from the resort Eliassen. Later the photo became part of my calendar that I gave to my father for Christmas, although a bit late.
While we were standing on the bridge I felt the icy refreshing wind in my face and it was a great feeling with the scenery- I had rarely seen something so beautiful and at the same time calm. Although I had already traveled to Australia, the Maldives and New Zealand, but I think the biggest "wow" effect I had right here on the Lofoten in Norway. It was with the few people you met just like in another world, so completely different from what I knew from Germany.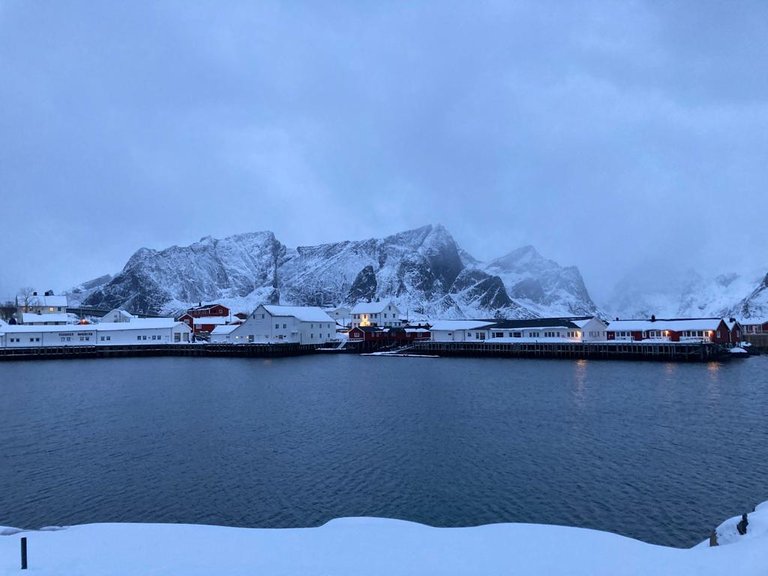 We stopped sometimes here sometimes there after seeing the beautiful view and in the process we saw some more beautiful scenery.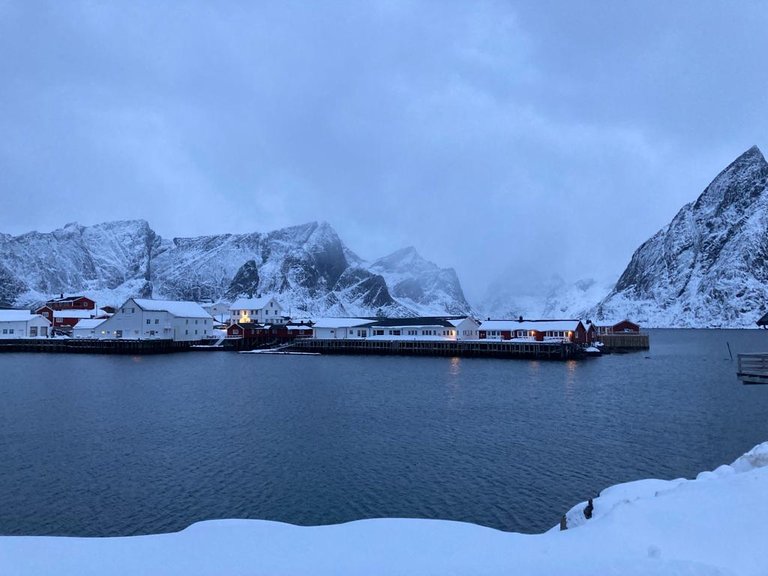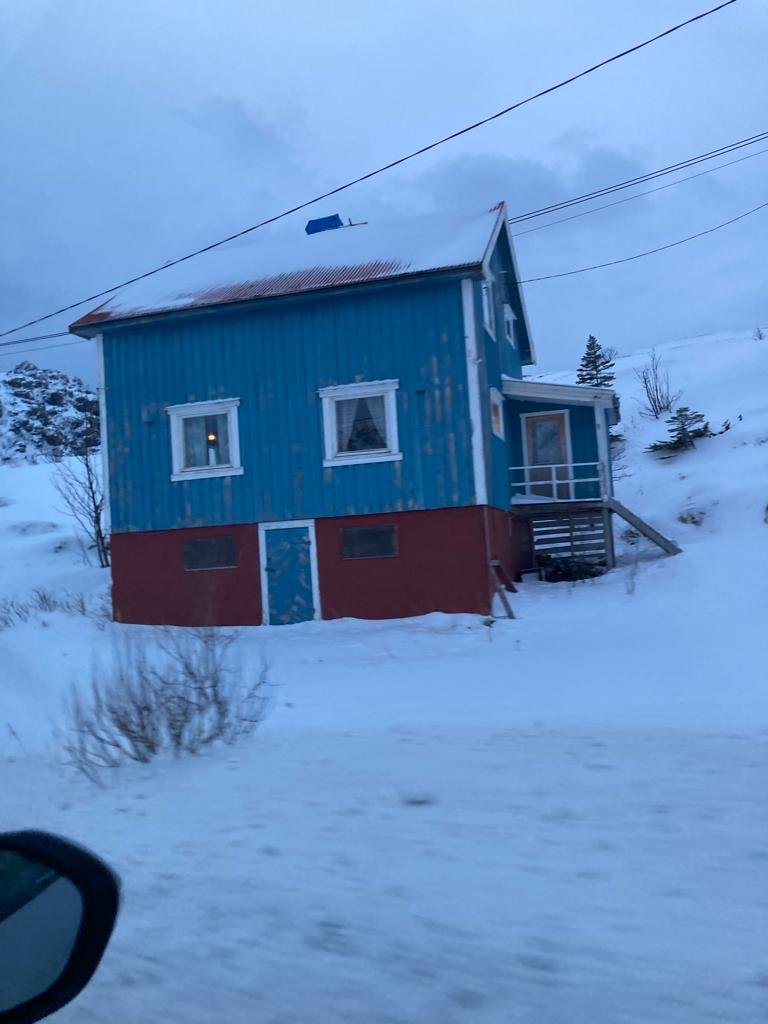 However, some houses were not painted in red, rarely they were also in the colors blue (as you can see here), yellow or even green.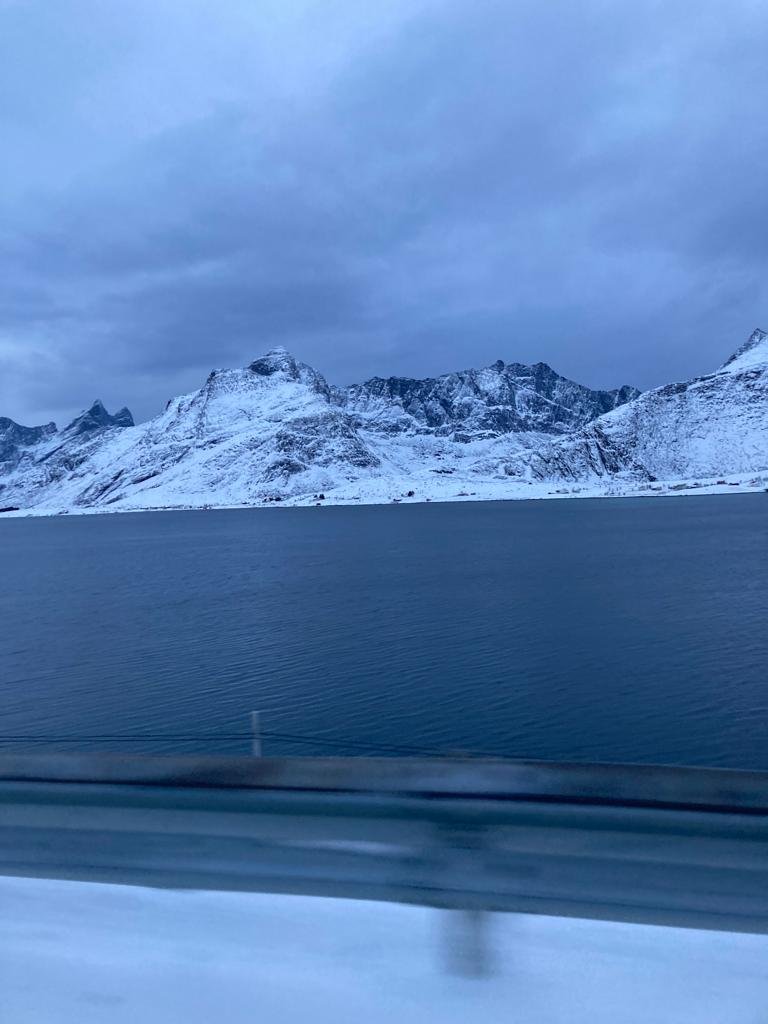 A slightly blurred image from the car ride. You could just drive for hours with this view, partly directly along the shore.
If we had not had so little bright time, we would have stopped much more often but the sun unfortunately did not allow us;)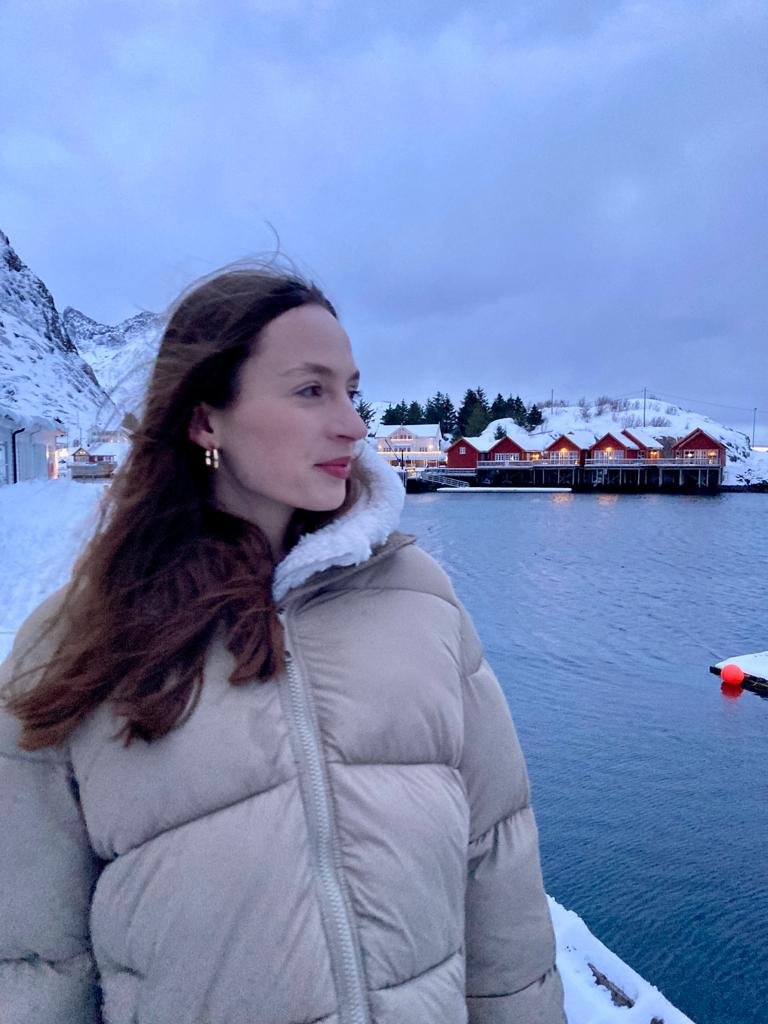 A local bakery with a beautiful ambience
Actually, at the end of our trip we wanted to see the great red house in Rambergstranda with the polar sea as a background, I think we saw it on the way back, but unfortunately it was already too dark. If I drive or fly to Lofoten again in the near future, this will definitely be a goal of my trip.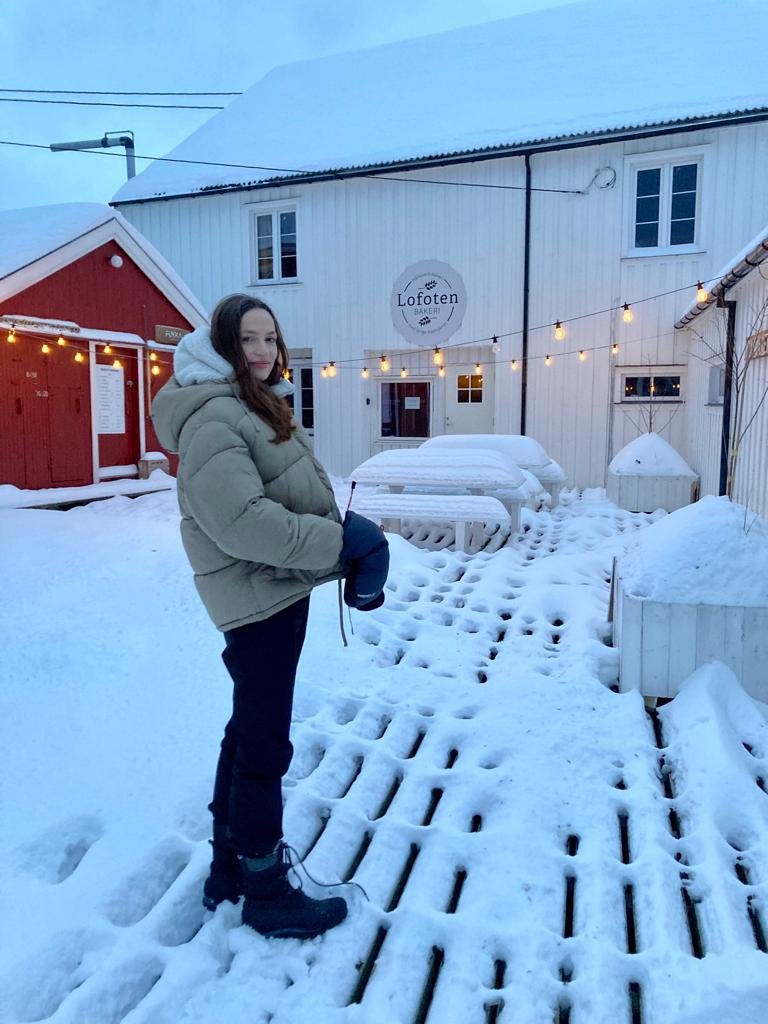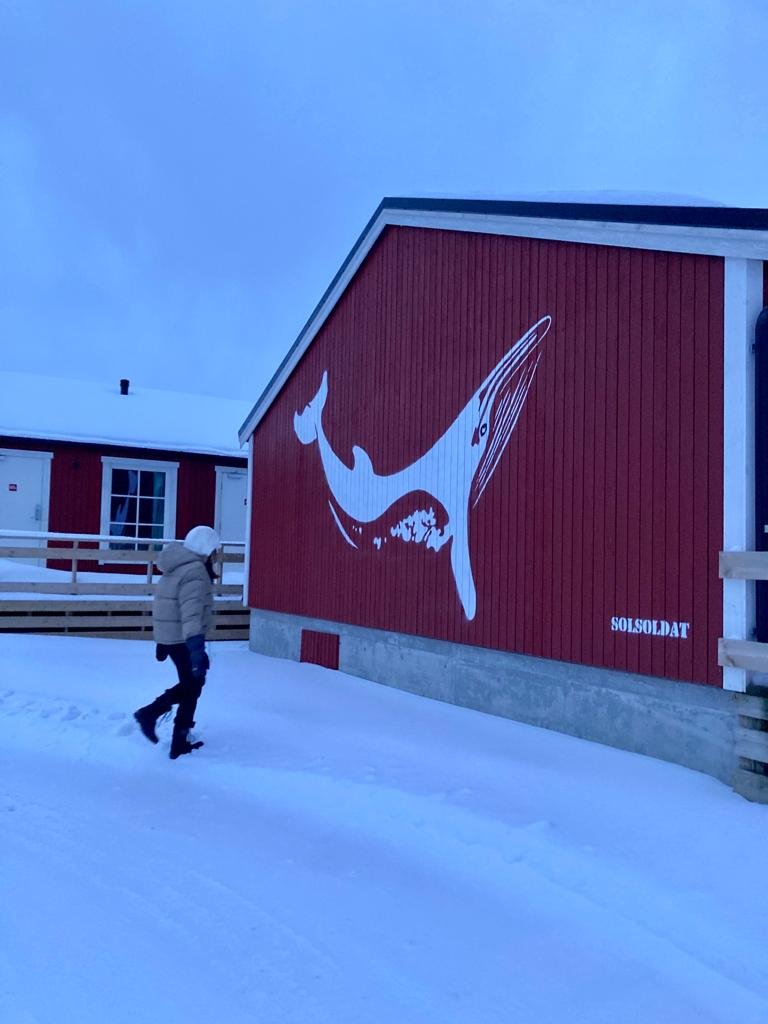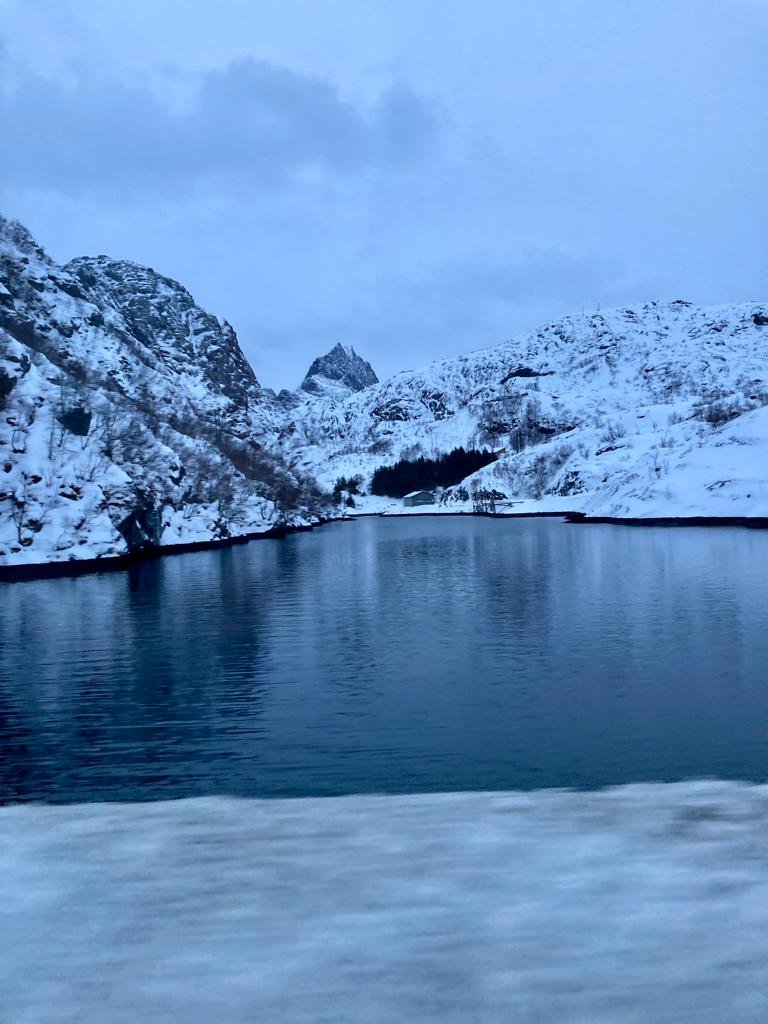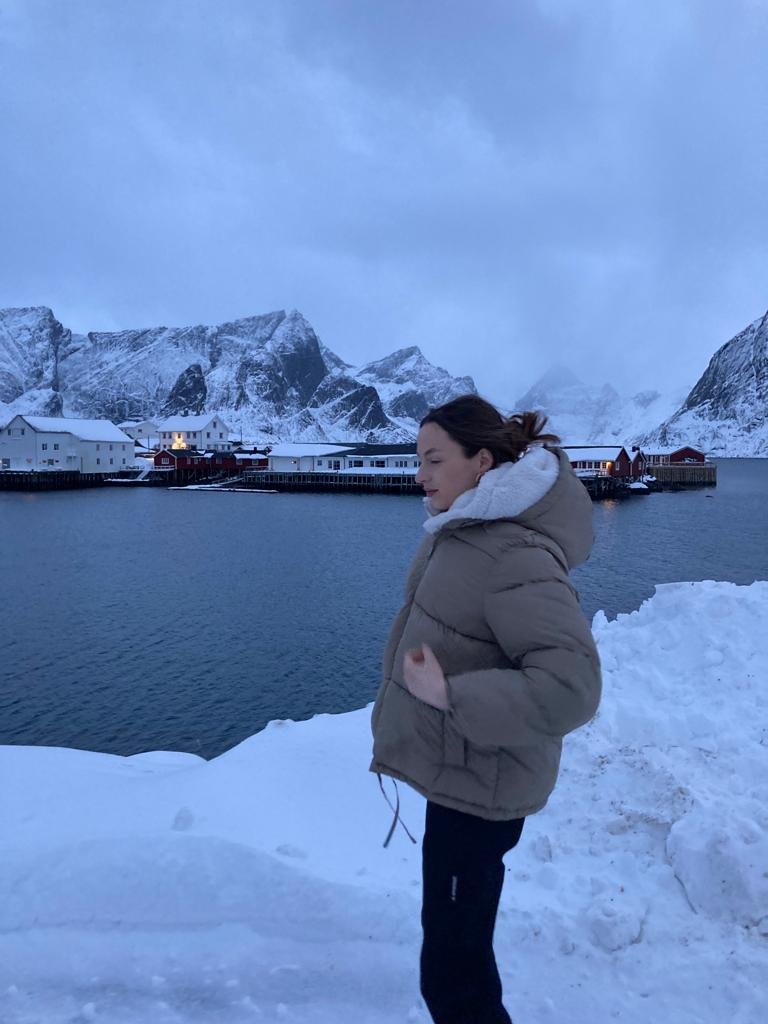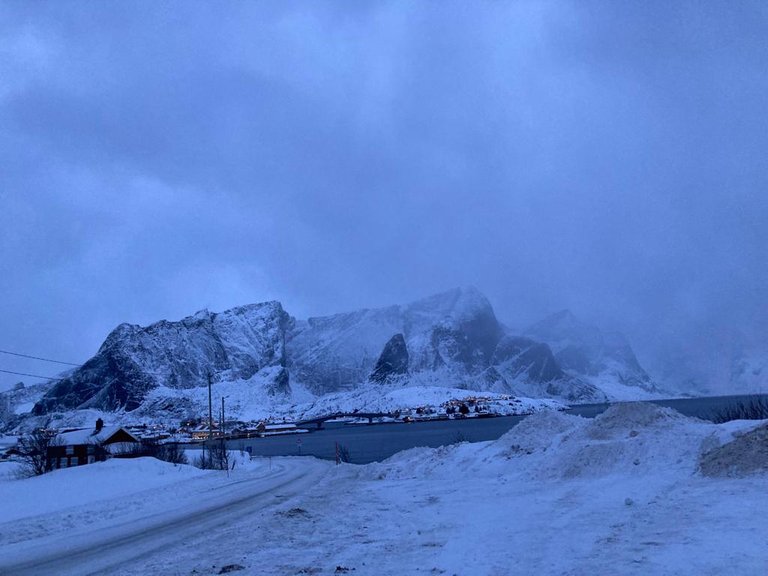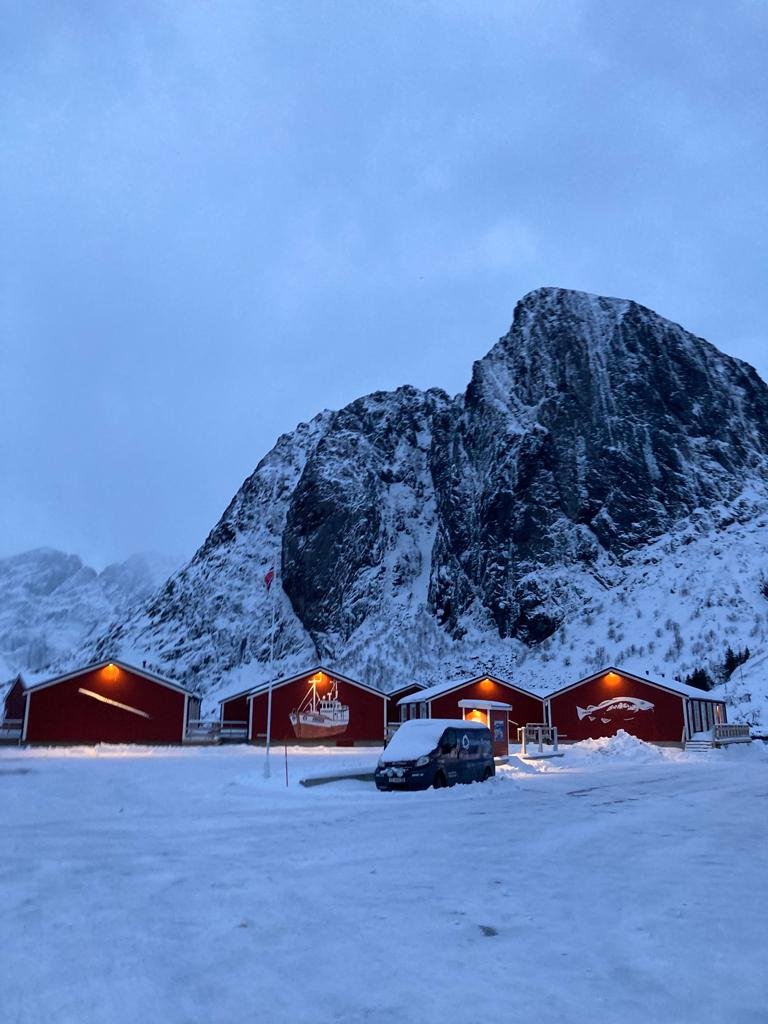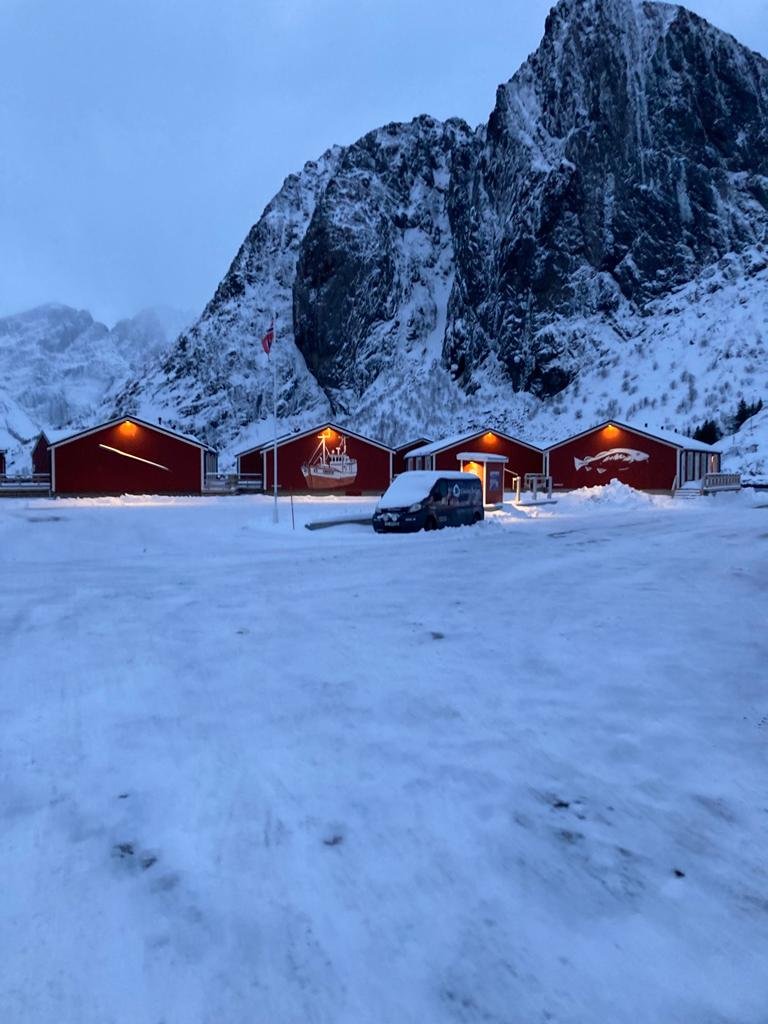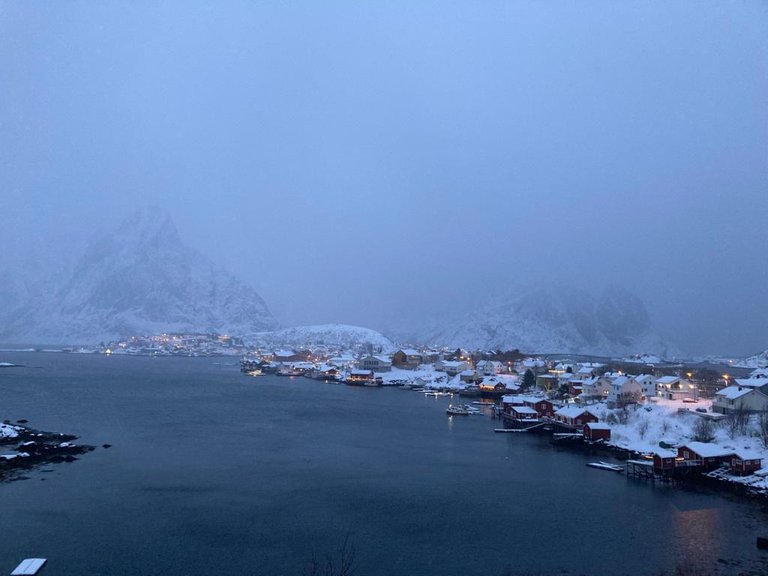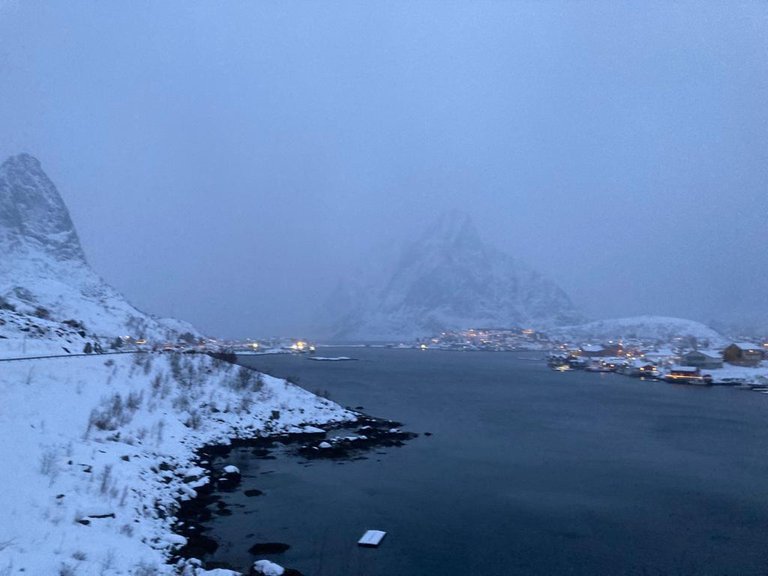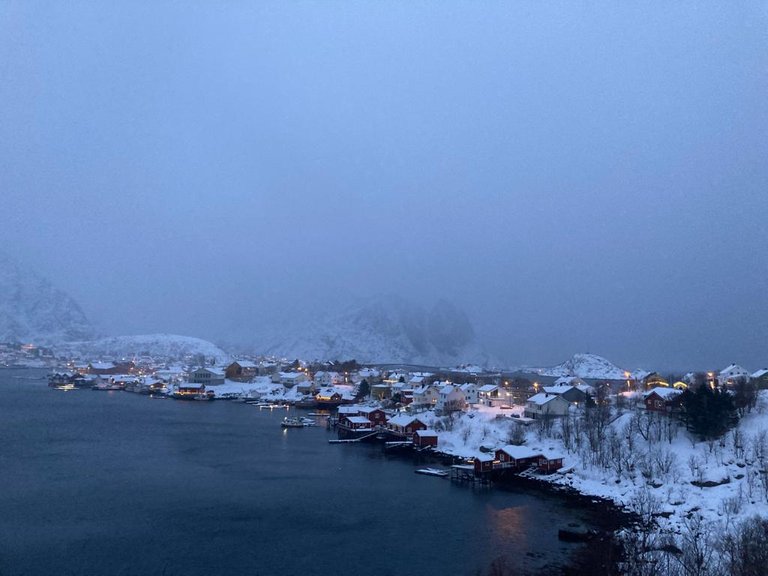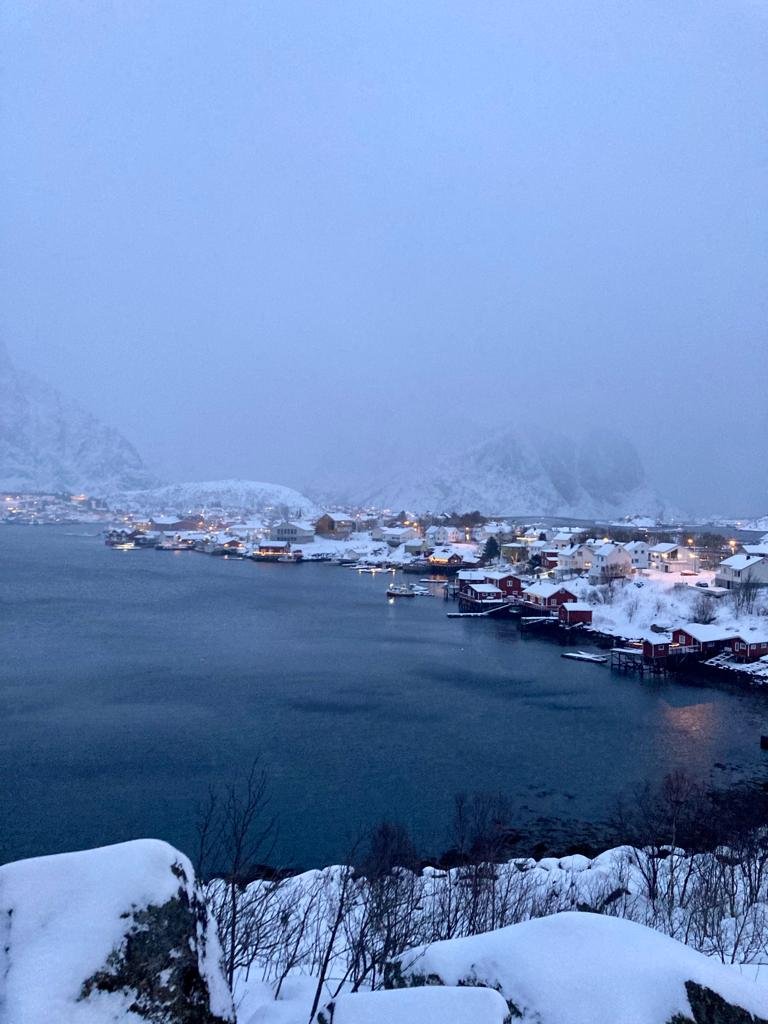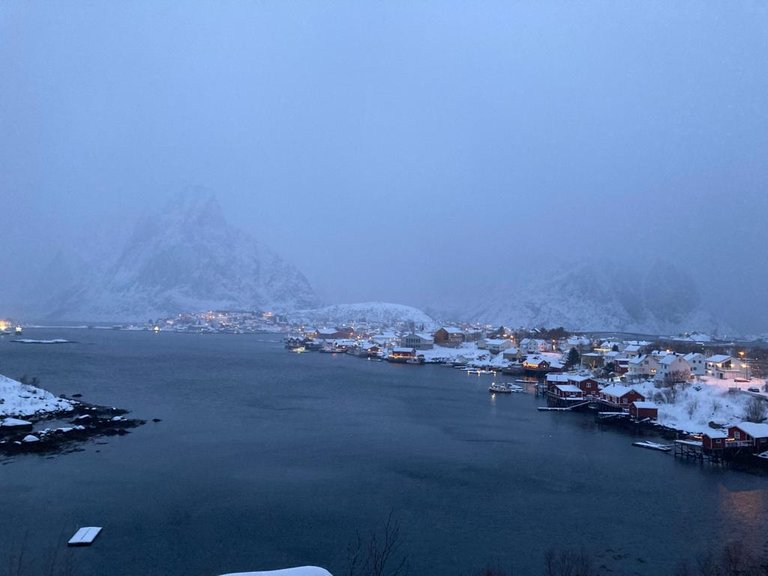 night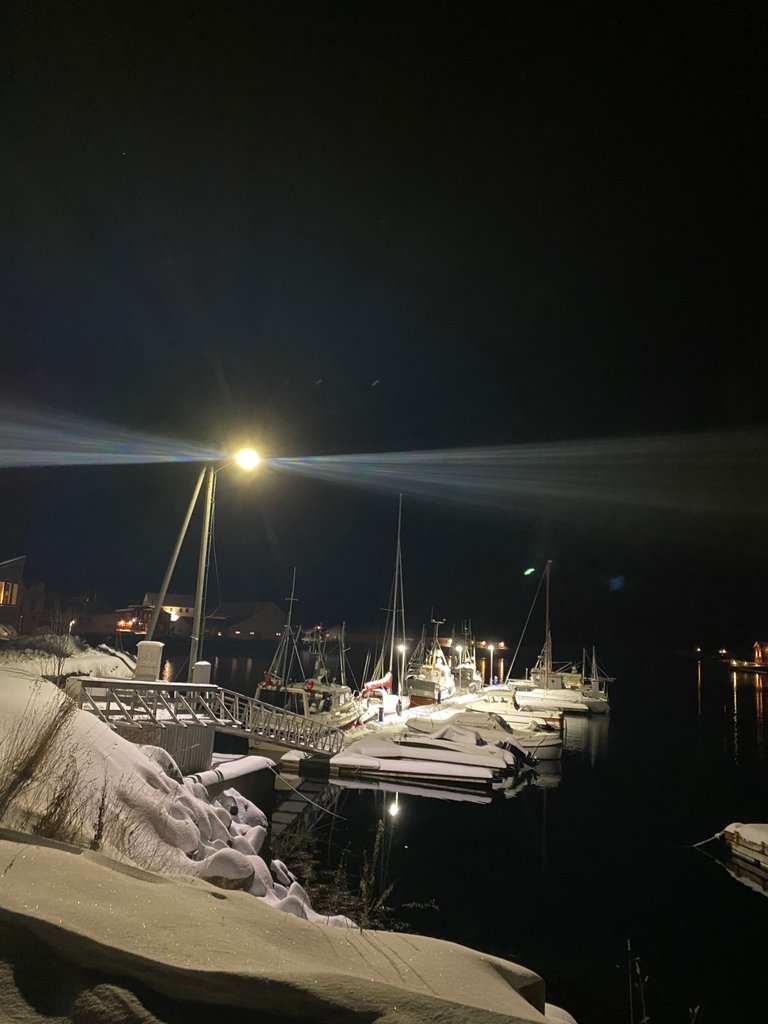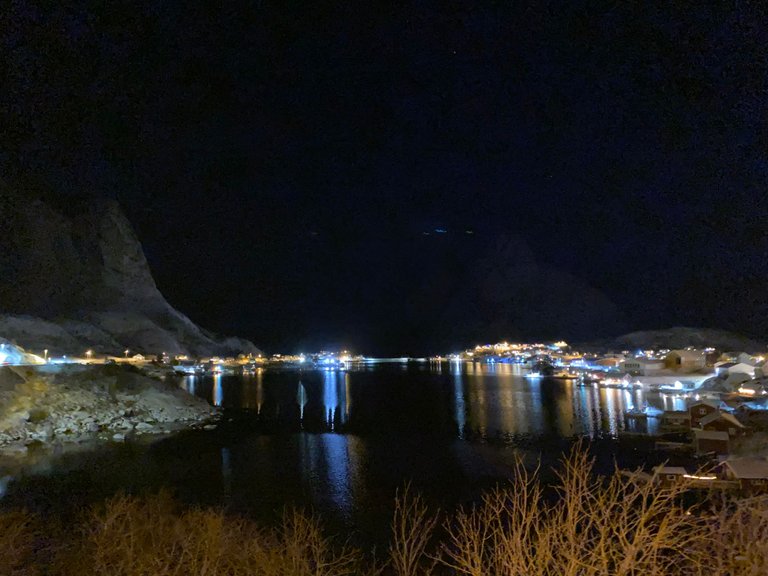 Later, it was not so late but because the sun was already gone it looks like night, we still drove the small winding streets along the water and spontaneously stopped at a small harbor with many sailboats. Here, too, we met no people and it all seemed so deserted and quiet. It was a totally beautiful atmosphere that we were allowed to get to know and had never seen before. I wondered how it is for children to grow up here but just the idea was really nice. Far away from all the car noise and the big city where you still went fishing and probably knew almost everyone in the village by name. And here and there times a few tourists were but also not too many.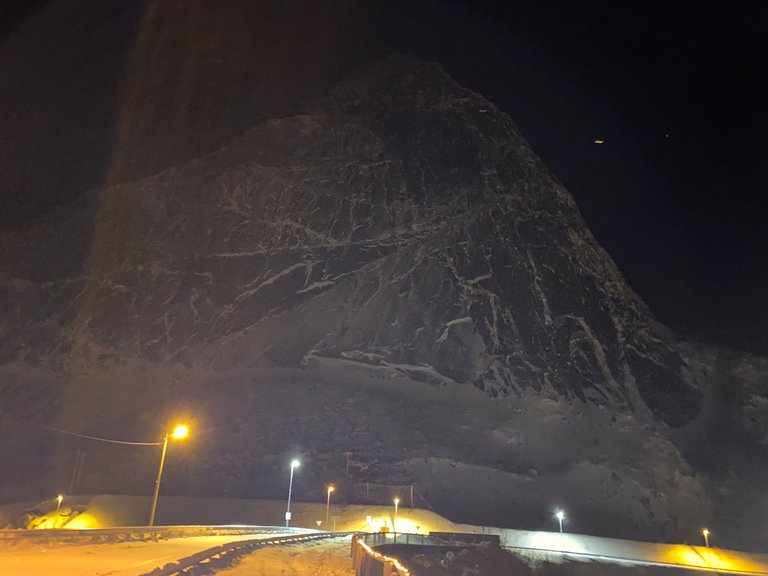 We took a little walk and also went on a jetty, where I secretly hoped that it was also allowed haha. But there was nowhere a sign that it was forbidden or the like and also no grid in front of what was locked. After that we went a little bit further but also immediately turned around and went back to our Airbnb apartment and were already looking forward to tomorrow, when we could expect more brightness.
As far as I can remember, I had never been in a snowy landscape at the harbor. But it looked great, even if it was dark and the colors were not so extreme. Norway had really caught me a bit with its charm.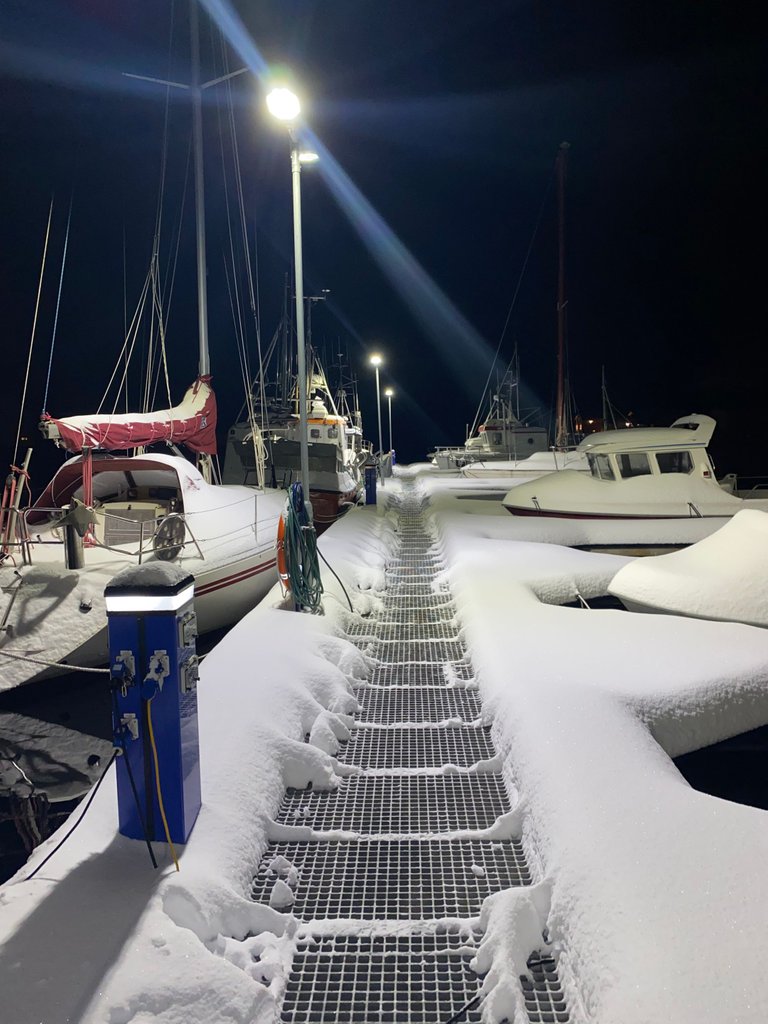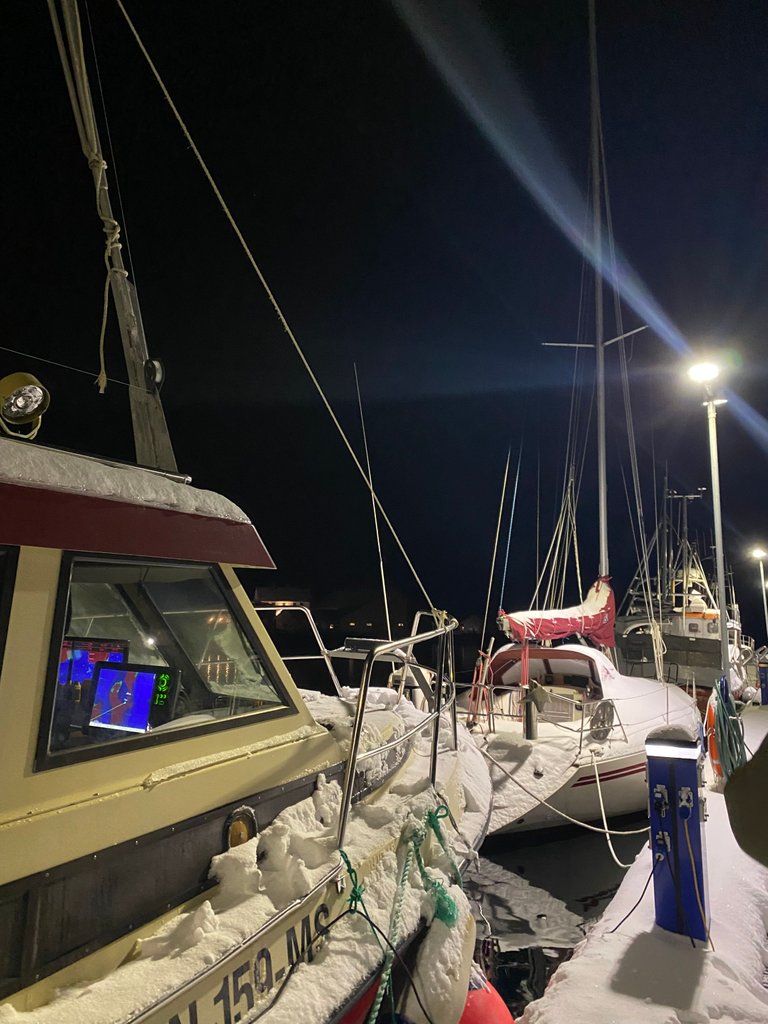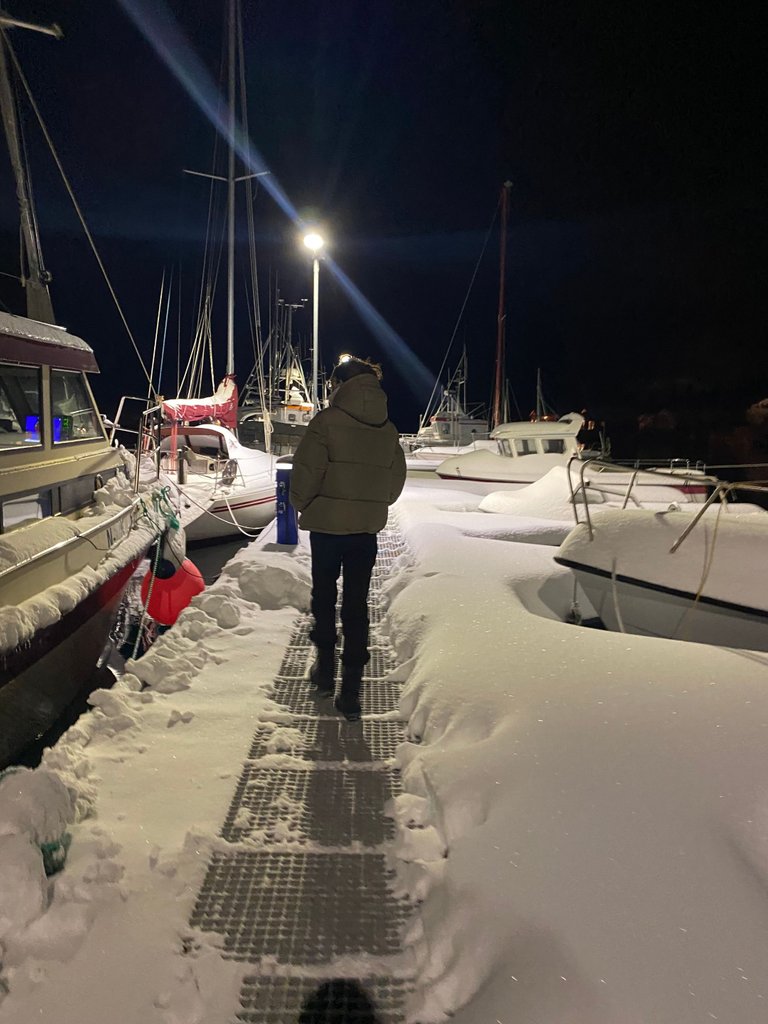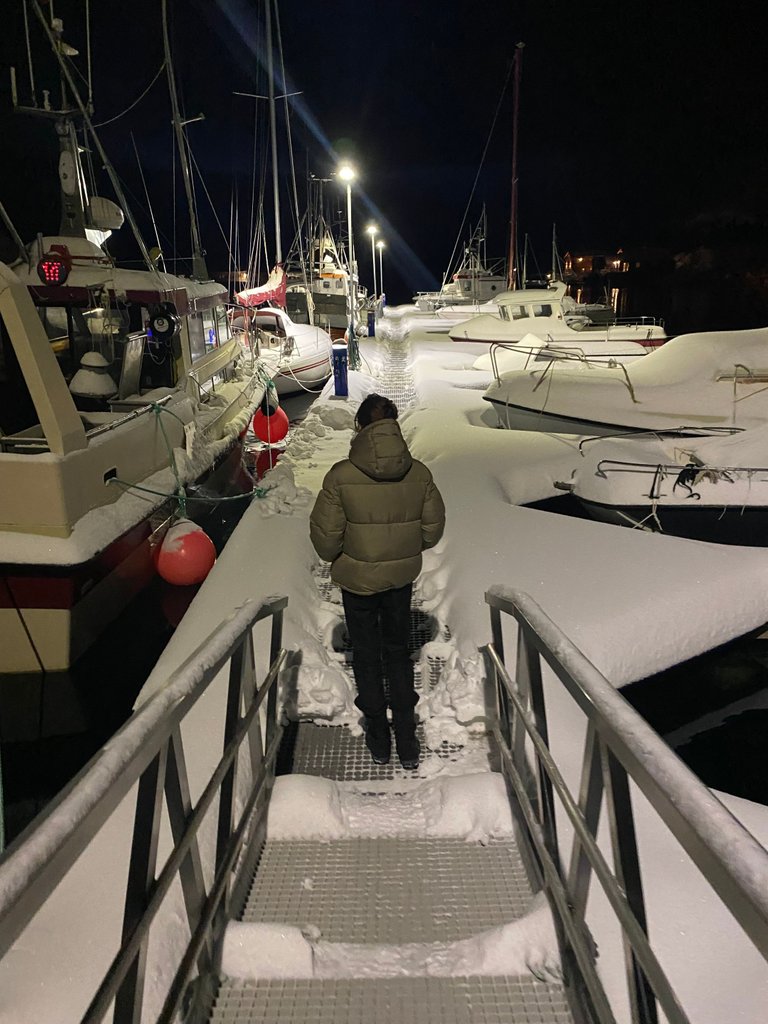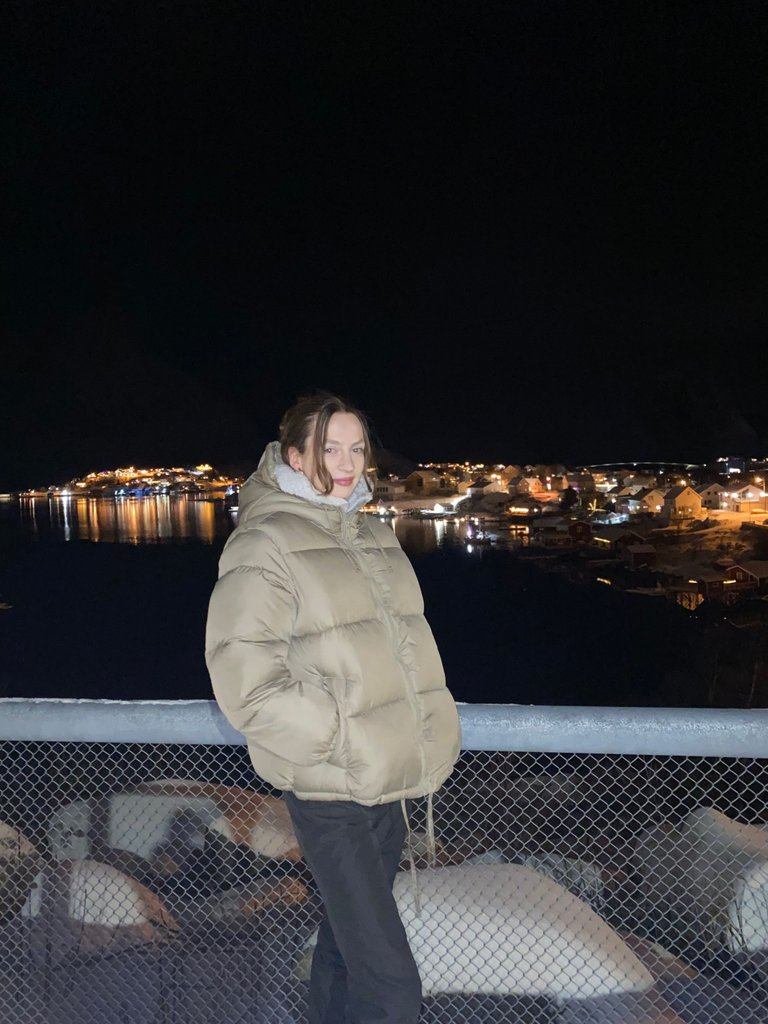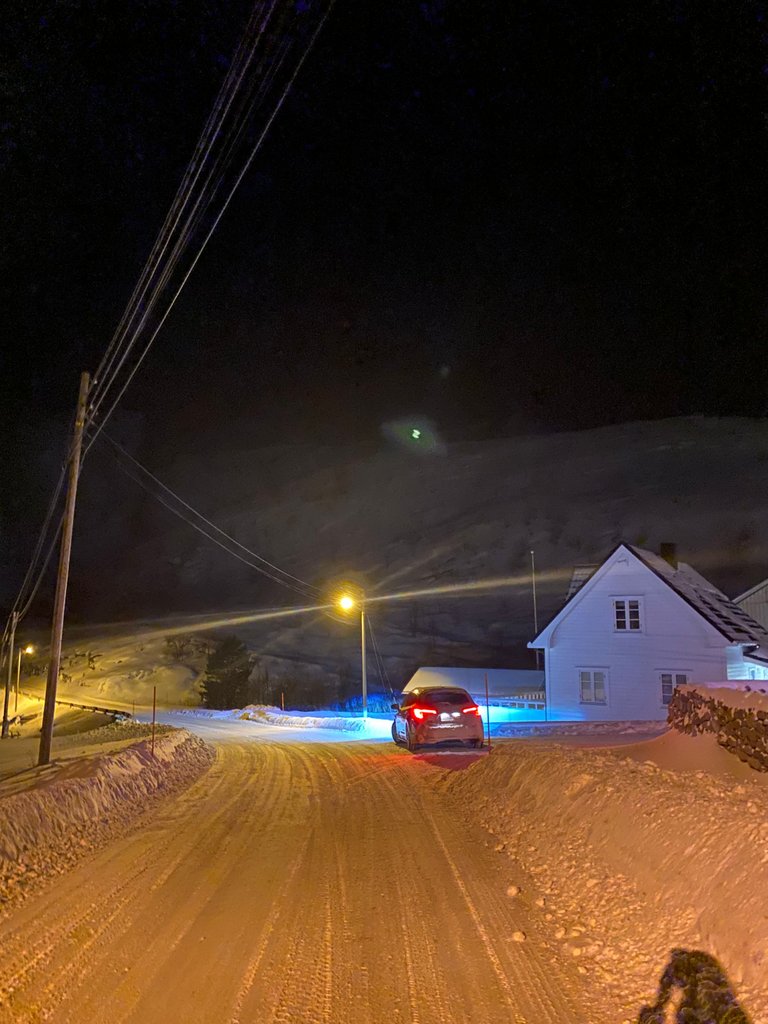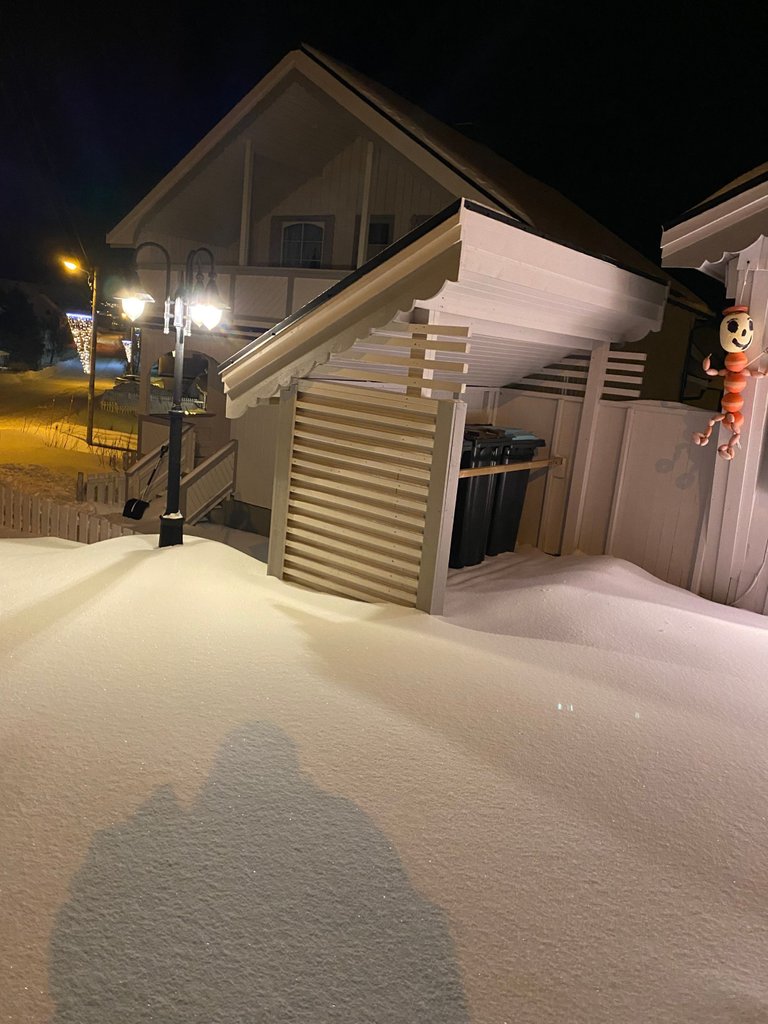 Here you can see our small but nice Airbnb apartment in Lofoten again, which was definitely enough for two. Coke and some chocolate were even left in the fridge and there were small snacks on a plate that you could take. Very attentive I thought! The only thing that was a bit unfortunate was that the World Cup final wasn't broadcast on Norwegian TV which we had available there, or we were just too stupid for it haha ​​:D
But it wasn't too bad, you don't fly north to watch a football game in front of the TV.
I hope you enjoyed my second post about these archipelagos and that it might be a travel inspiration for you.Besides,I'm sure there are many other great places to travel to in Lofoten.
See you soon and greetings from Cologne :)