Read this post on TravelFeed.io for the best experience
---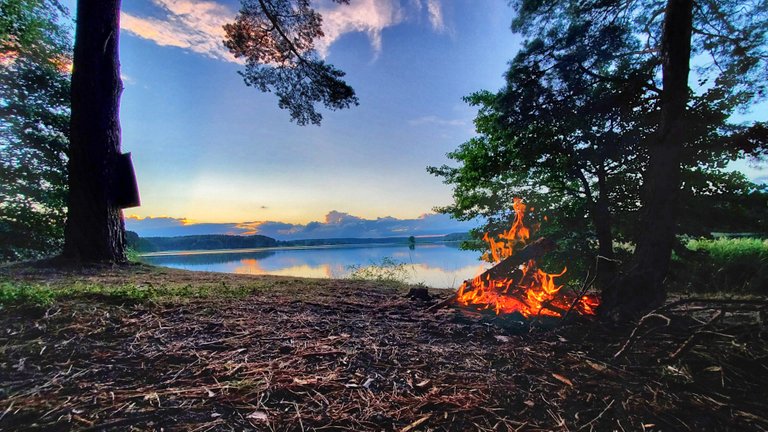 ---
Have you ever thought about leaving it all behind? And just going out into nature, all by yourself or with friends in the wilderness? With a small boat and no plan? I'll explain to you here what you should have with you - real practical tips after a dozen tours in
different countries
and one dangerous rivers.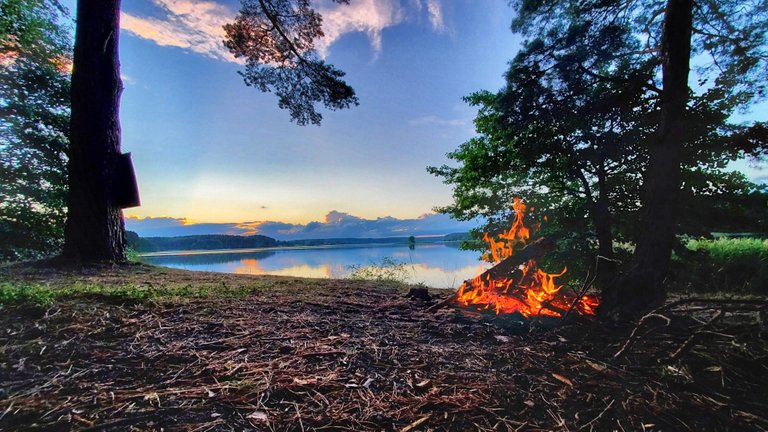 Some things are important when you are outside: fires the most
For days, even weeks, away from civilization, outside, exposed to the weather, under the sun at best, but at worst in constant rain. If you go out into nature, in a small boat, cut off from civilization, you have to prepare well to be ready for any eventuality. You can capsize, you can get stranded. You can end up in a place you don't want to be. The right gear is your life insurance, because it helps you survive bad conditions that you never thought could exist before.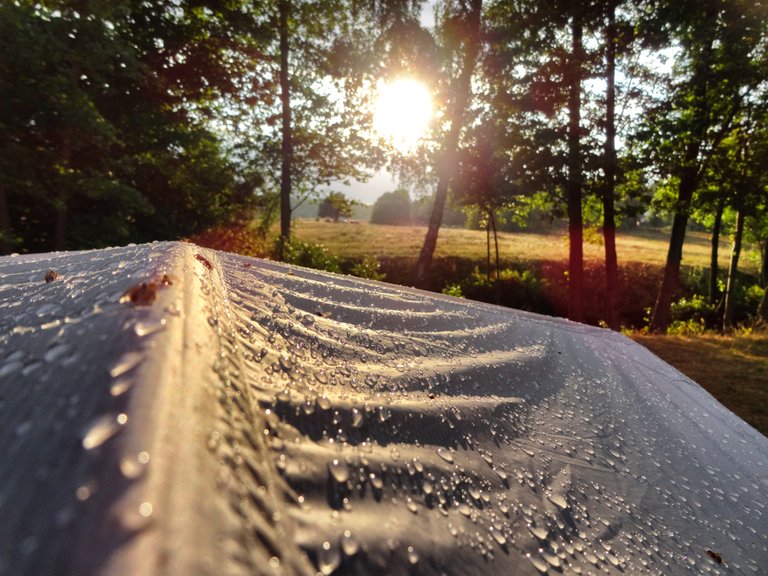 A tent is your insurance
After all, it's summer, you're out on a river that's sometimes not much wider than your garage. But horror lurks everywhere: only when you have left the last houses behind you do you realize how dependent modern man is on the many comfortable facilities of the modern world. Out here in the woods and meadows there are no taps, no washing machines, no waiters, no beds. At night it is sometimes darker than outside, as it used to be called in Germany. And during the day it pours without stopping in the evening.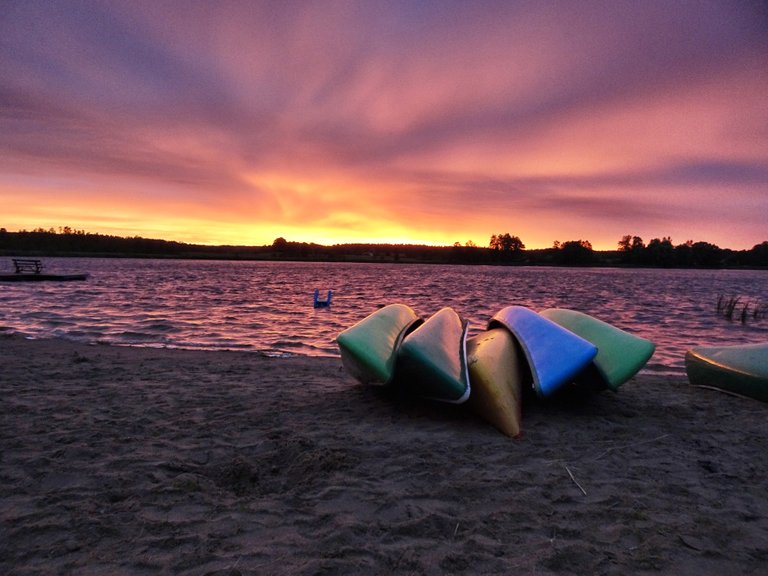 But you're always needing luck with the weather
It should be fun, ever
You are responsible for making sure that all this is still fun. When we went on our first paddling trips, we did it like real city kids. We had a tent that wasn't tight. We had mattresses that were huge. We had some cookware and a stove that turned out to be ineffectual. We were traveling in the summer, so we thought beforehand, it's going to be warm, what's going to happen.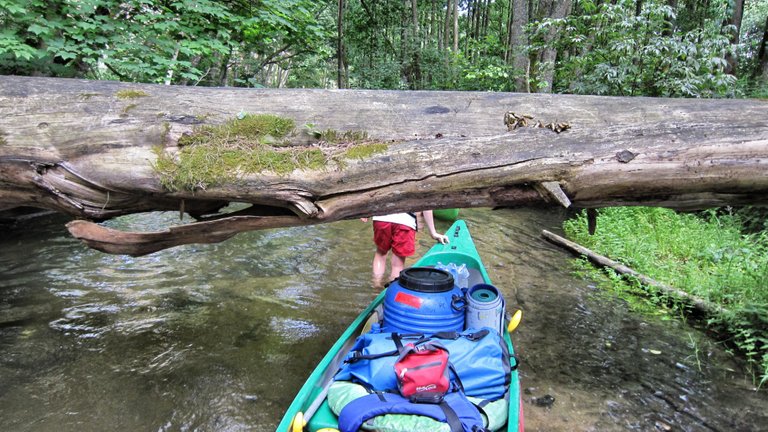 A canoe is like a moving truck, everything always fits in it
No sooner had we paddled out onto a Swedish lake for an hour than the sky broke over us. We fled to a nearby island, soaking wet. And had to hold out there for two full days before it got a little brighter again and we could continue.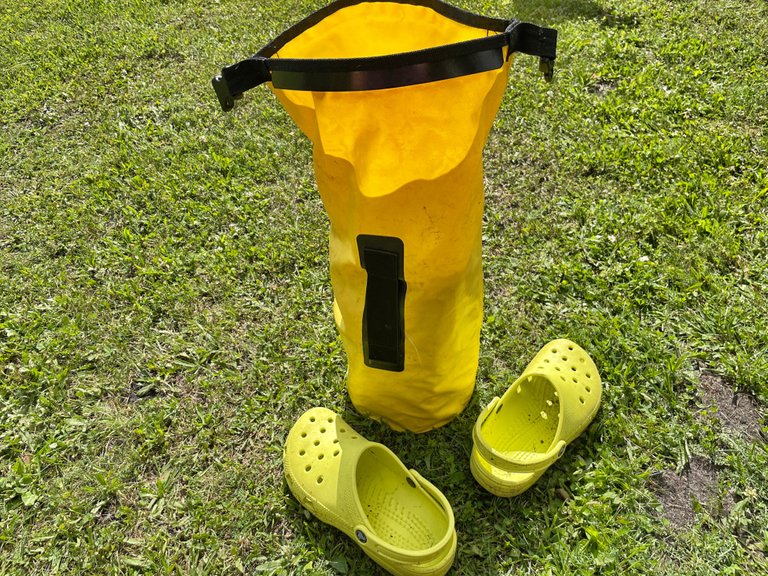 Water proof bags are important too
Be prepared for something like this. Canoes, which are our favorite travel companions for this very reason, have enough storage space to pack everything needed just in case, even if it doesn't happen. Often there is no chance to buy anything on the road. It is true that during the day you can drink the water that you draw in lakes - preferably from the middle. But who wants to sit by a fire in the evening and suck on a cup of water?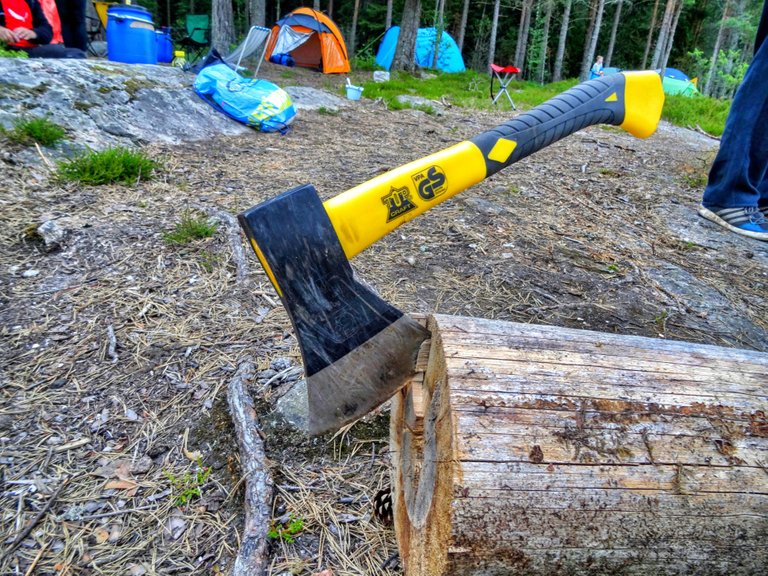 Like the axe
You need wood
About fire. In Poland you are allowed to light fires, in Sweden too, but not in Germany. So you need wood. And to make it suitable, an huge axe is indispensable. In addition a small axe and a saw, we are always in the group on the way, there distributes itself everything on several boats. In the luggage belongs of course also - real survivalists turn away with horror - tinder, which makes the kindling possible also in the pouring rain.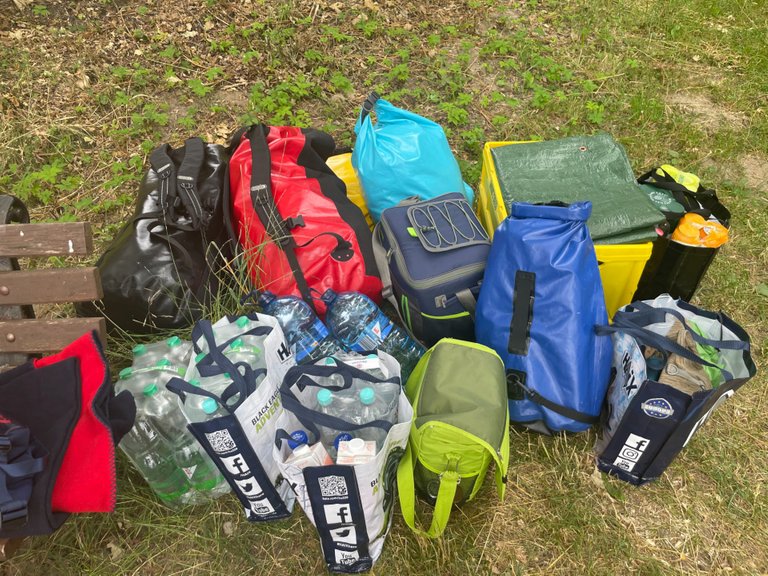 This is all you really need
Just then you really want to have a fire, but when everything is wet.... So pack wax-soaked shavings, a candle, some spirit. There is no such thing as wet wood, everything burns. If you can set it to flames enough. And there's no one out here looking at you stupidly because the pure teaching would be a fire steel and some tinder.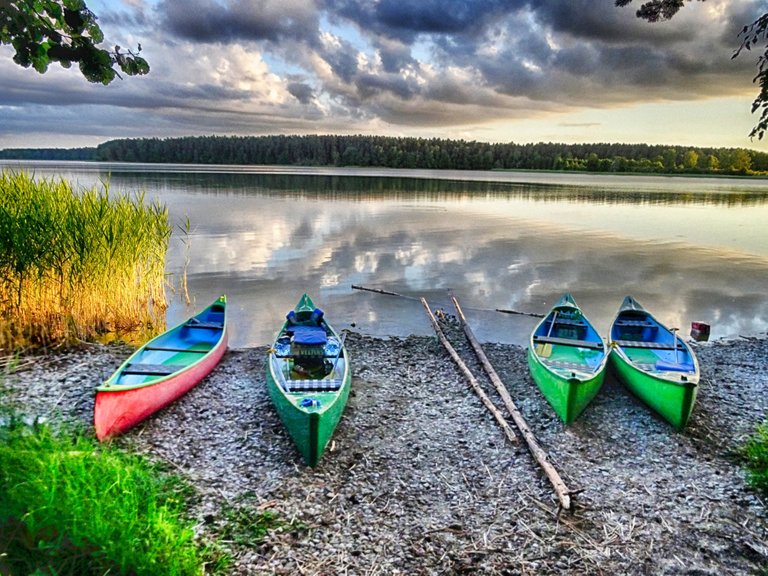 And it all fits in one of these boats
If you have fire, you can cook, you don't need an extra stove now. But a pot and preferably a tripod to hang it safely over the flames. This can also be replaced by a wooden construction from wild wood. But you have to assemble it every day - so it's better to use a steel frame that is guaranteed not to collapse.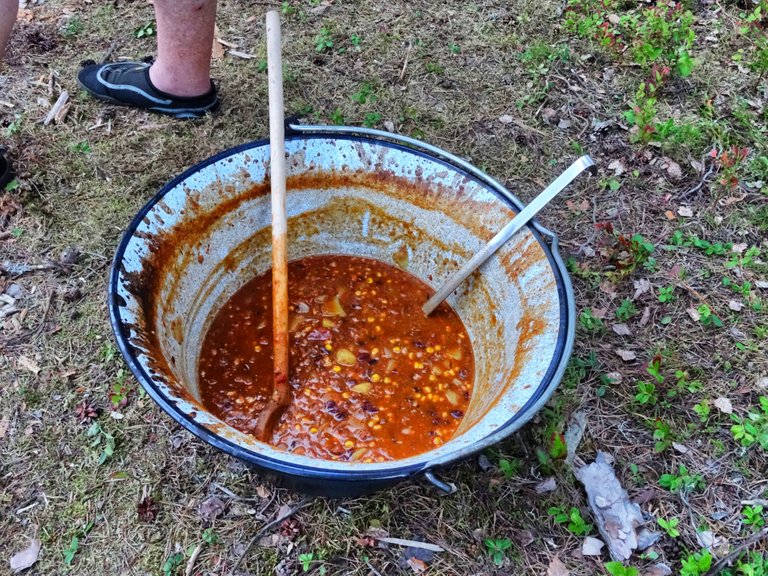 Bon appetit with the cauldron
Take waterproof bags
Supplies for every adventurer are put together on a daily basis. Everybody knows what he needs, everything comes together in a big box, preferably a waterproof one. Even better are waterproof bags with roll closure, because they are more flexible and do not take up so much space in the boat. A three-person canoe, occupied by two people, is actually a moving van: In the middle, six bags with tent, sleeping bags, food and everything else fit easily. In the front and in the back there is more space for water bottles, guitars, axe, tripod and - very important - rain gear, which is ready to hand when the storm comes and you are in the middle of a big lake.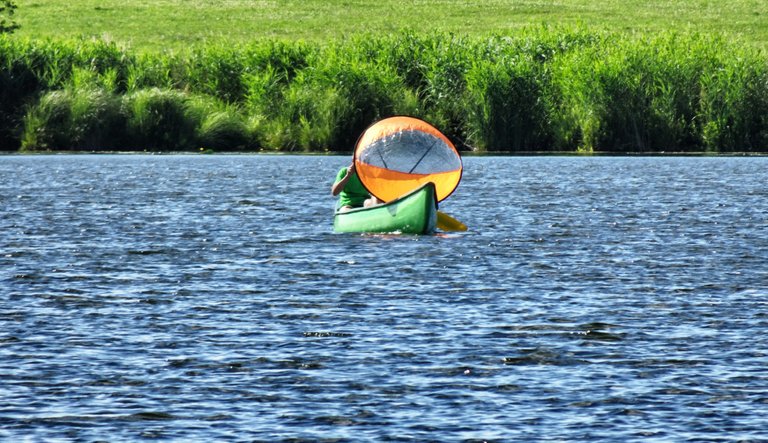 With a sail you can save paddling
The tent does not have to be large, as mats there are now thin special parts that weigh no more than a shoe. Speaking of shoes: Anyone who thinks they are well equipped with so-called water shoes is making a fatal mistake. These things get wet quickly, but dry very slowly.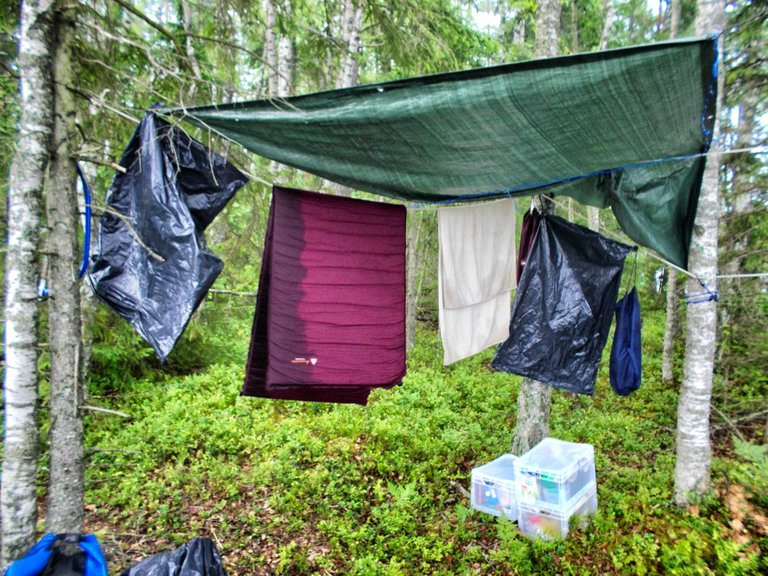 A tarp helps with drying
This makes the feet cold, icy cold, even more so if the canoe is one than aluminum, which dissipates heat at lightning speed. Better are sandals, even flip-flops. These are combined with sturdy shoes to be able to search for wood at the campsite without risk of injury.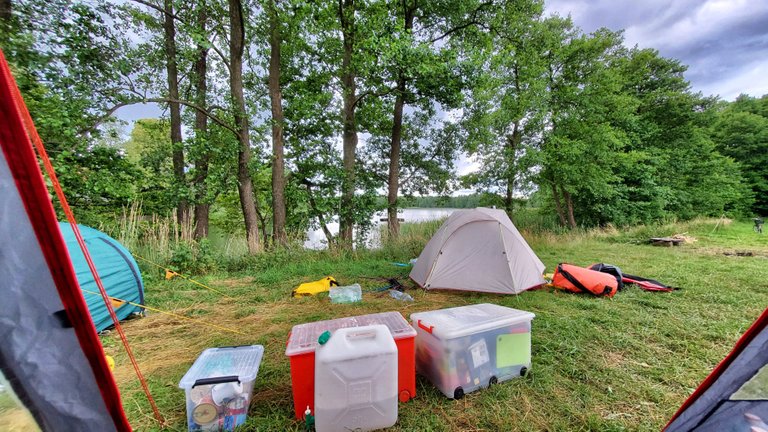 A tarp helps with drying
Take a spade with you
As in Sweden, many official bivouac sites in Poland are equipped with toilets. They are always simple facilities, but always better than the forest. If you have to go to the forest, you should have a spade with you. This will prevent people who come after you from returning scolding you for their soiled shoes.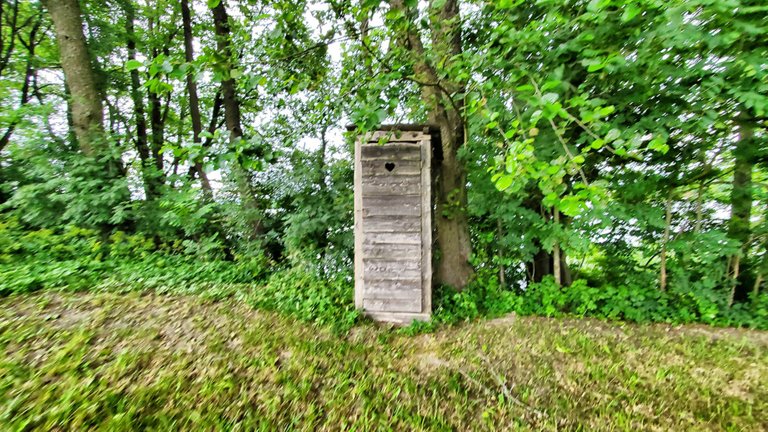 Sometimes you will find beautiful rest rooms
When it comes to drinks, we have always gone for cans. They're full lighter than bottles, they don't break, so no one can get hurt from shards. And when crumpled up, they hardly take up any space in a large garbage bag. So even if there are a lot of them, they can be taken along until a trash can appears somewhere on the shore.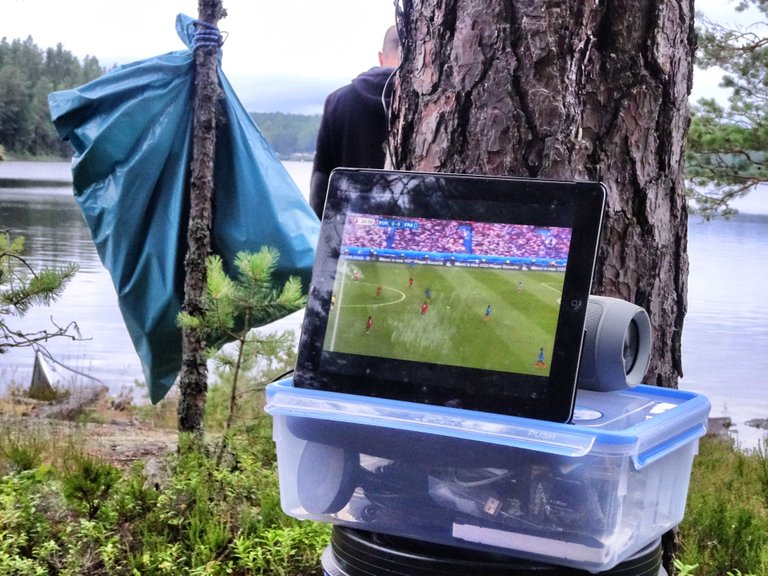 And in Poland you can watch football everywhere outside with a 4G connection
What is still missing? A knife for making art on rainy days, a flashlight, plastic dishes, preferably of the kind that can be folded from plate to bowl. Water filter who wants, a coffee mug, preferably large and with thermal insulation for long breakfasts on days the nature is against you.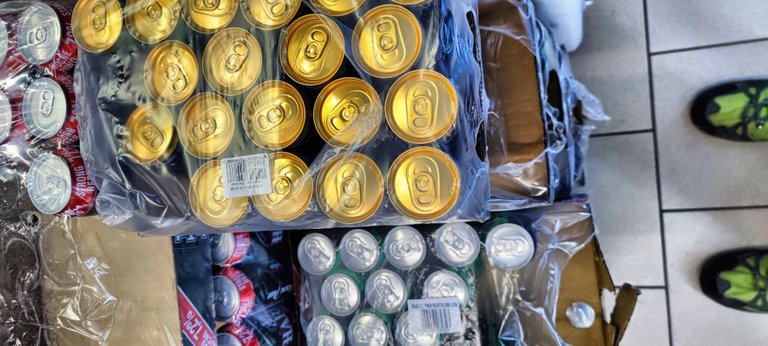 Take drinks always in cans with you
They're always coming back
As clothing everything double, because who once lay in the water and that in perhaps not optimal weather, which can not continue in wet things. For everything that must not get wet, there are the roll bags, which, if properly tied, even float if the boat capsizes. Be sure to try them out: Like plastic canoes, which are common in Poland, aluminum models, which are to rent in Sweden because plastic boats would break too quickly on the shores of rocky islands, go absolutely unsinkable.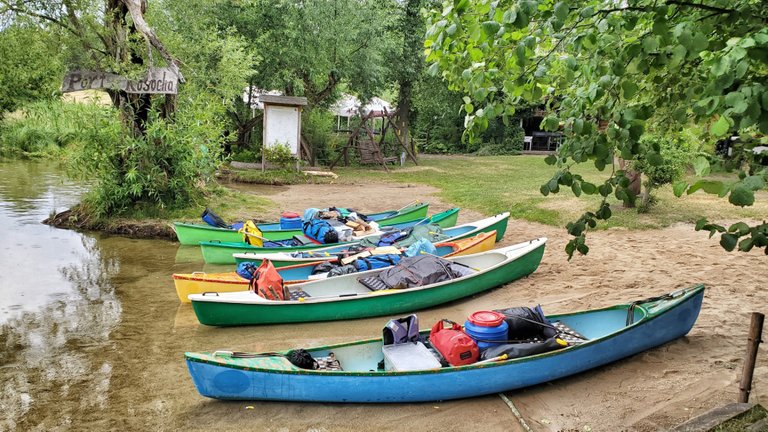 Ready to start another day
We tried it out. Even four people trying to push such a boat under water can't do it. So you can have trust at all. They`re all coming back. Smiling or happy to have survived.
Thank you for reading and if you like my work please follow me          on Hive, Travelfeed or Steem or visit my homepage koenau.de
A few more pictures for you: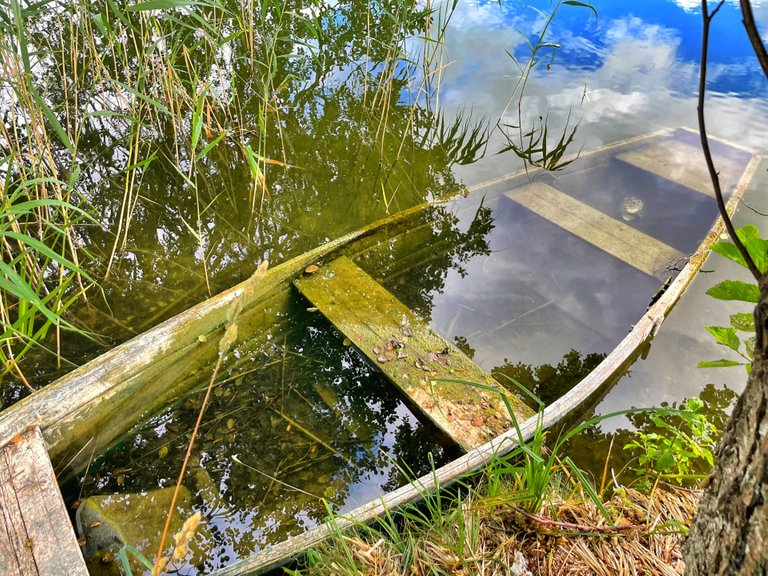 You'll never sinking in mondern boats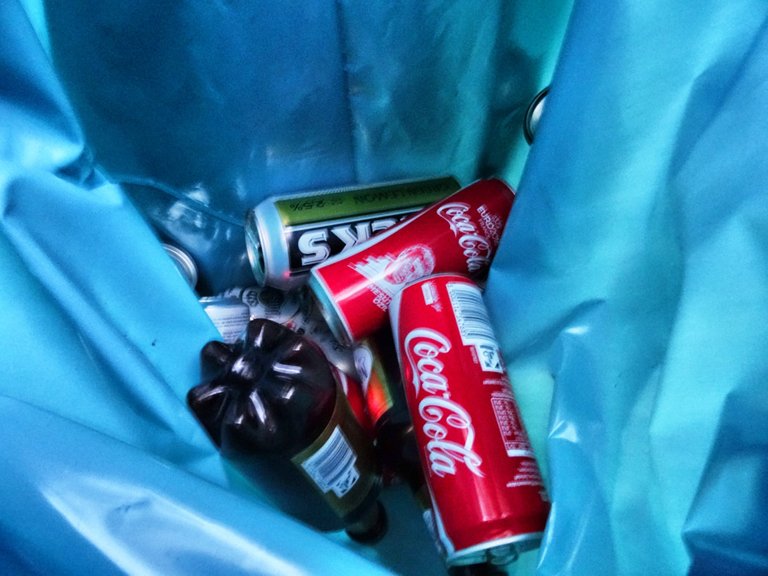 Cans you can leave in trash bins along the way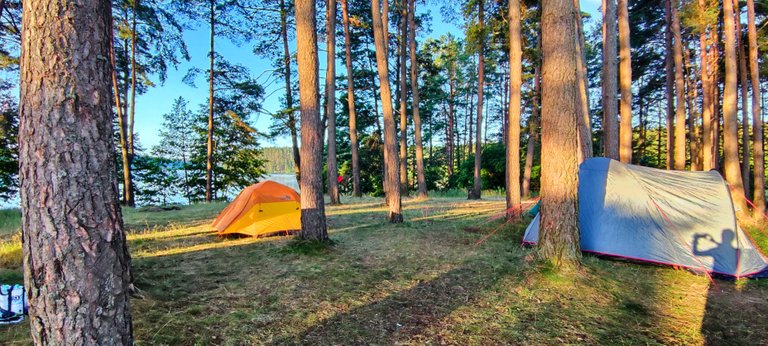 So nice lokks the tipi village early in the morning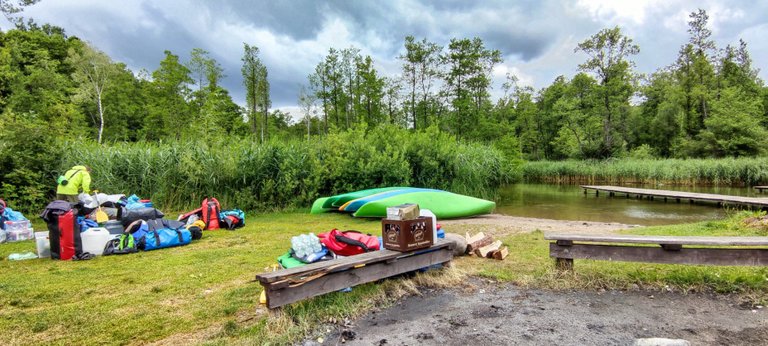 Another day, evening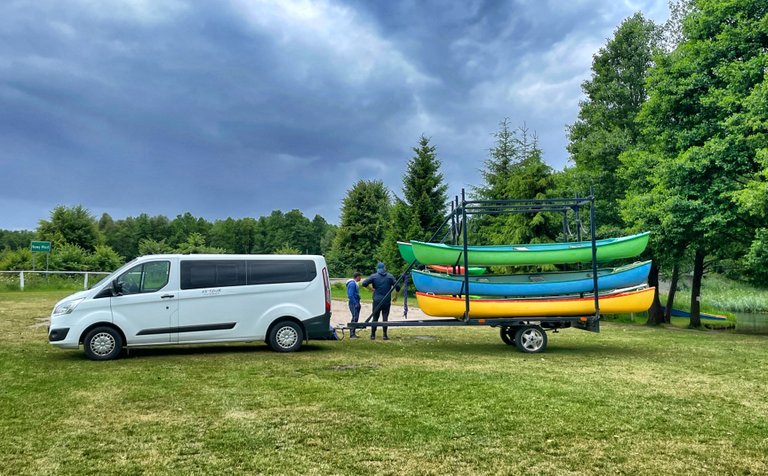 The tour ist over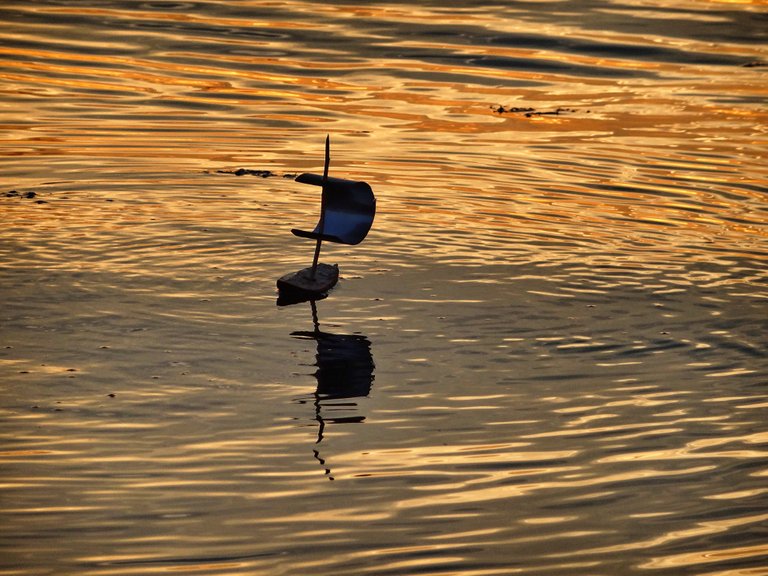 We carved this little sailing boat out of bark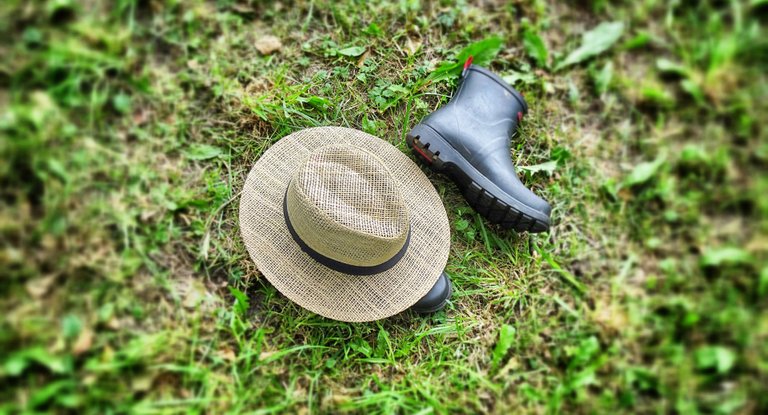 A hat and rubber boots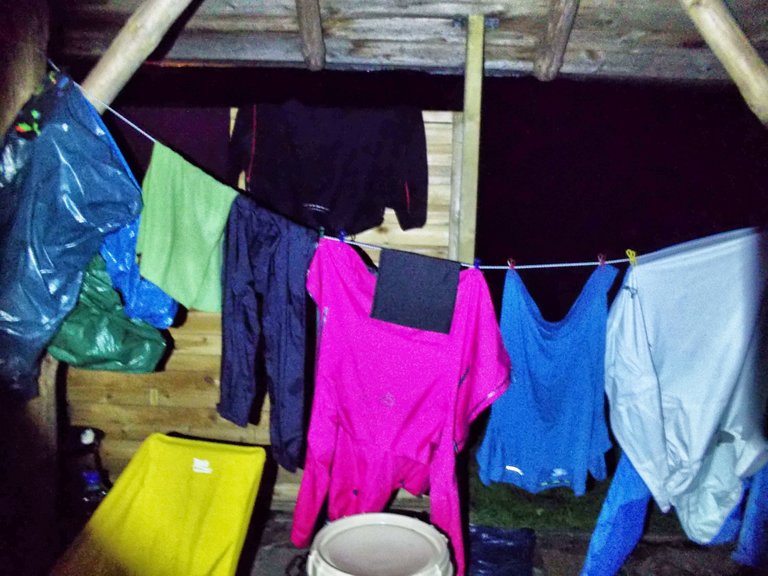 It's raining again

Another tipi village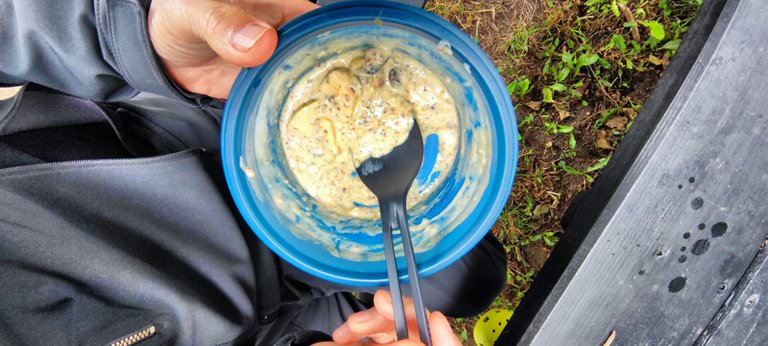 The best plates are flexible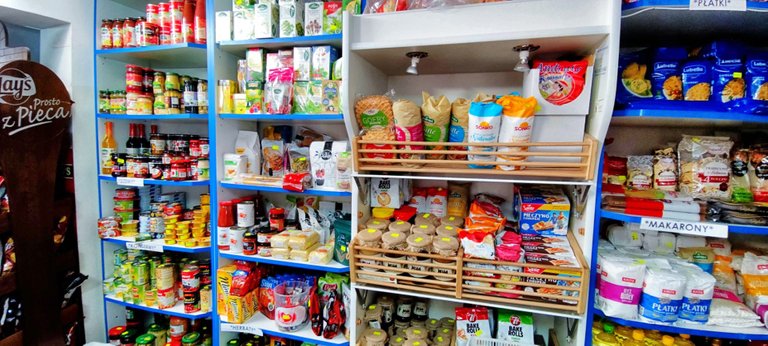 Rarely are there places along the way where you can shop
---
View this post on TravelFeed for the best experience.