Personally, I consider myself a person who prefers the mountains a thousand times over the beach. Going to visit mountainous places is magical: no place is the same as the other, there are a variety of shapes and colors, depending on the vegetation of the place, each landscape changes color throughout the year ... Wonderful simplicity. But this does not prevent you from enjoying a good day at the beach, listening to the sea and eating food with sand 😂. Something that was completely outside of our initial plan within the trip to Sierra de la Ventana was to finish on the beach, but that's how it was ❤️.
En lo personal me considero una persona que prefiere mil veces la montaña antes que la playa. Ir a visitar lugares montañosos es mágico: ningún lugar es igual al otro, hay variedad de formas y colores, dependiendo de la vegetación del lugar cada paisaje cambia de color a lo largo del año... Simpleza maravilloso. Pero esto no impide que pueda disfrutar de un buen día de playa, escuchando el mar y comiendo comida con arena 😂. Algo que estuvo completamente fuera de nuestro plan inicial dentro del viaje a Sierra de la Ventana fue terminar en la playa, pero así fue ❤️.
---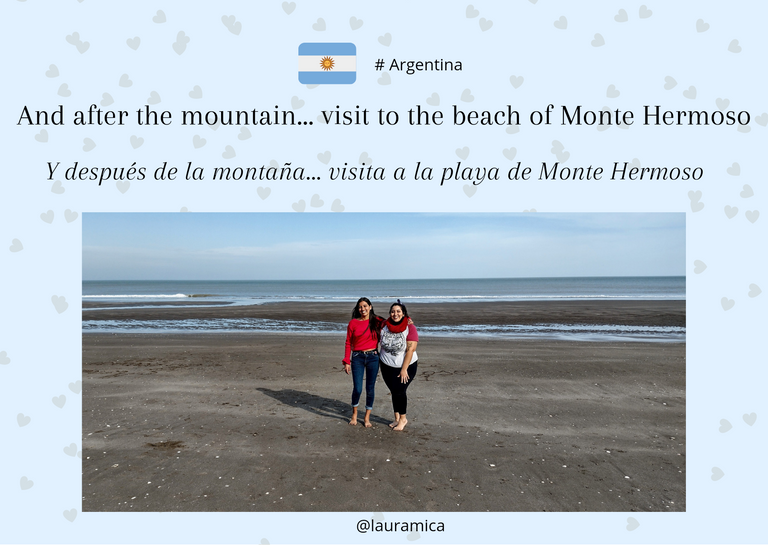 ---
With this trip we literally finished crossing the entire province of Buenos Aires from end to end. Whenever I am traveling I like to check the map to see my location and at that time I did not believe that I was so far from home but still being in my own province.
Con este viaje literalmente terminamos de cruzar de punta a punta toda la provincia de Buenos Aires. Siempre que estoy de viaje me gusta chequear el mapa para ver mi ubicación y en ese momento no creía que estuviera tan lejos de casa pero aún estando en mi propia provincia.
---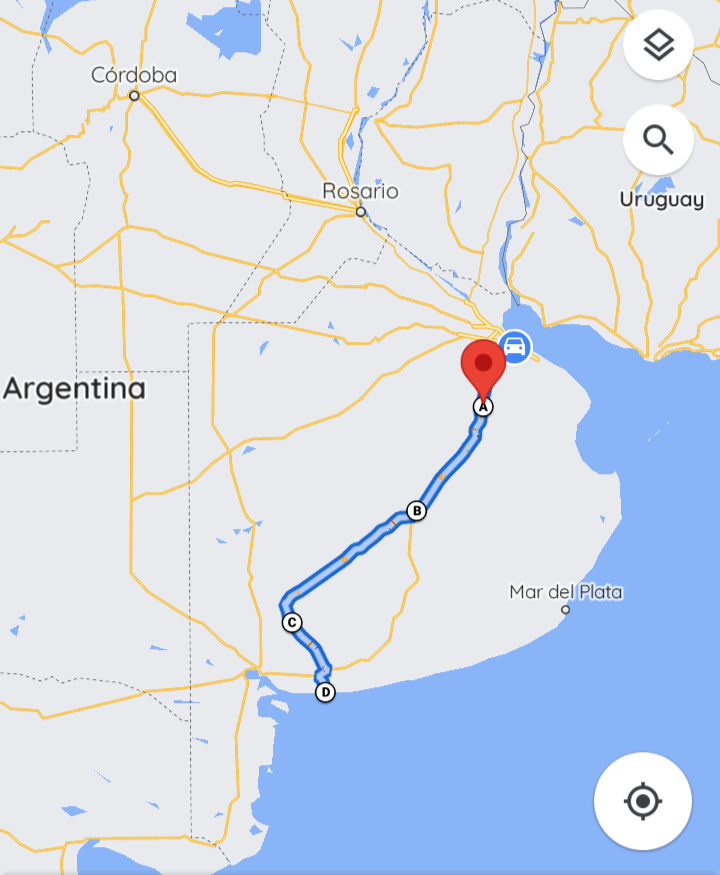 Screenshot from Google maps
---
The decision to go to the beach was unanimous. It was already Monday, the third day of our car trip. By then we had already toured several interesting places but we still wanted to see more. We left early from Sierra de La Ventana and after two hours we reached the beach of Monte Hermoso. The day was gray and somewhat cold at the time, it was not very pleasant to tell the truth.
La decisión de ir a la playa fue algo unánime. Ya era lunes, el tercer día de nuestro viaje en auto. Para entonces ya habíamos recorrido varios lugares interesantes pero aún teníamos ganas de ver más. Salimos temprano desde Sierra de La Ventana y luego de dos horas llegamos a la playa de Monte Hermoso. El día estaba gris y algo frío en ese momento, no estaba muy agradable a decir verdad.
---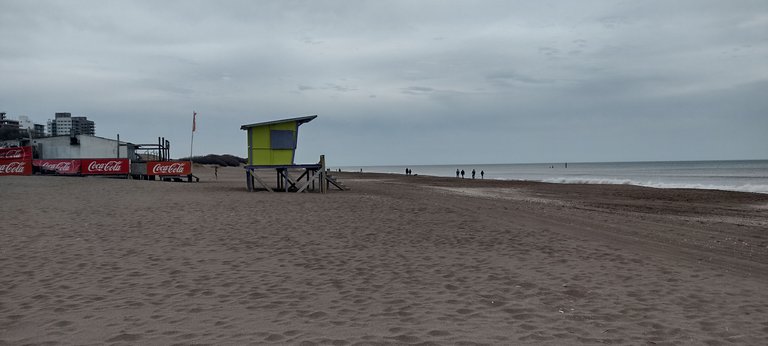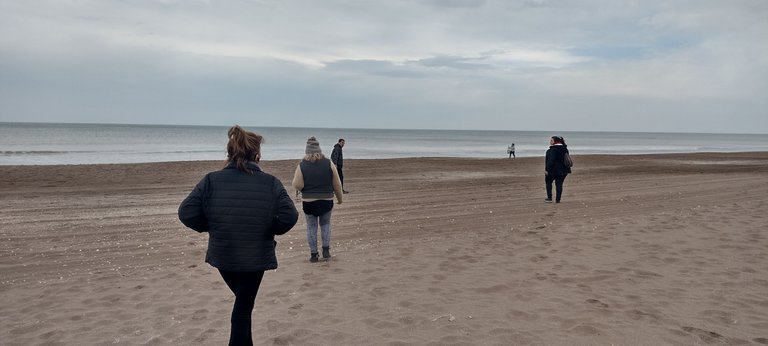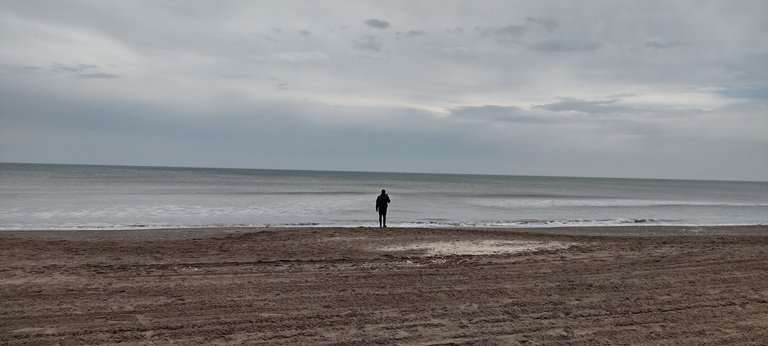 ---
We take the opportunity to take a short walk along the shore. There weren't many people then, it was around 1 PM and with the day like this, who would want to be in that place apart from us tourists who were more than 500 km from home 😂.
Aprovechamos para dar un pequeño paseo por la orilla. No había mucha gente entonces, eran alrededor de la 1 PM y con el día así, quién querría estar en ese lugar aparte de nosotros turistas que nos encontrábamos a más de 500 km de casa 😂.
---

Of course after a while we started to get very hungry. We went for a walk around the center of Monte Hermoso but to our surprise all the businesses were closed. Perhaps as the season was low, nobody wanted to open their business due to the lack of people. The good thing was that when we returned to the beach after a long time looking for something to eat, the sun had come out ❤️.
Por supuesto luego de un rato empezamos a tener mucha hambre. Salimos a dar una vuelta por el centro de Monte Hermoso pero para nuestra sorpresa estaban todos los negocios cerrados. Quizás como la temporada era baja nadie quería abrir su negocio por la falta de gente. Lo bueno fue que cuando regrasamos a la playa después de un largo rato buscando algo para comer, había salido el sol ❤️.
---

The only thing we found open was a local empanadas so that's what we had for lunch 😂. I'm not complaining, they were delicious despite the sand that flew over them 😅.
Lo único que encontramos abierto fue un local de empanadas así que eso fue lo que almorzamos 😂. No me quejo, estaban deliciosas a pesar del arena que les voló encima 😅.
---

This Monte Hermoso beach is a great tourist destination in the summer. I didn't know her, but when I came here she reminded me a lot of Mar del Plata, the most important coastal city in Buenos Aires. It has a lot of accommodation facing the sea and the beach is really wide, for sure in hot weather this place is extremely crowded.
Esta playa de Monte Hermoso es un gran destino turístico en el verano. Yo no la conocía, pero cuando vine hasta aquí me recordó mucho a Mar del Plata, la ciudad costera más importante de Buenos Aires. Tiene un montón de alojamiento frente al mar y la playa es realmente amplia, seguro en épocas de calor este lugar es sumamente concurrido.
---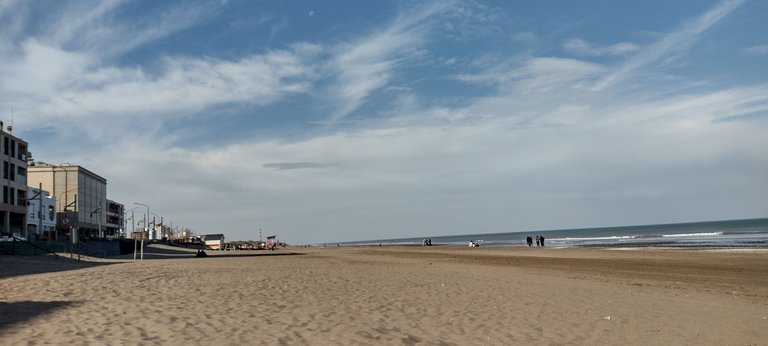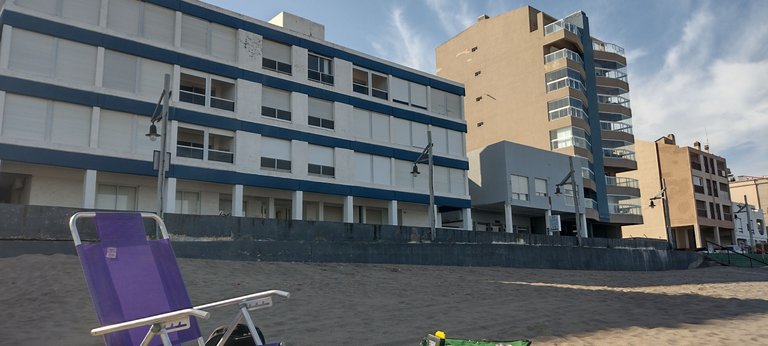 ---
On the other hand, I have proposed to myself that I would get my feet wet in any place I visit that has a body of water (my immune system does not like this). Let's review, it was August, it was cold, the sun was shining but barely warmed up ... all that resulted in frozen water that made my bones ache but at least I had the experience of getting into the sea in Monte Hermoso (even significantly 😂) .
Por otro lado, me he propuesto a mí misma que mojaría los pies en cualquier lugar que visite y que tenga un cuerpo de agua (a mi sistema inmune no le gusta esto). Revisemos, era Agosto, hacía frío, el sol brillaba pero apenas entibiaba... todo eso dio como resultado un agua congelada que me hizo doler los huesos pero al menos viví la experiencia de meterme al mar en Monte Hermoso (aunque sea significativamente 😂).
Whenever we go to the beach with my aunt Olga (the one with the hat) we take a picture with the name of the place written in the sand. Surely we must have many photos like these, it is already a classic for us. This time, my aunt Alicia has joined the postcard ❤️.
Siempre que vamos a la playa con mi tía Olga (la que tiene el gorro) nos tomamos una fotografía con nombre del lugar escrito en el arena. Seguramente debemos tener muchas fotos como estas, ya es un clásico para nosotras. Esta vez, se ha sumado mi tía Alicia a la postal ❤️.
---

And once again, I am happy to have arrived with my friend Sofía in a new place ❤️ (I would not have been there if we had traveled alone 😂).
Y una vez más, estoy feliz por haber llegado con mi amiga Sofía a un nuevo lugar ❤️ (impensado estar ahí si hubiésemos viajado las dos solas 😂).
---

The funny thing is that before going to Sierra I had several trips in mind and one of them was to go to the beach. Thanks to the twists and turns of life (and my cousin Gastón, the driver) we ended up visiting the mountain and the beach in the same walk. I was really happy in those days, I was receiving much more than I had imagined and that is something that I will always be grateful for ❤️.
Lo curioso es que antes de ir a Sierra tenía varios viajes en mente y uno de ellos era ir a la playa. Gracias a las vueltas de la vida (y a mi primo Gastón, el conductor) terminamos visitando la montaña y la playa en el mismo paseo. Realmente fui feliz en esos días, estaba recibiendo mucho más de lo que había imaginado y eso es algo de lo que siempre voy a estar agradecida ❤️.
❤️ Hope you liked this post! Thanks for reading. ❤️
❤️¡Espero que les haya gustado este post! Gracias por leer. ❤️
---

With lots of love. / Con mucho amor.
Lau 💕.
---
📸 Cover created with Canva. All the images are my property 💕.
📸 Portada creada en Canva. Todas las imágenes son de mi propiedad.💕
---