Ahoy matey, how was the party ?
It's Teo again and I am freezing here in Melbourne. People are going to snow mountains but I just want to bring you to the desert.
So, I have a question, what is the biggest rock in the world? You will need Google to answer this, and you may find lots of results. One of them: Uluru. Well, Uluru may not the biggest one, but it is the biggest SINGLE ROCK MONOLITH for sure. Do not leave Google, stay on it as I am not telling you A-Z about its geomorphology but my story about the crazy journey I have made.
AN ACT OF MADNESS
After finish the contract for the mango season in Katherine, a small town of South Northern Territory, we were 5 young boys had made a crazy decision of our life: Road trip to Uluru. Well, I know what are you thinking, what is crazy about a roadtrip? Yeah, you are right. A road trip is not worth talking about but the plan. Do you dare to drive more than 4,000 km with a $4000 car has no aircon?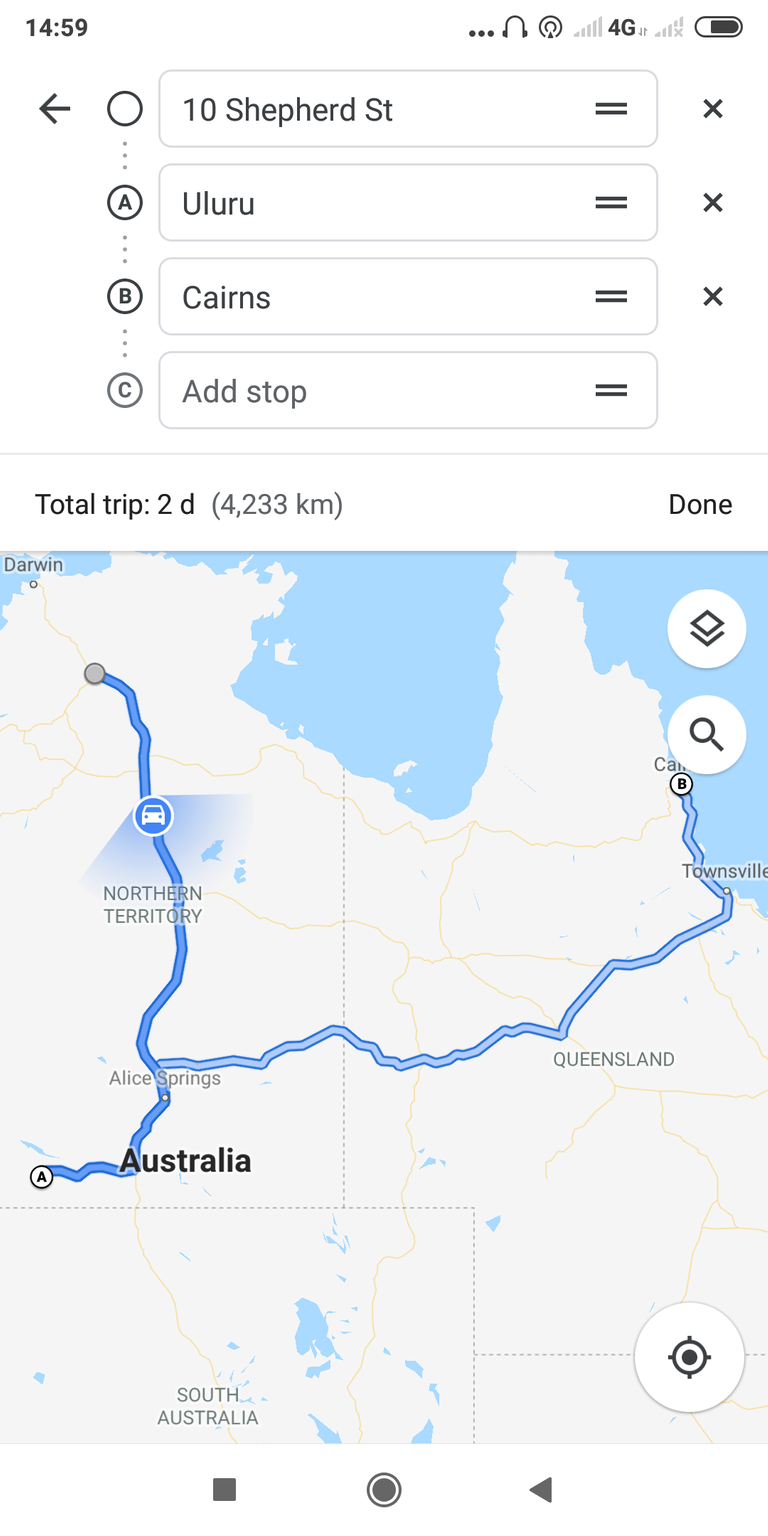 Here is the route
On the last day in Katherine before the trip, we bought a second hand tent ⛺️ for only 70 bucks because it was very hard to find accommodation on the way. We were unanimous in plan and decided to drive as long as we can and agreed to sleep at the roadside.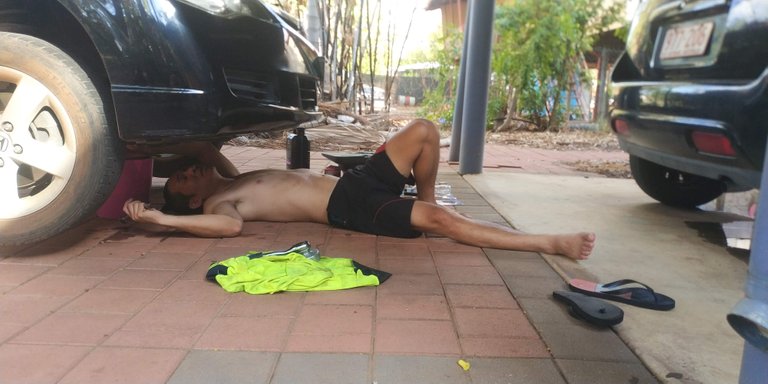 Check car safety before the trip
When Benz, a local police knows about our plan (Katherine is a very very small town, people know each other), he was a bit concerned so he suggested helping us fix the aircon. He is a police and also a great mechanic. He has a built-himself car.
Boys get ready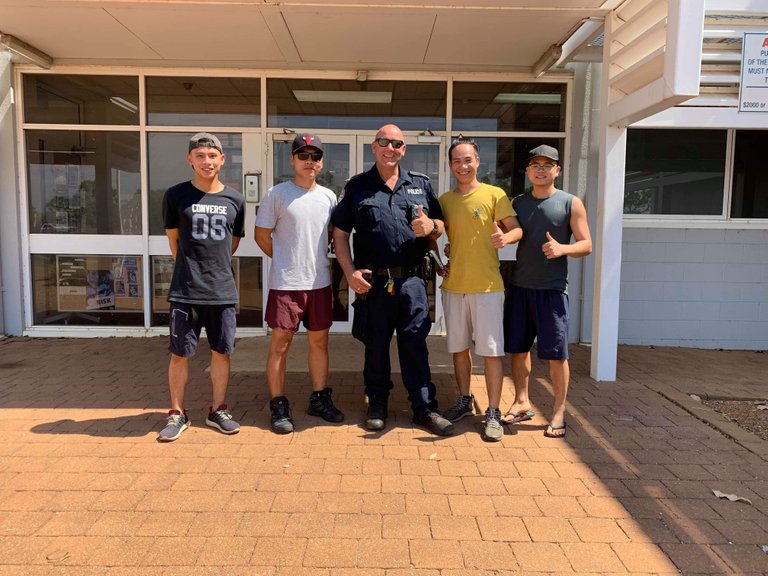 Passing by Police Station to give Benz a farewell
THE BEAUTY OF BARREN
Well, we are going to the desert, there is nothing more than sand, soil, and sunshine. All around much of your view is death. I was thinking during all the trip how the hell life can exist here? Oxygen is necessary for life but how about water? In a land of more than 10 months no precipitation?
What do you expect to see all the way 2,000km ?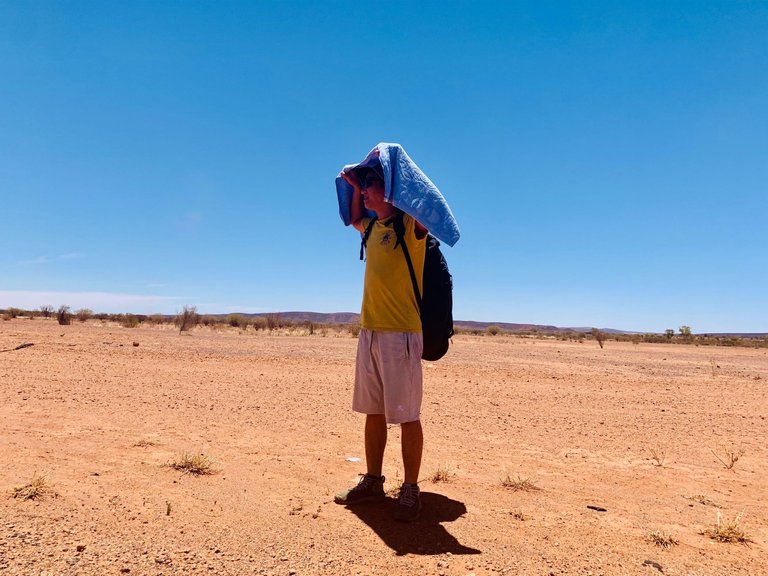 A shadow of a tree to take a break?
No, if you want to stop to take a break, do it when you see a tree, DO NOT wait until you feel so. The "wait" might be 200km. I am NOT kidding !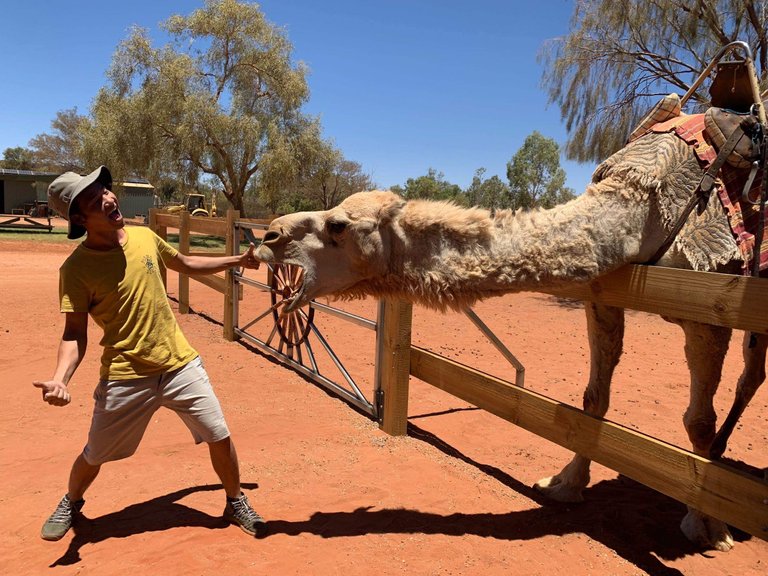 Drop into a Camel farm
We tried to drive 1,000km to Alice Spring but we couldn't. Pulled over a large roadside and camped tent. We all couldn't get sleep well, the ground was too hot, of course, we were in a desert. Few got in the car, few jumped on the roof just tried to get a nap before next day.
On the next day, we finally reached half of the trip, arrived in Alice Springs, the centre region of Australia.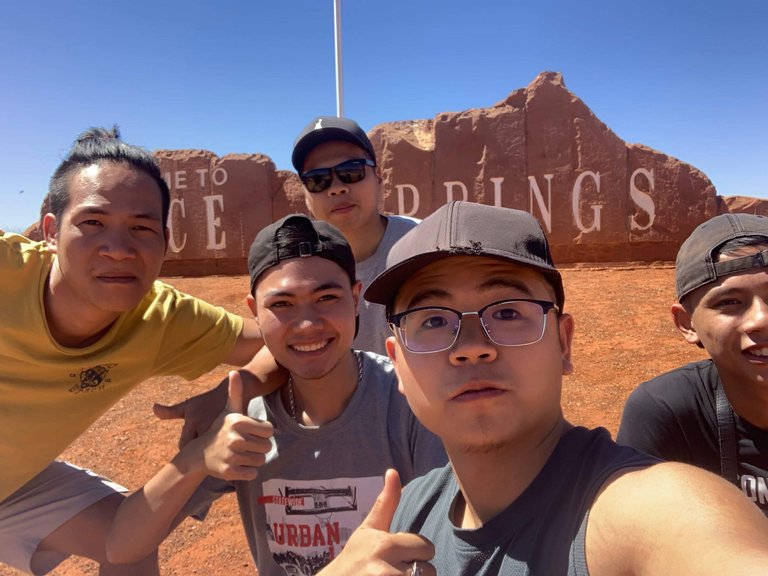 Welcome to Alice Springs
Believe me or not, KFC here is the most delicious KFC in the world. Not because of they have a special recipe but after a day in the car with snacks and soft drinks then a hot fresh KFC would be a great meal for you.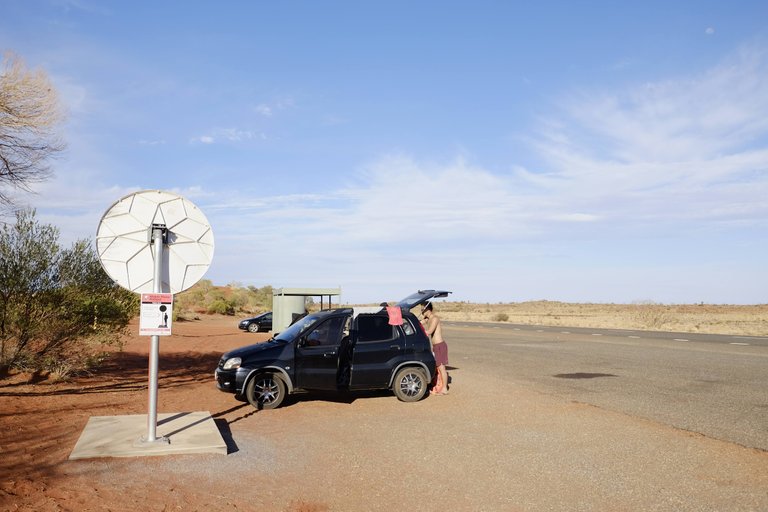 A place to camp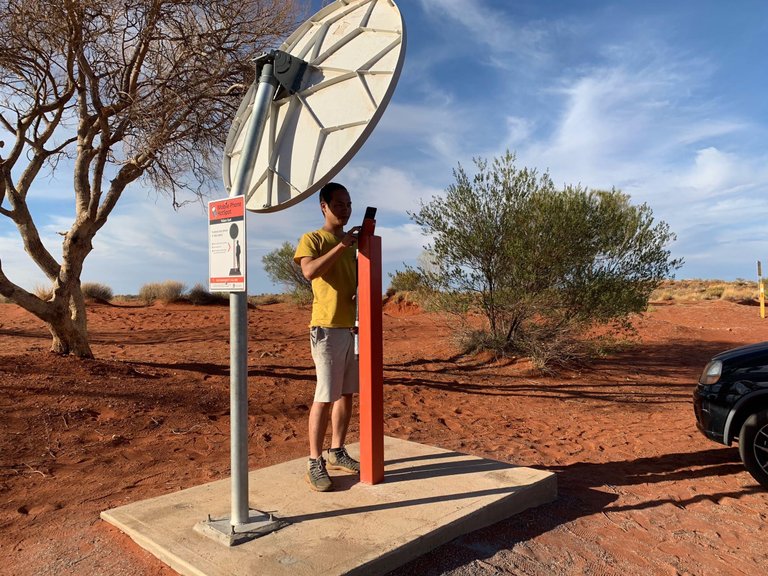 **A mobile hotspot **
There are many stop stations on the route. There is water, a bbq set, and a satellite antenna allows you to use mobile phones. There is no signal all the way in the desert. This Mobile HotSpot is built for reasons.
**WHAT MAKE ULURU SPECAIL? **
After 2 days of driving, we all got tired. When the map showed us that we nearly reach our destination, a superb mountain appeared woke us up. Its gigantic will boggles your mind.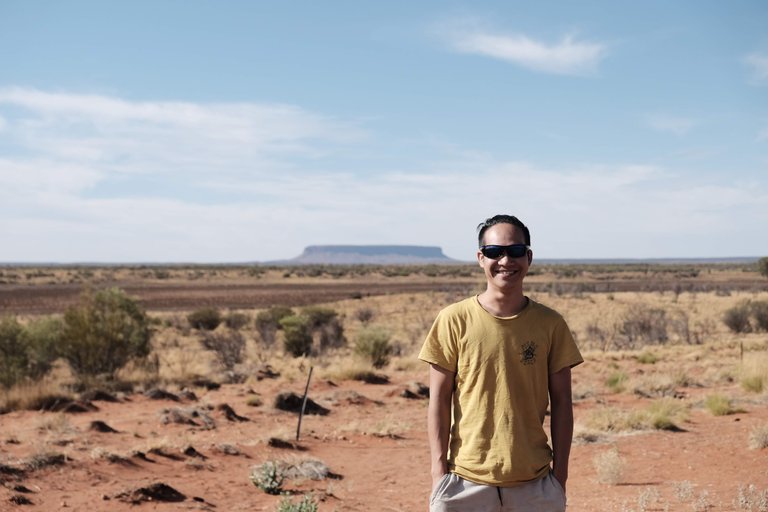 It's not Uluru, just another huge rock
A DESERVED REWARD
Yeah, It is right, a reward you deserved to get after all the long way. When I stood in front of Uluru, all bad thoughts about the trip gone away. I asked myself: what the hell is this? Did it fall from outside of the earth or emerge under the earth?
IT IS A SINGLE ROCK. It is taller than Eiffel Tower, as wide as 346 Melbourne Cricket Grounds.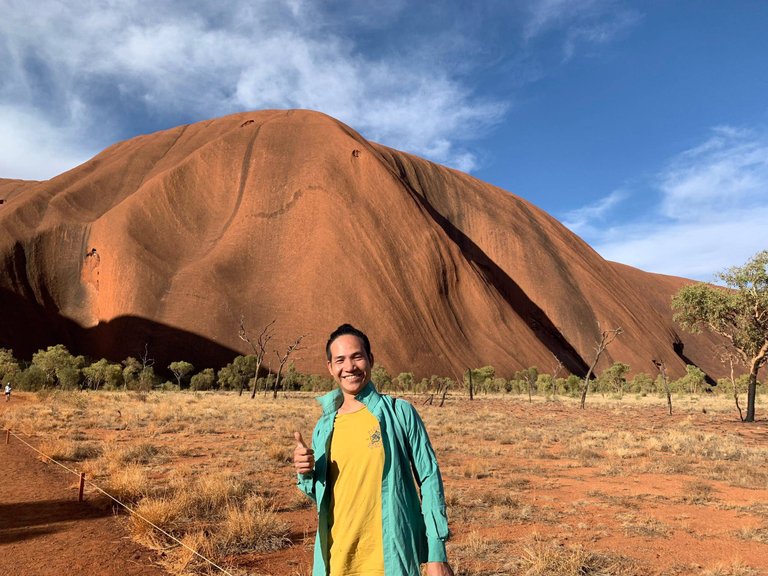 The first sight of Uluru
Google can help you with all the knowledge of its formation but you need to take a moment to step back and get in its incredible beauty yourself.
Here is the most interesting thing about Uluru. This single rock can change its colour itself with changing seasons and times of day.
Whatever your plans are, stay around the rock before sunshine and sunrise. Its gorgeous auburn hue between sunshine and sunrise is a big difference. If you are lucky visiting the rock when it is raining, its colour will change into grey.
Once again, no more words from now, here are some photos: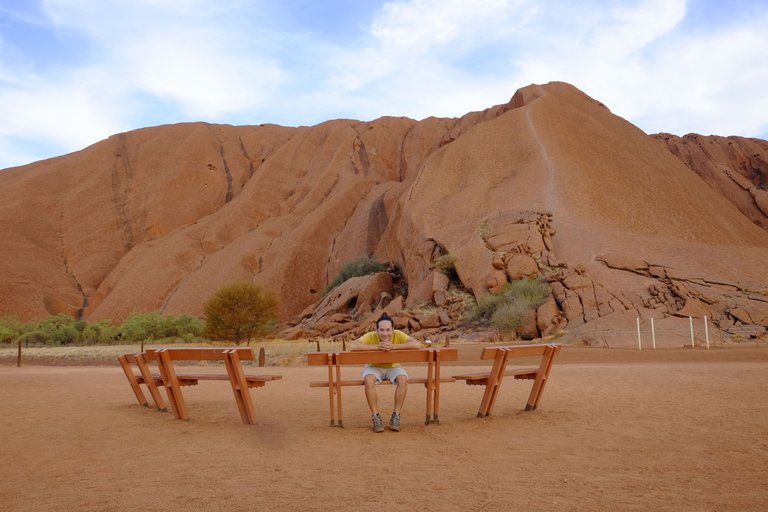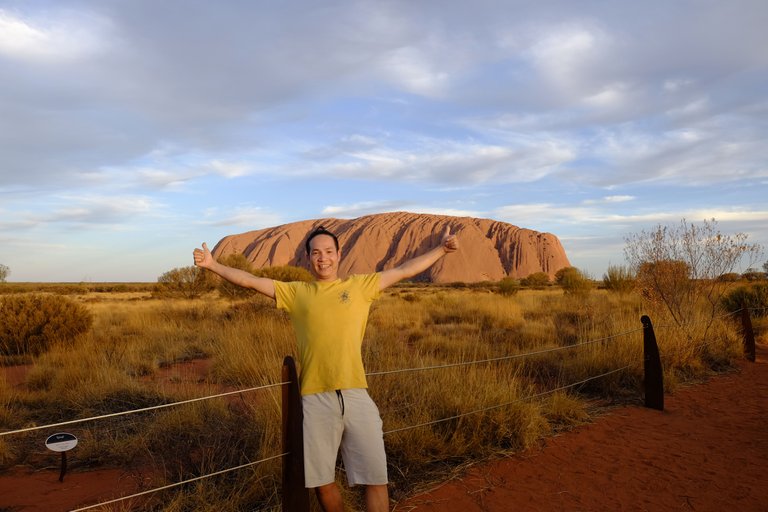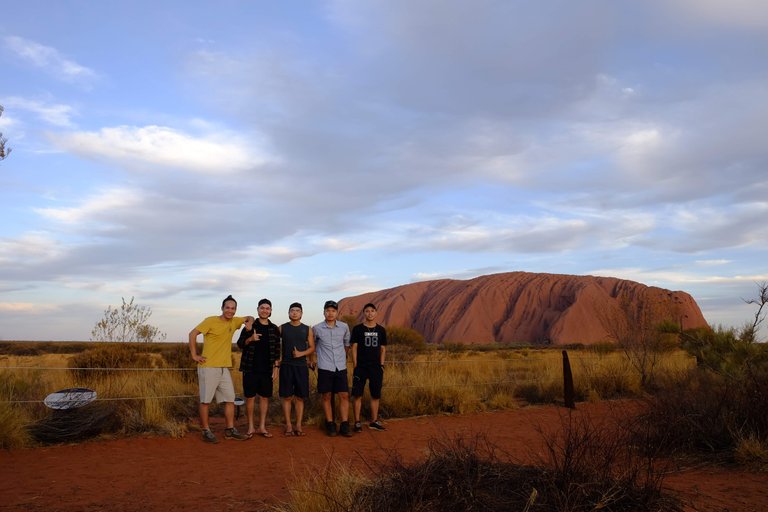 I am not uploading all photos as I believe that you should visit the rock and enjoy the beauty of nature yourself than just have a look at photos online.
One more pic, and byeeeeeeeee ! See you in the next journey!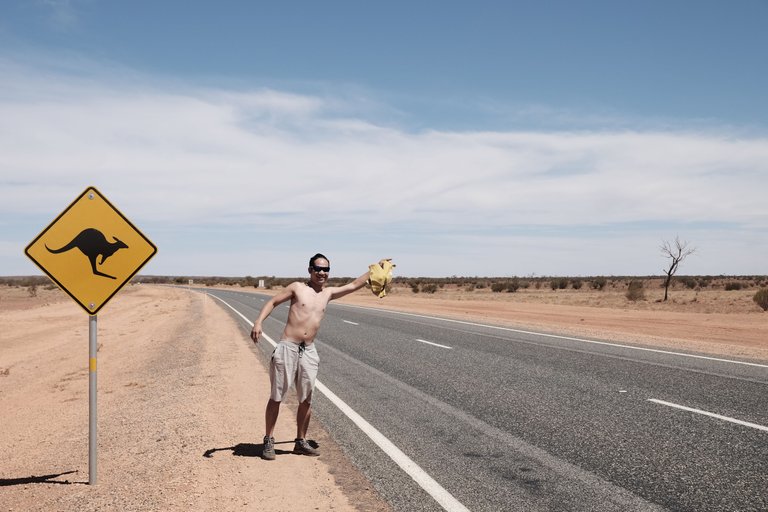 Trying to get help in the middle of nowhere
Oops, I forget to remind you to buy a fly nest hat. I don't know what its name, there are millions of flies.
Cheers,