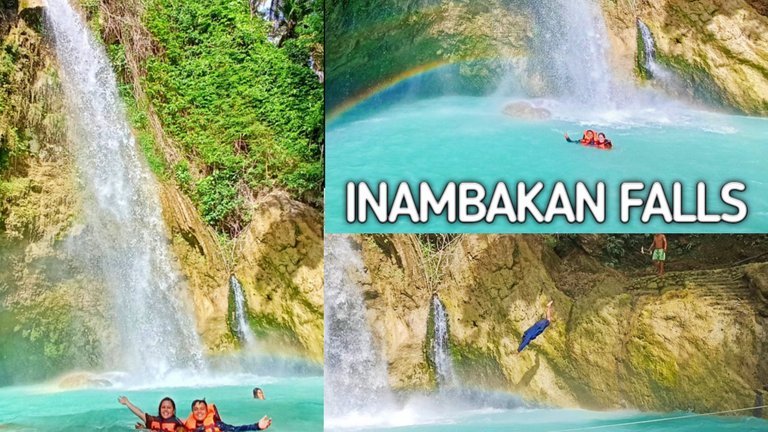 "Do what they think you can't do."~Duke Fergerson
Hi everyone. It's Rex here!
In our previous blog, Flor shared our chasing waterfall adventure in Alegria Cebu CHASING WATERFALLS: CAMBAIS FALLS.
Today we are going to continue our chasing waterfall adventure story. Are you ready for our next waterfall adventure?
Let's go to Inambakan Falls!
WHERE IS INAMBAKAN FALLS?
Inambakan Falls is located in the highland of barangay Calabawan Ginatilan, Cebu Philippines. This is a famous waterfall in the southern province of Cebu because of its 5 distinct levels and turquoise water.
---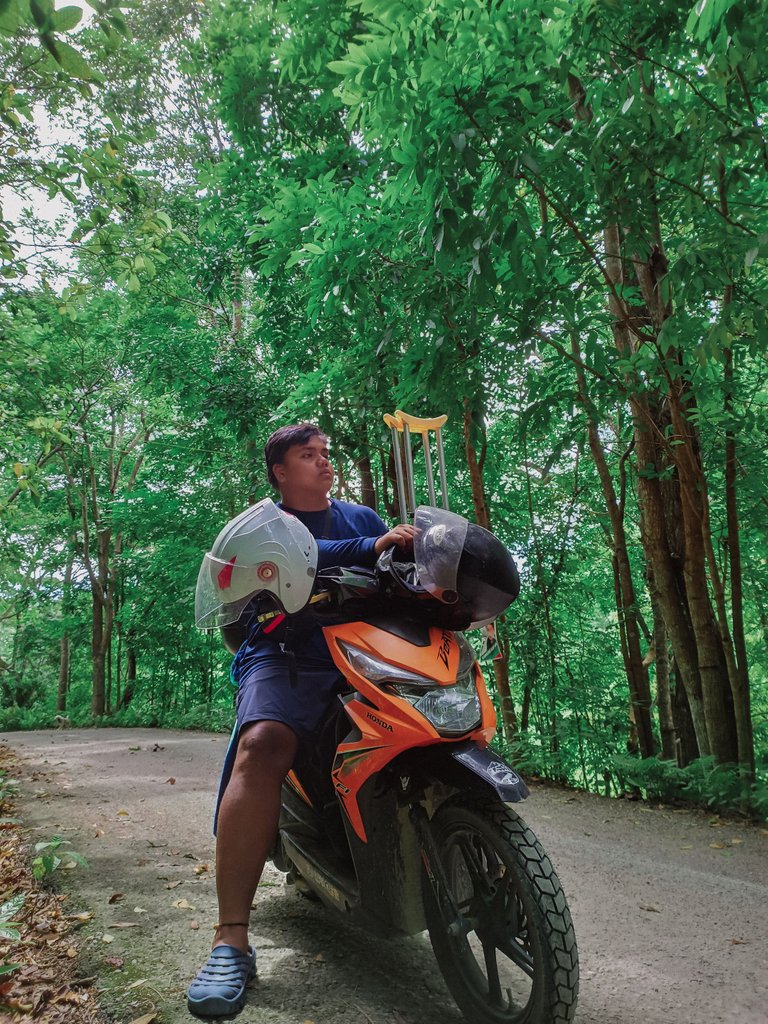 Our drive to Inambakan falls, we followed the national road until we reached Ginatilan proper. From there, I used google maps to locate barangay Calabawan.
ENTRANCE, PARKING, AND TOUR GUIDE FEE
After a long drive, we finally arrived. One guide approached us and told us that we needed to have a tour guide for us to enter the place.
The tour guide fee is 200 pesos while the entrance fee is 50 pesos per person. Life Jackets are already included. They also have a parking fee which is 20 pesos for motorcycles and 50 pesos for cars, vans or buses.
We met our guide Kuya Jun, he was so friendly and approachable.
WELCOME TO INAMBAKAN FALLS
Inambakan Falls's first and main level towers are 100 feet tall with turquoise water and a deep swimming spot. The blue color of the natural swimming pool is due to the limestones that are present in the area.
I was totally in awe when I saw this picturesque view of the falls. The rainbow formed a beautiful arc and it added to the beauty of the Inambakan Falls.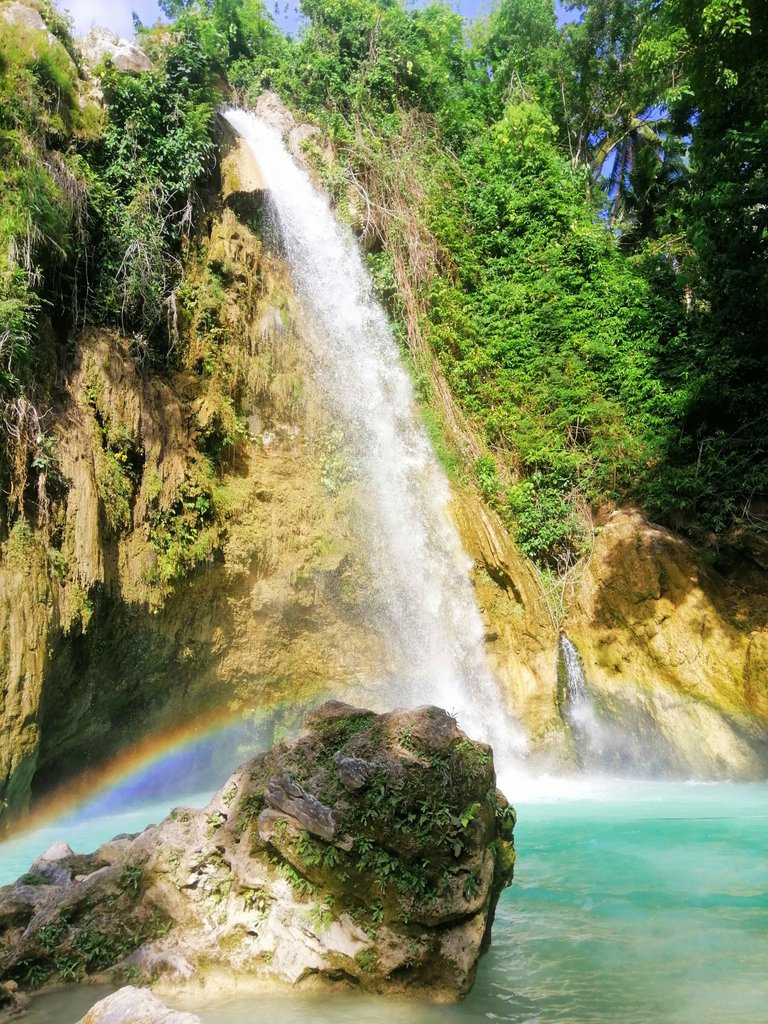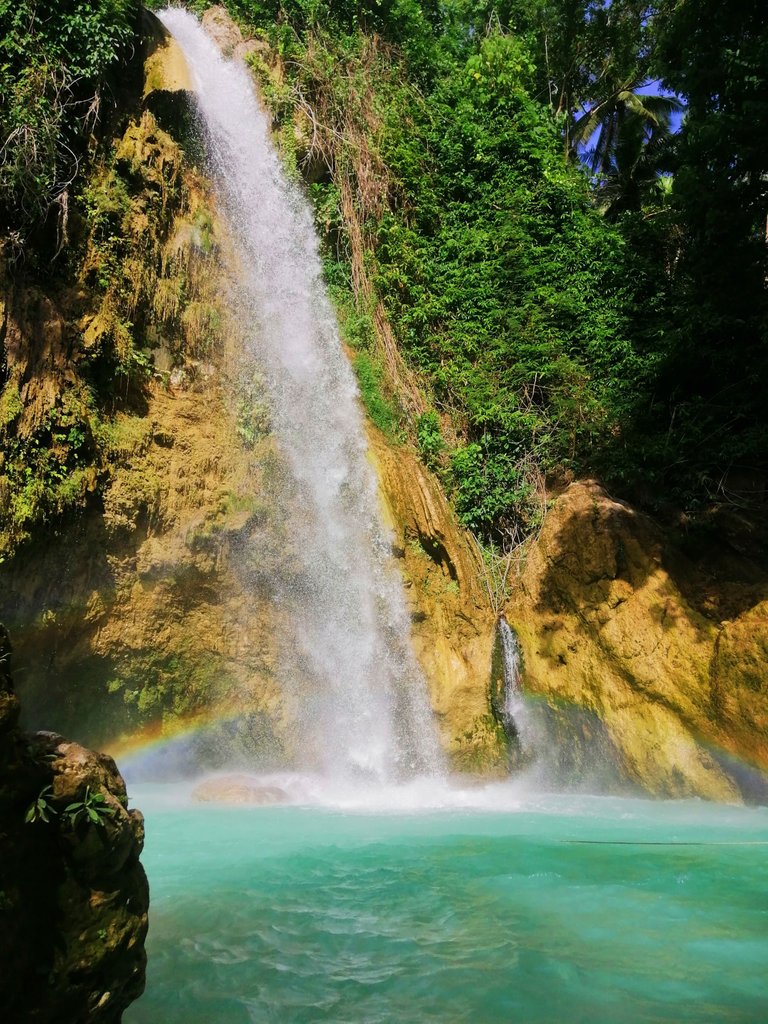 After the pictorial, Flor and I enjoyed swimming. We were so lucky that only 2 groups arrived here with us.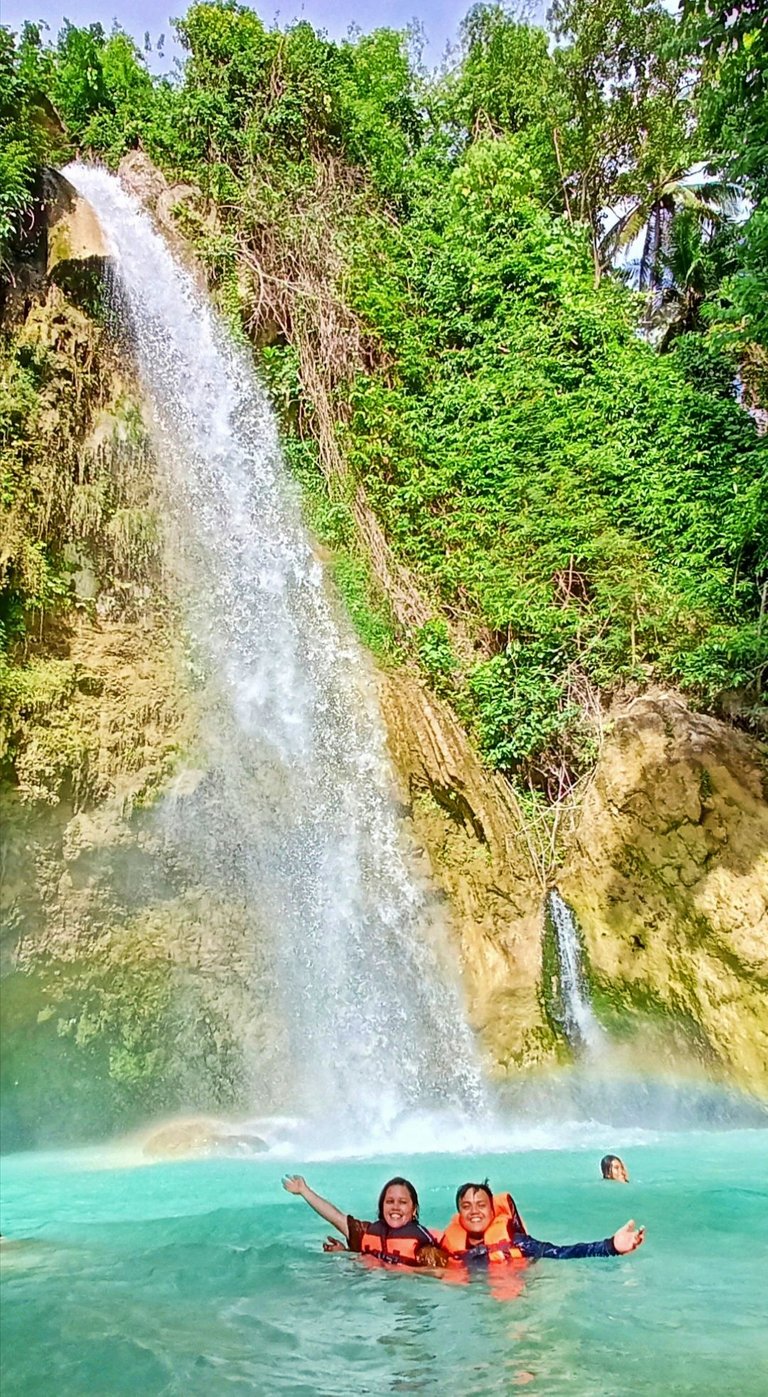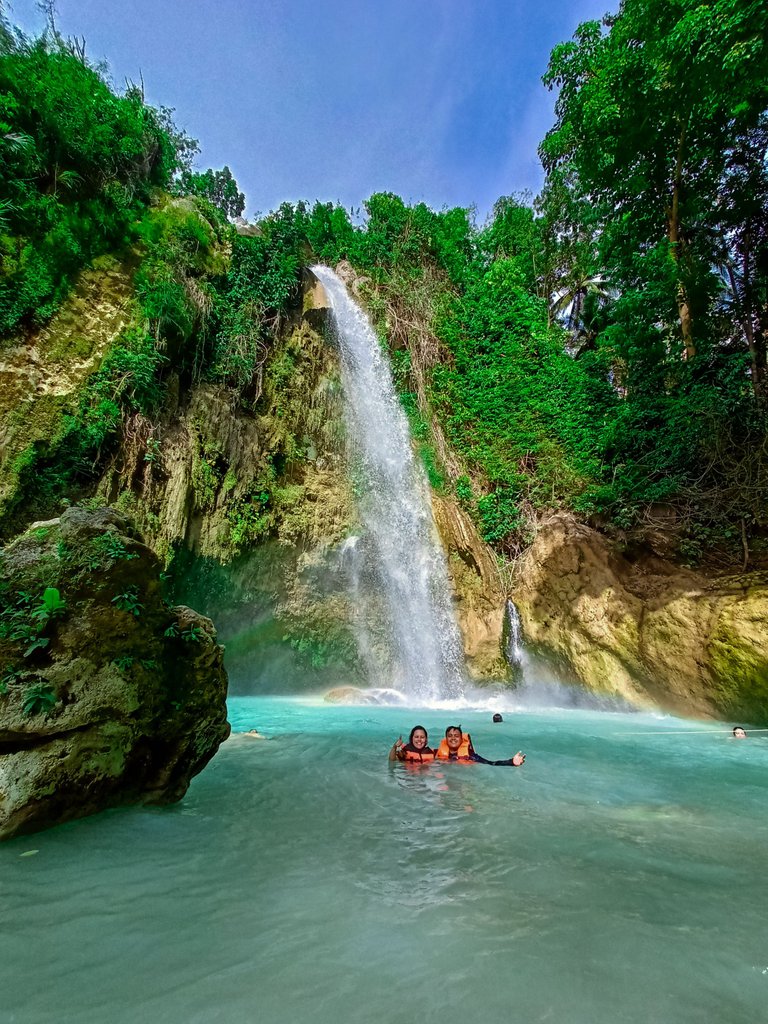 In the middle part of the falls, there is a big rock. We climbed the rock and had a waterfall massage. Kuya Jun took a photo of us and he captured the beautiful arc of the rainbow and the amazing Inambakan falls.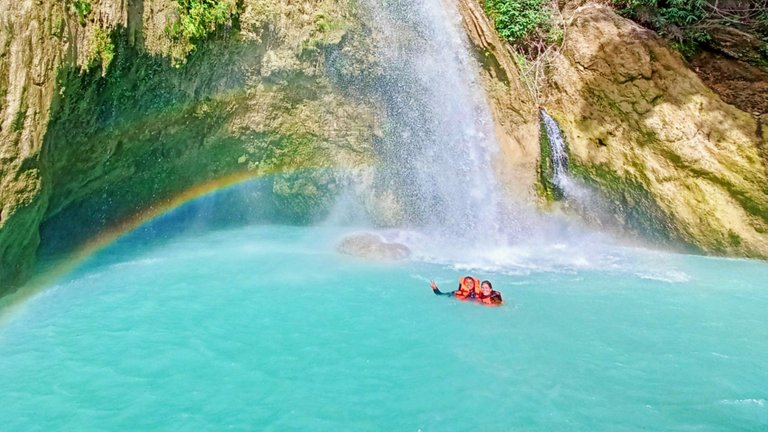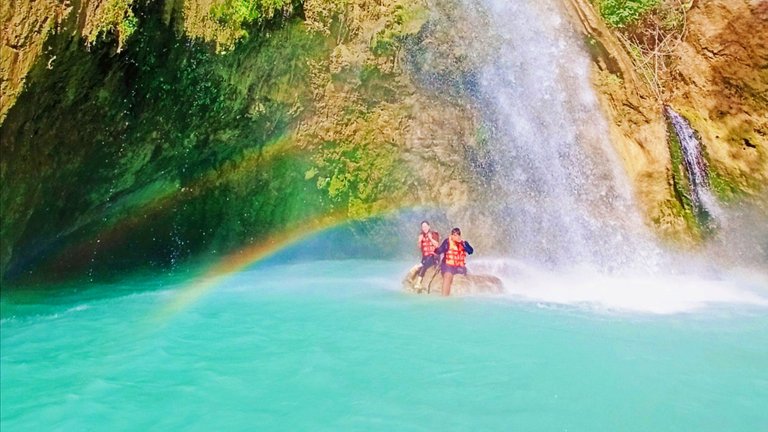 According to the guide, the next three waterfall levels are easily accessible with its clear and established trail while the other two are farther.
We weren't able to go to the next levels and take some pictures because of the time constraint and our phones were almost out of battery life.
Moreover, I was already tired of climbing the stairs so instead of going upstream, we decided to spend our time swimming and appreciating the beauty of Inambakan Falls.
If you want to dive here, make sure to ask the assistance of the local guide for safety. When I told the guide that I wanted to jump, the guide was at first hesitant but I was so willing to jump so our guide accompanied me.
When I was at the top, I felt quite scared but I told myself that I could do it. Then, I dived. I was having a great time diving!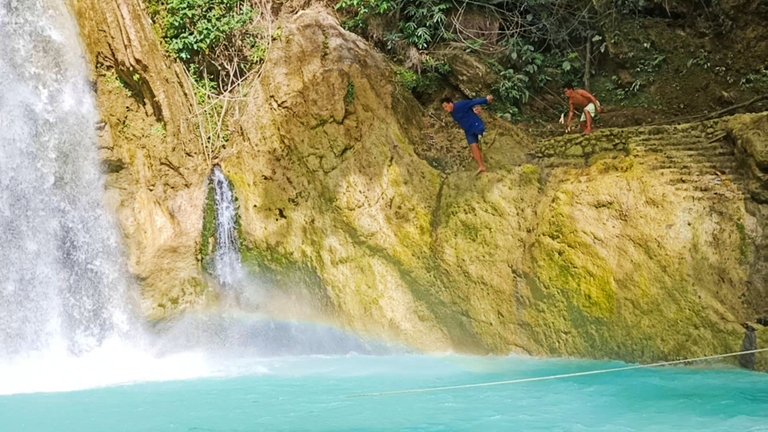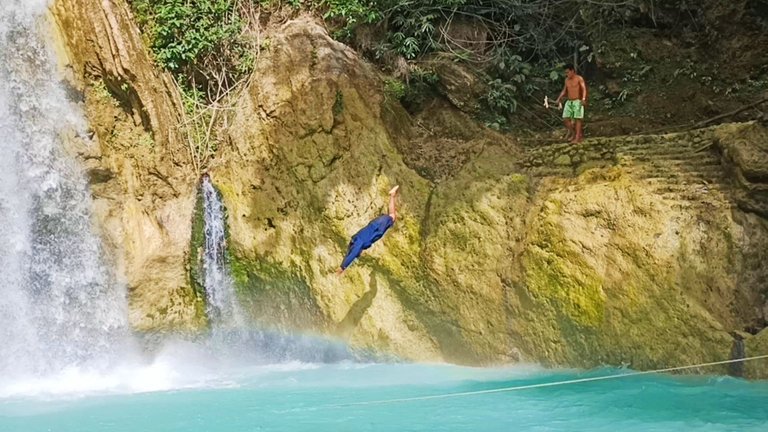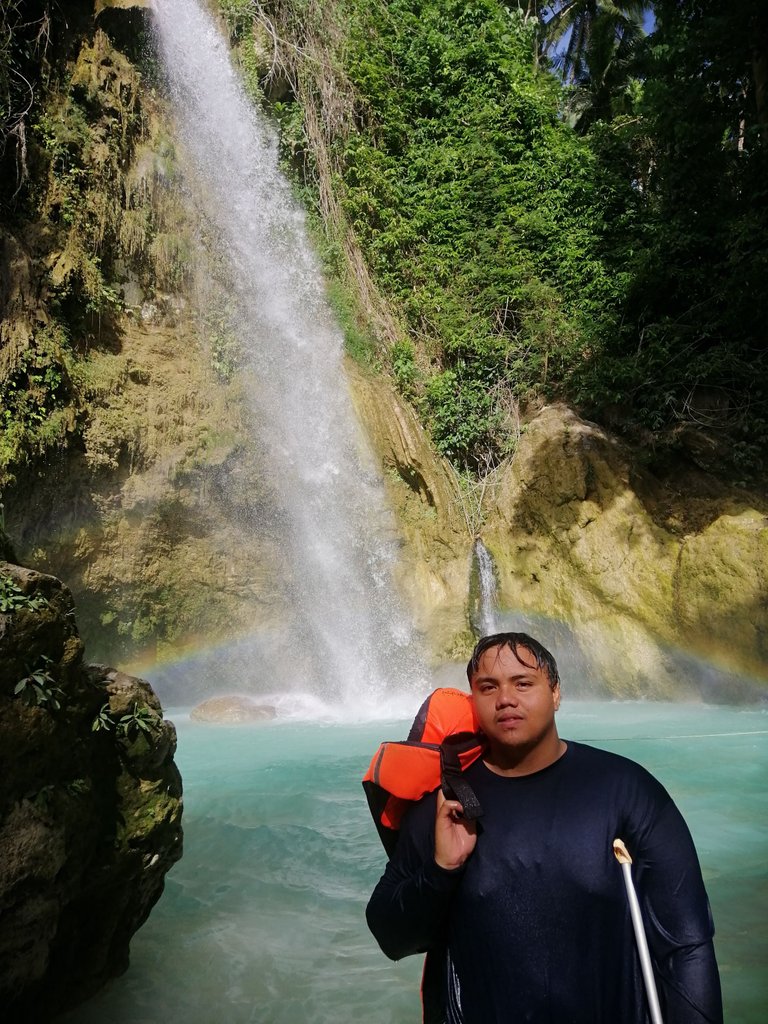 It was so magical to witness the beautiful rainbow at the falls.

TRIVIA
Are you also amazed by its blue colored water? According to study, there is something to do with the limestones found in this area. Limestone is composed primarily of calcium carbonate (CaCO3) and is white in color.
The question is "How did it happen?".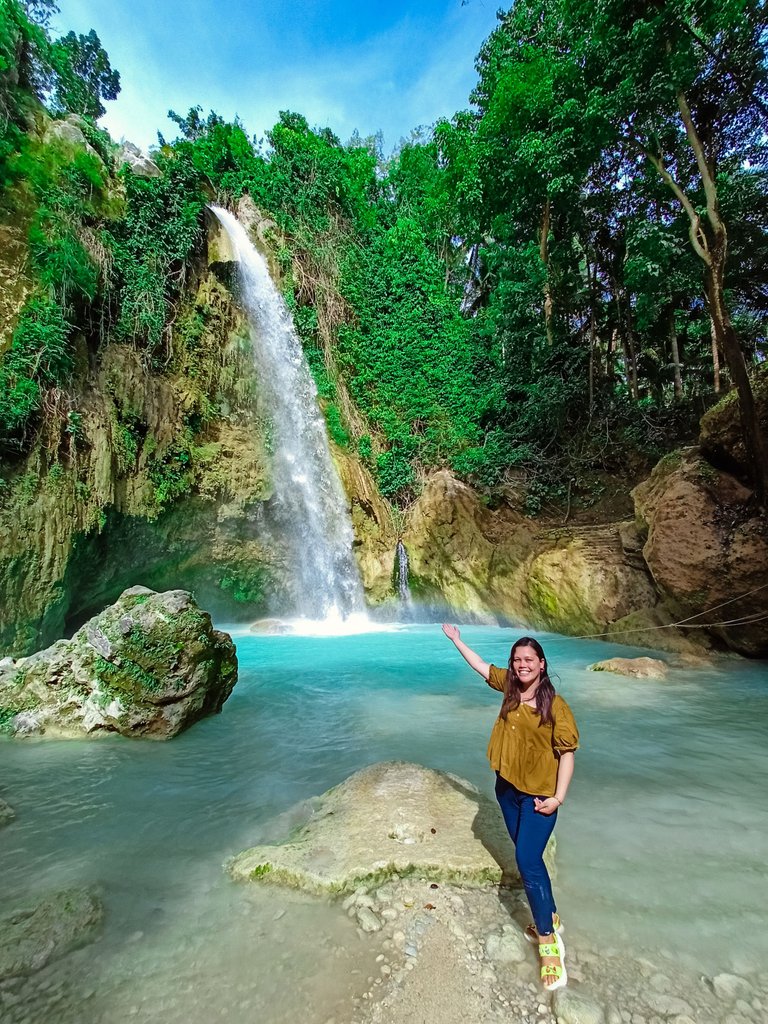 Flor and I researched it on google and upon reading some articles we found out that when the river breaks down the limestones into tiny crystals, these crystals will get mixed up into the water and when sunlight hits the tiny crystals, it will reflect that beautiful clear blue color.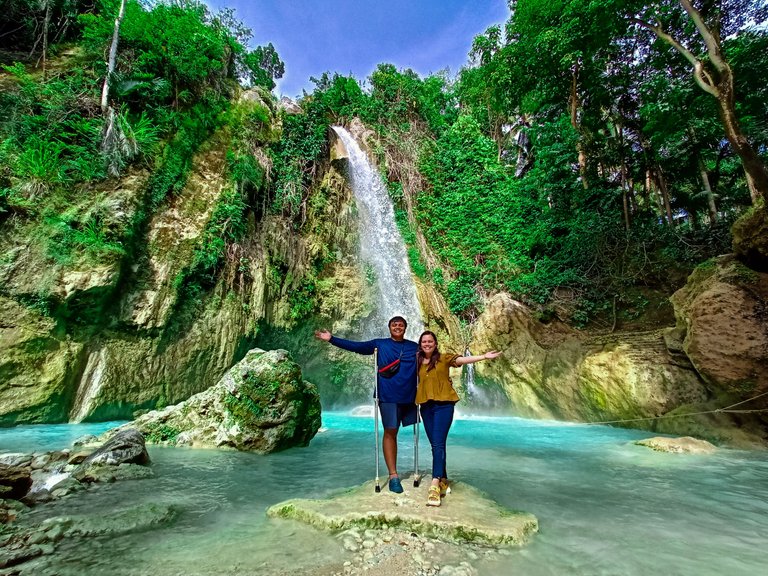 HOW TO GET TO INAMBAKAN FALLS?
Ginatilan is about a 4-hour drive from Cebu City and public buses run every hour on a daily basis from Cebu South Bus Terminal to Bato-Samboan via Barili get off at the town of Ginatilan.
The falls are approximately four kilometers from the highway of Ginatilan town proper. Then, catch a motorcycle from the town proper to Inambakan trailhead.
It will take you 5 minutes walk and about 100 steps to the main falls.
WHERE DID WE STAY?
It was around 4 in the afternoon when we decided to head to our beach resort accommodation.
Luckily, I was able to search for a room that was good for 2 at FFG Eden Resort. It was only 500 pesos per night. This resort is located at Sitio Talisay Moalboal Cebu, Philippines just about a 1-2 hours drive from Ginatilan Cebu.
We traveled for 2 hours to get to the place. Upon checking in at 6 pm, we were astonished by the view and the price of the room was affordable for us. The staff was so friendly as well.
FFG EDEN BEACH RESORT
Good evening Moalboal!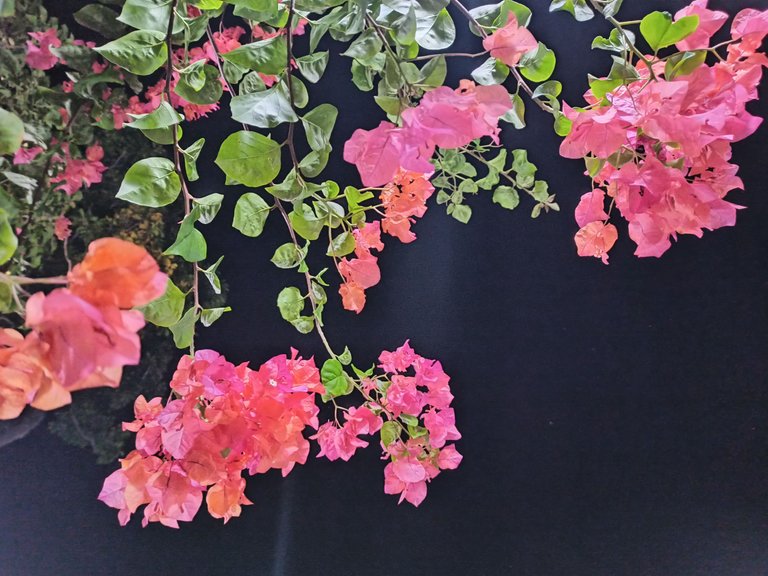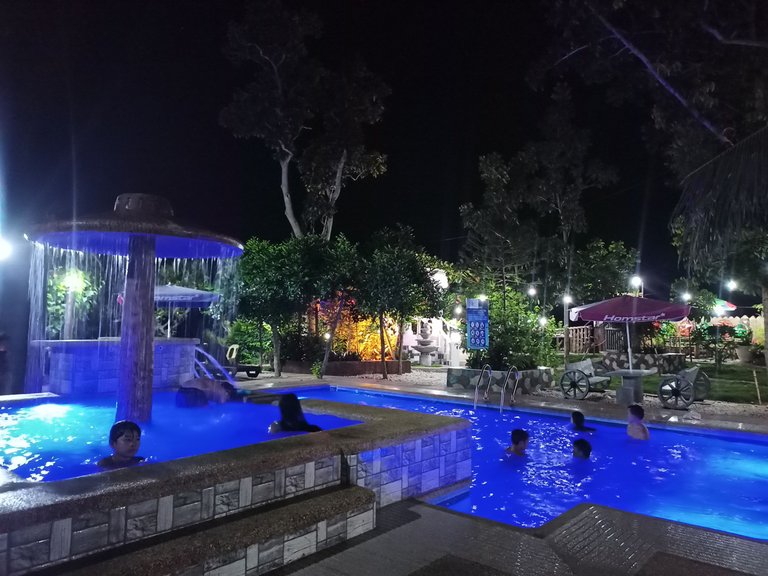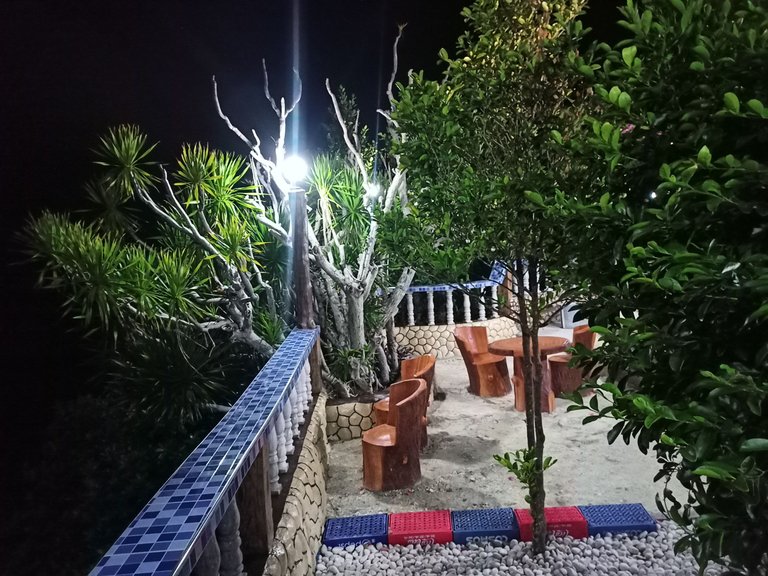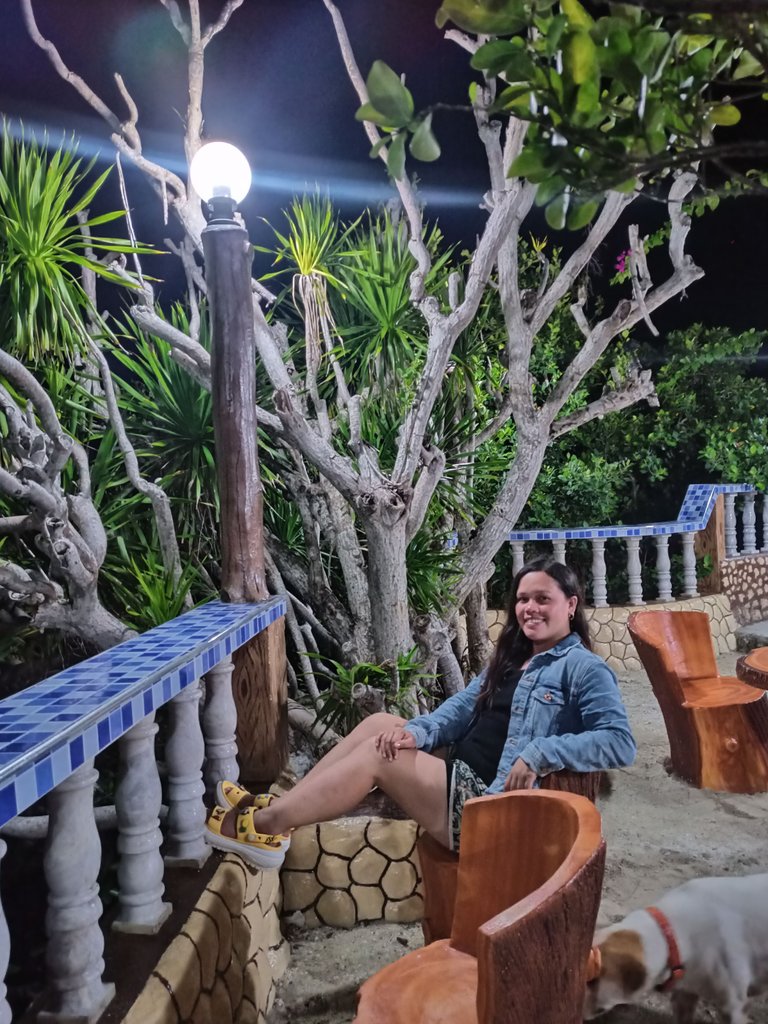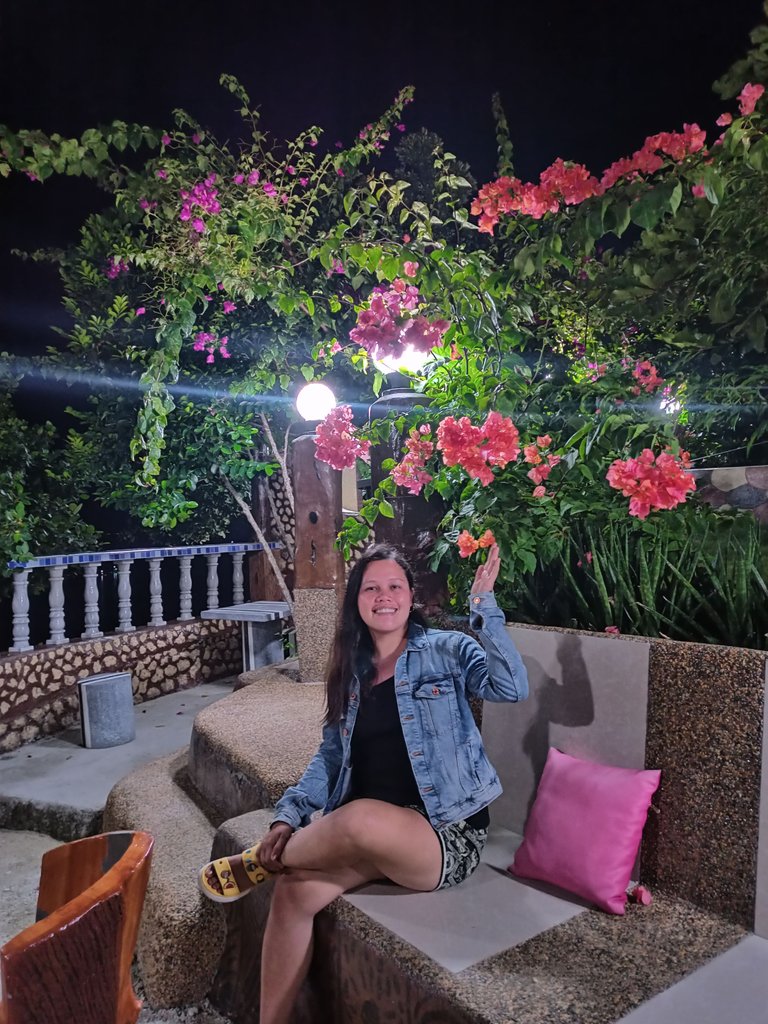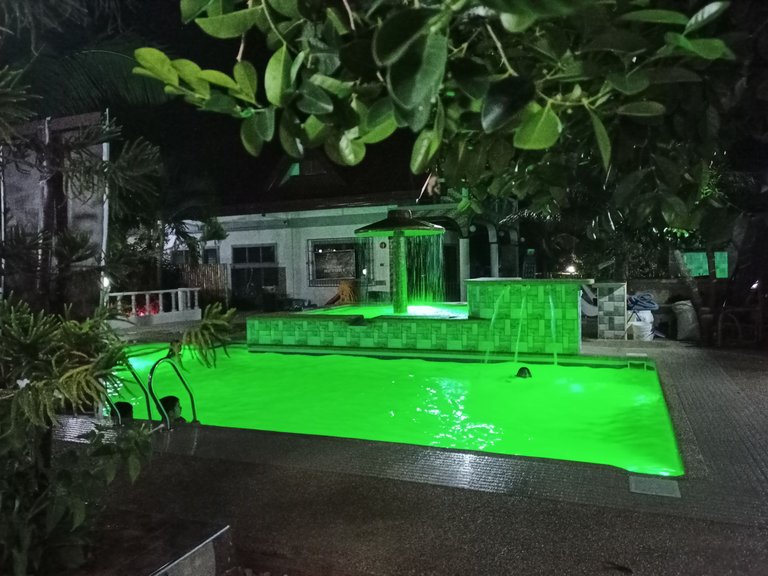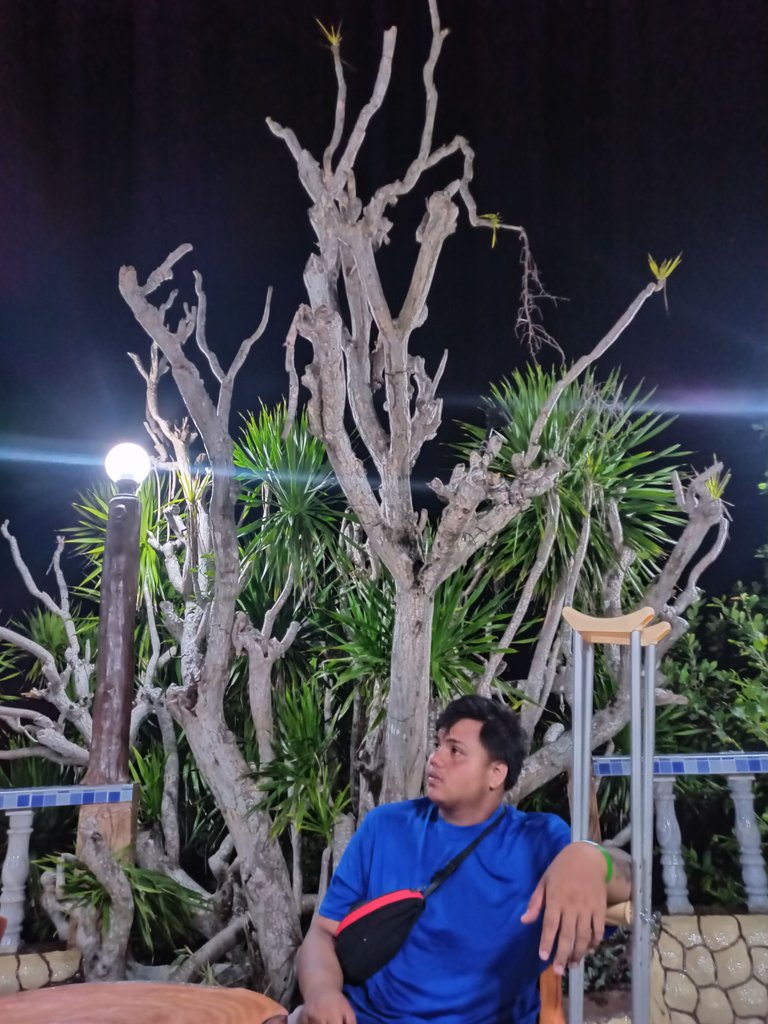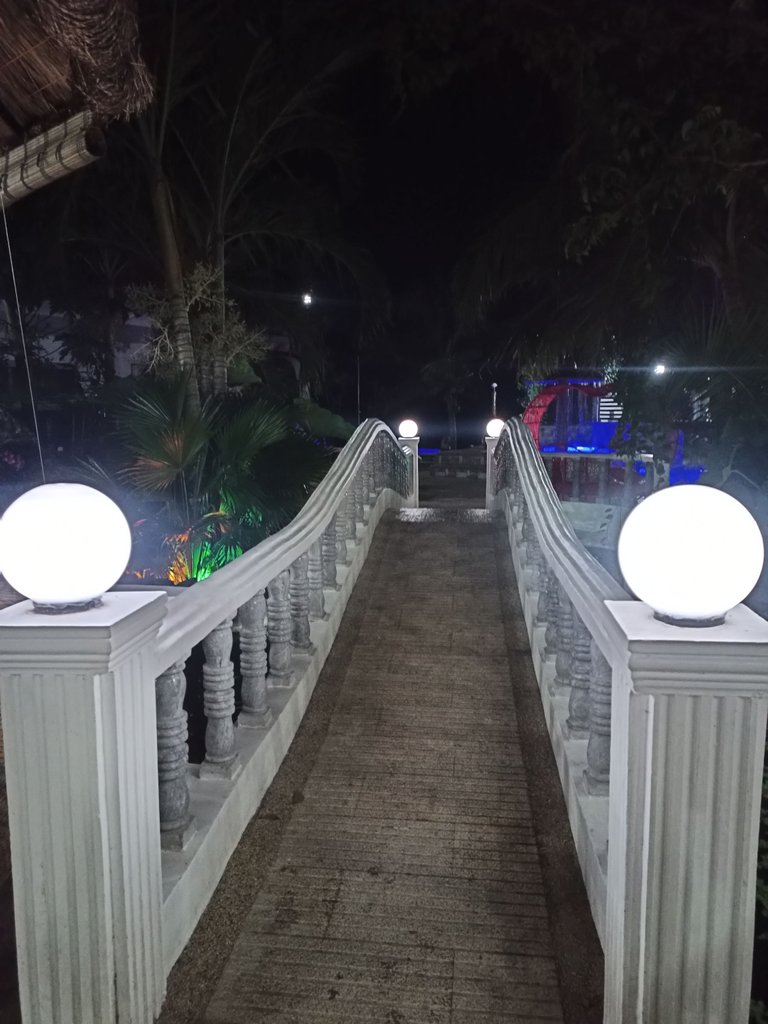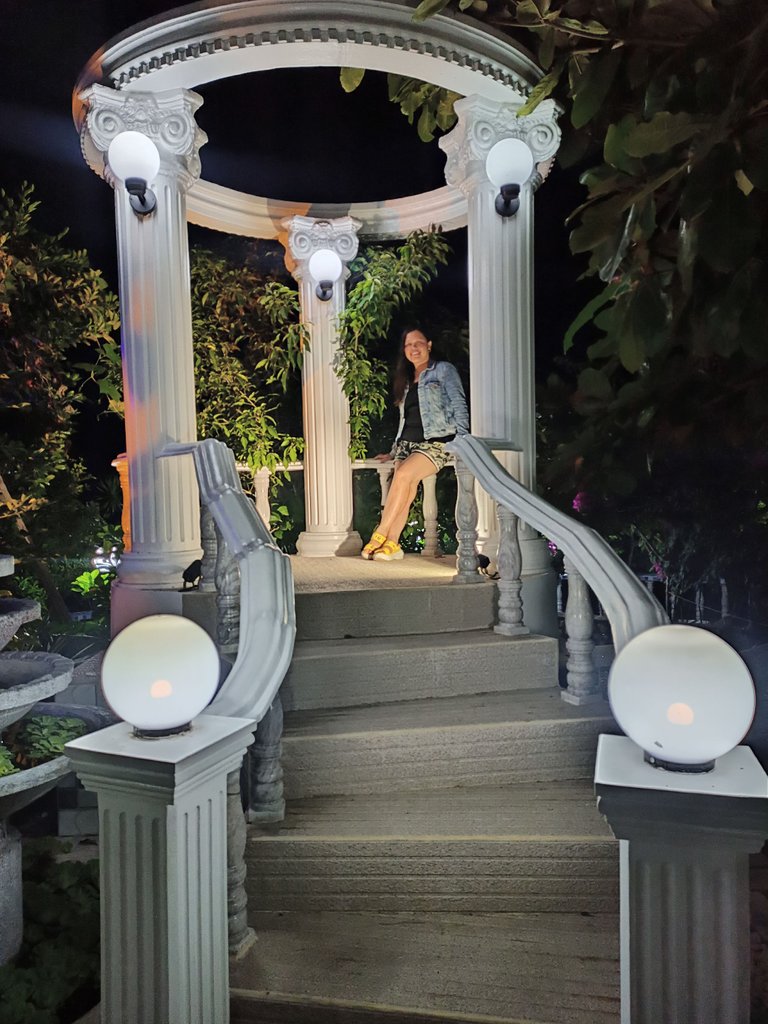 Good morning Moalboal!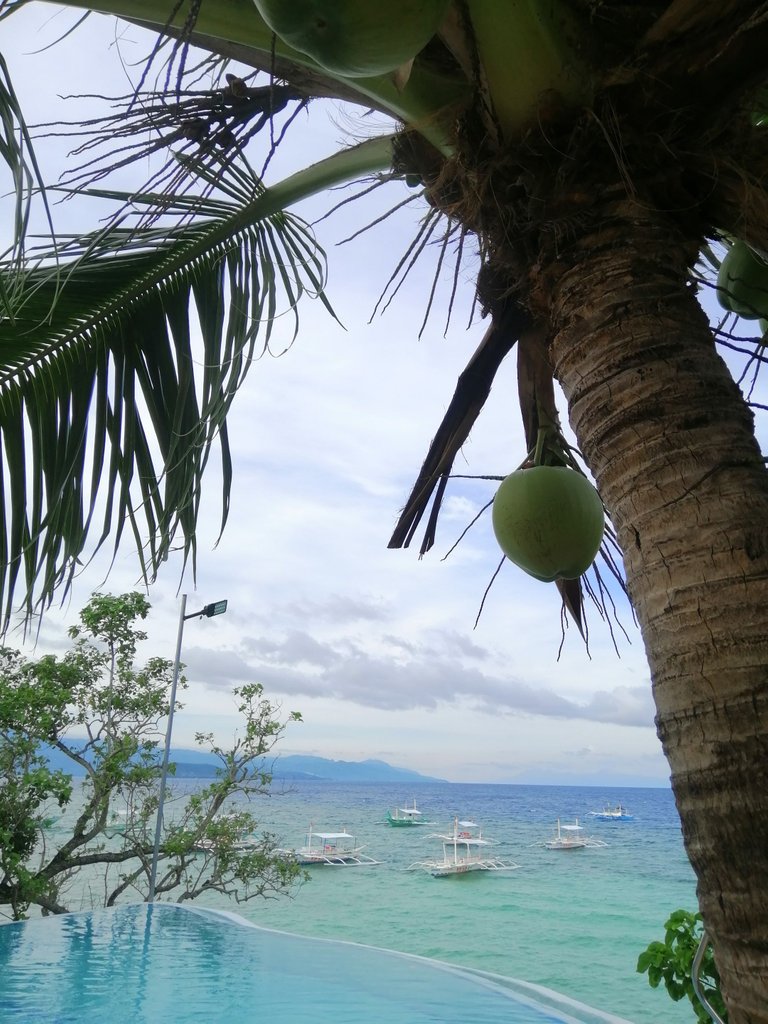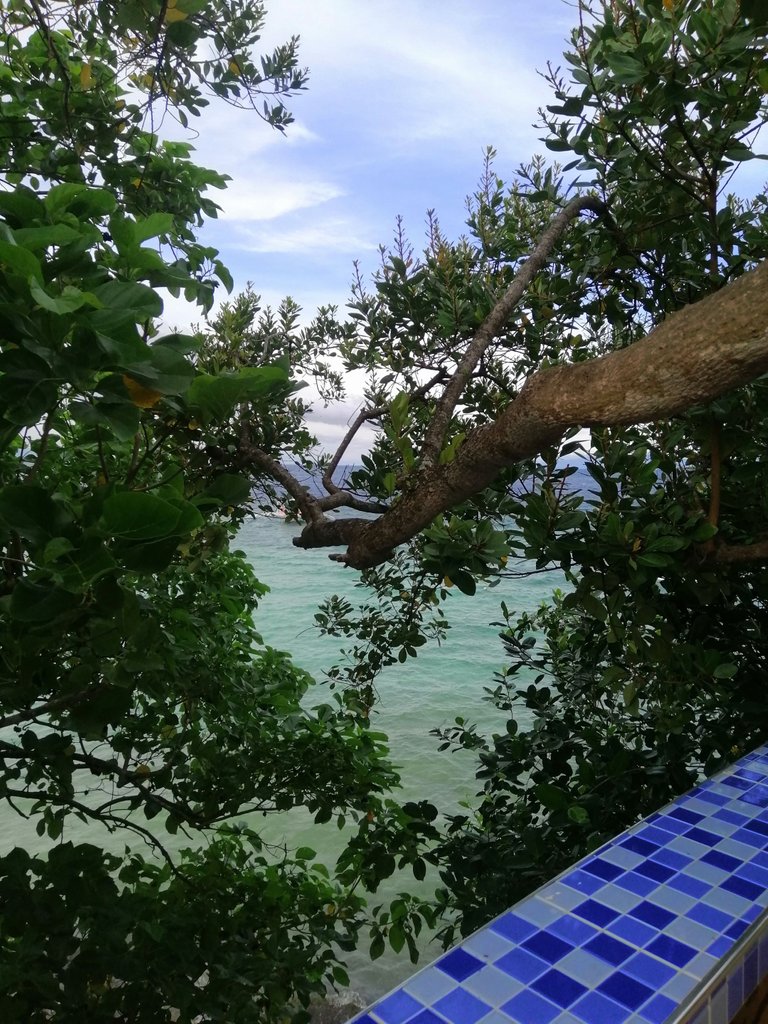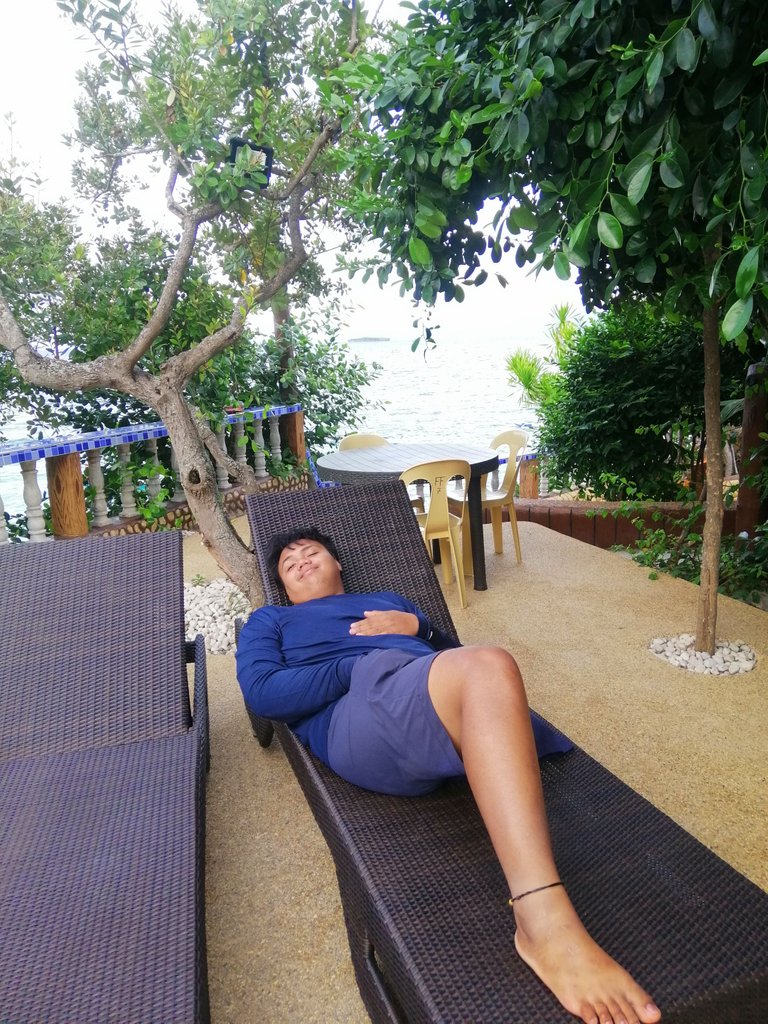 Overall, it was an excellent experience for us. The best part of our trip here was the fun experience swimming and diving in the vast turquoise natural pool. I was able to conquer my fear and enjoy the view of nature.
---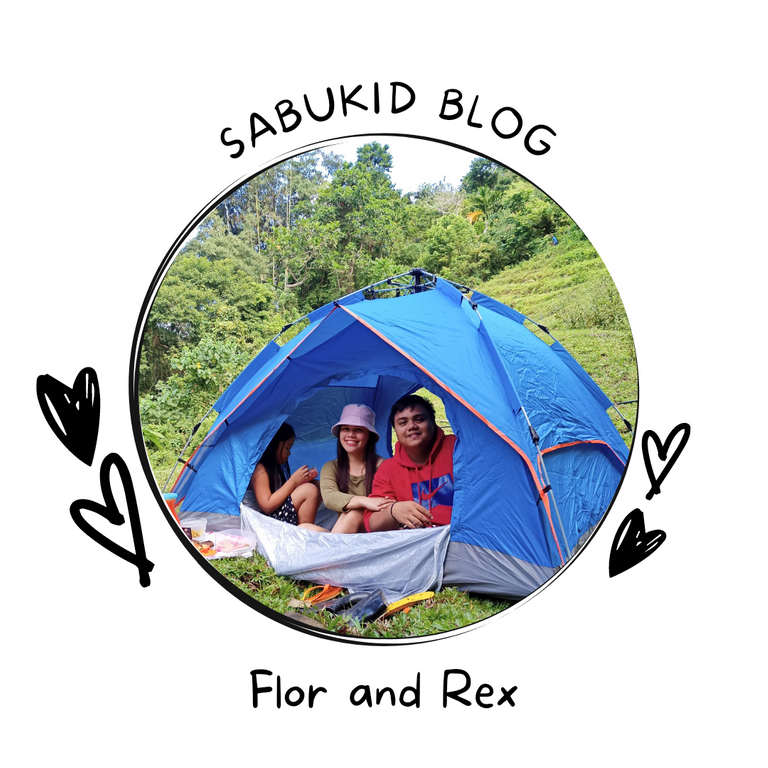 THANK YOU FOR READING THIS POST!
Sabukidblog is a blog of a couple who lives in the countryside of Cebu, Philippines. They decided to create a place where they could inspire their readers by sharing their life experiences, food trips, and travel adventures. They will also be sharing their simple life in the rural area.
If you want to read more stories from sabukidblog- an upvote, comment, follow and reblog would mean a lot to them. Join them as they share their stories together. God Bless everyone.