Read this post on TravelFeed.io for the best experience
---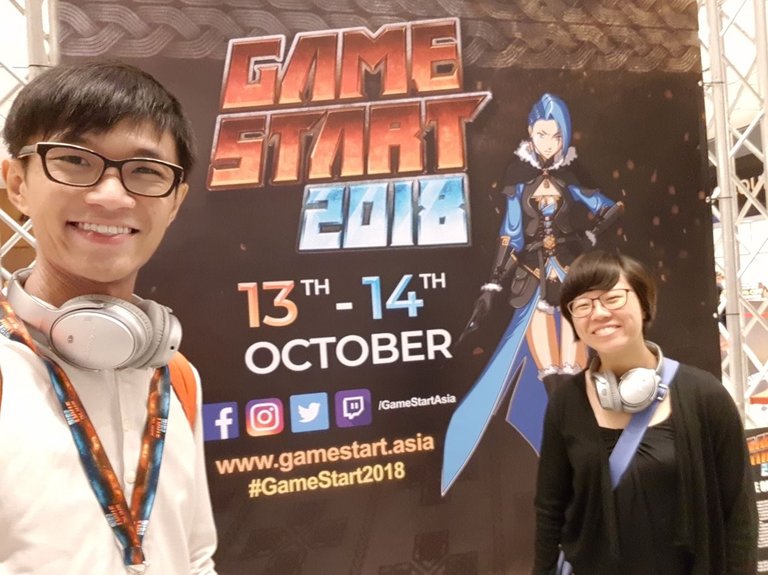 ---
Hey Hive!
It's time for another local trip because back in 2019-2020 we couldn't really fly anywhere due to travel restrictions. During that time, we saw more of our own country and I thought it'd be cool to share some interesting places from Singapore!
Looking back, I found another interesting thing we did in Singapore back in 2018, when we went to our very first convention! This was obviously way before covid was a thing, but it was also quite a unique experience for me since I've only ever read about conventions online.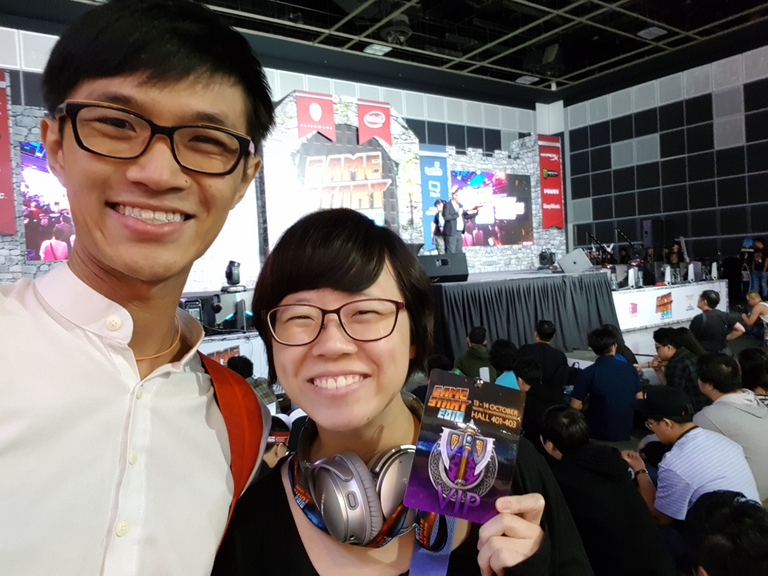 Since Singapore is a small country I never thought the conventions we held here were that big of a deal compared to the famous ones like ComiCon in USA but this was still really interesting and cool especially for a newbie like me.

Anyway, the one we went to was called GameStart and is known as Southeast Asia's Premier Game Convention! It started back in 2014 and features game showcases, different types of games, esports, cosplay, and more. I think the most recent one held was in 2019 before covid, and I'm not sure what happened to them since but I guess we were really lucky we got to attend one of these events!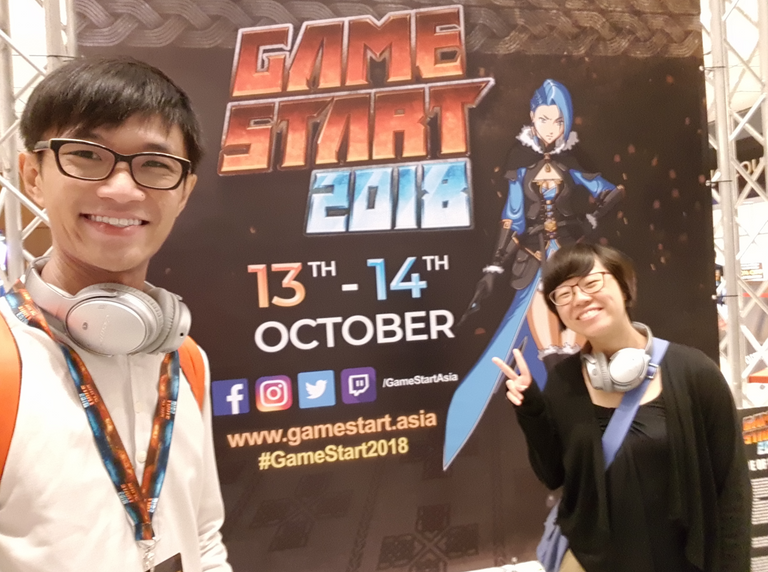 We were actually really lucky because we managed to snag some free tickets to this event by joining a contest on Facebook! I don't recall what the contest was about but Sean managed to get a pair of free VIP tickets for us, which was how we managed to attend. I'm not sure what the regular prices are like but I assume it's at least 30 bucks. VIP tickets are probably around 50 or so.

The one we went to in 2018 was pretty big too, and as opposed to ComiCon there was a huge focus on games here, as the name implies. I believe this was held at Suntec Convention Center here in Singapore and there were a lot of booths for different gaming and gaming-related companies!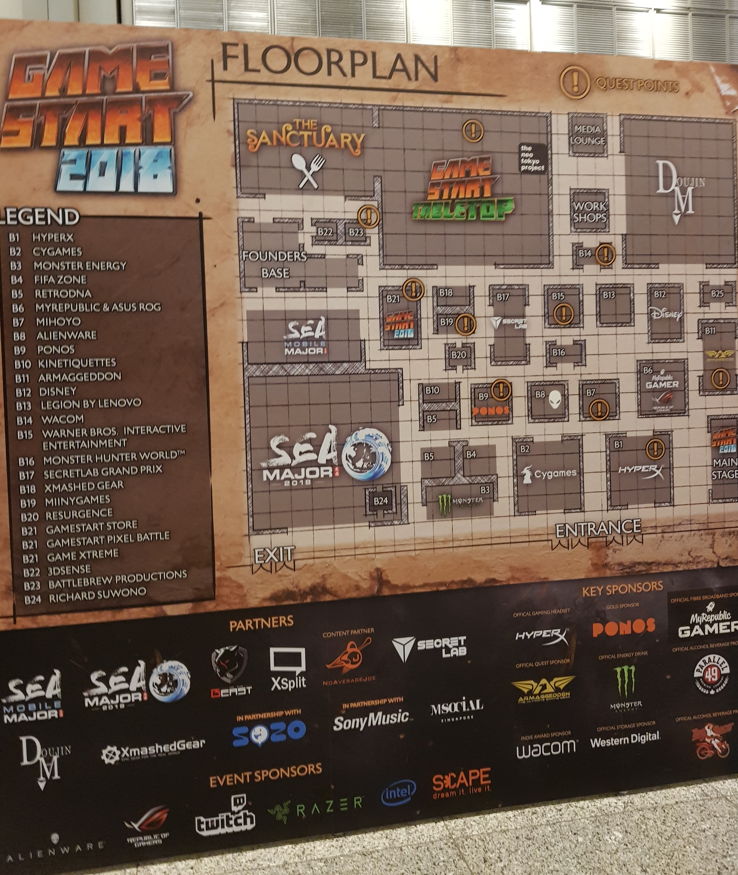 It was quite a sight to see upon entering the venue that's for sure! I think the main crowds were definitely at the stage and around the gaming areas but it was cool to see huge displays for all this gaming stuff.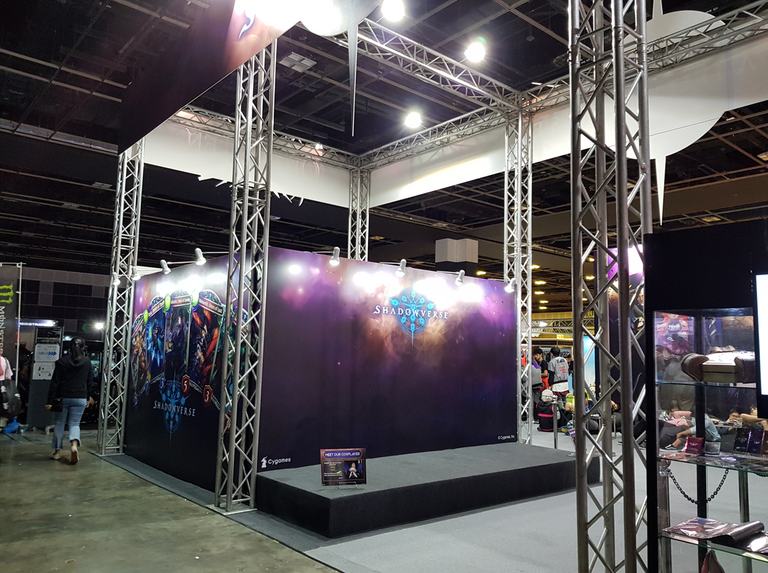 Again, this was my first time ever in a gaming convention so this was all new to me. We've been to game shops and visited a game museum but this was a whole different experience. While I didn't play most of these games it was still really cool to see so many gamers gathered together and not be looked down upon anymore.

This was the main stage where they had special announcements, showcases, panels, and even contests!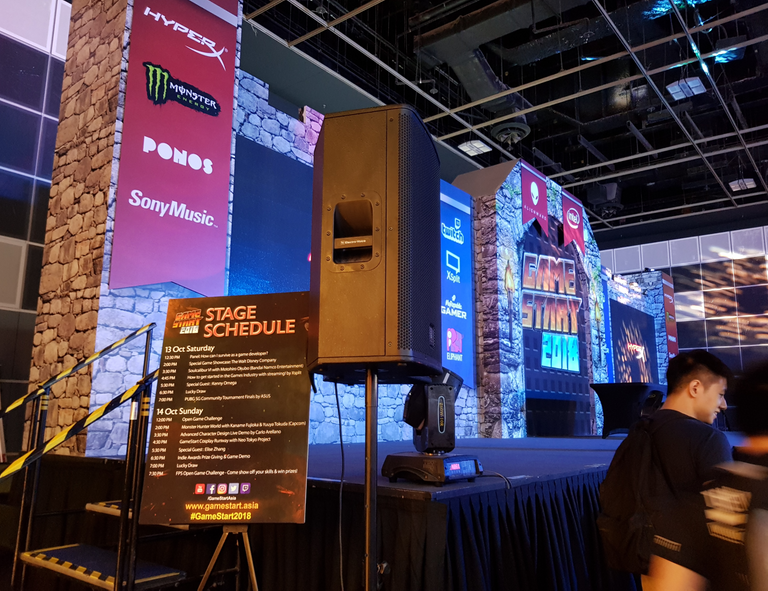 There was quite a crowd gathered here near the stage I guess waiting for the events here. But there wasn't anywhere to sit really since it was just a small staging area so many people sat on the floor or just stood around.
I think by the time we went it was pretty late into the day but everyone was waiting for the lucky draw so we took the time to look around at the other booths.
Of course there was a huge booth for a local ISP here whom I think is also one of the sponsors of the event.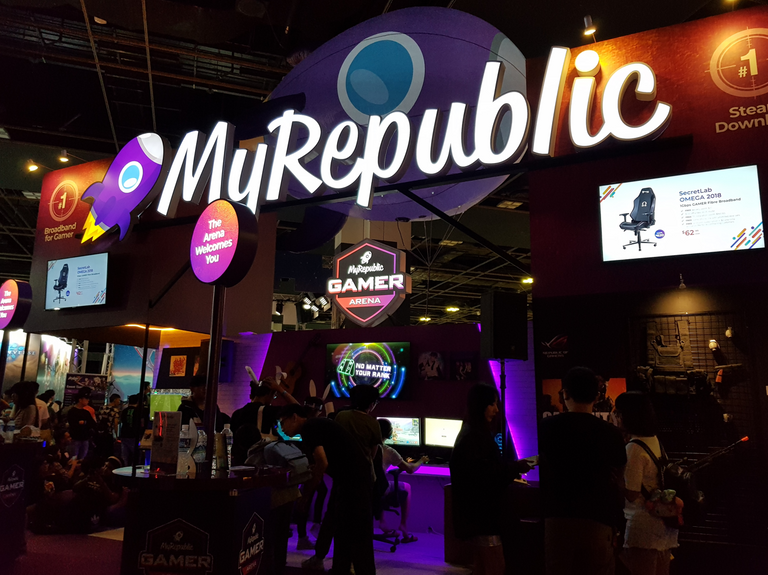 Even though this wasn't ComiCon there was also a Marvel booth featuring the latest Marvel game which I guess was Marvel Battle Lines, a dueling card game.

There was also a bunch of booths for gaming peripheral companies like Armaggedon, which makes gaming keyboards and mice. And of course a few gaming stations where people could just go there to play games like PUBG.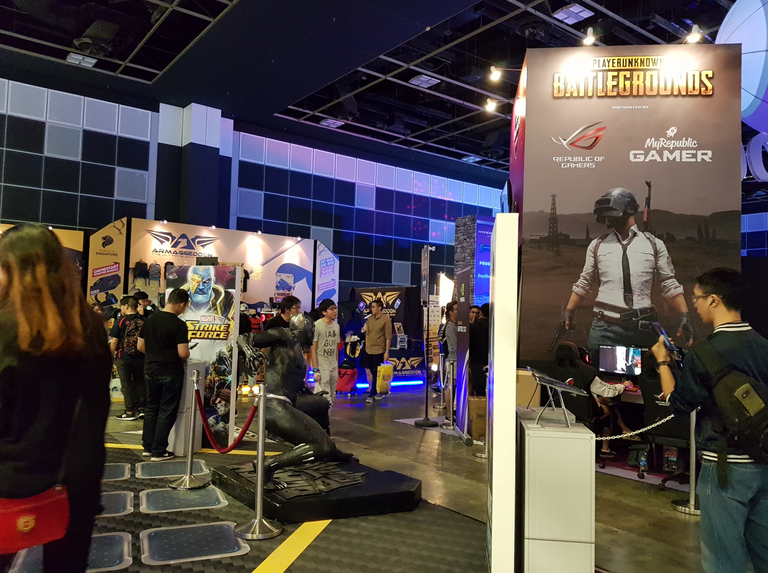 A lot of booths were actually from the gaming peripheral companies like HyperX, Alienware but there were booths for specific games as well like Honkai Impact where there were a few cosplayers too!
I can't imagine playing in such a crowded place to be enjoyable since it's so noisy and who knows how many people have sat on those chairs and touched the keyboard but I guess it's still new and high quality equipment which is worth trying. We didn't bother though.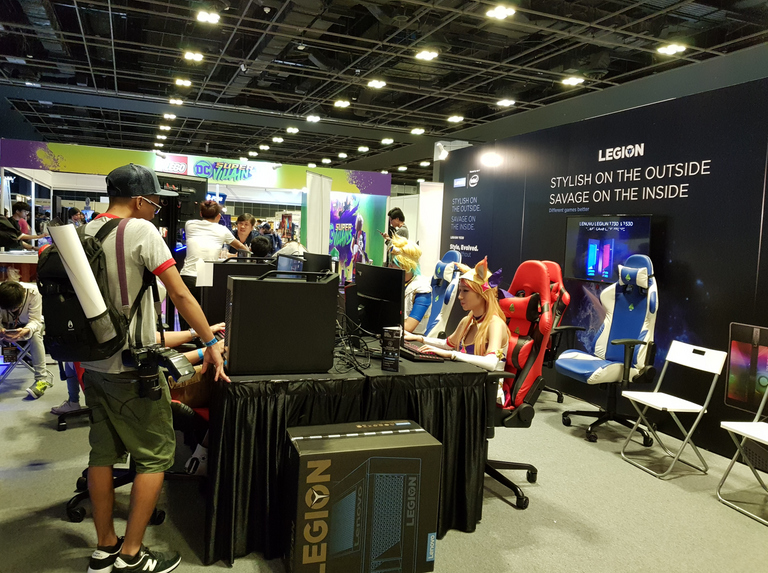 I recall we briefly played this game though since there was an open slot of controllers no one was using. I liked the LEGO Batman games a lot so when this was released it looked interesting to me and we got a brief taste of it here on PS4.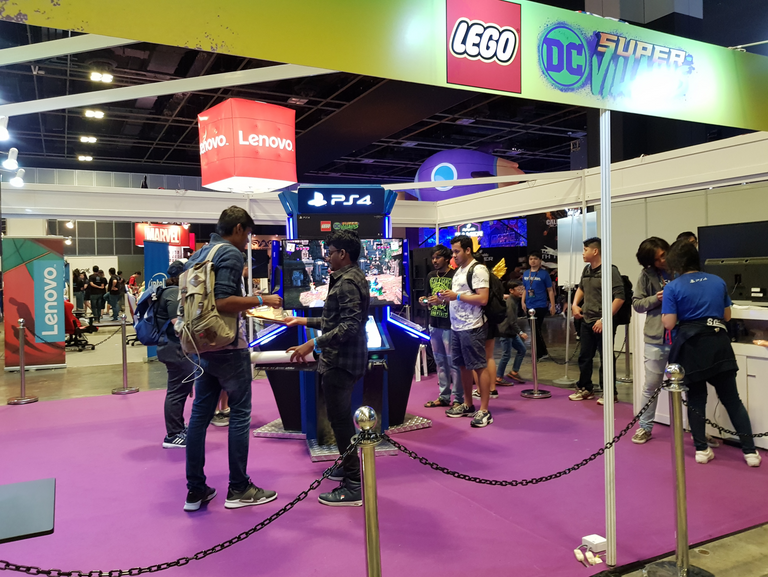 Of course there was a Disney booth as well and they had a life-size Mr. Incredibles statue! I think he was promoting Disney Epic Quest which I read is a mobile game that apparently is only released in Southeast Asia. I'm not a fan of mobile games though and since it got discontinued I guess it was pretty lame.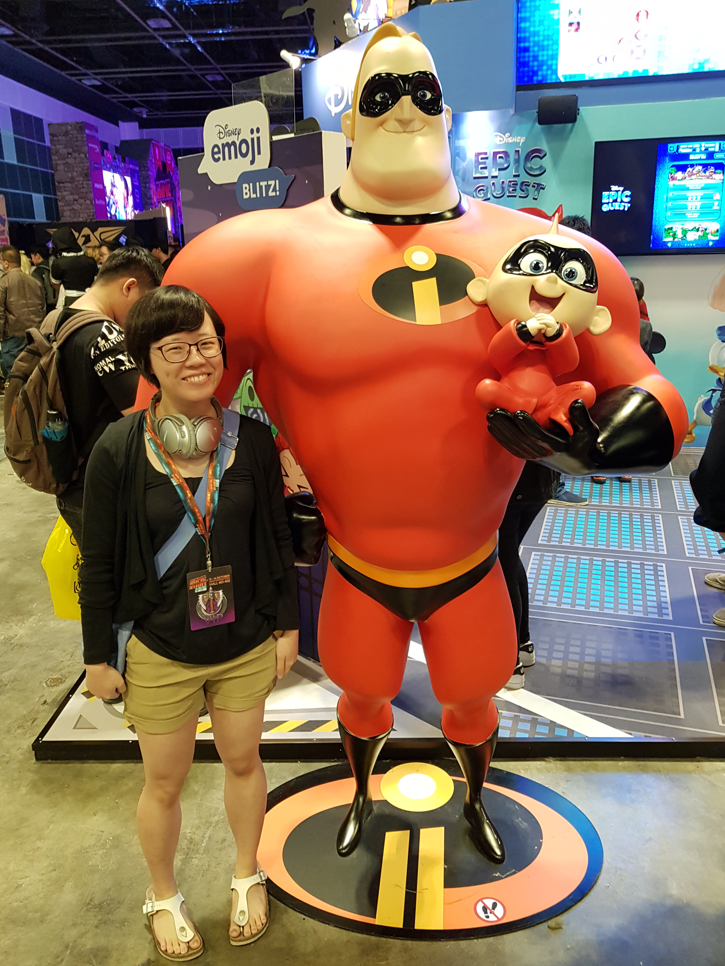 Other than the booths by big companies there was another side of the exhibition hall with small local artists selling various types of merchandise!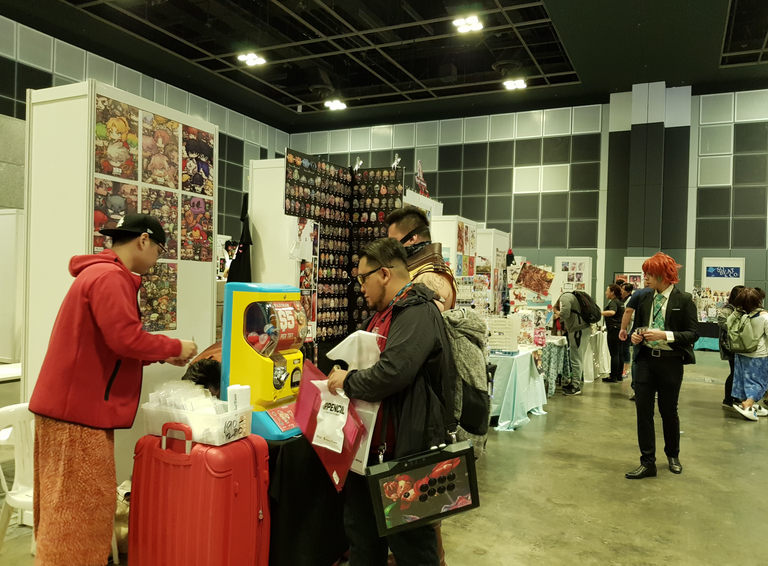 I didn't really recognise any characters at the time other than Marvel ones though but I assume they were from different games and/or anime.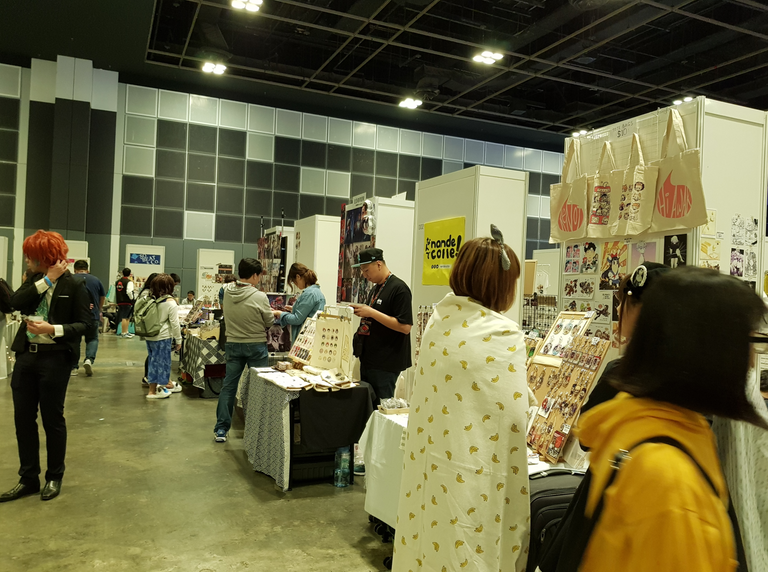 There was quite a crowd gathered around here admiring all the different art and merchandise available. It's cool that they support local artists too!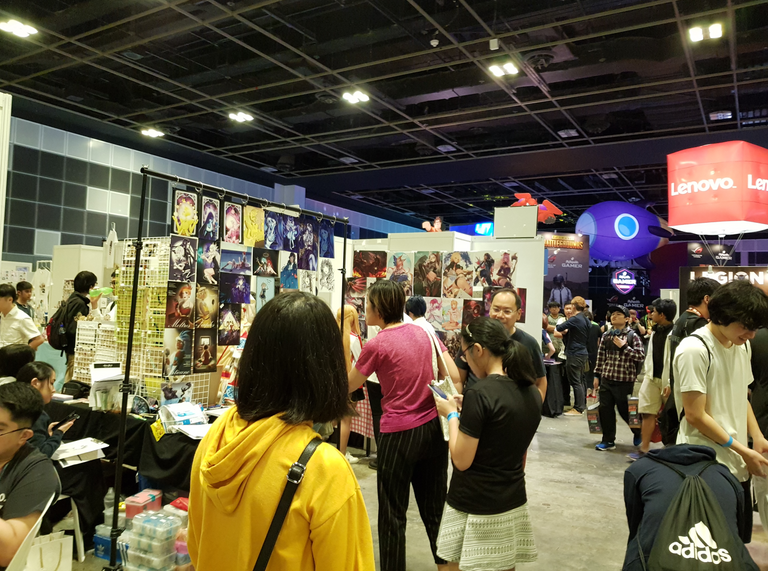 I think there was an alley with more reputable brands but I didn't recognise these names.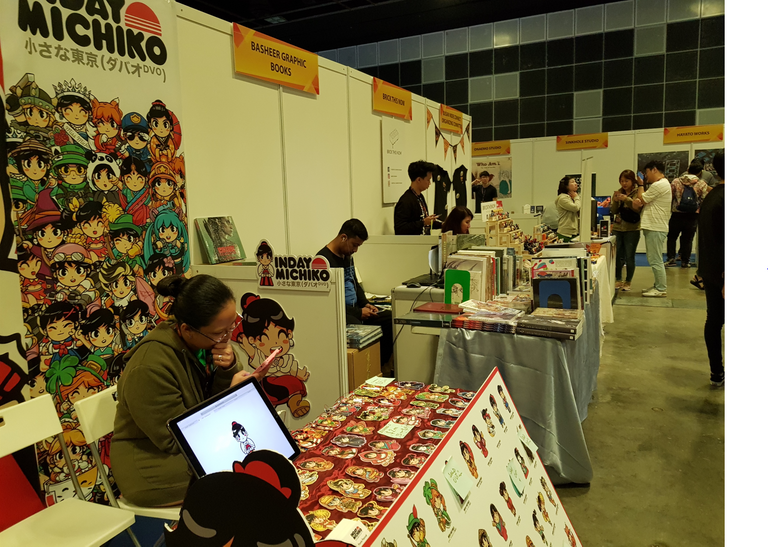 There was also a whole other area for tabletop games and I think there might have been a model making contest ongoing at the time! Just seeing all the details on these full scale models was incredible!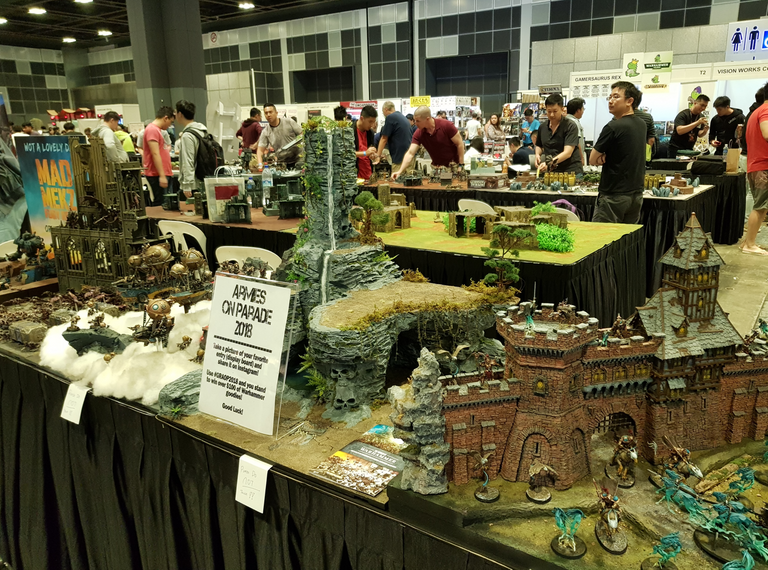 At the back of this area there were people painting miniature figures for the models! I'm not sure if these were their own or if it was a class or something but it looked really cool!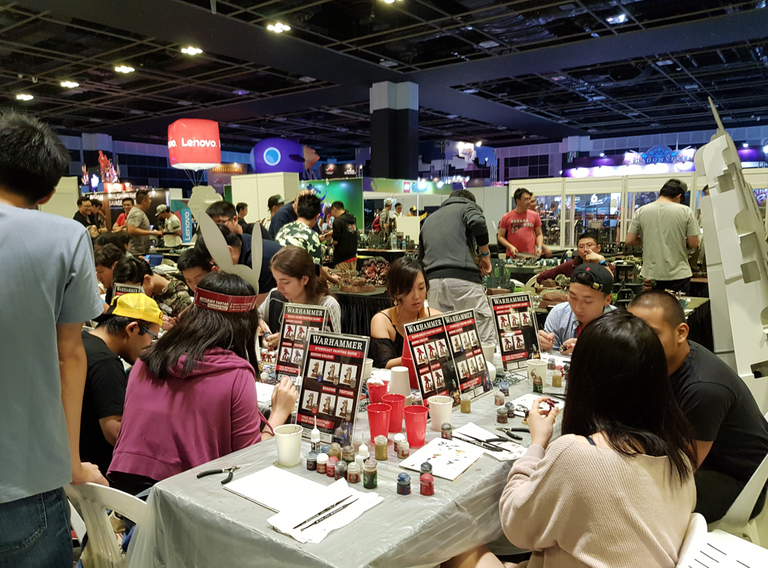 There was also this booth by local social media entertainment company SGAG because they came up with a card game called The Singaporean Dream. And some of the online personalities were there!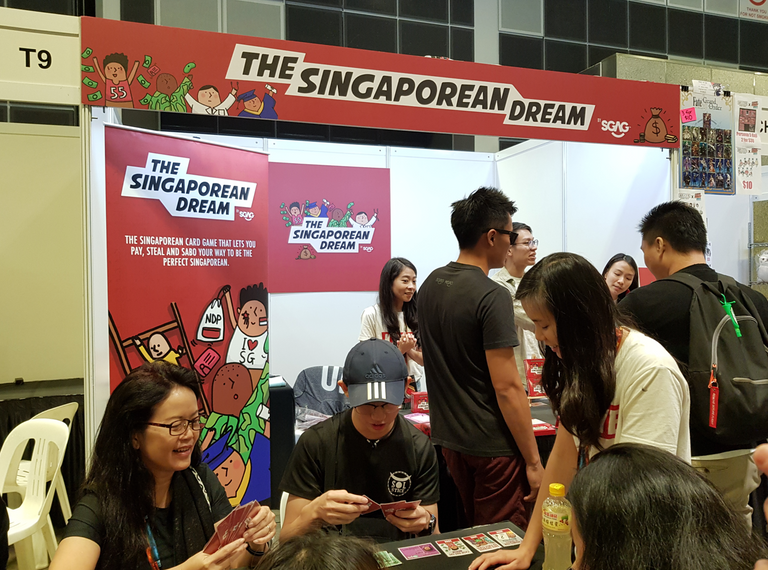 It was cool to see them in person but we didn't interact with them since they were all teaching people how to play the game.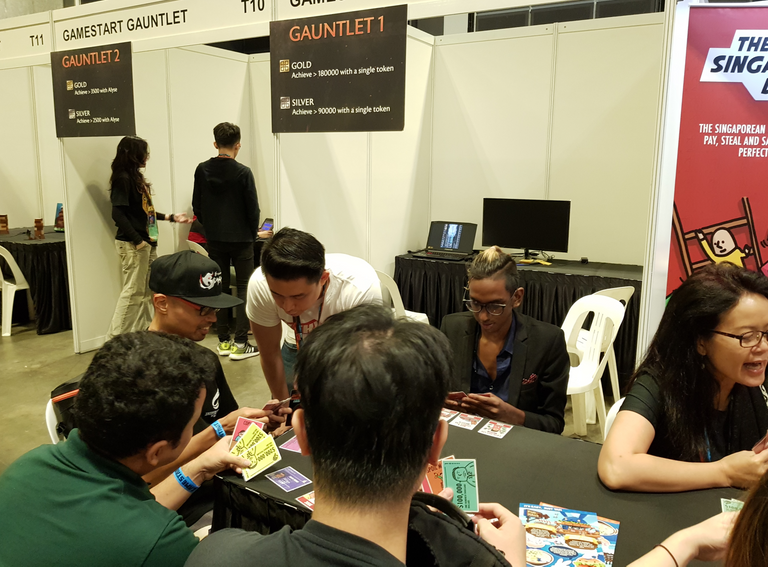 There was also a line of food stalls with what looks like game-themed food? There were a bunch of cosplayers gathered here among the crowd. I guess because this area had the most seating in the whole hall.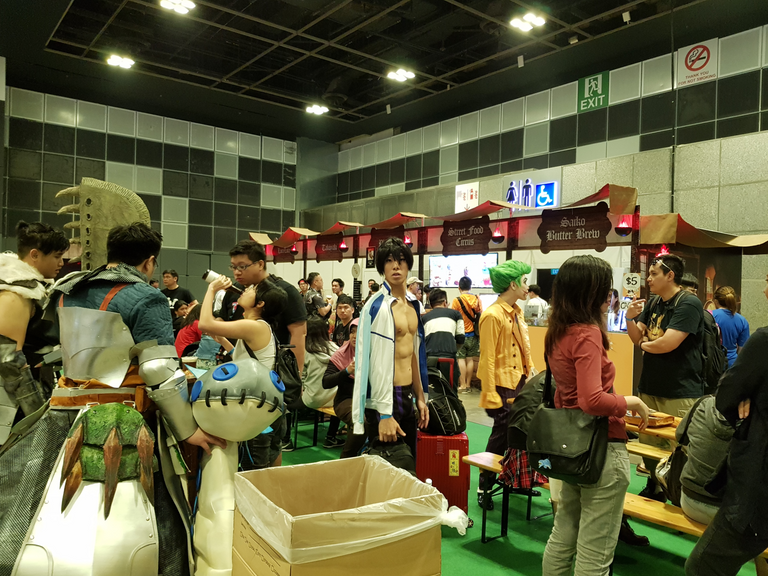 There was also a bar though which was cool since they designed it to be medieval-style kinda like the bars you'd see in games like The Witcher.
This was a booth by a game shop franchise here called GameXtreme where you could buy second hand games, devices and various merchandise.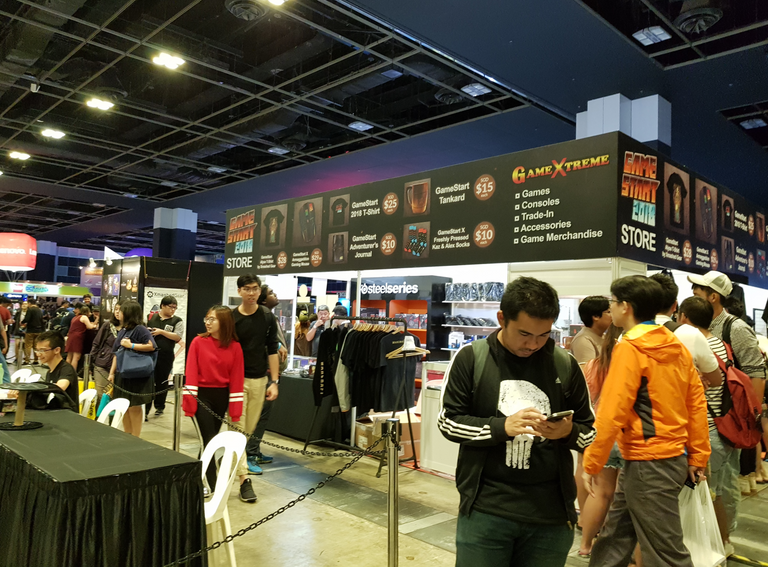 After that we made our way to the main staging area but I think we'll leave that for next week since this post is getting pretty long. Sorry for the abrupt end but there is quite a bit left to go so tune in next week for the exciting conclusion because we get extra lucky at the end!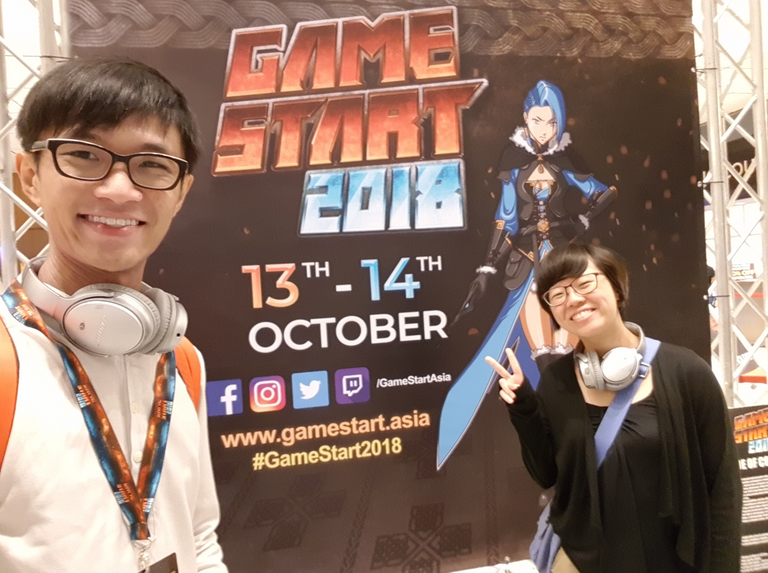 Thanks so much for reading and hope everyone is enjoying the new year so far!

To find out more about me, check out my intro post here!
---
Check out my previous post in this series!
TacoCat's Travels #189 (SG): Visiting Facebook HQ! 😍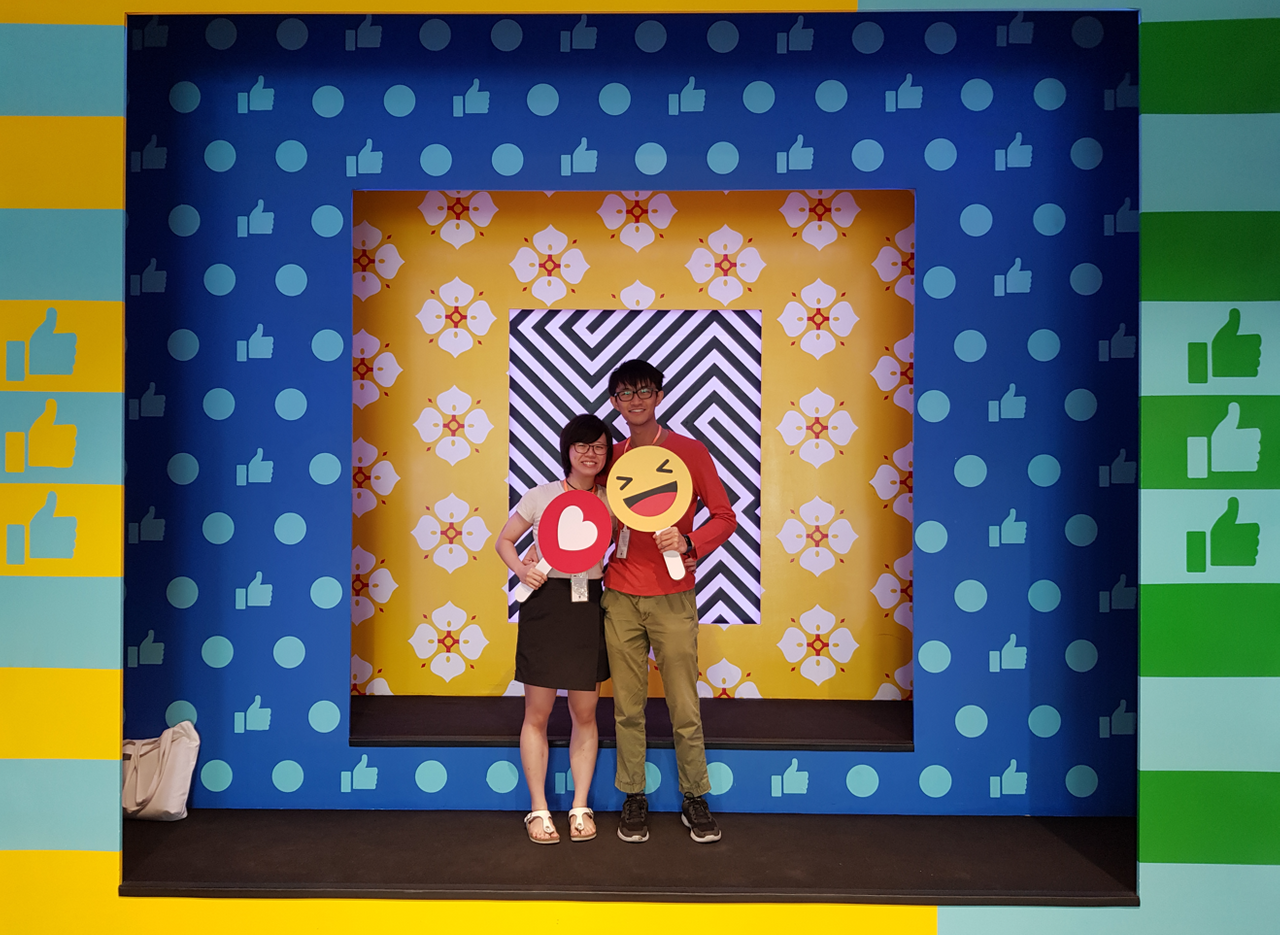 ---
View this post on TravelFeed for the best experience.