Read this post on TravelFeed.io for the best experience
---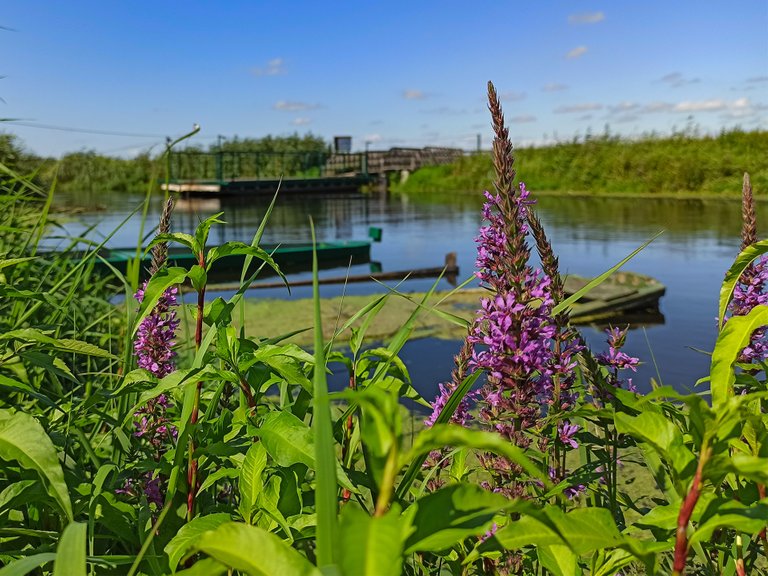 ---
Pomimo obietnicy złożonej sobie samej w zeszłym roku nie do końca wierzyłam, że to się uda. Dość często mówię "muszę tu wrócić", z jednoczesną świadomością, że to tylko słowa. A jednak rozlewiska Narwi, choć nasze spotkanie było przelotne, zapadły mi mocno w pamięć. Ostatecznie wylądowałam nad Biebrzą, ale to wciąż bardzo blisko Narwiańskiego Parku Narodowego. Celowo wybrałyśmy bazę wypadową nieco dalej na północ, by móc objechać więcej ciekawych miejsc.
Aura trochę mnie martwiła - po zupełnie deszczowym piątku (wypad na trójstyk granic) prognozy na kolejny tydzień były zniechęcające. Zapowiadała się powtórka październikowego wypadu do Białowieży, gdy tylko jeden dzień z całego wyjazdu był pogodny. Na szczęście obawy się nie sprawdziły. Owszem, pogoda była bardzo kapryśna - nie pamiętam dnia bez deszczu, jednocześnie nie było też dnia bez pełnego słońca! Osobiście mnie taka kombinacja bardzo odpowiada.
Kładka przez rozlewiska, której w październiku nie udało nam się "zaliczyć", łączy dwie miejscowości - Waniewo i Śliwno. Wtedy atakowałyśmy przeprawę w Waniewie, tym razem zaczęłyśmy w Śliwnie. Kładka leży w obrębie Narwiańskiego Parku Narodowego, całodzienny bilet wstępu (6 zł/normalny) można kupić w obu miejscowościach startowych, blisko początku trasy.
First time I visited this place in October last year. At that time, I did not manage to complete the entire route as it was closed due to the low water level. I liked it so much that I decided to return to the Narew River (called the "Polish Amazon") this year. The weather worried me a bit - after a stormy Friday, the forecasts for the next week were discouraging. Fortunately, even though the weather was erratic, it wasn't that bad. We had a mixture of rain and full sun each day:)
The footbridge across the backwaters, which I didn't cross in October, connects Waniewo and Śliwno, two small villages. It is located within the Narew National Park; you can buy a full-day admission ticket (PLN 6 / regular - it's about 1,6 $) in both towns, close to the beginning of the route.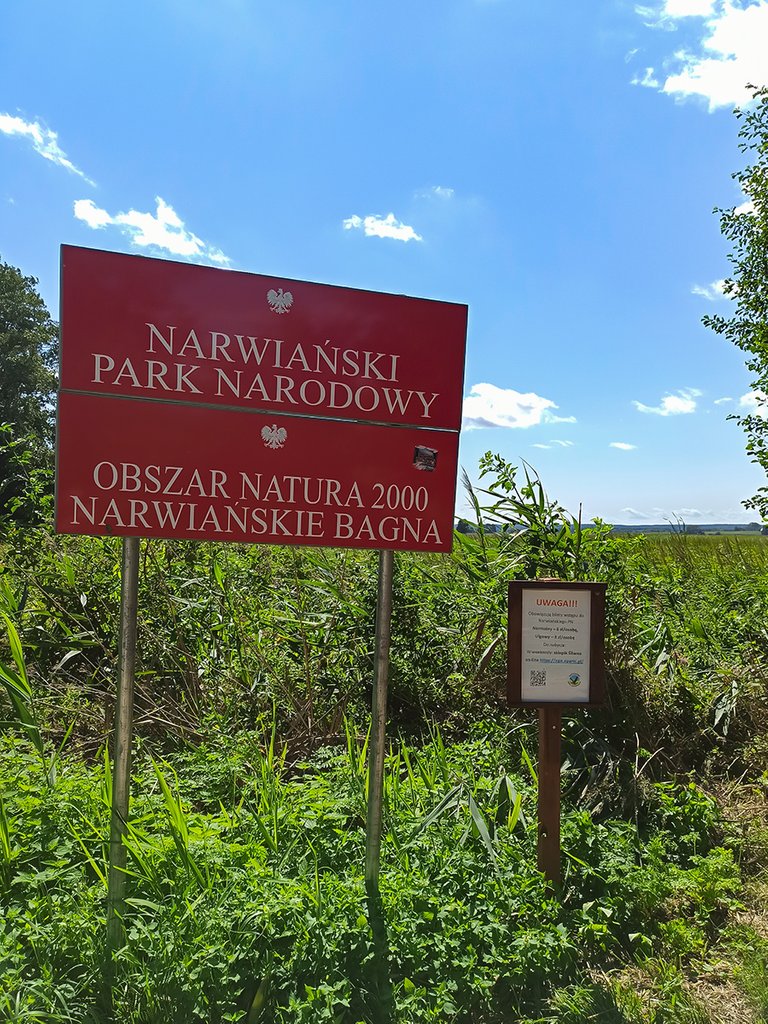 Pierwsze co nas czekało, to przeprawa ruchomą platformą przez leniwy nurt rzeki. Łącznie na całej trasie jest ich kilka - cztery lub pięć, nie pamiętam dokładnie.
Dzięki temu, że czekałyśmy aż przybiją spacerowicze z drugiego brzegu, mogłyśmy się dobrze przyjrzeć, jak działa platforma.
First, we had to cross the lazy river current on a floating platform. In total, there are several such platforms along the entire route.
We waited for the platform to arrive from the other side, so we could get a good look at how it works.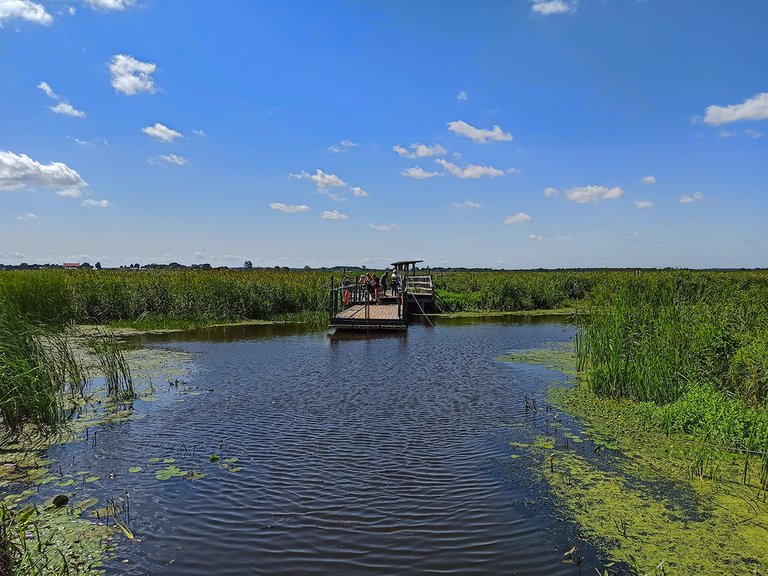 Pustą platformę najlepiej przyciągnąć do brzegu za pomocą łańcucha łączącego pomost z "promem"; stojąc już na nim trzeba użyć stalowych linek zamocowanych po bokach. W przypadku, gdy przeprawia się tylko jedna osoba, to lepiej pozostać przy łańcuchu. Łączy on środek pomostu ze środkiem platformy, dzięki czemu płynie się prosto podczas przeprawy. W każdym razie - nic trudnego, choć wymaga nieco siły.
When there are no tourists on the platform, you can pull it to the shore using a chain connected to the pier; standing on this little ferry, you need to use steel lines attached to the sides. Nothing complicated, although it requires a bit of strength.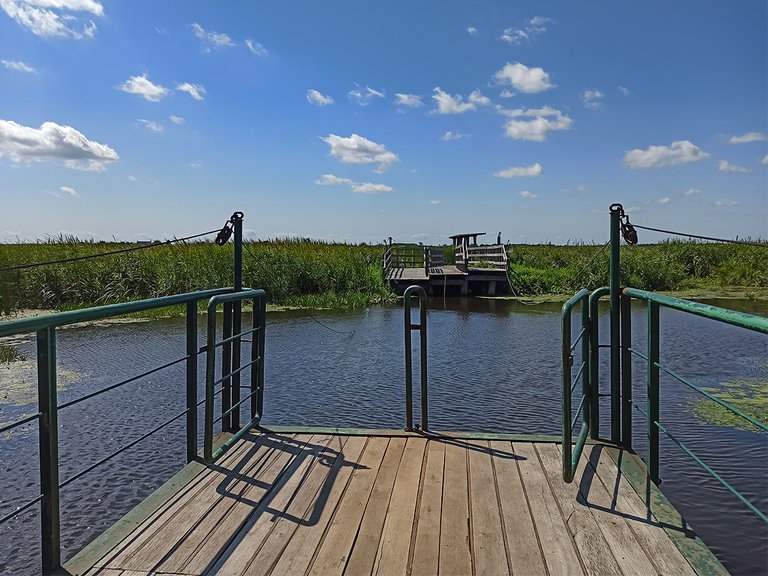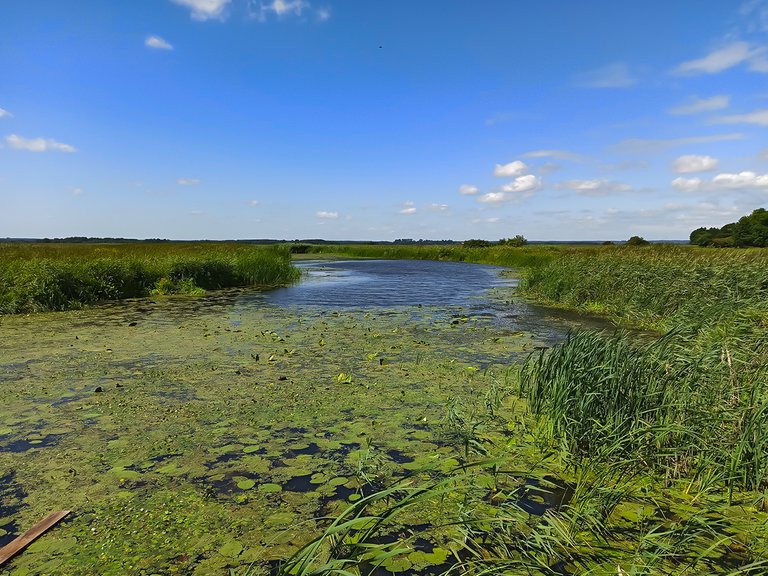 Po przybiciu do kładki przekazałyśmy ją w ręce turystów idących z Waniewa i pożegnałyśmy na czas jakiś nurt rzeki. Czekał nas kilometrowy spacer przez zielony, szumiący bezkres.
After the crossing, we said goodbye to the river for a while. We had a kilometer walk through the green vastness ahead of us.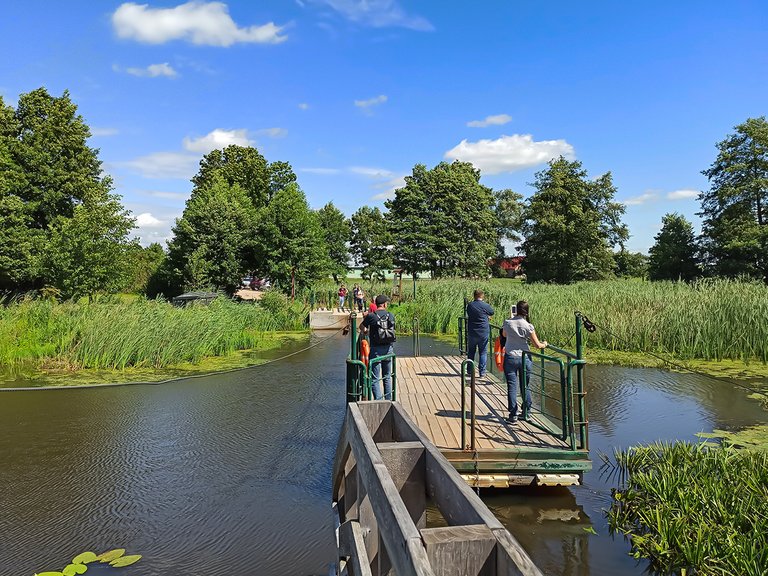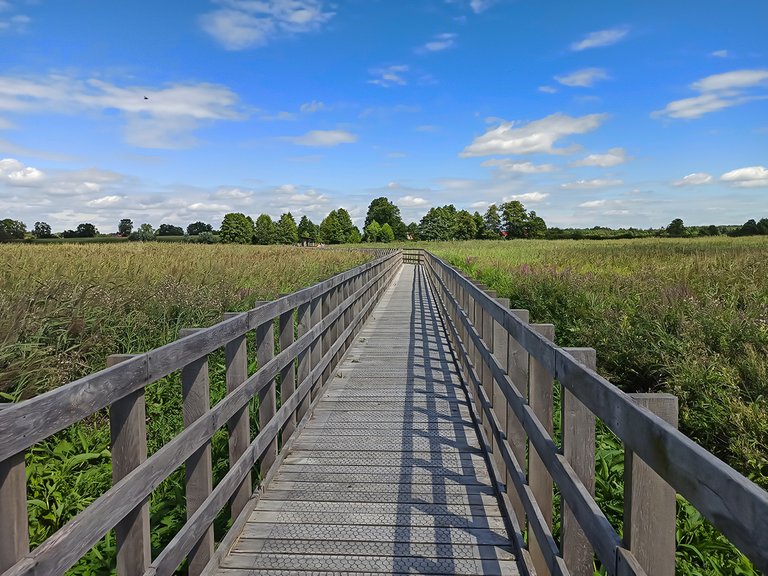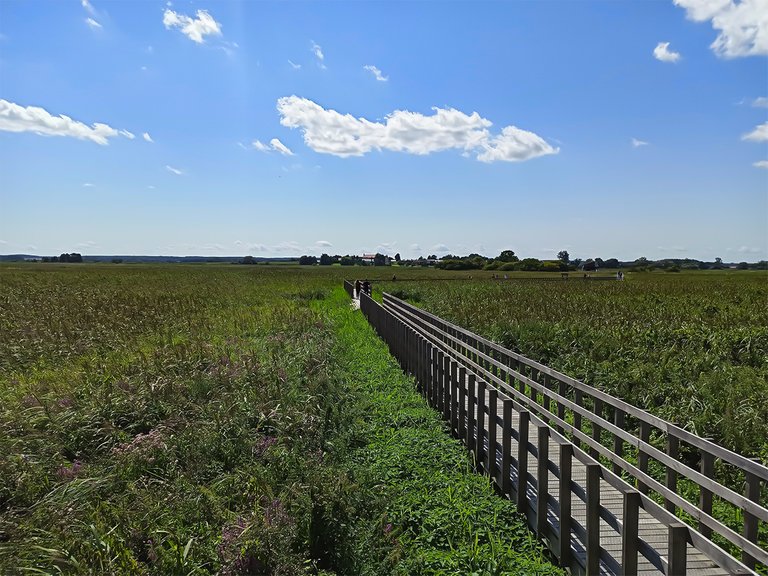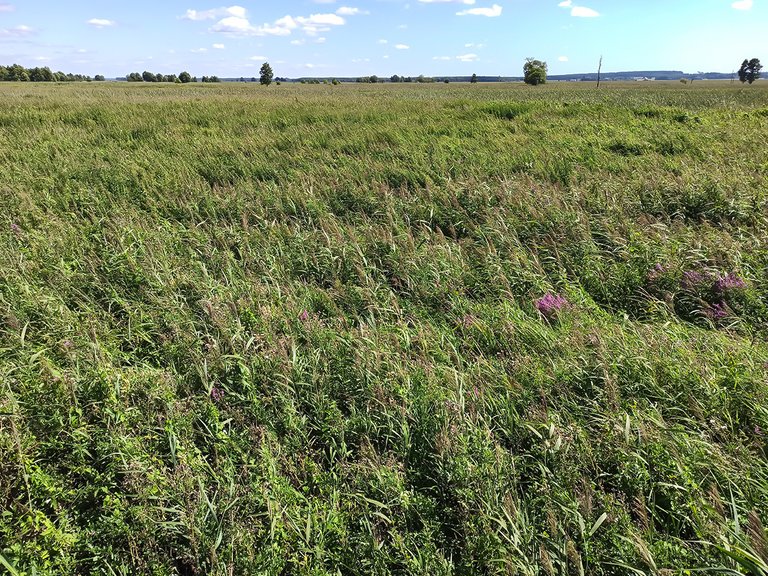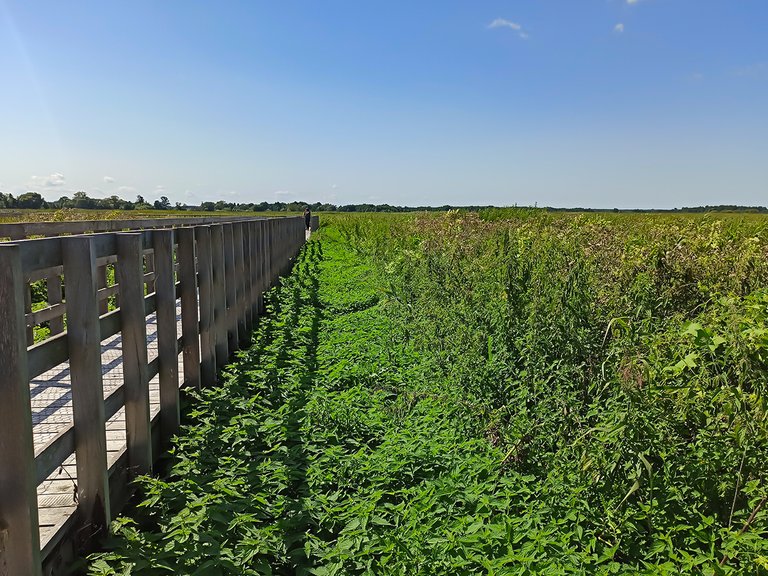 W lecie roślinność jest gęsta i wysoka, trudno uwierzyć w to, że jak okiem sięgnąć otacza nas woda. Dopiero po zajrzeniu w zarośla lub między deski kładki widać połyskującą taflę. W kilku miejscach nie ma barierek - tu można zejść ze ścieżki i przekonać się, jak bardzo jest mokro.
In summer, the rich vegetation is thick and tall; it is hard to believe that we are surrounded by water as far as the eye can see. Only after looking into the undergrowth or between the footbridge boards can you see the water's shiny surface. There are no barriers in several places - here, you can get off the path and see how wet there is.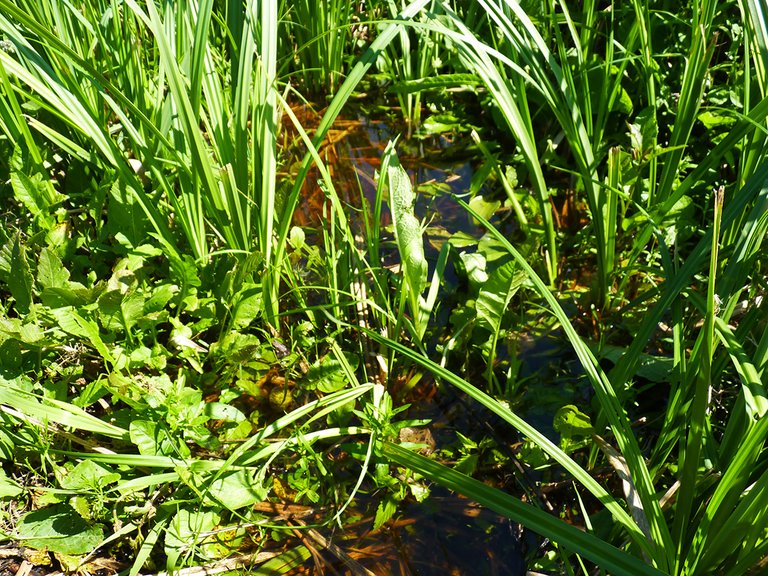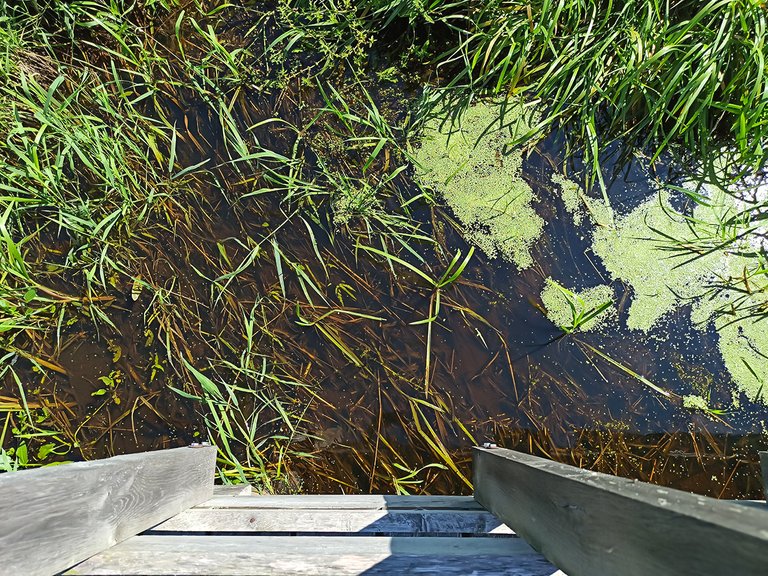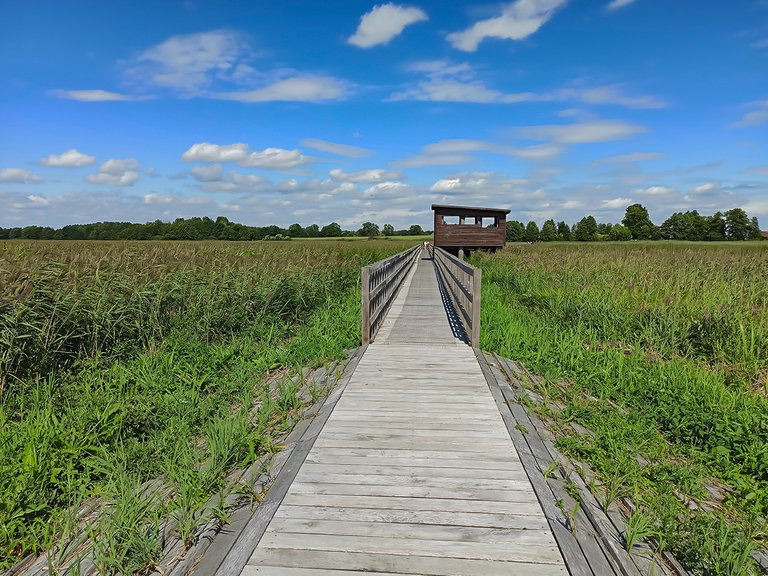 Z niewysokich wież nieco lepiej widać rozległość rozlewiska. Wzrok gubi się gdzieś po drodze na horyzont. Nieograniczona niczym przestrzeń w połączeniu z nieustannym szumem roślinności ma w sobie coś kojącego. To jest ten typ krajobrazu, który jednych znudzi po kilku minutach, a drugich wciągnie na całe godziny - w zależności od preferencji.
Unlimited space combined with the constant noise of vegetation has something soothing about it. For some, it will be a monotonous landscape; for others - addictive.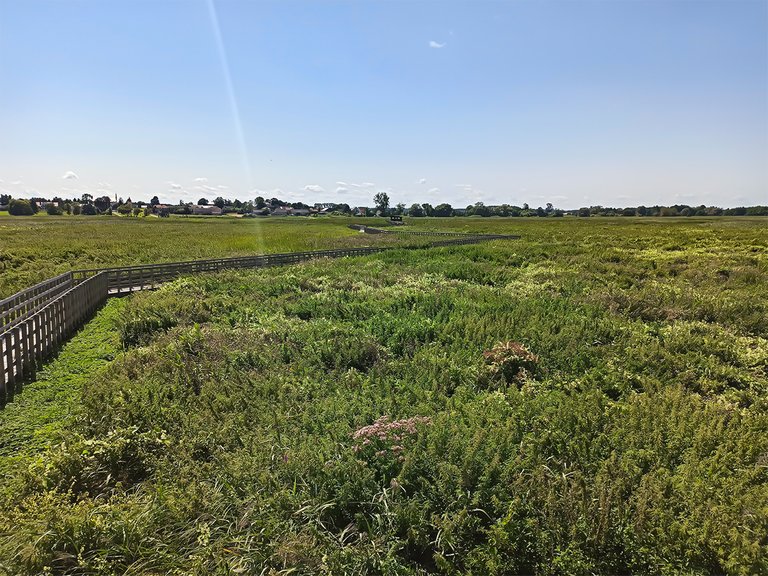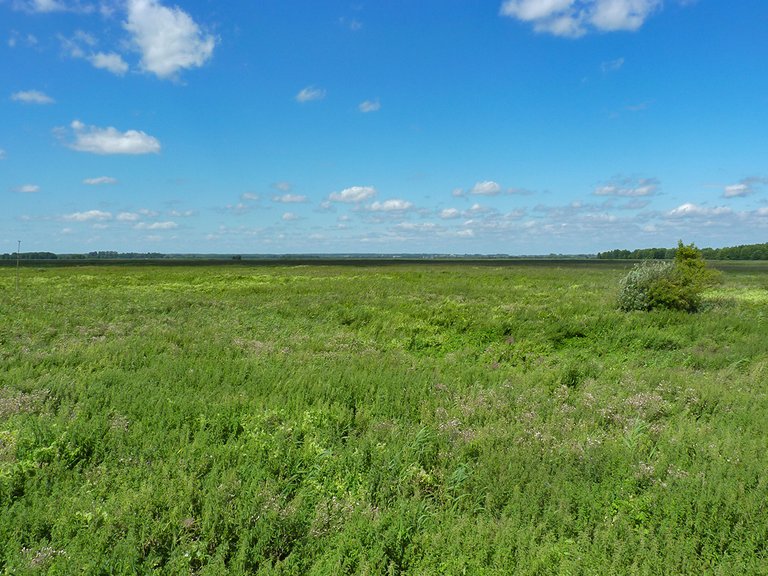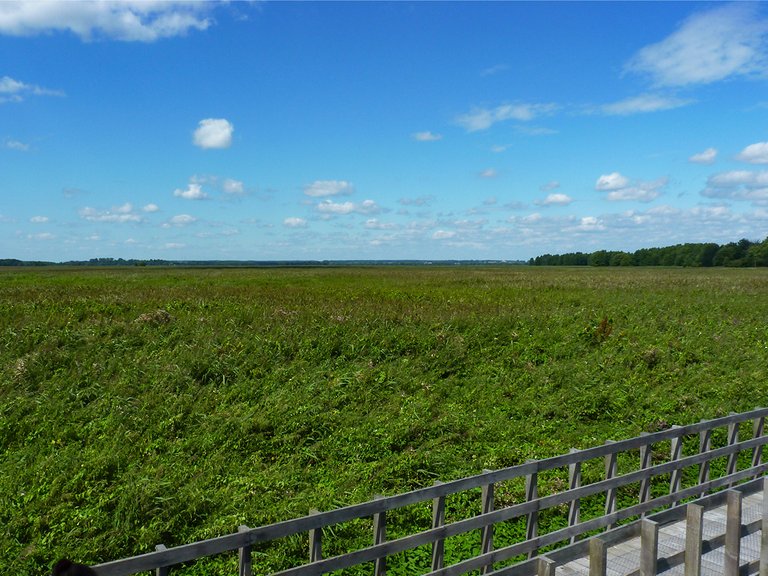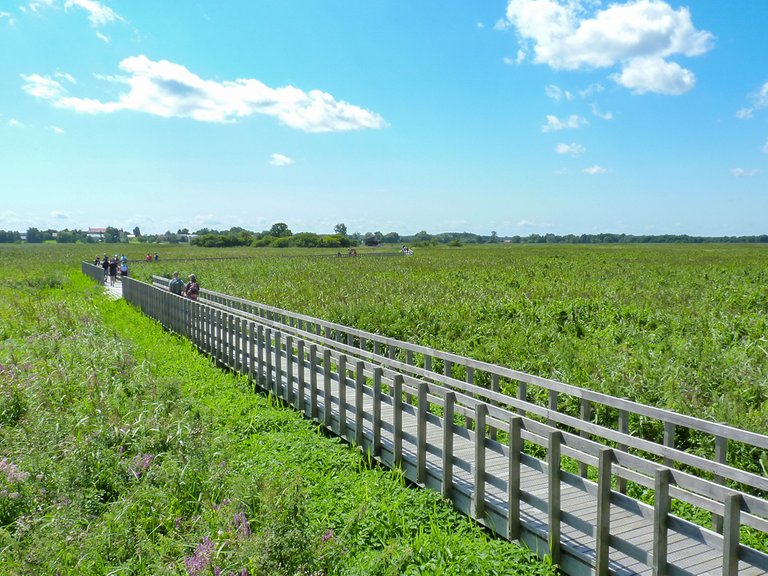 Narwiański Park Narodowy jest stosunkowo młody - powstał dopiero w 1996 roku, a sama kładka została oddana do użytku około 10 lat temu. Z tego co czytałam, to już w XV wieku istniał tutaj most łączący oba brzegi rozlewisk, w tamtych czasach Waniewo było mazowieckim grodem granicznym. Na początku XVI stulecia w połowie mostu zbudowano zamek. Burzliwe losy przeprawy z Waniewa do Śliwna (na przemian niszczona i odbudowywana) zakończyły się w 1915 roku doszczętnym jej spaleniem. Obecna kładka powstała mniej więcej w tym samym miejscu co jej historyczna poprzedniczka.
Spośród wszystkich odwiedzonych podczas wyjazdu ścieżek i szlaków tutaj spotkałyśmy chyba najwięcej turystów. To dobrze oddaje, jak spokojnym miejscem (w moim odbiorze) są te tereny. Z pewnością dla większości turystów nie będzie to pierwszy wybór miejsca wypoczynku w Polsce, gdzie niepodzielnie króluje trójca nad morze/w góry/na Mazury. Czy mnie to martwi? Nie bardzo :) Mamy szczęście żyć w kraju może niewielkim, lecz urozmaiconym - każdy może sobie wybrać coś odpowiedniego dla siebie. Co ciekawe zarówno nad Narwią jak i Biebrzą spotkałyśmy bardzo wielu turystów z Holandii i Niemiec - miłośników nieujarzmionej natury.
The Narew National Park is relatively young - it was established only in 1996, and the footbridge across the backwaters was put into use about ten years ago. In the fifteenth century, there was a bridge here connecting both banks of the backwaters; at that time, Waniewo was a border town of Mazovia. At the beginning of the 16th century, a castle was built in the middle of the bridge. The turbulent fate of the crossing from Waniewo to Śliwno (alternately destroyed and rebuilt) ended in 1915 with its complete burning. The current footbridge was built more or less in the same place as the historical path.
---
Kolejne przeprawy przez pajęczynę wodnych nitek wyrywają zahipnotyzowanych spacerowiczów z letargu.
Subsequent crossings through the web of water threads pull the hypnotized walkers out of their lethargy.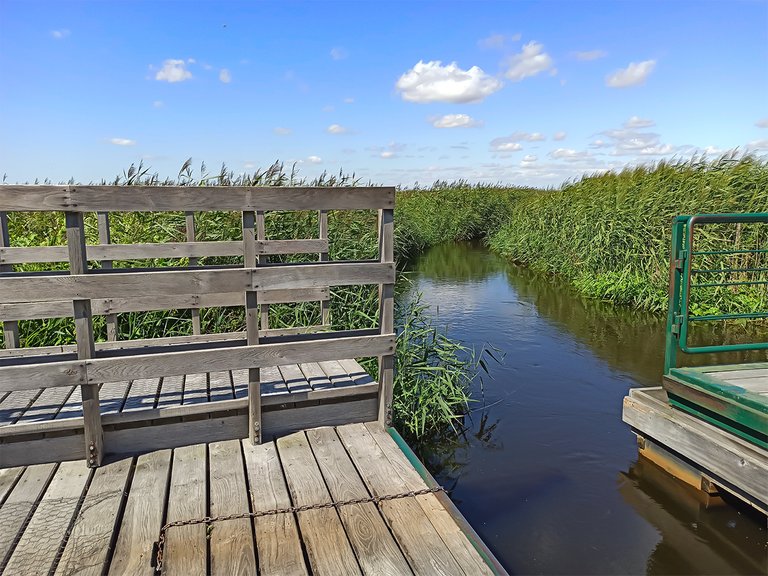 Bliżej Waniewa roślinność chwilami się przerzedza i widać więcej wody.
Closer to Waniewo, the vegetation becomes thinner and you can see more water.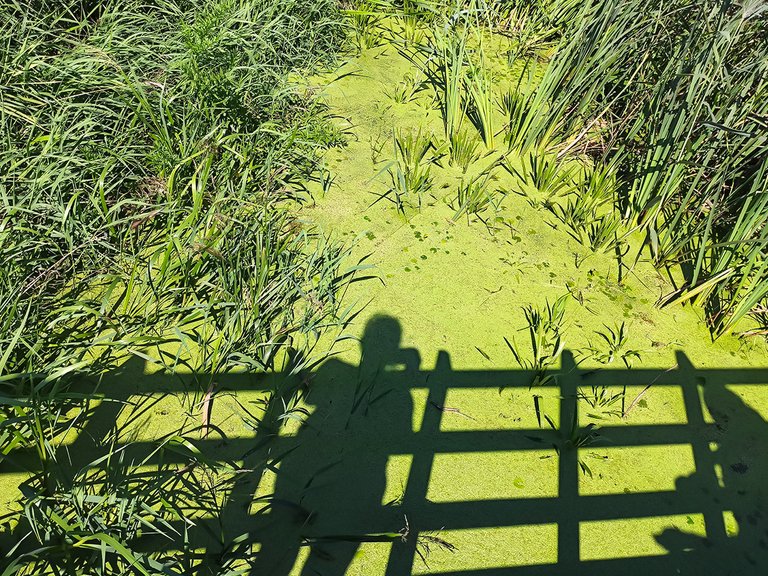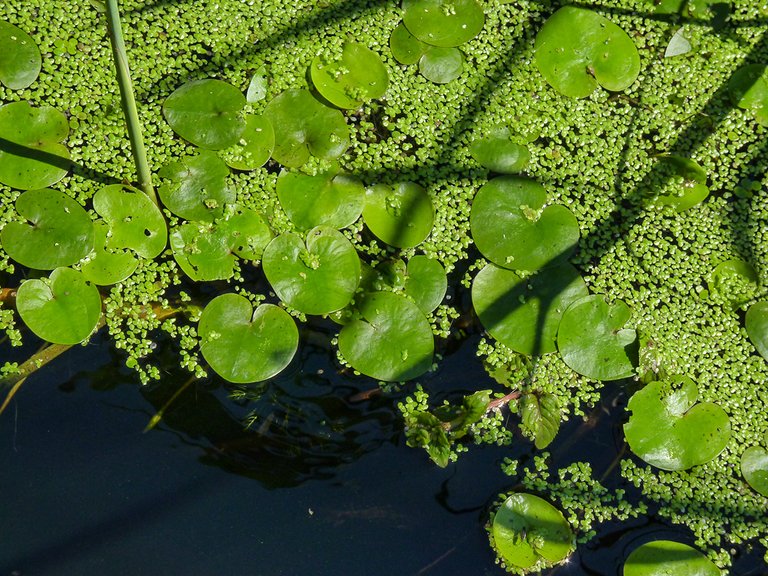 Pomału zbliżamy się do końca kładki. Za chwilę znajdziemy się na pomoście, z którego w zeszłym roku z żalem patrzyłyśmy na opuszczone rozlewiska i unieruchomioną platformę.
We are slowly approaching the end of the footbridge. In a moment, we will find ourselves on the pier from which we looked with regret at the abandoned backwaters last year. At that time, the footbridge was closed due to the low water level.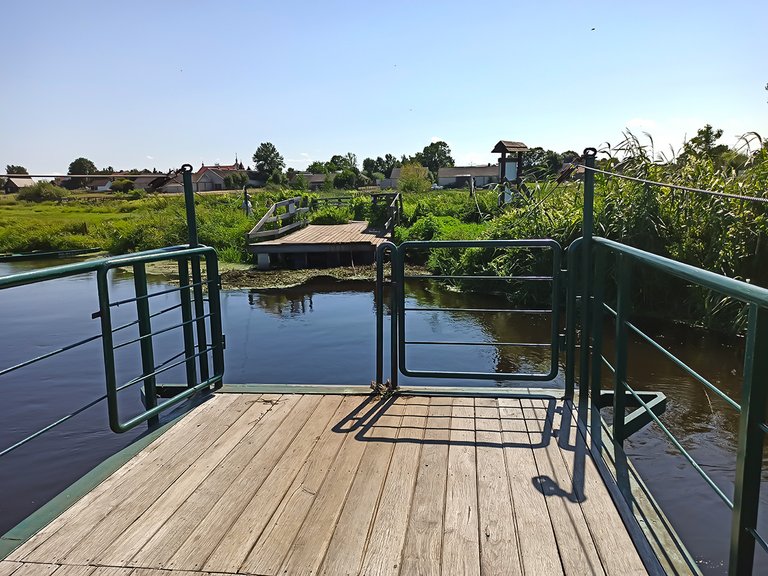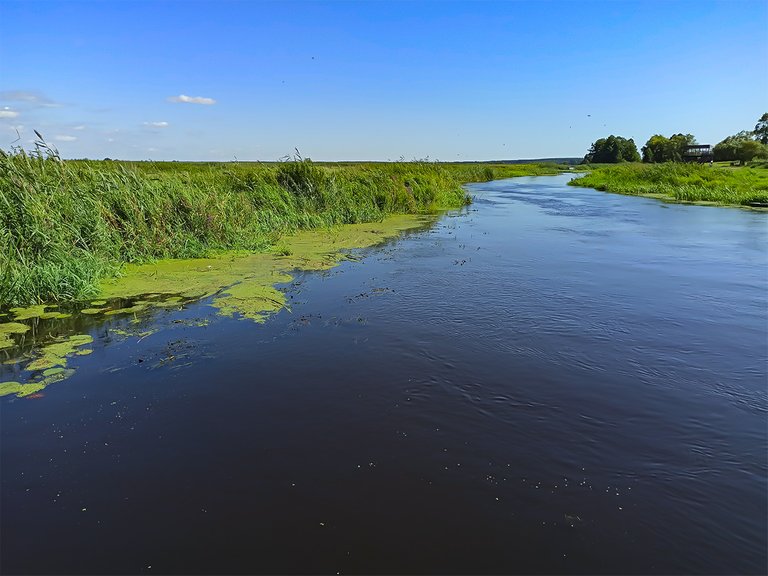 Brzeg rzeki w Waniewie jest bardzo malowniczy, więc przed powrotem do Śliwna zrobiłyśmy sobie mały rundkę po okolicy, wspominając pewien październikowy wieczór. Więcej zieleni i słońca niż wtedy, ale urok ten sam.
The riverbank in Waniewo is very picturesque, so before returning to Śliwno, we made a little round around the area, remembering one October evening. There was more greenery and sun than then, but the same charm and beauty of nature.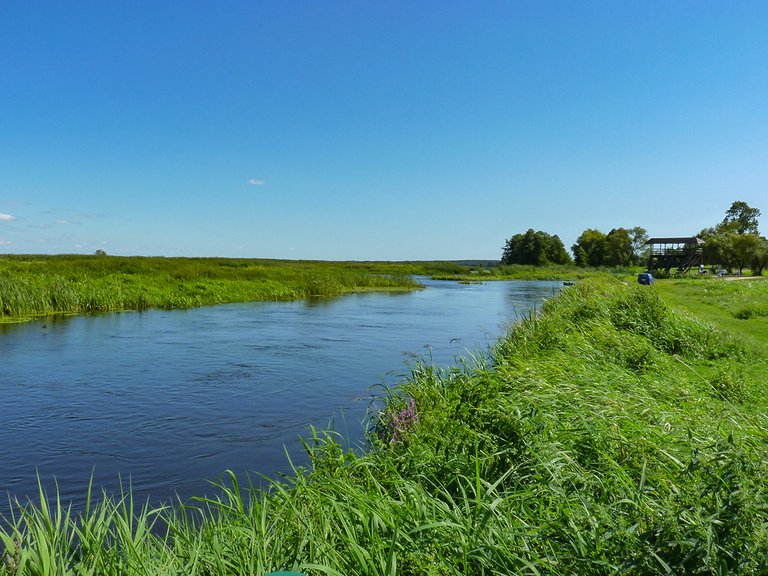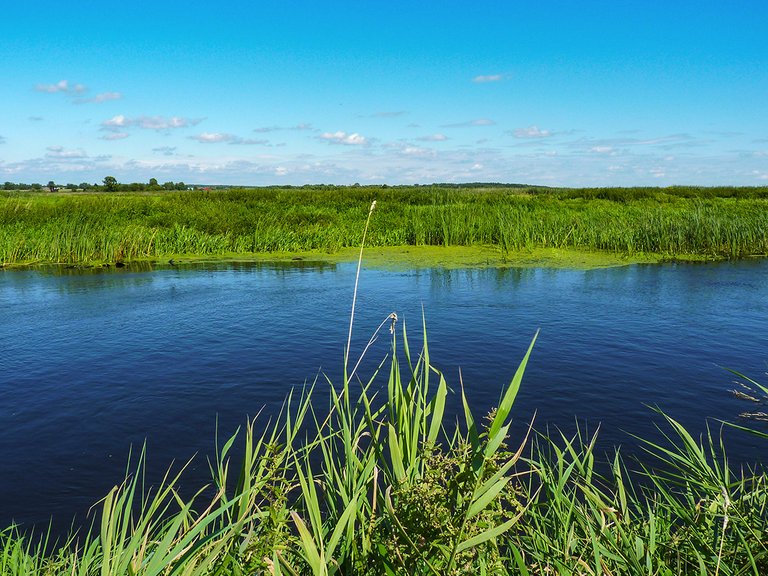 Te same porzucone łódki i wciąż nieczynna (niestety) wieża widokowa.
We could see the same abandoned boats and the observation tower, which is still closed, unfortunately.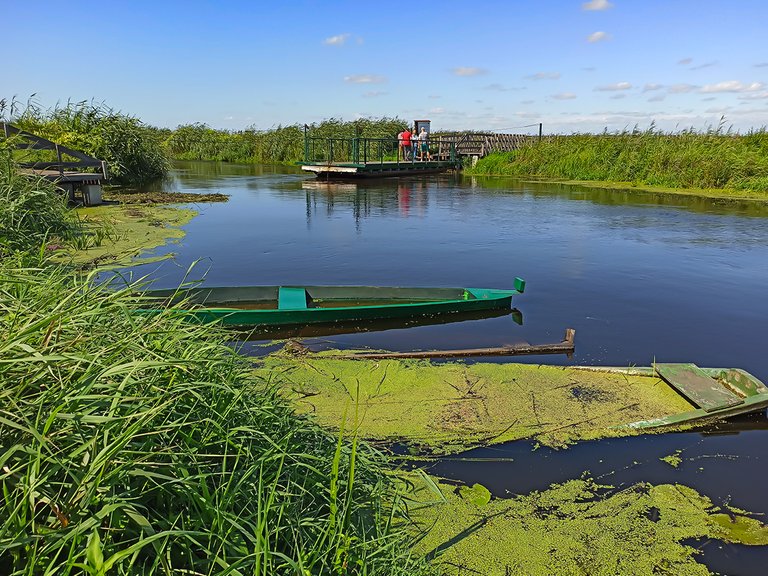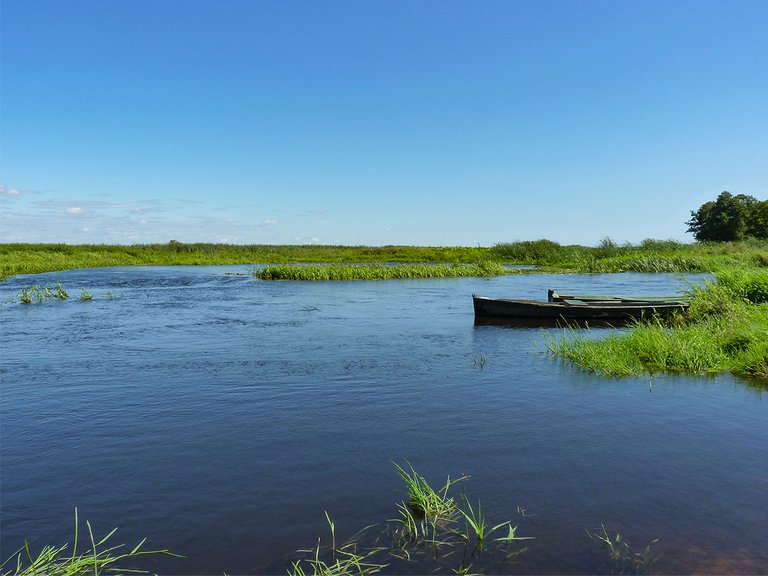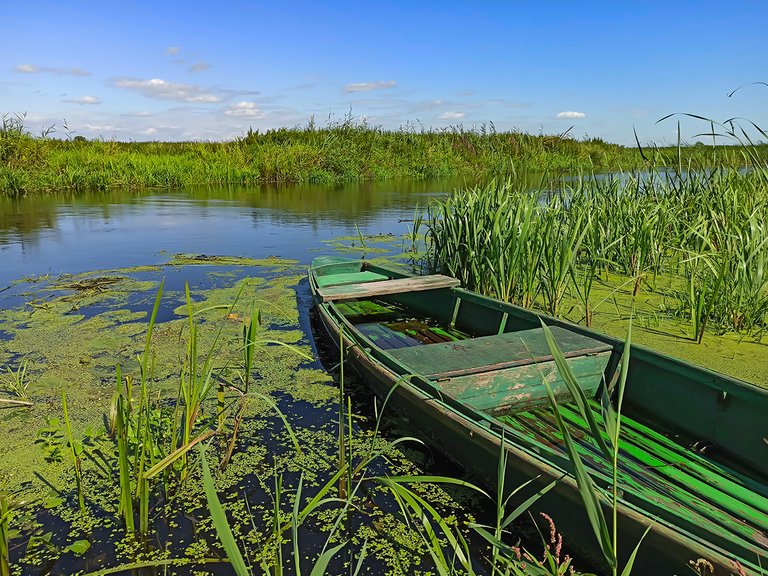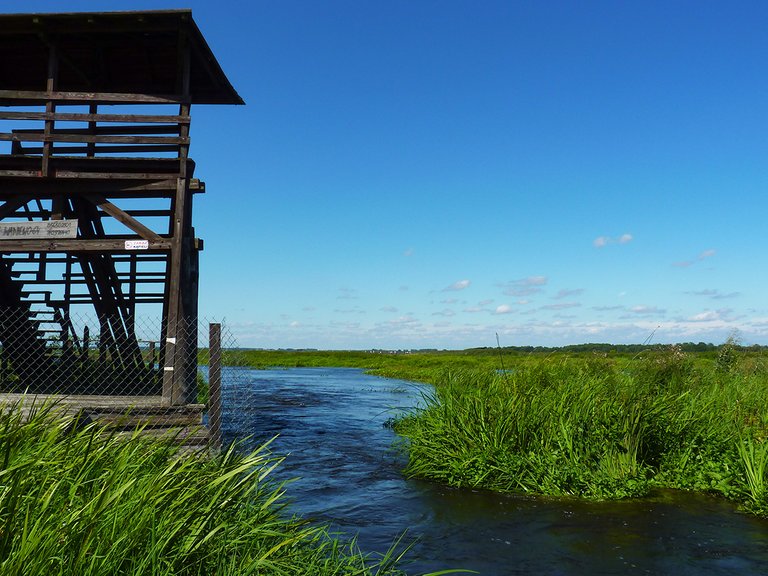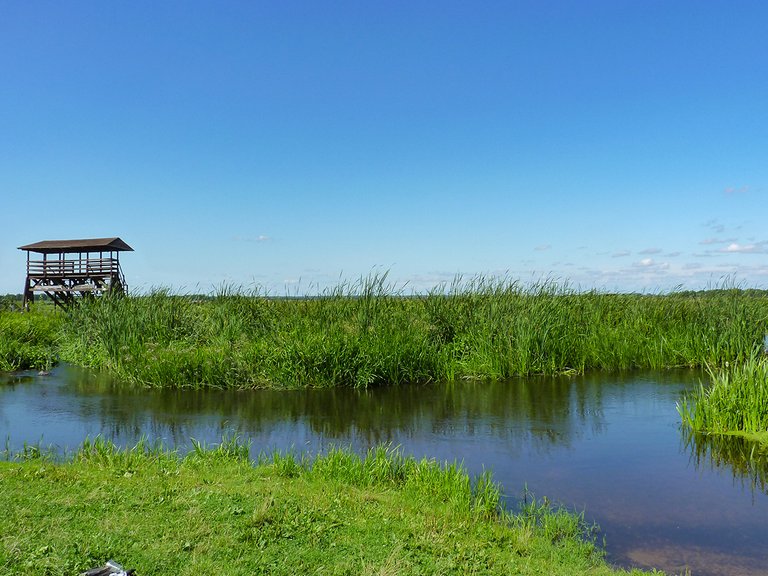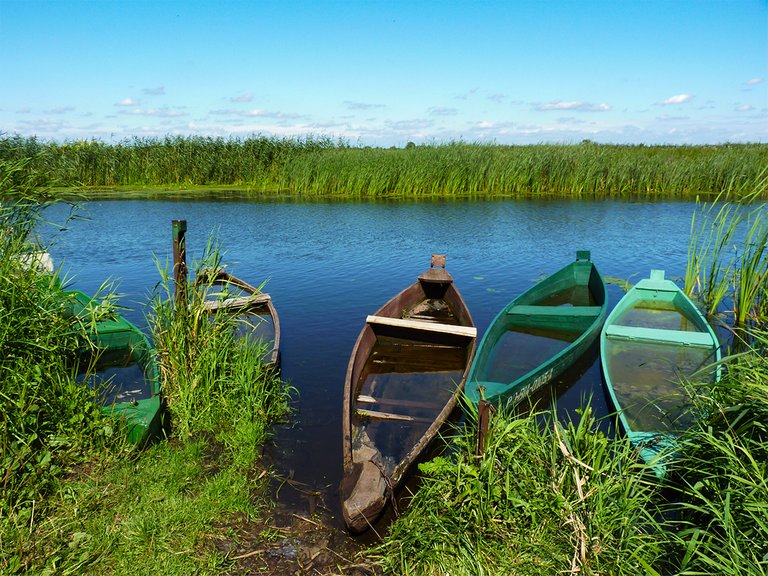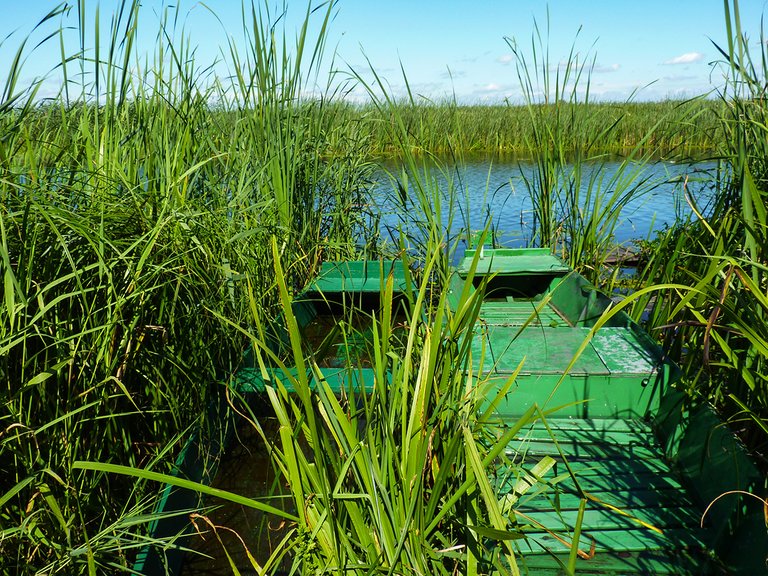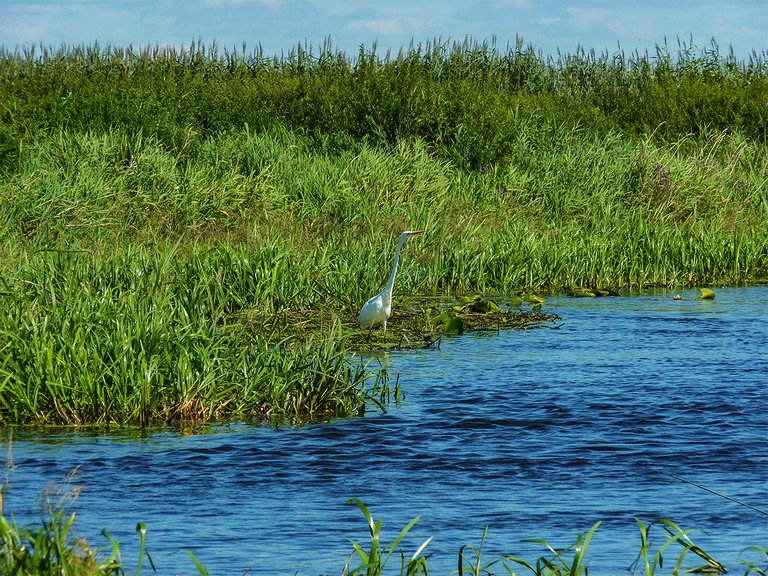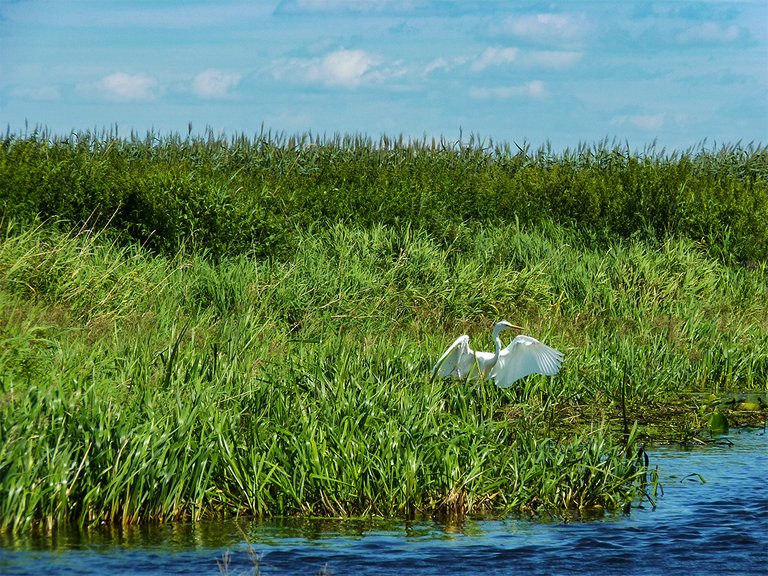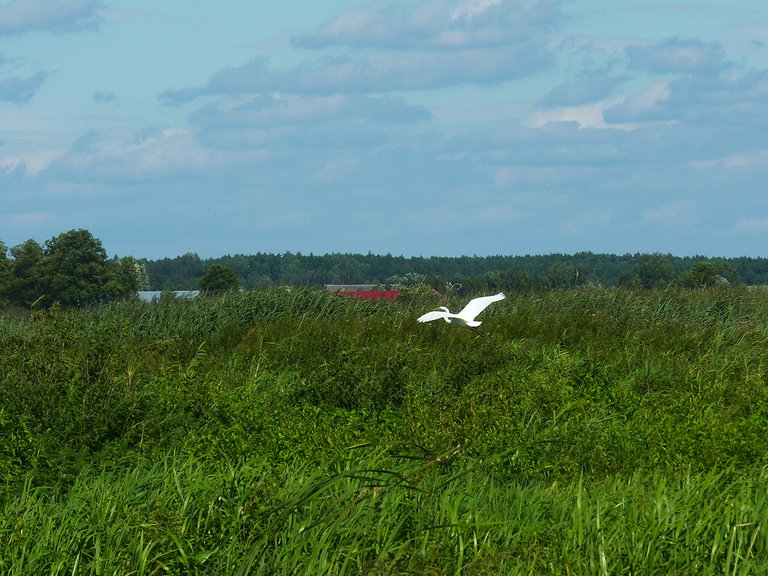 Narew nazywana jest powszechnie polską Amazonką, co wynika z jej natury, widocznej szczególnie na odcinku chronionym. Na tych terenach przyjmuje formę rzeki wielokorytowej, gdzie główny nurt rozdziela się na liczne odnogi, tworząc wodne labirynty. Wylewająca na wiosnę Narew może wytyczać co roku nowe ścieżki, tworząc zmieniający się, jedyny w swoim rodzaju ekosystem bagienny.
Nie wiem, czy to się wydarzy, ale wciąż chciałabym tam wrócić, tym razem na przedwiośniu. Gdy wszystko jest surowe i monochromatyczne, a otaczającej pustki nie łagodzą zielone, falujące łany. Pęczniejące rozlewiska tu i ówdzie pokryte są lodem i króluje zmęczona, zeszłoroczna roślinność. O poranku jest jeszcze bardzo zimno, na zbrązowiałych trawach skrzy się szron, para ucieka z ust. Nie ma też żadnego innego człowieka oprócz mnie.
Tak mi się marzy, a co wyjdzie - zobaczymy ;)
Narew is commonly called the "Polish Amazon," which results from its nature, especially visible in the protected part. In these areas, it takes the form of a multi-channel river, where the mainstream splits into numerous branches, creating water labyrinths. The Narew, which floods in the spring, can forge new paths every year, creating a changing, one-of-a-kind wetland ecosystem.
I don't know if it will happen, but I would still like to go back there, this time in early spring. When everything is raw and monochromatic, the growing backwaters are still covered with ice, and the tired last year's vegetation reigns. It is still cold in the morning; frost glistens on the browned grass, steam escapes from the mouth. And there is no other human but me.
That's my dream, I'll see what comes out ;)
---
View this post on TravelFeed for the best experience.