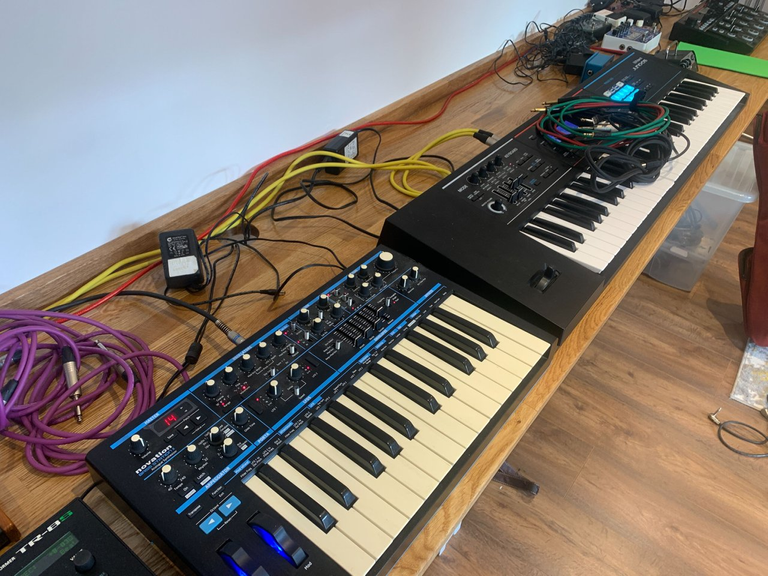 Stick Up Boys And The Many Leads - Are They Under Control Or Not?
Remember that we wrote about @stickupboys and his many leads that were all tangled up and needed to be sorted? Well, We can now say that the situation is somewhat under control today. We had a lot of playing, plugging and configuring today regarding the set up in the studio. It's not a quick and easy task, in case you didn't notice.
Thankfully, the shelving is being worked at as we speak and we already did our first video recording for new GIFs in this studio. It was fun to get back working on these. Meanwhile, there is some jamming going on in the studio, which means the set up of the equipment takes longer than it should because us Stick Up Boys get distracted by inspiration and ideas. Oh well, there are worse things, right?
Check out the most recent update by @stickupboys himself here but we're pretty sure a new one is incoming very soon!
Have a good weekend,
Cheers!

We appreciate all the support we get from the Hive community. Remember that you can earn 15% APR paid in Legion, in daily dividends, if you delegate Hive Power to @stickupcurator. By doing so, you also support music and art on Hive because that's our main focus when curating.
You can buy our records on our favorite blockchain game Rising Star or at the awesome NFT Tunz. We also have our own art, video and GIF NFTs on NFT Showroom.
For more information or to give us a follow, check out all our socials and say hello!
https://linktr.ee/StickUpBoys
Big up the music and arts
Stick Up Boys