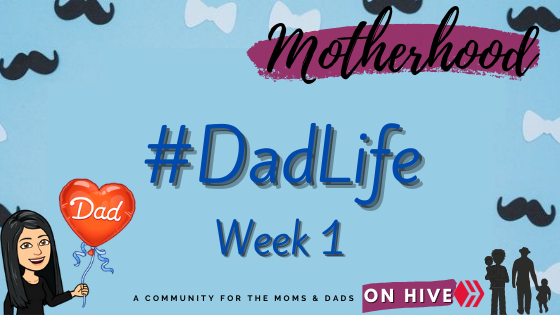 ---
What is Your Dad Life like?! || Cómo es tu vida de papá?
Week 01 || Semana 01

---
Hi Dads! Since we started we were very mom centric after all our community is name Motherhood, but we have always welcome all of you guys to post here and since this is your month with father's day coming up soon, We are here with a new daily challenge, is a version of the #MomLife daily challenge we have been doing for 30 weeks now but with Topics just for the amazing dads of Hive!
It works like the blogging challenge but a little bit different we only do this this weekly that way to fulfill the goal you only have to post 7 days! This doesn't mean you can't skip days or just choose to not do or switch any of the topics given.
¡Hola papás! comenzamos centradas en las mamás, pero aunque nuestra comunidad se llama Motherhood, siempre hemos bienvenido a todos los papás, dado que este es su mes ya que el día del padre esta cerca, estamos aquí con un nuevo desafío diario, es una versión del #MomLife que hemos estado haciendo durante 30 semanas, ¡pero con Temas solo para los increíbles papás de Hive!
Funciona como el Blogging Challenge, pero diferente, ¡solo lo hacemos de 7 días de esa manera para cumplir con el objetivo es mas facil! Esto no significa que no pueda saltarse días o simplemente optar por no hacer o cambiar alguno de los temas.
---
English Version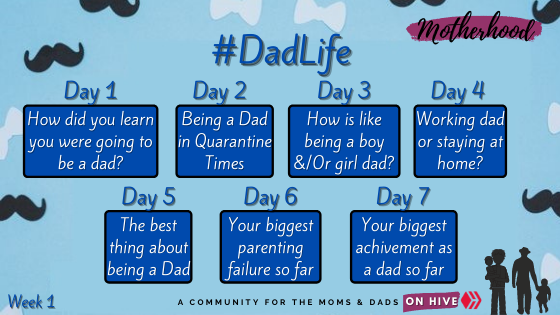 Versión en español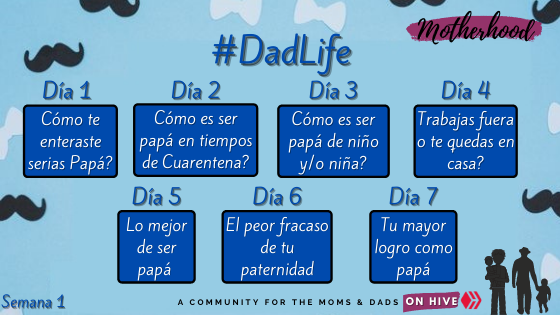 ---
click on the image to enlarge || Click en la imagen para agrandar
| English | - | Spanish |
| --- | --- | --- |
| How did you learn you were going to be a dad | 1 | Como te enteraste serias Papá? |
| Being a Dad in Quarantine Times | 2 | Cómo es ser papá en tiempos de Cuarentena? |
| How is like being a boy &/Or girl dad | 3 | Cómo es ser papá de niño y/o niña? |
| Working dad or staying at home? | 4 | Trabajas fuera o te quedas en casa? |
| The best thing about being a Dad | 5 | Lo mejor de ser papá |
| Your biggest parenting faliure so far | 6 | El peor fracaso de tu paternidad |
| Your biggest achivement as a dad so far | 7 | tu mayor logro como papá |

Rules || Reglas
To be part you have to follow 3 simple steps
Para ser parte tienes que seguir 3 pasos simples
1. Make a post about any of the given topics daily on our community https://peakd.com/c/hive-165757
2. Use the tags #DadLife and #Fatherhood.
3. Have Fun!
Note: your posts titles and cover image don't need to be the same as ours you can be creative and make your own!

This Challenge doesn't have a winner but All participants will get a chance to get curated if they do quality content.
Este desafío no tiene ganadores pero Los participantes tendrán la oportunidad de ser curados, si realizan contenido de calidad.

As always, thank you very much for reading this far and
We hope to read your comments!
---
Introducing: #Motherhood, The Community for Moms on The Hive Blockchain
---
---
😗 Follow us on our Other Social Media...❗️⬇️⬇️⬇️⬇️