Gracias a todos los lectores de nuestro blog y en especial a la comunidad de #motherhood por darme la oportunidad de contar mi la historia de mis dos papas
Thanks to all our blog readers and especially to the #motherhood community for giving me the opportunity to tell my two dads' story.
---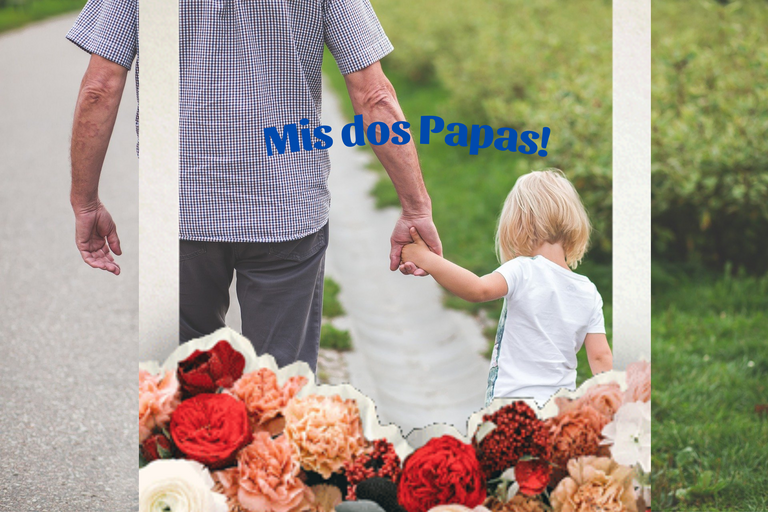 ---
Al principio cuando me entere de esta iniciativa quiero confesarles que no me vi animada a contar mi historia por la razón siguiente de que tiene una parte muy triste para mi sin embargo creo que lo que me motivo a contarla es que el final quiero dejarles un consejo a mis hijos y a todos los hombres del mundo entero.
WAt the beginning when I found out about this initiative I want to confess that I did not feel encouraged to tell my story for the following reason: it has a very sad part for me, however I think that what motivated me to tell it is that at the end I want to leave a piece of advice to my children and to all men around the world.

Mi primer padre
Tal vez mi historia te parezca diferente pero la experiencia me a mostrado ser mas común de lo que aveces creemos. Mi primer padre luis del cual no tengo ningún recuerdo de el ya que me abandono cuando apenas tenia 3 años; lo que se de el es lo que me ah contado mi madre, que fue un hombre muy irresponsable en su rol de padre, mal tratador y poco amoroso; hasta que un día salio de viaje y mas nunca regreso y hasta el día de hoy solo sabemos que se encuentra en un país latinoamericano con algunas dificultades de salud y económicas.
Maybe my story seems different to you, but experience has shown me that it is more common than we sometimes think. My first father Luis, who I have no memory of since he abandoned me when I was only 3 years old; what I know about him is what my mother has told me, that he was a very irresponsible man in his role as a father, poorly treated and unloving; until one day he left on a trip and never returned and to this day we only know that he is in a Latin American country with some health and economic difficulties.

Se que esa a sido la realidad de muchas personas que conozco y quizás tu mi
[email protected]
también es tu realidad donde nos toco tener un progenitor pero no un padre. Un hombre que nos engendro pero no supo recibir la bendición que Dios le estaba dando, no se si por falta de experiencia o de valentía pero fue un rol que no supo asumir. Sin embargo pido a Dios que lo bendiga adonde quiera que el este y que lo ayude en todo momento y aunque no lo creas agradezco a Dios por el, pues fue el instrumento que Dios uso para que fuera parte de mi vida, si en algún momento lees esto quiero decirte que no te guardo rencor ni lamento lo que nos paso, así lo quiso para que yo pudiera tener un segundo padre.
I know that this has been the reality of many people I know and maybe you my friend is also your reality where we had to have a father but not a father. A man who fathered us but did not know how to receive the blessing that God was giving him, I don't know if it was due to lack of experience or lack of courage but it was a role that he did not know how to assume. However I ask God to bless him wherever he is and to help him at all times and even if you do not believe it I thank God for him because he was the instrument that God used to be part of my life, if at some point you read this I want to tell you that I do not hold a grudge or regret what happened to us, he wanted it so that I could have a second father.

Mi segundo padre
Por otro lado quiero hablarte de mi segundo padre Manuel Marcano que llego a mi vida cuando yo tenia aproximadamente 7 años el y mi madre entablaron una relación el tenia dos hijos varones y anhelaba tener una niña por lo cual creo que eso fue el motivo de tanto amor y cariño de el hacia mi. de el tengo todos los recuerdos de una figura paterna, el me vio y me ayudo a crecer; siempre se esforzó por darnos todo lo que necesitáramos, nos dio una educación; el estuvo cuando me case, cuando mi primer hijo, cuando di a luz mi segundo hijo y aun fue el que me entrego en el altar cuando me case por la iglesia. maravilloso; no me dio la vida pero es parte importante de ella, el es mi papa, lo amo y aprecio en todo el sentido de la palabra. lejos de ser el segundo creo que es el primero en mi vida.
On the other hand I want to talk to you about my second father Manuel Marcano who came into my life when I was about 7 years old, he and my mother started a relationship, he had two boys and he longed to have a girl so I think that was the reason for so much love and affection from him towards me. I have all the memories of him as a father figure, he saw me and helped me grow up; he always made an effort to give us everything we needed, he gave us an education; he was there when I got married, when I had my first child, when I gave birth to my second child and he was the one who gave me away at the altar when I got married in church. wonderful; he did not give me life but he is an important part of it, he is my father, I love and appreciate him in every sense of the word. far from being the second, I think he is the first in my life.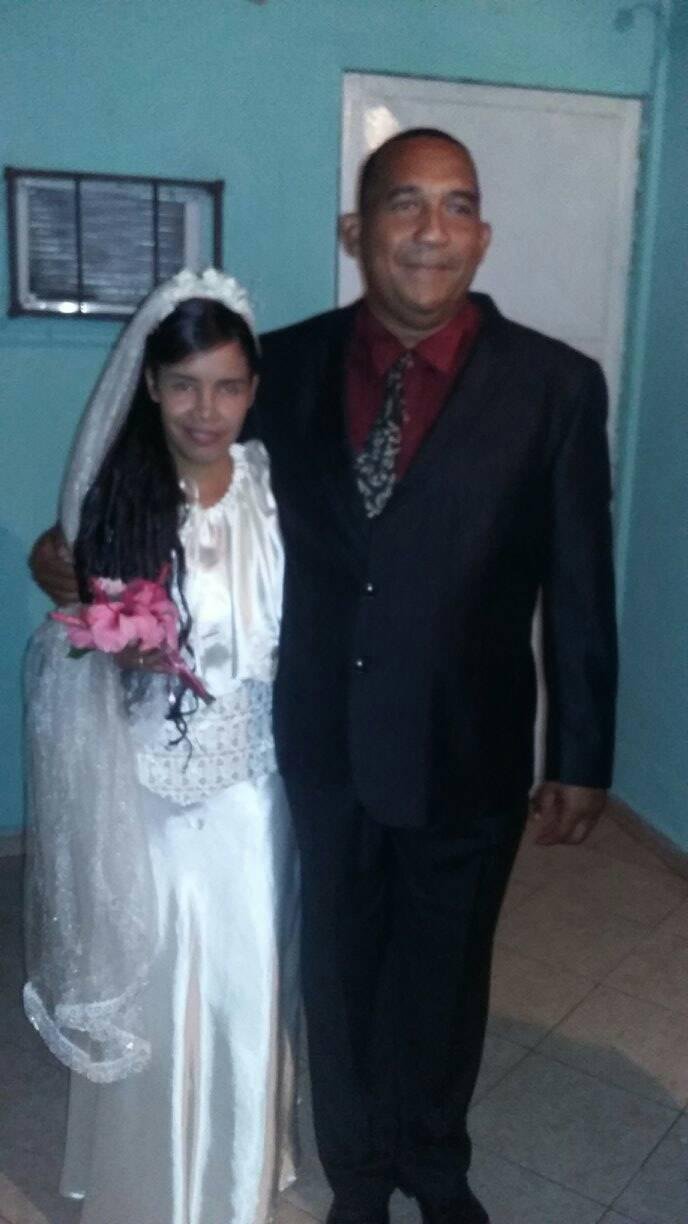 Amada comunidad de hive no se si me entiendes pero el se gano mi corazón como padre y el tiene ese lugar, doy gracias a Dios porque el llego a nuestras vidas a tiempo y doy gracias por el padre que me toco, si algún día lees esto papa quiero decirte que te amo y gracias por asumir una responsabilidad que no era tuya pero la asumiste con valor, con interés y hoy soy lo que soy gracias a ti. te amo papa.
I don't know if you understand me but he won my heart as a father and he has that place, I thank God because he came into our lives on time and I thank for the father that touched me, if someday you read this dad I want to tell you that I love you and thank you for assuming a responsibility that was not yours but you assumed it with courage, with interest and today I am what I am thanks to you. I love you dad.
Me atreví a contar mi historia porque quiero dejarle a mis hijos la enseñanza de que el ser padres es una gran responsabilidad y se debe asumir con planificación y valentía. es una bendición que muchos hombres quisieran y no la tienen. que malo que hay hombres que andan dejando hijos regados por allí que sin ninguna responsabilidad embarazan a una mujer y luego la abandonan; debería existir una ley que castigue tal proceder y creo que ayudaría que muchos hogares se mantuvieran juntos o por lo menos frenaría a estos hombres que hacen este tipo de cosas. hijo, hombre levántate con la enseñanza y el consejo de ser un padre responsable, un padre ejemplar; y eso a la postrer sera tu satisfacción, recuerda que el buen padre deja herencia a sus nietos.
I dared to tell my story because I want to teach my children that being parents is a great responsibility and must be assumed with planning and courage. it is a blessing that many men would like and do not have. It is a blessing that many men would like but do not have. how bad that there are men who go around leaving children scattered around, who without any responsibility get a woman pregnant and then abandon her; there should be a law that punishes such behavior and I think it would help many homes stay together or at least stop these men who do this kind of things. son, man, stand up with the teaching and advice of being a responsible father, an exemplary father; and that in the end will be your satisfaction, remember that a good father leaves an inheritance to his grandchildren.

En este mes de los padres es buen momento para felicitarlos a todos en especial al mio y al papi de mis hijos que gracias Dios es muy buen padre; Aprecien la dicha que se le ha sido otorgada y asumanla con gallardía para que vean que al tiempo no habrá mayor satisfacción que tener una familia y ver como sus hijos le llaman papi. sigan adelante esfuércese sean trabajadores y valientes en este rol de padres. felicidades padres de todo el mundo. Dios los bendiga y ayude en todo momento.
In this month of fathers is a good time to congratulate you all especially mine and my children's daddy who thanks God is a very good father; Amen, the joy that has been granted to you and assume it with gallantry to see that in time there will be no greater satisfaction than having a family and see how your children call you daddy. go ahead strive to be hardworking and brave in this role of parents. congratulations fathers around the world. God bless you and help you at all times.

Amada familia de hive gracias por leer mi blog y compartir mi historia con la figura paterna; al principio fue triste pero hoy ya es alegría, hay cosas que nos pasan que quisas vemos malas pero al final repercutirá en lo mejor para nuestras vidas, sonríe y alégrate en todo momento que lo que nos sucede es lo mejor, chao los quiero mucho hasta una próxima oportunidad.
Beloved hive family thank you for reading my blog and sharing my story with the father figure; at first it was sad but today it is joy, there are things that happen to us that we may see as bad but in the end it will have an impact on the best for our lives, smile and be happy at all times that what happens to us is the best, bye I love you very much until a next opportunity.
---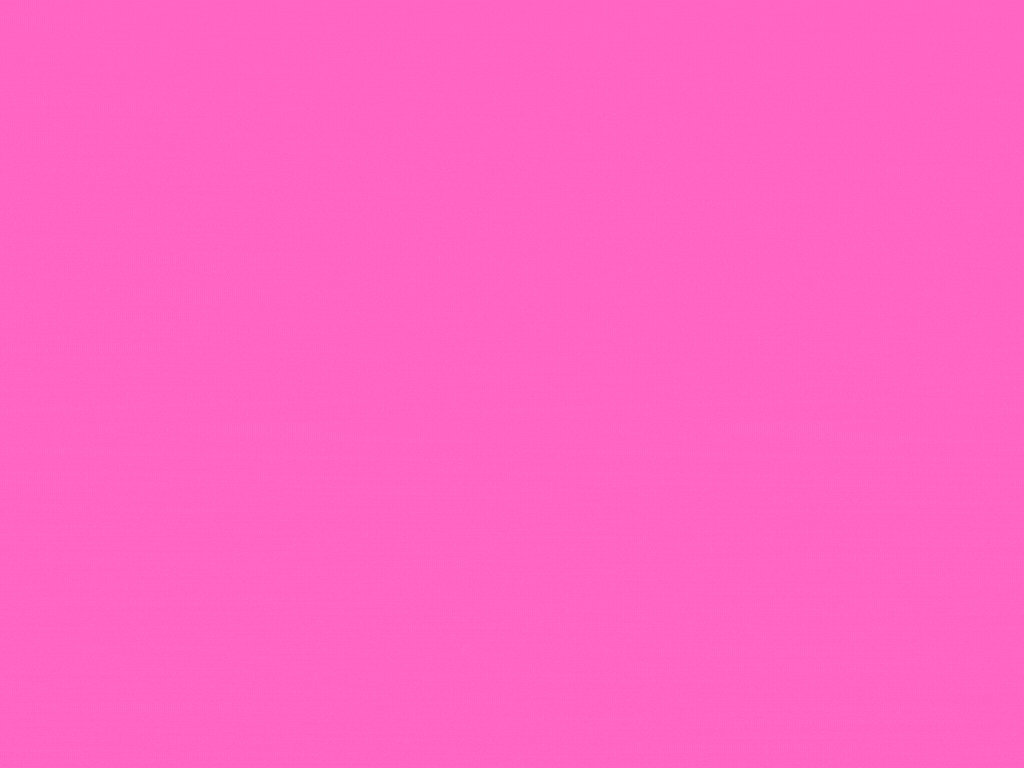 Ediciones de mi autoria hechas en canva
Editions of my authorship made in canva
Traductor utilizado Deepl
Translator used Deepl