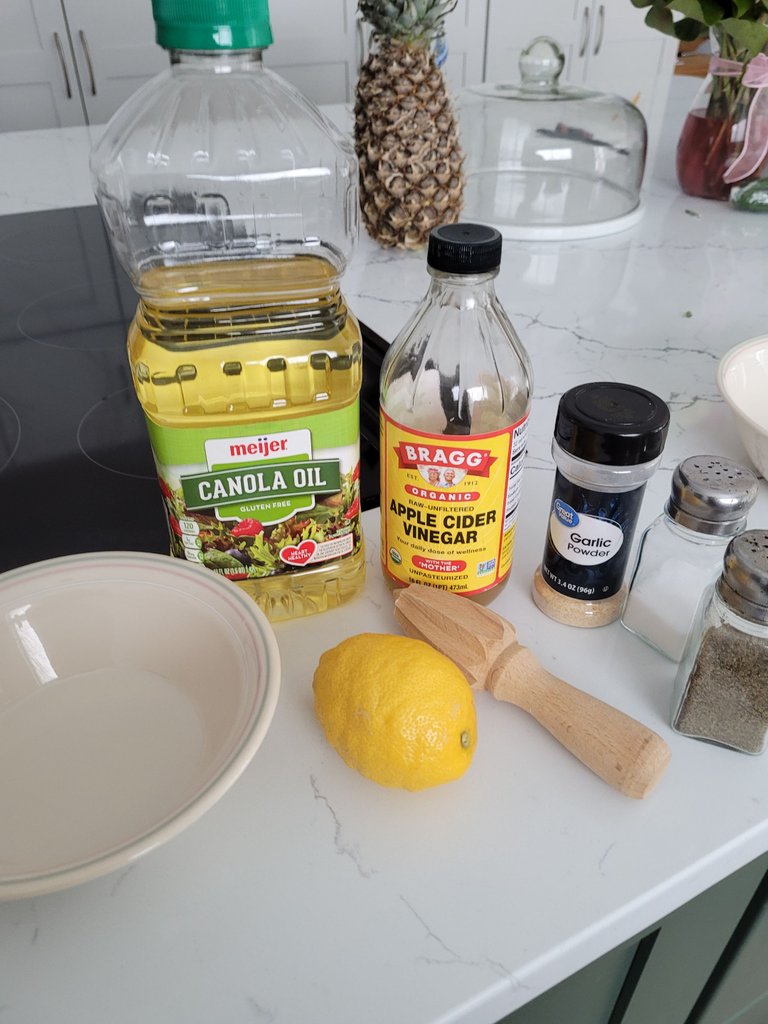 The ingredients for my awesome vinaigrette!
---
EDIT: Hello, friends! It was recommended to me to not use canola or other vegetable oils and instead opt for healthier choices such as olive oil. While nutrition in general is not in my wheelhouse and nothing I say should be considered as health or nutritional recommendations, I felt I should pass on the advice I was given. Thanks and stay well!
---
I'm almost one year into my self-improvement journey, and I thought I'd share some of the bumps, joys, and miles along the road with you all today. If it serves as an inspiration to some, I'll be absolutely honored, but I hope if nothing else it's a good read for everyone who finds this post.
I've always struggled with moderation. Like with everything. Food, drinking, gaming, sex, I mean, everything! I'm not sure how one would label it - hedonism, addictive personality, no delay of gratification... I think any of those terms give the general idea. None of it posed much of an issue during my formative years, I think owing to luck in some cases, but the cracks started forming as I grew older. Weighing down my former marriage, for example. Guilt at the previous evening's behavior. Guilt at missed opportunities because I was too sucked in to [fill in the blank].
But the biggest impacts came with the pandemic and how I let my bad habits surge during it. As much as I like to think I'm still there, I'm not in my 20s any more, not by about 20 years. And drinking and smoking a lot in your 40s really affects you. I already worked from home and was socially isolated, so losing myself in strong IPA beers nearly every night was comforting - and smokers and former smokers out there know what I'm talking about when I say how well cigarettes pair with your favorite alcohol. But combining those with poor eating and letting exercise go left me waking up every morning feeling desperate, ragged, and exhausted. Any cardiovascular movement beyond walking left me winded. And to put this all in perspective, about seven years ago I could regularly run 5-6 miles!
I'd tried quitting smoking. I had quit. Probably 40-50 times. Once for nine years. The best advice I ever got, and that I'll give anyone who ever listens to me, is "never quit quitting." In June 2021, I finally put them away. I honestly don't know what it was, maybe the fact that I was coughing constantly, maybe because I didn't want to put my kids through what I knew would be a terrible death for their father... maybe because I was tired of all of it and of feeling sick all of the time? Whatever the reason, I just knew this time was it. There was no doubt in my mind. It's honestly been the strangest feeling... and even though I miss them, and when I smell someone smoking, I still wanna yank that sonofabitch out of their fingers and take a long drag, I know I won't.
Drinking took me a little longer, but only a little. It wasn't the embarrassment at how I'd acted - again - well, it was of course... but I actually noticed my guts saying "gruhumm-gruuuhuu" and feeling the very odd sensation of something other inside them. Turns out, I'd given myself an ulcer.
Interestingly enough, having suffered from mental health issues all of my adult life, I discovered that my commitment to sobriety after discovering my condition actually improved my brain's reception to my medication and drastically reduced my symptoms for the first time in decades.
I never thought I'd be grateful for an ulcer.
Sobriety is fascinating for other reasons, too. I'm much more aware. Of everything. Including my own worth.
But that poor eating and lack of exercise, right? Riiiiight? Yeah. My guts are still super pissed at me about all of this nonsense. So here's what I do - remember that vinaigrette pic? Here's how it turns out!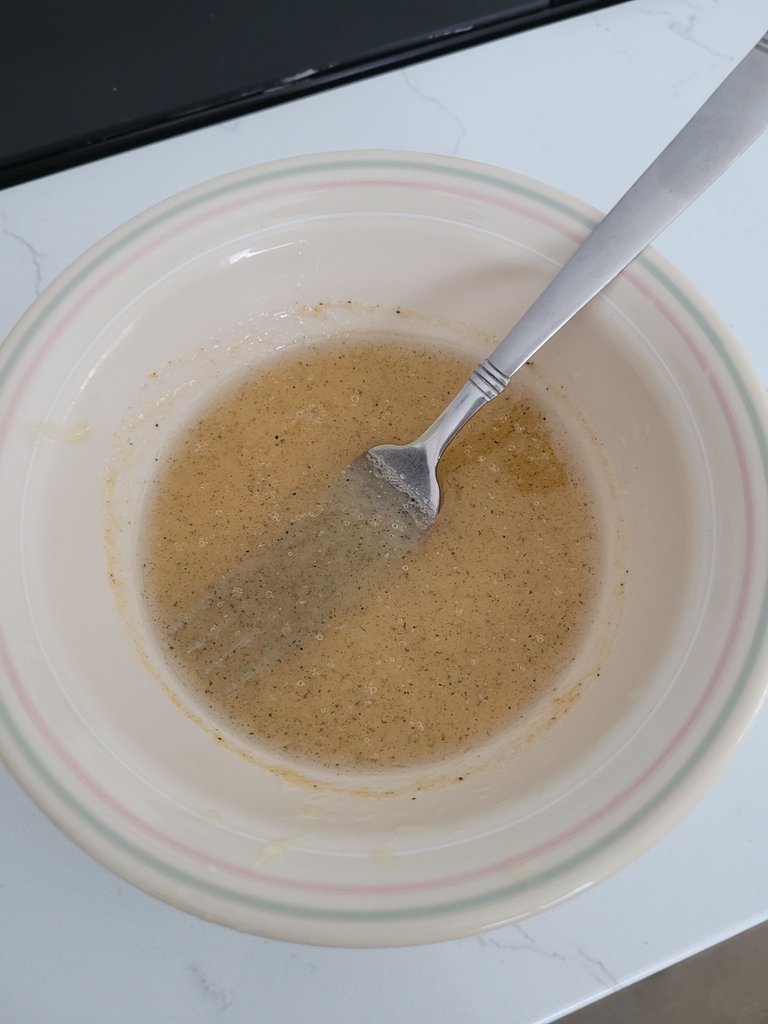 This stuff is so damn fine.
One of my best friends makes his using the same ingredients, but adds water, onion powder, dill and tahini to clone Annie's Goddess dressing - and thinks it might even be better.
So after I made the dressing, I go to town on the salad itself.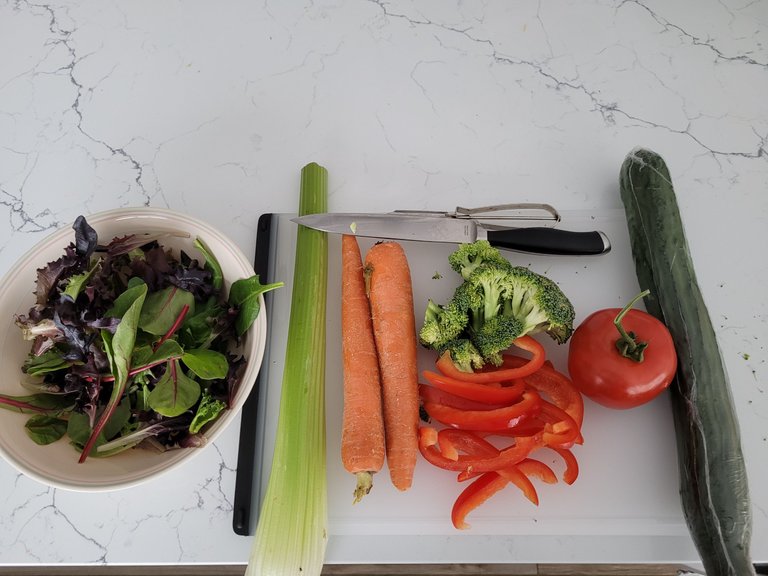 Healthy goodness
And since I'm still an unhealthy hedonist at heart and we all deserve a reward...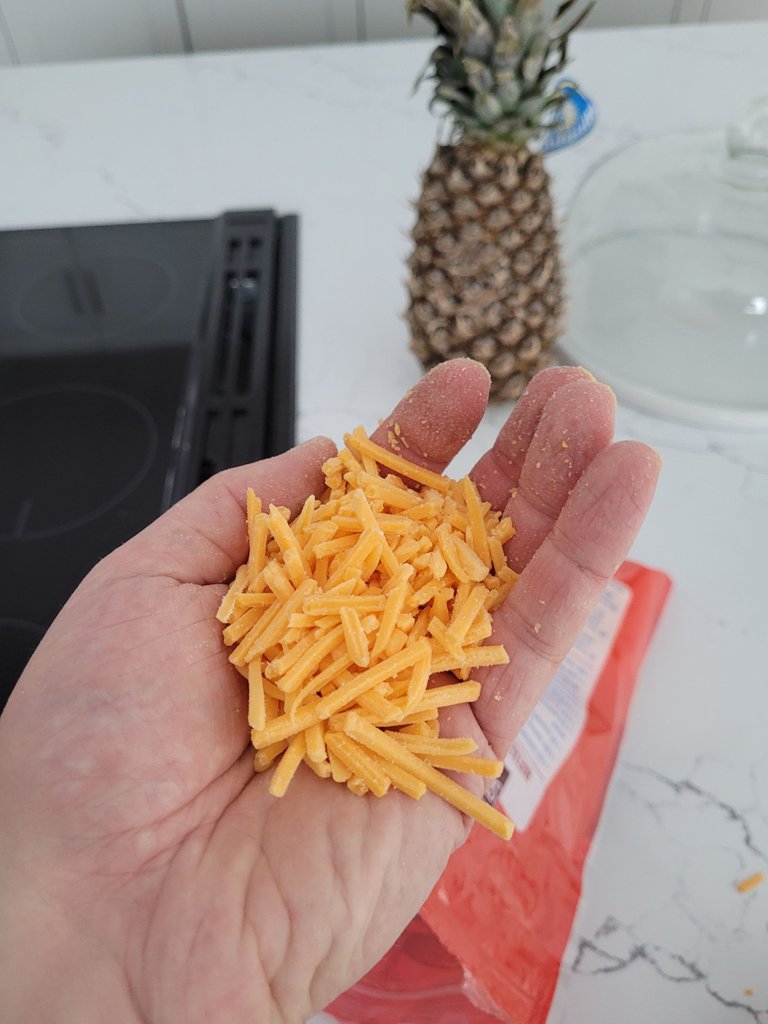 nomnomnom
Finally, my new, every-day lunch, because damn it, I'm worth it: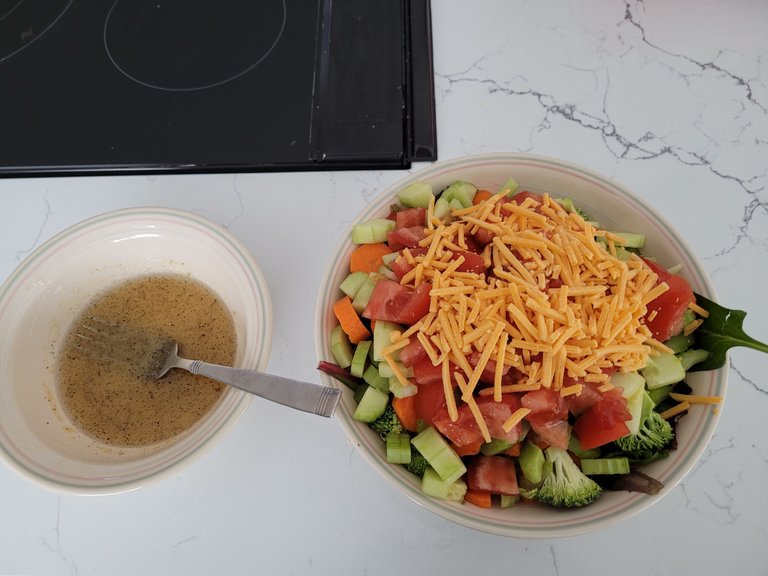 Now, one may be looking at this salad and thinking, "Rogers, this is effing huge, man." And your thinking would be 100% correct. I cannot argue with you that this salad, and all of my salads, are gargantuan monstrosities that would normally serve as dinners for normal people. All I can say in my defense is that at least I'm overindulging on vegetables and organic apple cider vinegar.
Honestly though, you can't appreciate the size of it without proper scale: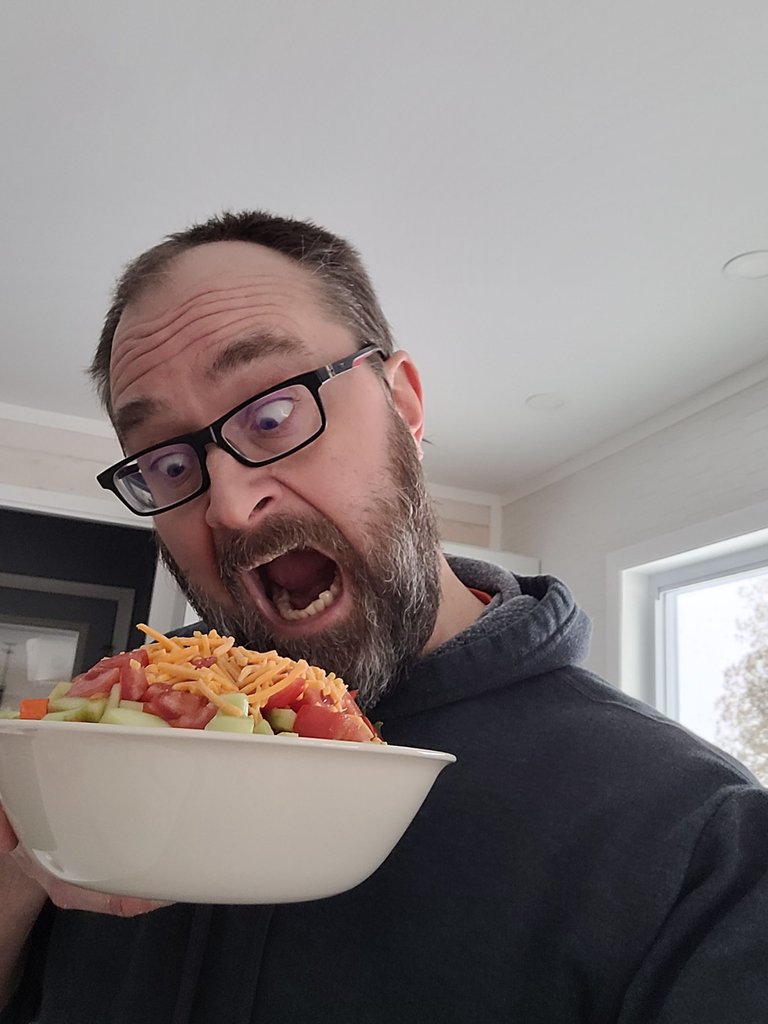 I'm still working on regular exercise... but I will say that having an Oculus, a Netflix account, and a recumbent exercise bike works miracles during harsh winters!
Stay well everyone, love yourselves, and thanks so much for reading ❤️🥕🍅🥗