I haven't really reviewed movies before I don't think, and even though I haven't had much time to even watch movies (not that there's been that many good ones coming out during the pandemic), I decided to take the time to review this one as it caught me by surprise of how good it was. Be aware that there may be some spoilers below although I'm going to try hard not to, still a noob at reviewing so my freewriting might accidentally give away some parts you may not want to hear if you haven't watched the movie yet.
Love and Monsters.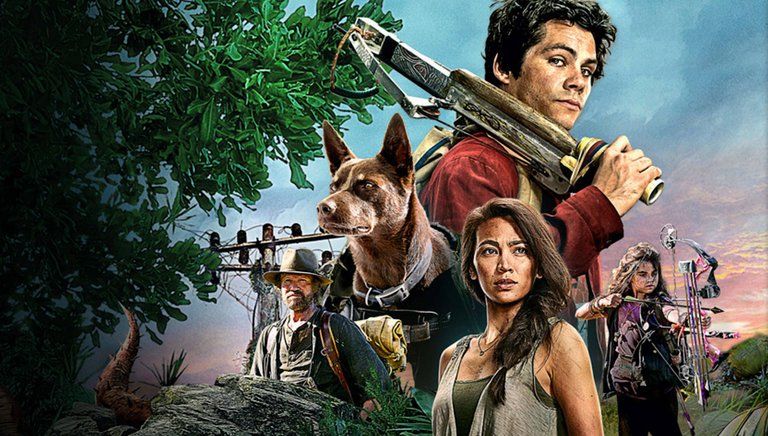 The title pretty much explains what the movie is about really well. There's Monsters who surprise, surprise, came to be due to a pandemic kind of situation where humanity fought off an asteroid by blowing it to pieces with nukes but didn't plan ahead that the debris along with everything in the nukes would come back down raining on them and mutate most living creatures on Earth except humans. And then there's love, the main character longing for his long lost love during evacuation who he only recently got back in contact with through radio signals.
The movie takes place many years after the initial outbreak of the monsters, over 90% of humanity is long gone and most of the rest just live in bunkers under ground in "colonies" hiding from monsters and trying to survive by self-sufficiency unless some brave souls dare to venture to the outside to pick necessities to bring back to the bunkers. I really like how they've built the main character in this movie, he reflects most of us who aren't ready for a full blown apocalypse in the sense that we'd know how to survive or fight off big monsters. He focuses on drawing whatever monsters they've already encountered in the hopes his monster encyclopedia may be of use to others in the future. He keeps trying to chip in on helping the colony when push comes to shove but they awkwardly try to tell him his help isn't needed as they know he panically freezes up at the worst times.
The plot is around the main character having had enough of feeling useless in his colony and at the same time wanting to get back together with his girlfriend he had at the time. He decides to venture out on his own and travel the long distance by himself to get to the colony his love resides in, the people near to him try to tell him that it's not a good idea but he's already made up his mind so they try to prepare him as well as they can with a map and crossbow even though they know he's a master of none.
If you felt that something was missing from the movie then you're going to be pleased to find out that along his journey he stumbles upon a few very likeable characters that'll enrich the story and make us all want to root for the main character even if he isn't as relatable to you by himself. The first character he stumbles upon (I realize I've been saying character quite a lot lately but I can't stop at this point) has more character than many human ones in other movies. He stumbles upon it after being saved from being eaten up by a frog mutant monster that sort of reminded me of this realistic Venusaur drawing: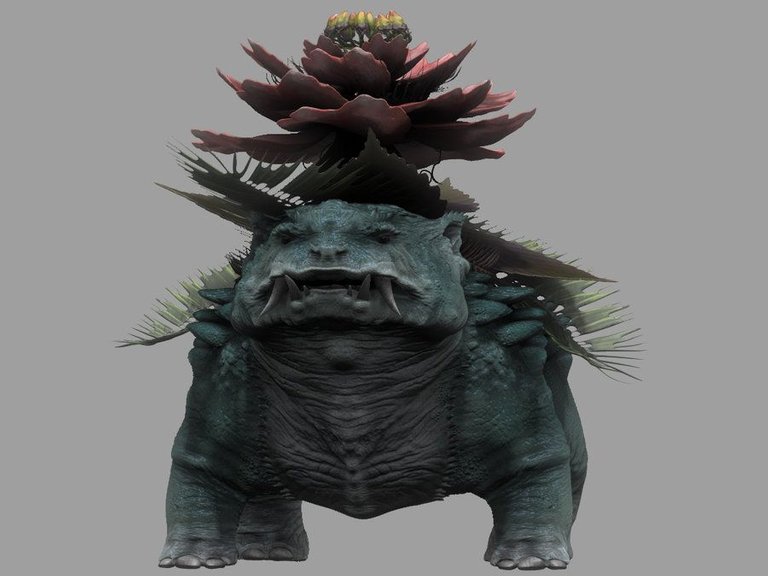 The monsters in this movie are really well thought-out, imagine any insects or critters you'd usually ignore in real life but 10-100x the size and mutated into a more gross version of themselves.
Another thing I really liked about this movie is the concept that being locked down in one place for too long changes your perception of things, which I'm sure many of us can agree during these times and it's something the main character realizes quite a few times during his journey. While the other message may be that maybe we shouldn't constantly be locked down just to stay safe but it's not going to hurt us by being safe while being outside to others if you don't care about being infected that much yourself.
I'm starting to hit the zone where I'm not sure how much more I can say about the movie without giving away any details or spoilers you may not want to hear but if these next comments may help convince you the movie is worth a watch then here we go.
Lately I've been so busy with Hive stuff that the only time I've been watching either TV Shows or Movies has been while I'm eating leading to many movies taking several days until they're finished. This one I also started watching the beginning while doing some voting on Hive but I quickly put everything else to the side and popped the Movie in fullscreen to lay back and enjoy it without thinking back on Hive things until it was over - may not mean much to you but I was surprised myself, especially since the IMDB rating wasn't that great.
In general I really liked the concept of someone who's as ready as we are today to go out and face the dangers of the world on his own ill-prepared, it gave me an easy way to relate with the main character and how I'd feel in his situation or what I'd do.
I'll give this movie an easy 8.8/10 Bananas.
Maybe in my next review, I'll be able to add things I didn't like about the movie cause this one was a hard one to find those parts, but I'm sure that if I base it off of this review it'll be easier. Thanks for reading!
Trailer: