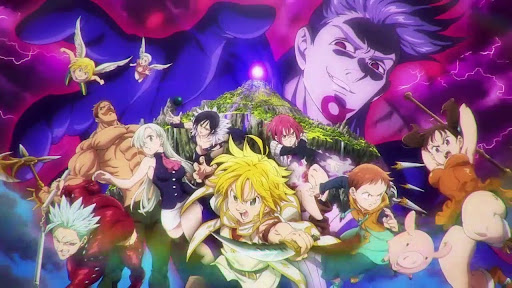 Source
Greetings guys and girls from hive. Today I come to give you my opinion about an anime that had been recommended to me and that I admit not having seen the series before but I just finished watching this movie and I want to tell you my opinion.
The seven deadly sins revolve in a fantastic world where there are different kingdoms such as the celestial, the demonic and the human. The seven deadly sins are a group of powerful demons that are not part of the demonic clan but walk on their own account.
Meliodas has a restaurant and is looking for a special fish for a great banquet and in his search he is mistaken for a boy from the celestial kingdom named Solaad who in turn had fled from the celestial kingdom to seek help for his people.
Saludos chicos y chicas de hive. Hoy vengo a darles mi opinión acerca de un anime que me habían recomendado y que reconozco no haber visto la serie anteriormente pero acabo de terminar de ver esta película y quiero comentarles mi opinión.
Los siete pecados capitales giran en un mundo fantástico donde hay diferentes reinos como el celestial, el demoniaco y el humano. Los siete pecados capitales son un grupo de poderosos demonios que no son parte del clan demoniaco sino que andan bajo su propia cuenta.
Meliodas tiene un restaurant y anda en búsqueda de un pez especial para un gran banquete y en su búsqueda es confundido con un chico del reino celestial llamado Solaad que a su vez había huido del reino celestial para buscar ayuda para su pueblo.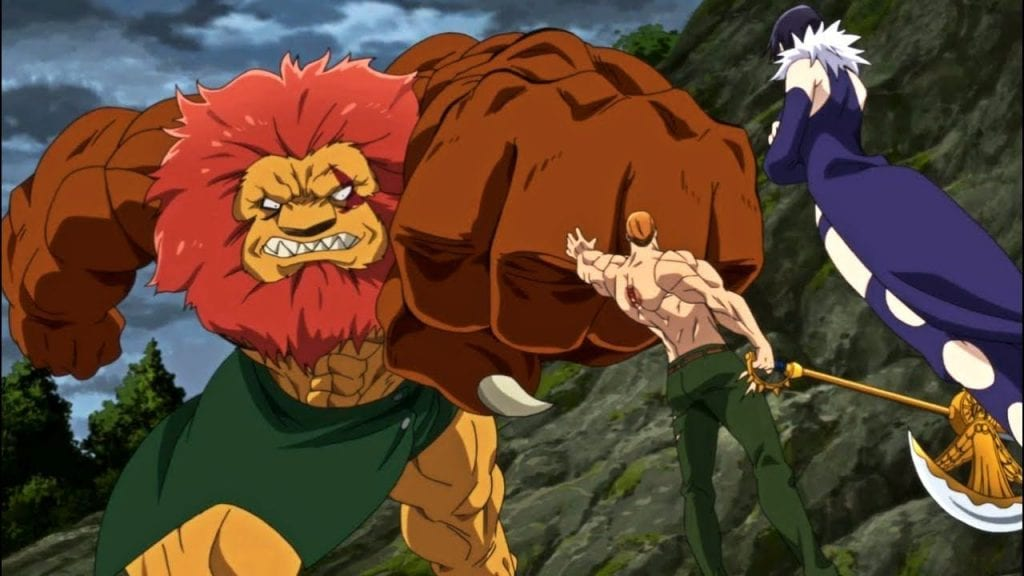 Source
Each character has a great charisma as few anime have done, Meliodas for example is an irreverent boy and nothing like Solaad in terms of personality but physically they are identical and that is why he is confused in the celestial kingdom. As the plot unfolds and we get to know a little more about the characters, we are introduced to the real villains that are part of the Knights in Black, a group of very powerful demons.
These demons will fight an exciting battle against the celestial kingdom and also against the seven deadly sins. I must say that the battles are very exciting and there are many situations that can kill us with laughter as well. It is a fairly complete anime, even with a small touch of romance that is not very developed giving more importance to fights and action.
Cada personaje tiene un gran carisma como pocos animes han hecho, Meliodas por ejemplo es un chico irreverente y nada parecido a Solaad en cuanto personalidad pero físicamente son idénticos y por eso es confundido en el reino celestial. Mientras la trama se va desarrollando y conocemos un poco más de los personajes se nos van presentando los verdaderos villanos que son parte de los caballeros de negro, un grupo de demonios muy poderosos.
Estos demonios pelearan una batalle emocionante contra el reino celestial y también contra los siete pecados capitales. Debo decir que las batallas son muy emocionantes y hay muchas situaciones que nos pueden matar de risa también. Es un anime bastante completo, incluso con un pequeño toque de romance que no está muy desarrollado dándole más importancia a las peleas y a la acción.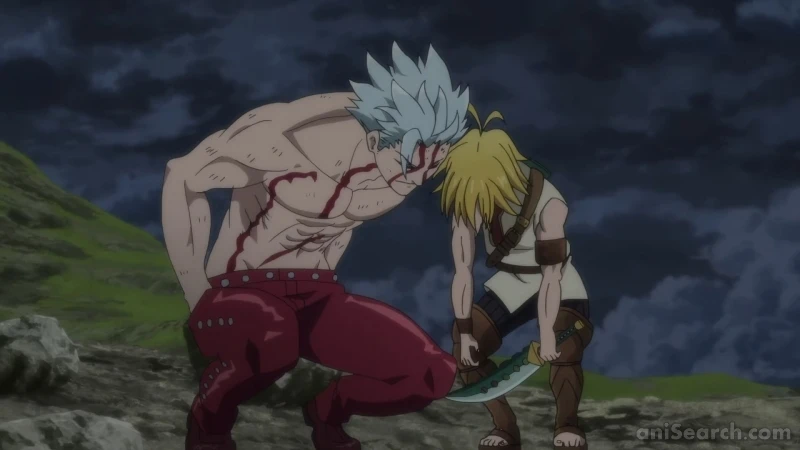 Source
The seven deadly sins also show us costumes and suggestive girls that boys will love. The group of seven sins really does not have much to do with those narrated in the bible, they are just a group of rebellious demons that are not bad at all, on the contrary they fight to rescue the celestial kingdom, the important thing for them is the fight and fun.
In this anime we will find everything, action, fights, romance, laughter and other things. The fantasy that surrounds the entire film is only a resource to show us exciting fights. There are also super strange characters for someone who is not used to anime like Hawk a pig who is able to talk and thanks to him we can enjoy the funniest scenes in the whole movie.
Los siete pecados capitales nos muestran también vestuarios y chicas sugerentes que a los chicos les encantara. El grupo de los siete pecados realmente no tiene mucho que ver con los narrados en la biblia, son solo un grupo de demonios rebeldes que no son malos en absoluto, por lo contrario luchan por rescatar el reino celestial, lo importante para ellos es la lucha y la diversión.
En este anime encontraremos de todo, acción, peleas, romance, risas y demás cosas. La fantasía que envuelve a toda la película es solo un recurso para mostrarnos emocionantes peleas. También hay personajes súper extraños para alguien que no esté acostumbrado al anime como Hawk un cerdo que es capaz de hablar y que gracias el podemos disfrutar de las escenas más chistosas en toda la película.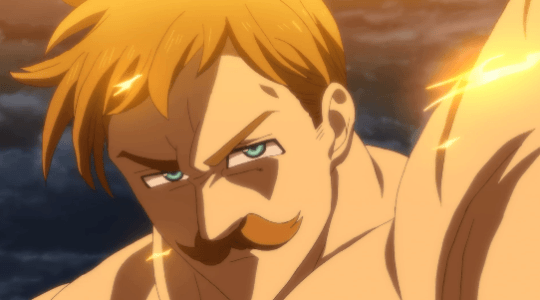 Source
The drawing in general is beautiful, they show us scenes in 3D from time to time to give a greater boost to what is shown but the color and quality of the drawing is spectacular.
What I liked the most about all this wild anime was its characters. The seven deadly sins offer a charisma with which we can feel identified depending on our personality. In this group there is a fairy, a doll, a giant, a princess, a demon, a talking pig etc and by this I mean that it is a super crazy mix of characters that at first glance we find it difficult to assimilate, as often happens with many anime, we have to wait a while to process such madness.
El dibujo en general es hermoso, nos muestran de vez en cuando escenas en 3D para darle un impulso mayor a lo que se nos muestra pero el color y la calidad del dibujo es espectacular.
Lo que más me agrado de todo este desenfrenado anime fue sus personajes. Los siete pecados capitales ofrecen un carisma con el cual nos podemos sentir identificados dependiendo de nuestra personalidad. En este grupo hay un hada, un muñeco, una gigante, una princesa, un demonio, un cerdo que habla etc y con esto quiero decir que es una mezcla súper loca de personajes que a primera vista nos cuesta asimilar, como suele pasar con muchos animes, tenemos que esperar un rato para procesar semejante locura.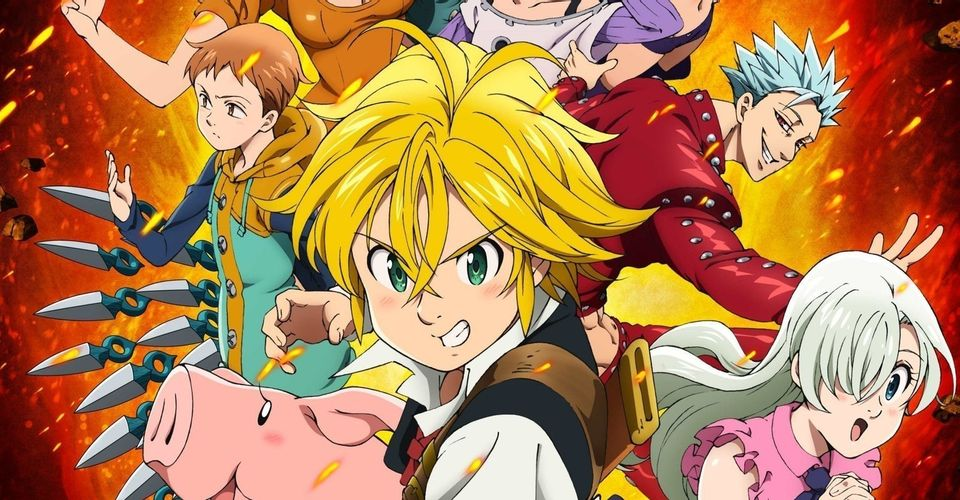 Source
I can't say the same for the villains because in the battles the Seven Deadly Sins steal the entire show making the fights a bit predictable but still exciting. There are many situations that are not at all original and very few dramatic moments that I usually like but here they are almost absent.
In spite of everything, The Seven Deadly Sins: Prisoners of Heaven, is a completely enjoyable, exciting film that left me with laughter and moments of emotion that I had not experienced with an anime for a long time. It is a completely recommended film, it did not bore me at all and it made me want to see the series to see how it was.
Well boys and girls that is my opinion today about this anime, if you have already seen it and want to share your opinion with me please do not hesitate to leave me a comment that I will always respond to. Greetings friends !!
No puedo decir lo mismo de los villanos porque en las batallas los siete pecados capitales se roban todo el espectáculo haciendo que las peleas sean un poco predecibles pero sin dejar de ser emocionantes. Hay muchas situaciones que no son para nada originales y muy pocos momentos dramáticos que me suelen agradar pero aquí son casi ausentes.
Pese a todo Los siete pecados capitales: Prisioneros del cielo, es una película completamente disfrutable, emocionante, que me dejo risas y momentos de emoción que tenía tiempo sin experimentar con un anime. Es una película completamente recomendada, no me aburrió para nada y me dieron ganas de ver la serie a ver qué tal.
Bueno chicos y chicas esa es mi opinión del día de hoy acerca de este anime, si ya lo han visto y desean compartir su opinión conmigo por favor no duden en dejarme un comentario que siempre les responderé. Saludos amigos!!
TRAILER