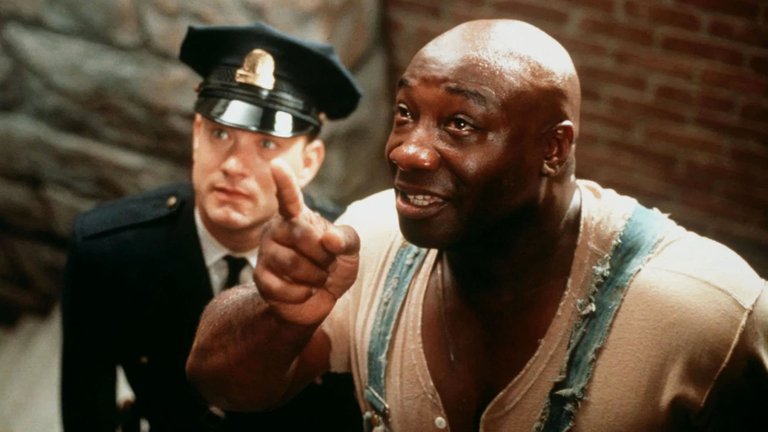 The Shawshank Redemption is one of the most beloved film of 1990s. As the decade was nearing its end, it was all but inevitable that its authors would try to repeat its success, if not by direct sequel, at least by a film that uses some ingredients of its formula. That was The Green Mile, 1999 drama directed by Frank Darabont.
Like The Shawshank Redemption, the film is based on the literary work by Stephen King, in this particular case his 1996 eponymous novel. The plot begins in nursing home where elderly Paul Edgecomb (played by Dabbs Greer) remembers events that took place in 1935 Louisiana. Then he (played by Tom Hanks) was working as a guard in Cold Mountain state penitentiary and led the team of guards in charge of death row, prison section nicknamed "Green Mile". Together with Brutus "Brutal" Howell (played by David Morse), Dean Stanton (played by Barry Pepper) and Harry Telwilliger (played by Jeffrey DeMunn) he takes great care that the condemned men spend their last days as peacefully and with more dignity as possible. Dark idyll of "Green Mile" is spoiled when they are given new guard Percy Whitmore (played by Tom Hutchinson), young man who got the job due to political connections and who reveals himself to be a cruel sadist who loves to humiliate and torture prisoners. Things change when new prisoner, a huge black man John Coffey (played by Michael Clarke Duncan), arrives to "Green Mile". He is sentenced to death because he raped and killed two little white girls, but his cheerful nature and kindness he projects to anyone seems totally at odds with the crime he has committed. Even the experienced guards like Edgecomb and his colleagues begin to seriously doubt his guilt. It soon turns out that Coffey also has healing powers.
There are plenty of similarities between The Shawshank Redemption and The Green Mile. Both films are directed by Frank Darabont, both are based on King's work, both have period setting, both have plot takes place in prison and both have characters that try to find hope, humanity and dignity in darkest of all places. The Green Mile added another important ingredient in the formula by casting Tom Hanks, most beloved of all Hollywood actors, who was obviously trying to get his third Oscar for Best Actor by playing character in this sentimental and heart-warming story that Academy voters tend to like. The Green Mile received four nominations including The Best Picture, but that didn't include Hanks and Oscar-grabbing project, the film was a failure. That was, on the other hand, compensated by excellent results at box office, which could be attributed mostly to Hanks' stellar power and reputation of Darabont's previous film. The Shawshank Redemption, which had actually made most of its money on home video and post-Oscar distribution, was outperformed by The Green Mile at the box office. This achievement is even bigger, considering that 1999 film had running time of more than three hours.
However, inevitable comparisons of quality between the two films make The Green Mile look inferior. This has little to do with Darabont's script, which very faithfully follows the novel. 1930s Southern prison setting could have made the film deal with some of the issues dear to Hollywood leftists' hearts – institutional racism or death penalty – but Darabont remained focus on very simple and sentimental story that, by applying elements of supernatural fantasy, becomes a fairy tale. The audience, for example, is led to believe that prison guards dealing with most dangerous and desperate convicts would do such job in a manner that qualifies them to work as butlers. The Green Mile remains fairy tale despite occasional depiction of violence, few disturbing scenes or realistic depiction of protagonist's issues with urinary infection. The real problem is Darabont's tendency to be as faithful to King's source as possible and he doesn't want to leave anything out the film. But his editor Richard Francis-Bruce doesn't do a good job and makes each of those scenes longer than they should, adding a lot to its running time and testing patience of many viewers.
What ultimately saves this film is the cast. Hanks played decent role, but he was overshadowed by small and formidable group of character actors that included mild-mannered David Morse and Gary Sinise in small but powerful cameo. Especially effective is Doug Hutchinson, actor until that time best known as monstrous shape-bending killer Eugene Tooms in The X-Files; here he plays another villain whose seemingly small pranks at first escalate into acts of monstrous cruelty. But the most memorable performance belongs to Michael Duncan Clarke, former bouncer whose impressive and menacing physique creates sharp and effective contrast to childlike nature and saintly deeds creates so much sympathy among the audience. Clarke who was nominated for Oscar for Best Supporting Actor, played the role of its career.
The Green Mile didn't win Oscars, but it won many hearts and is likely to remain popular although it would always be overshadowed by The Shawshank Redemption.
RATING: 5/10 (++)
Blog in Croatian https://draxblog.com
Blog in English https://draxreview.wordpress.com/
Leofinance blog https://leofinance.io/@drax.leo
Unstoppable Domains: https://unstoppabledomains.com/?ref=3fc23fc42c1b417
Hiveonboard: https://hiveonboard.com?ref=drax
Bitcoin Lightning HIVE donations: https://v4v.app/v1/lnurlp/qrcode/drax
Rising Star game: https://www.risingstargame.com?referrer=drax
1Inch: https://1inch.exchange/#/r/0x83823d8CCB74F828148258BB4457642124b1328e
BTC donations: 1EWxiMiP6iiG9rger3NuUSd6HByaxQWafG
ETH donations: 0xB305F144323b99e6f8b1d66f5D7DE78B498C32A7