Cool, charismatic heroes are great, but in order to fall in love with them without looking back, you need a villain. You have to have a villain so that the hero literally shines in front of him, and his victory evokes real, genuine enthusiasm.
Not everybody is good at playing the villain, and scriptwriters sometimes screw up the motivation, limiting themselves to something like "I want to take over or destroy mankind. Everything." So there are very few really cool villains. At least in my personal top there are only ten.
The main criteria for selection were acting, character traits and, actually, their stories. Top is totally subjective and does not claim to be the absolute truth :)
So, here we are
My top 10 villains in movies or TV series
10. Tom Hardy as Bane in The Dark Knight Rises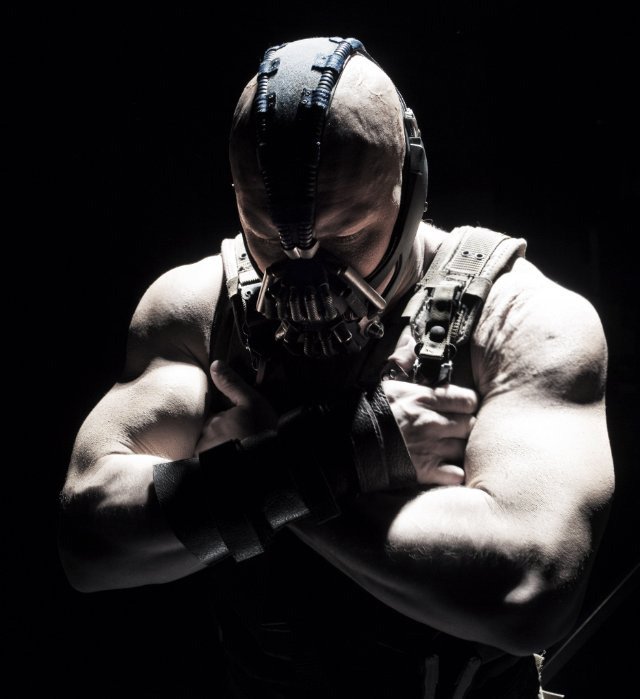 source
I love Nolan's Batman trilogy and Bane, played by Tom Hardy, definitely deserves to open this list. Charismatic. Brutal. Brutal. All as befits a true villain. In addition, first of all, Tom Hardy, because of the mask playing with just his eyes. Second - for the role gained impressive muscle mass. Thirdly, his voice - some of his lines makes you shiver. And fourth, this villain is so cool that he even broke Batman!
9. Billy Bob Thornton as Lorne Malvo in Fargo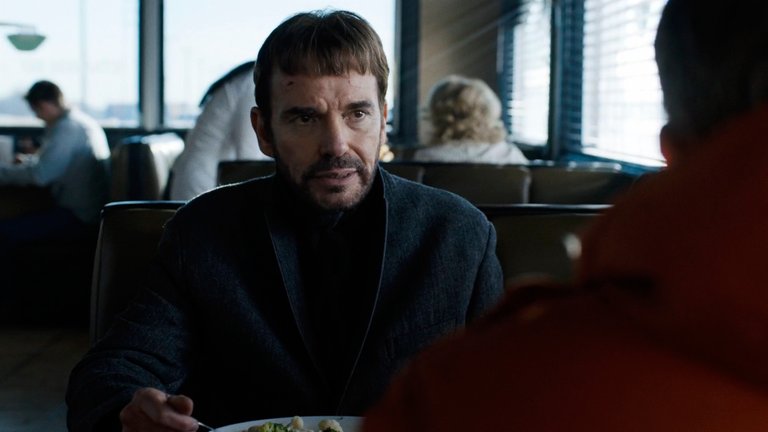 source
I love the work of the Coen brothers and didn't expect the Noah Hawley series based on their movie to be such a cool thing, which is definitely a great credit to Billy Bob Thornton, who played the hitman Lorne Malvo, who gets caught up in a snowy small town. And the character is more than interesting. Not just a ruthless killer, but a killer who imagines himself a god, and turned the residents of the town in his chessboard. A sort of Scandinavian Loki, who likes to change people's lives just because he feels like it. Again, as with Hardy, most of the scenes with Lorne draw the eye out. Confident, discouraging, and promising a lot of trouble...
8. Sid Haig as Captain Spaulding in The House of 1000 Corpses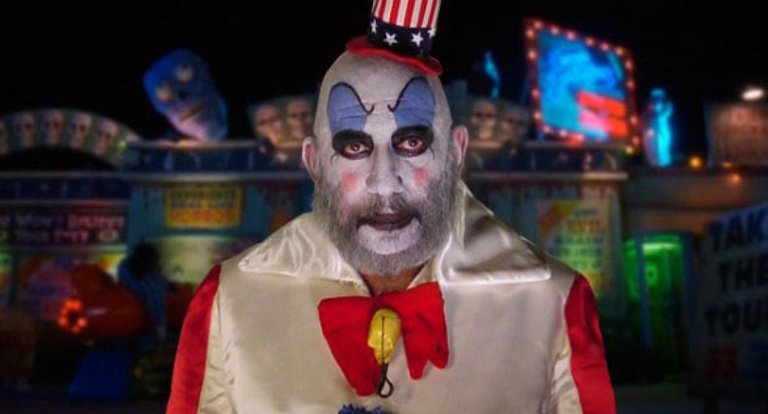 source
I like the famous rock musician and director Rob Zombie and his Firefly trilogy very much, and it's a great example of how to approach thrash horror, twisting the violence and black humor to the max and making fun of genre clichés. And, of course, I can't take my hat off to the magnificent Sid Haig, who played Captain Spalding. Infernally wise, a sadistic killer, in love with overweight women and fried chicken, and on top of that, who owns a Gravity Falls shack-style museum store. The character is as disgusting and repulsive as possible (well, yeah, I don't trust clowns), but he's also solid, lively, and damn interesting. No other horror villain evokes as much emotion in me as Sid.
Rest in Peace. Thank you for such a vivid character.
7. Aubrey Plaza as Lenny Busker in Legion
Yes, it's Noah Hawley and his take on superheroics again. Aubrey Plaza played a conniving villain in the first season of Legion, and I really liked the series' succession of personas she changed over the course of the show, as well as the fact that she easily resorts to questionable methods to achieve her goals. Though what a far cry - the scene with the dancing stylized as the "James Bond" screensaver is something incredible and the best "villain dance" in the history of TV series :)
6. Michael Shannon as General Zod in Man of Steel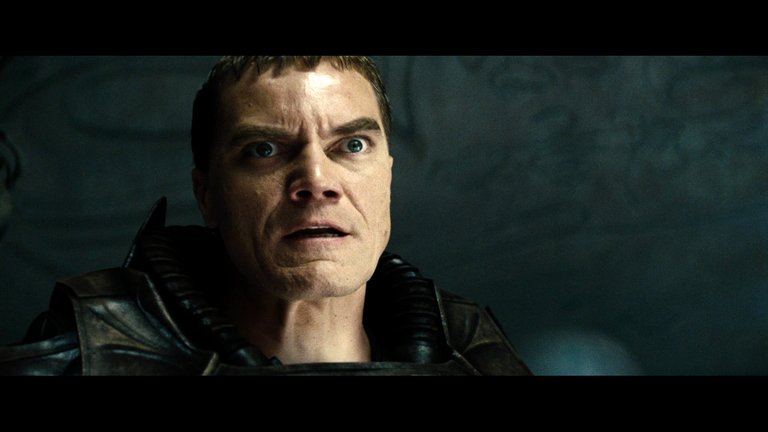 source
Michael Shannon is great at handling characters and villains, but with General Zod in Man of Steel, he literally went to a new quality level. Yes, he's a villain, yes he wants to save his race by enslaving humanity, but as a true militarist he sees the most effective solutions to war and for me has become one of the most versatile characters in the DC film universe. A true warrior who has gone through fire, betrayal, and has not compromised his principles to save his countrymen. I am impressed and have rewatched this movie a couple of times just for this character.
5. Joaquin Phoenix as Joker.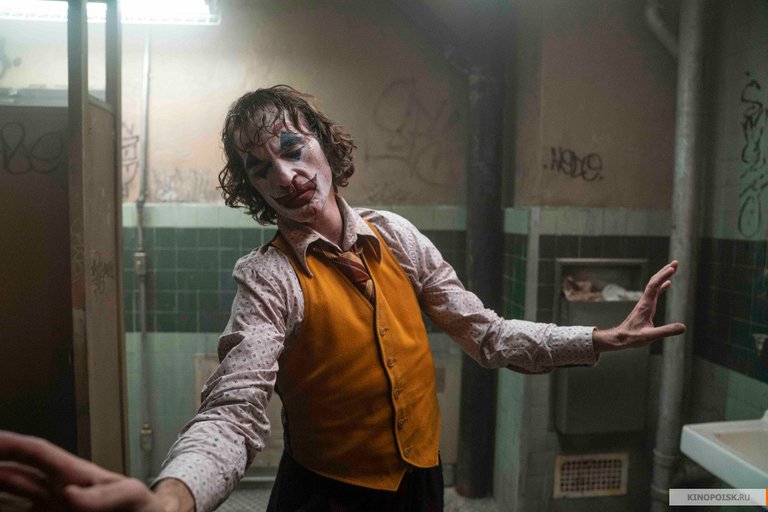 source
Joaquin Phoenix is one of my favorite actors and his performance in Joker is fantastic. The traumatized, broken-hearted Arthur Fleck is incredibly far removed from canon and the comics, but nonetheless - he's the ultimate villain. Heck, his weird laugh made me not know where to go. Such a frightening and realistic character is hard to imagine and the role is absolutely masterful, as is the fact that Phoenix lost 24 pounds in preparation for this movie.
4. Margot Robbie as Harley Quinn in Suicide Squad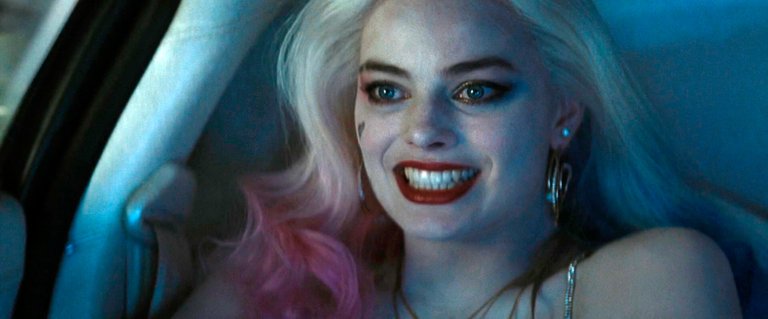 source
No doubt David Ayer's Suicide Squad is a failure on all fronts, but Margot Robbie playing Harley Quinn is just gold and 100500% in character. Totally crazy young lady who is very easy to fall in love with with no memory :)
3. Heath Ledger as Joker in Dark Knight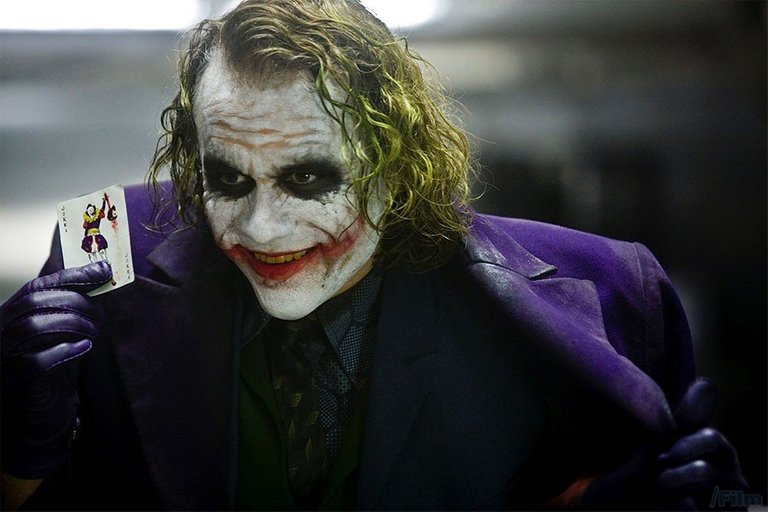 source
Let's be honest - this is not just Heath Ledger's best role, but one of the strongest roles in cinematic history. The embodiment of chaos and a villain of the "highest caliber."
2. Christoph Waltz as Hans Landa in Inglourious Basterds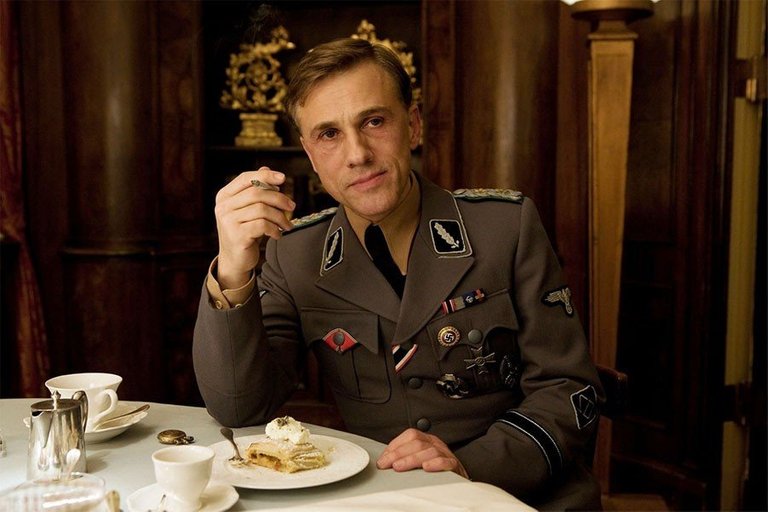 source
Quentin Tarantino's World War II fantasy is an amazing film and without a doubt one of its main attractions was Hans Landa, brilliantly played by Austrian actor Christoph Waltz. A seemingly mild and charming German officer, whose smile and gaze, in addition to his love of strudels, also hides a real predator. Dangerous, incredibly intelligent (he speaks four languages: French, English, German and Italian), calculating and truly unique.
Considering that my great-grandfather was a Polish Jew, it is disconcerting that he was hunted during the war by such monsters in human form.
1. Mads Mikkelsen as Hannibal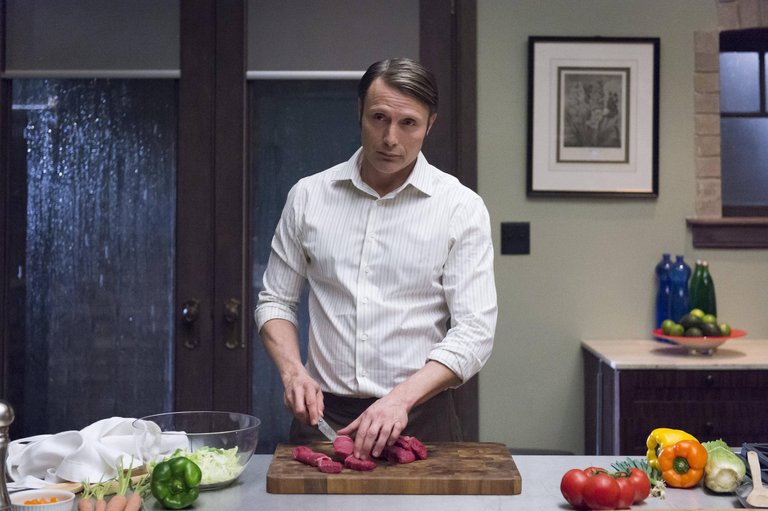 source
Brian Fuller's series, the prequel to Hannibal Lecter, is a very controversial work, overloaded with intricate dialogue, symbolism and ultra-violence, but Mads Mikkelsen as the main villain is incredibly good.
A charismatic, perversely handsome intellectual with his own ideas of good and evil, watching his bromance with Will Graham (Hugh Dancy) was a real pleasure. Fantastic chemistry between the characters, and how can you remain indifferent to "Gordon Ramsay" among homicidal maniacs?
That's the kind of list that came out. I would love to know what you think of these characters.
---
P.S. This post was written for OCD Community Boost Contest #5: Highlighting Movies & TV Shows