[ENG/ESP]Movie Review: The Shawshank Redemption/Reseña de Película: Sueños de Fuga (The Shawshank Redemption)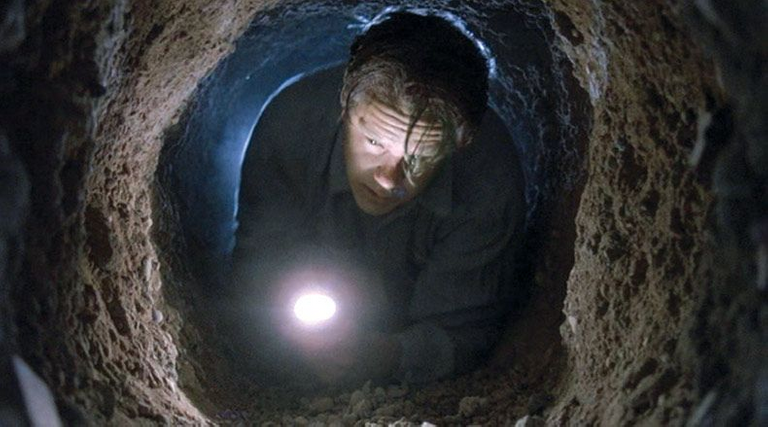 Esta película dramática data del año 1.994, es estelarizada por los actores Tim Robbins y Morgan Freeman, basada en la novela de Stephen King Rita Hayworth y la redención de Shawshank, con siete nominaciones a los Premios Óscar de aquel año. Es un clásico digno de ver, en estos tiempos, desde casa.
---
Es el ejemplo de la trascendencia de una película a través de los canales de televisión y difusión en el formato de VHS, la cual triplicó y recuperó su inversión inicial (más 20 millones de dólares) de una taquilla pobre, siendo ejemplo que una buena película no necesariamente es un éxito asegurado, solamente en las salas de cine.
This dramatic film dates back to 1994, starring actors Tim Robbins and Morgan Freeman, based on Stephen King's novel Rita Hayworth and the Shawshank Redemption, with seven Oscar nominations that year. It is a classic worth watching, in these times, from home.
---
It is the example of the transcendence of a film through television channels and broadcasting in VHS format, which tripled and recovered its initial investment (over 20 million dollars) from a poor box office, being an example that a good film is not necessarily a guaranteed success, only in theaters.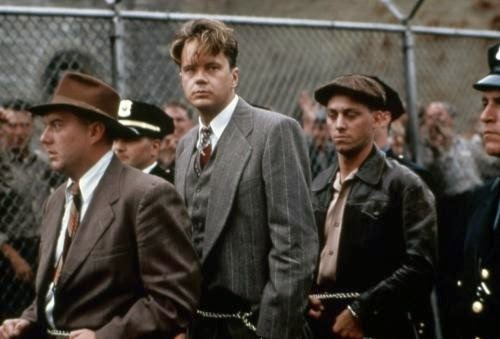 Esta obra la aprecié siendo un adolescente en formato VHS, en casa de mi hermano en Barinas, cuando se podían alquilar películas y aún el internet y Netflix nisiquiera daban señales de nacer. Al principio, entender la naturaleza de un hombre que es juzgado de forma injusta por un crimen no cometido, es lo que te atrapa a ver el resto del filme.

Todo se centra en el personaje de Andy Dusfrenne, un banquero inteligente y talentoso quien es encarcelado por el asesinato de su esposa. Asimismo, el protagonista se debate en la impotencia de no poder comprobar su inocencia y adaptarse a la vida carcelaria.

A pesar de ser una ficción, se recrea el estilo de las cárceles de los Estados Unidos entre los años 50 y finales de los 60 del siglo pasado, en los cuales los reos no son tratados, en este caso; como elementos de reinserción social, sino más bien gracias a los esfuerzos de Andy, los mismos aprenden un poco lo que es la reconstrucción humana y vital a pesar de haber cometido algún delito o crimen, en donde el hombre desde el "ser" puede pagar sus condenas y tener una segunda oportunidad de vivir nuevamente en sociedad.
I appreciated this work as a teenager in VHS format, at my brother's house in Barinas, when movies could be rented and the internet and Netflix had not yet shown signs of being born. At first, understanding the nature of a man who is unfairly judged for a crime he didn't commit, is what traps you into watching the rest of the film.

Everything centers around the character of Andy Dusfrenne, a smart and talented banker who is imprisoned for the murder of his wife. Likewise, the protagonist struggles with the helplessness of not being able to prove his innocence and adapt to prison life.

Despite being a fiction, it recreates the style of prisons in the United States between the 50s and late 60s of the last century, in which the inmates are not treated, in this case; as elements of social reintegration, but rather thanks to the efforts of Andy, they learn a little what is the human and vital reconstruction despite having committed a crime, where man from the "being" can pay their sentences and have a second chance to live again in society.

---
TRAILER (Yotube) "The Shawshank Redemption"
---
TRAILER (Youtube)"Sueños de Fuga"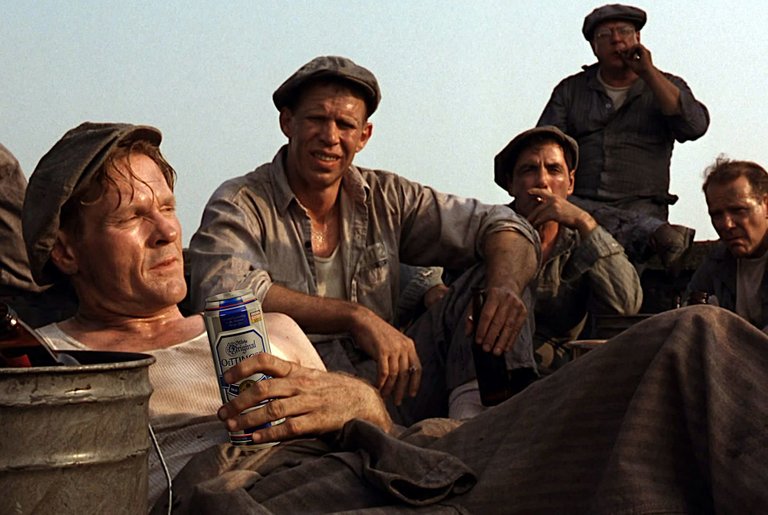 Tal como la gente a veces ignora, en una cárcel pueden ocurrir muchas cosas: riñas, peleas, injusticias, corrupción… como si se viviera en una nación pequeña. Esta penitenciaría es liderada por un alcaide de dudosa reputación y guardias custodios agresores. Es una forma de gobierno intrínseco en donde la reforma social para ciudadanos de bien, queda en duda; al contrario; se piensa más bien que las personas deben ser convertidas en despojos humanos, y es con esto con lo que lucha el personaje principal (Tim Robbins)
---
Observamos, el paso de los años al igual como pasan los días, y Andy trata de mantener ese espíritu de libertad interna, al estar rodeado del encierro de los barrotes; teniendo la oportunidad de demostrar su inocencia por un asesinato pasional y dejándonos la impotencia de ese objetivo frustrado, para quienes desean escapar; junto a él, de ese reformatorio. Todos compartimos ese matiz de "Sueños de Fuga" En el fondo; nos damos cuenta que compartimos el deseo de un gran escape.
As people sometimes ignore, many things can happen in a prison: brawls, fights, injustices, corruption... as if living in a small nation. This penitentiary is led by a disreputable warden and aggressive custodial guards. It is a form of intrinsic government where social reform for good citizens, is in doubt; on the contrary; it is thought rather that people should be turned into human offal, and it is with this that the main character (Tim Robbins)
---
We observe, the passing of the years as the days go by, and Andy tries to maintain that spirit of inner freedom, being surrounded by the confinement of the bars; having the opportunity to prove his innocence for a passionate murder and leaving us the impotence of that frustrated objective, for those who wish to escape; together with him, from that reformatory. We all share that nuance of "Dreams of Escape" In the background; we realize that we share the desire for a great escape.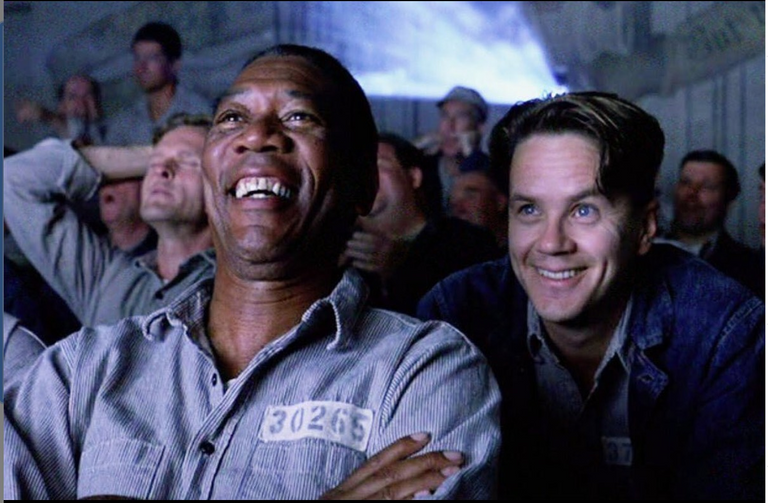 ---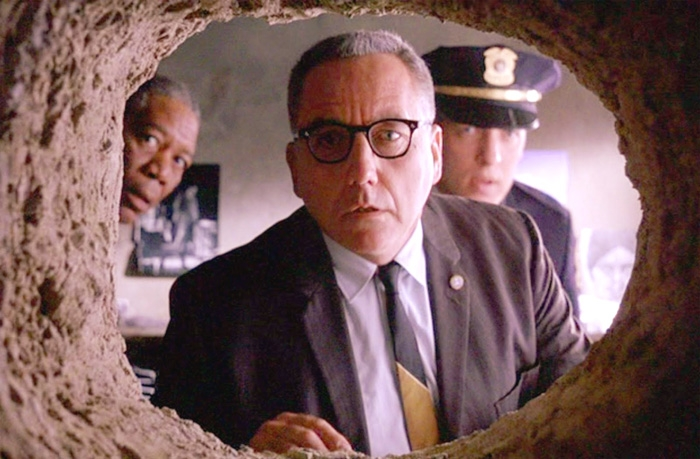 Podemos acotar que Andy hace amigos en un lugar donde es casi imposible por lo hostil del territorio, sin embargo; podemos ver ese acercamiento más personal de "Amistad Masculina" con el personaje de Morgan Freeman, sin ánimos de uno poder creer que haya algo más que una relación de amigos o como decimos en Venezuela de "Panas" o "Hermanos"

El desenlace es realmente sorprendente, con un giro que todos deseamos al momento de identificarnos con Andy, realmente es mágico y supone el triunfo del bien sobre el mal, que nos deja a todos boquiabiertos. Es que este drama tiene tramas bien desarrolladas y pulcras, además de diálogos llenos de retóricas muy sencillas y entendibles. El suceso de acciones es impredecible pero muy satisfactorio ante un sistema judicial injusto para los inocentes, y en este particular; es una especie de venganza personal con los desórdenes y desmanes de un sistema corrompido, sucio y parcial.

Las tomas aéreas de cámara son muy impactantes. El Sonido muy bueno y la imagen de fotografía y video se corresponden al mensaje de amistad, libertad y justicia que podemos observar en los minutos que corresponden a este largometraje. Las apreciaciones que se tienen sobre esta película son excelentes, pero al final quien decide si es buena o no es el espectador, por el carácter subjetivo del mismo. La recomiendo y espero sea del agrado de todos. Dios me los bendiga. Hasta la próxima…
We can note that Andy makes friends in a place where it is almost impossible because of the hostile territory, however; We can see that more personal approach of "Amistad Masculina" with Morgan Freeman's character, without the desire to believe that there is something more than a relationship of friends or as we say in Venezuela of "Panas" or "Hermanos"

The denouement is really surprising, with a twist that we all want to identify with Andy, it really is magical and involves the triumph of good over evil, which leaves us all speechless. This drama has well-developed and neat plots, as well as dialogues full of simple and understandable rhetoric. The actions are unpredictable but very satisfying in the face of an unfair judicial system for the innocent, and in this particular; it is a kind of personal revenge with the disorders and excesses of a corrupt, dirty and biased system.

The aerial camera shots are very impressive. The sound is very good and the image of photography and video correspond to the message of friendship, freedom and justice that we can observe in the minutes that correspond to this feature film. The appreciations that we have about this film are excellent, but in the end who decides whether it is good or not is the viewer, by the subjective nature of it. I recommend it and I hope everyone likes it. God bless you all. Until next time...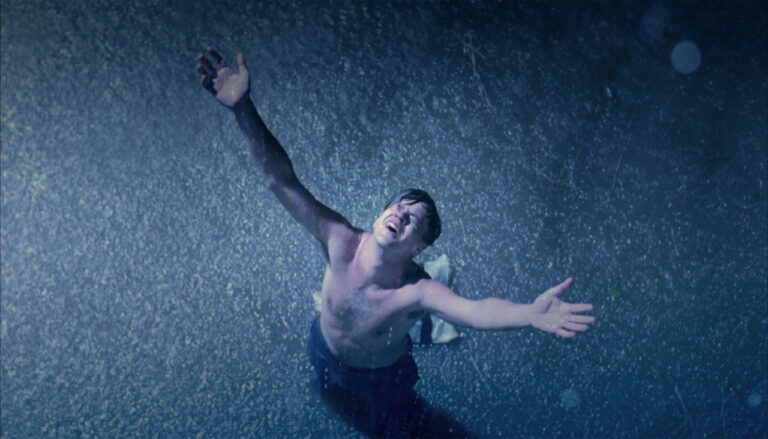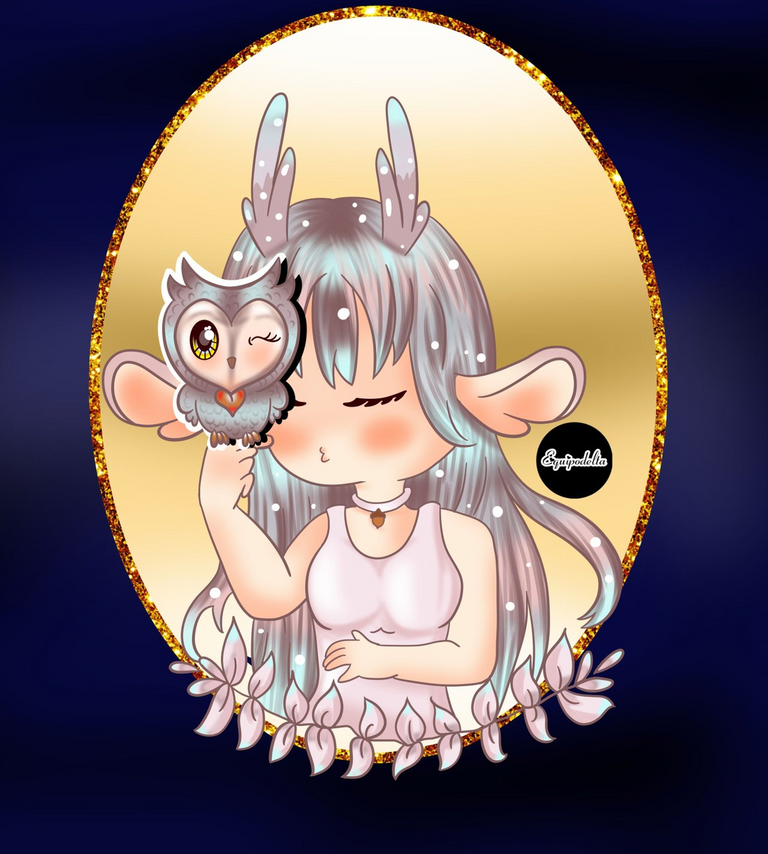 Credits/Créditos:
The images are hyperlinked to their source
The references to "The Shawshank Redemption", belong to their brands and owners, and are mentioned for promotional purposes.
The paragraph separator is of my authorship, designed from Microsoft Power Point
English language is not my native language, therefore I may have grammatical errors, for this I used the translator: https://www.deepl.com/ ... God bless you...
Las imágenes están hipervinculadas a su fuente

Las referencias a "Sueños de Fuga" pertenecen a sus marcas y propietarios, y son mencionadas con fines promocionales.

El separador de párrafo es de mi autoría, diseñado desde Microsoft Power Point

El inglés idioma no es mi idioma nativo, por tanto puedo tener errores gramaticales, para ello usé el traductor: https://www.deepl.com/ .. Dios les bendiga...

For more information about my universe, you can follow my social networks (click icons)
Para mayor información de mi universo, puedes seguir mis redes sociales (hacer clik iconos)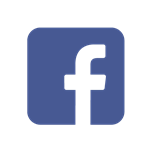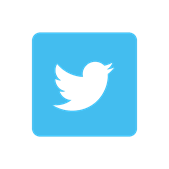 ---