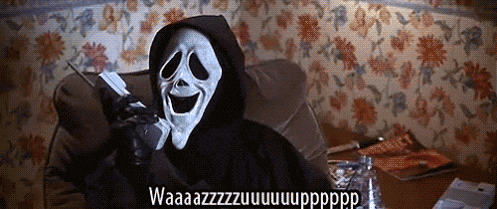 Comedy sells more than Horror
La comedia vende mas que el Terror
One of the most exploited genres in the world of cinema is that of comedy, however, few are the films that really know how to contribute something of their own and only a few carry with them a humorous charge that provokes to watch them again and again. There are movies in this genre that include a mix of romantic comedy and even films that manage to make a space for themselves by making fun of more famous movies. Have you ever gone to the movies and laughed so hard that you can get sore abs just those are the movies that are thought out in a clever and bold way. Over the years there has been a group of directors who repeat the parody formula and few have been able to get away with it, so here is my first recommendation:
Uno de los géneros más explotados dentro del mundo del cine es el de la comedia, sin embargo, pocas son las películas que realmente saben aportar algo propio y solo algunas llevan consigo una carga humorística que provoque volver a verlas una y otra vez. Hay películas de películas en este género incluido una mezcla de comedia romántica y hasta los filmes que logran hacerse un espacio haciendo burla de películas más famosas. Alguna vez has ido al cine y te has reído tanto que puedes quedar con los abdominales adoloridos precisamente esas son las películas pensadas de una forma inteligente y audaz. A través de los años ha habido un grupo de directores que repiten la fórmula de la parodia y pocos han sabido salir airosos por lo cual aquí va mi primera recomendación:
---
Scary Movie
---
---
A parody of juvenile Slasher movies, in which we will find all kinds of satirical language and a disproportionate love for marijuana, the most interesting thing in itself is how it portrays much of American society, the life of African Americans and social clichés. In Scary Movie everything is a joke, black humor and a comedy that can perplex any conservative person. This is my first recommendation and I don't consider it to be the best, but it will go down in history as a grotesque movie that made more than one person laugh out loud at the cinema.
Una parodia de películas Slasher juveniles, en las cuales encontraremos toda clase de lenguaje satírico y un amor por la marihuana desproporcionado, lo más interesante en sí mismo es como se retrata mucho de la sociedad americana, la vida de los afroamericanos y los clichés sociales. En Scary Movie todo es un chiste, humor negro y una comedia que puede dejar perplejo a cualquier persona conservadora. Esta es mi primera recomendación y no considero que sea la mejor, pero pasara a la historia como una película grotesca pero que a más de uno hizo a reír a carcajadas en el cine.
---
The Naked Gun
---
---
In action movies cops are shown as tough guys who can take down gangs, but the outcome of the movie changes when you have Leslie Nielsen starring in Naked Gun, this careless and clumsy cop generated the most disasters we can see in a movie, a movie that contains the silliest scenes but despite the years remains valid, not to mention that the protagonist did not help much in everyday situations, a great duo Leslie Nielsen and Priscila Presley.
En las películas de acción los policías son mostrados como tipos rudos que pueden acabar con pandillas, pero el resultado de la película cambia cuando tienes a Leslie Nielsen protagonizando donde está el policía (Así se llamó en español), este policía descuidado y torpe generó la mayor cantidad de desastres que podamos ver en una película, una película que contiene las escenas más tontas pero que a pesar de los años se mantiene vigente, sin mencionar que la protagonista no ayudaba mucho en las situaciones cotidianas, una dupla genial Leslie Nielsen y Priscila Presley.
---
Me, Myself & Irene
---
---
If you ever thought that the adventures of Dick and Jane was a comedy that could make you laugh that's not bad, but not knowing that Jim Carrey stars in a movie with no half inks, full of black humor, double entendre scenes and that for a moment makes Ace Ventura look like a baby at the breast that's just wrong. A Farelly brothers movie don't worry if you don't know them, but it is possible that movies like There's Something About Mary or the Misery Brothers are more famous. This movie tells us about a person who has personality disorders and must deal with it every day. For a moment he is a calm man, but in other moments he is an aggressive man full of adrenaline, besides being overconfident. A film full of many follies and a hell for the character himself.
Si alguna vez pensaste que las aventuras de Dick y Jane era una comedia que podía hacerte reír eso no está mal, pero no saber que Jim Carrey protagoniza una película sin medios tintes, llena de humor negro, escenas de doble sentido y que por un momento hace parecer a Ace ventura un bebe de pecho eso si está mal. Una película de los hermanos Farelly no te preocupes si no los conoces, pero es posible que películas como Loco por Mary o los Hermanos Miseria sean más famosas. Esta película nos habla de una persona que tiene trastornos de personalidad y debe lidiar cada día con ello. Por un momento es un hombre tranquilo, pero en otros es un hombre agresivo y lleno de adrenalina, además de tener exceso de confianza. Una película llena de muchas locuras y un infierno para el propio personaje.
---
There's Something About Mary
---
---
What can I say that is not already known about this film, it should be classified as a romantic comedy because the protagonist does not forget his eternal love for Mary, but under that premise the brothers Peter and Bob Farelly present us with a woman who wants to escape from a stalker, leads a quiet life, until three men are present in her life in order to win her affection. Well thought out comedic scenes, meant to suggest your intellect, it is never outright stated what happens in some scenes, but it is depicted in a suggestive and graphic way. This is a film that is in the Olympus of comedy.
Que puedo decir que no se sepa de esta película, debería ser catalogada como comedia romántica motivado a que el protagonista no olvida su eterno amor por Mary, pero bajo esa premisa los hermano Peter y Bob Farelly nos presentan a una mujer que desea escapar de un acosador, lleva una vida tranquila, hasta que tres hombres se hacen presente en su vida con el fin de ganarse su afecto. Escenas cómicas bien pensadas, destinadas a sugestionar tu intelecto, nunca se dice de forma directa que pasan en algunas escenas, pero si se representa de una manera sugerente y gráfica. Esta es una película que se encuentra en el olimpo de la comedia.
---
Hot Shots
---
---
Parodies have their place of honor, especially when we see Charlie Sheen starring in Rambo or at least parodying him in such a spectacular way. We will find parodies of Terminator, Robocop, Top Gun and many more. The most interesting thing is the love side of the character. The existential problems of doing one's duty, but also being happy. Highly recommended for everyone.
Las parodias tienen su sitial de honor, más cuando vemos a un Charlie Sheen protagonizando a Rambo o al menos parodiándolo de una forma tan espectacular. Encontraremos parodias de Terminator, Robocop, Top Gun y muchas más. Lo más interesante es la faceta amorosa que vive el personaje. Los problemas existenciales de cumplir con el deber, pero también ser feliz. Altamente recomendada para todos.
---
Bonus
---
Kung Pow! Enter the Fist
---
---
One of the most innovative films in comedy, a single actor makes life in the film, it may sound strange but the truth is that they cut many Kung-fu and martial arts films of the 50's, they included the protagonist digitally, it has some strange scenes, but there are moments that kills you with laughter. With this movie I was waiting for the second part.
Una de las películas más innovadoras en la comedia, Un solo actor hace vida dentro de la película, puede sonar extraño pero la verdad es que recortaron muchas películas de Kung-fu y artes marciales de los años 50, incluyeron al protagonista de forma digital, tiene unas escenas extrañas, pero hay momentos que te mata de la risa. Con esta película me quede esperando la segunda parte.
---
Top Secret
---
---
Top Secret is one of those movies that you can watch relaxed in bed on a Sunday afternoon, although Val Kilmer, for my reader friends, doesn't look like he used to, in this role he sings, dances and is the idol of a generation. Crazy scenes, non-existent special effects but a great script make this movie a comedy gem that you can only appreciate on B channels like TCM.
Top Secret viene a ser una película de esas que puedes ver relajado en tu cama un domingo por la tarde, aunque Val Kilmer para mis amigas lectoras ya no luce como antes, en este papel canta, baila y es el ídolo de una generación. Escenas alocadas, efectos especiales inexistentes pero un gran guion hace de esta película una joya de la comedia pero que solo puedes apreciar en canales clase B como TCM.
---
This is my participation in the contest and I hope you like it.
Esta en mi participación dentro del concurso y espero que sea de su agrado
---
All trailers,gif, photos, characters are intellectual property of their developers and above all of their production houses, Warner Bros. Lionsgate among others.
Todos los tráiler,gif, fotos, personajes son propiedad intelectual de sus desarrolladores y sobre todo de sus casas productoras, Warner Bros. Lionsgate entre otras.