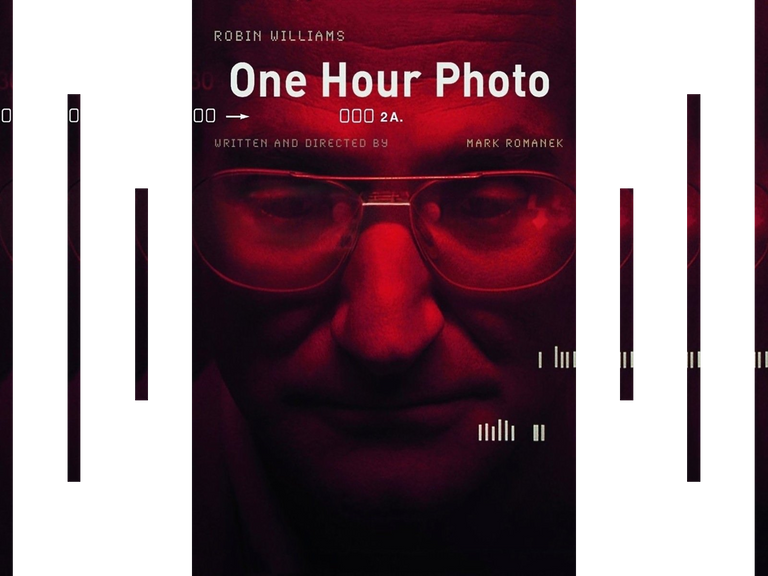 This movie is a delight, it's exquisite, it became my favorite Robin Williams movie, it was almost impossible for that not to happen after watching it. It is already known how iconic Robin is in his comedy characters, how reflective of his existence, and how incredible he was as a person, but very little is said about this film. It is something that surprised me a lot because it is an excellent film that deserves to receive more recognition and be among Robin's most recommended films.
One Hour Photo did what I never expected from Robin, giving him the bad guy role in a drama and suspense movie. Robin will be Parrish, a man who works developing photographs in a mall, where he practically has access to people's lives through his pictures, especially a family that Parrish stalks with exquisite perfection. Many events will begin to occur around the Yorkin family when Parrish begins to learn secrets that not even they know, as his actions will expose the nature of the family, as well as his own.

Esta película es una delicia, es exquisita, se convirtió en mi favorita de Robin Williams, era casi imposible que eso no sucediera después de verla. Ya se sabe lo icónico que es Robin en sus personajes de comedia, lo reflexivo de su existencia y lo increíble que era como persona, pero muy poco se habla de esta película, y es algo que me sorprendió mucho, pues es una excelente película que merece recibir más reconocimiento, y estar entre las películas más recomendadas de Robin.
One Hour Photo hizo lo que nunca esperé de Robin, darle el rol de malo en una película de drama y suspenso. Robin será Parrish, un hombre que trabaja revelando fotografías en un centro comercial, donde prácticamente tiene acceso a la vida de las personas a través de sus fotografías, en especial una familia a la que Parrish acosa con una perfección exquisita. Muchos eventos comenzarán a ocurrir alrededor de la familia Yorkin cuando Parris se comienza a enterar de secretos que ni siquiera ellos saben, pues sus acciones dejarán a descubierto la naturaleza de la familia, a la vez que la suya propia.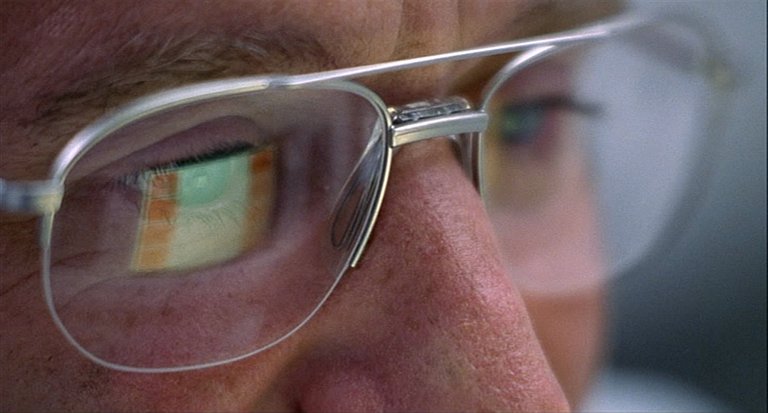 From the moment I was told to see this movie because Robin Williams played the villain I fell in love, it's a role I never thought I would get to see him in, but One Hour Photo exists and everyone who loves Robin's work should see it, even if it's just once in a lifetime, but they should see it, it's exquisite, it's delicious, it's just another example of how amazing Robin is at acting.
The movie has one of my favorite ways of telling a story, it starts at the end, leaves you with a thousand questions, then goes to the beginning to tell you an amazing story that only gets better and better and better, making it almost impossible to walk away from the screen until the moment at the end where we will know everything that happened to make our character do everything he did. It's amazing because the plot twists it has are perfect, when we think something happened, it was something else, and specifically the ending, the ending has twist after twist and you don't know what happens, even though we have an idea.

Desde el momento en el que me dijeron que viera esta película porque Robin Williams hacía de villano me enamoré, es un papel en el que nunca creí llegar a verlo, pero One Hour Photo existe y todas las personas que aman el trabajo de Robin deberían verla, así sea una sola vez en la vida, pero deberían verla, es exquisita, deliciosa, es una muestra más de lo increíble que es Robin actuando.
La película tiene una de mis formas favoritas de contar una historia, comienza por el final, te deja con mil preguntas, entonces se va al principio a contarte una historia increíble que solo se pone cada vez mejor y mejor, haciendo casi imposible el alejarse de la pantalla hasta que llegue el momento del final donde sabremos todo lo que sucedió para que nuestro personaje haga todo lo que hizo. Es increíble, porque los giros en la trama que tiene son perfectos, cuando creemos que sucedió algo, en realidad fue otra cosa, y en específico el final, el final tiene giro tras giro y no se sabe qué es lo que realmente sucede, aunque tengamos una idea.

 


 




There will come a point in the movie, right in the middle, where we will think that the end is coming and that the moment where we will understand that shocking beginning will take place, but no, it will not be like that, in fact, we are only halfway through the movie and there is still too much to discover, I was in shock, because although the beginning is perfect after the end with which we started, and it is not expected that the story has another twist in the plot, but that's what it's all about, that there is more than we expect than we want, than we can bear.
And I don't know what else to say about the movie, it's amazing, you must see it. Not only is it a good movie with Robin Williams, but it's a drama and suspense movie, with him as the main character with an unhinged obsession for a family that doesn't even recognize him as the man who gives them the photographs. That's another incredible thing about the film, how they get to play psychologically with us as we watch it, every possible deception they can do, they will do, making our experience as real as possible. It's like experiencing the movie first hand, a very good gossip told.

Llegará un punto en la película, justo a la mitad, donde pensaremos que ya está llegando el final y que el momento donde entenderemos ese inicio tan impactante tendrá lugar, pero no, no será así, en efecto estaremos solo a la mitad de la película y aún queda demasiado por descubrir, yo quedé en shock, pues si bien es perfecto el inicio después del final con el que comenzamos, y no se espera que la historia tenga otro giro en la trama, pero de eso solo se trata todo, de que hay más de lo que esperamos, de lo que queremos, de lo que podemos llegar a soportar.
Y ya no sé qué más decir de la película, es increíble, deben verla. No solo es una buena película con Robin Williams, si no que es de drama y suspenso, con él como el protagonista con una obsesión desquiciada por una familia que ni siquiera lo reconoce más allá como el hombre que les entrega las fotografías. Esa es otra de lsa cosas increíbles de la película, como llegan a jugar psicológicamente con nosotres al verla, todos los engaños posibles que puedan hacer, los harán, haciendo que nuestra experiencia sea lo más real posible. Es como experimentar la película de primera mano, un muy buen chisme contado.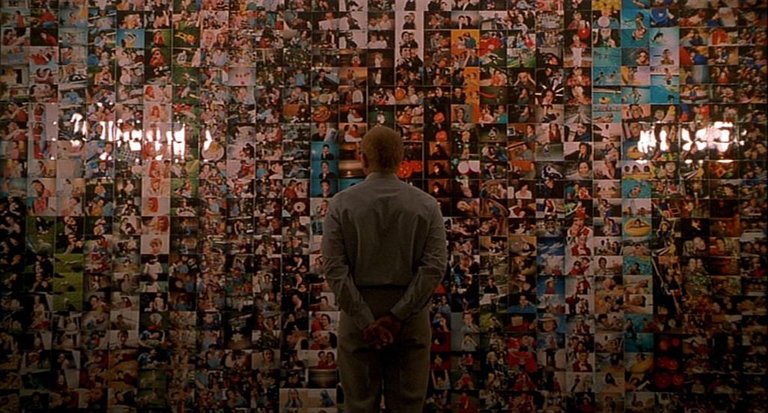 Watching the trailer I realize that it is not a recent thing to tell almost the whole movie in the trailers, here they also reveal almost the whole movie in the few minutes that the trailer lasts, and I don't know, I don't know, I don't feel like watching more trailers in my life, no matter if I have already seen the movie or the series, it is not worth it, because although there are very good trailers that will always provoke me to watch the production no matter how many times I have seen it, there are more bad trailers, and that's discouraging.

Al ver el trailer me doy cuando de que no es algo reciente el hecho de contar casi toda la película en los trailers, aquí también revelan ccasi toda la película en los pocos minutos que dura el trailer, y no sé, no sé, ya no me dan ganas de ver más trailers en mi vida, sin importar que ya haya visto la película o la serie, no vale la pena, pues si bien hay trailers muy buenos que siempre van a provocar ver la producción sin importar cuántas veces se haya visto, son más los trailers malos que hay, y eso es desalentador.


All the images were taken from here.

Todas las imágenes fueron tomadas de aquí.