Hola a esta interesante comunidad😎😁, me uno a esta linda iniciativa de "Actores que me han impresionado con su actuación" de mi compañera @yohadvartse donde consiste en hablar sobre tu actor o actores que amamos u odiamos.
La verdad me gusta muchísimos actores, pero uno me encanta y entre ellos es este gran actor Heath Ledger. Así que empecemos del por qué me gusta tanto.
Hello to this interesting community😎😁, I join this nice initiative of "Actors who have impressed me with their acting" of my partner @yohadvartse where is to talk about your actor or actors that we love or hate.
The truth is that I like a lot of actors, but I love one of them and among them is this great actor Heath Ledger. So let's start with why I like him so much.

Heath Ledger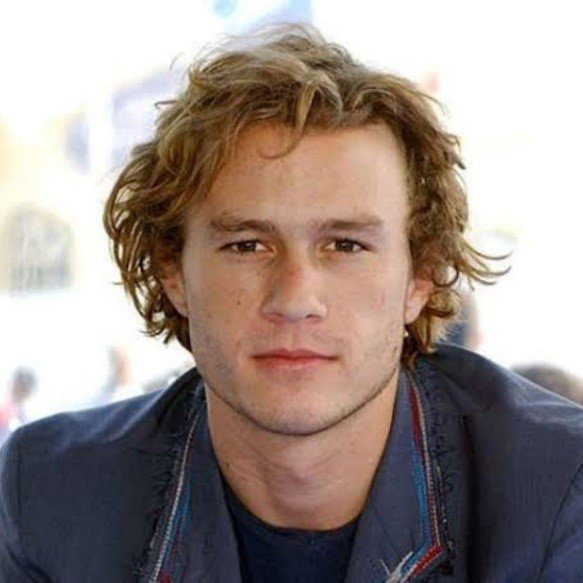 Fuente - Source
Nacido en Australia el 04 de abril de 1979, tuvo una prematura muerte a los 28 años. Recibió, de manera final, el Oscar como mejor actor de reparto en la película "El Caballero de la noche". La primera vez que lo vi fue en la película "10 cosas que odio de ti" y posteriormente en "El patriota", "Casanova", "Secreto en la montaña" y, finalmente, en su mejor actuación con la película "El caballero de la noche". Me pareció un actor muy versátil, audaz y comprometido, puesto que supo adaptarse a los diversos papeles en las diferentes películas que protagonizó. Todo un profesional.
Born in Australia on April 4, 1979, he died an untimely death at the age of 28. He received, in a final way, the Oscar for best supporting actor in the movie "The Dark Knight". The first time I saw him was in the movie "10 Things I Hate About You" and later in "The Patriot", "Casanova", "Secret on the Mountain" and, finally, in his best performance in the movie "The Dark Knight". I found him to be a very versatile, daring and committed actor, since he knew how to adapt to the various roles in the different films he starred in. A true professional.

EL PATRIOTA
THE PATRIOT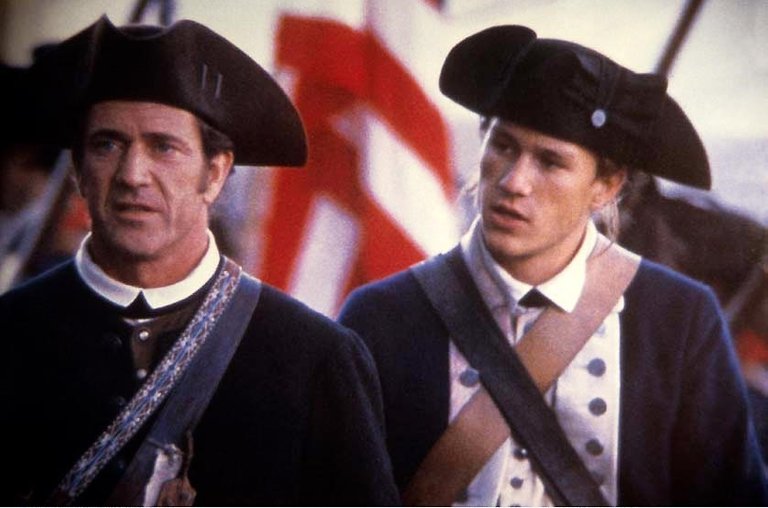 Fuente - Source
En esta película compartió roles con el consagrado Mel Gibson. Aquí encarnó a un personaje que pasaba de la juventud a la adultez, puesto que, dentro de la lucha civil en la que se vio involucrado y que la vivió con pasión, se enamora y asume un rol protector que le costaría la vida. Escenas graciosas como en la casa de su prometida o en la que decide vengar a su amada dan pie a su madurez como actor. La película es muy buena y la actuación de Ledger es versátil y notable.
In this film he shared roles with the acclaimed Mel Gibson. Here he played a character going from youth to adulthood, since, within the civil struggle in which he was involved and which he lived with passion, he falls in love and assumes a protective role that would cost him his life. Funny scenes as in the house of his fiancée or in which he decides to avenge his beloved give rise to his maturity as an actor. The film is very good and Ledger's performance is versatile and remarkable.

SECRETO EN LA MONTAÑA
SECRET IN THE MOUNTAINS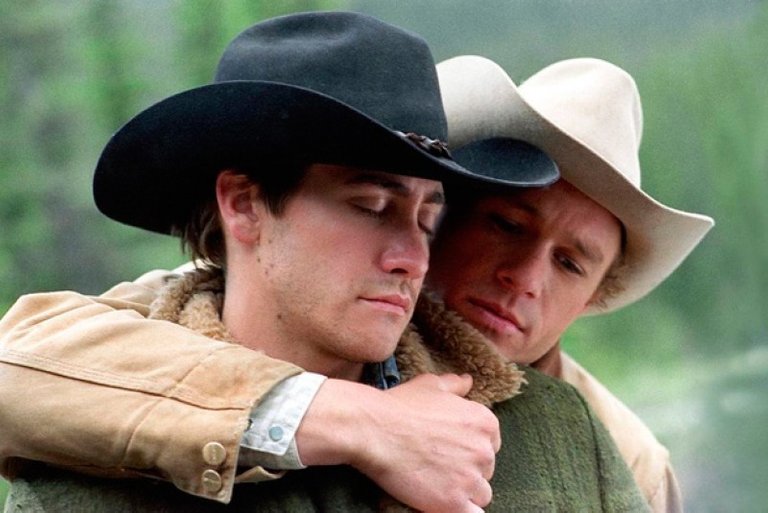 Fuente - Source
En 2005 protagoniza un rol muy controversial que lo nomina al Oscar. Aquí, al trabajar en un lugar aislado, y por mucho tiempo, termina enamorándose de su compañero, realizando escenas candentes de intimidad entre ambos. A pesar de tener novia y, posteriormente casarse y tener hijos, decide volver a encontrarse con su ex compañero de trabajo y continuar su relación. Escenas desde un matrimonio feliz y de cómo, poco a poco, se deteriora debido a su romance, un padre trabajador por sus hijos y el dolor que le ocasiona la muerte de su amante, hacen de ésta una muy buena película.
In 2005 he stars in a very controversial role that nominated him for an Oscar. Here, working in an isolated place, and for a long time, he ends up falling in love with his partner, performing hot scenes of intimacy between them. Despite having a girlfriend and, later, getting married and having children, he decides to meet his former co-worker again and continue their relationship. Scenes from a happy marriage and how, little by little, it deteriorates due to their romance, a father working for his children and the pain caused by the death of his lover, make this a very good movie.

BATMAN: EL CABALLERO DE LA NOCHE
BATMAN: THE DARK KNIGHT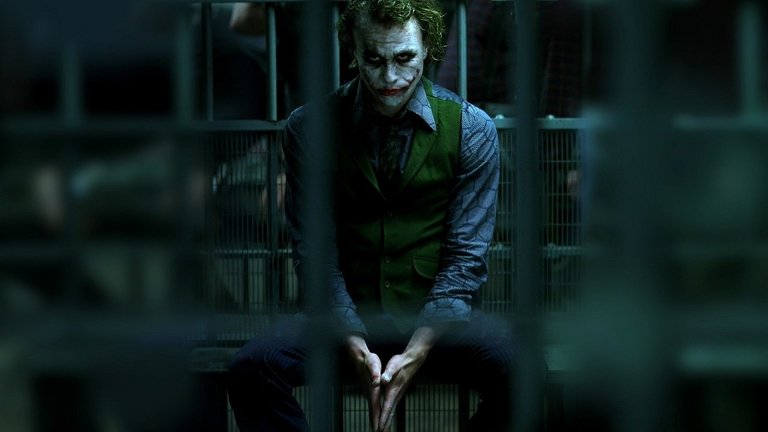 Fuente - Source
La película que le valió un Oscar y, para muchos, la vida. Para lograr este personaje se encerró en su departamento por semanas para buscar la mirada, la voz y la risa ideal. Además de su excelente actuación, sus improvisaciones dieron un brillo adicional a la película, como la escena que escapa del hospital vestida de enfermera, en la que no logra activar la bomba a lo que él se pone a jugar con el aparato y de un momento a otro se activó.. y decidió seguir con la actuación subiendo al ómnibus. Otro momento es en la celda, cuando empiezan a aplaudir al comisionado por haberlo arrestado y él inesperadamente empieza a aplaudir de una manera muy peculiar. Otro aporte ha sido las frases que decía el Wason como: "En sus últimos momentos las personas muestran su verdadera cara", "la locura es igual que la gravedad sólo necesitas un empujón" entre otras.
The film that won him an Oscar and, for many, his life. To achieve this character, she locked herself in her apartment for weeks to find the ideal look, voice and laugh. In addition to his excellent acting, his improvisations gave an extra sparkle to the film, such as the scene where he escapes from the hospital dressed as a nurse, where he fails to activate the bomb and he starts to play with the device and at one moment it was activated... and he decided to continue with the performance by getting on the bus. Another moment is in the cell, when they begin to applaud the commissioner for having arrested him and he unexpectedly begins to clap in a very peculiar way. Another contribution has been the phrases said by Wason such as: "In their last moments people show their true face", "madness is the same as gravity, you just need a push" among others.

Definitivamente, considero que Heath Ledger fue un excelente actor y, con tan sólo 28 años, ya era reconocido como tal. Aquella negligencia suya nos dejó sin su gran talento y sin futuras excelentes actuaciones.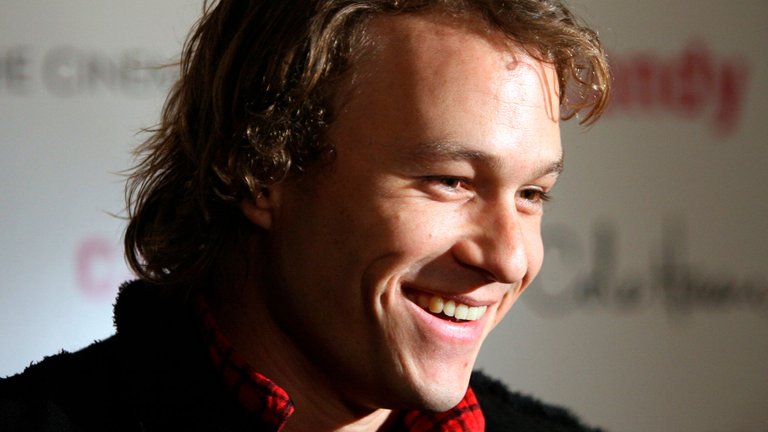 Fuente - Source

Traductor
Foto de portada editada en Canva.com / Cover photo edited at Canva.com
Separadores de texto para blog