EN:
Hello. I published a Hive chart in December 2022. Over the course of four months, the Hive price went from $0.25 to $0.4.
As always, there has been a lot of intrigue in the cryptocurrency market. However, despite all these intrigues, I think we are in a bottom formation. Bitcoin and Ethereum almost shouldered the market. In the next period, the main major cryptocurrencies will continue to drag the other crypto market. Especially artificial intelligence, defi, nft, metaverse etc. A lot of projects are coming to the market in the fields. However, very few of them remain on the agenda.
Despite all the developments, the Hive Blockchain has also fallen off the agenda a bit. Its market cap is 226th according to Coingecko data and 160th according to Coinmarketcap data. So we need to start a good pr work. We also need to increase the number of merchants in the community.
I will end the post by adding the current graphic that I follow. I follow the daily chart. Data and screenshot from Tradingview site.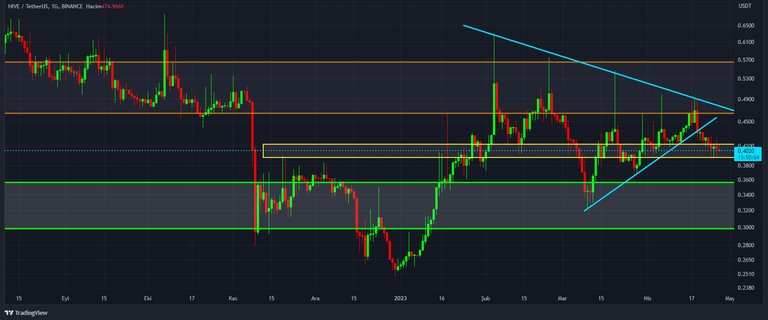 We are in a supply-demand zone passing through 0.39-0.41 price levels. Above is a supply-demand zone in the 0.46-0.56 price range. The supply-demand region below passes through the 0.35-0.29 price range.
This is not a bullish or bearish signal. And this article is not investment advice. You should make your investment decisions yourself according to your psychological and financial situation. It would be more beneficial to see this sharing as an educational work. Ll see.
---
TR:
Merhaba. Aralık 2022'de bir Hive grafiği yayınlamıştım. Dört aylık süreçte Hive fiyatı 0.25$ seviyesinden 0.4$ seviyesine geldi.
Kripto para piyasasında her zaman olduğu gibi çok fazla entrika döndü. Ancak bütün bu entrikalara rağmen bir dip oluşumu içerisinde olduğumuzu düşünüyorum. Bitcoin ve Ethereum piyasayı adeta omuzladı. Bundan sonraki süreçte de başlıca majör kripto paralar diğer kripto piyasasını sürüklemeye devam edecek. Özellikle yapay zeka, defi, nft, metaverse vb. alanlarda çok fazla proje piyasaya çıkıyor. Ancak bunların çok azı gündemde kalabiliyor.
Onca gelişmeye rağmen Hive Blokzinciri de bir miktar gündemden düştü. Piyasa değeri Coingecko verilerine göre 226., Coinmarketcap verilerine göre ise 160. sırada. Yani iyi bir pr çalışmasına başlamamız gerekiyor. Ayrıca topluluk içerisindeki tüccarların sayısını artırmamız gerekiyor.
Takip ettiğim güncel grafiği ekleyerek paylaşımı bitireceğim. Günlük grafiği takip ediyorum. Veriler ve ekran görüntüsü Tradingview sitesinden.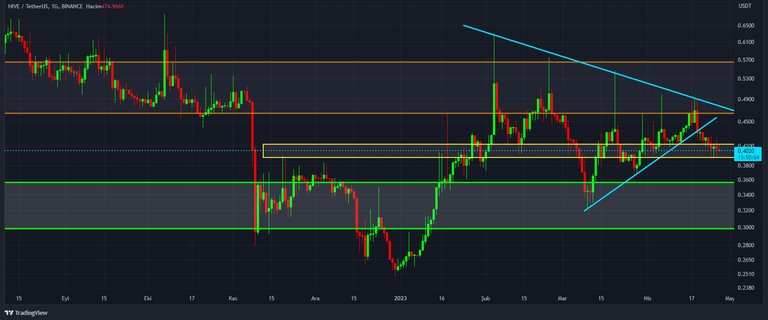 0.39-0.41 fiyat seviyelerinden geçen bir arz-talep bölgesinde bulunuyoruz. Yukarıda 0.46-0.56 fiyat aralığında bir arz-talep bölgesi bulunuyor. Aşağıdaki arz-talep bölgesi ise 0.35-0.29 fiyat aralığından geçiyor.
Bu bir yükseliş veya düşüş sinyali değil. Ve bu makale yatırım tavsiyesi değildir. Yatırım kararlarınızı psikolojik ve finansal durumunuza göre kendiniz vermelisiniz. Bu paylaşımı bir eğitim çalışması olarak görmek daha faydalı olacaktır. Görüşürüz.