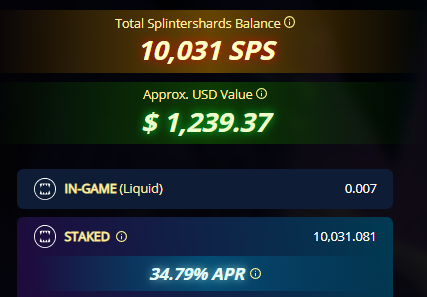 It has taken a while but I'm pleased to say that I've finally gotten to 19K SPS staked. The funny thing is that I originally set this as my target for the entire SPS airdrop period.
Just a few days after the halfway mark, I'm up to 10K SPS staked. Getting to this point has had its ups and downs, but I'm glad to have reached this point.
I plan to have a decent chunk of SPS liquid by the end of the airdrop though. I'll just stake another 2K tokens in the coming weeks and then proceed to keep everything else liquid.
A big part of the reason for increasing my SPS stake was to earn more vouchers. I need the vouchers for the next 100 packs I'll purchase in the coming days.
SPS token has also experienced a small bump in the price. That's all down to the general market steadying before its next leg, hopefully, it'll be up and not down.
My cubs are running
The price of Cub token hasn't been anything to celebrate for a long time. We're now trading sideways at a little over 20 cents and it sucks to see.
Sadly, this will continue being the case until something drives up the demand for the token.
I had hoped Polycub airdrop will be the catalyst but the effect of the announcement of the announcement was shortlived.
According to the Khalender, we should be expecting further details about the drop soon. When that times, we'll see where cub goes to.
For now, Cubfinance is still very much under the radar. Kind of crazy that such a solid project continues to live in the darkness but maybe it's for the best.
This gives us enough time to accumulate cub tokens before the wider society hears about it. Hopefully, when the time comes I'll be ready.
Until then, I'm just going to continue growing my stake in the farms and pile up cub tokens.
If you're not yet farming cub, well then here's a little reminder to get in now that it's cheap.
Finally broke into Diamond League
Earlier, I complained about the difficulty I experienced with breaking into the diamond league. I talked about how my deck simply wasn't good enough and so I had it fixed.
I went for a temporary solution though and overall, I think I'll be in a much better place at the end of the day.
I decided to take a chance with a number of monsters from the rental market again.
Isn't it ironic that just a moment ago, I was earning from rentals but now I'm spending on rentals. I guess that's just how the game goes sometimes.
Anyway, I think the total cost of my rentals by the time they all expire will be about $70. All the rentals will last 100 days though, so I have enough time to make the money back.
I'm still not putting pressure on myself to do quests but I know that as long as I consistently max out my league status over the period of the rentals, I'll get it all back from season rewards.
In any case, I'll be keeping my eyes on the market and my rewards, to ensure that I'm on track. If I sense that I'm running into the negatives, I'll pull out.
100 days is just shy of 3, months, will I be able to recover $70, from rewards and then make a profit as well? Time will tell.
$70 is a rough estimate by the way, in a subsequent publication, I'll give a proper breakdown of all the monsters I rented and how much it cost me. Until then, may the force be with you.
Contact & Support

Posted Using LeoFinance Beta