Hi Hivers!
I'm here to share something "new" for the business world. A new way of making money that doesn't come from struggle, competition or hard work.
The new blueprint for making money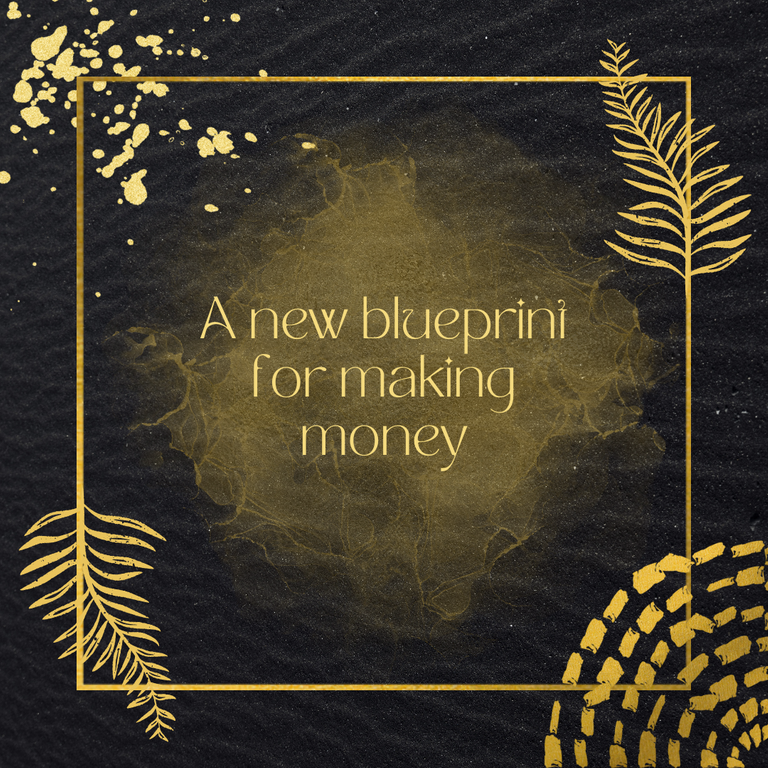 (designed by me using Canva)
This has been taken from a book that I love and that has taught a lot about the energy of money: Love money, money loves you 💖 by Sarah Mccrum
If you were like me, maybe the title is not very appealing. I had my doubts at the beginning, but it was recommended by a person who I trust and now is the second time that I read it.
I want to bring this topic here first, to spread the knowledge, and second to keep remind this to myself. We need repetition to imprint anything in our subconscious mind, the part from which we create our reality.
So let me share with you the simple steps for it:
Part 1: Vision
We want to see our businesses simple, successful and satisfying - but more than that we want to gain and maintain health, happiness and enjoyment by doing business.
We want to wake up in the morning full of expectation, looking forward to a great day where we will be fully engaged in learning, developing and growing our energy capacity.
It is when other people start to learn from us that we know we are on true path.
The purpose of doing business is to develop our society and in the process to develop ourselves as well. So we need to dream. We need to give ourselves permission to dream the biggest improvement to society we possibly can.
For that reason the first step is just to dream. Dream the change you want to see in your life and the lives of many other people around you. Feel the experience of that change. Imagine life after that change has taken place - including your own life and start to live that change in your dream or imagination. Make it real, but do not spend any time thinking about how that change is going to be achieved.
It is fine if you take days, weeks or even months in this step. You will know that you are doing it right because you will enjoy it and look forward to doing it every day.
Part 2: Enjoyment
The key at this stage is in giving a set amount of time on a regular basis to doing something connected with your dream. Do not think about money yet and do not worry whether what you are doing is very useful. Just make a habit of spending a certain amount of time, daily if possible, but at least regularly, doing something related to your dream.
During this time your job is to enjoy and let your activities flow. There is no point in doing anything that feels heavy or boring to you, even if you think it is useful. The minute you start to feel heavy, STOP. At all times be aware of your enjoyment level.
Please be patient at this stage. You are creating a habit of ease, enjoyment and effortlessness. This is worth spending time on. Habits are very powerful, and you will be grateful for the rest of your life if you get this habit. You will never want to go back to more serious ways of working.
Part 3: Expansion
This expansion will happen naturally, so there's absolutely no need to focus on it or try to force it. It is inevitable that your enjoyment will expand because we always want to expand good things in our life. It is important to let yourself go with the flow as much as possible at this stage.
There is only one thing to take care of here and that is to take your project to its conclusion – make sure you finish whatever you start.
This is a new way. It is a way of flow. You will often not know what is going to happen next. You may not know where you're being led.
Those who walk forward in enjoyment and pleasure will know at all times that they are going in the right direction, although they will often not know what that direction is.
Use your feelings of enjoyment as your compass, guiding you infallibly towards a bright future.
Do not let other people who know less than you put you off with their criticism, doubt or laughter.
My experience
I fully trust this process and I am sure that these new way of making money is going to lead me to great results. Sometimes my subconscious mind will try to go backwards and go for jobs that I don't like for instant money. This feels so heavy that I can not do it anymore. I am commited 100% to enjoy everything I do.
I started doing this a couple of weeks ago. I will keep you posted about my progress and results 😃
I hope that you like the reading and apply these principles in your daily life. We are the only responsibles for they way we live it!