Hello fellow Hive Traders and Community,
I just spent my Sunday coding a Telegram Bot channel that alerts subscribers upon large Hive transactions to exchanges: https://t.me/hive_alerts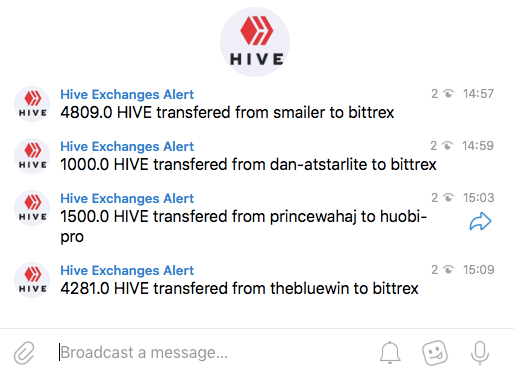 The bot will alert on any transaction higher than 5.000 HIVE sent to Bittrex or Houbi, I will add more exchanges as they add Hive to their trading pairs. You can join the channel by clicking on the link above or searching for it on Telegram under the name @HiveAlert_bot
I hope traders find this bot useful. It is an addition to my previous bot that displays the price of Hive and other major cryptocurrencies: https://t.me/eos_price_bot
These bots were created using the amazing python libraries provided by two great witnesses:
@emrebeyler - LightHive.
&
@holger80 - Beempy
Happy Trading and Hive on!
---
If you like my bots, please consider voting for my witness:
Hivesinger: Vote for Chitty
Hive.Blog: Vote for Chitty